As an Amazon Associate I earn from qualifying purchases.
This 3-ingredient vegan pie crust is 'buttery', flaky, and requires just 15 minutes of hands-on prep (by hand or in a food processor) for sweet and savory pies!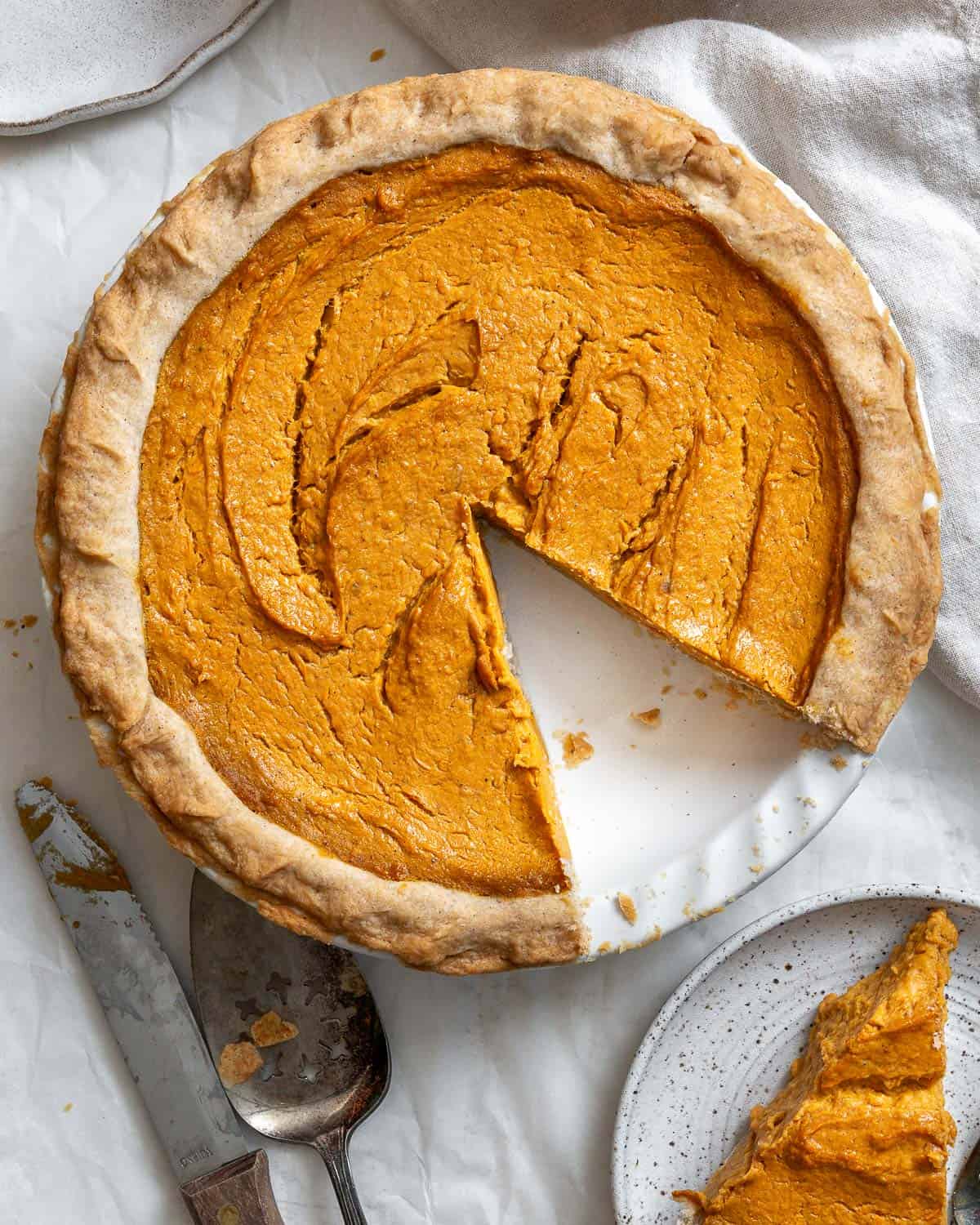 Buttery, Flaky Easy Vegan Pie Crust Recipe
Veganism is entering its best era yet, with major grocery stores expanding their vegan offerings practically every month. Which could possibly explain how we've shared over a dozen vegan pie recipes without sharing a homemade vegan pie crust recipe.
However, as timesaving and convenient as pre-made pie dough/crusts are, many also contain palm oil and usually cost quite a bit more than making your own. Luckily, it turns out that making the best vegan pie crust recipe is much simpler than we thought it would be, following just a few top tips and tricks for the best results every time.
It's practically fail-proof, 100% reliable, and you only need 3 base ingredients: flour, vegan butter, and sea salt (with a little ice-cold water). The combination of cold water and plenty of vegan butter is key to making the best and only vegan pie crust recipe you'll ever need.
Once baked, this dairy and egg-free pie crust is tender, flaky, 'buttery', and a little crisp and will work perfectly for all your favorite vegan pie recipes. That includes vegan pumpkin pie, apple pear pie, and mixed berry crumb pie.
The Ingredients
You'll need 11 simple, inexpensive pantry staples to prepare this easy pie crust recipe.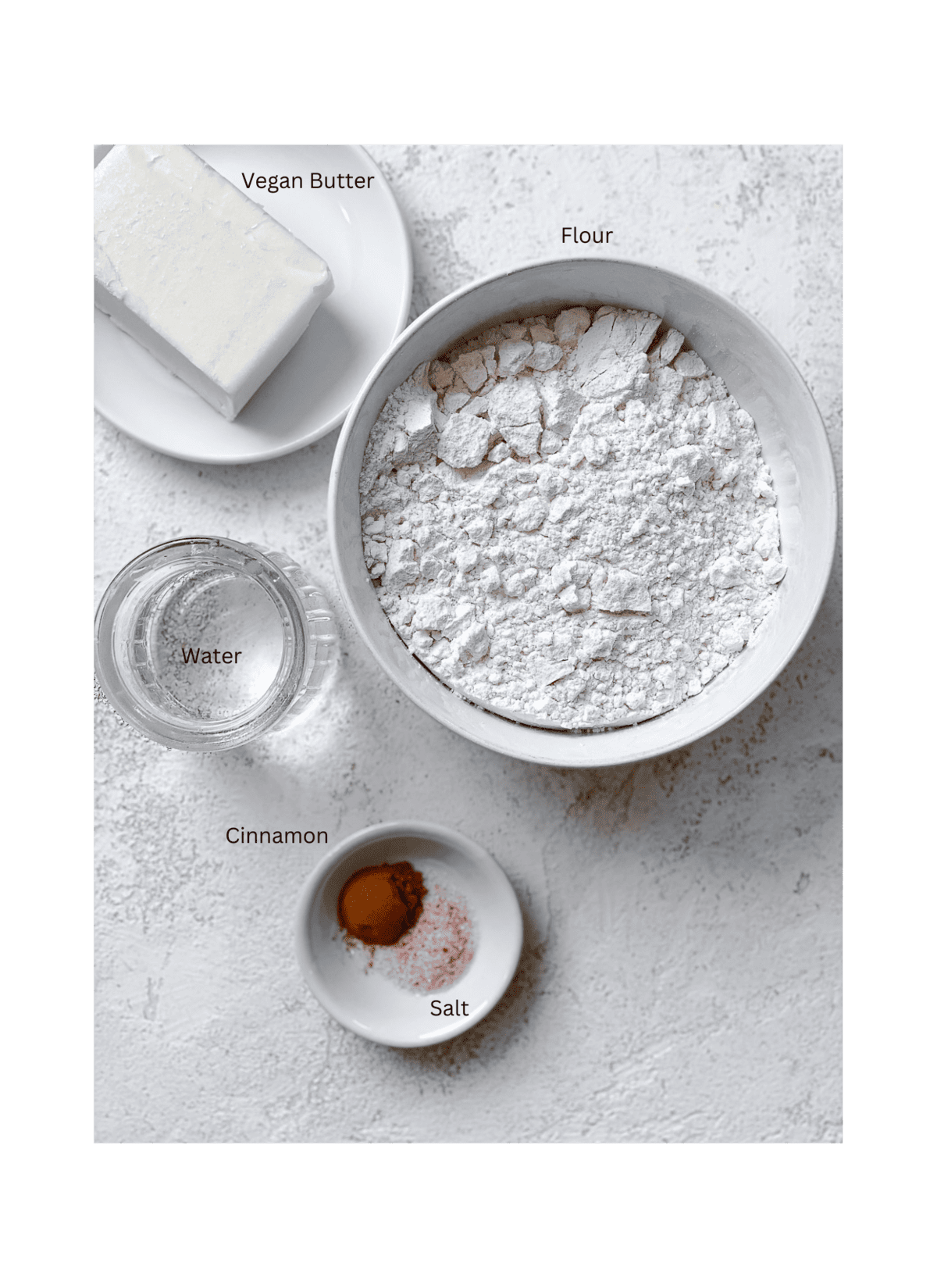 Flour: We recommend using all-purpose flour for this easy vegan pie crust. However, using an all-purpose gluten-free flour like Bob's Red Mill or King Arthur's should work, though the crust tends to be drier.
Vegan butter: Use a high-quality unsalted 'block' of vegan butter (like Miyoko's or Earth Balance) to help create this flaky, 'buttery', non-dairy pie crust – avoid soft 'spread' types. Salted will work in a pinch if you omit other added salt from the recipe.
Ice water: This ensures the dough is at the correct moisture level (and temperature).
Sea salt: Just a small amount will balance and enhance the flavors in the vegan crust.
Cinnamon: Optional If you plan on using this as a sweet pie crust.
You could optionally add 2-3 tablespoons of granulated sugar for a sweet vegan pie crust. It also helps the crust to brown.
How to Make a Vegan Pie Crust Without a Food Processor
1) First, mix the flour, salt, and (if using) cinnamon in a large bowl. If you haven't already, also transfer the vegan butter to the freezer for 20-30 minutes.
2) Then, grate the frozen vegan butter into the flour mixture and use a fork or pastry cutter to mix it until it resembles coarse crumbs (small pea-sized pieces are best – don't break it up too much, as bigger vegan butter pieces mean maximum flakiness).  
3) Add the ice-cold water and mix with a spoon, forming a dough. Then, quickly knead for 10 seconds.
It's important not to touch the dough too much with your hands, which will melt the vegan butter. Once kneaded, it should be smooth, not sticky.
4) Roll the dough into a ball or disk and wrap it in plastic wrap/ a plastic bag, then transfer it to the refrigerator for 3 hours (up to 2 days total).
This will help keep the vegan butter super cold and stop shrinkage/issues when baking.
5) Then, remove the dough from the fridge, unwrap it from the plastic, and leave it to rest on a lightly floured surface for 10 minutes.
6) Next, cut out a piece of parchment paper larger than the size you plan to roll the dough. Sprinkle some flour over it, and roll the dough into a circle based on your desired pie size (usually 10-12 inches), about 1/8-inch thick.
7) Carefully lift the parchment paper with the dough and slowly flip it into a greased/ lightly floured baking dish, peeling away the paper from the dough.
Alternatively, roll the pie dough over the rolling pin and gently unroll it into the pie dish.
8) Gently press the vegan pie dough into the pan, ensuring it fits snugly. Then, finally, pinch or use a fork to crimp the edges.
Make Food Processor Pie Crust
A food processor is a quick and simple way to form this dairy-free pie crust without hand contact (meaning less chance of warming up the vegan butter within).
Simply cube the vegan butter and pulse it with the flour mixture in a food processor until it reaches a coarse meal consistency.
Then add the ice water, one tablespoon at a time, and pulse until the dough starts to clump together.
You can then continue with steps 4 (above) onwards.
How to Pre-Bake a Pie Crust
Preheat the oven to 350F/176C, prick the bottom of the pie crust with a fork (to keep it from rising), and fill the unbaked vegan pie crust with baking beans, dried beans, rice, or pie weights.
Transfer the dish to the oven and blind-bake it for 30-40 minutes to par-bake it (or follow the recipe's instructions for their recommended par-baking time) or between 50-60 minutes for a fully cooked pie crust.
Pro Recipe Tips
Use very cold ingredients: It's important to use cold butter and ice-cold water to achieve the correct flaky consistency.
Don't overwork the dough: Pea-sized pieces of vegan butter in the dough are completely normal. These are key to a vegan flaky pie crust.
Don't handle the dough too much: Not only can overworking the dough lead to tough pastry, but the heat from your skin can melt the vegan butter and affect the dough.
Use just enough water: It's a good idea to add it incrementally (starting with 3-4 tablespoons), using just enough for the dough to come together when squeezed but not be overly wet/sticky.
For a covered pie: Double the recipe to make a top and bottom.
If the crust browns too much: Tent it in foil to protect it while it bakes from burning.
Storage Instructions
Store the unbaked pie crust covered in the refrigerator for 3-4 days, bringing it back to room temperature for about 10 minutes before using it.
The pre-baked crust can also be stored, wrapped, at room temperature for up to 3 days.
How to Freeze Vegan Pie Crust?
You can freeze the pie dough OR the formed but unbaked pie crust, wrapping it in plastic wrap, for up to 3 months.
Allow it to thaw in the refrigerator overnight, then bring it back to room temperature for 10-15 minutes before rolling/using it.
Delicious Vegan Pie Recipes
Photos by Alfonso Revilla
3-Ingredient Flaky Vegan Pie Crust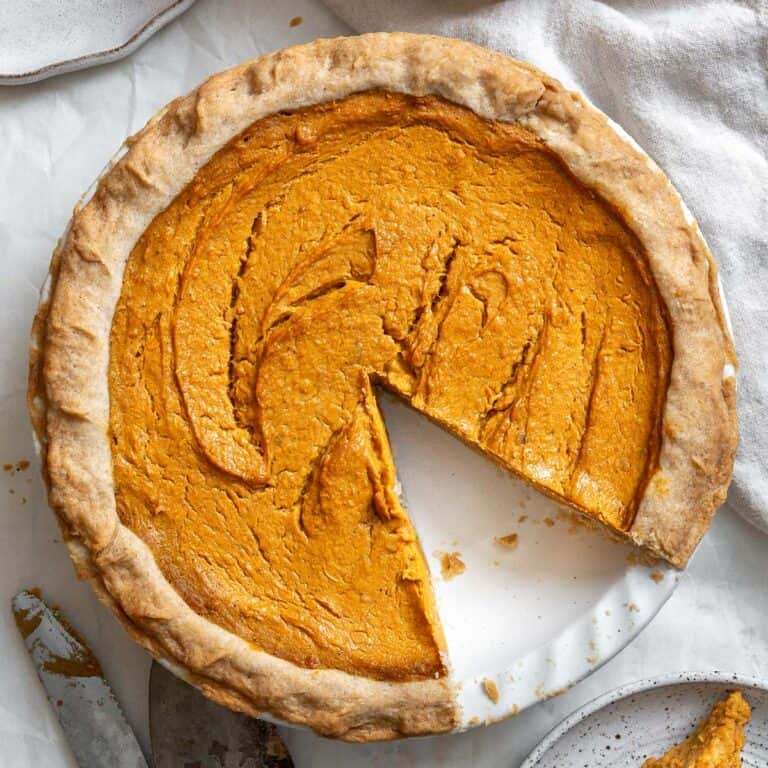 This 3-ingredient vegan pie crust is 'buttery', flaky, and requires just 15 minutes of hands-on prep (by hand or in a food processor) for sweet and savory pies!
Ingredients
1 ½

cups

flour

½

teaspoon

sea salt

½

teaspoon

of cinnamon

1

cup

of unsalted vegan butter,

frozen and grated

6

tablespoons

ice cold water
Instructions
In a large bowl add the flour, salt, and cinnamon. Mix well and set aside.

Grate the vegan butter into the flour. Using a fork mix everything together until the vegan butter and four are fully combined and the vegan butter has crumbled even more.

Add the water and mix with a spoon. Once the dough is fully combined, knead for 10 seconds. The dough should not be sticky.

Shape the dough into a ball and wrap it up tightly in a plastic bag. Place in the fridge for 3 hours.

Remove the dough from the fridge and remove the plastic bag. Sprinkle some flour on the table and let it sit for 10 minutes.

Place a large piece of parchment paper big enough to fit the fully stretched and thin dough. Sprinkle some flour, place the dough ball on it and start to slowly roll out the dough. Roll out into a 10 to 12 inch circle – depending how big is your pie baking dish.

Once the dough is stretched to the appropriate size. Carefully lift the parchment paper with the dough and slowly flip it on top of your baking dish. Gently start to separate the dough from the paper if it's slightly stuck.

Adjust the raw pie crust to fit the bottom and walls of your pie baking dish. Pinch or use a fork slightly mark the edges to create a design.
Nutrition
Calories:
2205
kcal
Carbohydrates:
145
g
Protein:
20
g
Fat:
173
g
Saturated Fat:
32
g
Polyunsaturated Fat:
52
g
Monounsaturated Fat:
83
g
Trans Fat:
32
g
Sodium:
2553
mg
Potassium:
243
mg
Fiber:
6
g
Sugar:
1
g
Vitamin A:
3
IU
Vitamin C:
0.04
mg
Calcium:
45
mg
Iron:
9
mg
Disclaimer: Although plantbasedonabudget.com attempts to provide accurate nutritional information, kindly note that these are only estimates. Nutritional information may be affected based on the product type, the brand that was purchased, and in other unforeseeable ways. Plantbasedonabudget.com will not be held liable for any loss or damage resulting for your reliance on nutritional information. If you need to follow a specific caloric regimen, please consult your doctor first.
Additional Info