As an Amazon Associate I earn from qualifying purchases.
This vegan chocolate pie is light, creamy, and silky, with just 4 ingredients (including a pre-made crust), no baking, fuss-free, low-effort prep! Perfect for Thanksgiving, dinner parties, gatherings, and even busy mid-week dessert!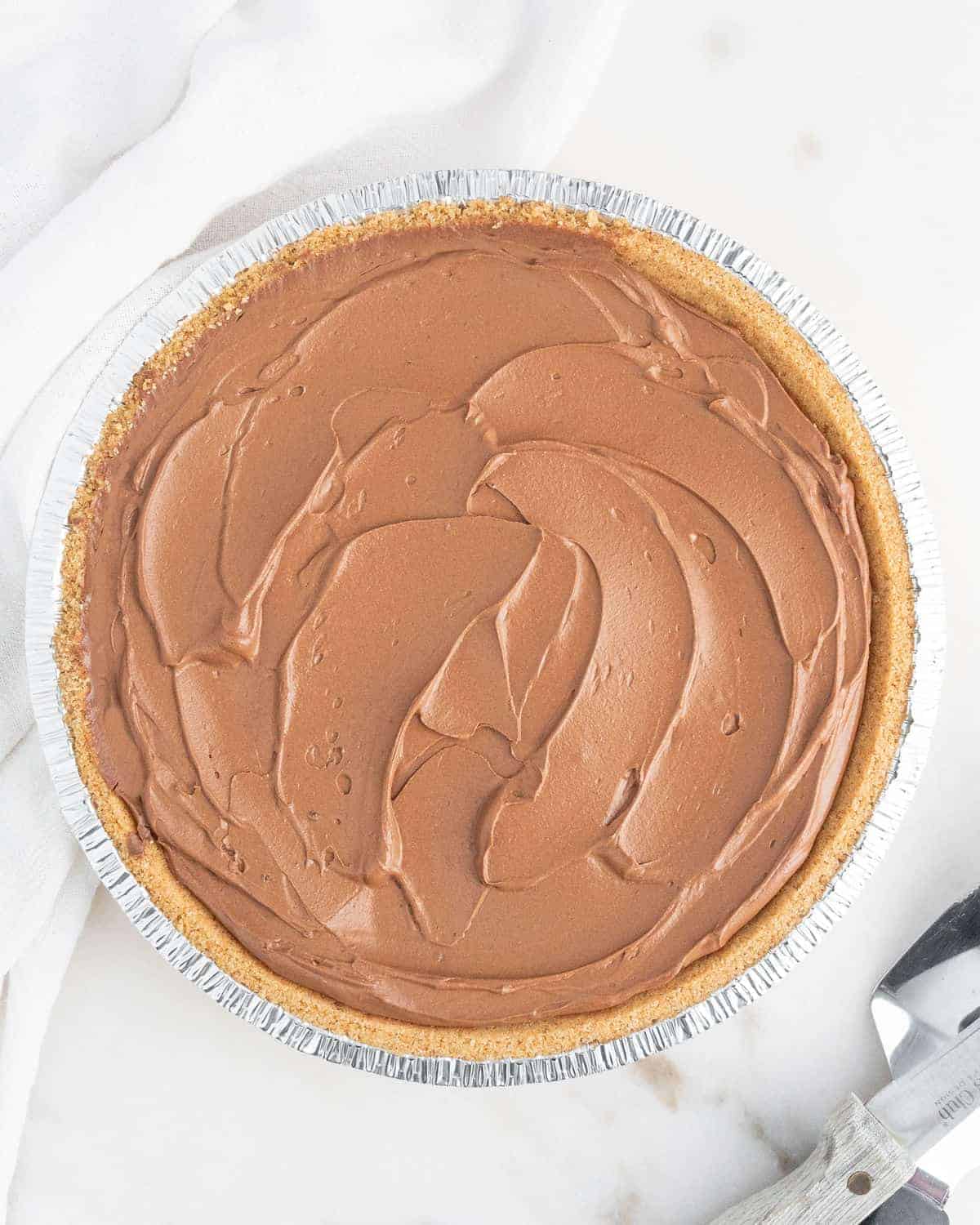 4-Ingredient Super Creamy Vegan Chocolate Pie
You may have noticed that we shared a simple chocolate peppermint pie recipe over the holidays. Well, that recipe was actually inspired by this super simple, rich, and creamy vegan chocolate pie (also called vegan chocolate cream pie/vegan chocolate silk pie) from the Plant-Based on a Budget cookbook. Made with just three ingredients plus a pre-made vegan pie crust and just minutes of hands-on prep, this vegan chocolate cream pie is the ultimate no-fuss dessert ready to impress at dinner parties, events, or for busy mid-week desserts!
Non vegan chocolate pie can contain cream, butter, eggs, and more. In comparison, this eggless chocolate pie is 100% vegan and can easily be adapted to different dietary requirements by swapping out the crust, vegan chocolate, and even silken tofu used for gluten-free, refined sugar-free/sugar-free, soy-free, etc. options. Even better, this dairy-free chocolate pie is incredibly easy to adapt to create tons of flavor variations, too – no matter the occasion!
And while the tofu filling may have you a little skeptical. Don't be! Silken tofu makes for the most wonderfully creamy and silky filling (plus plant-based protein!), but it won't taste like tofu, thanks to all the vegan chocolate! And, if you're really worried (or have dietary requirements that require you to skip the tofu), then we've even included potential substitutes for you below!
This dairy-free chocolate pie is simplicity at its finest, proving you don't need to have a ton of bells and whistles for an impressive and delicious dessert. And, if you're as pie-mad as us, you might also like these recipes for pumpkin chocolate pie and banana cream pie.
The Vegan Chocolate Cream Pie Ingredients
All you require for this vegan chocolate pie is just 3 ingredients and the crust (which can you can buy or make with just 2-3 additional ingredients)!
We recommend using high-quality vegan chocolate for the best flavor, especially in a recipe requiring so few ingredients. Ghirardelli or Guittard are particularly good, but pricey – so use what fits your budget.
You could also double up on dairy-free chocolate with a vegan Oreo pie crust (24 cookies with a few tbsp vegan butter/oil) or make a gluten-free cookie crust if preferred. Of course, regular pie crust will also work for the dairy-free chocolate pie. Alternatively, make a simple, no-bake pie crust using a combination of nuts/seeds, soaked dates, oats, and salt. Use a food processor to process it into a dough consistency.
Optional add-ins & Recipe Variations
To Make Vegan Chocolate Pie Without Tofu
We've found that using a firm dairy-free cream cheese works best as a silken tofu replacement for the best texture and creaminess (like Daiya).
Full-fat coconut milk may also work, but we haven't tested this yet, and think it would require further tweaks to 'set' correctly (possibly cashew cream/raw cashew butter).
If you make any tweaks and find that the filling doesn't set, you can pour it into a saucepan. Add a little cornstarch slurry or agar powder and simmer to thicken.
Optional toppings:
How to Make Vegan Chocolate Pie?
1) First, place the vegan chocolate in a microwave-safe bowl and heat it for 45 seconds. Then mix until smooth. If the vegan chocolate is still lumpy, continue to microwave in 20-second intervals until completely smooth.
Alternatively, you can use a double boiler to melt the chocolate without the risk of scorching.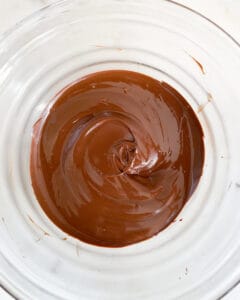 2) Then, combine all the vegan chocolate pie filling ingredients (melted plant-based chocolate, tofu, and vanilla extract) in a food processor or blender until creamy and smooth.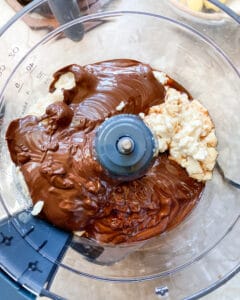 3) Pour the filling mixture over the pie crust, using a silicone spatula to get it all out of the blender/processor jug and to smooth down the top of the pie. Then gently tap the pie against the surface of your table to remove any air bubbles.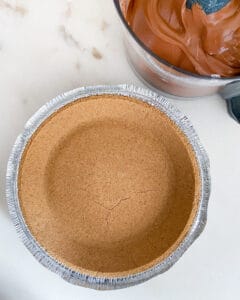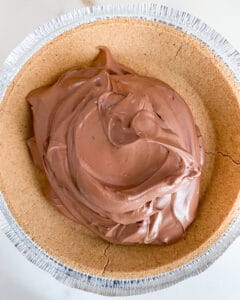 4) Then, transfer the tofu chocolate pie to either the refrigerator (for 2-3 hours) or the freezer (30 minutes) until the filling has set.
You can then slice and enjoy the pie as-is or garnish it first – enjoy!
How to Store?
Keep the vegan chocolate cream pie stored in an airtight container/covered tightly in the refrigerator for 5-7 days.
You can also freeze the vegan no-bake pie for up to a month but with a caveat. Freezing can change the texture of the silken tofu. For that reason, it's best to enjoy frozen slices at a semi-frozen state for the best texture.
If you want to make your own crust, please do this in advance. You can also prepare the entire vegan chocolate cream pie a day in advance, to set. You can also make a coconut whip cream topping in advance.
FAQs and Recipe Notes/Tips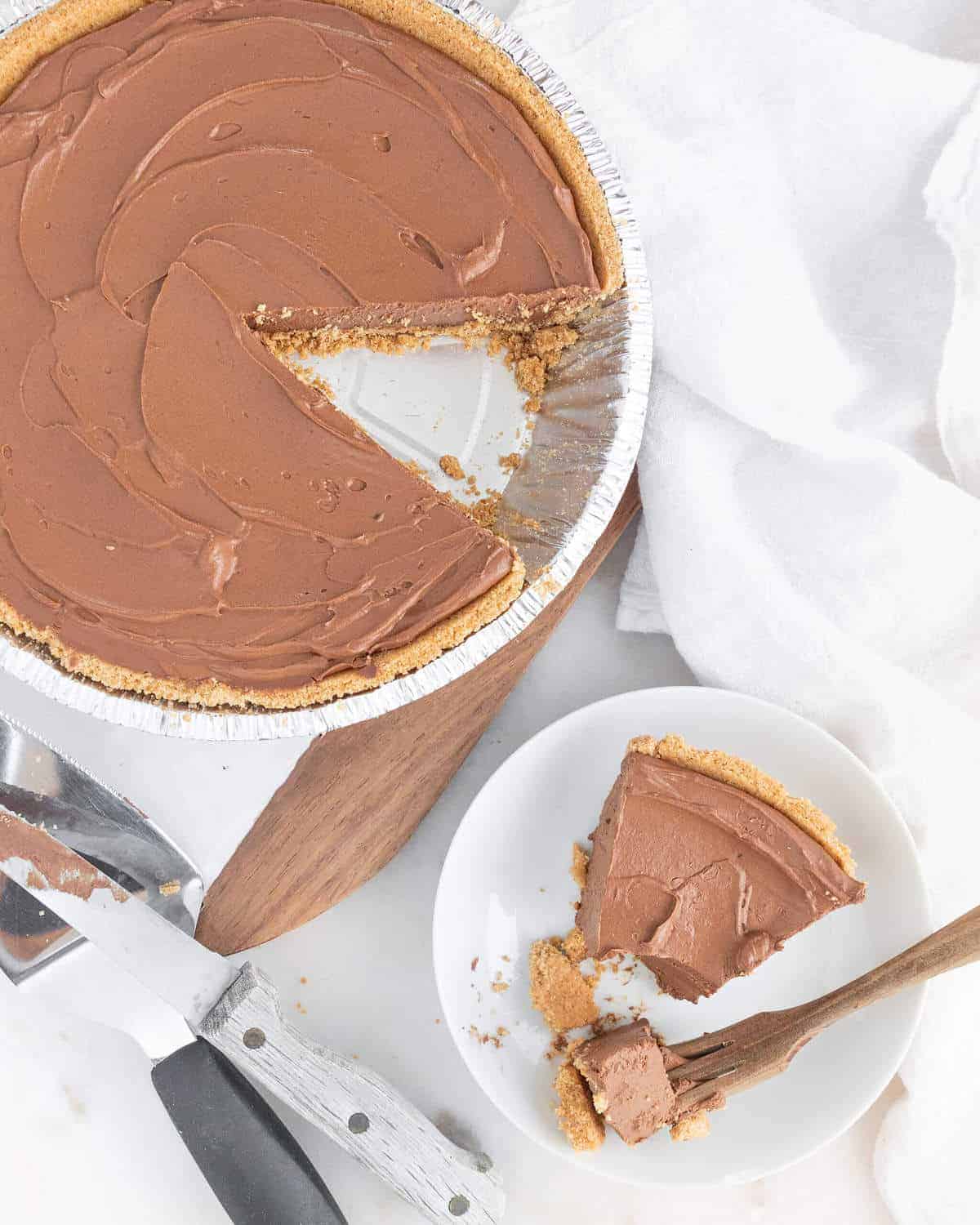 More easy vegan Chocolate Desserts
Photos by Alfonso Revilla
Creamy Vegan Chocolate Pie (4 Ingredients| Fuss-free!)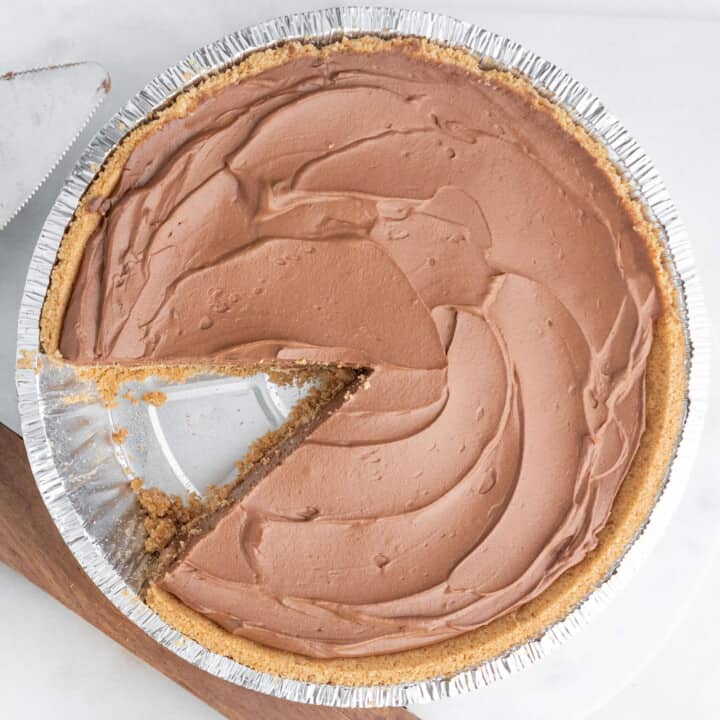 This vegan chocolate pie is light, creamy, and silky, with just 4 ingredients (including a pre-made crust), no baking, and fuss-free, low-effort prep! Perfect for Thanksgiving, dinner parties, gatherings, and even busy mid-week desserts!
Ingredients
1

12-ounce bag of vegan semisweet chocolate chips

1

14-ounce block of silken tofu, drained

2

teaspoons

vanilla extract

1

vegan graham-cracker pie crust
Instructions
In a small, microwave-safe bowl, microwave the veagn chocolate chips for 45 seconds. Mix with a fork until smooth. (If the vegan chocolate is still lumpy, microwave for 20-second intervals, mixing in between, until the chocolate is completely smooth.)

In a blender or food processor/blender, blend the melted vegan chocolate, tofu, and vanilla until creamy.

Pour the tofu-chocolate mixture into the pie crust and place in the freezer for 30 minutes or until the filling solidifies. The pie can be stored in the refrigerator for up to 5 days.
Video
Notes
Can this pie be gluten-free? As long as you use a gluten-free crust, the filling is already gluten-free.
Do I have to keep the pie chilled? Yes, it's best to do so for texture and food safety. You can store it in the fridge or freezer.
Can we make crust-free vegan chocolate pie? For a crustless version, you can fill up jars with this filling, too, as a 'pudding'. Then, top them off with whipped coconut cream and vegan chocolate shavings for a simple, moreish, delicious dessert. Or make it lighter with some banana/berries and a dollop of dairy-free yogurt and/or granola for breakfast.
No need for a high-speed blender: The ingredients will blend easily even in machines past their prime.
Use high–quality vegan chocolate: As there are only 4 ingredients in this dairy-free chocolate pie, it's important that they're high quality. Use REAL vegan chocolate with cacao butter.
Nutrition
Calories:
467
kcal
Carbohydrates:
55
g
Protein:
8
g
Fat:
28
g
Saturated Fat:
13
g
Polyunsaturated Fat:
1
g
Monounsaturated Fat:
5
g
Sodium:
137
mg
Potassium:
153
mg
Fiber:
4
g
Sugar:
33
g
Vitamin A:
1
IU
Calcium:
103
mg
Iron:
5
mg
Disclaimer: Although plantbasedonabudget.com attempts to provide accurate nutritional information, kindly note that these are only estimates. Nutritional information may be affected based on the product type, the brand that was purchased, and in other unforeseeable ways. Plantbasedonabudget.com will not be held liable for any loss or damage resulting for your reliance on nutritional information. If you need to follow a specific caloric regimen, please consult your doctor first.
Additional Info