As an Amazon Associate I earn from qualifying purchases.
There's something special about a charcuterie board that screams fun and just an all-around grand time! It's the perfect appetizer full of a variety of flavor, textures, colors, and ingredients that naturally brings people together and this olive charcuterie board is no different. With its diverse spread of crackers, dips, fruits, and veggies, it's the perfect blend of red, white, and blue to get everyone pumped and ready for some outdoor fun this holiday. Let's dive in!
Creativity Galore
The beauty of a charcuterie board is that you've got an endless amount of options to make your board special for any occasion! Take your pick and choose your favorite plant-based cheeses, plant-based meats, fruits, veggies, crackers, and spreads of your choice and you've got yourself a board of goodness that will have your company in very good spirits. Let your imagination run wild! There's nothing like having a variety or flavors and textures to choose from as a variety of options are key. Plus, who doesn't like finger foods?
Our charcuterie board is all about July 4th so we've put together a wide mix of finger foods that are perfect to snack on while watching fireworks with family or in between an intense match of cornhole and darts with friends. Even the kids will enjoy snacking on this one!
The Red White and Blue Board
When it comes to putting together the perfect charcuterie board, ingredients are key! Depending on the theme you're going for, how many people you're serving, and also what you and your guests like, you can get as creative as you want. The opportunities are endless! In this olive charcuterie board, we've centered the theme around the celebration of the 4th of July and included an abundance of red, white, and blue ingredients to bring out some patriotic appreciation to the party. Your guests will be wrapped in the spirit of independence with these festive foods!
We've got quite the assortment of red, white, and blue ingredients! We included white corn chips, hummus, white mushrooms, and cauliflower florets for our white ingredients. Strawberries, cherries, tomatoes, and red salsa were used for our red ingredients. Then, for our blue ingredients, we decided on blueberries, blue corn chips, and of course our California Ripe Olives. What's a charcuterie board without olives, am I right?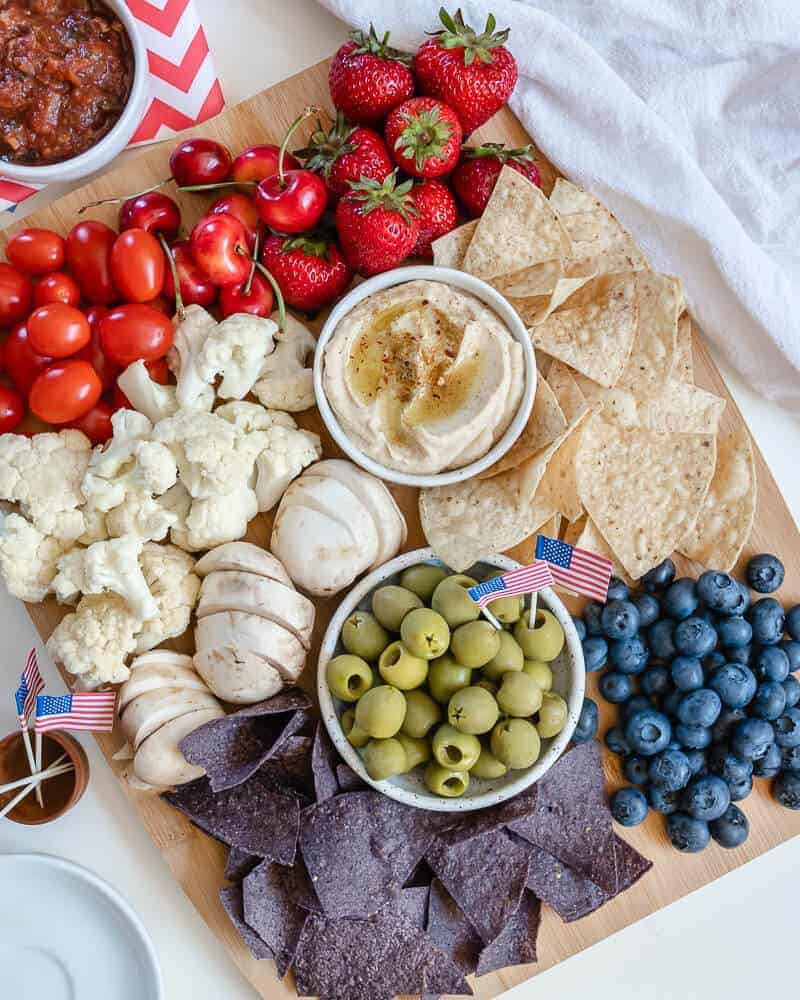 The Magic of Olives
We love these olives from our friends at California Ripe Olives! They complete our charcuterie board with a splash of diverse flavor that is full of good fat and amazing micronutrients. If you're an olive fan, you're going to absolutely love these olives and want to throw them on everything! We had to include them in our 4th of July charcuterie board because they are just that good!
You can always mix it up and choose your favorite ingredients for your board! Whichever color scheme, mix of flavors, or variety of ingredients you decide on, it'll be the perfect appetizer to bring your friends and family together for a grand 'ol time!