As an Amazon Associate I earn from qualifying purchases.
These vegan BBQ cauliflower wings are sweet, smoky, saucy, crispy, and perfect as a game day and party appetizer or side dish! Lightly battered and baked (or air fried) until crispy. Just a handful of ingredients, oil-free, egg-free, and gluten-free optional!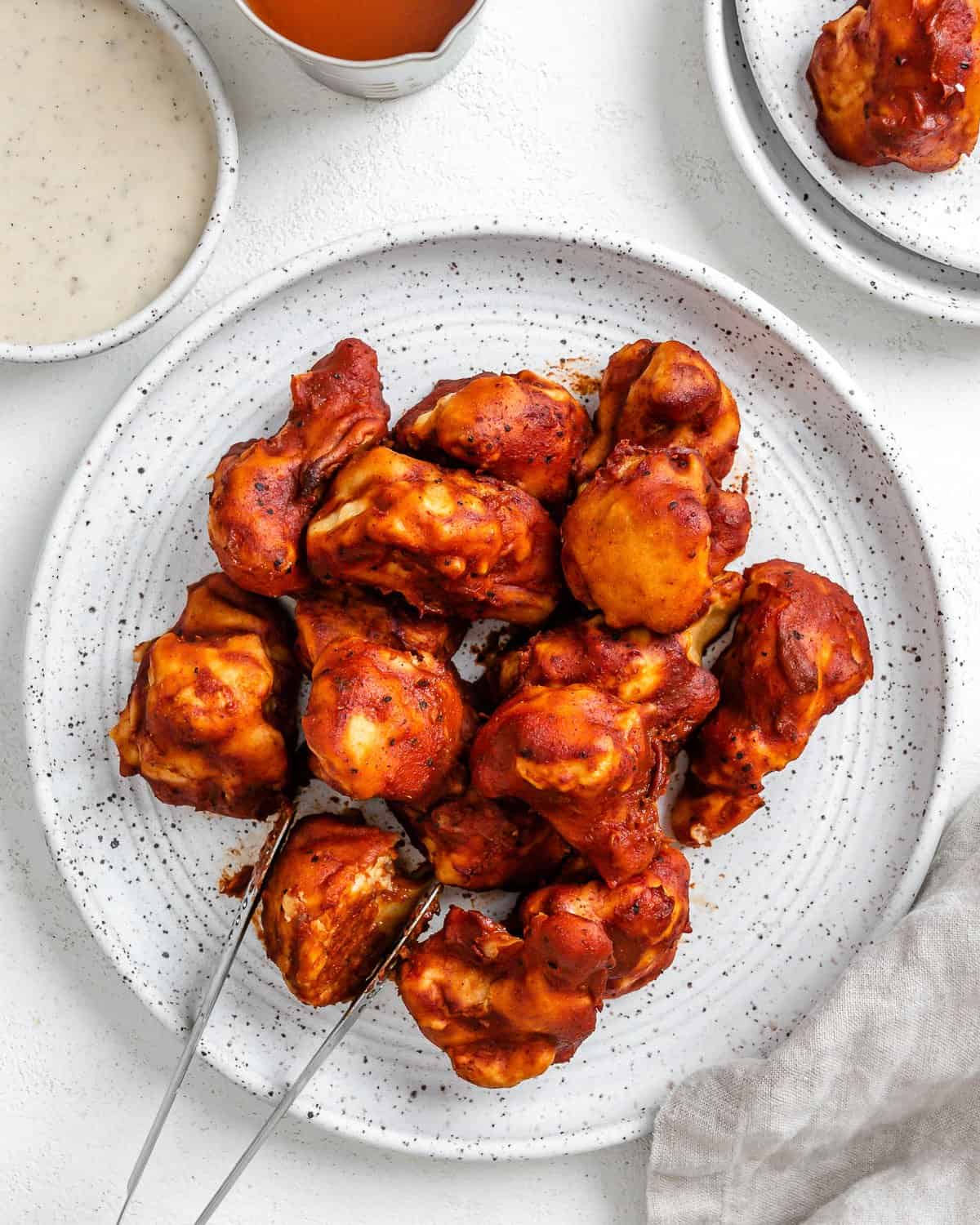 Smoky, Sweet, and Moreish BBQ Cauliflower Wings
The neutral flavor of cauliflower has made it a popular choice for vegans, low-carb eaters, and healthy eaters alike. With little effort, it's easy to transform this ingredient into a healthy pizza base, low carb rice or mashed 'potatoes,' cauliflower steaks, and this BBQ cauliflower wings recipe!
There are tons of recipes out there for buffalo cauliflower, and we get it, it's delicious. But now it's time for BBQ to take center stage. This barbeque cauliflower is a sweet, sticky, rich, and crowd-pleasing addition to your next game night, potluck, or party!
They're lighter, healthier, and lower carb than other party dishes (not to mention 100% meat-free!). In addition, I packed cauliflower with Vitamin C and vitamin K. It is also a great detox food and loaded with antioxidants.
Best of all, these vegan cauliflower wings are simple and inexpensive to prepare too. All you need are 7 pantry staples (probably already in your kitchen!), cauliflower, and 35 minutes to get this delicious vegan appetizer ready to impress!
And if you're looking for more ways to enjoy cauliflower, why not try cauliflower tacos, crispy cauliflower bites, a sweet potato cauliflower casserole, or crispy spiced okra and cauliflower!
The Ingredients
This easy BBQ cauliflower wings recipe is made even easier with an ingredient list entirely of inexpensive kitchen and pantry staples.
Cauliflower: Use cauliflower that is heavy for its size with no brown spots/blemishes.
All-purpose flour: Alternatively, use whole wheat flour or gluten-free all-purpose flour/ chickpea flour (GF).
Plant-based milk: Use any unsweetened vegan milk option. Water would also work.
Seasonings: These BBQ cauliflower wings use a combination of onion powder, garlic powder, and smoked paprika.
Brown sugar: Use coconut sugar for an unrefined option. This will enhance and encourage more caramelization while cooking.
BBQ sauce: Use your favorite BBQ sauce (yes, even flavored versions if you'd like). Use a KETO version if preferred.
Liquid smoke: (optional) Liquid smoke is perfect for adding a grilled depth of flavor.
Vegan ranch: (Optional, to serve) Because where would cauliflower wings be without their perfect sidekick?!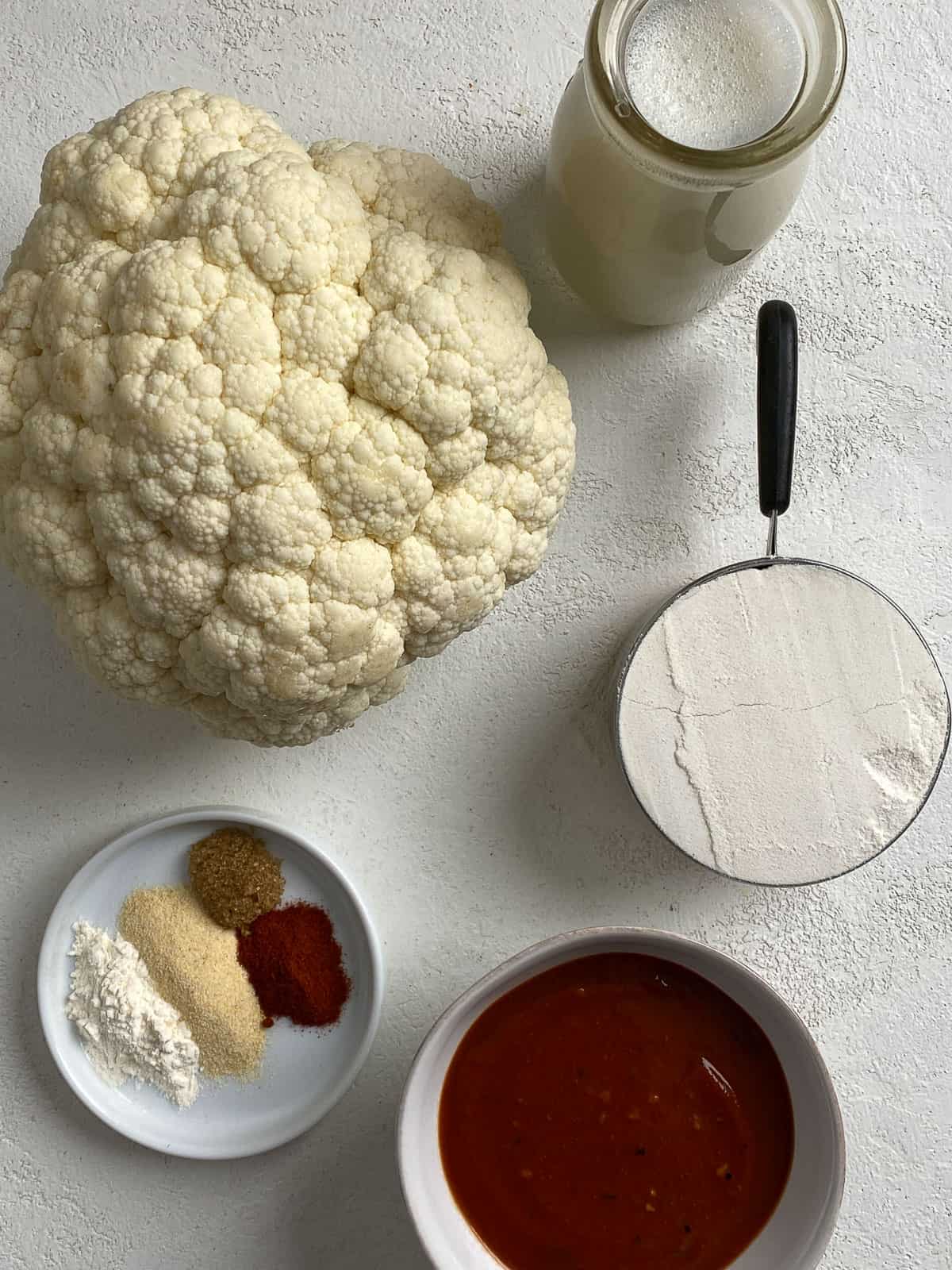 Optional add-ins & Dipping Sauces
Spice: You can mix a small amount of hot sauce into the BBQ sauce OR sprinkle the baked BBQ cauliflower wings with red pepper flakes before serving.
Black pepper: Season the batter, to taste, for subtle spice.
Herbs: Garnish the freshly cooked vegan cauliflower wings with chopped parsley, green onions/scallions, or dill for freshness.
Breadcrumbs: We find the batter is enough, but if you want even more crunch, roll the cauliflower wings into breadcrumbs (regular, panko, GF) after battering them.
Along with vegan ranch, there are several other dipping sauces you could choose from, too:
Vegan garlic mayo or vegan garlic yogurt dip
Spicy vegan mayo
What do you like to serve the BBQ cauliflower wings with?
How to Make BBQ Cauliflower Wings?
1) First, preheat the oven to 450F/230C and line a baking tray with parchment paper or spray with some cooking spray.
2) Then, separate the cauliflower down into even-sized pieces/ cauliflower florets. We cut ours into strips around ½-inch wide and 2-3 inches long.
Adjust the size of the 'wings' to your liking. Larger florets will be more like traditional wings. Chop it down into smaller pieces for BBQ cauliflower bites.
3) In a bowl, whisk the flour, non-dairy milk, seasonings, sugar, and liquid smoke until well combined.
4) Then, dip the cauliflower wings into the flour mixture, ensuring they're thoroughly coated.
It saves time to chuck them all in the bowl and toss well. Lightly shake off any excess batter.
5) Transfer the wings to the prepared baking sheet and then bake for 15-20 minutes, until the wings are crispy on the outside and tender in the middle. The exact time this takes will depend on the size of the pieces you're baking.
6) Meanwhile, heat the BBQ sauce in a small saucepan over medium heat. After the 15 minutes, toss the cauliflower wings into the sauce (or dip them) and then return them to the oven for a further 5 minutes and enjoy!
For extra crispiness, use a broiler for a minute or two at the end.
We love to serve ours with a vegan ranch dipping sauce.
How to Make Ahead and Store?
You can chop the cauliflower and prepare the batter a couple of days in advance, storing them separately in the fridge until you're ready to continue with the recipe.
We recommend consuming the barbeque cauliflower wings immediately for the best texture. However, any leftovers will store in an airtight container for 3 days.
To reheat the cauliflower wings, place them back in the oven or an air fryer at 400F/205C until heated through.
FAQs
Can I make air fryer cauliflower wings?
We haven't tried with this recipe (yet). However, if you want to try, we recommend preparing the battered florets as written above and then spreading them in a single layer in your air fryer basket, leaving space in between.

Cook them at 400F/205C for around 10-12 minutes, until tender in the middle and crisp outside. Then brush or dip each one in the BBQ sauce and return to the air fryer for a further minute or two.
Can I use frozen cauliflower?
We haven't tried, though we've seen it been done with success. However, when using frozen cauliflower, they may not end up as crispy. We recommend allowing it to thaw first and patting away any excess liquid with a kitchen towel before battering and cooking the vegan cauliflower wings.
Top Recipe Tips and Notes
Use even-sized pieces: Otherwise, the BBQ cauliflower wings will cook at different rates.
Don't crowd the pan: The airflow around the BBQ cauliflower bites/ wings is essential for achieving crispy results. If there are too many, too close, then they will steam.
Cooking time varies: Based on the exact size of your cauli wings and your oven. So keep an eye on them the first time you make the recipe.
Tweak the flavors: BBQ sauce is already naturally sweet, so feel free to reduce or eliminate the amount of added sugar. Want more smokiness? Add some extra liquid smoke? Etc.
For less sauce: Use a brush to brush over the barbeque cauliflower rather than dipping them into the sauce.
For crispier results: Spray the vegan cauliflower wings with a bit of oil/cooking spray before cooking them.
How to Serve Vegan Cauliflower Wings?
Along with serving these BBQ cauliflower wings as an appetizer with your choice of dip and other crudités (carrot sticks, celery sticks, etc.), you can also add them to other meals, such as:
More Vegan Appetizers
Photos by Alfonso Revilla
BBQ Cauliflower Wings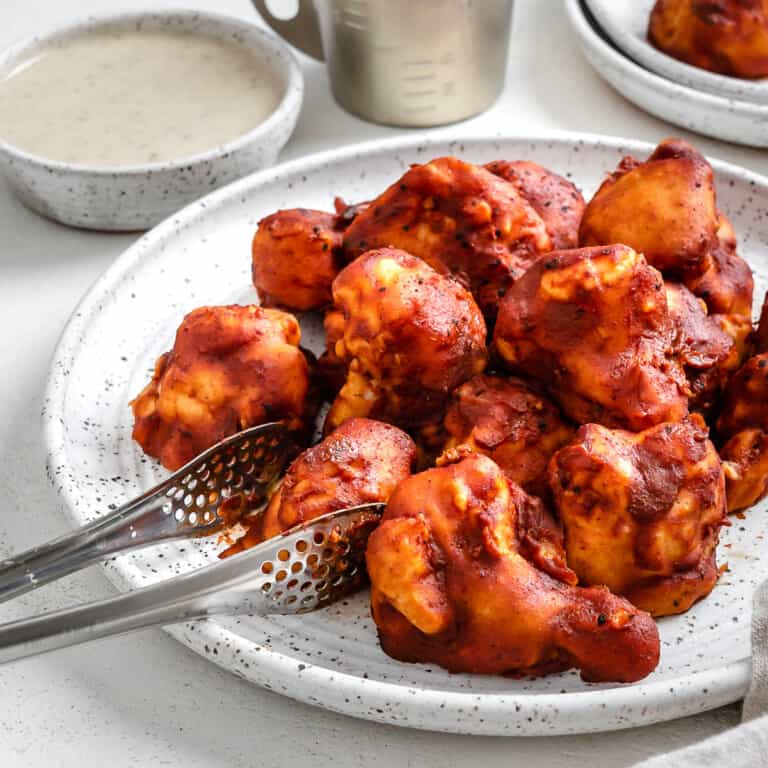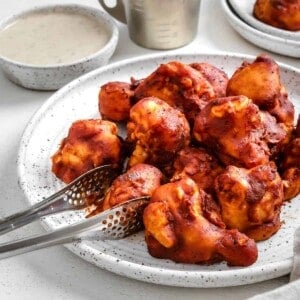 You won't believe how delicious these bbq cauliflower wings are! Using only plant-based ingredients you will enjoy tons of flavor!
Ingredients
½

head

of cauliflower

1

cup

of all-purpose flour

1

cup

of plain plant-based milk

1

teaspoon

of garlic powder

1

teaspoon

of onion powder

½

teaspoon

of paprika

½

teaspoon

of brown sugar

½

teaspoon

of liquid smoke (optional)

1

cup

of bbq sauce

Vegan ranch
Instructions
Preheat the oven to 450 degrees F (232 degrees C).

Cut the cauliflower into thin strips about ½ inch wide, and 2 -3 inches long.

Whisk the flour, plant-based milk, garlic powder, onion powder, paprika, brown sugar, and liquid smoke together in a bowl until thoroughly combined. Dip the cauliflower pieces into the flour mixture, making sure to coat the entire piece.

Place the cauliflower pieces onto a non-stick baking sheet, or baking sheet coated with cooking spray or lined with parchment paper. Bake for 15 minutes.

While cauliflower is cooking, heat the bbq sauce in a saucepan.

Remove the cauliflower pieces from the oven and dip them in BBQ sauce. Place pieces back on the baking sheet and cook for 5 more minutes.

Enjoy with some more bbq sauce or vegan ranch.
Notes
Use even-sized pieces: Otherwise, the BBQ cauliflower wings will cook at different rates.
Don't crowd the pan: The airflow around the BBQ cauliflower bites/ wings is essential for achieving crispy results. If there are too many, too close, then they will steam.
Cooking time varies: Based on the exact size of your cauli wings and your oven. So keep an eye on them the first time you make the recipe.
Nutrition
Calories:
291
kcal
Carbohydrates:
64
g
Protein:
6
g
Fat:
1
g
Saturated Fat:
1
g
Polyunsaturated Fat:
1
g
Monounsaturated Fat:
1
g
Sodium:
782
mg
Potassium:
434
mg
Fiber:
3
g
Sugar:
29
g
Vitamin A:
283
IU
Vitamin C:
35
mg
Calcium:
54
mg
Iron:
2
mg
Disclaimer: Although plantbasedonabudget.com attempts to provide accurate nutritional information, kindly note that these are only estimates. Nutritional information may be affected based on the product type, the brand that was purchased, and in other unforeseeable ways. Plantbasedonabudget.com will not be held liable for any loss or damage resulting for your reliance on nutritional information. If you need to follow a specific caloric regimen, please consult your doctor first.
Additional Info