As an Amazon Associate I earn from qualifying purchases.
Pumpkin pie spice is a combination of 5 pantry-friendly, tasty spices for all your favorite autumn-flavored pies, cakes, biscuits, and other snacks made in less than 5 minutes! It adds a warm and cozy flavor to those delectable treats that your family will enjoy all year round.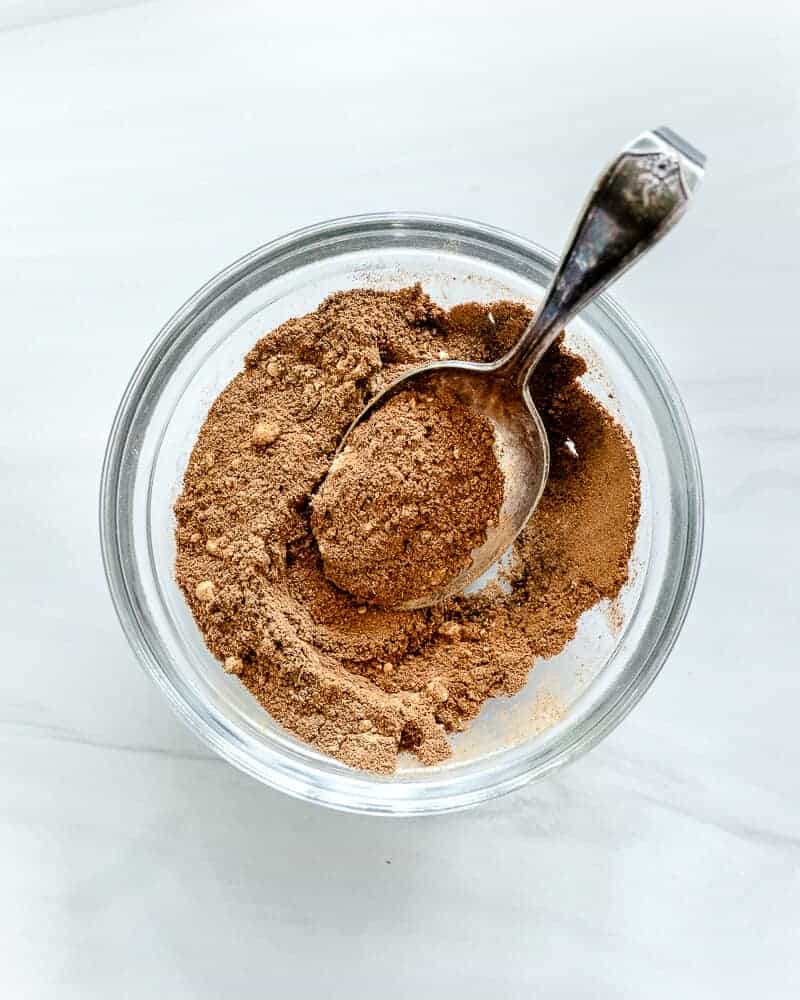 I enjoy preparing recipes at home that are simple to make using cupboard essentials, and pumpkin pie spice is definitely one of them. I love how the comforting aroma permeates the air whenever I stir the ingredients together. Just thinking about it puts me in full-on baking gear! I can't wait to find myself dusting it on and adding it to just about everything. It's like having a taste of autumn all year round.
Homemade
Pumpkin Pie Spice
Instead of buying a spice mix in a jar, I always make my own pumpkin pie spice for several reasons:
First, those small spice jars are pretty expensive. As a result, saving money by producing my own tasty pumpkin pie spice is always a good idea. You can even personalize it to your liking. My version usually has a strong cinnamon flavor. In addition, purchasing it in a store does not ensure it will be available when you need it. So, that is the reason why I opt for homemade, which takes only a few minutes to prepare and keep in a tiny jar for use throughout the season. Lastly, the recipe is adaptable. I have complete control over the proportions of each component. Feel free to experiment with the spices if you prefer more of one or less of another. Adjust the amount or ratio to make the spice blend to your liking.
Homemade Pumpkin Pie Spice Recipe Ingredients
This recipe is quick and easy to make! It only calls for 5 basic spices that can be reduced to 4.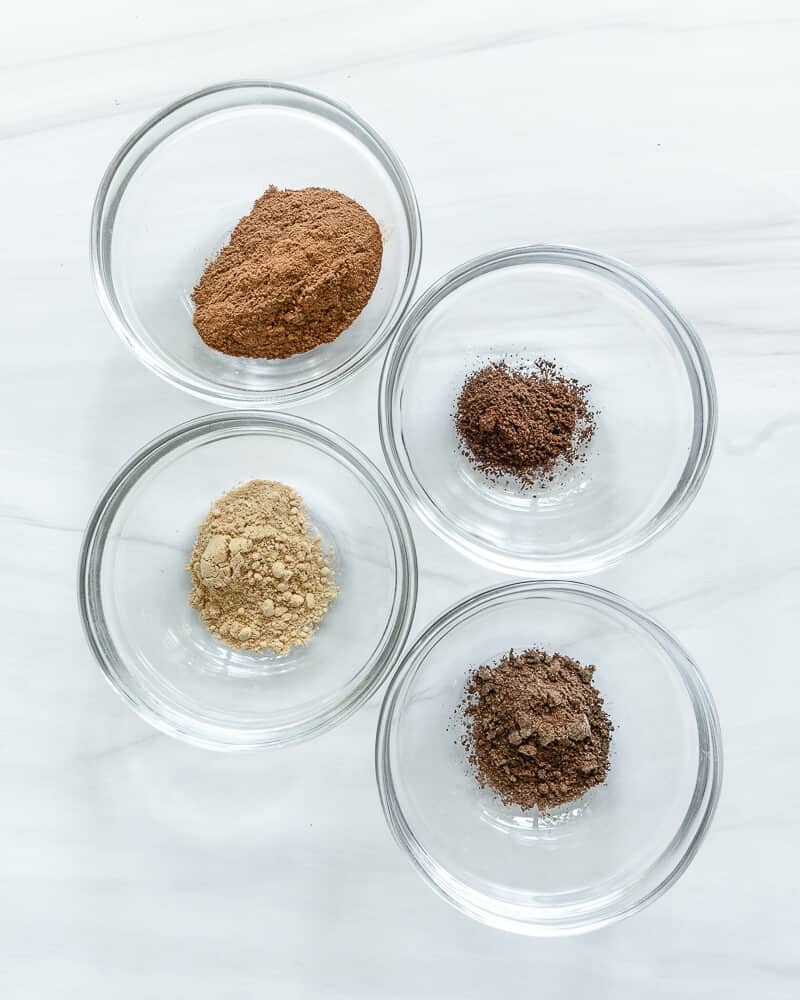 Ground Cinnamon – Extracted from the inner bark of a variety of Cinnamomum tree species. Thus, making cinnamon as an aromatic condiment and flavoring in several cuisines, including sweet and savory dishes, breakfast cereals, snack foods, tea, and traditional foods.

Ginger powder – This type of spice came from the dried ginger root in which it was pounded having a slightly brownish color with a pungent scent and flavor. Ginger powder is easy to store and has a one-year shelf life.

Ground cloves – Known for their aroma, and warming flavor that pumpkin pie and spice cake will not be the same without them.

Nutmeg – Produced from the seeds of a tropical evergreen tree in the Myristicaceae family. It has a strong aroma and a warm, slightly sweet flavor.

Allspice – From the tropical Pimenta dioica tree, which produces a dried brown berry. This spice is optional, but like nutmeg, is super flavorful! So a small quantity is all you need to add depth to your spice blend.
How to make your pumpkin pie spice?
The best part – mixing them all! Add all of the spices to a large bowl and thoroughly combine them. A small basin is ideal if you are making a little amount. However, if you want more, mix the spices in a separate container before transferring them to the jars to ensure even distribution of spices is acquired. I adore the scent of autumn that these spices bring to my kitchen. Surely, pumpkin pie spice makes us want to celebrate and get ready for the holidays.
What are the health benefits?
The spices that comprise the pumpkin pie spice are not just tasty but great to our body too.
Cinnamon can help to keep blood sugar levels in check.

Ginger has anti-inflammatory and cancer-prevention properties.

Nutmeg a digestive aid, a sleep aid, and a preventive for Alzheimer's disease.

Allspice has antioxidant and anti-infection properties.

Cloves to treat arthritis, as a digestive aid, and reduce inflammation.
How to Store Spices Correctly?
I must admit, spices are oftentimes taken for granted in the kitchen. Storing them correctly can be a challenge. After leaving the spice for a while, returning to them with the same fragrance and flavor exactly as you last used them means good storage. As they say, take care of your spices, and your food will take care of itself, giving you the best flavor all the time.
Spices are some of the most long-lasting ingredients in your kitchen, with a lifespan ranging from months to years. In storing my pumpkin pie spice, I keep the spice in a sealed container at room temperature for several months. Whenever I am in a DIY mood, I would put them in jars that I found online. Finally, labeling the jars keeps everything neat and adds a unique aesthetic look.
How to keep the flavor last longer?
Spices lose their flavor when exposed to air. To maintain optimum taste, keep them intact in a moist free environment. Follow these tips to ensure high-quality spices are enjoyed for a longer time:
Do's
Store your spices in a cool and dry place. The ideal temperature is about 70° F.

Use opaque containers and put a label. Exposure to light can alter the flavor of spices over time and cause them to age more quickly.

Check your spices frequently. Having well-organized, properly labeled containers will encourage you to use them more often.
Don'ts
Avoid storing spices near the stove in cabinets. I completely understand the need for easy-access ingredients. However, heat destroys spices by drying out the oil that gives them their distinct flavor.

By placing the spices near a window tend to expose them to direct sunlight.

Not everything kept in the fridge or freezer will preserve its flavor and last longer. Once removed, it adjusts to room temperature. As a result, it can highly condense the spices, potentially producing mold or affecting the flavor.

Using wet spoons to measure is not advisable. Remember our rule of thumb, moisture is a no-no. Spices are expensive, and having to throw away an entire jar because it has solidified is a disaster.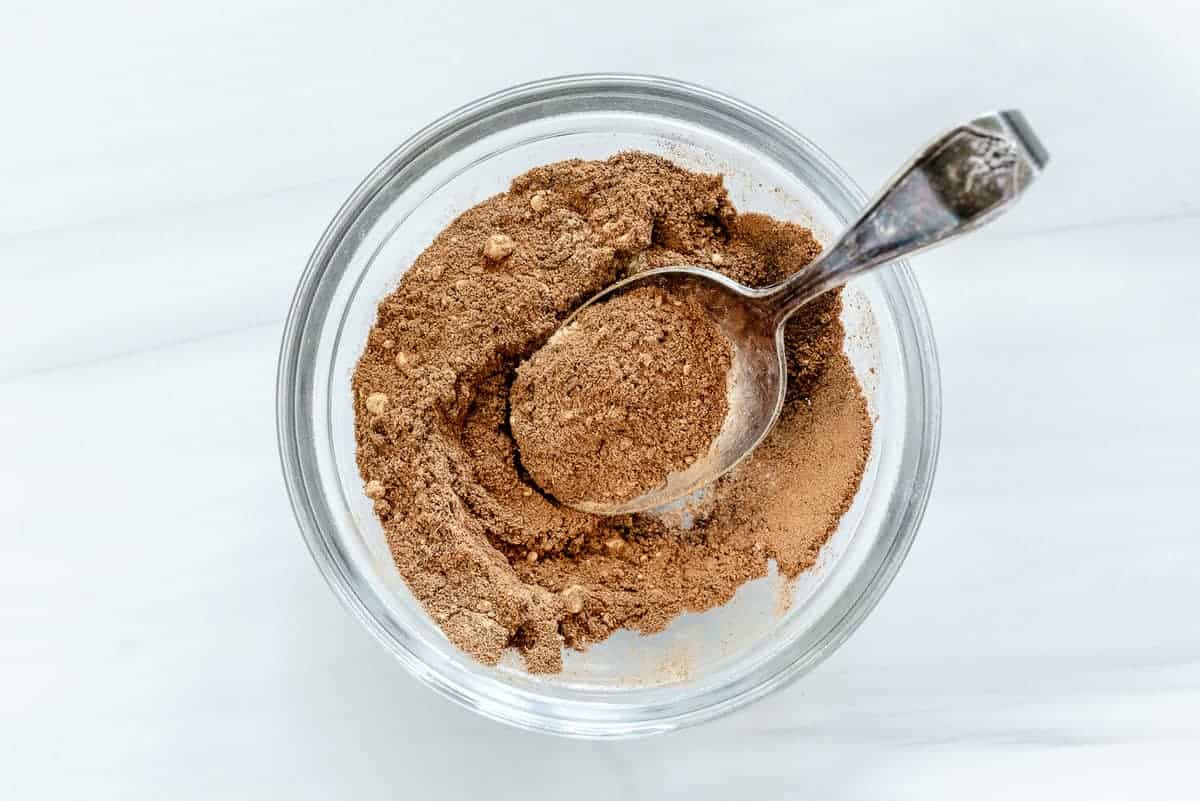 More favorite pumpkin pie spice recipe
Try one of these cozy treats on your next baking adventure:
Pumpkin Chocolate Pie

– packed with pumpkin puree and plant-based protein The use of silken tofu to make it smooth and creamy is the biggest surprise of all.

Apple Pie

– It includes a flaky crust and a delicate apple pie filling with subtle spices.

Pumpkin Cheese Cake

– It is not your ordinary cheesecake. The warm fall spices, tofu, cashews, and pumpkin makes this recipe a crowd favorite.
Photos by Alfonso Revilla
Pumpkin Pie Spice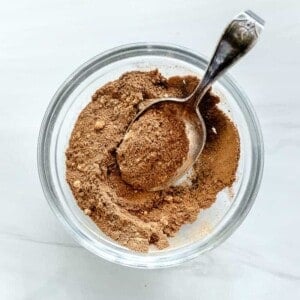 Pumpkin pie spice is a combination of 5 pantry-friendly, tasty spices for all your favorite autumn pies, cakes, biscuits, and other snacks in less than 5 minutes!
Ingredients
1

tablespoon

of ground cinnamon

1 ½

teaspoons

of ginger powder

½

teaspoon

of nutmeg

1

teaspoon

of ground cloves.

⅓

teaspoon

allspice (optional)
Instructions
Mix all the ingredients together well.

Store in an airtight jar in the cabinet.
Notes
Allspice is optional and can be omitted.
Nutrition
Calories:
42
kcal
Carbohydrates:
11
g
Protein:
1
g
Fat:
1
g
Saturated Fat:
1
g
Polyunsaturated Fat:
1
g
Monounsaturated Fat:
1
g
Trans Fat:
1
g
Sodium:
8
mg
Potassium:
105
mg
Fiber:
6
g
Sugar:
1
g
Vitamin A:
32
IU
Vitamin C:
1
mg
Calcium:
102
mg
Iron:
2
mg
Disclaimer: Although plantbasedonabudget.com attempts to provide accurate nutritional information, kindly note that these are only estimates. Nutritional information may be affected based on the product type, the brand that was purchased, and in other unforeseeable ways. Plantbasedonabudget.com will not be held liable for any loss or damage resulting for your reliance on nutritional information. If you need to follow a specific caloric regimen, please consult your doctor first.
Additional Info