As an Amazon Associate I earn from qualifying purchases.
If you've been following along with my garden series, you've seen how I transformed my backyard into an entire garden full of veggies, pollinators, and more. During the pandemic, my yard became my sanctuary in the middle of so much uncertainty. I jumped into learning everything I could about gardening and decided to do all the work myself. From planting seeds to installing new sustainable raised garden beds, it's been an adventure!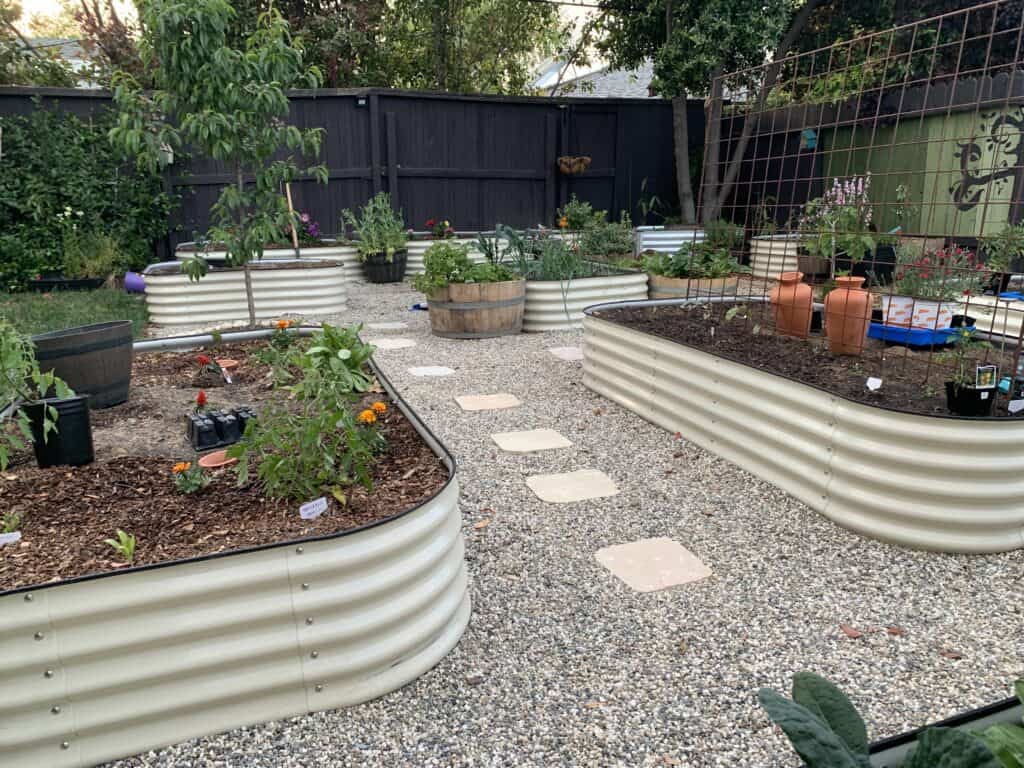 In the beginning, I started out using the raised beds that came with our backyard. My husband and I ended up taking those out, though, to create a more useful space for growing different types of plants. I wanted to find new beds that would be the right fit for the eco-friendly garden I wanted to create. After doing research, I confidently chose Vego Garden raised beds. Are you considering Vego Garden, too? Read about the benefits and use this link for a 5% off discount code.
Difference between In-Ground and Raised Garden Beds
First, what is the difference between raised (or elevated) beds and in-ground garden beds? Raised beds are usually at least a foot high and in the shape of a rectangle or square. You can choose elevated beds from Vego Garden like I did or build your own. In-ground beds are created by planting directly into the ground. A lot of people choose the raised version for their home garden.
Benefits of Raised Garden Beds
Raised garden beds have a lot of advantages. Because you bring in new soil and fertilizer to fill them, it's much easier to give veggies, fruits, and herbs the nutrients they need. You can also control how much water you give them. If you use in-ground beds, water can drain off, which makes it tough to give your plants the right amount of hydration. 
Raised garden beds also give plant roots some breathing room and better drainage space for the soil. Plus, underground animals mess with in-ground beds all the time, but they tend to stay out of elevated beds. (You can learn more about how I keep them out in this YouTube video.) Even weeds are less likely to grow over time in raised garden beds. They also look great in your yard. I think they're the way to go!
Why I Chose Vego Garden
After researching different brands of raised beds, I decided that the sustainable garden beds from Vego Garden would be the perfect fit for my yard. Here are the top reasons I picked them.
The Best Materials
Vego Garden uses eco-friendly materials made out of metal. Redwood is a popular material for garden beds, but no trees are cut down to create Vego Garden beds. My husband and I didn't want to use beds made out of redwood. I grew up in Northern California, and seeing ancient redwoods in all their beauty is magical. If you've had the chance to see them, you know how majestic they are. We didn't want to contribute to cutting down redwoods, if possible, and luckily we found a solution with Vego Garden.
Their materials also don't rust or leach chemicals into the soil, which is important. They use thick stainless steel bracing rods that are super strong, so the beds are well-protected. The steel they use is also 100% recyclable and is made using a "green process." I love that they've put a lot of thought into their materials.
Vego Garden Beds
Are Long-Lasting
I also chose Vego Garden beds because they last over 20 years. It's a relief to know they won't soften or rot over time like some wood beds do. The beds are made from Aluzinc coated steel. Aluzinc (a mix of aluminum, zinc, and silicon) is a recyclable coating. It's strong and much more resistant to breaking down than beds made out of plastic or wood. Plus, Aluzinc lasts more than two decades in water, so it should last even longer in my home garden.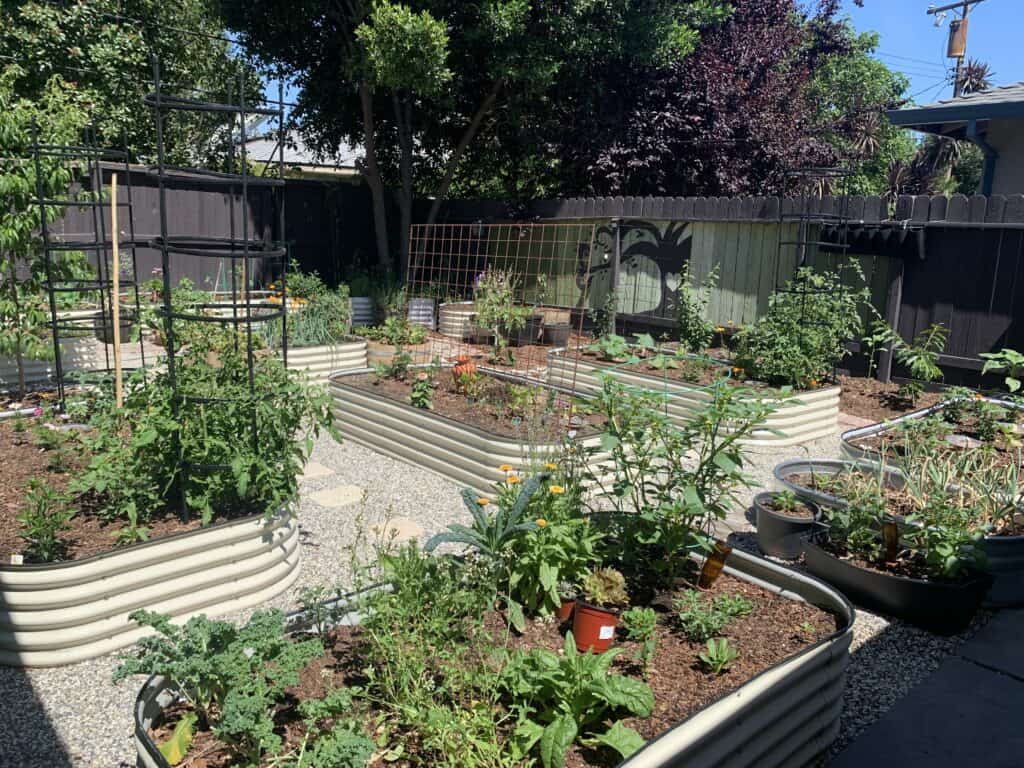 They Beat the Heat
Another reason I went with the Vego Garden beds is because they reflect heat. Since my husband and I live in California, our summers are hot. Temperatures can reach 110 degrees (sometimes higher!). I don't want all of my hard work to go to waste, so it's important that I protect my plants from the high temperatures. Nobody wants a garden full of fried roots.
If you live in a hot climate it's best to stay away from dark colors when picking garden beds.
The Vego Garden beds are white, a color that reflects heat. By reflecting heat away, they protect the soil and plants from becoming overheated. That's a relief as the summer temperatures gear up.
Vego Raised Garden Beds Fit Any Space
Vego Garden was also my choice because their raised garden beds come in many sizes. Since we ripped out our old beds to create a better space for growing, being able to choose from different sizes was perfect for us. That meant I could design our backyard garden exactly the way I wanted.
Their sustainable garden beds are wider and longer than others, which gives you more space to grow fruits, vegetables, and flowers. They also come in 17 inch and 32 inch tall sizes, which are taller than other brands. Other raised garden beds are a foot or less, but since the Vego Garden beds are taller, plant roots can grow more deeply. That's especially helpful for root veggies because they need a lot of extra room to stretch down into the soil.
The beds are also designed to be a comfortable height for gardeners. It's so nice not having to bend down when I'm watering or adding fertilizer. They come in many different widths and customizable panels, too, so gardeners can truly create any type of garden they want.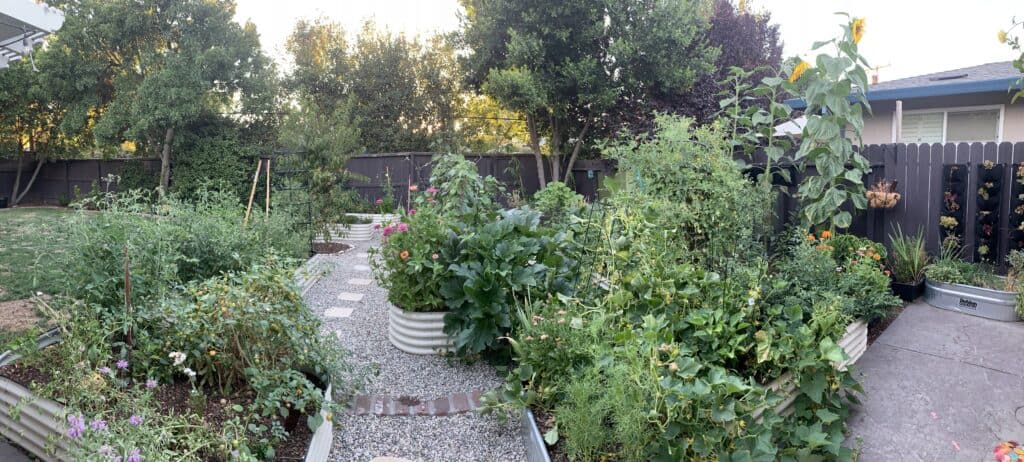 Vego Garden Spreads Gardening Love
You have to check out Vego Garden on Instagram. I love how they promote gardening day-to-day. They share customer photos so you can see exactly what the garden beds look like and how real people use them in their yard (you can even see a picture from my garden). They also celebrate all kinds of vegetables and fruit and support community gardening. You can't help but be inspired! Give them a follow to see them spread gardening love.
Do you have a backyard garden? I'd love to hear from you! Share your tips on Instagram or Facebook. And if you want to buy some Vego Garden beds of your own, click this link for my promo code.