As an Amazon Associate I earn from qualifying purchases.
This Vegan Pumpkin Bread's amazing aroma and texture is an absolute dream!  This is a quick bread recipe that comes out incredibly moist and soft. Loaded with the goodness from pumpkin puree, applesauce, and spices that can be enjoyed with your morning coffee or as an afternoon snack.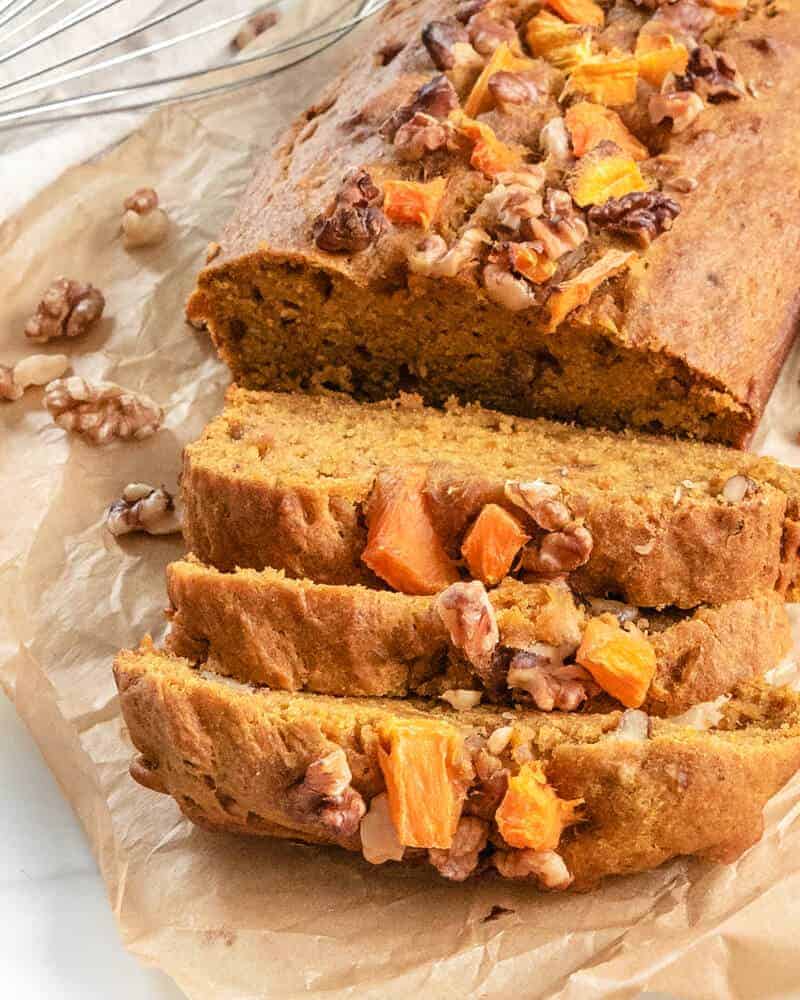 The slight chill in the air and the abundance of pumpkin marks the start of the fall season and excites me to no end! It is also the beginning of a massive pumpkin recipe craze for a lot of people like me! I just adore the smell of this loaf of vegan pumpkin bread wafting through the breezy autumn air! It'll make you want to cuddle on a cozy corner with your fuzzy blanket, a hot cup of your fave drink, and a few slices of this yummy bread on a plate. If pumpkin bread isn't calling your name, maybe these vegan pumpkin cupcakes will!
Why Vegan Pumpkin Bread will be your new favorite?
First, I kept the ingredients simple. Cooking plant-based food does not have to be complicated or time-consuming. This recipe just requires a few simple ingredients, most of which can be found in your pantry. It's astonishingly easy to create and only requires one bowl to combine all of the ingredients. It's always a plus to have fewer dishes to use and clean afterward, right?
Second, the final product is soft and moist. There have been a few adjustments to this recipe in the past to finally get the right measurements and ingredients to consistently produce a perfect loaf every time you make it!
Finally, other components in this recipe, such as applesauce and cinnamon, contribute to the dish's rustic flavor. It's the best vegan pumpkin bread if I do say so myself because the combo is so satisfyingly cozy and warm!
Healthy Vegan Pumpkin Bread Ingredients:
Pumpkin puree – For this dish, we'll need 1 cup of this rich purée. You can use homemade pumpkin puree instead of canned pumpkin if you can't find it in your local grocery store. 

Applesauce – In most cases, unsweetened applesauce is the best choice for baking. If it's the sweetened variety, you can reduce the amount of sugar to make the bread less sweet.

Vegetable oil – This type of oil adds moisture to the bread much more reliably than butter. At room temperature, oil remains liquid, whereas butter hardens, which is why we used vegetable oil in this recipe.

Vanilla Extract – A great addition to our ingredients since it brings out the flavors of the other ingredients and gives the dish a pleasant scent.

Cinnamon – It provides a distinct flavor and fragrance. It also brightens the color of the bread, making it more appealing to the eye.

Sugar, All-purpose flour, baking powder, and salt – Baking essentials that are constants in the kitchen.
How to make this well-loved pumpkin bread?
Are you ready for the tantalizing aroma of pumpkin and cinnamon-spiced bread to fill your house? These vegan pumpkin treats will have you wishing for fall all year round! Here are the steps in creating this wonderful moist bread:
Tools to use:
Steps:
Set the oven to 350 degrees F.

Combine applesauce, oil, sugar, pumpkin puree, and vanilla in a mixing bowl.  Whisk everything thoroughly. Then add the remaining ingredients and whisk until thoroughly combined.

Pour the batter into the greased loaf pan and bake for 50 to 55 minutes.
If you see a crack across the top, don't panic!  Pumpkin bread usually develops this crack and I usually stick a toothpick into a few spots in the middle of the loaf to check for doneness. If it comes out clean, then this is a sign that your bread is done. Otherwise, you may give an extra  5-10 minutes and check again.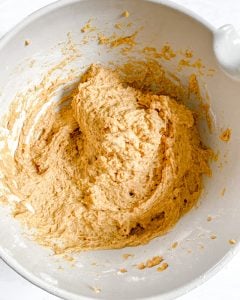 How do you Store Vegan Pumpkin Bread?
As is, this vegan pumpkin bread is super moist. Make sure to refrigerate the bread correctly to keep it as moist as the first slice. Fresh pumpkin bread can be kept in the fridge for up to a week. Freeze your pumpkin bread to keep it fresh for even longer! Pumpkin bread can be frozen for up to three months if kept in an airtight container.
How to Store Leftover Pumpkin Puree?
Don't throw away any leftover pumpkin puree! Refrigerate remaining pumpkin puree and canned pumpkin in an airtight container. It'll be there for at least a week.

If you don't think you'll be able to finish your pumpkin in that span of time, you can store it in the freezer for up to a year. Place it in a zip-top freezer bag with a label and place it in the freezer.

A warm breakfast can be made with a few spoonfuls of pureed pumpkin. It goes well with oatmeal, pancakes, parfaits, and even spread.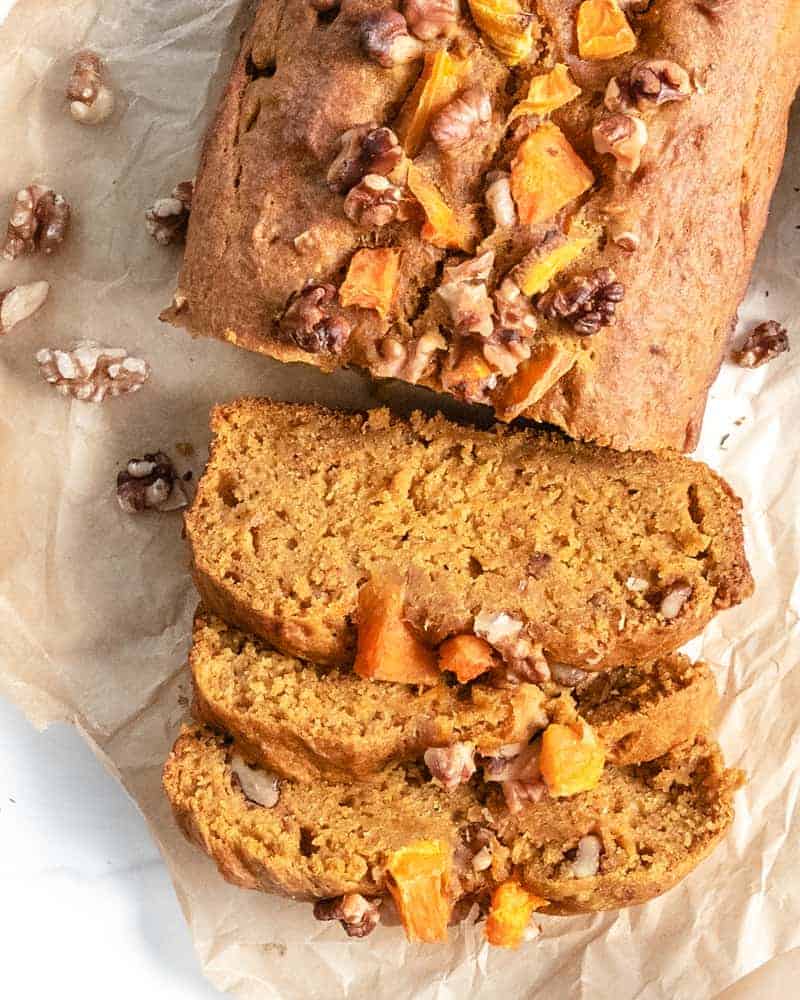 Top Tips:
After combining the recipe, bake your vegan pumpkin bread right away. Why? The majority of the baking powder that we use is double-acting.  It activates once mixed with other ingredients and again when exposed to heat. As a result, it's critical that you preheat your oven before beginning to prepare the batter. Lastly, pour the batter into the loaf pan and bake it right away after adding the ingredients.

There is no need to overmix! Stop mixing once the wet and dry components are combined. Lumps are just fine.  It'll give the bread a more rustic appeal.
Make sure that ingredients are at room temperature for fluffier pumpkin loaf.
Add ons and Variations:
This vegan treat can be flavored in a variety of ways. We suggest adding your favorite nuts, berries, or seeds to the mix. Dried cranberries, pumpkin seeds, and walnuts are among our favorites. If you're craving something sweet, add dairy-free chocolate chips.
Add some crunch:  Throw your favorite nuts in and a sprinkle of them on top. Pecans or walnuts would be really tasty.
Make it fruity. Dried cranberries, dried tart cherries, raisins, or chopped dates provide a burst of fruity taste that is always welcome.
Chocolates all the way.  Let's satisfy those with a sweet tooth. Sometimes all you need is a slice of pumpkin bread with melted vegan chocolate chips.
You can sprinkle powdered sugar, or cinnamon sugar before serving for a sweeter flavor.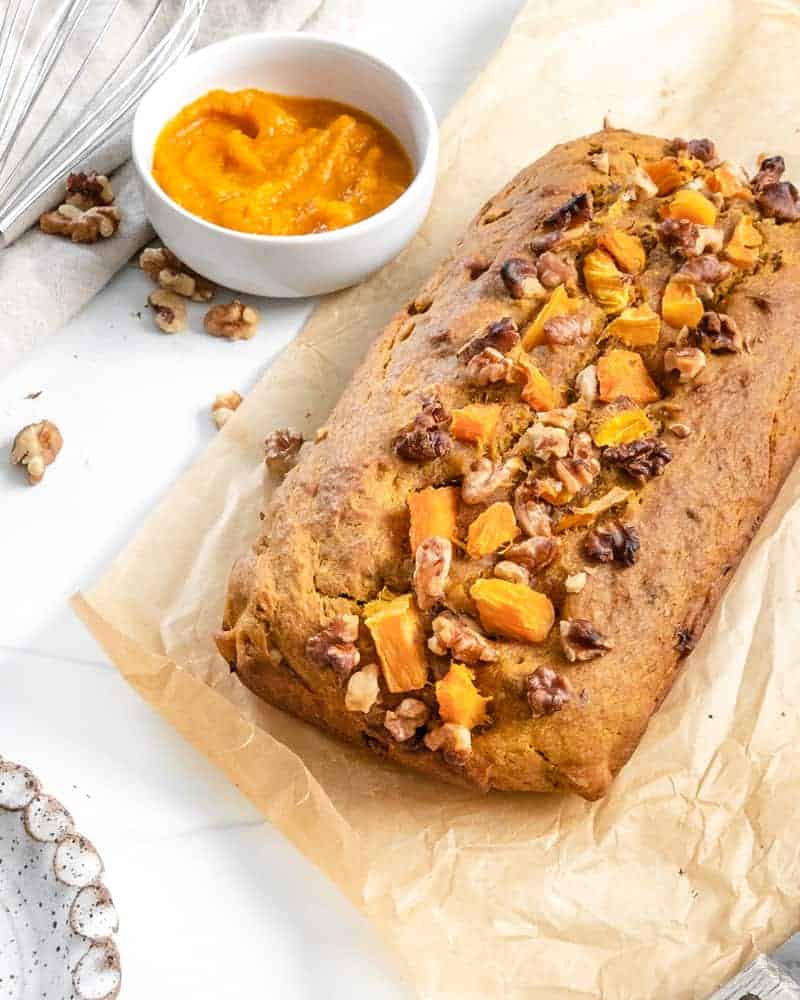 Super Yummy Pumpkin Recipes:
One-Pot Pumpkin Chili

–  This type of meal is a guaranteed winner with people who are constantly on the move. Because it is high in protein and fiber, one bowl of pumpkin chili can keep you energized for the rest of the day.

Pumpkin Curry

– Pumpkin, curry, and coconut are incredibly flavorful but surprisingly easy to throw together. 

Pumpkin Chocolate Brownies

– If you want sweets but want to eat healthily, pumpkin chocolate brownies are the way to go.
Photos by Alfonso Revilla
Vegan Pumpkin Bread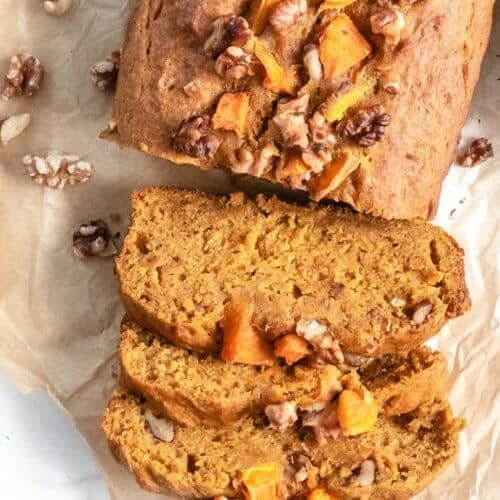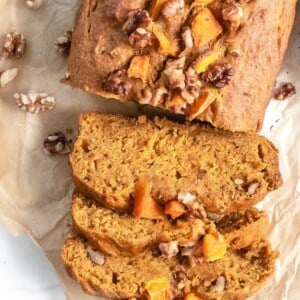 Vegan Pumpkin Bread's warming aroma and texture is an absolute dream.  This is a quick bread recipe that comes out incredibly moist and soft.
Ingredients
1/3

cup

of applesauce 

1/2

cup

of vegetable oil 

¾-1

cup

of sugar (depending on your sweetness preference)

1

cup

pumpkin puree 

1

teaspoon

of vanilla extract 

1/4

teaspoon

of salt 

1 ¾

cups

of all-purpose flour 

1

teaspoon

of baking powder 

1/2

tablespoon

of cinnamon 

(Optional) add-ins – raisins, walnuts, chocolate chips, etc
Instructions
Preheat the oven to 350 degrees F. 

In a large bowl, mix together the applesauce, oil, sugar, pumpkin puree, and vanilla in a bowl. Then, add the remaining ingredients and whisk until thoroughly combined. 

Pour the batter into a greased loaf pan and bake for 50 to 55 minutes. Check to see if it's fully baked by placing a toothpick or fork into the middle of the loaf, if it comes out clean, it's finished. If it has batter on it, bake for another 5 minutes.
Notes
Alternatively, these can be made into muffins by baking for 25 to 30 minutes.
Nutrition
Calories:
205
kcal
Carbohydrates:
29
g
Protein:
2
g
Fat:
9
g
Saturated Fat:
7
g
Polyunsaturated Fat:
1
g
Monounsaturated Fat:
1
g
Sodium:
85
mg
Potassium:
69
mg
Fiber:
1
g
Sugar:
14
g
Vitamin A:
3180
IU
Vitamin C:
1
mg
Calcium:
31
mg
Iron:
1
mg
Disclaimer: Although plantbasedonabudget.com attempts to provide accurate nutritional information, kindly note that these are only estimates. Nutritional information may be affected based on the product type, the brand that was purchased, and in other unforeseeable ways. Plantbasedonabudget.com will not be held liable for any loss or damage resulting for your reliance on nutritional information. If you need to follow a specific caloric regimen, please consult your doctor first.
Additional Info