As an Amazon Associate I earn from qualifying purchases.
Quick, easy, 1-bowl vegan zucchini bread is super soft, moist, fluffy, and scented with cinnamon & vanilla – + Sugar-free, gluten-free, and oil-free options below!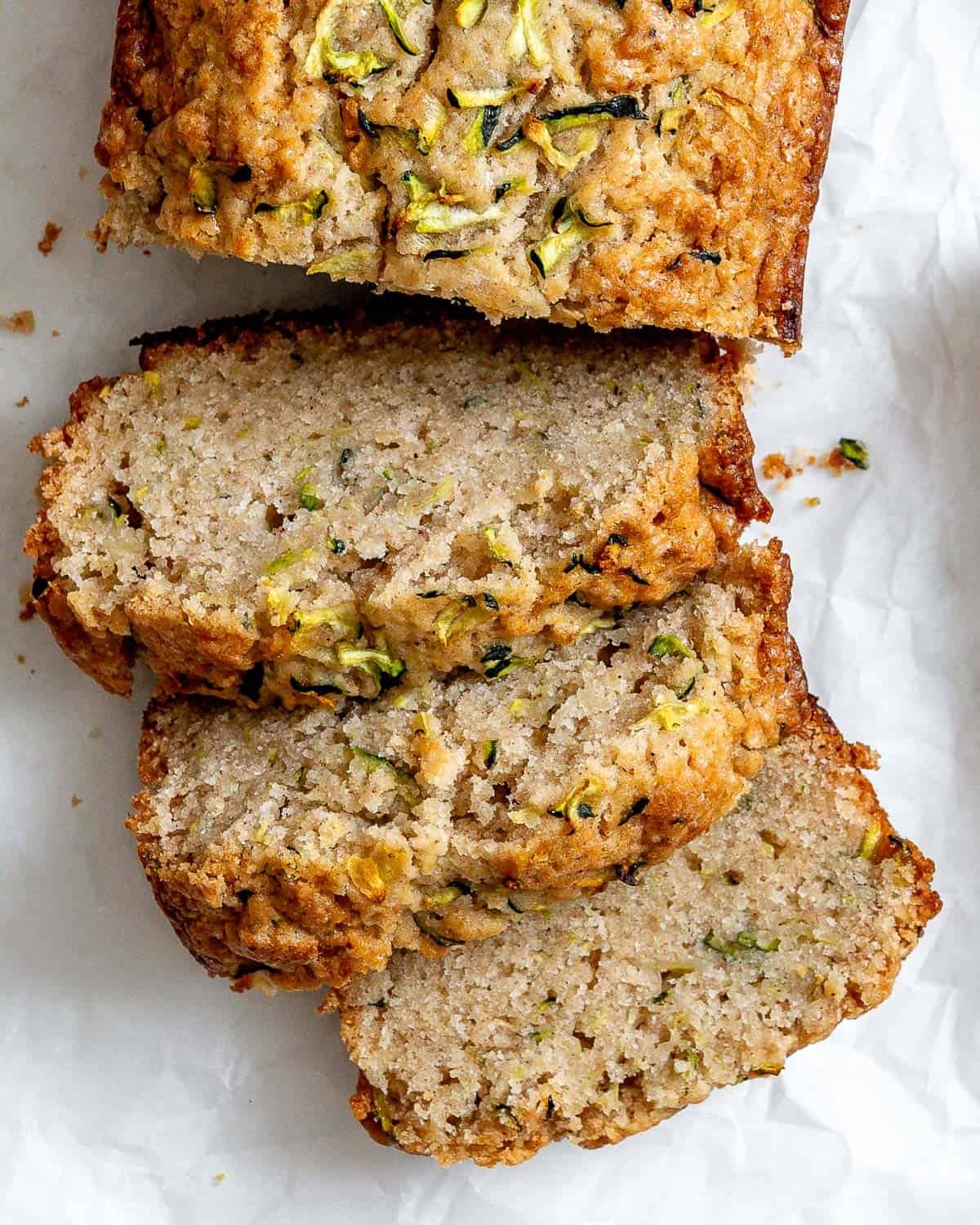 Tender, Moist, One-Bowl Vegan Zucchini Bread
With the summer sun shining and delicious farmers' market/ garden zucchini available in abundance, we've been enthusiastically churning out zucchini recipes – like zucchini stir-fry, fritters, and Tex-Mex zucchini boats. However, this ingredient isn't only for savory dishes; it also makes impressive muffins, cookies, and this wholesome vegan zucchini bread.
Adding shredded zucchini to your favorite bakes makes them amazingly moist, with a tender crumb, and packs in extra antioxidants, fiber, and nutrients. You can't even taste it (perfect for feeding picky eaters). Plus, even though it's 100% free from eggs and dairy, this vegan zucchini bread is a crowd-pleasing breakfast, brunch, or snack treat for the whole family – vegan or not.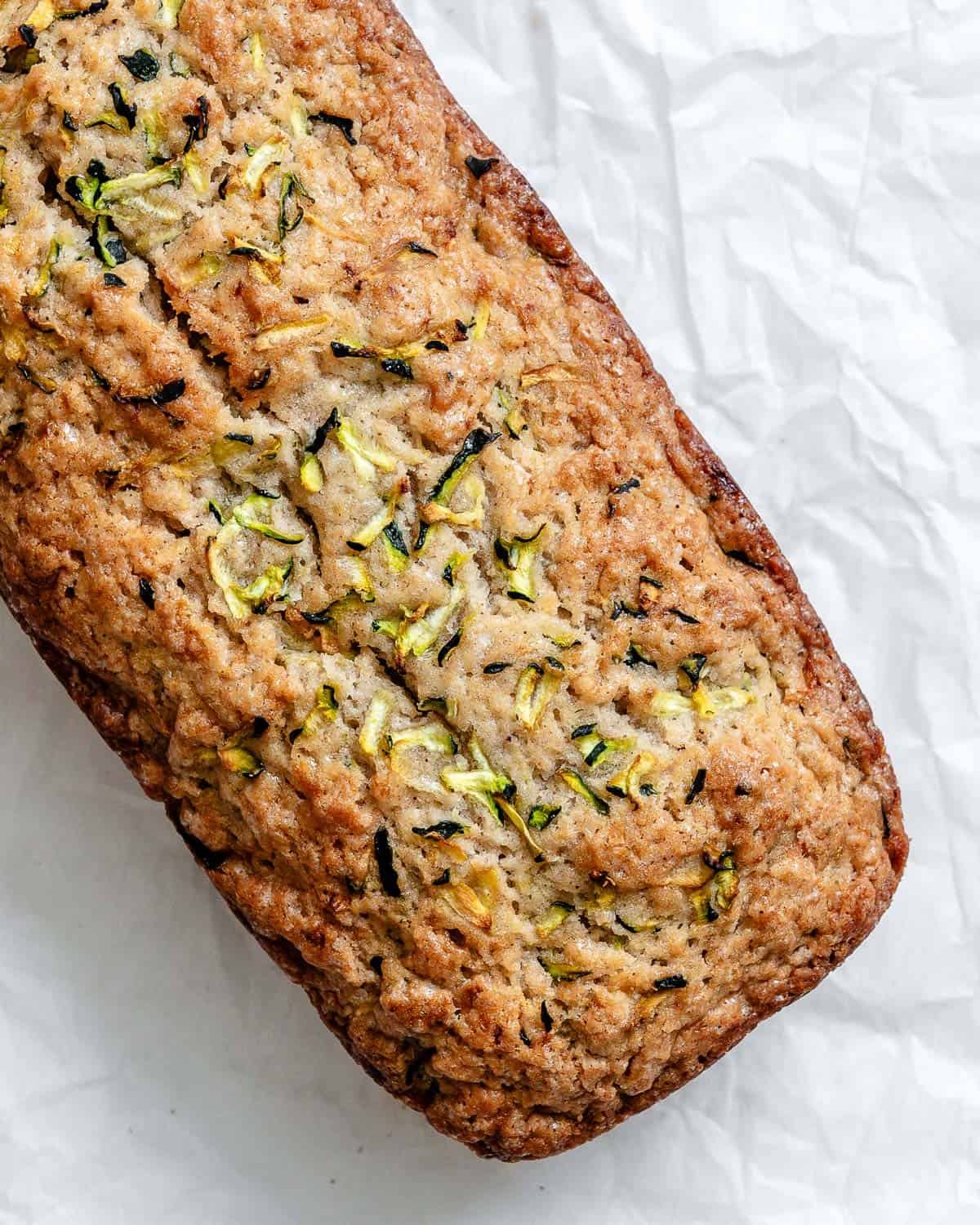 Best of all, this applesauce zucchini recipe only requires simple, inexpensive pantry staples, one bowl, minimal prep work, and is extremely customizable. You could use gluten-free flour, make it unrefined sugar-free and/or oil-free, or add mix-ins, like berries, chocolate, lemon zest, etc.
Best of all, storing and freezing zucchini bread is so simple that we nearly always make a second loaf to store for later. Looking for more simple quick bread recipes? Check out our banana peach bread, blueberry bread, apple cinnamon bread, and banana applesauce bread.
The Ingredients and Substitutes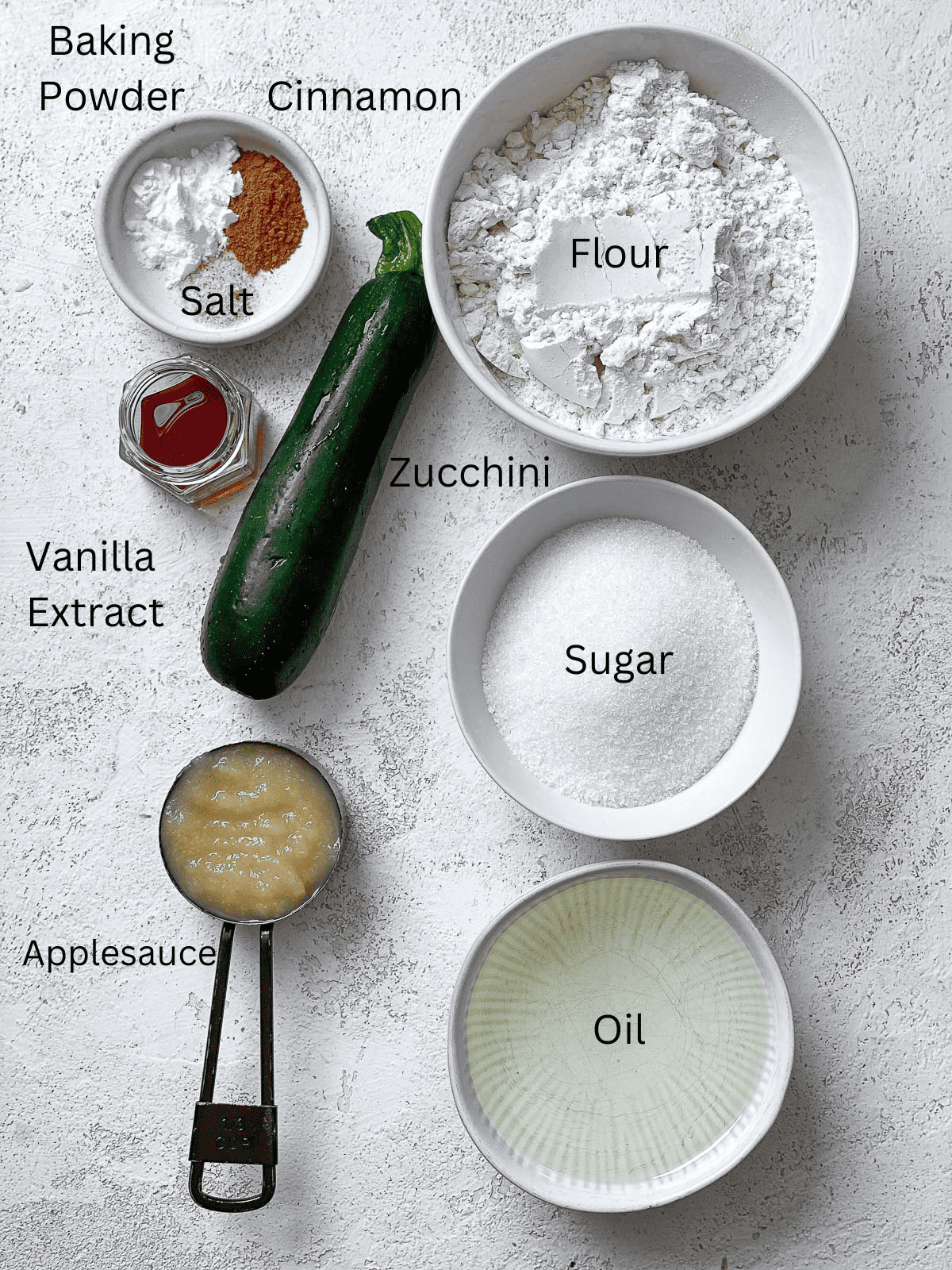 The Dry Ingredients
Flour: Use all-purpose flour or a 50/50 combination of AP flour and whole wheat flour. For gluten-free vegan zucchini bread, use an all-purpose gluten-free flour blend like King Arthur's or Bobs Red Mill.
Sugar: We usually use regular white granulate sugar (using organic sugar ensures it's vegan) or light brown sugar. However, you could use less refined raw cane sugar or coconut sugar – note the color and flavor vary. Adjust the amount to preference.
Baking Powder: This provides leavening/ lift in this eggless zucchini bread.
Salt: Balances and enhances the various flavors in this plant-based zucchini bread.
Cinnamon: Just a little cinnamon adds warm depth and delicious flavor.
The Wet Ingredients
Applesauce: To replace the egg and reduce some oil, we love making applesauce zucchini bread with unsweetened applesauce.
Oil: Use any neutral oil like vegetable oil, canola oil, avocado oil, etc. This will help yield the most tender crumb in this dairy-free zucchini bread.
To reduce the oil further or even make an oil-free zucchini bread with applesauce only or some mashed banana, pureed pumpkin/ sweet potato, or vegan Greek yogurt, just be aware that different ingredients may affect the dryness of the bread.
Vanilla extract: Use pure, natural vanilla for the best flavor.
Zucchini: Use firm, vibrant zucchini with no mushy patches. There's no need to peel or drain it- just grating will add the perfect amount of moisture to the vegan zucchini bread.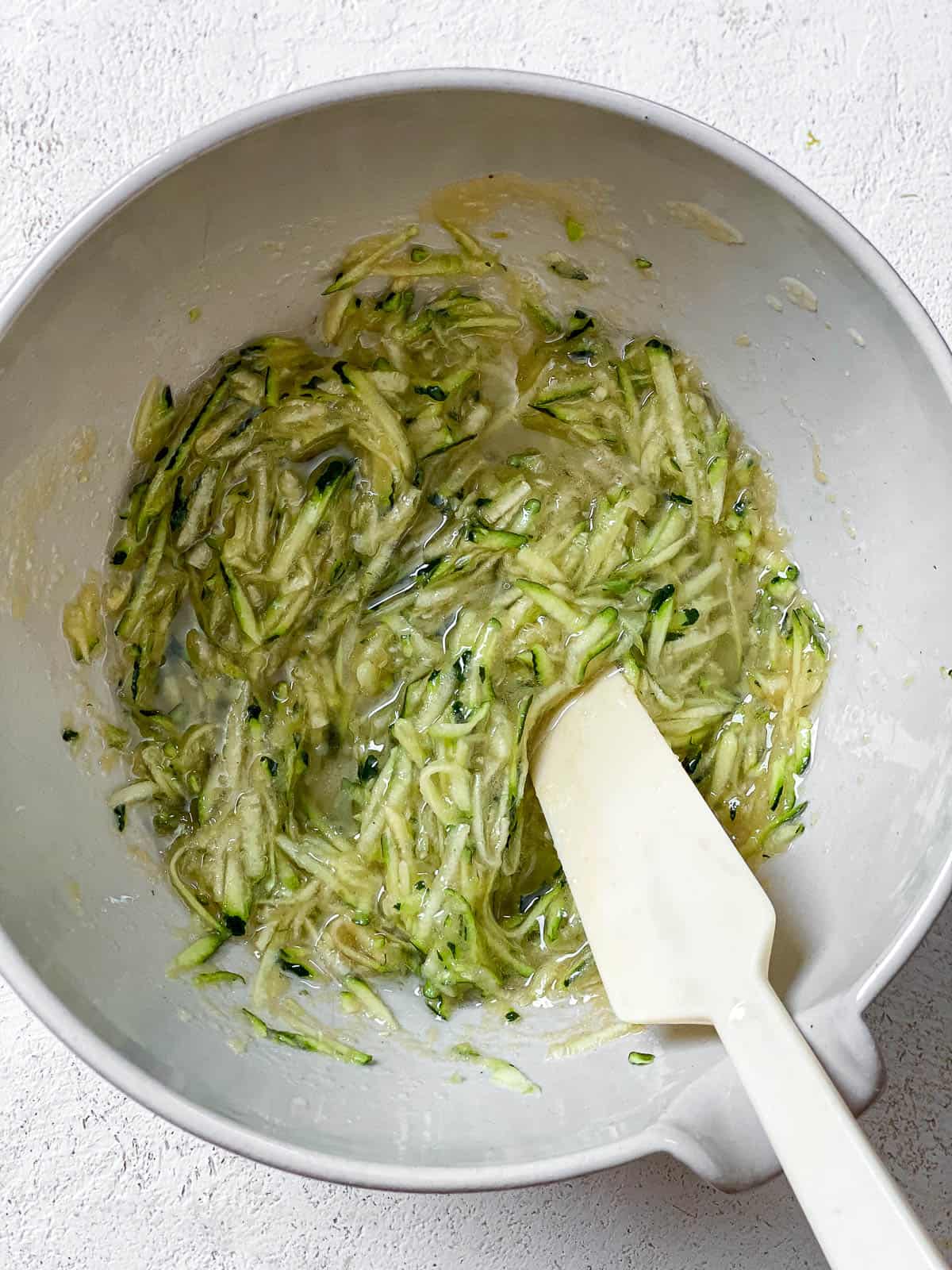 Optional add-ins & Recipe Variations
There are several popular ways to add texture, color, and flavor to homemade zucchini bread. For chunky add-ins (like fruit or nuts), add up to a cup.
Nutmeg: Just a pinch to add depth to the cinnamon flavor.
Cardamom: Just a pinch.
Pumpkin pie spice: For even more of a spiced zucchini bread.
Citrus: We particularly like lemon zucchini bread, though lime/orange zest also works. Add 1-2 teaspoons of zest. Optionally pair it with a simple lemon glaze.
Carrot: Make a delicious and nutritionally versatile carrot zucchini bread by replacing some zucchini with shredded carrot. You can experiment with ratios.
Berries: Either alone or in combination with citrus/ chocolate chips. I.e., blueberries, raspberries, strawberries, blackberries, cherries, etc. We particularly love blueberry zucchini bread/ blueberry lemon zucchini bread.
Dried fruit: i.e., raisins, cranberries, cherries, blueberries, apricots, etc.
Chocolate chips: Use your favorite dairy-free semi-sweet chocolate chips or chunks. Use sugar-free chocolate, if preferred.
Coconut: Add 2-3 tablespoons of unsweetened shredded coconut to the batter.
Nuts/Seeds: i.e., walnuts, pecans, pistachios, almonds – raw or toasted, chopped.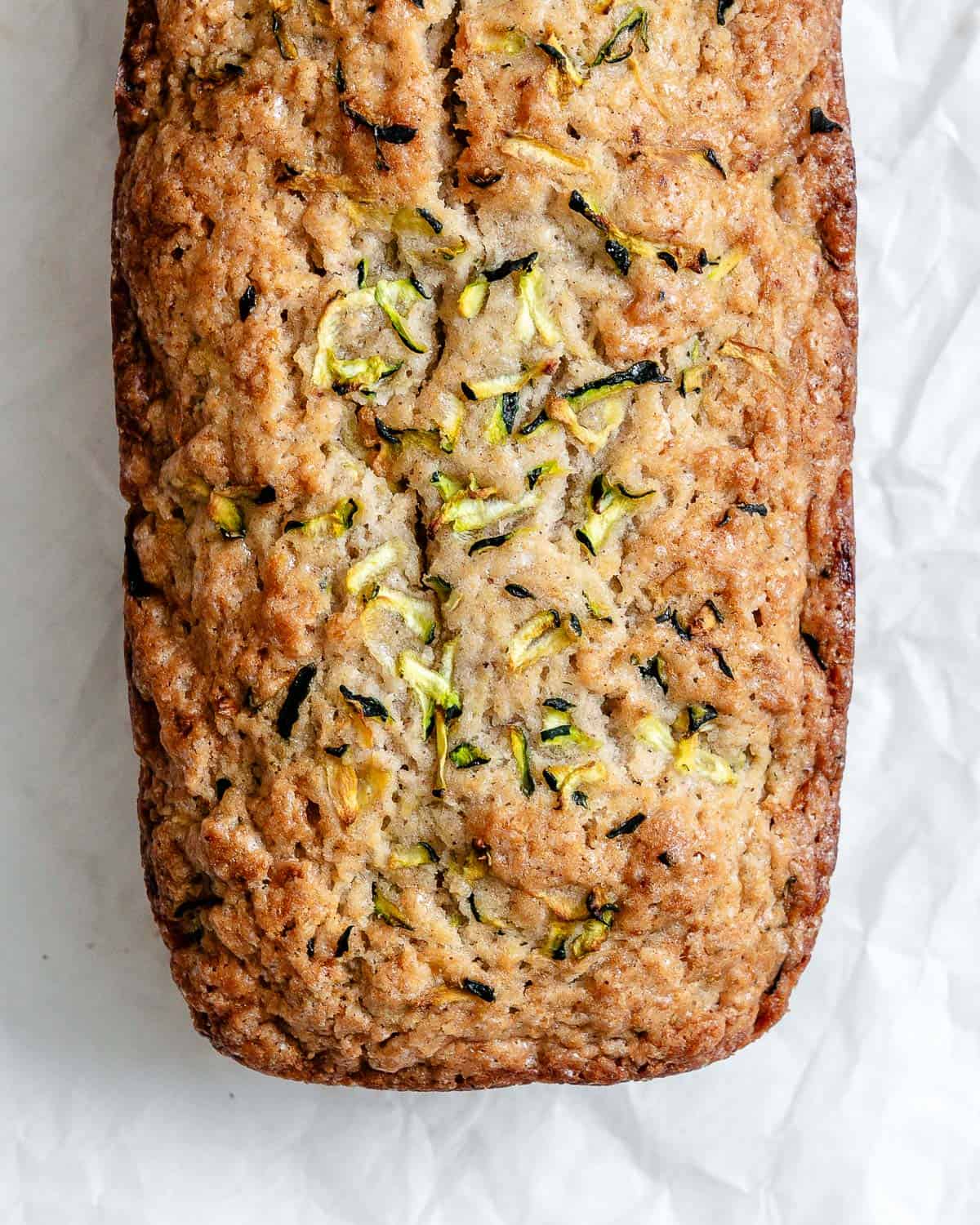 How to Make Vegan Zucchini Bread
First, preheat the oven to 350F/175C and grease a 9×5-inch (25×11 cm) loaf pan. Also, grate the zucchini using the medium holes on a box grater or a grater disk in a food processor (no need to peel it). No need to remove excess liquid.
Then, in a large mixing bowl, combine the wet ingredients (applesauce, oil, zucchini, and vanilla extract) and sugar and mix well.
Add the remaining dry ingredients (flour, baking powder, salt, cinnamon) and mix into a dense, thick batter. Then, fold in any optional add-ins, if using.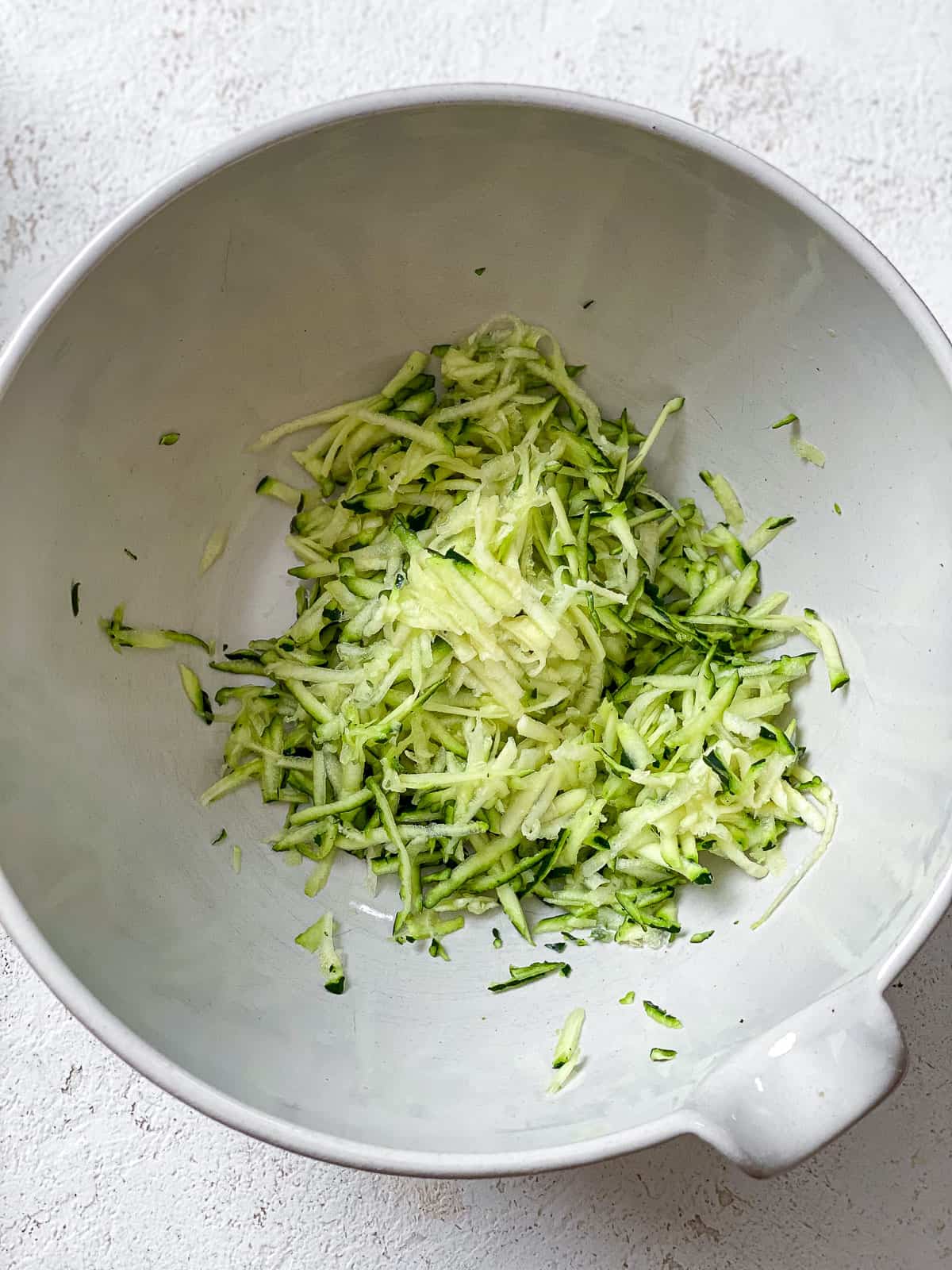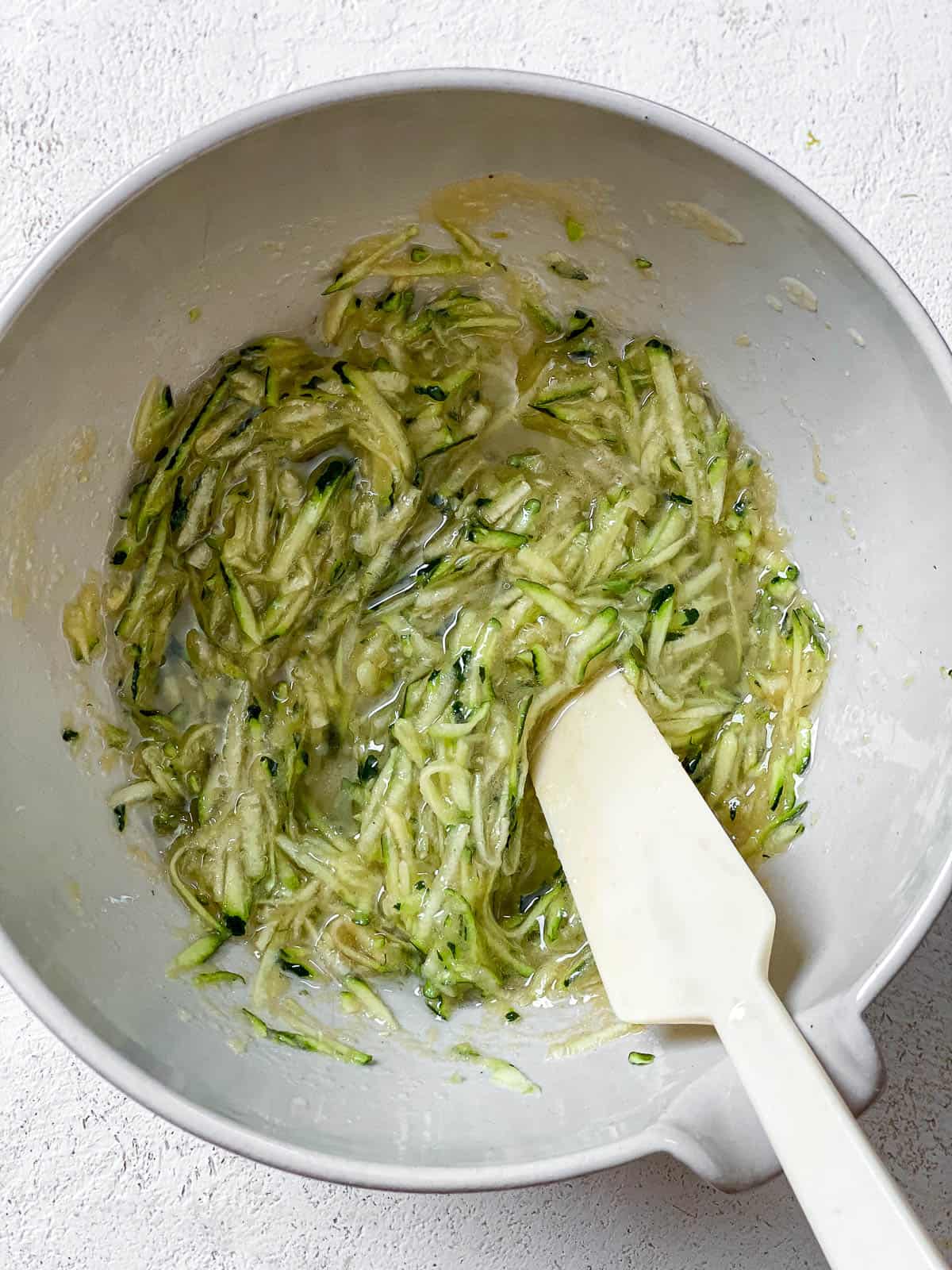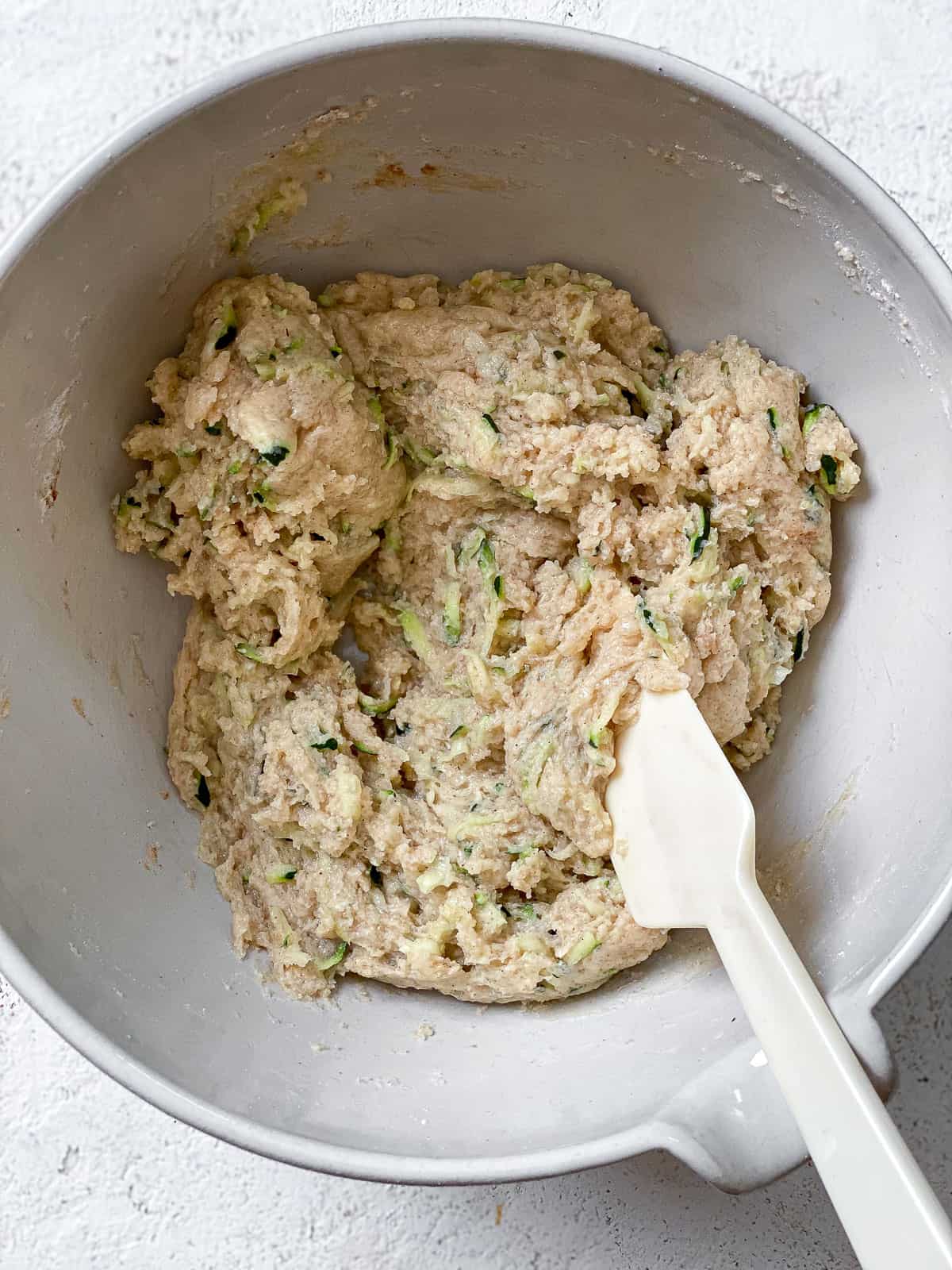 Be careful not to overwork the gluten, or the homemade zucchini bread can turn out dense and/or rubbery. Stir it until just combined – a few tiny lumps are fine. A thick batter is expected, as the zucchini will release water as it sits/bakes.
Pour the zucchini bread batter into the prepared loaf pan and transfer it to the oven to bake for 50-55 minutes, or until a toothpick inserted into the center of the loaf comes out clean (a few moist crumbs are fine, but no wet batter).
Then, remove the vegan zucchini bread from the oven and leave it to cool in the loaf pan for 10-15 minutes before transferring it to a wire cooling rack to further cool.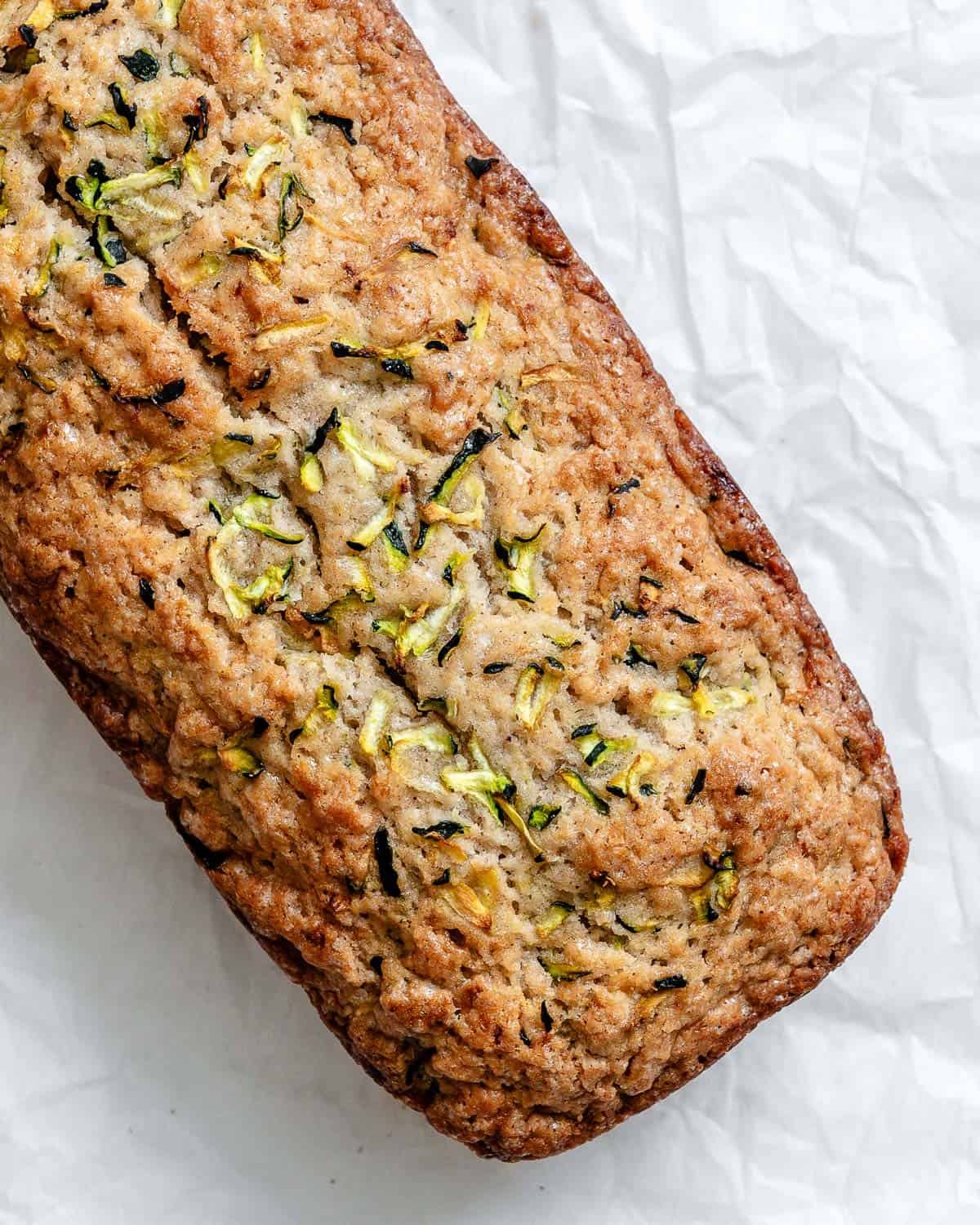 Make-Ahead and Storage Instructions
Make ahead: Prepare bowls of the wet (+ the sugar) and dry ingredients separately and store the wet one in the refrigerator for up to 2 days. To use it, bring the wet ingredients back to room temp for 20-30 minutes, combine the ingredients in one bowl, mix, and bake.
At room temperature: Store the zucchini bread loosely covered for 2-3 days. If it's getting dry after a day, transfer it to an airtight container/bag instead.
In the fridge: Store it in an airtight container lined with paper towel for 5-7 days.
Can You Freeze Zucchini Bread?
You can freeze the zucchini loaf whole or sliced (with parchment paper between the slices to prevent sticking) by wrapping it in plastic wrap and placing it in a Ziplock bag for up to 3 months.
Leave it/ a slice to thaw in the refrigerator overnight, at room temperature for several hours, or even quickly thaw individual slices in a microwave or toaster oven.
Serving Recommendations
Enjoy a slice of this moist zucchini bread either alone as a quick snack or:
Warm with lashings of dairy-free butter or maple butter
Seed or nut butter
Jams, jellies, or preserves
A dollop of yogurt or coconut whipped cream with berries/fresh fruit
Toasted and topped with a scoop of vegan vanilla ice cream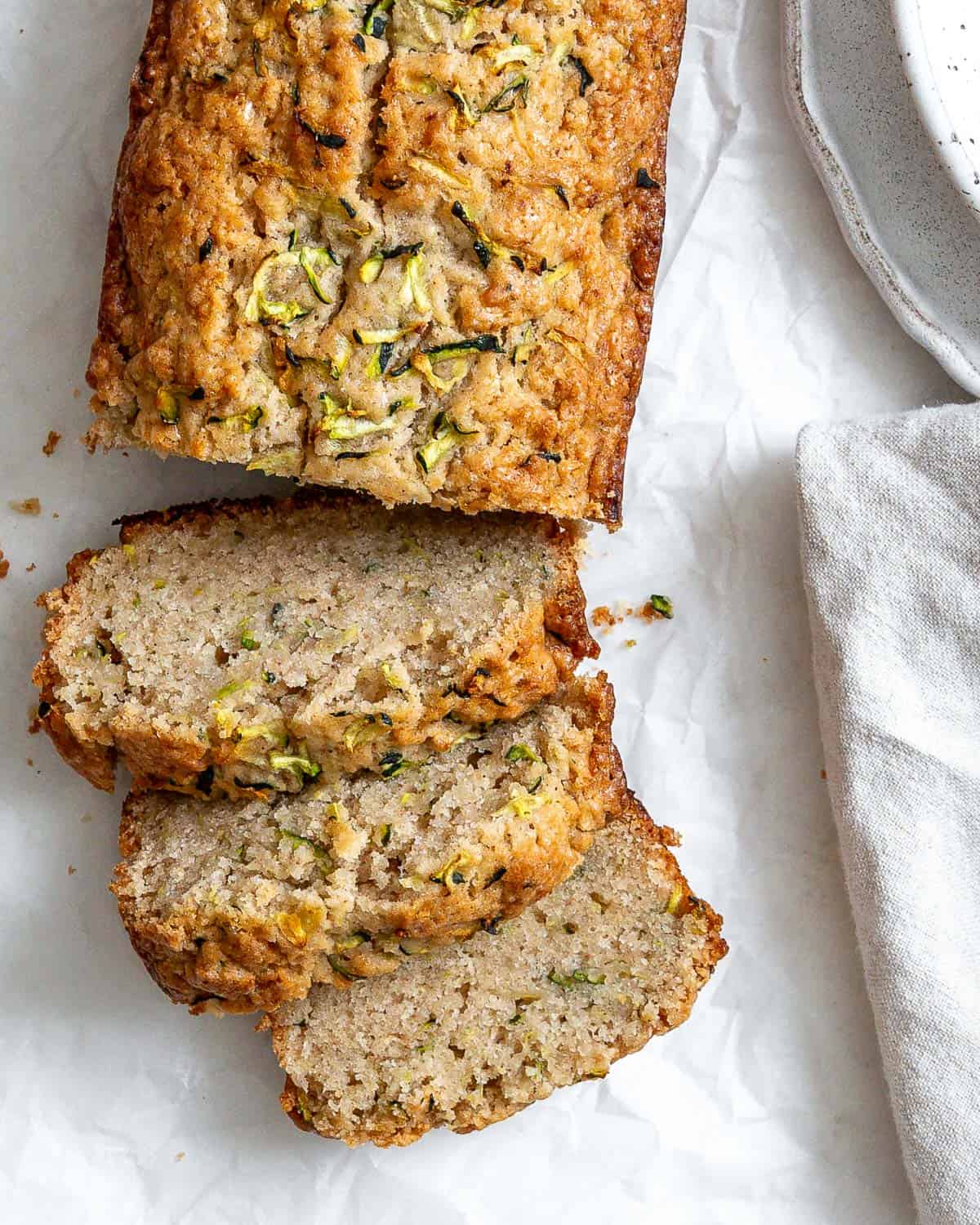 FAQs
Can I make the vegan zucchini bread recipe sugar-free?
We imagine using a sugar alternative, like stevia or erythritol, could work. However, sugar adds moisture as well as flavor, so the texture may be affected.
Could I make vegan zucchini muffins with this batter?
If you want to, check out our vegan blueberry zucchini muffins recipe.
Can I use yellow squash in zucchini bread?
Yellow squash has a very similar flavor and cooking quality to zucchini, so you can replace some or all of the zucchini with yellow summer squash.
Pro Recipe Tips
For the quickest prep: Use a food processor grating disk to shred the zucchini in seconds.
Measure the flour correctly: Fluff it up in its bag, use a spoon to add the flour to your measuring cup (without pressing or packing it down), then use the back of a knife to level off the top. That way, you'll avoid a dense bake.
Adjust the zucchini texture: Use the coarsest grater for chunky bits or the finest one for it to practically melt into the quickbread.
No need to drain the zucchini: It adds the perfect amount of liquid into the batter.
Don't over-mix the batter: Otherwise, you risk overworking the gluten and affecting the texture and rise. A few lumps in the batter are fine.
Leave it to cool: This eggless zucchini bread will be fragile right out of the oven. It's best to leave it to cool for 10-15 minutes in the pan, remove it from the pan, and cool completely before slicing to avoid it falling apart.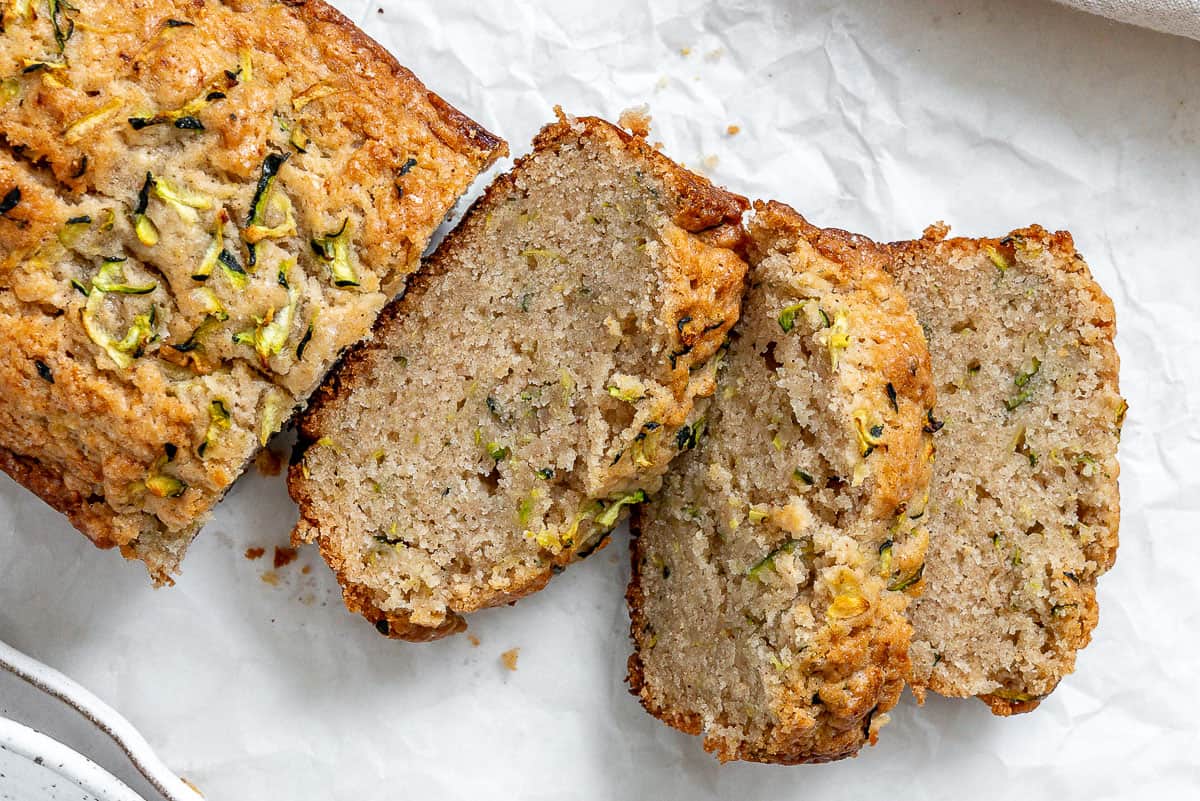 More Vegan Zucchini Recipes
Vegan Zucchini Bread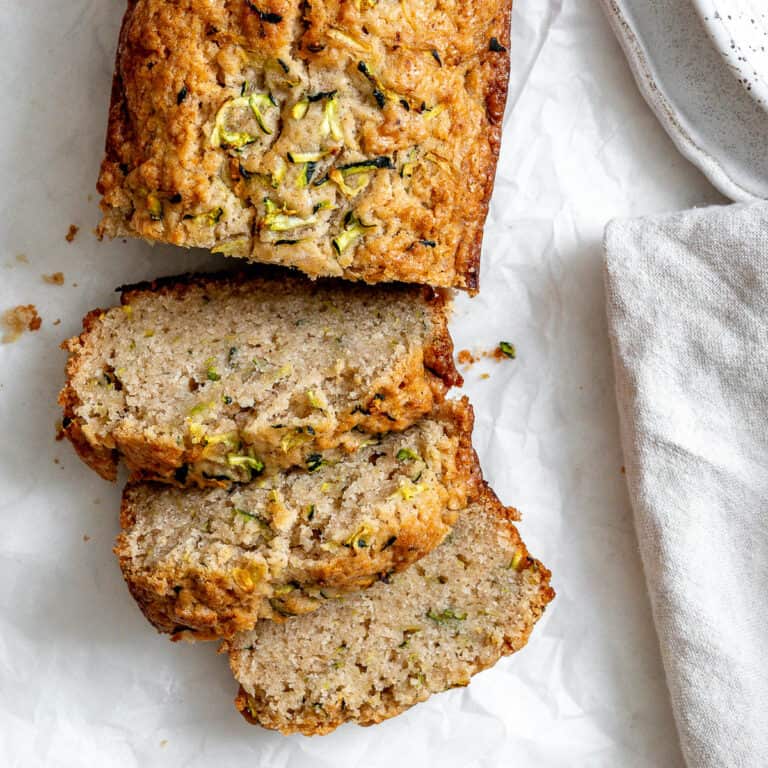 This Vegan Zucchini Bread recipe is so easy to make using a few wholesome ingredients. A deliciously moist bread loaf done in three simple steps! It's a dairy-free treat that you can enjoy as a breakfast or afternoon snack!
Ingredients
⅓

cup

of applesauce

½

cup

of vegetable oil

1

cup

of sugar

1

cups

of grated zucchini

1

teaspoon

of vanilla extract

1 ½

cups

of flour

¼

teaspoon

of salt

1

teaspoon

of baking powder

½

tablespoon

of cinnamon

Optional add-ins – raisins, walnuts, chocolate chips, etc
Instructions
Preheat the oven to 350 degrees F.

In a large bowl, mix together the applesauce, oil, sugar, zucchini, and vanilla in a bowl. Then add the remaining ingredients and whisk until thoroughly combined.

Pour the batter into a greased loaf pan and bake for 50 to 55 minutes.
Notes
Use small to medium-sized zucchinis, they have more moisture content.
If you like to have some zucchini pieces still showing to give it a chunkier texture, use the widest holes in your grater box. If you like it "barely there", then use the smallest one to grate them thinly.
Do not over mix your batter. Just mix until everything is evenly distributed. The consistency of the batter should be thick but not doughy, pourable but not watery.
Once baked, let it cool down for at least 10 minutes in the pan. Then move the loaf into a cooling rack. Remember that the pan remains hot for a long time, so keeping your bread there can make the edges too crusty.
Nutrition
Calories:
206
kcal
Carbohydrates:
30
g
Protein:
2
g
Fat:
9
g
Saturated Fat:
7
g
Polyunsaturated Fat:
1
g
Monounsaturated Fat:
1
g
Sodium:
85
mg
Potassium:
51
mg
Fiber:
1
g
Sugar:
18
g
Vitamin A:
24
IU
Vitamin C:
2
mg
Calcium:
27
mg
Iron:
1
mg
Disclaimer: Although plantbasedonabudget.com attempts to provide accurate nutritional information, kindly note that these are only estimates. Nutritional information may be affected based on the product type, the brand that was purchased, and in other unforeseeable ways. Plantbasedonabudget.com will not be held liable for any loss or damage resulting for your reliance on nutritional information. If you need to follow a specific caloric regimen, please consult your doctor first.
Additional Info
Photos by Alfonso Revilla