As an Amazon Associate I earn from qualifying purchases.
Delicious and highly nutritious Beet Energy Balls will pump you up and get you going the whole day! With the added serving of veggies, these unBEETable goodies will become your next favorite on-the-go snack bites. These no-bake, yummy balls of goodness are 100% vegan, gluten-free possible, and are chockful of energy-giving nutrients, fiber, and protein.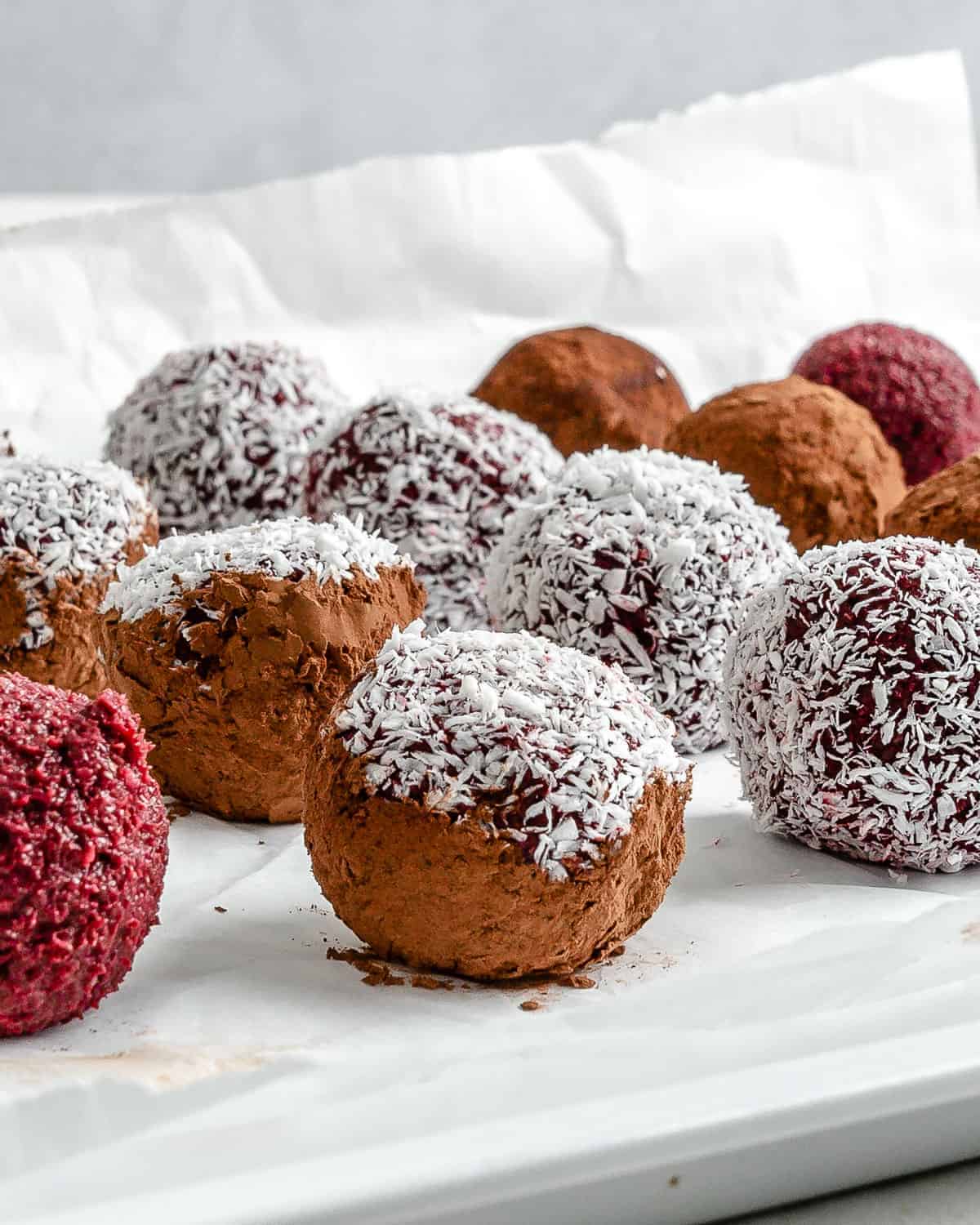 They are the perfect addition to your kid's school snacks, as energy boosters for sports or gym days, or to power you up and keep you on your feet on a hectic workday! The use of wholesome oats, beets, and dates will give you plenty of nutrients, while the addition of vegan chocolate chips, peanuts, shredded coconuts, and cinnamon turns these treats into moreish delights! Best of all, your fussy, veggie-hating kids will be too busy nibbling on them; they won't even know there are beets hiding in there!
Why Make Beet Energy Balls
No-bake, easy-to-make snacks. Making these energy balls required minimal energy from you! The irony, right? But we love how simple they are to make; even your kids can do it for you. All you need is to blitz everything, form them into balls, and freeze.
Veggie-infused and nutritive. Adding beets takes these snacks to the next level, healthwise. Beets are considered a superfood and are a great source of vitamins and minerals. They are also low in calories and fat. The use of dates also naturally sweetens the dough, making this recipe refine-sugar free.
Uses simple, budget-friendly ingredients. You do not need anything fancy to make these. Once you have your beets and dates on hand, you can just pull out the rest of the ingredients in your pantry.
Easy to customize. Feel free to adapt them any way you please! These are great with chia seeds, hemp hearts, other kinds of nuts, cacao nibs, and even peanut butter. Enjoy!
Ingredients Needed
Beets – Cooked and chopped. Not only do they add excellent health benefits to the energy balls, but they also provide moisture that will bind the balls together and keep them from crumbling. ½ of a can of cooked beets would work in place of a cooked beet.
Pitted dates – Are used as a natural sweetener and also aids in keeping the structure of the energy balls.
Peanuts – Give the treats a salty crunch! You can use different kinds of nuts that you have, like almonds, walnuts, cashews, or macadamia. If you want this nut-free, you can use seeds instead.
All-purpose flour – The base of the dough. You can also use whole wheat or almond flour (gluten-free option).
Shredded coconut – Adds a nutty flavor and chewy texture. You can use desiccated coconut too.
Vegan chocolate chips – Use dark chocolate if you prefer it less sweet. If you do not have these, you can use any regular vegan chocolate blocks and crumble them into smaller pieces.
Oats – Use quick or instant oats only for this recipe. This healthy breakfast fave makes the dough base more compact.
Cinnamon – A teaspoon of this warm and festive spice will liven up the dough mixture.
Cocoa or cacao powder – This is optional but is great for those who like their snacks extra dark, strong chocolatey flavor.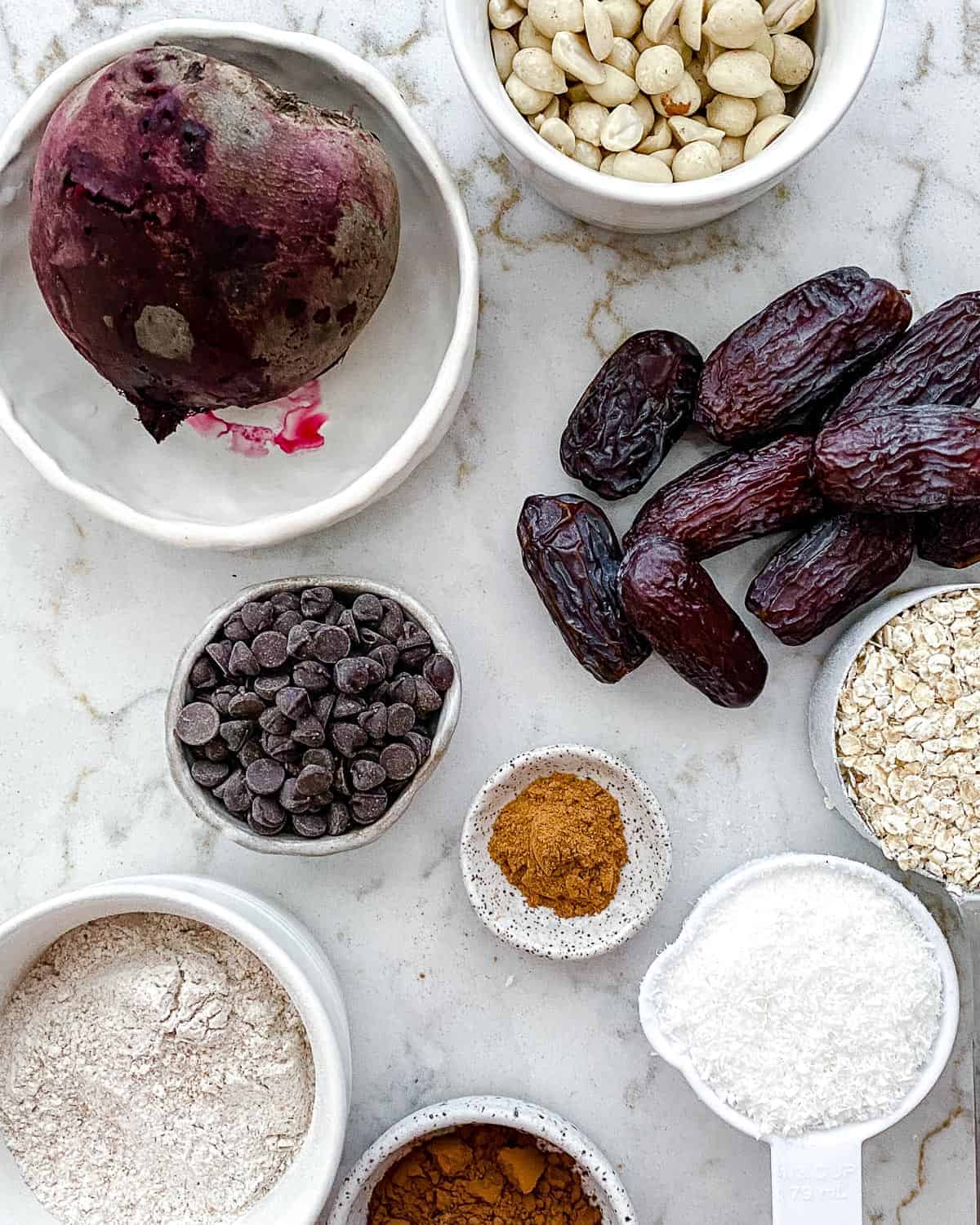 How to Make Beet Energy Balls
1) Using a food processor, chop the beets and dates into very small pieces. Then add the rest of the ingredients and blitz until you get a thick dough. Scrape the sides of the bowl with a spatula to make sure that everything is incorporated well.
2) Get a small portion and roll into a bite-size ball. You should be able to make 10 to 12 mini balls, depending on the size. You can coat them with coconut flakes or cocoa powder (if using). Place the balls in a pan and freeze until they harden.
Tips When Making No-Bake Beet Energy Balls
The beets are very moist, so it is crucial to have plenty of oats or flour as a base to absorb some of that moisture.
If the dough is too sticky, add more flour or oats to make it less so. You can also refrigerate them first to make them easier to shape. On the other hand, if it has become too dry, adding pureed beets will help.
Use a cookie scoop if you have one to make it easier to make the balls. However, using your hands work well too. Grease your hand lightly with oil when shaping the dough into balls to prevent them from sticking too much.
Place wax or parchment paper on the pan or plate before adding the balls to make it easier to remove them later.
Aside from shredded coconut and cocoa powder, you can have fun coating these beet balls with other goodies! Try using colorful sprinkles, crushed nuts, crushed vegan cookies, crushed vegan candies, melted vegan chocolate, or dried berries.
Place the energy balls in colorful cupcake liners and place them in a nice box, and you have a nice thoughtful present to give to your friends and loved ones!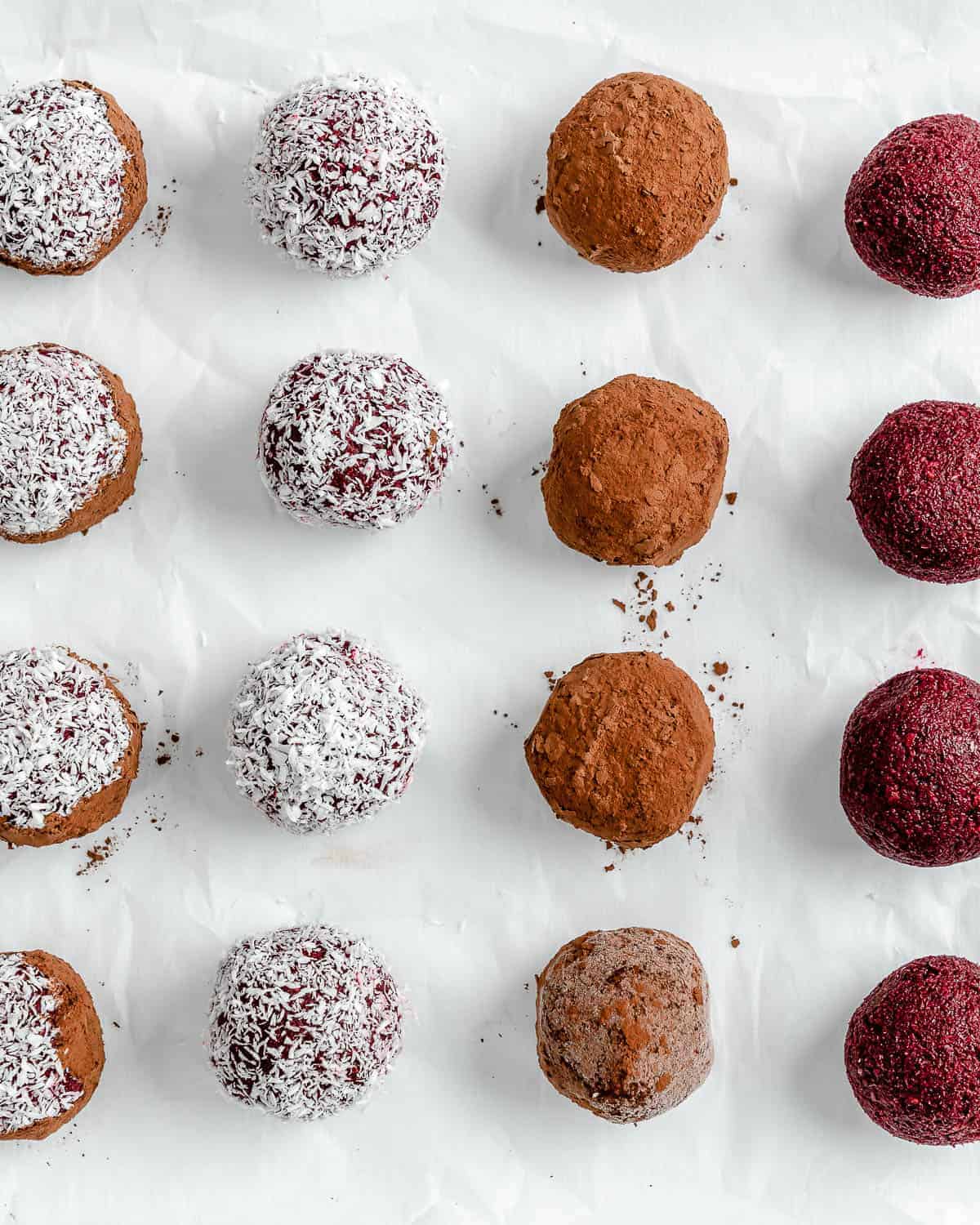 Storing Notes
Once the Beet Energy Balls have firmed up in the freezer, you can start munching on them! Do not leave them out, especially when warm, because they will soften. If you have any leftovers, place them in a lidded container in the fridge. They should be good for up to five days.
 Looking for more no-bake, easy treats? Try these:
Peanut Butter Stuffed Dates – Sweet Medjool dates stuffed with creamy peanut butter encased in a crisp vegan chocolate layer sprinkled with nuts and sea salt. They are easy to make using just 3 main ingredients (nuts and sea salt being optional).
Peanut Butter Cracker Sandwiches – You will have plant-based chocolate-covered peanut butter cracker sandwiches ready to be chilled in just 10 minutes. It is a no-fuss, quick and easy, and budget-friendly treat that everyone will love.
Chocolate Peanut Butter Balls With Rice Krispies – These vegan, no-bake, 4-ingredient vegan chocolate peanut butter balls with rice Krispies (AKA peanut butter bonbons) are crunchy, creamy, and slightly chewy! Even better, they are naturally gluten-free, dairy-free, and can be prepared keto for a moreish snack or dessert. 
Photos by Alfonso Revilla
Beet Energy Balls
Delicious and highly nutritious Beet Energy Balls will pump you up and get you going the whole day! With the added serving of veggies, these unBEETable goodies will become your next favorite on-the-go snack bites.
Ingredients
1

medium

cooked beet

¾

cup

of pitted dates

½

cup

of peanuts

½

cup

of all-purpose flour

whole wheat, or almond flour

⅓

cup

of shredded coconut

¼

cup

of vegan chocolate chips

½

cup

of oats

1

teaspoon

of cinnamon

1

Tablespoon

of cocoa or cacao powder

optional
Instructions
Combine beets and dates in a food processor until chopped very small. Add all other ingredients one at a time and process until a thick 'dough' forms.

Roll into 18-20 balls, coat with more coconut or dust with cacao powder (if using), and place into the freezer until hardened.
Notes
½ of a can of cooked beets would work in place of a cooked beet.
Nutrition
Calories:
90
kcal
Carbohydrates:
12
g
Protein:
2
g
Fat:
4
g
Saturated Fat:
2
g
Polyunsaturated Fat:
1
g
Monounsaturated Fat:
1
g
Sodium:
9
mg
Potassium:
127
mg
Fiber:
2
g
Sugar:
6
g
Vitamin A:
4
IU
Vitamin C:
1
mg
Calcium:
15
mg
Iron:
1
mg
Disclaimer: Although plantbasedonabudget.com attempts to provide accurate nutritional information, kindly note that these are only estimates. Nutritional information may be affected based on the product type, the brand that was purchased, and in other unforeseeable ways. Plantbasedonabudget.com will not be held liable for any loss or damage resulting for your reliance on nutritional information. If you need to follow a specific caloric regimen, please consult your doctor first.
Additional Info