As an Amazon Associate I earn from qualifying purchases.
Perfectly fluffy and soft sweet potatoes made using a microwave? Some might be skeptical, but believe me, it is entirely possible! Try this super simple and quick method for cooking sweet potatoes as a side dish or as a yummy snack in just under 10 minutes. This healthy treat cooked dorm-style will definitely be your new go-to recipe for something brisk yet filling.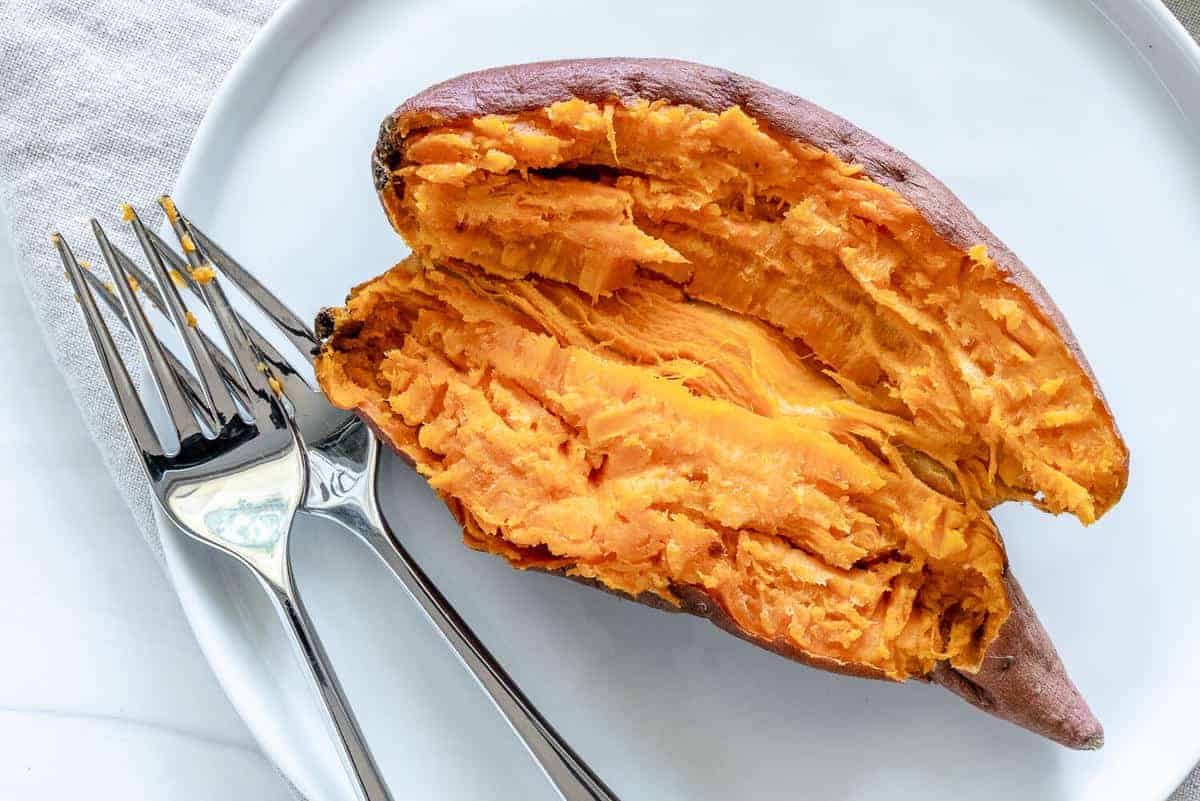 Why use a microwave instead of an oven?
It's always a game-changer to be able to cook meals in a fraction of the time. Meals prepared in advance often save us time on hectic weekdays, and all we have to do is pop them in the microwave. In fact, a microwave uses less energy and is particularly effective in heating food in a short time. It is also our go-to equipment when there isn't enough room on the stove, and you need to get dinner on the table quickly. As a result, it inspired me to create microwave-based recipes that the family will surely enjoy.
The sweet potato is one of the most delicious things I've ever cooked in the microwave by far. I'm not sure why I ever cooked them in the oven the first time I did it. Truly, this recipe helped me save a lot of time in the kitchen. There is no need to preheat the oven and wait an hour for this dish to be cooked. It simply takes a small amount of time, and you can have steaming hot sweet potatoes in under 10 minutes.
Is using a Microwave to cook safe?
Absolutely! As we all know, sweet potatoes are a good source of beta carotene, vitamin C, and potassium. In addition, it has other vitamins and minerals that include Vitamins A, B5, B6, E, and manganese. They're also high in fiber. We should not be concerned about the microwave's impact on the food as we cook the dish very quickly. So, we can still enjoy the vegetable's nutritional content that this will bring to our body. It is best to use the correct cookware or container so it will not affect the quality of the food.
How to Microwave Sweet Potatoes
It's simple to microwave a sweet potato. There are no special tools or ingredients required. For this recipe, we are using 1 medium-sized potato. Allow me to walk you through the process of making a soft and moist sweet potato.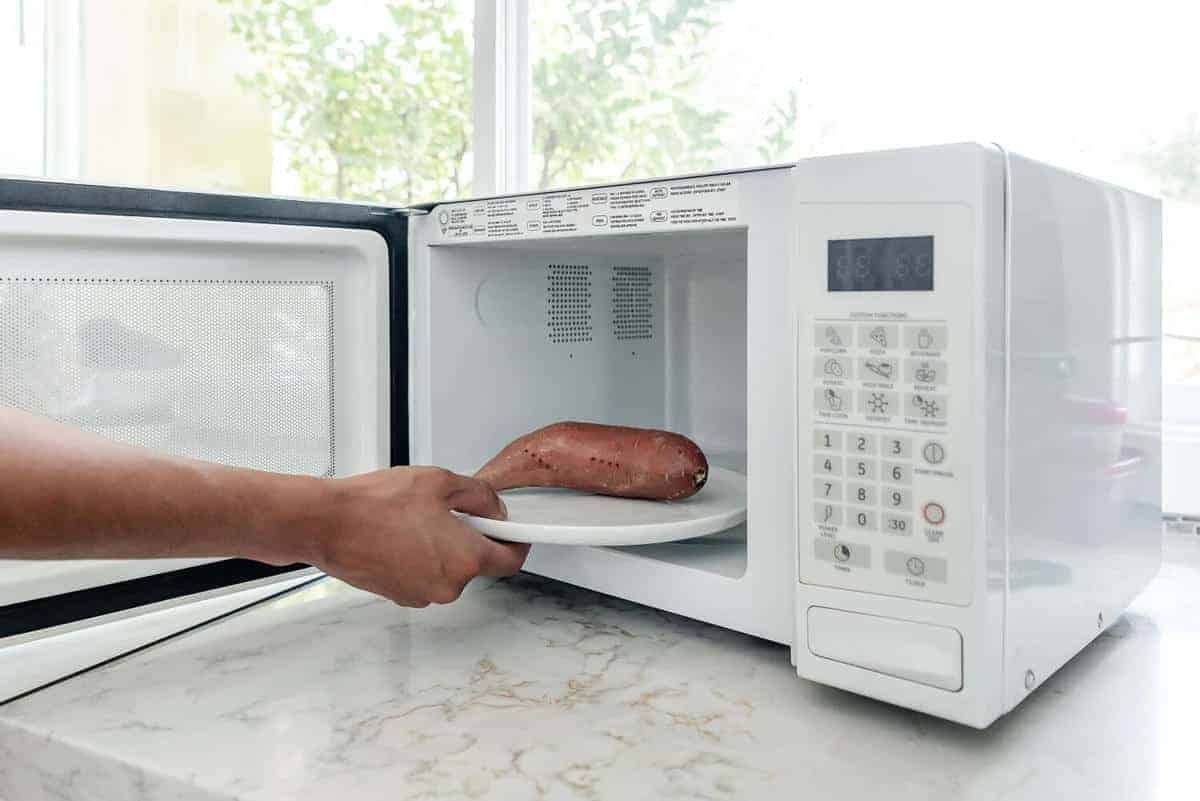 We need to wash the skin thoroughly before cooking or cutting the sweet potato. This vegetable is grown in the ground, and you don't want any dirt or grit in the meal as we are leaving the skin on for this recipe.

Use a fork or knife to poke holes in the sweet potato. This allows steam generated during cooking to escape. The potatoes will not explode in the microwave if you do this. Also, to avoid any accidents from occurring, place the sweet potatoes on your chopping board or countertop and never hold them on your hand while piercing.
Set the microwave to high for 2 minutes then turn over and set the microwave for another 2 minutes. An increment of 1 minute at a time till it turns soft is what is best We determine the amount of time required by the number of sweet potatoes used and their size.
When you can easily pierce your sweet potato, it is an indicator that it is ready. If your sweet potatoes are still too firm, keep cooking them in the microwave in one-minute increments.
Lastly, cut them open horizontally. Squeeze the sides with your fingers to lift it off the skin and push the insides a little. The sweet potato can be too hot when taken out from the microwave. You can use a silicone holder or a kitchen towel to avoid burning yourself.
Should I Peel Sweet Potatoes?
I generally don't peel sweet potatoes. Besides, the skin of a sweet potato is edible so it is safe to eat. Preserving the skins will help maintain the shape of the sweet potatoes and give you a little leeway to cook them longer for that soft and moist results. As a result, it retains moisture, which aids in the tenderness of your sweet potatoes after fully cooked.
Moreover, when buying sweet potatoes, look for ones that are firm and free of blemishes, soft or wrinkled parts. Also, if you're going to cook more than one sweet potato at a time, make sure they're all about the same size, so they cook all at the same time.

Possible Toppings and Add-ons
Microwaved sweet potato is usually served as a side dish or as part of the main course. You may eat it plain, as well as with a small amount of salt or vegan butter on top. With the toppings, you may be as creative as you want. Use avocado, black beans thus making the dish extra loaded, or add jalapeno if you want it to be a little spicier.
Aside from the nutritional benefits we get from the sweet potato, avocado also helps to protect our body against heart disease and lowers blood pressure. Black beans, on the other hand, helps maintain healthy bones.
Time to clean up!
Let us not forget about the one that helped us cook the sweet potato – the MICROWAVE. It is a must to clean the microwave after each use. First, in a microwave-safe dish, combine the water and vinegar. We set heat on high until the mixture boils vigorously and the window steams up. Lastly, allow the microwave to cool for a few minutes before wiping clean the interior with the sponge or towel to remove any sweet potato splatters.
How to Store Cooked Sweet Potatoes
You can wrap the leftover sweet potato in a foil or storage container. Store in the refrigerator and consume within 4 to 5 days. Also, be mindful that sweet potatoes produce a sticky, starchy liquid when cooked, which can stain your containers and are hard to clean if not stored properly. For easy disposal, use aluminum foil. In addition, you can also recycle them into another delectable recipe, like a Sweet Potato Burrito and Easy Sweet Potato Lasagna.
Got more Sweet Potatoes?
If you got too excited and bought too many than you know what to do with, you can also try making these:
Photos by Alfonso Revilla
How to Microwave Sweet Potatoes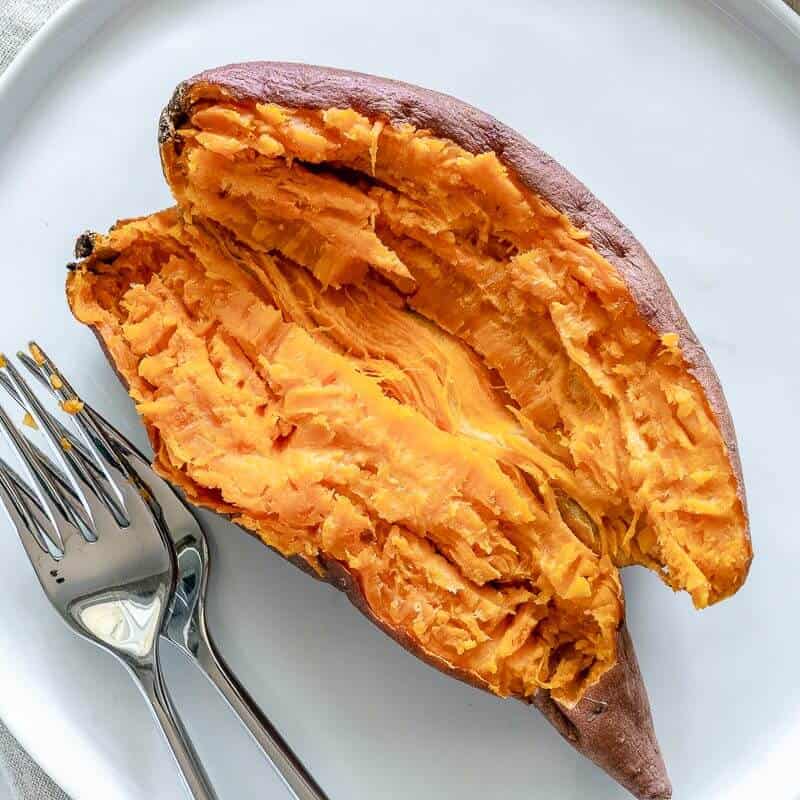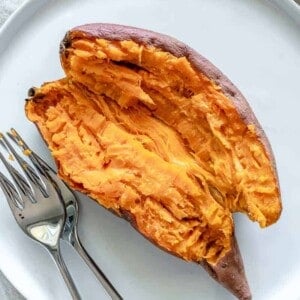 A perfectly fluffy and soft Microwaved Sweet Potatoes that no one would ever believe is even possible. It's a quick and easy recipe that takes less than 10 minutes to prepare.
Ingredients
1

Medium-sized sweet potato
Instructions
Using a fork, poke holes all over the potato for ventilation.

Put the potato on a microwave-safe plate and microwave it for 2 minutes. Flip it over and microwave for 2 minutes.

If the potato is not soft yet, microwave again in 1-minute increments until it's soft.
Notes
It can be stored in the refrigerator in an air-tight container for up to 4 days
Nutrition
Calories:
194
kcal
Carbohydrates:
45
g
Protein:
4
g
Fat:
1
g
Saturated Fat:
1
g
Polyunsaturated Fat:
1
g
Sodium:
124
mg
Potassium:
762
mg
Fiber:
7
g
Sugar:
9
g
Vitamin A:
32063
IU
Vitamin C:
5
mg
Calcium:
68
mg
Iron:
1
mg
Disclaimer: Although plantbasedonabudget.com attempts to provide accurate nutritional information, kindly note that these are only estimates. Nutritional information may be affected based on the product type, the brand that was purchased, and in other unforeseeable ways. Plantbasedonabudget.com will not be held liable for any loss or damage resulting for your reliance on nutritional information. If you need to follow a specific caloric regimen, please consult your doctor first.
Additional Info