As an Amazon Associate I earn from qualifying purchases.
Beans have a great rap for being one of the most wholesome (and cheapest) foods of all time. They contain a solid amount of carbohydrates, plant-based protein, fat, and fiber as well as a ton of important micronutrients that we need all for a very inexpensive cost. What's even more amazing is that there are so many different types of beans and ways to prepare them! You can enjoy them cooked with a touch of seasoning, fresh in a simple salad, or even mashed into a mouth-watering bean burger.
There are so many options and you probably have a variety of canned beans in your pantry right now! While some enjoy cooking beans from scratch versus cooking with canned beans, you can't deny the convenience and ease of used canned beans that are ready to go! Here are 59 ways to use a can of beans.
What's the Difference Between Dry and Canned Beans?
The main difference between dry beans and canned beans is canned beans are already cooked and dry beans are not. In order to eat dry beans, you have to take some extra time to soak them and/or quick boil them. Sometimes, this process can even be as long as overnight! With canned beans, you just need to open the can, rinse the beans, and they are ready to be enjoyed. How convenient! The following recipes contain two or more different types of beans, so if you're looking for nutritious and hearty recipes, these recipes have you covered!
Any Kind of Bean:
What are Canned Beans Made of?
Canned beans go through a process where they are cooked at high heat under steam pressure. Then, they're mixed with water and a preservative (salt most of the time). Finally, they're sealed in a can for transport and storage. When using canned beans, it is recommended that they're drained and rinsed in order to remove the excess salt from the beans. Once rinsed, they're ready to be enjoyed and made into burritos, dips, plant-based patties, and meatballs. The opportunities are endless!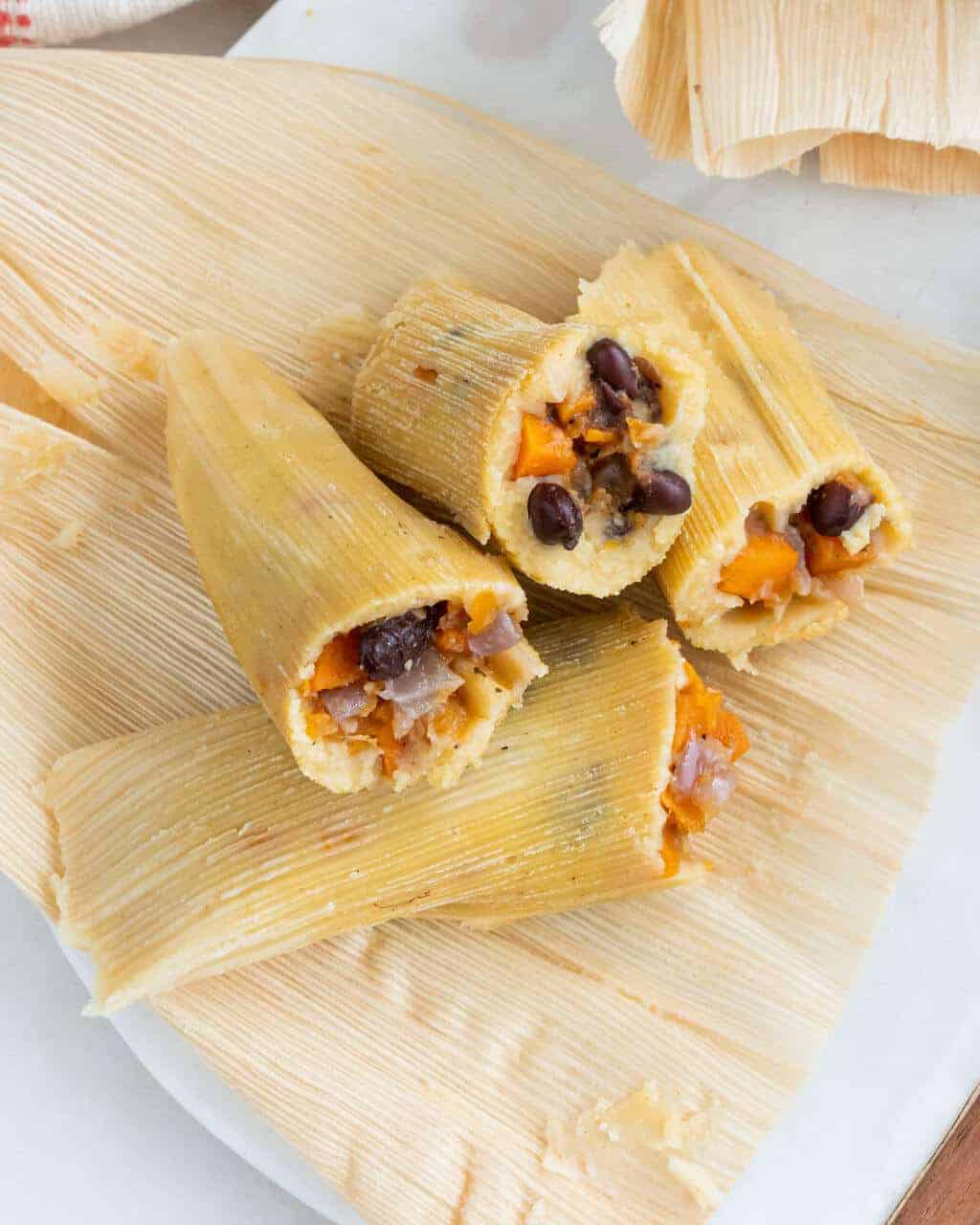 Black or Pinto Beans
(can often be used interchangeably)
Do Beans Contain Protein?
They do! Beans are well known as a plant-based protein source however they are primarily a source of carbohydrates, which is great! Not only do beans keep you full and satiated from the protein content, but they contain a great amount of fiber and energy as well due to the dense amount of carbohydrates. Beans are a wonderful, well-rounded and nutrient-rich food source that are perfect for keeping you energized. The following white bean recipes are a perfect and delicious way to stay fueled up to tackle the day!
White Beans
How Long Can You Store Canned Beans?
One of the best things about canned beans is that they're shelf stable. Most of the times, they are good to eat 3-4 years after you buy them. What a superfood! As long as your canned beans are kept in good condition, you can store beans for years! It never hurts to be prepared for a rainy day and what better food to have than a food as well-rounded as beans! Once opened, canned beans can be stored in an air-tight container for 3-4 days in the refrigerator and 1-2 months in the freezer. Here are some black and pinto bean recipes to enjoy, rain or shine, now or later!
Garbanzo Beans
The Best Thing About Canned Beans!
In today's market, you can find a standard-sized can of beans for a little over one dollar. How incredible is that? With all of the versatility you can make from beans, how nutrient-dense they are, and how delicious they taste, it can't get any better than that! You can even get a bigger bang for your buck if you buy in bulk. Eating plant-based foods has never been cheaper! Here are some super easy and inexpensive kidney bean recipes to enjoy!
Kidney Beans
As you can see, we love canned beans and enjoy all of the benefits that come from eating them! In addition to being insanely inexpensive, they're quick and easy to prepare, and so nutritious in so many different ways. Beans are our absolute favorite! Let us know which recipes you try out!