Apples are amazing! With so many different kinds of apples out there and different ways to enjoy them, they are probably the most classic fall fruit! Here are 26 Amazing Vegan Apple Recipes to dive into!
From a simple raw snack to a warm, baked dessert, apples are easily enjoyed by everyone. With the holiday season coming up, we decided to put this amazing round-up of vegan apple recipes together to get the ideas flowing on how you can enjoy this amazing, delicious, fall fruit.
Jump to:
Refreshingly Sweet!
There's nothing like that satisfyingly sweet crunch you get when you bite into a crisp apple. Whether it's a green granny smith, pink honeycrisp, or red gala apple, you'll always be met with a refreshingly sweet taste that will leave you feeling energized. They say an apple a day keeps the doctor away and they couldn't be more right! With natural sugars, fiber, and an abundance of vitamins and minerals, apples are a nutrition-packed fruit for everyone to enjoy!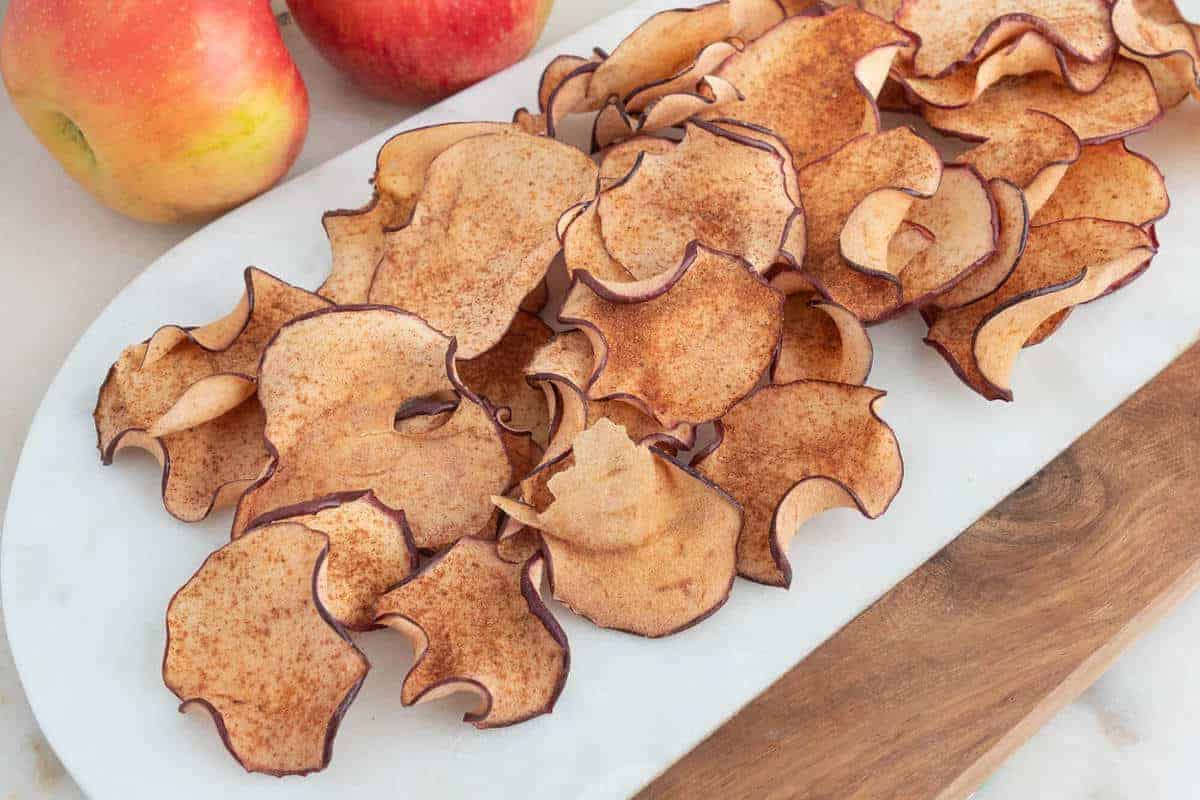 This might just be the most delicious, cheapest, and healthiest snack you can make! These apple chips are perfect for snacking and will leave your house smelling amazing!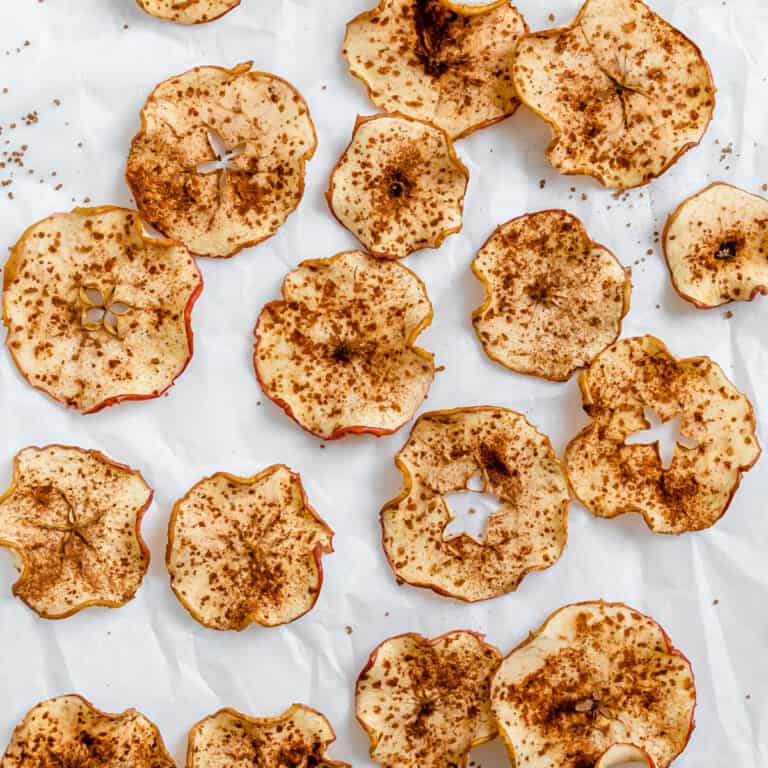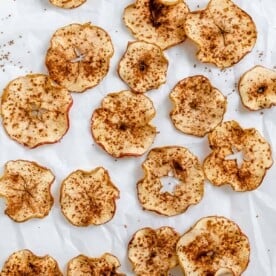 Baked Apple Chips
No need to turn to expensive store-bought snacks with these Baked Apple Chips! They are super budget-friendly and easy to make!
View Recipe
These stuffed apples are an amazing option for a festive and warm treat! Full of diverse toppings, spices, and flavors, you can easily have a tasty treat that everyone can enjoy!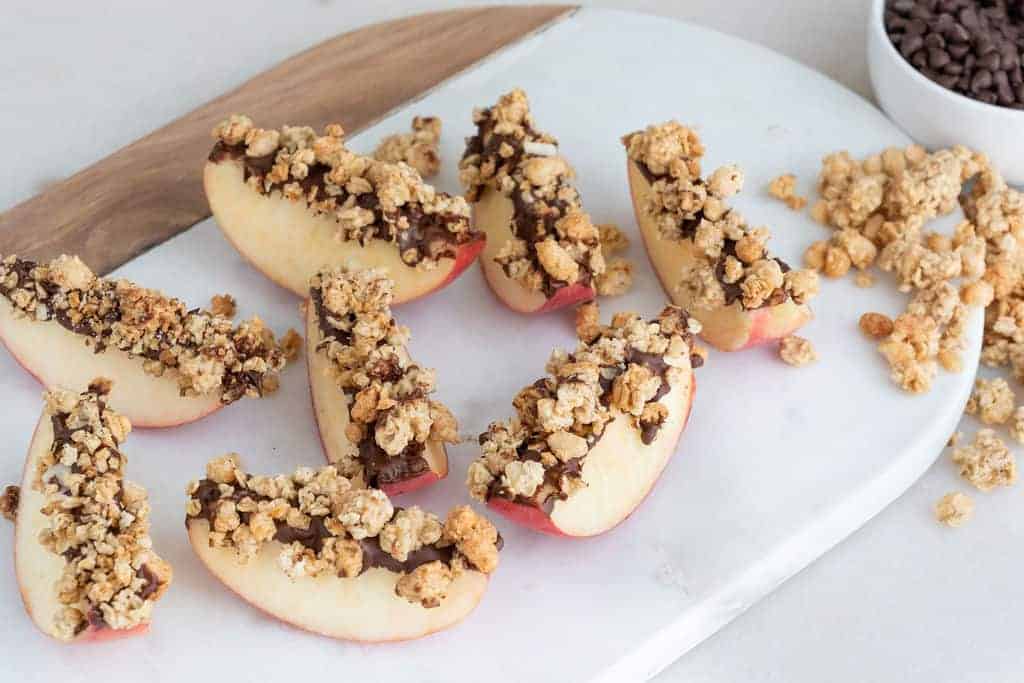 Looking for a quick go-to snack? This apple snack recipe is so easy to put together and you can mix and match toppings easily to your liking! It's a classic, simple, and incredibly tasty snack!
This apple and cranberry combination makes the best dessert. Everyone will want seconds of this delicious, flavorful buttery apple crisp! It's also incredibly easy to use as a base for any fruit combination of your choice!
Kids and adults alike love this super sweet strawberry apple sauce. It's easy to whip up and the blend of strawberries and apples together form a perfect sweet mix of fall and summer fruit.
Here's a delicious spin on your typical cabbage dish. Combined with apples, this dish adopts a unique blend of sweet and sour to please your palette. It's a great side dish to compliment your entrees for the holidays!
You'll be pleasantly surprised about the inclusion of granny smith apples in this stuffing recipe! The added apple tartness brings out an amazing flavor that is surprisingly very fitting for this holiday dish.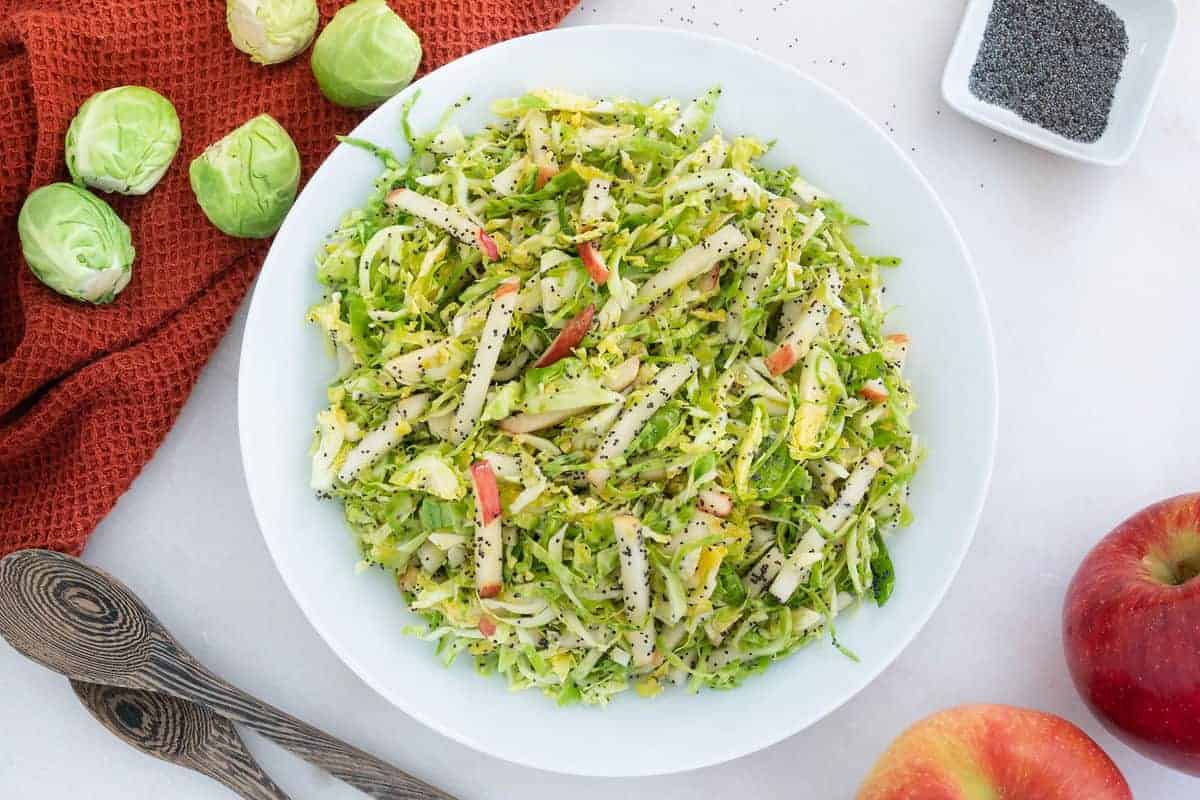 We absolutely adore this side dish! It's simple, light, and adds a fresh element to your meal. If you didn't like brussels sprouts before, you certainly will now!
If you're looking for a comforting, warm, and sweet meal, this apple coconut curry recipe has you covered. It's full of creamy, dense, and hearty flavors that are perfect for chilly nights.
Not only will this Apple Cake be adored by how beautiful it is, everyone is going to love how delicious and full of flavor it is as well. It has the perfect amount of sweet and spice to make it the most comforting cake!
One of my favorite vegan apple recipes! These light and fluffy homemade Apple Cinnamon Waffles with bits of tender-crisp toppings are perfect for lazy weekend mornings. Drizzle them with maple syrup or top with your favorite fruit and you've got yourself an amazing breakfast!
Oatmeal has never been better! The oats, apples, cinnamon, maple syrup, and hemp seed combo make for the ultimate breakfast that is full of delicious and energizing ingredients.
Here's a great recipe to start your morning off with! This quinoa apple bowl makes for the perfect all-around breakfast as it's packed with plant-based protein, it's easy to make for busy mornings, and can be made in batches for the entire family!
This apple pie recipe is so delicious! This scrumptious dessert is so simple to make for new bakers and kids as well. Everyone is going to love this delicious classic!
These vegan apple crescents are the ultimate treat! The fluffy, buttery roll combined with sweet and cinnamon-filled apples make this savory treat incredibly addicting. You'll want to double this recipe, no doubt!
Here's a spin on the classic apple pie! Adding in pears creates a unique flavor that is incredibly delicious! Serve up this sweet treat with your favorite vegan ice cream and enjoy!
Make this crunchy granola recipe with oats, chewy jumbo raisins, sweet apples, healthy seeds, warm cinnamon powder, and coconut shreds. It's gluten-free, refined sugar-free, vegan, and so easy to make.
Deliciously gooey homemade apple pie cinnamon rolls that are secretly vegan and dairy-free! Full of baked cinnamon apples, these easy cinnamon rolls are the perfect fall breakfast!
Looking for a healthful and tasty way to add hidden fruits and veggies into your morning breakfast routine? While most vegan apple recipes are sweet, these savory Vegan Breakfast Sausage Patties are packed full of protein, nutrients, and fiber, and boast a complex, balanced flavor.
These vegan mini apple pies have an easy oatmeal cookie crust and are covered in an amazing caramel sauce. A fantastic individual dessert for Thanksgiving!
Wholesome vegan apple berry muffins with a crumble topping. These muffins are better than the ones from your corner bakery and are great as a healthy vegan breakfast or snack.
Using only 4 ingredients, this carrot apple ginger juice recipe helps you work towards health and a better diet. Serving it with or without ice is a totally refreshing experience.
These vegan apple bars are healthy apple cinnamon oatmeal bars. A crunchy apple pie bar topped with soft-cooked apples, crumble topping, and peanut butter caramel sauce.
These vegan apple turnovers are super easy and delicious to make. They use puff pastry which is often vegan as it is to make and the end result is a delicious dessert.
Hope you enjoy these vegan apple recipes!