As an Amazon Associate I earn from qualifying purchases.
Thank you to Sprouts for sponsoring this recipe!
My favorite way to beautify my fall tablescape is to whip up a charcuterie board with lots of color and texture. I love how they're really customizable, and use a combination of my favorite fruits, bulk staples, and vegan products.
I did my shopping for this board at Sprouts. As you know, my neighborhood store has the best staff around, plus they have a stellar selection of items to purchase in bulk — which not only saves me money but also cuts down my use of plastic. I chose a mixture of fruits like pomegranate and grapes, spreads like jelly and mustard, some nuts, Late July crackers, Miyoko's new block cheese made from oat milk, and Tofurky hickory smoked deli slices.
I'm including a list of what I included on my plant-based charcuterie board, but feel free to get creative! Use persimmons, figs, you can add a baguette … the possibilities are endless!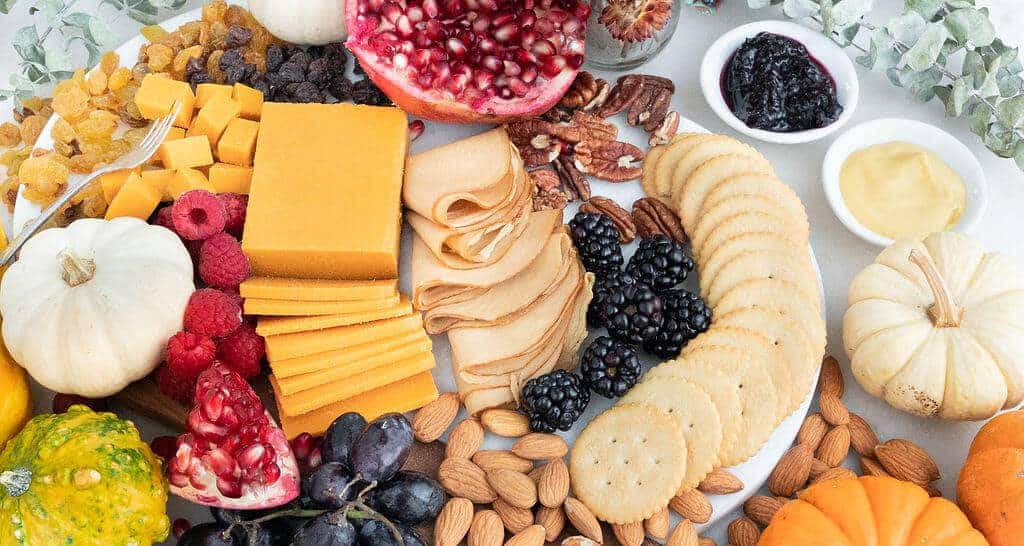 ¼ cup of grape jelly in a small bowl
¼ cup of your choice of mustard in a small bowl
1 package of hickory Tofurky deli slices, folded
1 block of Miyoko's oat cheese, sliced or cubed
1 box of Late July classic crackers
1 pomegranate, halved
1 vine of purple grapes
1 package of raspberries
1 package of blackberries
½ cup of golden raisins
½ cup of raisins
⅔ cup of almonds
½ cup of pecans
Assembling the Board
I first like to start with choosing a large plate or board to make my display. I stick with something really modern and sleek, either white or a simple wood. You can even choose two smaller boards and push them together.
Figure out where you'd like to place any gourds or small pumpkins, add your small bowls of jelly and mustard, and then begin building your board around those. I usually begin with the bulkier items like the folded deli slices, the cubed or sliced Miyoko's cheese, and then I spread out a row of crackers.
With the open space on the board or large plates, I place my pomegranate halves, grapes, and berries, and then sprinkle the raisins, almonds, and pecans wherever there's a gap. It should look really full and packed together.
When you're finished assembling your board, feel free to add fall flowers, or any other decorations you'd like to continue livening it up.