As an Amazon Associate I earn from qualifying purchases.
Make this fruity and fancy-looking yet easy-to-make Baked Pears dessert for your next weekend gathering, holiday party, or weeknight potluck with friends. Made with the pear-fect harmony of flavors and textures! From the warm, sweet flavor of the pumpkin spiced pears to the crunchy walnuts and pecans to the chewy dried berries! It'll be a certified crowd-pleaser.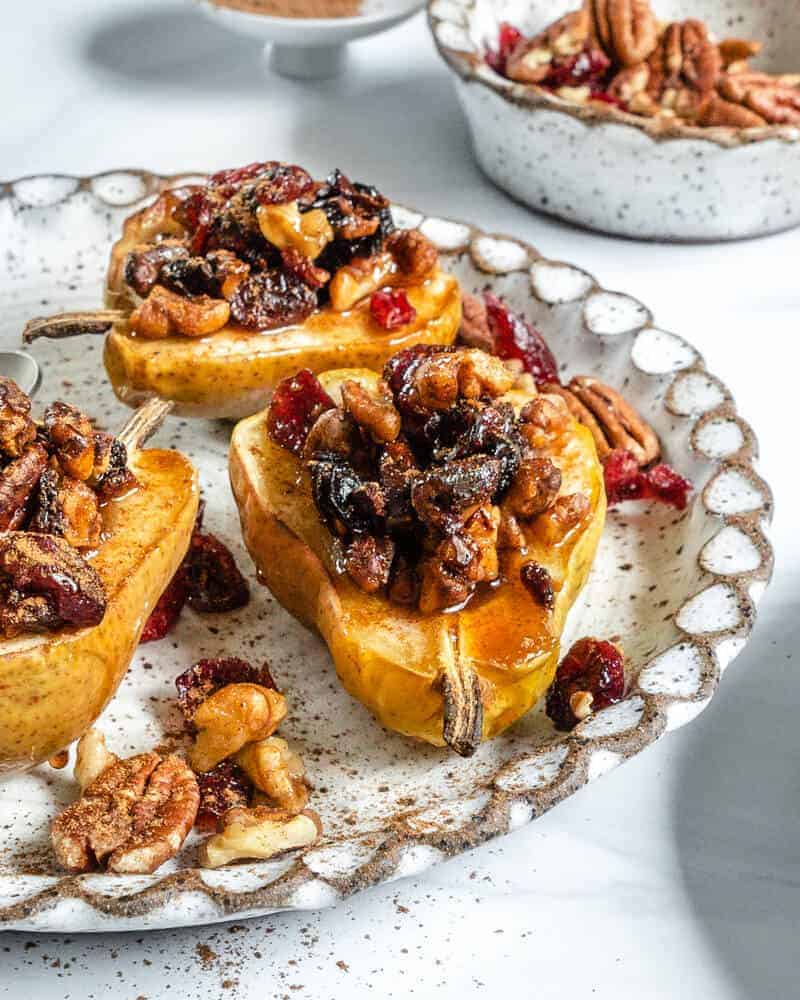 It's quite impressive how baking can turn pears from a simple fruit into a delectable sweet treat. We love warm desserts, such as these baked pears, especially during those chilly months. When the fruit is baked, the natural sweetness comes out making it easy to mix and match to any toppings of your choice. You can do it as I did and season it with pumpkin pie spice and top it nicely with walnuts, pecans, raisins, or cranberries. This gives the pears the perfect autumn taste that is so warm and comforting. Or let your creativity and sweet tooth guide you to make it your own! This dessert offers a lot of flavors with surprisingly few simple steps done in a flash.
Which pears are best for cooking?
This recipe can use any type of pear available. Although there are a few varieties that are considered to be the finest for baking. The Bosc and Anjou varieties are particularly good at keeping their form and texture. Bartletts and other types will suffice in a pinch. Comice, on the other hand, is not recommended for cooking. It has soft and luscious flesh which tends to come apart when baked. If you've seen smaller pears, such as Seckel and Forelle, these are suitable for cooking but require more time to peel and core due to their size.
Health benefits found in pears
Pears are a tasty, low-calorie snack that's also packed with hard-to-find nutrients. Pears are high in fiber, which keeps you full and keeps your heart and intestines in good shape. They are abundant in antioxidants, which can lower your risk of cancer, diabetes, heart disease, and even dementia.
Ingredients needed in making Baked Pears:
This dish is straightforward and easy to follow, even for novice cooks. It's the kind of dessert that can be whipped up on a relaxing afternoon, may it be by yourself, for your family, or for a dinner party with friends.
Pears – We need 2 fresh pears, seeded and halved. Checking the neck of a pear is the easiest way to detect if it's ripe or not. Gently press the pear's flesh towards the top, close to the stem. If your pear has a little give to it, it's ripe and ready to eat. Because pears ripen from the inside out, it's best to check the area of the pear closest to the fruit's core.

Walnuts or Pecans – Aside from giving that extra crunch on the dessert, they also have a wonderfully rich and buttery flavor. You can choose either walnut or pecans, or you can have both.

Raisins or D

ried Cranberries

– These give the dessert a fruitier flavor and adds a chewy texture to each spoonful. Choose one or use both, it's up to you. You may use any dried fruits and berries that take your fancy.
Pumpkin pie spice – This delicious mixture of spices brings the joy of autumn into the dish!
Maple Syrup – This is the vegan sweetener that brings out the natural sweetness of the pears while also allowing them to caramelize while baking. Agave syrup can be used as a substitute.
Topping ideas and other variations:
Serve this with a dollop of vegan ice cream, or plain yogurt on top for that ultimate exquisite dessert.

Topping options are limitless. Aside from walnuts and pecans, you may also use hazelnuts, almonds, or pistachios.

Along with raisins and cranberries, rolled oats or old-fashioned oats can also be a great addition to that earthy flavor and crunch.

If using cinnamon, a pinch of vanilla bean powder can be added for that tantalizing hint of fragrance.

To add extra color to your dish, top your baked pears with pomegranate. That striking red color adds to the elegant look of the dish.
How to make Baked Pears
Low-maintenance recipes like this are fantastic because even a beginner can simply follow the steps to create this picturesque dessert.
Prepare the oven by preheating it to 350 degrees F and line a baking sheet.

Combine the nuts, dried fruit, pumpkin pie spice, and agave or maple syrup in a mixing bowl until well blended.
Cut the pears in half and remove the cores using a melon baller or knife. Leaving the stems on gives the final presentation an extra element of elegance.
Add a generous scoop to each innard of the pears.

For a little more sweetness and autumny flavor, feel free to add more maple syrup or sprinkle on a little more pumpkin pie spice.
Lastly, bake for 25 minutes.
Tips for perfect roasted pears
Slice a small sliver off the round side of the pear. This will allow the pear to lay flat to hold all that sweet sauce.

Arrange the pears on a baking sheet about 2 inches apart to have room to roast and not steam and get soggy.
Line the pan with parchment. This prevents any caramelized sauce or syrup from sticking on the baking sheet or pan.
Should I serve Baked Pears hot or cold?
Serving this dessert warm is much tastier, but baked pears are still delicious when eaten cold.
Can I make baked Pears ahead of time?
Yes. The pears can be baked ahead of time and stored in the fridge. You can serve them cold or reheat them gently in the microwave before serving.
Pear leftovers and Ripening Tips
Baked Pears. Freshly roasted pears are best served the same day. You can, however, seal them and keep them in the fridge for 3-4 days. Just make sure that there isn't too much liquid in the storage container from the baked pears. Warm in the microwave or in a 350°F (176°C) oven until thoroughly warmed. Not suitable for freezing.

Raw Pears. Pears ripen quickly. However, this happens from the inside out. As a result, it's soft on the outside but an overripe flesh inside. Placing ripe pears in the fridge – cooler can help them last longer. Pears that are not yet ripe can be stored at room temperature.
For more Pear recipes:
Almond and Pear Thumbprint Cookies

– A healthy cookie recipe that is great for breakfast or an afternoon snack with your choice of coffee or tea.

Harvest Apple Pear Pie – Our classic pie may be made completely vegan and gluten-free. For that delightful dessert, it has just the proper amount of sweetness and a beautiful crust.
Photos by Alfonso Revilla
Baked Pears
Baked pears, an elegant dessert with fruit's warm, sweet flavor, and the crunch of walnuts and pecans plays together like pear-fect harmony.
Ingredients
2

ripe pears, halved

¼

cup

of chopped walnuts or pecans (or a combo of both)

3

tablespoons

of raisins or dried cranberries (or a combo of both)

½

teaspoon

of pumpkin pie spice, more for garnish 

3

tablespoons

of agave or maple syrup (or a combo of both), more for drizzling
Instructions
Preheat the oven to 350 degrees F and line a baking sheet.

In a bowl, mix together the nuts, dried fruit, pumpkin pie spice, and agave or maple syrup until well-combined.

Using a melon baller or spoon, scoop out the seeds of the pears. Add a generous scoop to each innard of the pears.

If you'd like to drizzle on a little more sweetener or powder on a bit more pumpkin pie spice, feel free. 

Place in the oven and bake for 25 minutes. 
Notes
In a pinch, using cinnamon instead of pumpkin pie spice will work, too.
Nutrition
Calories:
366
kcal
Carbohydrates:
72
g
Protein:
3
g
Fat:
10
g
Saturated Fat:
1
g
Polyunsaturated Fat:
7
g
Monounsaturated Fat:
2
g
Sodium:
5
mg
Potassium:
287
mg
Fiber:
8
g
Sugar:
56
g
Vitamin A:
49
IU
Vitamin C:
13
mg
Calcium:
36
mg
Iron:
1
mg
Disclaimer: Although plantbasedonabudget.com attempts to provide accurate nutritional information, kindly note that these are only estimates. Nutritional information may be affected based on the product type, the brand that was purchased, and in other unforeseeable ways. Plantbasedonabudget.com will not be held liable for any loss or damage resulting for your reliance on nutritional information. If you need to follow a specific caloric regimen, please consult your doctor first.
Additional Info