These Super Fudgy Brownies are every chocolate lover's dream come true! They are supremely moist, chewy, and melt-in-your-mouth delicious! You've never had brownies quite like these, and your family and friends will find themselves polishing every crumb off the plate - vegan or not! 
If you have been constantly disappointed with dry and crumbly chocolate bars or overly greasy ones that lack a strong chocolate flavor, then you are in for a treat! This amazing recipe is straight off the pages of my book, The Friendly Vegan Cookbook. And it is so good I decided to share it here too. They are super moist and soft with a gleaming, crinkly crust dotted with more chocolates! And as the saying goes, chocolates are happiness you can eat! 
Vegan Fudgy Brownies
Whoever said that going vegan means you can't indulge your sweet tooth with comfort classics is totally far from the truth. These baked chocolate confections are dairy-free and eggless yet lusciously moist and creamy. The batter is easy enough to make and comes together in just 15 minutes. Honestly, waiting for it to bake and cool might be the most challenging step. But this vegan food for the soul is absolutely worth the wait!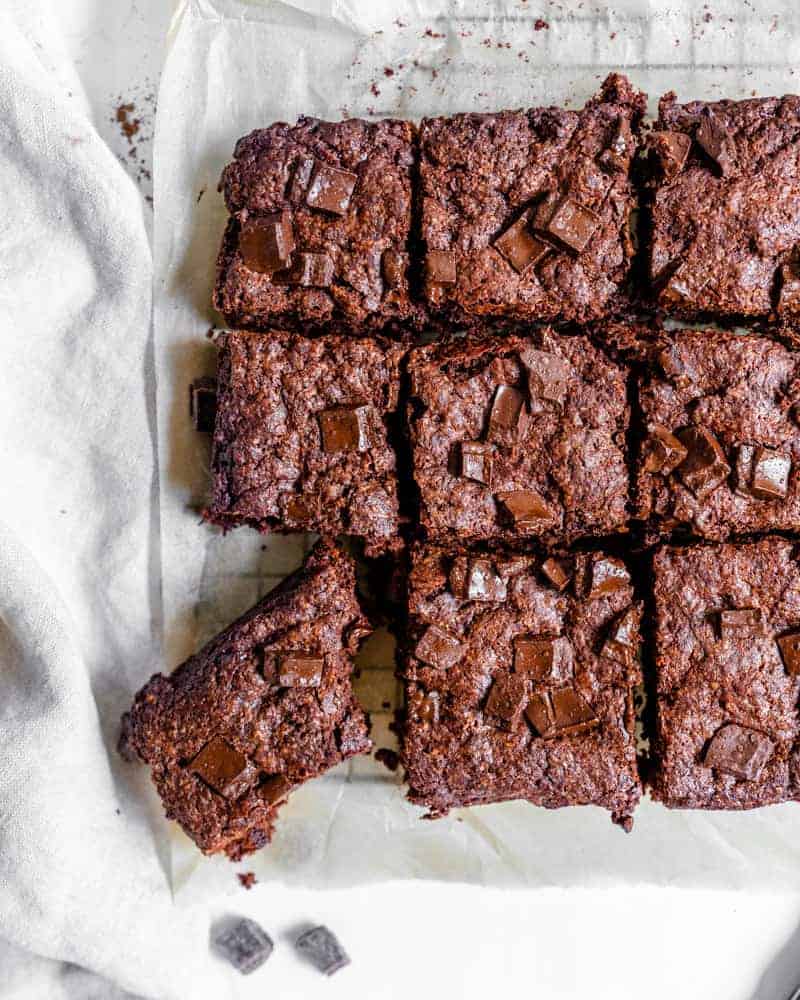 Ingredients Used:
The ingredients for these vegan brownies are pretty conventional with a handful of additions to make them vegan-worthy.  
Ground Flaxseed Meal - this egg substitute does its job really well. It gives the brownies a moist and gooey mouthfeel that is totally addicting. For more options on the Best Vegan Egg Replaces for Baking, you can check out this article! 

Soy Milk - This recipe calls for soy milk for a richer result.  But feel free to use almond milk or other non-dairy milk you have.  

Vanilla Extract - For that extra yummy flavor and aroma!

Sugar - Granulated sugar is what we are using for this recipe.  Brown sugar will also work here and will add a caramelly undertone to the brownies. 

All-Purpose Flour - This recipe will need 1 cup. Replacing this with white whole wheat flour will also work.

Cocoa Powder - This is one ingredient where you should really invest in. Use a good-quality brand for the best results. 

Salt - adding a pinch of salt enhances the natural flavors of the chocolate. Don't worry it will not make your brownies salty. 

Baking Powder - Adding this to the batter gives the brownies a great lift.

Canola Oil - For that extra moist result. You may also use vegetable oil as a substitute.

Vegan Semi-Sweet Chocolate Chips - It goes on top but no one is stopping you from folding more into the batter too! 
How to make these Super Fudgy Brownies?
 I swear you will never look at a ready-made brownie mix again after preparing these brownies from scratch.  Here's how to put them together.
Line a 9x9 square baking pan with parchment paper, or you may also coat the paper with nonstick spray.

To make the flaxseed mixture, combine the ground flaxseed meal, soy milk, and vanilla extract.  Let it stand for about 10 minutes to allow the ingredients to blend together to thicken.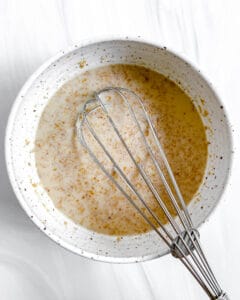 Now, let's put the dry ingredients together.  In a large bowl, add sugar, flour, cocoa powder, salt, and baking powder.  Mix well.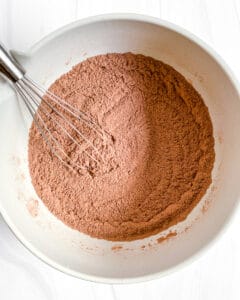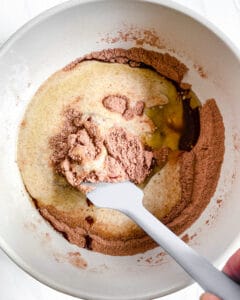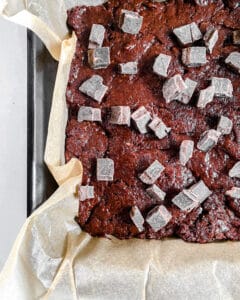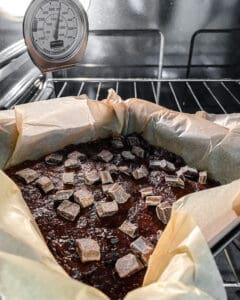 Tips when Making 
Fudgy Brownies
Don't overmix the ingredients

. For all baked items, this is a good policy. Aerating the recipe by overmixing the dry and wet ingredients results in cakey brownies.

Sift the dry ingredients.

To make a clump-free batter mixture, sift the cocoa powder before mixing it with the wet ingredients.

Use the highest-quality vegan chocolate

you can get at a reasonable price. Since plant-based chocolate is the main ingredient in brownies, it's critical to use the best vegan chocolate you can find and afford.

Use parchment paper to line your baking pan

. This makes removing the baked brownies from the pan and slicing them much easier. It also eliminates the need to oil the pan. These brownies are rich and luscious without the need for any additional oil or vegan butter.

Don't start slicing brownies too soon

. Slicing the brownies too soon can turn them into a sticky lava cake. Remember that brownies continue to cook even while resting. Also, cutting a warm brownie can cause it to fall apart. Let it cool down before slicing.

Allow extra fudgy brownies

to firm up in the fridge for an hour or two after they've cooled. This is the way to go if you enjoy incredibly thick, dense brownies.

Don't overbake the brownies. A

toothpick comes in handy here.  If you poke it in the brownies and it comes out with uncooked batter, leave it for a few more minutes.  On the other hand, if you pull the toothpicks out with only a little vegan chocolate/gooeyness on them,  your brownies are ready.
Storage & Freezing
For any leftover vegan brownies, place them in an airtight jar and keep them on the counter for up to 5 days at room temperature.  These brownies are best when enjoyed chilled and can stay good in the fridge for 8-10 days. No need to reheat them. However, if you want to soften them a bit,  you can always warm them up in the microwave. 
If you made a huge batch and are saving them up for future dessert nights, go ahead and freeze them.  In an airtight container, layer with a piece of parchment paper and store it for about 3 months. Allow brownies to defrost at room temperature before eating them. If unsliced, wrap the entire block of brownies in plastic wrap and then aluminum foil.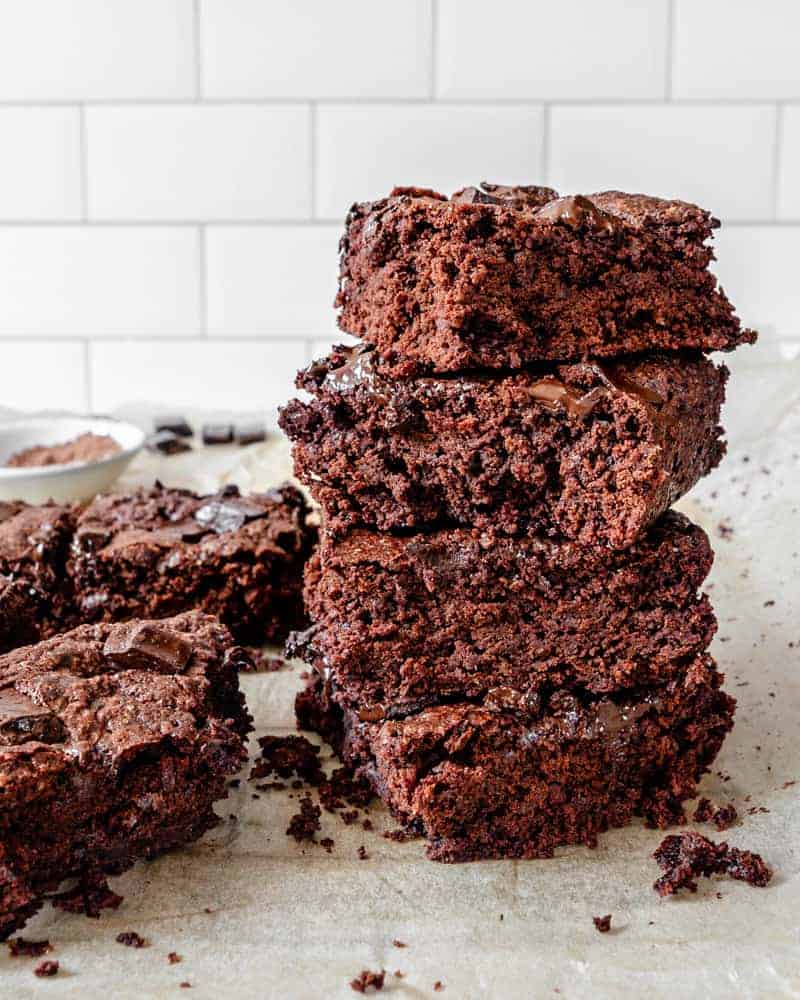 Bling out your Fudgy Brownies
Walnuts, pecans, cashews, and a variety of other nuts can be sprinkled on top. The brownie's richness is balanced by the subtle saltiness of the nuts. 

It can be served topped with your favorite vegan ice cream or coconut whip cream.
Make these brownies a little more festive for the upcoming holidays by adding broken vegan candy cane pieces or sprinkles.
More Chocolate-y Recipes for you! 
 Pumpkin Chocolate Brownies

- A fall recipe that you can make all year round. Pumpkin, the star ingredient, bringing something new to a classic dessert.

Sweet Potato Brownies

- Another way to make sweet potato stand out.  If you have some leftovers from those sweet potato fries, then turn them into something sweet and fancy. 

Super Simple Chocolate Mousse

- Chocolate overload! This complements our fudgy brownies perfectly, and the best part is that it's made of silken tofu. This can be served as a topping.
Photos by Alfonso Revilla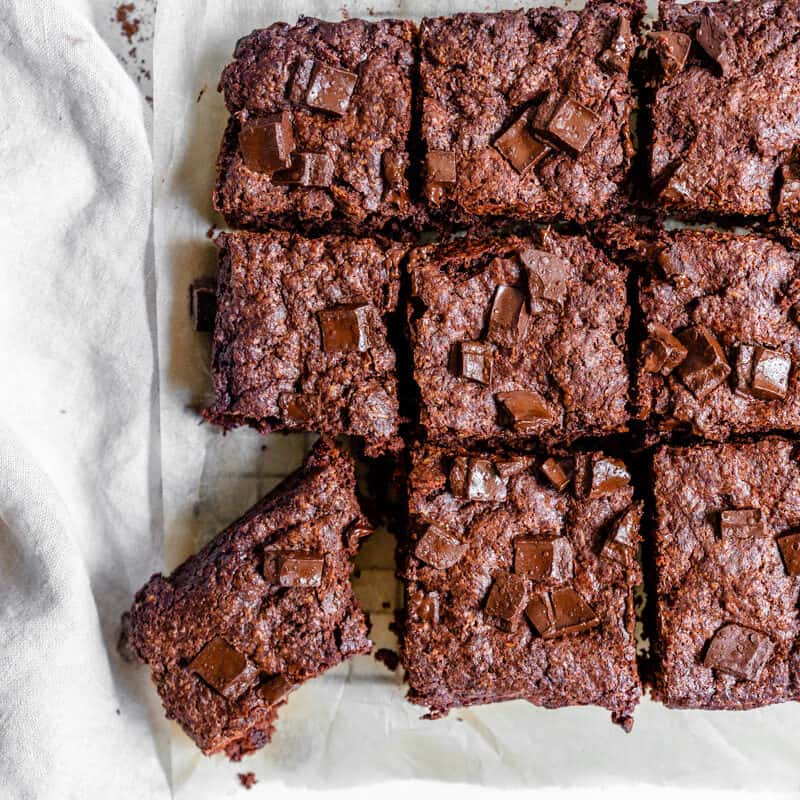 Super Fudgy Vegan Brownies
These Super Fudgy Vegan Brownies are every chocolate lover's dream come true! They are supremely moist, chewy, and melt-in-your-mouth delicious. You've never had brownies quite like these, and your family and friends will find themselves polishing every crumb off the plate - vegan or not! 
Preheat the oven to 350 degrees F. Line a 9 x 9-inch baking pan with parchment paper.

In a small bowl, mix together the ground flaxseed meal, soy milk, and vanilla extract. Set aside for at least 10 minutes to allow the mixture to thicken.

In a large bowl, combine the sugar, flour, cocoa powder, salt, and baking powder and whisk until well mixed.

Add the flaxseed meal mixture and canola oil to the dry ingredients and mix just until combined. Do not overmix.

Spoon the thick brownie batter into the prepared baking dish. Sprinkle the top evenly with the chocolate chips.

Bake for 45 minutes. Allow to cool fully in the pan. For the fudgiest texture, refrigerate overnight or for at least 4 hours before slicing and serving.
You can dive into these right out of the oven. But these brownies are best when enjoyed chilled, straight out of the fridge.
Calories:
215
kcal
Carbohydrates:
39
g
Protein:
3
g
Fat:
7
g
Saturated Fat:
1
g
Polyunsaturated Fat:
2
g
Monounsaturated Fat:
3
g
Trans Fat:
1
g
Sodium:
73
mg
Potassium:
131
mg
Fiber:
3
g
Sugar:
28
g
Vitamin A:
31
IU
Vitamin C:
1
mg
Calcium:
46
mg
Iron:
2
mg
Disclaimer: Although plantbasedonabudget.com attempts to provide accurate nutritional information, kindly note that these are only estimates. Nutritional information may be affected based on the product type, the brand that was purchased, and in other unforeseeable ways. Plantbasedonabudget.com will not be held liable for any loss or damage resulting for your reliance on nutritional information. If you need to follow a specific caloric regimen, please consult your doctor first.