As an Amazon Associate I earn from qualifying purchases.
How to make coconut vegan whipped cream from canned coconut milk, you ask? This coconut whip is a delicious dairy-free, paleo, whole30, vegan alternative to dairy whipping cream and the perfect addition to your dairy-free desserts!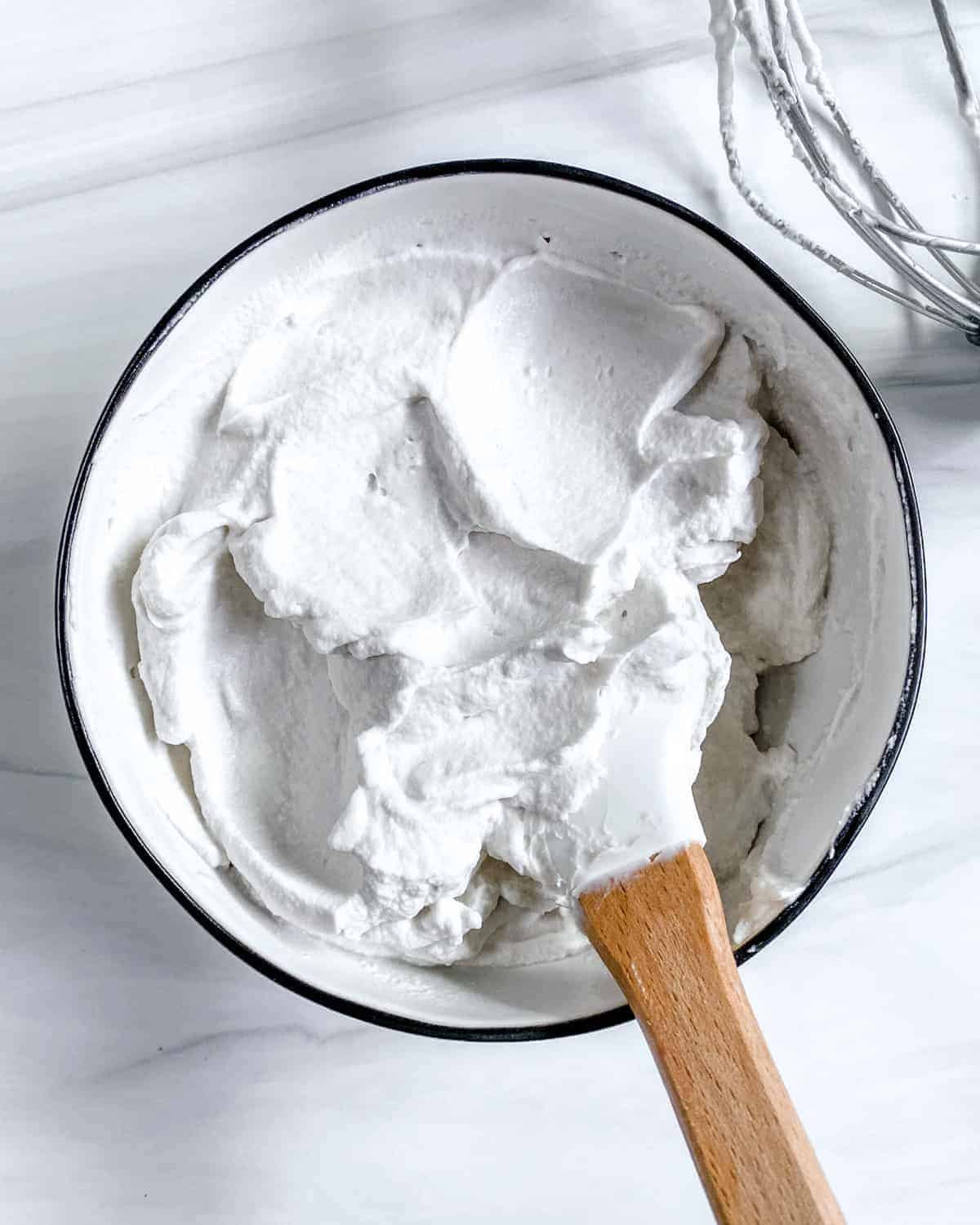 Light and Fluffy Vegan Whipped Cream:
While commercial dairy alternatives are increasing, many countries still cannot get a store-bought whipping cream alternative. And for those that can, they are often fairly pricey! Luckily, using full-fat canned coconut milk (which we nearly always have in our pantry) we can produce a wonderfully light and fluffy coconut vegan whipped cream that makes for an excellent whipped cream alternative!
Coconut whipped cream is slightly denser than regular whipped cream. However, it still whips up well enough to make for a delicious topping for baked goods, ice-creams, drinks, and desserts (and most places you'd use dairy whipped cream). Best of all, this coconut whipped cream is friendly to many diets (paleo, keto, whole30, dairy-free, vegan), so it makes for a great addition at any large gathering!
With Thanksgiving coming up, we're already planning on using it to top our pecan and apple pie! Plus, when learning how to whip coconut cream, all you need is just a few cans of full-fat coconut milk and a few minutes of your time!
The Ingredients
Coconut milk: You'll need cans of full-fat coconut milk to make this coconut milk whipped cream recipe, allowed to chill overnight (or longer) in the fridge to separate the cream (what we need) from the water.
You can also use canned coconut cream—but avoid cartons and other types, as those won't work.
Vanilla extract: While technically optional, vanilla helps transform the coconut milk whipped cream into the perfect dessert topping.
Sugar: It's best to use granulated/powdered sugar (whichever you'd prefer: white sugar, coconut, date, or sugar-free like erythritol), as liquid options can weigh down the whipped coconut cream and affect the whip. However, if your coconut whipped cream has worked well or is particularly thick, feel free to use a liquid (like maple syrup, brown rice syrup, etc.)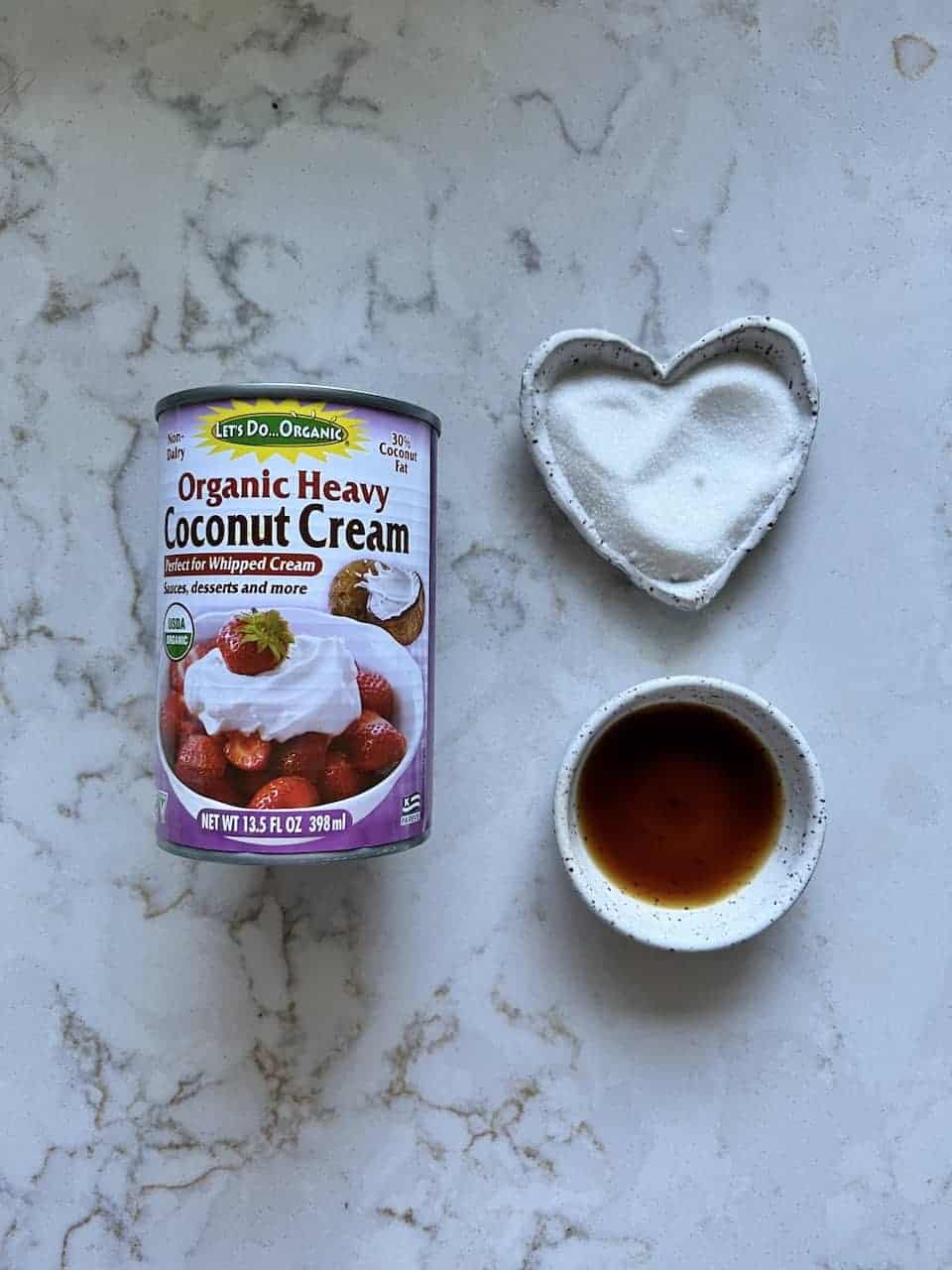 Which is the best coconut milk to use?
One of the major factors towards having successful coconut whipped cream is the brand of coconut milk you use. Some brands contain additives that will affect the whipping, and others that we've tried just don't seem to work (we're not entirely sure why). So here are a few top tips for choosing your brand of coconut milk.
Our top tip number one is to use a brand that doesn't contain a lot of additional additives, especially stabilizers and ingredients like guar gum.
Next, make sure to use a full-fat coconut milk brand – not a light version.
Finally, the best brands that we've been able to try to make coconut whipped cream are as follows (in no particular order): Thai Kitchen, 365 Organic, Native Forest, and Aroy-D.
Sometimes, even following all the tips, you may find a can that won't whip correctly. For that reason, we always recommend putting a few cans in the fridge at one time.
How to Make Coconut Whipped Cream?
Keep scrolling to the recipe card for the complete list of ingredients and recipe instructions. 
First, refrigerate the can of coconut milk overnight (for at least 10 hours, though we prefer to leave it for 24 when possible – or longer). This will enable the thick coconut cream and the coconut water to separate (all we need is the cream).
There is no need to throw away the leftover coconut water. You can use this in smoothies, baking, sauces, etc.
When you want to make the coconut whipped cream, start by turning the can over and opening it. The coconut water should now be on top and will be easy to drain. Next, transfer the thick coconut cream to a medium mixing bowl.
If you open the can the other way, then simply scoop out the cream from the top.
Using a stand mixer/ hand mixer (with whisk attachment), immediately whip the coconut cream on high speed until it becomes light and fluffy (it can take as little as 2 minutes up to 7-8), scrape down the sides of the bowl, as needed. Next, gradually add in the sugar and vanilla once the vegan whipped cream is already forming stiff peaks. Give it a final taste and adjust the flavorings – then enjoy!
As you're whipping the vegan cream, it will go through several stages. It may start by looking grainy slash lumpy (honestly, it looks curdled); however, it should eventually become smooth, light, and fluffy. If you find it isn't whipping properly because it's too thick, you may add a tiny amount of the liquid from the can (one spoonful at a time) to thin out the vegan cream and make it easier to whip OR use a liquid sweetener.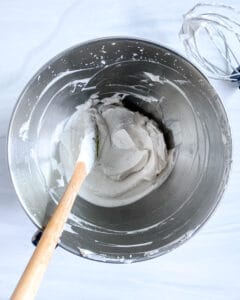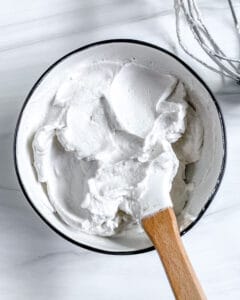 How to Store?
Once you've whipped the coconut whipped cream, you can use it immediately or store it in an airtight container in the refrigerator for 7-10 days. While chilling, it will thicken up (and out of the fridge, it will become too soft and lose its shape). When you need to use it, you may need to re-whip it slightly to achieve a light and fluffy texture once more.
You may also freeze the coconut milk whipped cream (in an airtight Ziplock or Stasher bag) for up to a month. After that, however, you will probably need to re-whip it once thawed.
Serving Recommendations
Unsurprisingly, this vegan whipped cream makes for the perfect alternative to dairy whipped cream. This means you can use it in all your favorite ways, including:
Dollop over fresh fruit for a simple snack or dessert.
Over ice cream and ice cream based desserts
Add a little to pancakes, waffles, and French toast
Decorate desserts – like tarts, cheesecake (like this banana cheesecake), and pies and other chilled desserts that won't cause the cream to melt. Or dollop over warm desserts (like apple pie).
To top drinks – like homemade vegan milkshakes, frappuccinos, and other chilled drinks (like this Cinnamon & Hemp Seed Coffee Shake). You could also use it for hot chocolate, though it will melt pretty quickly (which we don't mind).
As the base for mousse – whipped coconut cream is just one of several dairy-free base options you can use for a delicious vegan mousse.
Let us know in the comments how else you enjoy using your homemade vegan whipped cream!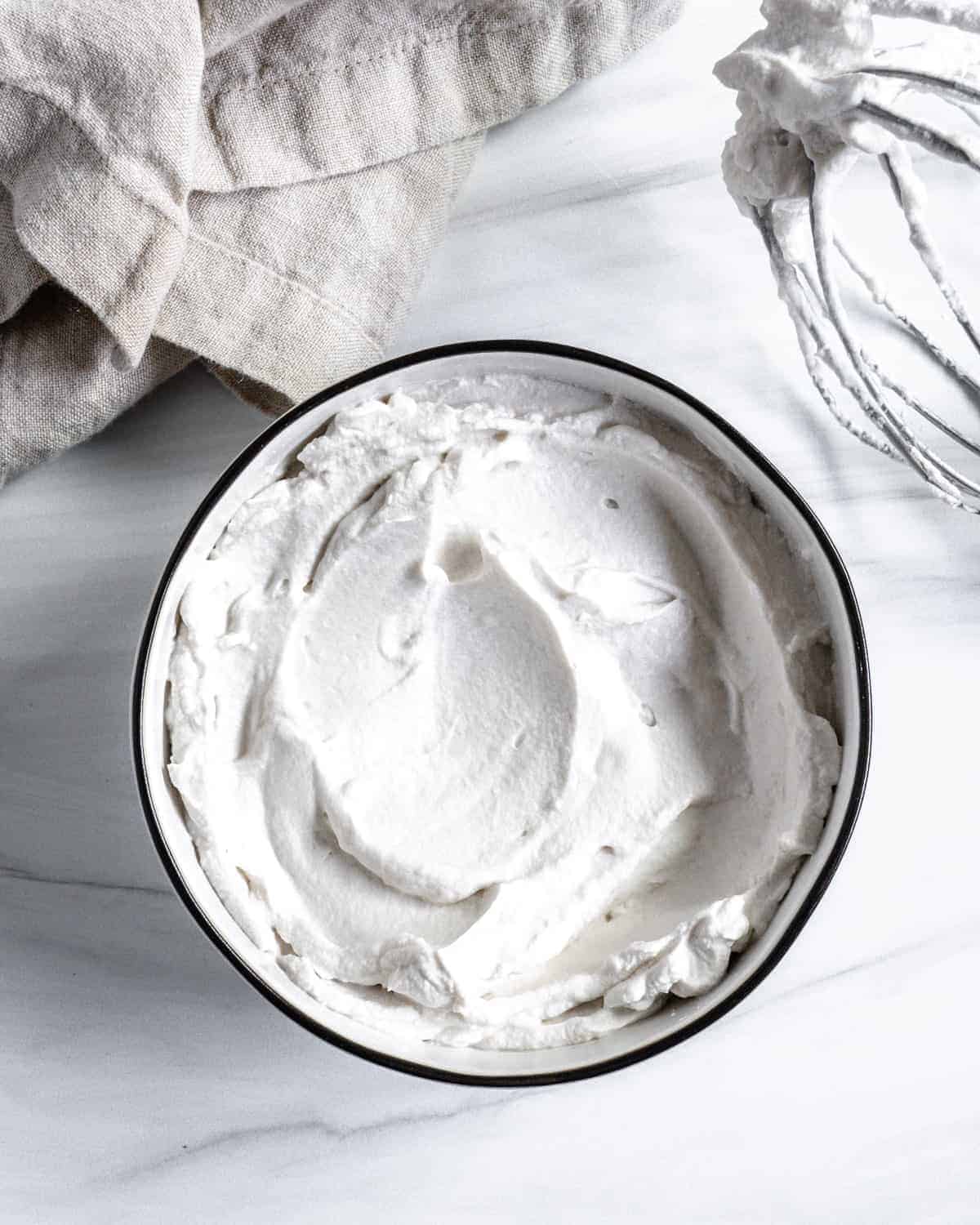 FAQs for Vegan Whipped Cream
Can I use coconut cream instead of whipping cream? Absolutely! We regularly use coconut cream in place of vegan heavy cream/whipping cream.
Is coconut whipped cream healthier than dairy whipping cream? We would say so, yes. Not only does coconut milk contain less cholesterol, but it also contains more fiber and several vitamins and minerals. These include iron, vitamin B6, potassium, folate, thiamin, etc. Best of all, coconut whip is naturally dairy-free, paleo, keto, and vegan! The only thing to note is that coconut cream is still a high-calorie food (very similar amounts to dairy cream) and should be eaten in moderation.
Does coconut whipped cream melt? Yes, it's important to keep the whipped cream chilled. If you use it on a dessert, make sure to keep that chilled until right before serving. As the whipped coconut cream heats up, it will naturally soften and 'melt' (losing the whipped consistency).
How do you fix runny coconut whipped cream? If the coconut cream is too thin, you may be able to add some additional powdered sugar or starch (like tapioca starch) to thicken the mixture. A small amount of coconut oil may also help, but you'll need to chill it to allow the oil to thicken up for attempting to whip once more. In fact, transferring the mixture to the fridge regardless may also be beneficial. However, it's important to note that some cans just don't seem to want to whip properly, no matter what you add or do. This just seems to be the case for everyone.
Top Recipe Tips and Notes
Avoid additives like stabilizers: We've had mixed results when using cans that contain guar gum (our best advice is to chill any with guar gum for at least two days, instead of one, as that can help). However, in general, we find it best to use coconut milk free from stabilizers and additives.
Chill the bowl: Keeping everything chilled when attempting to make coconut milk whipped cream is key. It can help to chill the bowl for 30-40 minutes in the fridge before whipping.
The flavor: If you aren't a fan of coconut, I'm afraid to say that this does have a subtle coconut flavor. Although the vanilla and sugar help to balance it somewhat, it's definitely still there.
To add any extra flavors: Add them at the same time as the sugar and vanilla. You can use other extracts (mint, orange, coffee, etc.) and spices (like cinnamon, pumpkin pie spice, etc.) to flavor this whipped coconut cream.
Don't rush the chill stage: You may be tempted to place the can in the freezer for a shorter time rather than the fridge overnight. However, this won't work the same (believe us, we've tried).
It won't always work: Unfortunately, after many years of making coconut whipped cream, we found sometimes it just doesn't want to play ball. So if you've tried all the tips and tricks and it's still not working, don't worry, this likely isn't you doing something wrong. You can use that can to add to other recipes that don't require whipping and try again with a new brand/can (we always recommend keeping a few in the fridge, just in case). Unfortunately, this process isn't known for its consistency.
Looking for more inspiration on how to use the coconut milk whipped cream? Why not browse through our section of dessert recipes now!
Photos by Alfonso Revilla
Vegan Whipped Cream
Dairy free, soy free and sugar free - this vegan whipped cream has it all!
Ingredients
1

can

full-fat coconut milk

13.5 ounce

2

teaspoon

of Vanilla

Sugar, to taste

(~3 to 4 tablespoons)
Instructions
Refrigerate the can of coconut milk overnight.

Carefully open the can of coconut milk, and slowly dump out the water.

What should be left in the can is the cream. Pour this into a bowl and whip on high with a hand mixer for 5-7 minutes or until it becomes fluffy. Mix in the vanilla and sugar.
Notes
When selecting a can of coconut milk, make sure it doesn't have guar gum. It won't work with guar gum. You can use this water in smoothies, cooking, or as a beverage if you like.
Nutrition
Calories:
259
kcal
Carbohydrates:
4
g
Protein:
3
g
Fat:
27
g
Saturated Fat:
24
g
Polyunsaturated Fat:
1
g
Monounsaturated Fat:
1
g
Sodium:
17
mg
Potassium:
284
mg
Sugar:
1
g
Vitamin C:
1
mg
Calcium:
23
mg
Iron:
4
mg
Disclaimer: Although plantbasedonabudget.com attempts to provide accurate nutritional information, kindly note that these are only estimates. Nutritional information may be affected based on the product type, the brand that was purchased, and in other unforeseeable ways. Plantbasedonabudget.com will not be held liable for any loss or damage resulting for your reliance on nutritional information. If you need to follow a specific caloric regimen, please consult your doctor first.
Additional Info