Blistered Shishito Peppers make the perfect appetizer, snack, or side dish that can be ready in under three minutes only! They are really irresistibly good with a mildly spicy, sweet, and smoky taste. They are delicious on their own but also go great with your fave dips and sauces. 
If you haven't had Shishito before, you might be wondering why these peppers are being showcased on their own, right? Don't fret though! They score low on the Scoville scale, just a bit higher than bell peppers. This makes them safe to be eaten in their whole, raw form with seeds intact without scorching your tongue. Furthermore, cooking them brings out more of their sweetness and the charred exterior adds a hint of smokiness to each bite, making you want to get right in. Those blistered crinkly little nooks are full of saltiness that balances the flavors perfectly.
What are Shishito peppers?
Shishito peppers are an East Asian cultivar variation. Its name comes from the Japanese word shishi or jishi, which means "lion's head." They have bright green, wrinkly thin skin and are slender and slightly long. The level of heat coming from them is nothing compared to that of a jalapeño. Though shishitos aren't normally as spicy, be warned! You may come across that rare one where the spiciness is fiercer than the others. 
Why the need to char the Shishito peppers?
Charring is the process of scorching and blistering a food's outer layer over high heat. When these peppers are cooked, their natural flavors are enhanced and it adds a smoky element to the food. The thin skin of these poppers makes them more susceptible to blistering compared to other peppers. This high-heat method of cooking creates a lot of smoke. So, make sure that your kitchen is well ventilated or you may cook them (in the pan) on an outdoor grill. The procedure is super simple and quick, and the end result is incredibly flavorful and delectable.
How to choose the best Shishito peppers for this recipe?
Shishito peppers are best when they're between 3 and 5 inches long and bright, vibrant green in the shade. Check out the beauties that we used for this recipe below. Although, they are often picked when they are green and at their greatest, they can also be harvested when they are riper and have a beautiful red color. 
Ingredients you'll need:
Shishito Peppers - These peppers should be available in most supermarkets. However, if you can't find any, check out the nearest Asian store and they are most likely available there. We will need 15 pieces that have been well washed and dried.

Vegetable oil - The peppers must be cooked at a high temperature, which necessitates the use of a high-smoke-point oil. You can easily find vegetable oil in your pantry, but you can also use other healthy oils like olive oil, avocado oil, canola oil, or sunflower oil.

Salt - A sprinkle of salt can be added to add saltiness and bring out the natural sweetness of peppers.
How to make Blistered Shishito Peppers?
What I like best about this dish is how quick and easy it is to make. They are done before you know it!
Preheat a medium pan over medium heat.  

Add the vegetable oil to the pan. We'll just need ½ tablespoons of oil, just enough to lightly coat the pan. This will keep the peppers from sticking to the pan.

Add the peppers, and cook for 45 seconds to a minute, or until the peppers start to pop and look charred. 
Turn off the heat or remove the pan from the heat and flip all of the peppers. Cook for another 45 seconds after turning it back on to medium heat.
Using a tong, remove the peppers from the heat and lay them on a paper towel-lined tray.  Any excess oil from the peppers will be absorbed by a paper towel. Season with a pinch of salt.
Helpful Tips!
Serving Suggestions for
Blistered Shishito Peppers
These yummy treats are so good they can be served with almost anything! Try adding these beauties when making vegan Burgers, Wraps, Fajitas, and Tacos. They are also delicious when served on the side of some juicy vegan Steaks, Fries, and Grilled Tofu!
How to store leftovers?
You can buy shishitos by the handful or pre-packaged when they are in season. Pre-packaged peppers can be kept in the warmest part of your refrigerator for no more than two weeks.  If you buy them loose, simply seal them in an airtight plastic bag and store them accordingly. 

The peppers can be frozen if desired.  Place them in a plastic freezer bag.  However, they will be limp once thawed, although their flavor retains.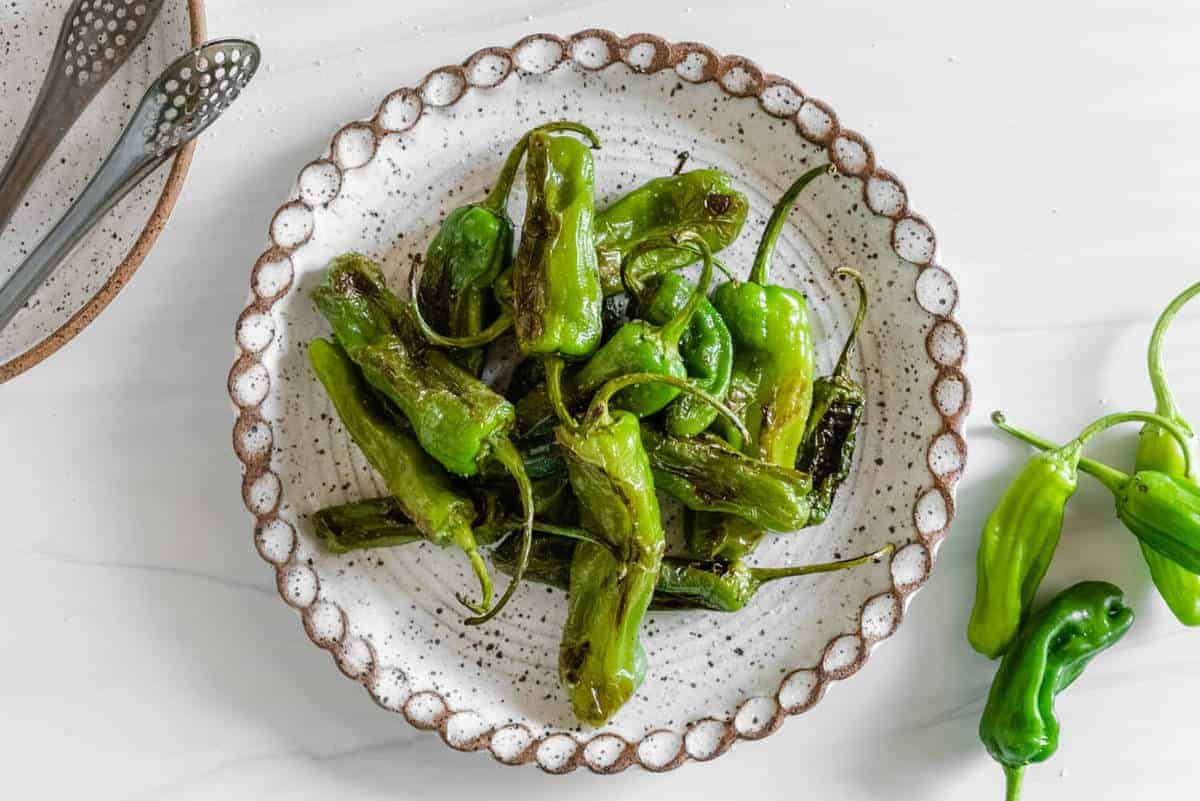 What to Dip Shishito Peppers in?
Shishito peppers are delicious on their own. Although to add extra taste, we can serve them with a dip, and the choices are endless. Here are some dip flavor combinations to consider:
French Onion Dip

- The creamy texture of cashews and the flavor of sweet onions are combined in this dip.

Curried White Bean Dip

- This goes well with any veggies, crackers, or bread. We're dipping shishito peppers in this case. This recipe is created with white beans and has a hint of curry taste, it's a one-of-a-kind dip.

Classic Hummus

- Hummus is a fantastic addition to any festive vegetable tray. Having this paired with blistering shishito peppers will work perfectly as well.
Blistered Shishito Peppers
Blistered Shishito Peppers are the perfect little snack bites!  These wrinkled, finger-length peppers are not too spicy, can be served as a snack, side, or appetizer made in 3 minutes.
½

tablespoon

of vegetable oil

15

shishito peppers, washed and dried

Sprinkle of salt, to taste (optional)
In a medium pan over medium-high heat, add the vegetable oil. 

Add in the peppers. Cover with a lid, and cook for 45 seconds to a minute. Wait until it begins to make popping noises and look charred.

Turn the heat off and flip all the ingredients.  Turn the heat back to medium-high and cover with the lid.  Cook for an additional 45 seconds.

Remove from heat, use tongs to place all the peppers on a plate lined with paper towels. Sprinkle with salt, optional.
Make sure that the peppers are completely dry before adding them to the hot oil to unnecessary prevent splatters.
The peppers will retain their moisture if the pan is covered with a lid. Also, it will trap the smoke, which the peppers will absorb making them more flavorful!
You don't actually have to cover the pan with a lid or remove it from heat during the flipping process, but I like to do it to avoid being splashed with hot oil.
You can use other seasonings or flavorings other than salt. it really depends on what you like! However, we find that the simpler the seasoning, the more you get to enjoy its natural taste.
Calories:
41
kcal
Carbohydrates:
7
g
Protein:
2
g
Fat:
1
g
Saturated Fat:
1
g
Polyunsaturated Fat:
1
g
Monounsaturated Fat:
1
g
Sodium:
8
mg
Potassium:
272
mg
Fiber:
1
g
Sugar:
4
g
Vitamin A:
803
IU
Vitamin C:
121
mg
Calcium:
12
mg
Iron:
1
mg
Disclaimer: Although plantbasedonabudget.com attempts to provide accurate nutritional information, kindly note that these are only estimates. Nutritional information may be affected based on the product type, the brand that was purchased, and in other unforeseeable ways. Plantbasedonabudget.com will not be held liable for any loss or damage resulting for your reliance on nutritional information. If you need to follow a specific caloric regimen, please consult your doctor first.