It's that time of year again where pumpkin is all the rage and we here at Plant-Based on a Budget are all about it! There's nothing like the perfectly creamy texture and savory spice of pumpkin puree to add amazing flavors to your meals and baked goods this fall season. Get ready to make the most flavorful fall-inspired canned pumpkin recipes because we have quite the pumpkin roundup for you!
Pumpkin Spice Makes Everything Nice!
There's something special about that familiar pumpkin smell, intense flavor, and creamy texture that screams the wonderful season of fall and the holidays. And if you want to save money for the long haul, you're going to love this Pumpkin Pie Spice recipe. If you love all things pumpkin like us, you'll be delighted with this lineup of amazing pumpkin recipes! Cookies, pasta, pies, chili, soups, and more – we've got you covered in this delicious fall-themed pumpkin roundup!
Jump to: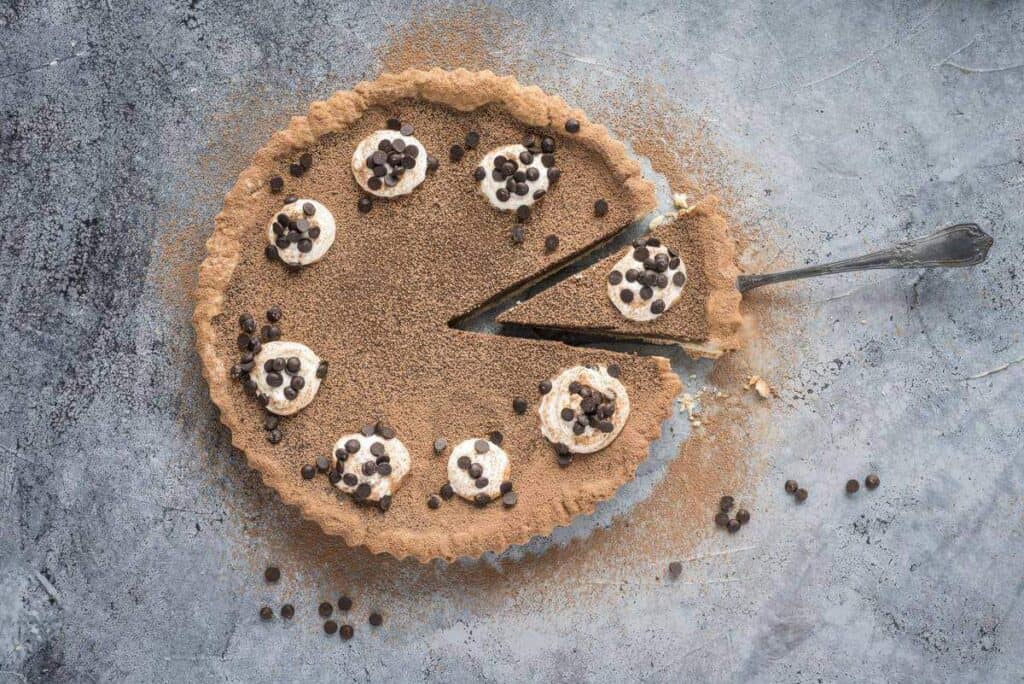 This pumpkin chocolate pie is so creamy and delicious! The silken tofu that's included makes this plant-based classic exceptionally creamy while including a solid amount of delicious plant-based protein.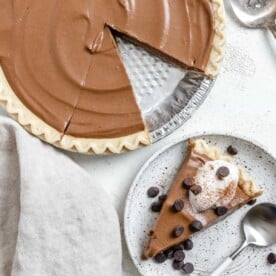 Chocolate Pumpkin Pie
This decadent chocolate pumpkin pie will surprise everyone this holiday season with its creamy texture and the combination of the spices of pumpkin pie with chocolate! It's truly a winner, a pie that is perfect for any level cook, goes together easily, and bakes up perfectly delightful!
View Recipe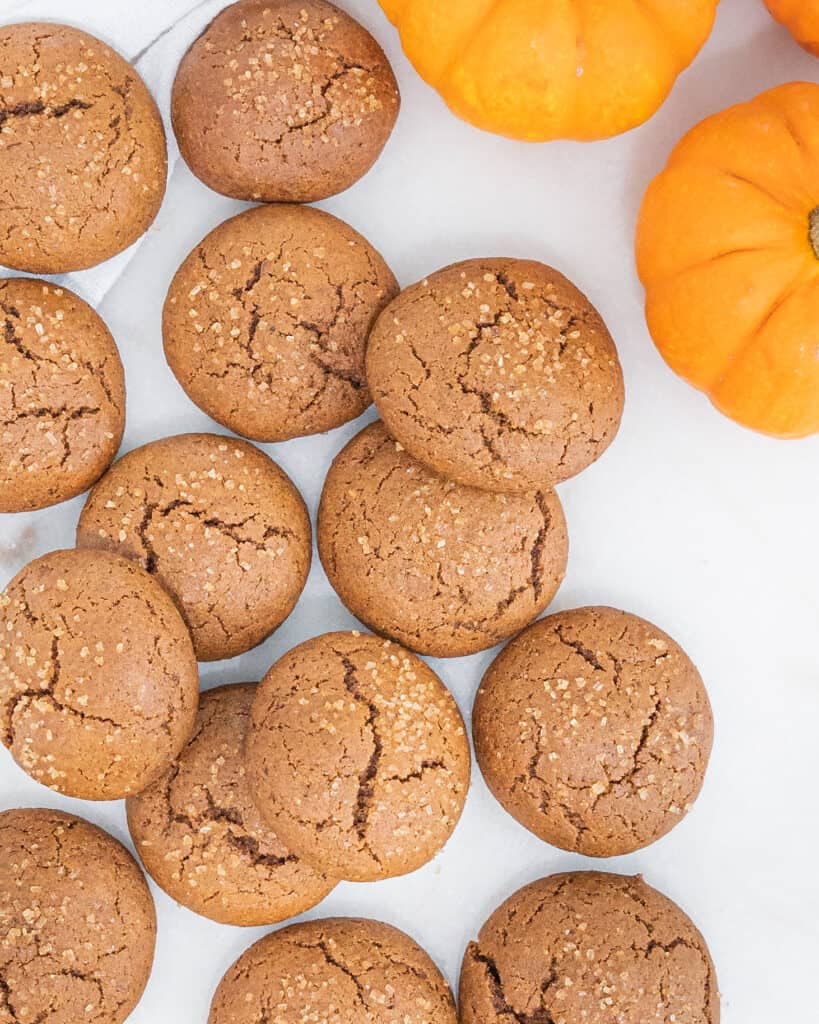 These Soft Pumpkin Molasses Cookies are not your typical chocolate chip or vanilla cookie! They have a soft and chewy texture and a spicy and intense flavor that everyone will enjoy.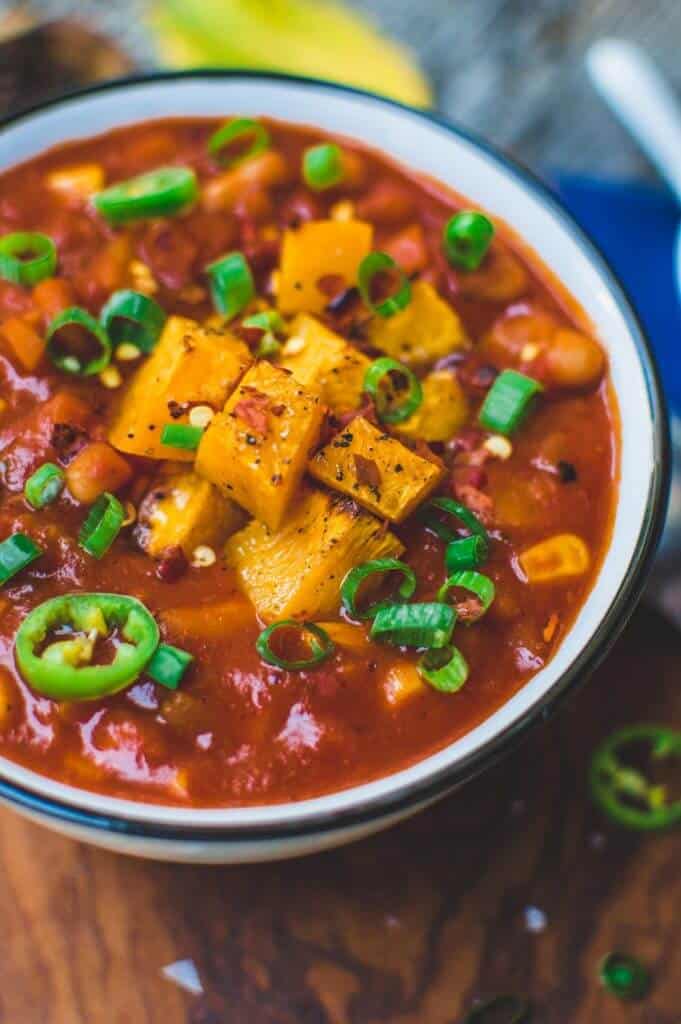 The best thing about this savory pumpkin chili is that it only uses one pot! With the amazing addition of sweet pumpkin, this dish is spicy, sweet and hearty! It'll be your new favorite fall recipe to cozy up to!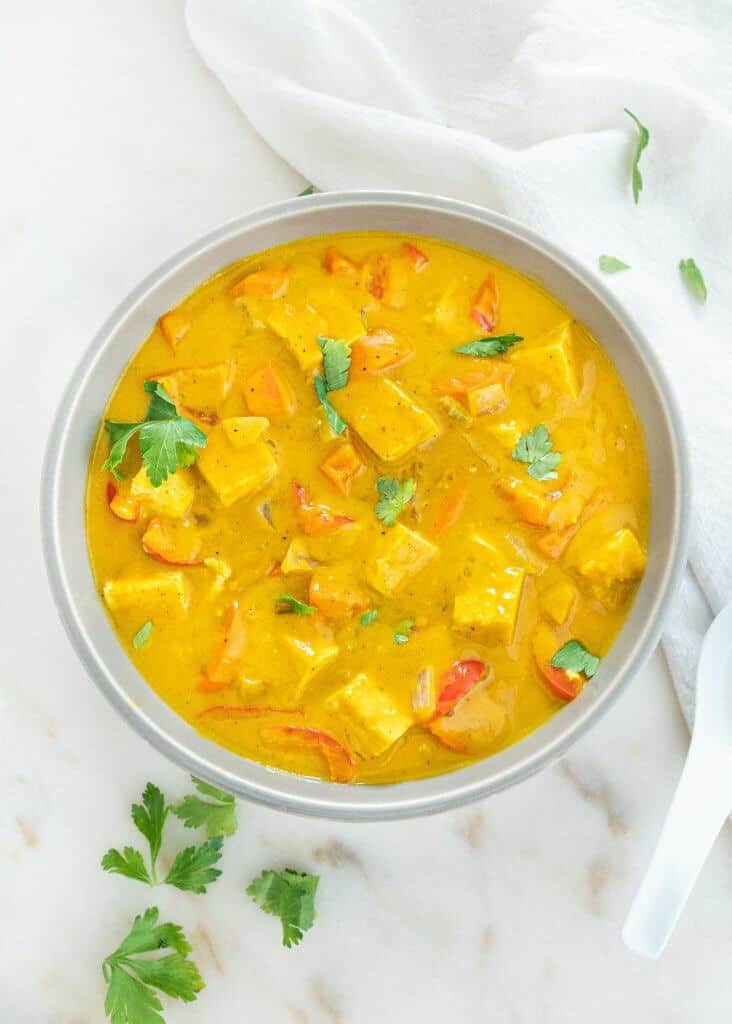 If you like curry, you're going to absolutely adore this pumpkin tofu curry dish! It's full of amazing veggies and plant-based protein and will make for the most comforting and filling dinner!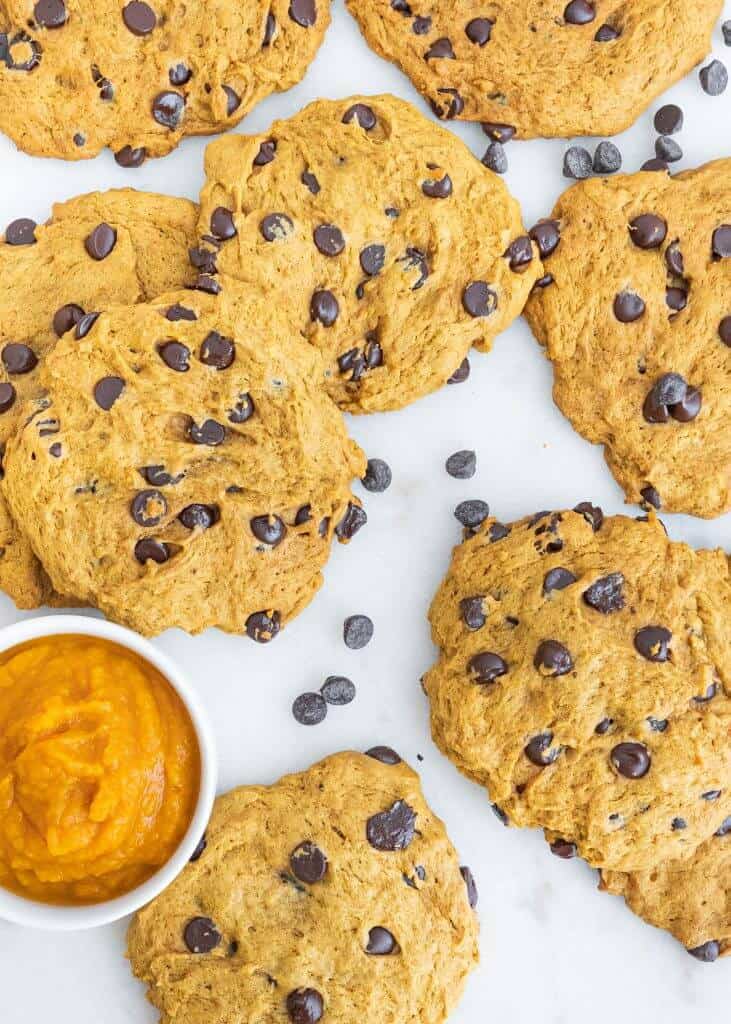 These fall-inspired chocolate chip cookies are amazing! The warm spices complement the sweet flavors of this tasty cookie, making it perfect for baking during the colder months!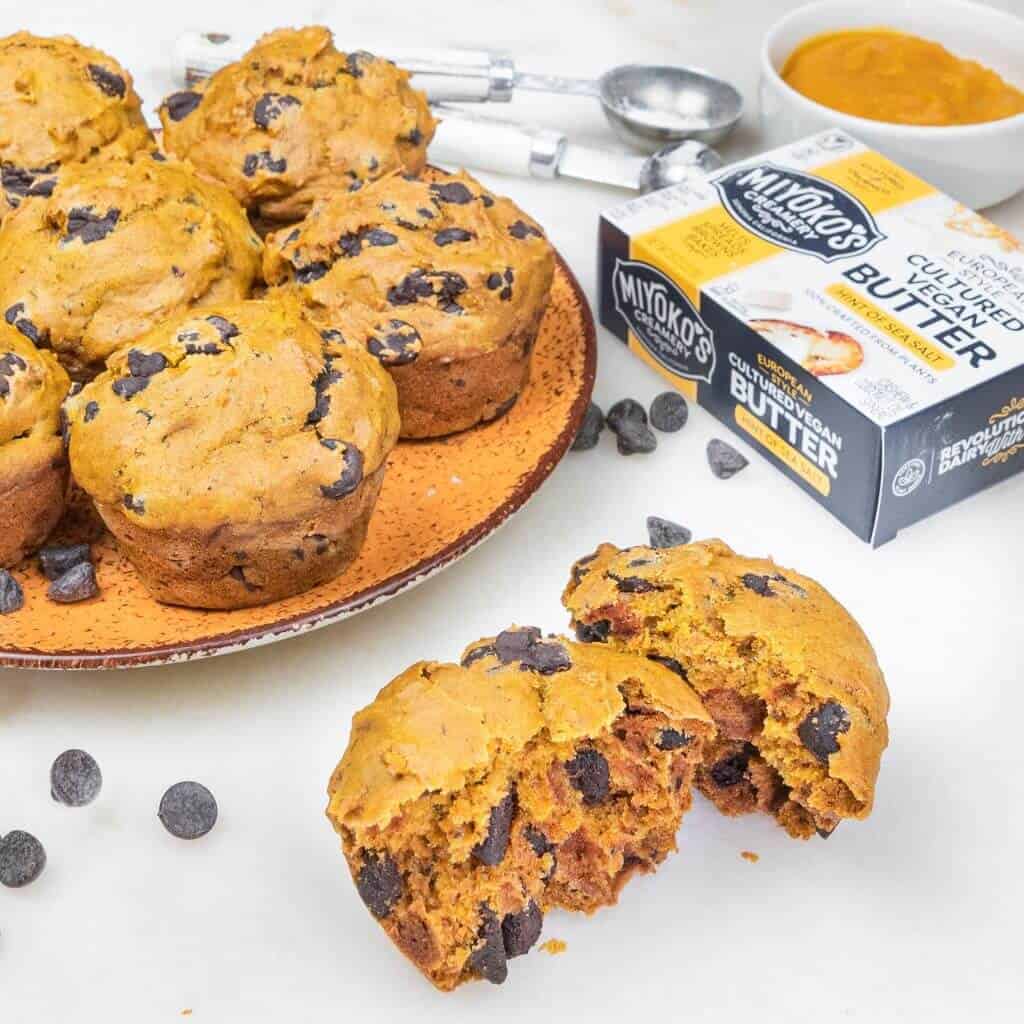 Looking for the tastiest fall-inspired muffin recipe? These delicious pumpkin muffins have the perfect texture that everyone will be surprised to find out that they are completely plant-based! Enjoy them for breakfast or dessert!
Are you a chocoholic? These brownies are so easy and simple to make and will satisfy any chocolate craving! Paired with pumpkin puree, you won't be able to resist these incredibly delicious and gooey brownies!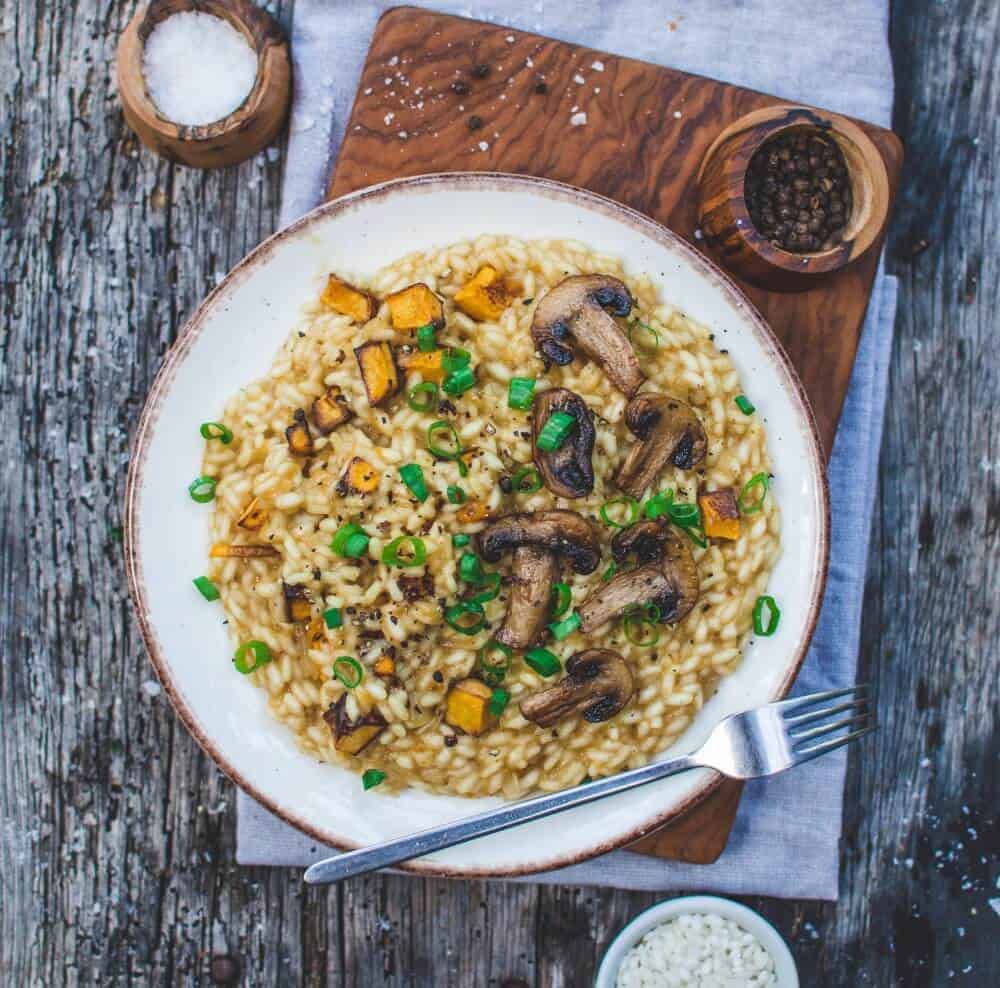 This one-pan recipe is so easy to make and so cozy to eat! It's full of creamy savory rice full of delicious flavors that will have everyone impressed for such a simple dish!
This Roasted Pumpkin Soup is one for the books! If you're a fan of cozying up to a warm soup on a cool night, you're going to love this super flavorful, simple and filling soup!
There's nothing like a savory pasta dish to enjoy! This super easy pasta bake uses simple ingredients which is perfect for even the most novice cook. It's also a great recipe to make in bulk for the week.
This stuffed shells recipe is amazing! The combination of the tofu ricotta, pumpkin filling, and sage cream bring out the deliciously bold flavors of this fun dish.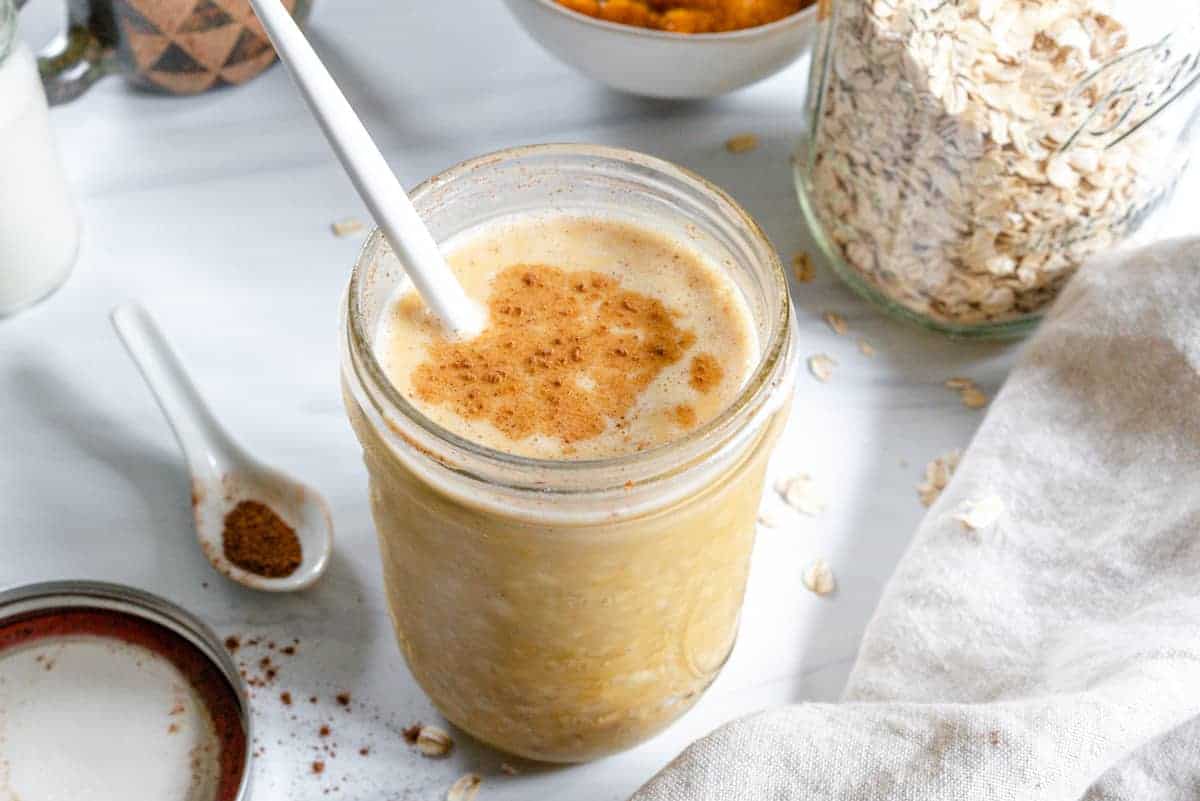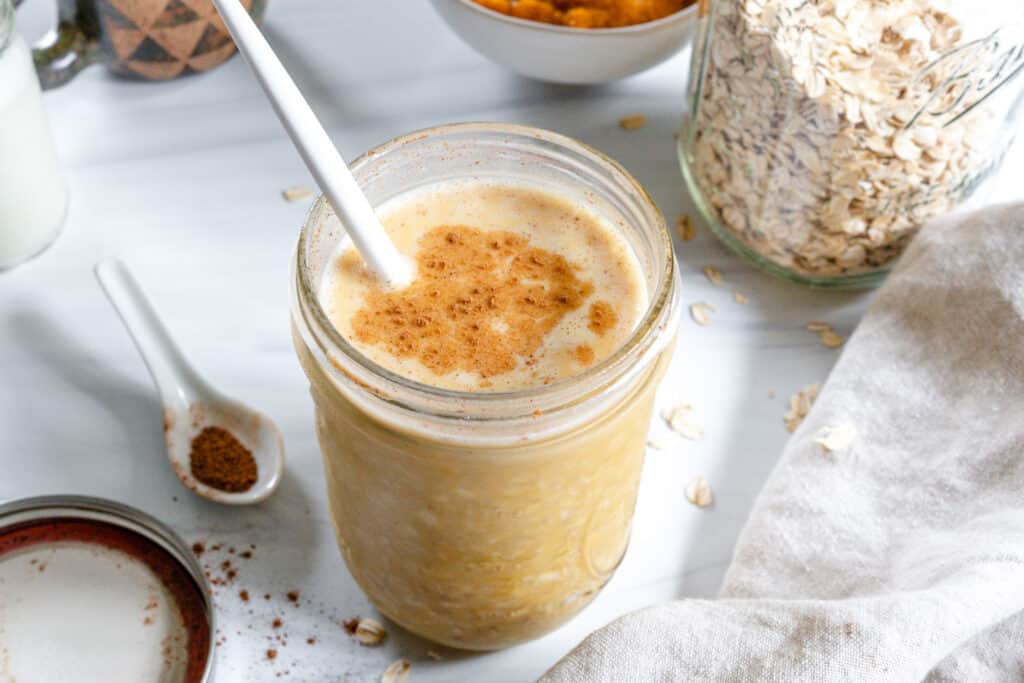 Get ready to kick start your morning with a bang! These Pumpkin Overnight Oats are a great way to prepare your breakfast in advance for busy mornings. Plus, the texture comes out perfectly creamy and will have you feeling like fall!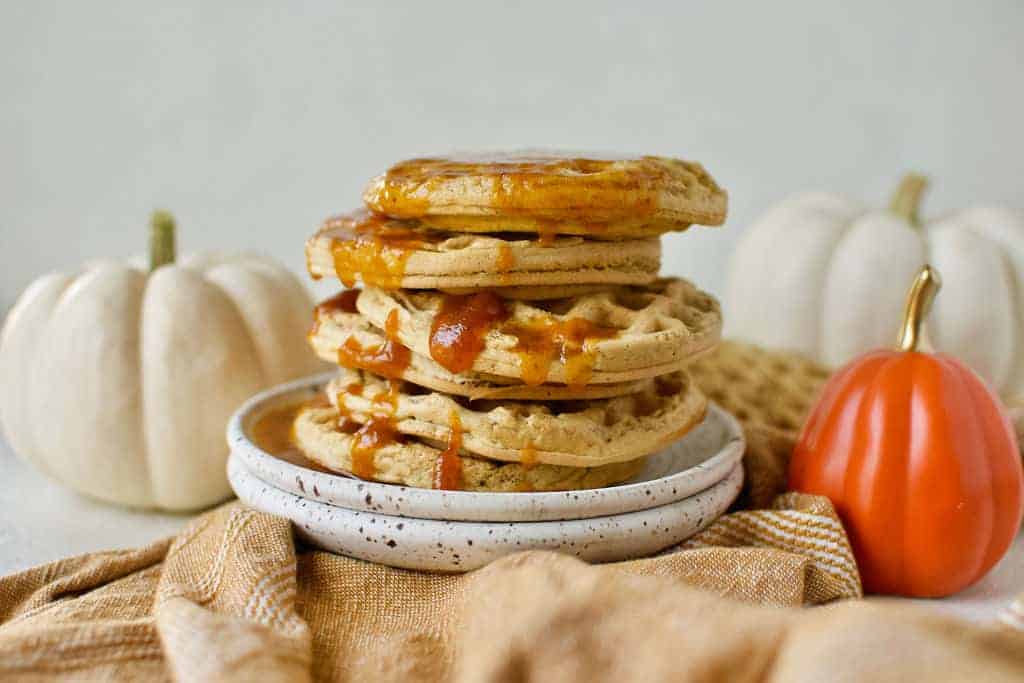 There's nothing like a stack of waffles to wake up to! These fall-festive Pumpkin Waffles are exceptionally crispy on the outside, yet fluffy and perfectly soft on the inside. Top it off with some vegan butter, maple syrup, and possibly maybe even some vegan whipped cream and you've got yourself quite the treat for breakfast!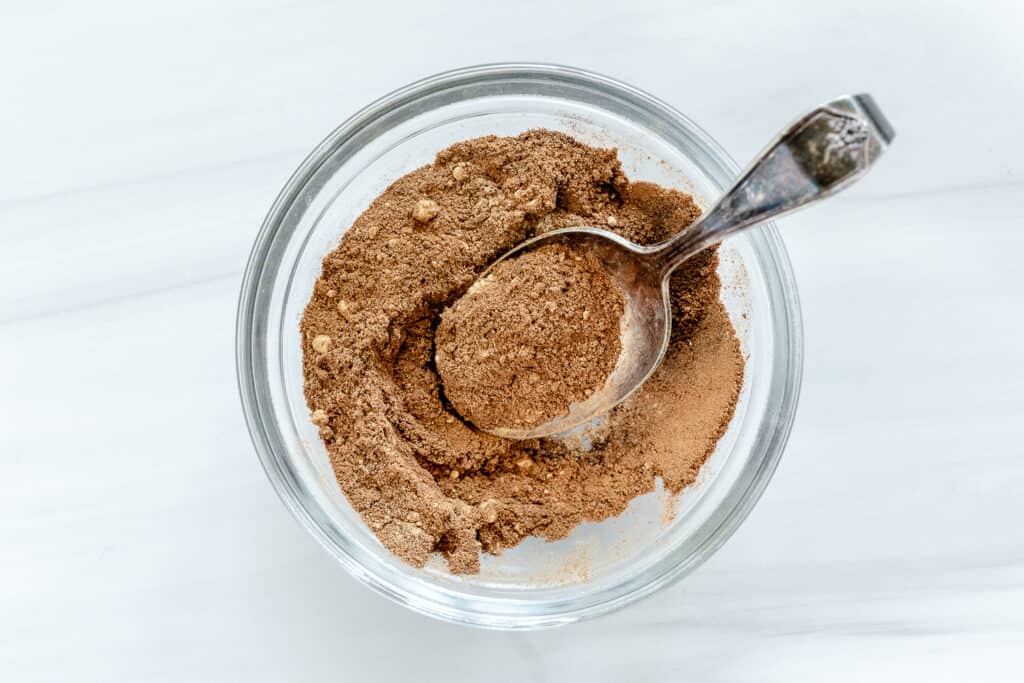 Making your own spice has never been easier with this 5-ingredient recipe for Pumpkin Spice! It'll only take 10 minutes total to mix up this super fresh and budget-friendly homemade Pumpkin Spice!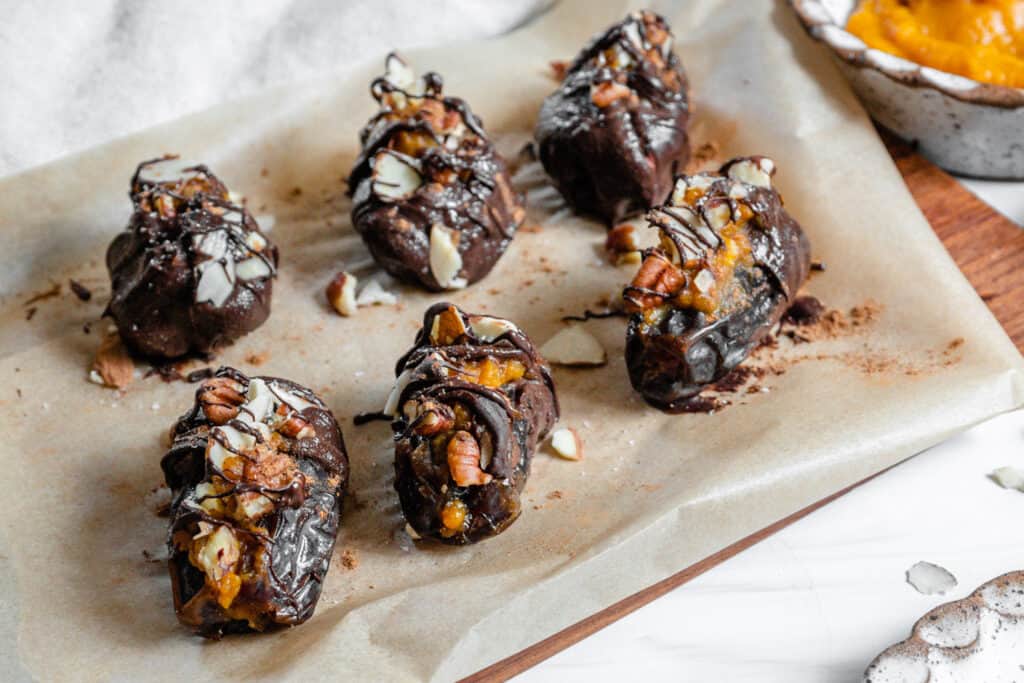 These chocolatey-covered dates will be your new favorite treat! Covered in your favorite nut pieces and mixed with pumpkin puree, these tiny desserts are perfectly sweet, salty, chewy, and incredibly delicious!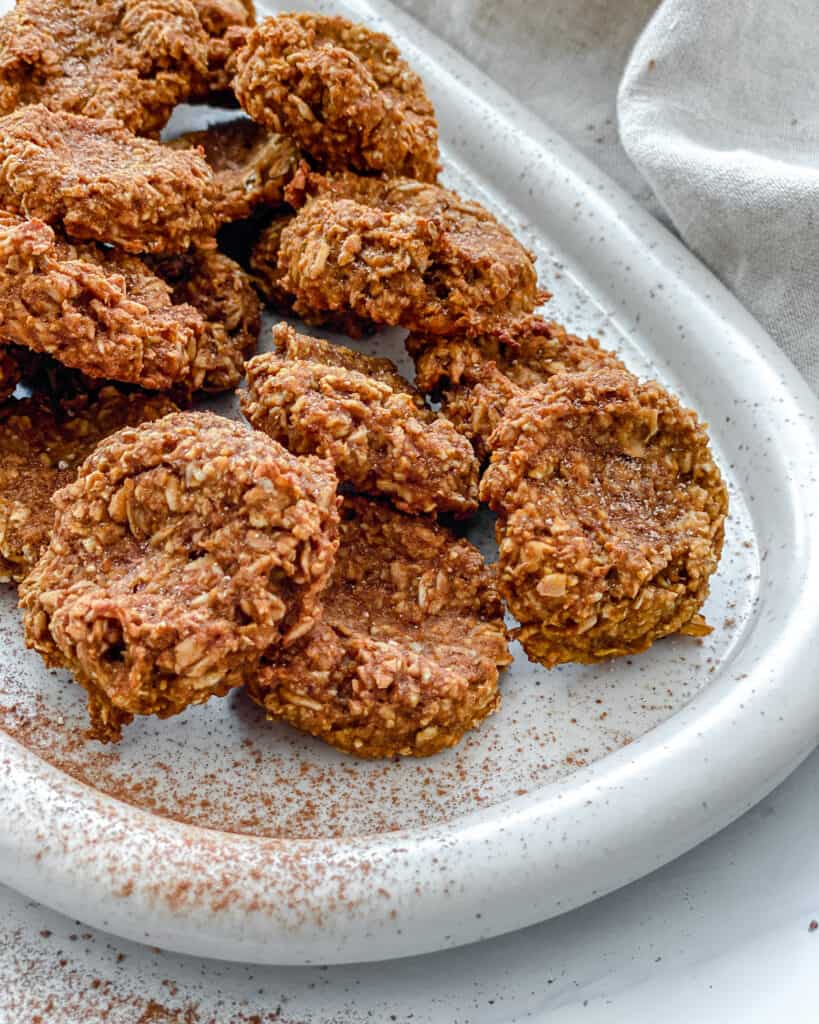 Get ready to get your pumpkin on with these super delicious Pumpkin Oatmeal Cookies. They're incredibly nutritious as well as dairy-free, gluten-free, and egg-free. Everyone is going to love these guilt-free cookies!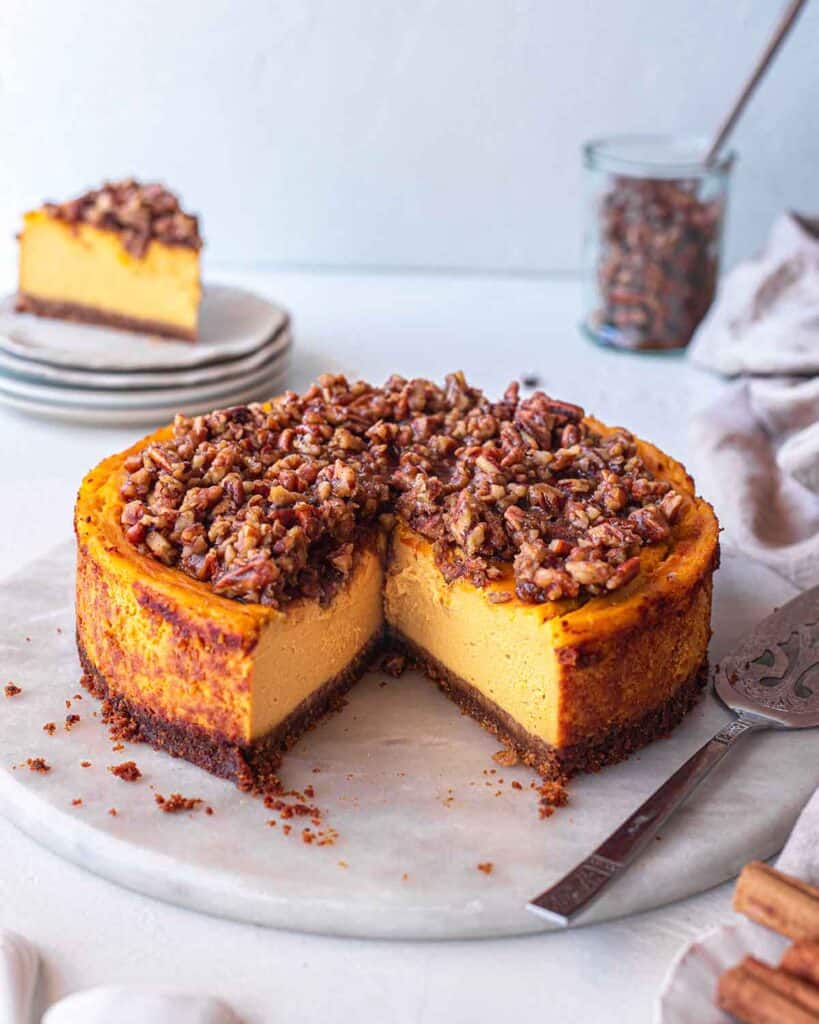 This incredible Baked Cheesecake is unbelievably creamy, full of pumpkin flavor, and is so delicious! It's made with a gingerbread crust, pumpkin filling, and maple pecan pie topping that will be a huge hit for dessert! No one will know that it's vegan with how amazing it turns out!
We're all about no-bake recipes and this one is a great one! These Coconut Truffles are the perfect decadent treat that is incredibly addicting! Not only are they a great fall dessert, but they're a great gift idea as well.
If you're a cheesecake lover, you're going to adore this super creamy and deliciously flavored cheesecake. Not only is it vegan, but it's oil-free and incredibly easy to make! You won't be able to have just one slice of this delicious dessert.
This 6 ingredient vegan pumpkin ice cream is so delicious! It's creamy and bursting with fall spices, and perfect for pumpkin spice lovers!
If you're looking for a super simple yet incredibly delicious salad, this Pumpkin Tahini Salad is a great option. It's the perfect side salad to compliment a big main course this holiday season!
Happy pumpkin season! We hope you enjoy these amazing fall-inspired canned pumpkin recipes! Let us know what you choose to make.