As an Amazon Associate I earn from qualifying purchases.
These delicious, healthy vegan chocolate waffles are inexpensive, require just a blender and waffle iron, and pack in plant-based protein and nutrients (with no protein powder!). They're also oil free, egg-free, and boosted with whole wheat flour and unrefined sugar!
This chocolate waffles recipe was created by Ashley, from Plantiful Picnic!
Black Bean Chocolate Vegan Protein Waffles
Pancakes and waffles are among the most delicious options for breakfast (or lunch or dessert). Unfortunately, traditional recipes are packed with sugar and empty calories – but not these healthy vegan chocolate waffles. With whole wheat flour, unrefined maple syrup, banana, cheeky hidden black beans, and other good-for-you ingredients, this vegan chocolate waffles recipe is packed with ingredients to nourish your body and keep you satiated until your next meal. Of course, they taste delicious, too!
If beans don't come to mind when you think of waffles… hear us out. Black bean desserts have increased in popularity in the last few years, and for a good reason. This modest, inexpensive legume packs in fiber, protein, and several vitamins and minerals, all without making desserts taste overly beany. They're child-approved too!
As for the texture, these vegan protein waffles are still wonderfully crisp outside and tender in the middle with an ever-so-slightly denser, more cake-like texture than regular waffles. And that's all without eggs and dairy, too. The entire family will love them, even non vegans!
Best of all, this vegan waffles recipe is super simple to prepare. All you need are 7 simple and inexpensive pantry staples, a blender, a spoon, and a waffle iron. Rely on canned black beans for convenience, or cook your own. Once cooked, enjoy the chocolate vegan whole wheat waffles with some berries, or load them up with all your favorite toppings for a decadent treat!
We highly recommend making a double batch and storing the leftovers in the freezer for later. While you're at it, you might also enjoy these other healthy breakfast treats, including oil-free banana muffins, walnut oat scones, and versatile overnight oats!
The Ingredients
All you need for this easy vegan waffle recipe are seven inexpensive pantry staples.
Black beans: You can use a can of black beans (drained and rinsed) or 1.5 cups of cooked beans for these chocolate black bean vegan waffles.
Plant-based milk: Use the milk of your choice, i.e., almond milk, oat milk, cashew milk, etc.
Maple syrup: Or agave. You could also use granulated sugar like coconut sugar. You could also use a sugar-free sweetener, adjusting the amount to taste.
Cocoa powder: Use cocoa or cacao powder (the latter has more antioxidants but is more bitter).
Banana: Use ripe bananas with plenty of dark spots. Alternatively, applesauce may work.
Whole wheat flour: We used whole wheat for these healthy vegan waffles. However, use regular all-purpose flour if preferred.
Baking powder: To leaven and provide lift and fluffy texture to the plant-based chocolate protein waffles.
Vegan chocolate: (optional) We use vegan semi-sweet chocolate chips for these delicious double chocolate waffles. You could also use chopped-up bars of vegan semi-sweet chocolate if preferred.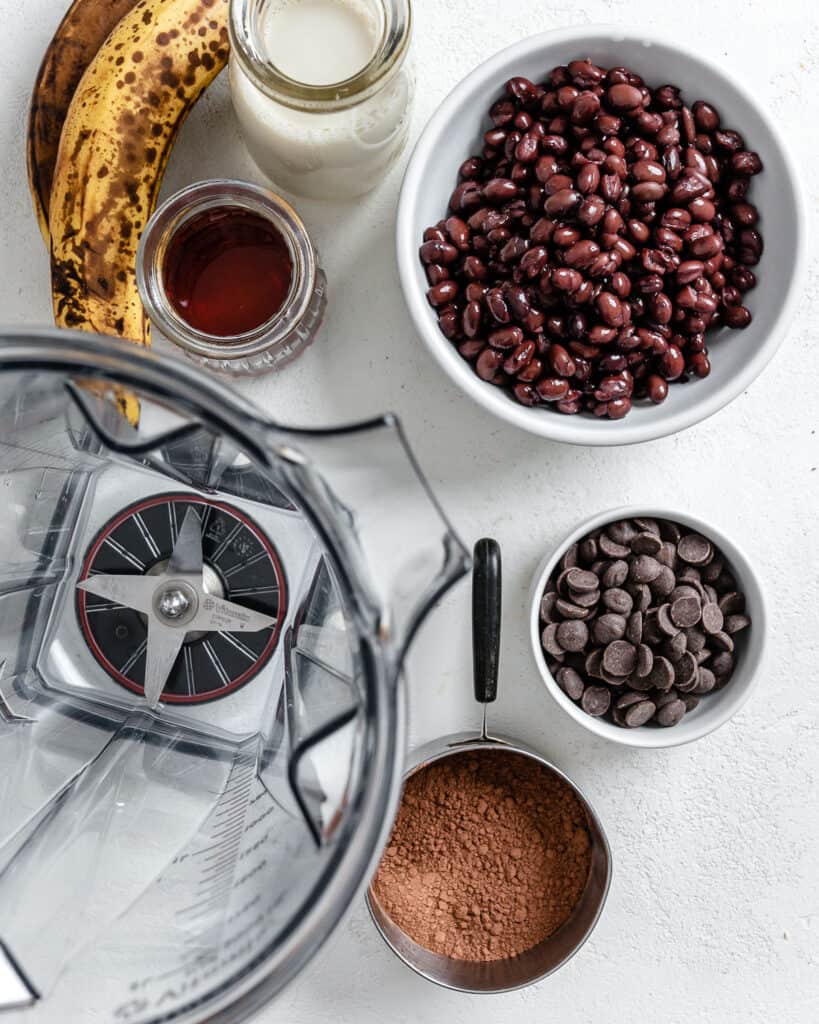 Optional add-ins & Recipe Variations
Salt: Just a pinch of salt will enhance the rich plant-based chocolate flavor in these vegan chocolate waffles.
Vanilla extract: Just a teaspoon will add a more cake-like flavor to the vegan chocolate protein waffles.
Coffee: Instant coffee powder or espresso powder is a great way to enhance the chocolate flavor (add more for mocha waffles).
Extracts: Natural food extracts/flavors are a great way to experiment with flavors. Orange, mint, coconut, and coffee would all taste delicious with dairy-free chocolate.
Protein powder: You may be able to further enhance the protein in this plant-based chocolate protein waffle recipe by adding plain, vanilla, chocolate, coffee, or peanut butter flavored vegan protein powder. You can also substitute some of the flour for protein powder. We haven't tried, though, so we can't guarantee results.
How to Make Vegan Chocolate Blender Waffles?
With just a blender, spoon, and waffle maker, these vegan protein waffles are practically effortless to prepare and require just 5 simple steps.
1) First, preheat your waffle maker.
2) Then, add the black beans, plant-based milk, maple syrup, banana, and cocoa powder to a blender and blend until smooth.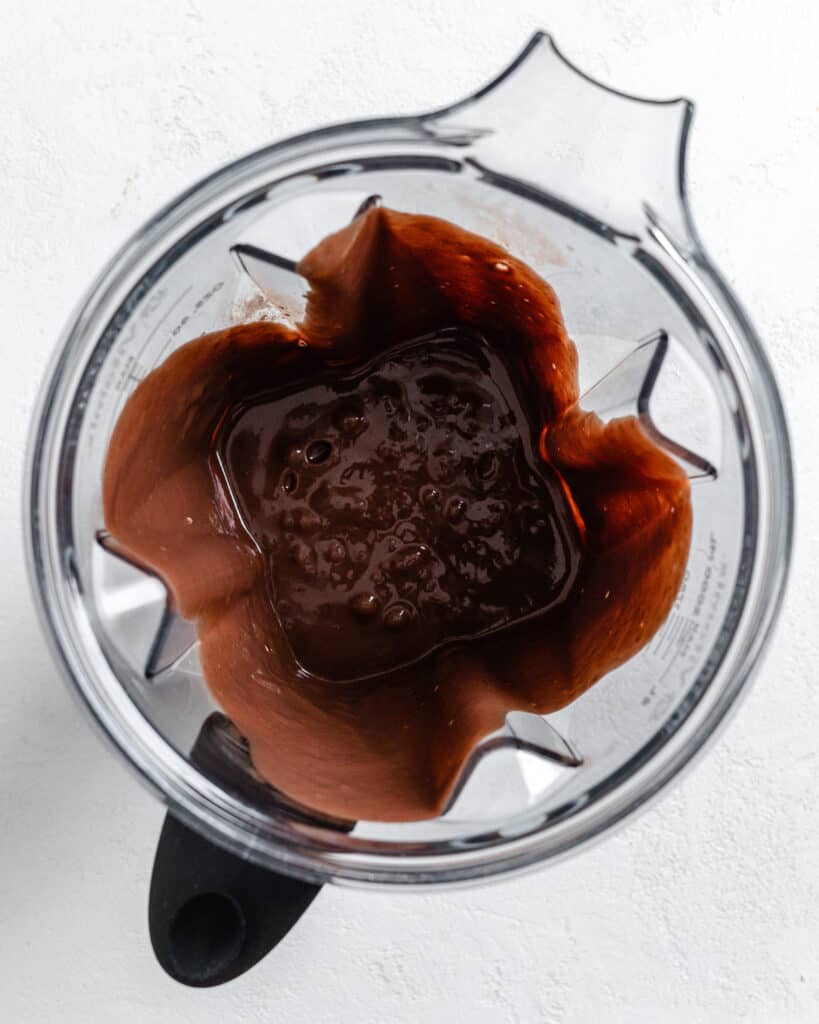 3) Next, add the flour and baking powder and pulse just a few times until combined.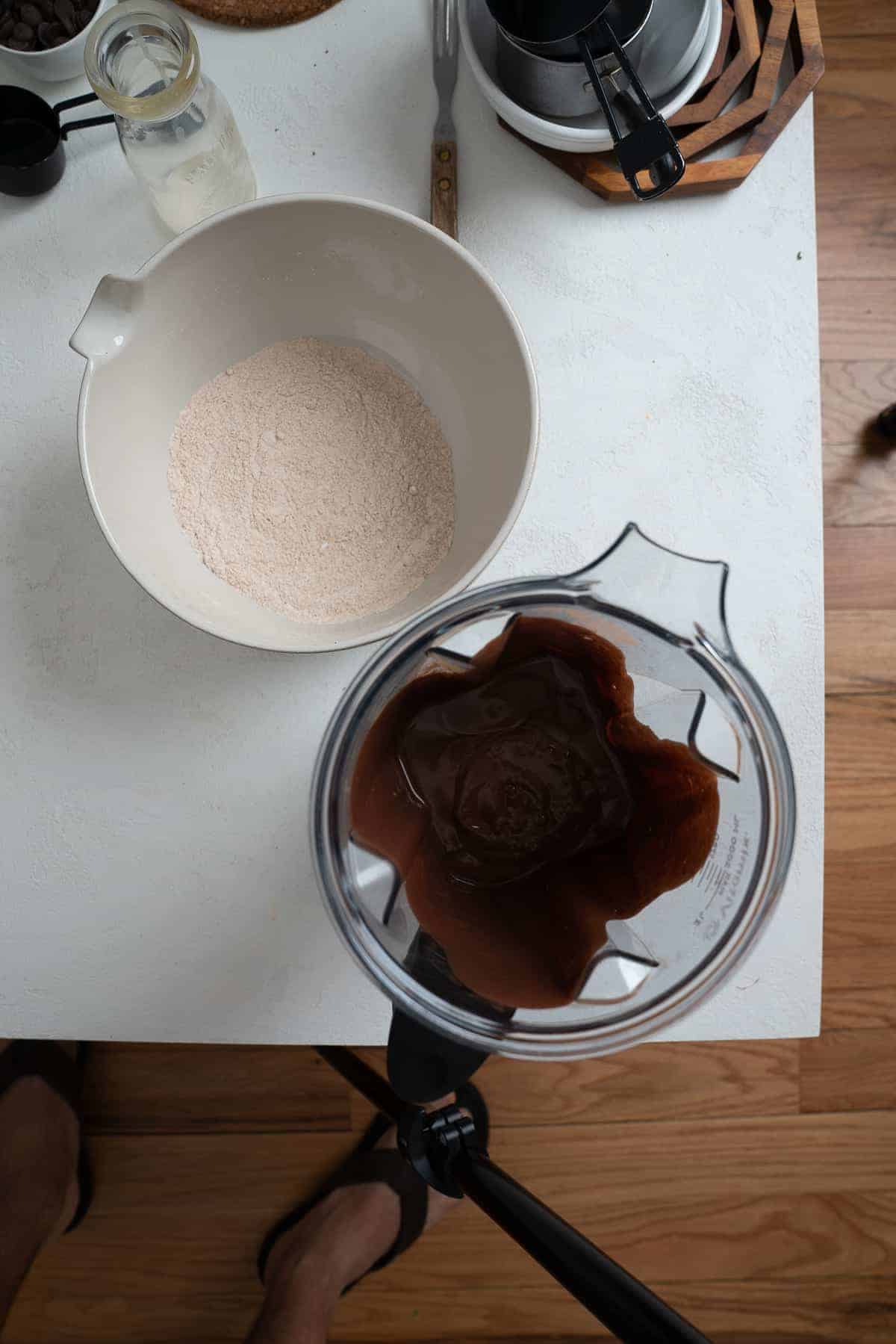 Be careful not to overwork the gluten in the flour. Otherwise, it can lead to dense, stodgy vegan waffles.
4) Finally, stir in the vegan chocolate chips.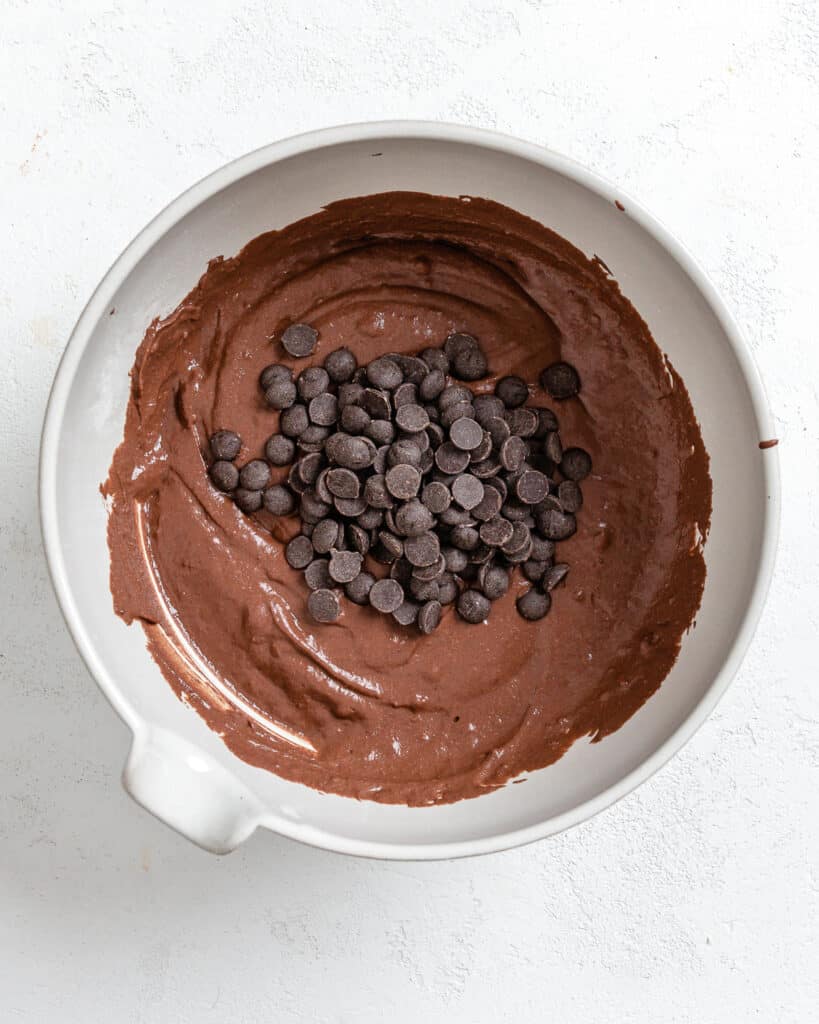 5) Then, cook the waffles according to your waffle maker's instructions. Serve warm with your toppings of choice. Keep reading to see my favorites!
Depending on your waffle maker, the cooking process usually takes between 3-6 minutes and will be indicated by a light or timer.

However, you can also tell when waffles are ready by monitoring the steam. Once the steam stops rising from the machine, the waffles are ready.
FAQs
Can I make them gluten-free?
Although we haven't tried it, you may be able to substitute whole wheat flour for a gluten-free flour blend. For example, Bob's Red Mill or King Arthur's.  
Can I substitute the black beans?
You may be able to swap them with other beans, such as chickpeas or white beans. However, we haven't tried it, so we aren't sure how much the flavor will vary.
Why are my waffles sticking?
If you're using a non-stick waffle iron, this shouldn't be an issue unless you're opening the machine too soon or it's due for a good cleaning. However, if you have issues with sticking, we recommend using a light spray of oil before adding the batter.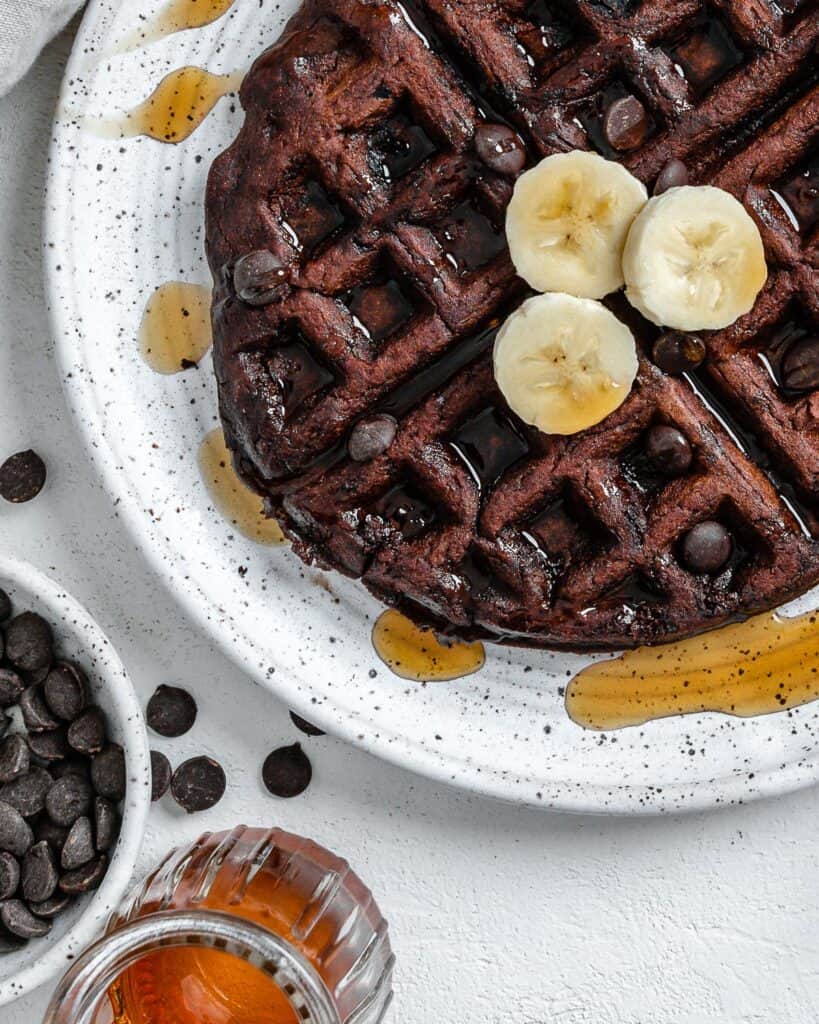 Top Tips and Notes
Preheat the waffle maker: This is important for crispy, evenly-cooked dairy-free chocolate waffles.
Don't over-mix the batter: Overworking the gluten in the flour will lead to chewier, denser, less fluffy vegan whole wheat waffles.
Don't overfill the waffle iron: If you're new to using it, this may take a few tries to get 'just right.' Just remember that it's better to under-fill it than over, as it will spread once closed. The manufacturer should recommend an amount.
Leave them to cook untouched: If you open the waffle iron, the temperature will drop, take longer to cook, and may cook unevenly. It can also cause the waffles to stick.
Use non-scratch utensils: Silicone or wooden tools are best to avoid scratching the non-stick coating of your waffle iron.
Keep the waffles warm: If you are making a large batch, we highly recommend keeping the oven on at 200F/100C to keep the waffles warm until you're ready to serve.
How to Top Vegan Waffles?
Whipped coconut cream or another vegan cream
A scoop of vegan ice cream (or nice cream) – vanilla, plant-based chocolate, peanut butter, caramel, etc.
Shredded coconut/ flakes
Berries—raspberries, chopped strawberries, etc.
Banana slices
Drizzle of vegan caramel sauce or maple syrup
Strawberry or raspberry compote/syrup/sauce
A drizzle of nut or seed butter
Chopped nuts or seeds (raw or toasted)
How to Make Ahead & Store?
Once prepared, you can store any leftover vegan waffles in an airtight container in the refrigerator for 2-3 days. Alternatively, you can flash freeze them on a tray until solid and transfer them to a Ziplock/Statsher bag in the freezer for up to 2 months.
To reheat the waffles, we recommend using an oven at 225F/107C until warmed through. You could also use a toaster.
We highly recommend making these egg and dairy-free chocolate vegan protein waffles in large batches to store in the refrigerator or freezer to reheat later. You could also make a batch early in the morning to reheat so they're all warm in time for breakfast.
More Sweet Vegan Breakfast Treats
Photos by Alfonso Revilla
Healthy Protein Chocolate Waffles
These delicious, healthy vegan chocolate waffles are inexpensive, require just a blender and waffle iron, and pack in plant-based protein and nutrients (with no protein powder!). They're also oil free, egg-free, and boosted with whole wheat flour and unrefined sugar + ready in 15 minutes.
Ingredients
15

ounces

of black beans (1.5 cups cooked beans)

¾

cup

of your choice plant-based milk

¼

cup

+ 3 Tablespoons of maple syrup (can substitute for a bit of sugar)

½

cup

of cocoa powder

2

ripe bananas

1

cup

of whole wheat flour

2

teaspoons

of baking powder

½

cup

of vegan chocolate chips
Instructions
Add black beans, plant-based milk, maple syrup, cocoa powder, and bananas to your blender and blend until smooth.

Add in the whole wheat flour and baking powder to the blender and blend until just combined.

Stir in the vegan chocolate chips.

Cook per your waffle maker instructions.
Notes
Preheating the waffle maker is important for crispy, evenly-cooked dairy-free chocolate waffles.
Try not to over-mix the batter as overworking the gluten in the flour will lead to chewier, denser, less fluffy vegan whole wheat waffles.
Nutrition
Calories:
902
kcal
Carbohydrates:
174
g
Protein:
30
g
Fat:
22
g
Saturated Fat:
11
g
Polyunsaturated Fat:
2
g
Monounsaturated Fat:
2
g
Sodium:
1373
mg
Potassium:
1713
mg
Fiber:
35
g
Sugar:
60
g
Vitamin A:
89
IU
Vitamin C:
16
mg
Calcium:
578
mg
Iron:
13
mg
Disclaimer: Although plantbasedonabudget.com attempts to provide accurate nutritional information, kindly note that these are only estimates. Nutritional information may be affected based on the product type, the brand that was purchased, and in other unforeseeable ways. Plantbasedonabudget.com will not be held liable for any loss or damage resulting for your reliance on nutritional information. If you need to follow a specific caloric regimen, please consult your doctor first.
Additional Info