As an Amazon Associate I earn from qualifying purchases.
This Creamy Tomatillo Avocado Salsa Verde is a great addition to your Taco night menu! It instantly elevates your all-time fave snacks or appetizers with its delightful spiciness, smokiness, and creaminess. You will get all the goodness of classic salsa you love but with added flavors, color, and texture from the tomatillos and avocados made in less than 15 minutes.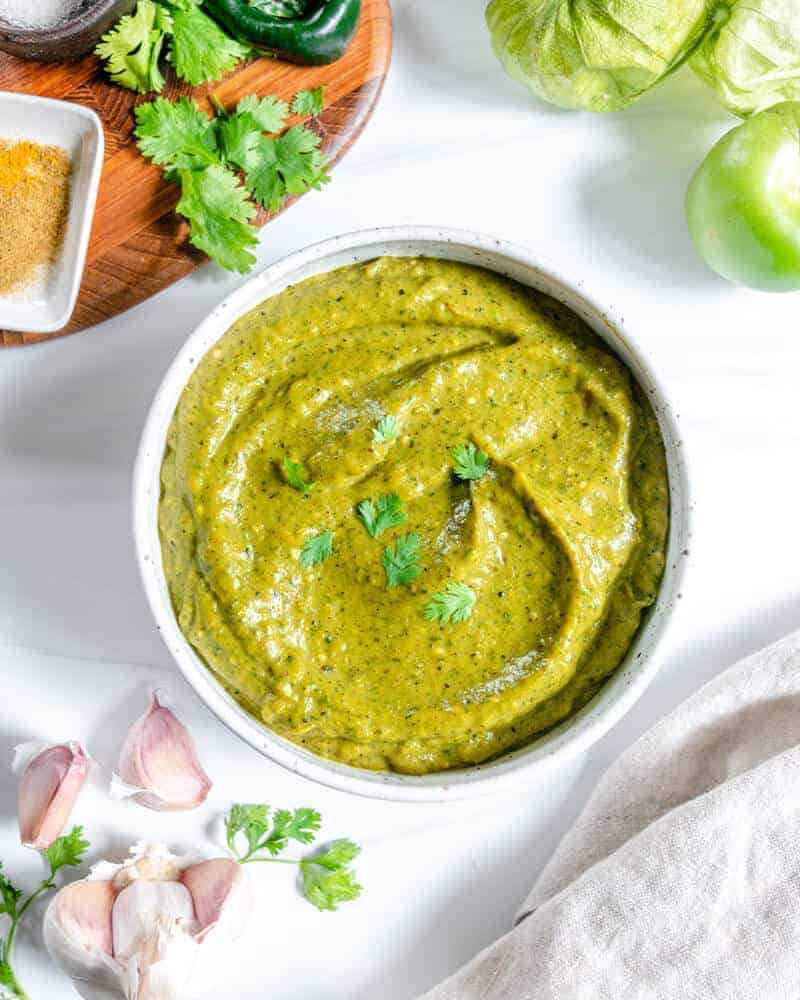 There's no better way to enjoy vegan tacos, burritos, fajitas, or enchiladas than with creamy and flavorful salsa. Unlike most creamy salsas, this recipe is made dairy-free by using avocado instead of sour cream. 
What is Salsa Verde?
It simply translates as "green sauce". Unlike the usual red tomato version called Salsa Roja or Salsa Cruda that are usually made of red tomatoes and chili peppers, this dish gets its distinctive bright green color from tomatillos. Tomatillos, despite the term implying that they are little tomatoes, are actually full-grown fruits that retain their green hue even when they ripen. Their flesh also remains firm even after maturing. Both types of salsas are delicious and we enjoy them both equally. 
How is it different from Guacamole Salsa?
Creamy Tomatillo Avocado Salsa Verde and Guacamole Salsa are both avocado-infused dips. Both use spices like cilantro and cumin among other things. However, while Guacamole uses avocado as its main ingredient, this recipe makes use of it to make the tomatillo salsa creamy. Also, guacamole uses mostly fresh uncooked ingredients that are blended together. The tomatillos, poblano pepper, onion, and garlic in this recipe are roasted first to get that smoky flavor. These two aren't in competition for me because they're both yummy and customizable, and you can change the ingredients to suit your preferences or pantry availability.
What makes the creamy tomatillo avocado salsa verde?
Avocado – Though some claim that the darker the skin, the riper, I still prefer to go by feel. Press the fruit gently and it should have a firm yet tender yield. Don't get them if they are too firm or mushy. Learn about them in this guide! 

Tomatillo – Since they stay green, the best indicator for ripe tomatillos is in their husk. They dry out and split open once the fruit inside ripens. The husks should be easy to remove.

Poblano – Have a mild spiciness that mellows down and sweetens when roasted.

If you prefer your salsa with extra heat, you may add jalapenos. You can roast them along with the other veggies or add them raw.

Cilantro and coriander – Adds a fresh and citrusy tone to the salsa. 

Cumin – Adds a warm and earthy

flavor to our dish.

Onion

Garlic

Salt 

Tools to Prepare
We will be needing a broiler, food processor, or blender, baking sheet, and sharp knife.  Line your baking sheet with aluminum foil or parchment paper to be used in roasting the tomatillo, poblano, onion, and garlic. Using a sharp knife, cut the avocado in half, remove the pit, and chop.
How to make Tomatillo Avocado Salsa Verde?
This tomatillo avocado salsa verde is simple to prepare and cost-effective, as it only requires one avocado. Avocados are pricey, as you may know, especially when they are out of season. We want to make sure that we can make this whenever our taste buds crave salsa verde. The pourable consistency, which falls somewhere between guacamole and salsa, appeals to me greatly. Here are 3 easy steps:
1) The first step is to roast our veggies. Put the tomatillo, poblano, onion, and garlic on a lined baking sheet. Spray vegetable oil and sprinkle cumin and coriander.
2) Place this into the broiler approximately 6 inches above the fire for about 4-5 minutes or until bubbling.  Take it out then flip them over for another 4 minutes. Vegetables should have brown (charred) grill marks and be tender when pierced. 
3) Combine the broiled veggies into the food processor or blender along with the coriander and avocado and blend until smooth.  
Why do we have to roast the tomatillo and poblano?
The charred smokiness of the ingredients contributes to the depth of flavor in this salsa recipe! However, we must be careful not to burn them as it may create a bitter taste which may likely ruin the flavor.  When you burn a piece of food, the proteins and sugars within it are allowed to go beyond the point of caramelization and into a fully blackened, carbonized state. To char means to "slightly burn" the outside. The surface of food improves flavor, burning it all the way through degrades it.
How to store leftover salsa?
When stored, the creamy tomatillo avocado salsa verde lasts longer than conventional guacamole. The tomatillos' acidity keeps the avocado nice and fresh. As a result, avocado takes a long time to oxidize, making it excellent for storage in the refrigerator. You may eat this homemade salsa for the rest of the week!
Tips:
On tomatillos, there is a sticky residue. Before slicing and adding them to the salsa, make sure to rinse them under warm water to remove any residue.

Remove the skins from the roasted poblano before combining them with the rest of the ingredients. Use a covered bowl or plastic bag to trap the steam. The skins should now be easy to remove.

If you're not a fan of spicy food, roasting the peppers or poblano less gives you spiciness while maintaining their bite. Also, removing the seeds of the peppers would lessen the heat it brings to the dish.

Make a seal with a piece of plastic wrap to prevent air from getting into the dip. I would suggest lightly pressing the plastic wrap into the tomatillo avocado salsa verde before covering the bowl or dish with its lid.
What to serve with creamy tomatillo avocado salsa verde?
As previously said, this salsa verde has numerous benefits and is an excellent complement to your favorite dish. However, I believe you'll enjoy it in these recipes.  I've included some serving ideas below, but truly, this goes with anything. Before you run out of ways to eat it, you'll run out of roasted tomatillo avocado salsa verde.
Bite-Size Taco Boats

– An edible bowl-less dish with black beans filling.  You can actually put anything you like for the filling.  Tomatillo avocado salsa verde will be the perfect dip for this.

Tofu Tacos

– A nutritious lunch or dinner option. Tofu is a complete protein that may be used in a variety of recipes.  One of my favorite ingredients.  Try this with our salsa verde.

Butternut Squash Burrito

– With a hint of butternut sweetness, these burritos are hearty and delicious.
Photos by Alfonso Revilla
Creamy Tomatillo Avocado Salsa Verde
This Creamy Tomatillos Avocado Salsa Verde is an all-time fave that instantly elevates all your Mexican favorites.
Ingredients
1

pound

of fresh tomatillos, husked and washed

1

large

poblano, halved and seeded

½

of a medium onion, thickly sliced

2

garlic cloves

Vegetable oil spray

1

teaspoon

of cumin

½

teaspoon

of coriander

A handful of cilantro (optional)

1

large

avocado, pitted and peeled (optional)

⅛

teaspoon

of salt, or more to taste
Instructions
Turn on the broiler. Place all the tomatillos, poblano, onion, and garlic on a lined baking sheet. Spray with oil and then sprinkle the cumin and coriander on the veggies.

Place the sheet in the broiler and broil (about 6 inches from the fire) for about 4 to 5 minutes, or until it starts bubbling.

Take the sheet out of the oven, flip all of the ingredients, and broil for another 4 minutes or until the ingredients look nicely charred.

Combine all the broiled ingredients into a food processor or blender with the cilantro and avocado and blend until smooth.
Notes
Want some spice, add one or two jalapenos or serranos when you broil and blend your vegetables.
If you don't have vegetable oil spray, you can simply lightly oil the ingredients.
Nutrition
Calories:
134
kcal
Carbohydrates:
15
g
Protein:
3
g
Fat:
9
g
Saturated Fat:
1
g
Polyunsaturated Fat:
1
g
Monounsaturated Fat:
5
g
Sodium:
80
mg
Potassium:
654
mg
Fiber:
7
g
Sugar:
6
g
Vitamin A:
361
IU
Vitamin C:
53
mg
Calcium:
29
mg
Iron:
2
mg
Disclaimer: Although plantbasedonabudget.com attempts to provide accurate nutritional information, kindly note that these are only estimates. Nutritional information may be affected based on the product type, the brand that was purchased, and in other unforeseeable ways. Plantbasedonabudget.com will not be held liable for any loss or damage resulting for your reliance on nutritional information. If you need to follow a specific caloric regimen, please consult your doctor first.
Additional Info