As an Amazon Associate I earn from qualifying purchases.
This 5-minute golden milk inspired drink is soothing, creamy, lightly spiced, sweet, and delicious, and it's a powerful anti-inflammatory, immune-boosting, natural remedy. It's also naturally gluten-free, paleo, dairy-free, naturally sweetened, and vegan!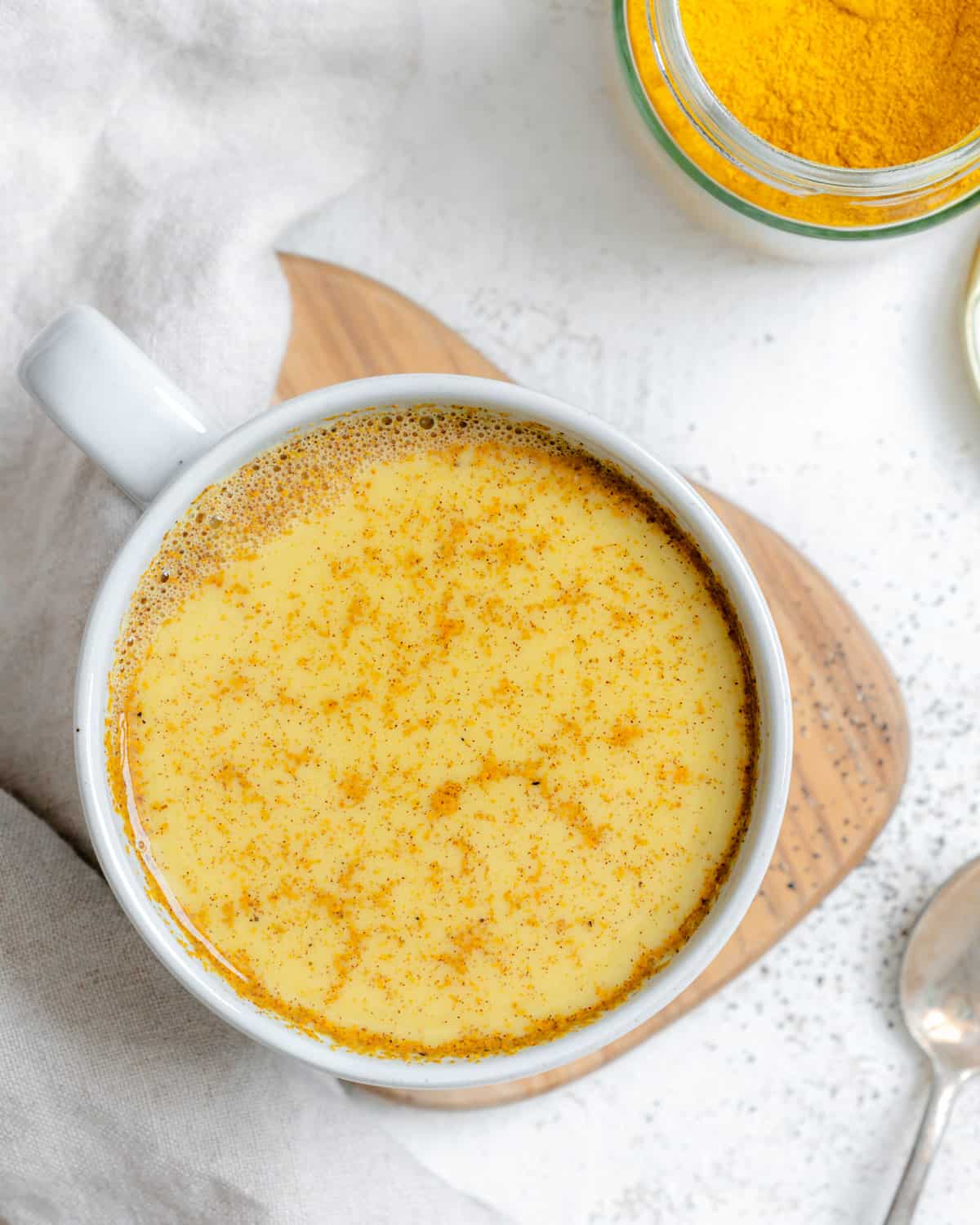 If the last few years have taught us anything, reinforcing your immune system and looking after your well-being through diet is a great idea, especially during cold/flu season. We've already shared a recipe for a winter tonic to help keep illness at bay. However, if you prefer creamy drinks like teas, this comforting, healing plant-based turmeric golden milk is for you!
Turmeric milk takes just minutes to prepare with a handful of pantry-friendly spices and is perfect for warming you up on chilly days and helping you unwind at the end of stressful days. It's cozy and soothing, tastes warm, spicy, creamy, and slightly sweet, and is absolutely packed with beneficial properties. This version is also 100% vegan.
What Is Golden Milk (Haldi Doodh)?
Golden milk is traditionally called Haldi Doodh but is also known as turmeric milk, golden milk latte, turmeric latte, and turmeric milk tea. It is a traditional drink with roots over 3000 years old in Ayurvedic practices, an Indian alternative medicine used to encourage whole-body healing.
In the past, it was a combination of cow's milk, turmeric, and black pepper. However, over time, other beneficial ingredients have been introduced, like sweeteners, ginger, and cinnamon. The result is a lightly spiced, warming, soothing golden drink that's one of the healthiest drinks you can enjoy!
Golden Milk Benefits
This type of Ayurvedic golden milk recipe has been used almost as a 'cure all'–used to treat aches and pains (including joint pain), digestive issues, colds, coughs, fatigue, etc. This is due to the impressive nature of its ingredients.
The Top Benefits of Turmeric and Golden Milk
Cinnamon and ginger both claim anti-inflammatory, antibacterial, and antioxidant benefits, along with blood sugar control. Ginger also helps with nausea and digestion, along with improving circulation. However, it's the turmeric that is the star of this ayurveda golden milk.
Turmeric antioxidant capacity. This means more antioxidants to fight harmful free radicals, protect against inflammation, and reduce signs of aging.
Curcumin within turmeric can affect/ inhibit the growth of cancerous cells to ward off various cancers.
It can improve joint pain and other aches and pains by reducing inflammation.
It can improve heart health by improving endothelial function, which regulates blood pressure and clotting.
Boosts the immune system to help ward off disease.
It may improve brain function.
Reduces blood sugar levels.
It can also help with relaxation and a restful night's sleep.
There is even some research showing that turmeric may reduce the symptoms of depression, including boosting mood! Read more golden milk benefits on Healthline.
When served warm with the other spices, this golden milk recipe contains an almost overwhelming list of beneficial properties while also tasting great and being a wonderfully warming and soothing drink for the winter months.
Golden Milk Ingredients
7 pantry staples are all you require to make this soothing, delicious golden turmeric milk.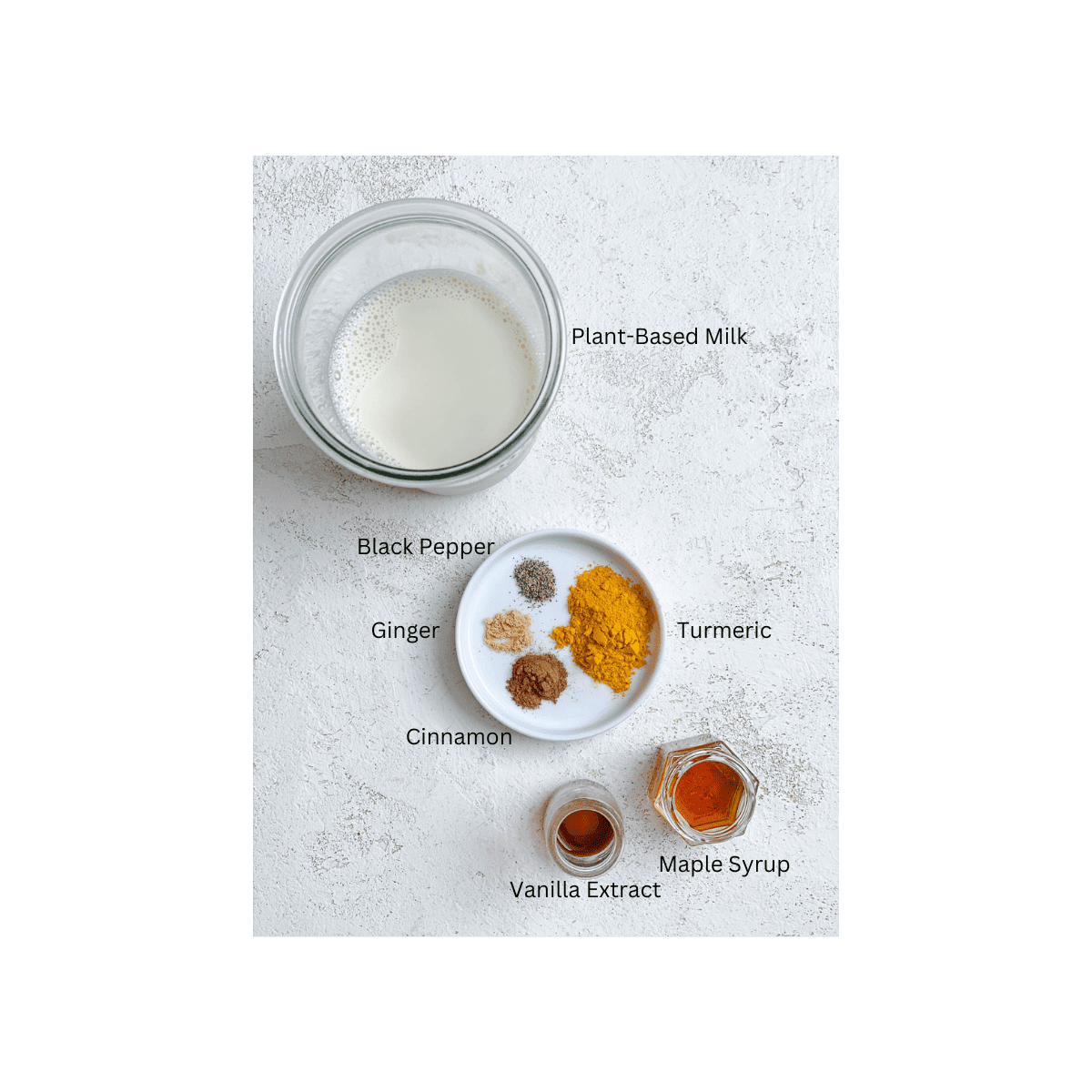 Plant-based milk: Use whole plant-based milk for this vegan golden milk. Our favorite options are oat milk or canned coconut milk.
It's best to add ½ tablespoon of coconut oil to the haldi doodh if you use a lower fat milk for maximum curcumin absorption.
Sweetener: Maple syrup, agave, rice syrup, etc. Use your favorite one or even a sugar alternative for a keto version.
Turmeric powder: The star ingredient of this vegan golden milk is turmeric. Ensure it's in date.
Ginger powder: For extra warm flavor. Omit it if preferred, though.
Cinnamon powder: Ceylon cinnamon is the best, but cassia will also work.
Black pepper: You must pair turmeric with black pepper to make the most of its benefits. Use freshly cracked black peppercorns for maximum benefit.
Vanilla extract: (optional) Use natural vanilla for the best flavor.
What Could I Add To Turmeric Milk?
Other spices: There are several other spices you would add for extra warming flavor and more of a 'chai' flavor. These include cardamom, nutmeg, ground cloves, and star anise. Add to taste.
Coconut oil/butter: Curcumin isn't easily absorbed in water but is fat soluble. Adding ½ tbsp fat like coconut oil or coconut butter will improve absorption.
How to Make Golden Milk?
Just 5 minutes, one saucepan, and a whisk are all you need to prepare this Ayurvedic golden milk recipe whenever you like.
1) Combine all the ingredients in a medium saucepan and heat over medium-low heat, whisking well.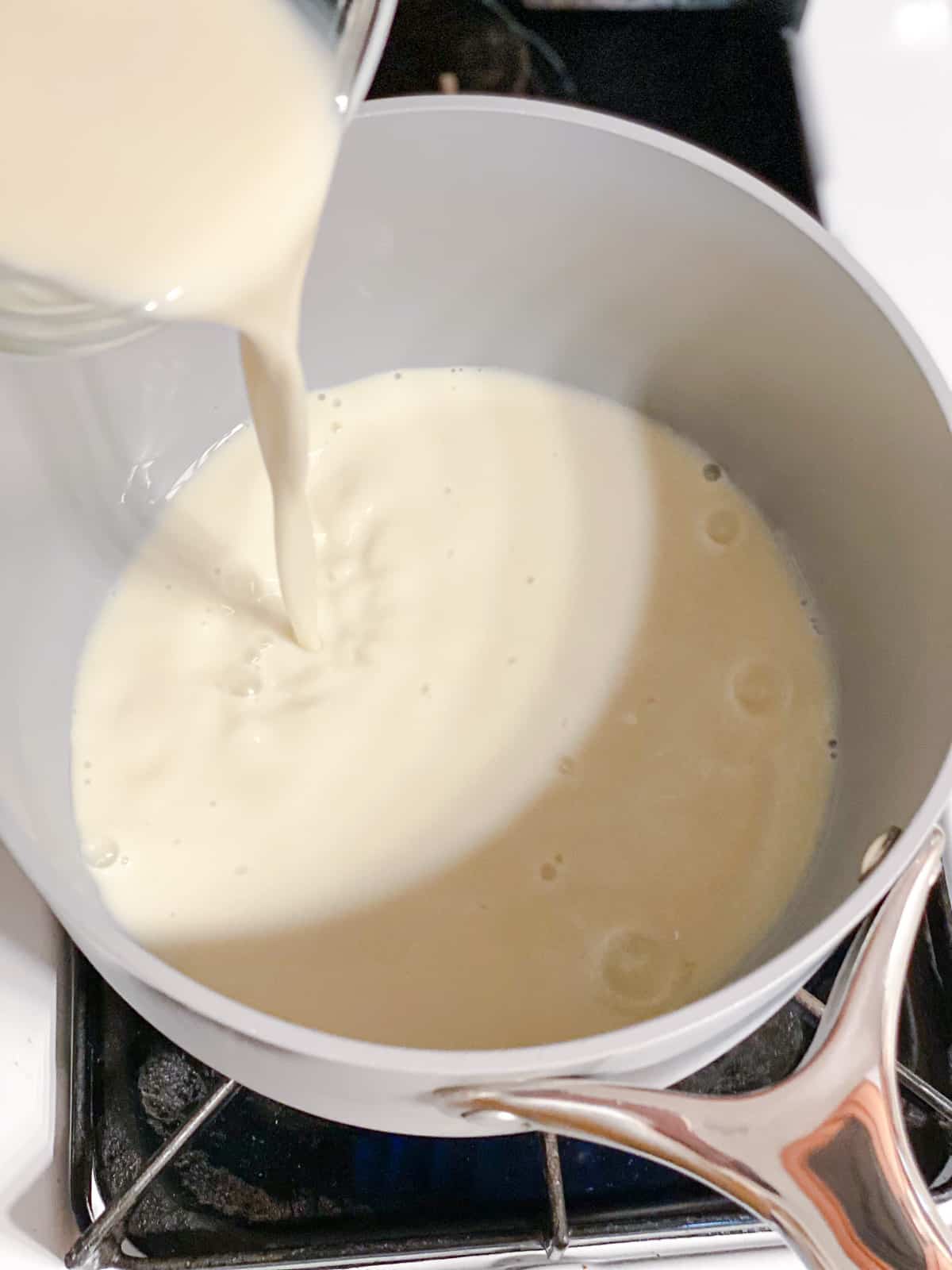 2) Allow it to heat for about 5 minutes or until just below boiling and infused with flavor, whisking regularly. Then serve and enjoy!
If you plan on consuming turmeric milk often, you can prepare a golden milk powder blend (with just the dry spices) OR create a turmeric paste (by combining the dry spices with ½ tbsp coconut oil per serving) to top up with warm plant-based milk and sweetener as needed.
FAQs
Can I use fresh turmeric and ginger?
You'll need to use about 1 inch of turmeric root and ¼-½ inch of ginger root and to mince them, so they properly infuse into the golden milk recipe. To avoid pulpiness, strain the mixture through a nut milk bag (it stains) or tea strainer before serving.
Why add black pepper to turmeric milk?
Our bodies can have trouble absorbing certain nutrients, curcumin included. However, peperine (found in fresh cracked black pepper) can increase absorption levels by up to 2000%! You'll achieve maximum curcumin absorption when it's also combined with fat (high-fat plant-bsed milk, coconut oil or butter, etc.).
When is the best time to drink golden milk?
For maximum absorption, enjoy it first thing in the morning, at least 30 minutes before breakfast. You can also swap caffeinated drinks for a golden milk latte in the evenings (especially an hour before bed), as it can improve relaxation and encourage a good night's sleep.
Recipe Notes and Top Tips
Tweak the flavors: Sweeten and adjust the spice ratio according to taste, etc.
For maximum curcumin absorption: Pair it with black pepper and fat (in this case, high-fat milk like coconut milk) for maximum absorption and impact.
Use fresh spices: To get the most nutrients, benefits, and flavor.
Don't bring the mixture to a boil: It can reduce the nutrients (and benefits) within the spices.
For a creamy, frothy golden milk latte: You can use a milk frother directly in the saucepan OR transfer it to a blender to blend until frothy before serving the vegan turmeric milk.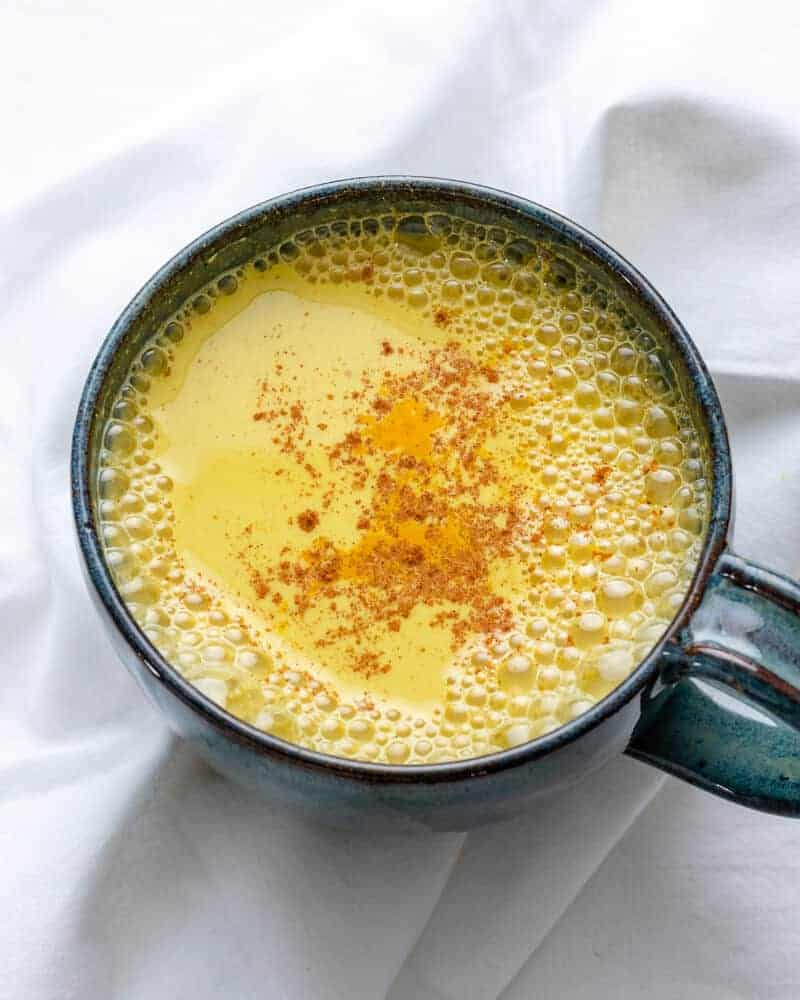 Storage Information
Allow any leftover haldi doodh to cool and store it in a covered or airtight container in the refrigerator for up to 3 days, reheating it on the stove as needed.
You can also use the leftovers as the liquid with cereal/ granola, oatmeal, & smoothies.
More Homemade Vegan Drinks
Photos by Alfonso Revilla
Turmeric Golden Milk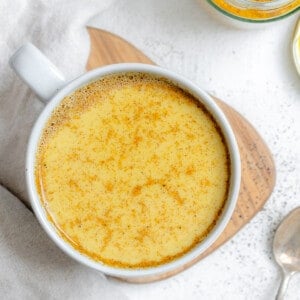 This comforting Golden Milk can warm you from the inside out on those dreary grey days! Play around with the spices until you find your perfect mix!
Ingredients
1 ½

cups

of whole plant-based milk

1

tablespoon

of maple syrup

(agave will work)

½

teaspoon

of vanilla extract

1

teaspoon

of ground turmeric

¼

teaspoon

of ground cinnamon

⅛

teaspoon

of ground ginger

Pinch of black pepper
Instructions
In a medium saucepan over medium-low heat, heat the plant-based milk, maple syrup (or agave), vanilla extract, ground turmeric, ground cinnamon, ground ginger, and pinch of black pepper, and whisk regularly for about 5 minutes. Remove from heat and serve when it's hot to drink but not yet boiling.
Notes
Tweak the flavors: Sweeten and adjust the spice ratio according to taste, etc.
For maximum curcumin absorption: Pair it with black pepper and fat (in this case, high-fat milk like coconut milk) for maximum absorption and impact.
Use fresh spices: To get the most nutrients, benefits, and flavor.
Don't bring the mixture to a boil: It can reduce the nutrients (and benefits) within the spices.
Nutrition
Calories:
122
kcal
Carbohydrates:
17
g
Protein:
2
g
Fat:
5
g
Saturated Fat:
0.1
g
Polyunsaturated Fat:
2
g
Monounsaturated Fat:
2
g
Sodium:
490
mg
Potassium:
105
mg
Fiber:
2
g
Sugar:
13
g
Vitamin A:
2
IU
Vitamin C:
1
mg
Calcium:
481
mg
Iron:
1
mg
Disclaimer: Although plantbasedonabudget.com attempts to provide accurate nutritional information, kindly note that these are only estimates. Nutritional information may be affected based on the product type, the brand that was purchased, and in other unforeseeable ways. Plantbasedonabudget.com will not be held liable for any loss or damage resulting for your reliance on nutritional information. If you need to follow a specific caloric regimen, please consult your doctor first.
Additional Info