As an Amazon Associate I earn from qualifying purchases.
Learning how to Roast a Butternut Squash is simple and easy.  It is so adaptable that it can be blitzed into a variety of delectable recipes worthy of a special celebration, whether it's a holiday table or a home feast. This roasted butternut squash will definitely hit the spot if you're looking for a way to switch up your weeknight vegetable routine.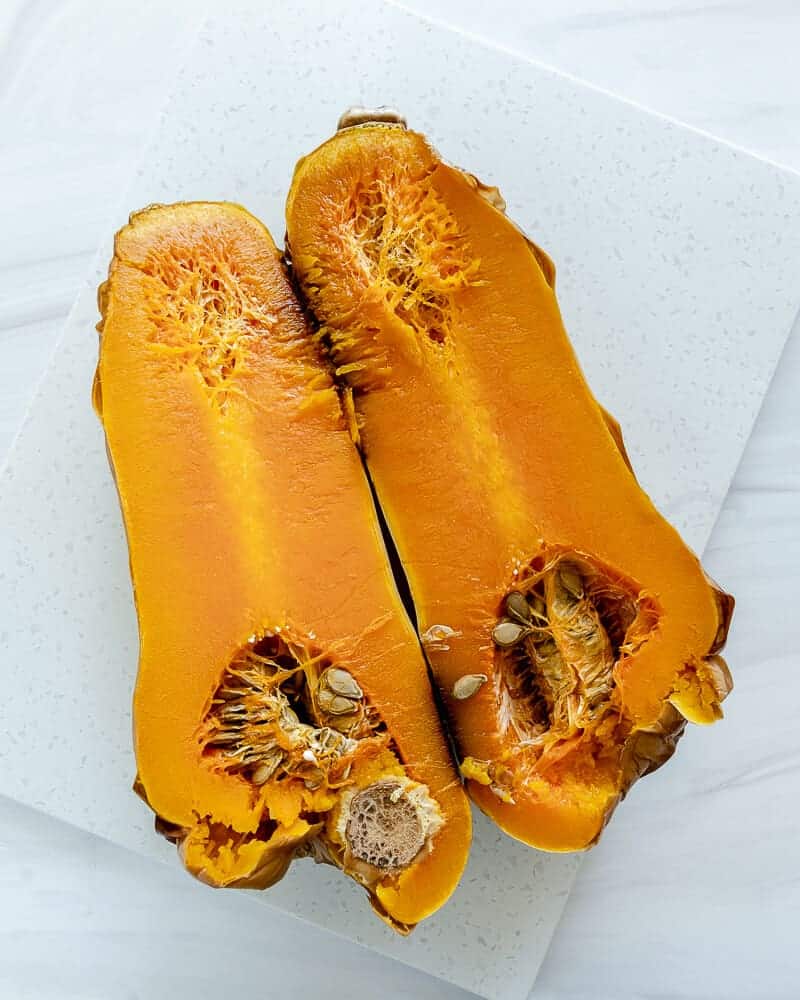 Autumn is here, and this must-have fall and winter vegetable has found its way into nearly every meal plan.  Given that I have a lot of my winter squash stored from my summer garden, I thought I'd start with an article that goes back to the basics. I believe that these are the most needed recipes, so here you go – How to Roast a Butternut Squash recipe!
Why roast Butternut Squash?
Butternut squash has a deliciously wintry sweet, savory, and nutty flavor, as well as a lovely moist texture when cooked. It's extremely versatile, making it a great addition to any soup, side, or main dish.  But it all starts with a good roasting of your squash. Once you've mastered the perfect roasting technique, you'll fall in love with this beautiful gourd in all of its forms. You can eat it right out of the oven because of the caramelized exterior; the smooth and soft inside will leave you wanting more.
Roasting this vegetable can come in 3 ways.  The whole butternut squash is roasted in this dish. You can, however, slice it in half or dice it. Depending on the type of recipe you're making, you'll want to roast your squash differently. Whichever method you use, the result will be the same: a sweet taste and flavorful dish.
Is butternut squash healthy?
Yes!  Butternut squash is not only delicious but also packs a lot of vitamins, minerals, and disease-fighting antioxidants. This low-calorie, high-fiber winter squash is incredibly healthy and may help protect us against cancer, heart disease, and mental decline.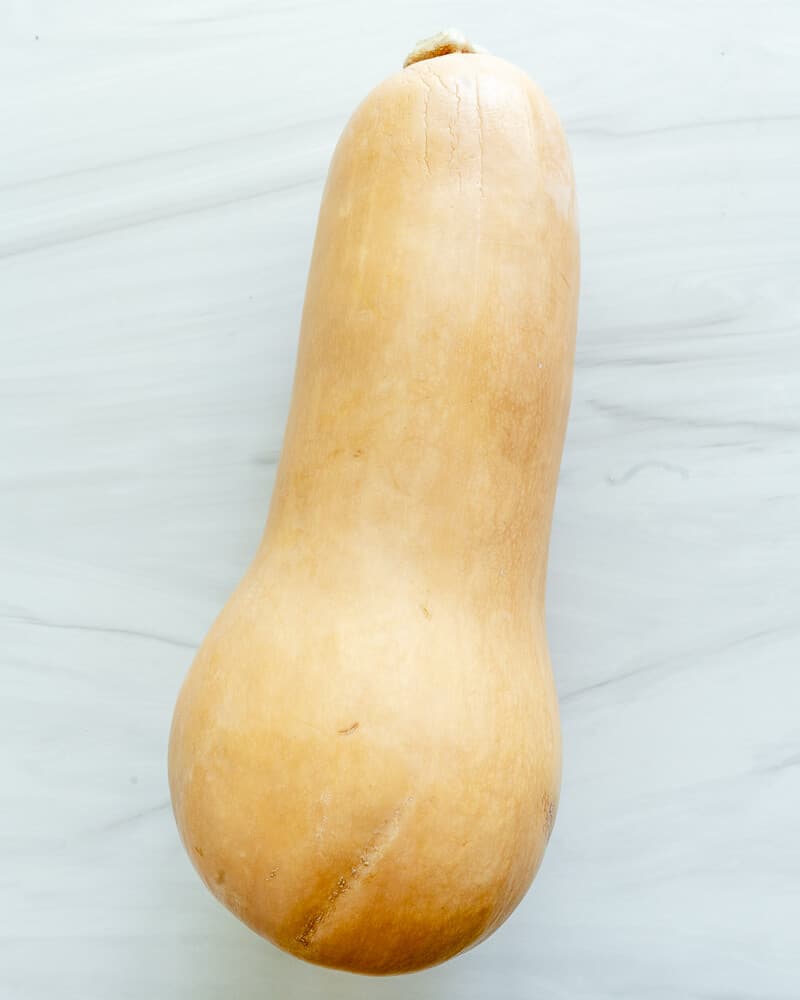 What do you need for roasting?
The materials and equipment to use are very basic.  You will need an oven, a baking sheet or baking dish, and a large sharp knife. If you wish to roast them in little cubes, a paring knife may be needed or a good vegetable peeler to remove the squash's tough skin.
How to prepare for roasting?
First, we must select the best butternut squash for roasting. Frequently, you'll find me at the market, picking up each butternut squash and attempting to weigh them in my hand. The "larger is better" mentality does not apply here, but I prefer the ones that are heavy in comparison to their size. The best squash is one that has a nice beige-ish tint. Deep scratching, cutting, or soft places are not typical. Squash with brown patches or punctures should be avoided since they can introduce bacteria and mold.
One of the simplest ways to prepare butternut squash is to roast it whole. This recipe calls for roasting the entire butternut squash. If you choose to cut them in half or dice, the only difficult step is cutting them. Trim the stems and bottoms first. This method makes slicing down the center considerably easy. 
Lastly, using a sharp knife and a gentle rocking motion, cut it in half lengthwise. Scoop out the seeds with a spoon. Clean and dry the seeds if desired, then roast them for a healthy snack.
How to roast a butternut squash?
Making roasted butternut squash is super easy! Here's what you need to do:
Preheat the oven to 400F. 

Put the whole squash on a baking sheet and bake for an hour.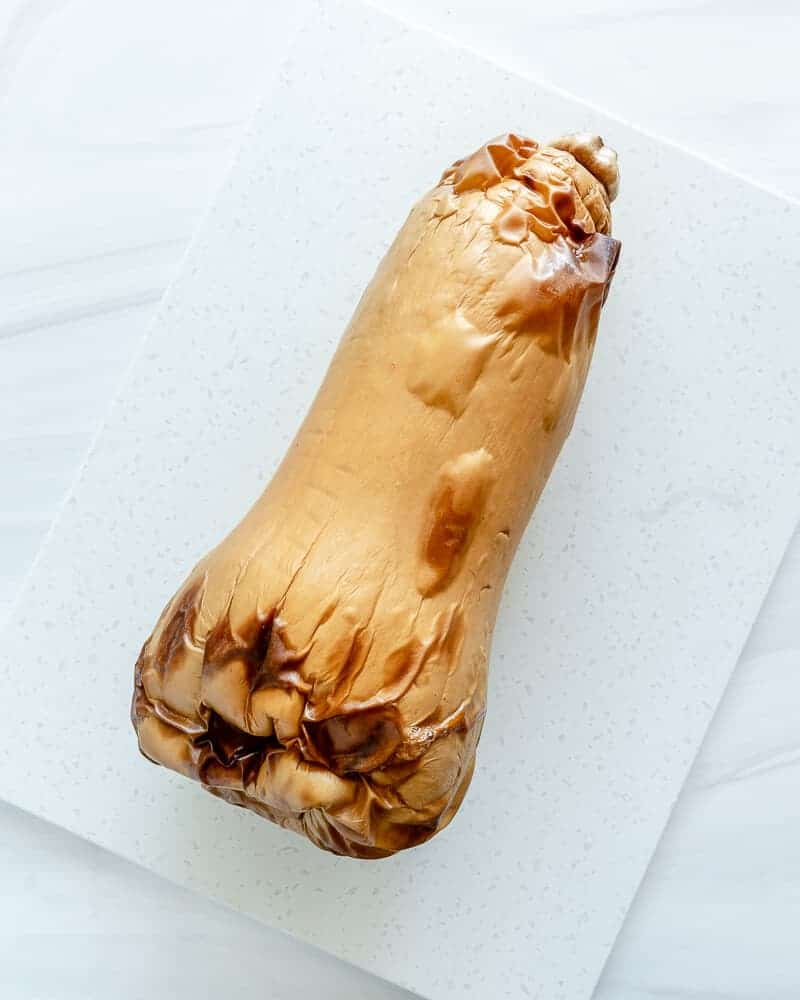 If halves:
Bake the butternut squash face-down to obtain a little extra steam and a wonderful caramelized color on the cut side from the pan.
If diced:
It's possible that you'll have to peel the squash and chop it into little cubes. Peeling it might be time-consuming, so using a vegetable peeler will help.
After cooking, scoop the squash out of its skin and use it in any dish, such as butternut squash soups, mashes, sauces, risottos, baked goods, and so on.
Which seasonings are best to use?
The basic seasonings that we use are salt and pepper. However, there are tons of ways to kick the flavors up a notch.  To add flavors with minimal effort, here are a few ways to spice up your roasted butternut squash with sweet or savory spices.
Classic garlic and herbs.  You will never go wrong with grated garlic cloves and fresh rosemary, thyme, or parsley.  

A dash of chipotle powder, chili powder, cayenne, or cumin can bring a little spice to the dish.

If you want it a bit sweet, add some ground cinnamon, nutmeg, coconut sugar, or a drizzle of maple syrup.
How to store leftover butternut squash?
Roasted butternut squash can be kept for up to 5 days in an airtight container. However, diced or chopped squash should be frozen for 3-4 hours or until thoroughly frozen on a baking sheet lined with parchment paper. After which you can transfer them in an airtight plastic bag or container and put them in a freezer that should last up to three months.
What to do with roasted butternut squash?
Baked butternut squash is great on its own as a simple side or main dish.  Your options, however, do not end there. Roasted butternut squash can be used in a variety of ways. This golden brown and caramelized squash can be part of the dish, soup, or even as a sauce.  Here are some of my personal favorites:
Roasted Butternut Squash with Indian Spices and Caramelized Onions

– To give it extra taste, I used spices like turmeric and garam masala in this fall recipe. However, this dish can be prepared at any time of the year.

Thai-Style Butternut Squash Soup

– This pureed soup gives the feeling of a cold winter night. The chilies in this Thai-style soup provide a nice kick of heat, while the coconut milk provides a touch of sweetness.

Butternut Squash Sauce and Roasted Veggies

– Making a sauce with butternut squash and carrots is another way to use it. This dish calls for steamed squash, but roasted squash would work just as well and add more flavor depth.
Photos by Alfonso Revilla
How to Roast a Butternut Squash
Learning How to Roast a Butternut Squash is simple and easy. It is so adaptable that it can be blitzed into a variety of delectable recipes. This golden brown and caramelized squash can be part of the dish, soup or even as a sauce.
Ingredients
1

Butternut Squash

salt and pepper

optional
Instructions
Preheat the oven to 400 degrees F.

Put the whole squash on a baking sheet and bake for 1 hour.
Notes
Store in the refrigerator in an airtight container for up to 5 days.
Nutrition
Calories:
338
kcal
Carbohydrates:
88
g
Protein:
8
g
Fat:
1
g
Saturated Fat:
1
g
Polyunsaturated Fat:
1
g
Monounsaturated Fat:
1
g
Sodium:
30
mg
Potassium:
2640
mg
Fiber:
15
g
Sugar:
17
g
Vitamin A:
79725
IU
Vitamin C:
158
mg
Calcium:
360
mg
Iron:
5
mg
Disclaimer: Although plantbasedonabudget.com attempts to provide accurate nutritional information, kindly note that these are only estimates. Nutritional information may be affected based on the product type, the brand that was purchased, and in other unforeseeable ways. Plantbasedonabudget.com will not be held liable for any loss or damage resulting for your reliance on nutritional information. If you need to follow a specific caloric regimen, please consult your doctor first.
Additional Info