As an Amazon Associate I earn from qualifying purchases.
These Chili Oil Noodles are quick, easy, and rich in protein. They're tossed together in less than 20 minutes with chewy noodles, crispy pan-fried tofu, spicy chili oil and mustard greens for an extra kick of heat! So simple to make, yet bursting with flavor.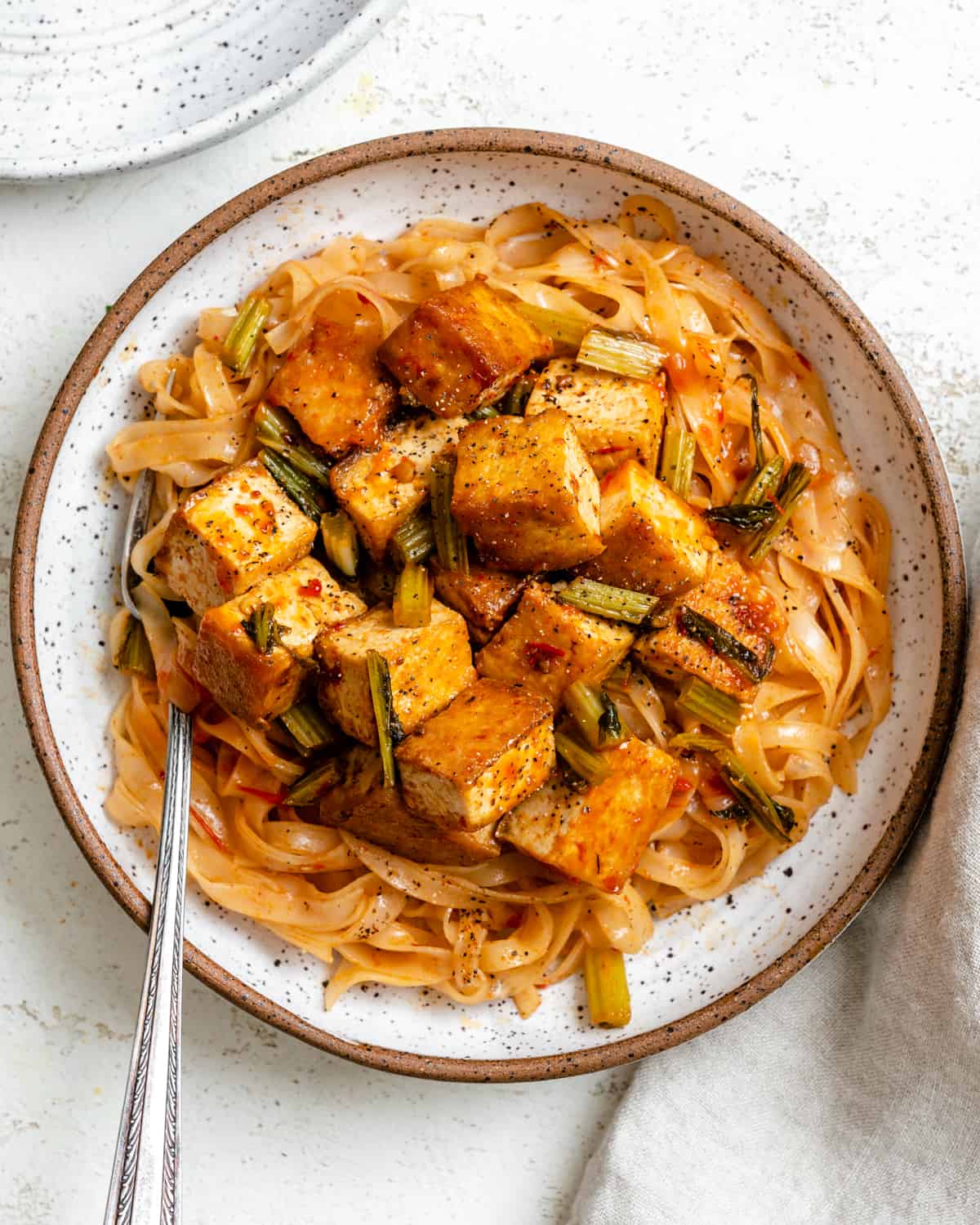 Chili oil is one of my favorite condiments to keep on hand. It has a long shelf life, is relatively affordable (a little goes a long way!), and can instantly give any dish a boost in flavor and savoriness. In addition to spicing up these noodles, give it a try drizzled on Vegetable Fried Brown Rice, Easy Zucchini Stir Fry, or this Veggie Chow Mein!
Why You'll Love These Spicy Noodles
As spicy as you'd like! ​If you're a true spicy food lover, make these chili noodles as hot as you can handle. Or, if you're just warming up to spicy recipes, start slow. You can also serve extra chili oil or red chili flakes on the side for people who want a hotter noodle dish.
Made with only 5 ingredients. This dish is as simple as it gets! 
Ready in less than 20 minutes. Once your tofu is pressed and your fresh herbs are prepped, these spicy chili oil noodles come together in just minutes. Perfect for a quick dinner on busy weeknights or a fast Sunday meal prep. 
Easy to customize. Adjust the spice level, add your favorite veggies, use your favorite noodles, and more! The options are endless.
The Ingredients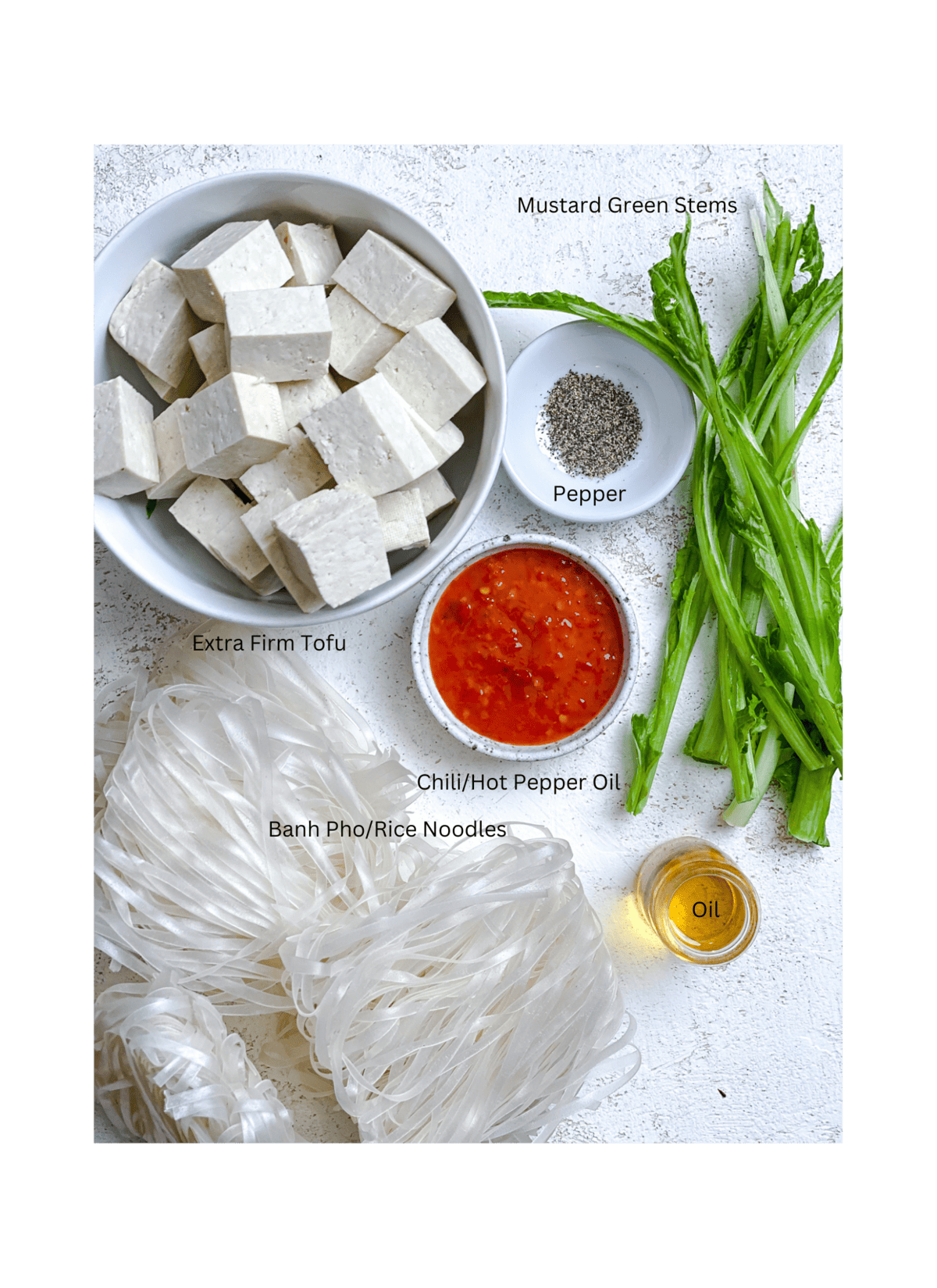 Noodles: Any noodles of choice will work. Traditional Sichuan noodle dishes are often made with wheat-based noodles (Mian or Mi Fen), but if you are gluten-free use rice noodles or Banh Pho noodles. You can also use noodles like ramen or udon noodles.
Extra firm tofu: This type of tofu is best for pan-frying. It's firm enough to keep it's shape, yet is moist enough to absorb the flavors in the chili oil. If you're new to cooking with tofu, make sure to read my Guide to Tofu and learn How to Press Tofu. 
Oil: ​Any high-heat cooking oil will do. Use avocado oil, vegetable oil, or refined coconut oil.
Mustard greens: ​This popular leafy green is commonly used for it's unique, slightly spicy flavor. If you can't find it in the produce section of your grocery store, check your local international grocery store. 
Chili oil: ​Sichuan chili bean paste, or Pixian doubanjiang, is made from fermented fava beans and chili peppers. It's known for its rich, complex flavor and is a fundamental ingredient in Sichuan dishes. If you have the opportunity to use it, please do! Otherwise, try another chili oil or hot pepper oil (a homemade chili oil would work great!).
Add-ins and Substitutions
Aromatics: If you'd like to increase the flavor in this noodle dish, add fresh garlic, grated ginger, and sautéed shallot.
Make these noodles saucier: ​If your chili oil is thick, add a few splashes of vegetable broth to loosen it up and make it extra saucy.
Add veggies: ​Bulk up these spicy noodles with your favorite stir-fry vegetables.
How to Make Chili Oil Noodles
1) First, prepare your noodles. Bring a large pot of water to a boil, then cook the noodles according to package instructions.
2) Next, heat a skillet over medium-high heat. Once hot, add your neutral oil of choice and allow to heat for a few minutes. Add the tofu to the hot oil and sear until golden brown, or as desired. After a few minutes, add the chili oil and toss to combine.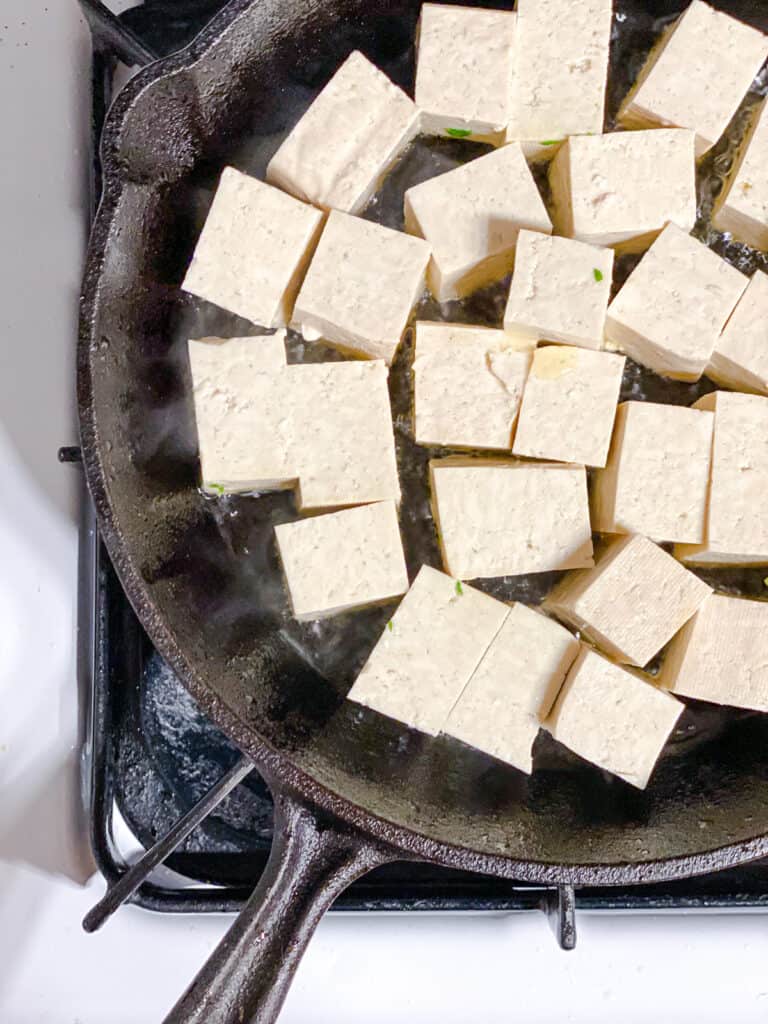 3) While the tofu cooks, in a separate small pot, bring a cup of water to a boil. Once boiling, add the mustard greens and simmer until the greens are bright green. Drain and set aside.
4) When the tofu has about 30 seconds left to cook, add the drained mustard greens to the skillet and stir to combine. Add the black pepper and stir again, sautéing for 30 to 60 more seconds.
5) Add the cooked noodles, then stir and heat together, until thoroughly mixed and heated.
6) Serve immediately while warm!
Recipe FAQs
Where do chili oil noodles originate from?
It is believed that chili oil noodles originated from Sichuan cuisine. 
Can I adjust the spiciness of these chili oil noodles?
The spice in this noodle recipe comes entirely from the amount of chili oil used. If you are sensitive to spice, start with just a couple of teaspoons and increase from there. For spice lovers, a few tablespoons may be preferred! 
​Are these noodles good for meal prep?
Most noodle dishes are best fresh, but these noodles can be made for meal prep, if desired. Make the recipe as instructed, then allow to cool to room temperature. Transfer the chili oil noodles and tofu between individual serving containers and refrigerate for up to 3 days. When ready to eat, reheat in the microwave or toss in a large skillet or wok until warmed through and crispy again. 
Top Recipe Tips
Use a wok or cast iron skillet. ​I love my non-stick skillet, but my cast iron does a lot better at making tofu and noodle dishes extra crispy. Or, if you happen to have one, use a wok!
Be careful not to overcook the noodles. Like spaghetti and Italian pasta, these noodles are easy to overcook and will become grainy and mushy. Make sure to read the package directions for your type of noodles and be careful not to over-do it. 
Repurpose the remaining mustard greens. I like to make these noodles with mustard green stems, but if you prefer, you can add in the stems and leaves. Or, sauté the leftover greens and serve them as a nutritious side dish.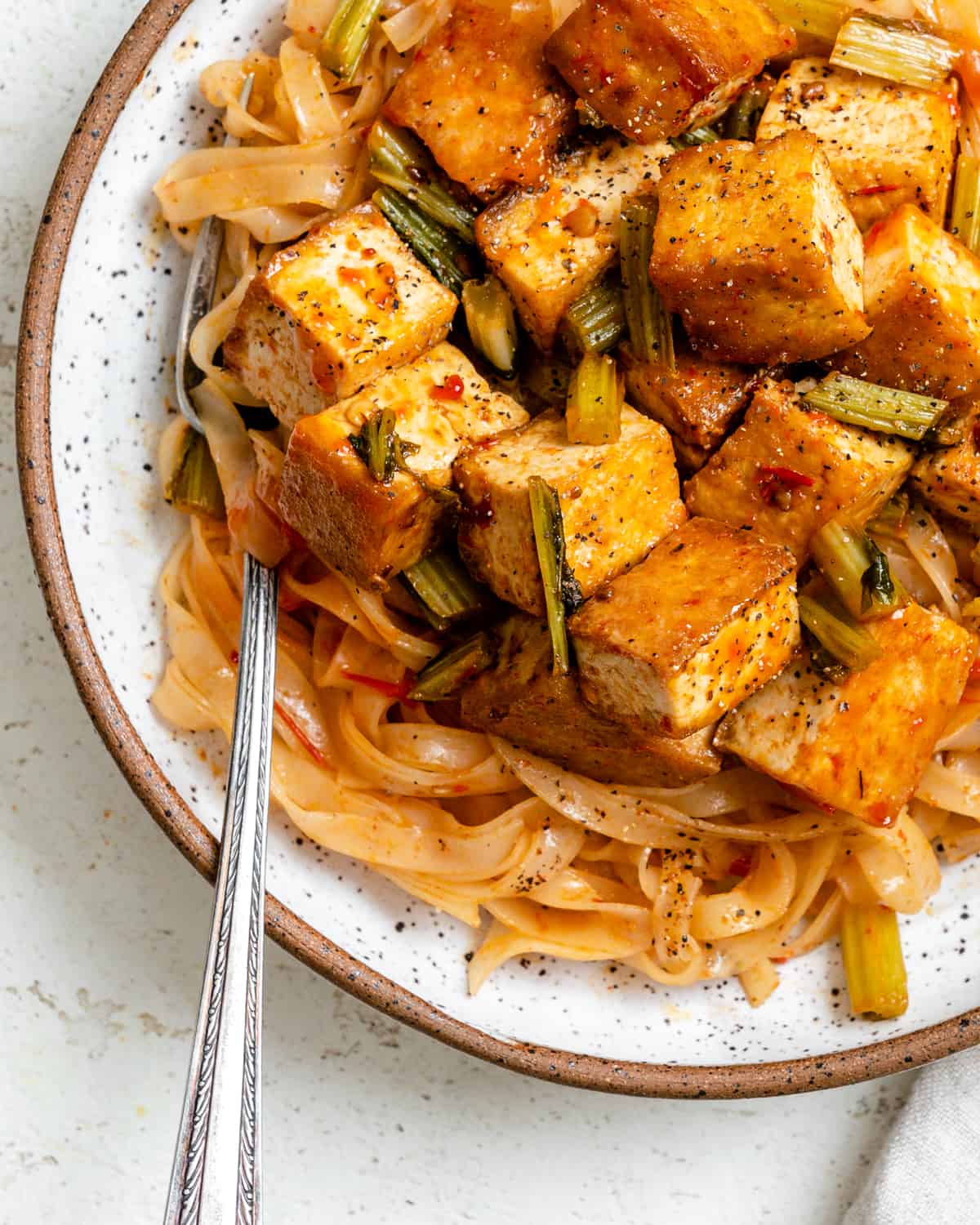 Serving Suggestions
Serve these spicy, hot noodles with extra chili oil sauce and easy side dishes like Baby Bok Choy with Soy Sauce and Garlic, Tofu Vegetable Crispy Wontons, or Sautéed Eggplant!
Toppings
These spicy noodles are also often served loaded with additional toppings. Common toppings for chili oil noodles include:
Green onions (both green and white parts!)
Crushed peanuts
Dark soy sauce
Chinese black vinegar
Pickled vegetables
Fresh cilantro
Sesame seeds
Bean sprouts
Sesame oil
Crushed peppers (Sichuan peppercorns would be perfect!)
If you love this cuisine, you'll also love our homemade vegan milk teas – Strawberry Milk Tea and Chocolate Milk Tea. 
Storage Instructions
​Leftover noodles will keep in an airtight container in the fridge for up to 3 days. Freezing is not recommended.
More Spicy Tofu Dinner Recipes
​Mapo Tofu (Spicy Tofu with Sichuan Pepper)
Photos by Alfonso Revilla
Chili Oil Noodles with Crispy Tofu
These Chili Oil Noodles are quick, easy, and rich in protein. They're tossed together in less than 20 minutes with chewy noodles, crispy pan-fried tofu, spicy chili oil and mustard greens for an extra kick of heat! So simple to make, yet bursting with flavor.
Ingredients
4

ounces

of banh pho/rice noodles

7

ounces

of extra firm tofu

½ – 1

tablespoon

of cooking oil

(any high-heat oil will do)

¾

cup

of mustard green stems,

diced

1

tablespoon

of chili/hot pepper oil (or ¼ tsp crushed red pepper flakes)

Freshly ground black pepper,

to taste
Instructions
Boil water to prepare noodles. Cook according to package instructions, but make sure you time them to be done so they can be added to the sautéing tofu and stems without delay! (Also, feel free to up the amount of noodles for a bigger meal. It was late, and I knew I wasn't going to eat it with a broth, so I kept the noodles to a minimum.)

Drain (if necessary, and press, if you like) the tofu. Slice it up any way you like; cubes get boring, so I like to chop it up at all sorts of funky angles. In a skillet, heat cooking oil over medium-high heat. Add tofu and sear as much as you desire, adding the hot pepper/chili oil after a couple of minutes. It may be helpful to cover it with a lid if the water still in your tofu gets all splattery with the hot oil! (I used half a typical packaged tub of tofu. Obviously, it's easy to use the whole thing and double the other amounts in the recipe to make leftovers or feed multiple mouths at the same meal!)

My stems were already blanched due to previous kitchen shenanigans…but assuming yours aren't, you can take care of this while the tofu is crisping up: In a small saucepan/pot bring just a cup or so of water to a boil. Once boiling, drop the stems in. Once they start to turn a brighter green, they're done. Dump the greens and water into a colander (over the sink, of course!) and splash them with some cold water to stop the cooking of the stems.

About 30 seconds before you think the tofu will be done, add the stems. Stir and sauté the tofu and stems, adding the black pepper at this point (and the red pepper flakes, if you didn't use the spicy oil earlier). Once that's had 30-60 seconds to combine, add the rice noodles. Stir and heat together, until thoroughly mixed and heated.

Serve on its own, in a broth, or accompanied with other stir-fried vegetables.
Nutrition
Calories:
301
kcal
Carbohydrates:
51
g
Protein:
10
g
Fat:
6
g
Saturated Fat:
1
g
Polyunsaturated Fat:
2
g
Monounsaturated Fat:
3
g
Trans Fat:
0.01
g
Sodium:
171
mg
Potassium:
275
mg
Fiber:
2
g
Sugar:
2
g
Vitamin A:
707
IU
Vitamin C:
25
mg
Calcium:
66
mg
Iron:
2
mg
Disclaimer: Although plantbasedonabudget.com attempts to provide accurate nutritional information, kindly note that these are only estimates. Nutritional information may be affected based on the product type, the brand that was purchased, and in other unforeseeable ways. Plantbasedonabudget.com will not be held liable for any loss or damage resulting for your reliance on nutritional information. If you need to follow a specific caloric regimen, please consult your doctor first.
Additional Info