As an Amazon Associate I earn from qualifying purchases.
Tofu is probably one of the most, if not the most, versatile foods on the planet. It is known for its incredible ability to absorb thousands of flavor combinations across the spectrum, and its ability to be transformed into a vast amount of textures. From a silky smooth chocolate pie to a hot and crispy buffalo tofu dish, tofu can do it all! On top of its versatility, it happens to be one of the most budget-friendly foods. You can find a block of tofu weighing about 14 ounces for less than $2 at the grocery store — that's an incredible steal! Preparing it, however, can be kind of intimidating, especially for newly plant-based eaters who have no experience with the act of 'pressing the tofu' which is what this guide is all about!
Manual Pressing vs. Device Pressing
In order for the tofu to absorb the spices and flavors you're going for, the excess moisture that it's contained in needs to be pressed out of the tofu block. If that sounds even just a tad bit daunting to you, well you are in luck as there are a few ways! There are several tofu pressing devices on the market to help with the pressing process and I've selected four of the top-ranked devices to review for you, and I'll also teach you how to simply do it with what you have already! Let's dive in!
DIY Pressing
You can manually press the tofu without a device by taking the tofu block out of the container, placing it on top of one to two layers of dish towels, place another one to layers of dish towels on top of it, and then place something heavy (like a cast iron skillet or several pots) on top of the tofu for about an hour or so. The weight of the pressure will slowly press the moisture out of the tofu so that it will be absorbed by the towels, leaving you with a more solid and firm block of tofu, which is exactly what you want to make the best tofu dishes!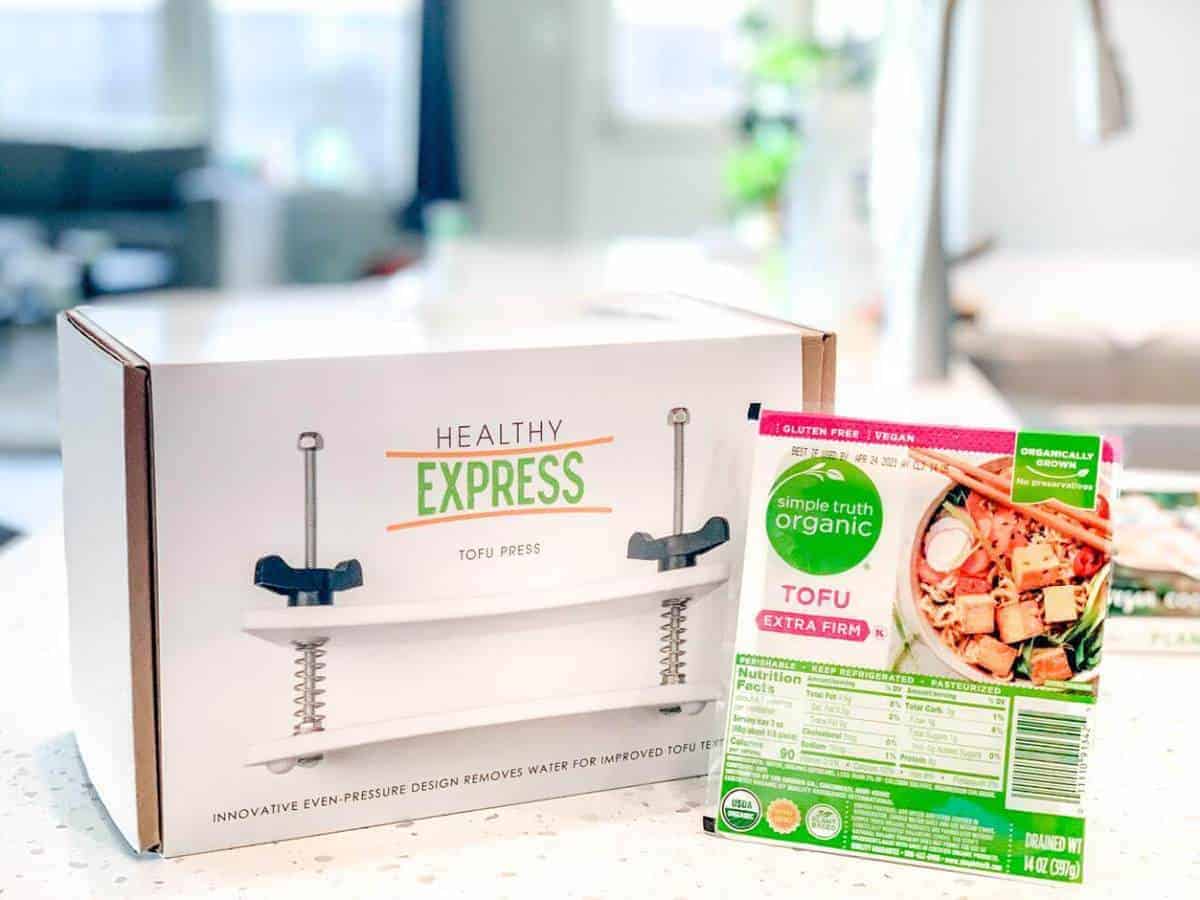 Pros:
Consistent press – The plates start off curved so that as you initiate the induced pressure by turning the knobs, they end up straight for a consistent press throughout the entire tofu block. How innovative!
Very easy to use – There are springs between each plate that ensure there is constant space between the plates so it's easy to insert the block in between the two plates. The knobs are very easy to turn to induce the downward pressure fairly effortlessly.
Speedy press – I was very satisfied with the amount of pressing it did within 15 minutes!
They also include a free recipe book and two cute tea towels which I felt was a nice touch! (I also made their tacos and they were incredible!)
It comes already assembled and is dishwasher friendly which is always a plus!
Cons:
You'll need to continuously tighten up the knobs every 2-3 minutes in order to add on continuous pressure, so you can't just set it up and forget about it overnight!
Can be messy as there is no basin for the excess moisture to drip into.
Cost: Currently, it's $19.95 on Amazon and has a one-year guarantee!
Time: 15 minutes did the trick for me with tightening the knobs every 2-3 minutes. The user manual recommends anywhere from 15-60 minutes depending on how much time you have to cook and if you are okay with some cracking (the slower you press and apply pressure, the less likely you are to develop cracks in the tofu).
Does it work? Yes, absolutely! The novel design of starting off with curved plates led to a very consistently pressed tofu block that came out perfectly firm and moisture-free in 15 minutes! The tofu did have a few minor cracks in it, however, it did not crumble apart.
Tips: To help with the drainage of the excess moisture, I found that placing the device on its side in the sink or on a plate helped! I rotated it to different sides as I tightened the knobs every 2-3 minutes.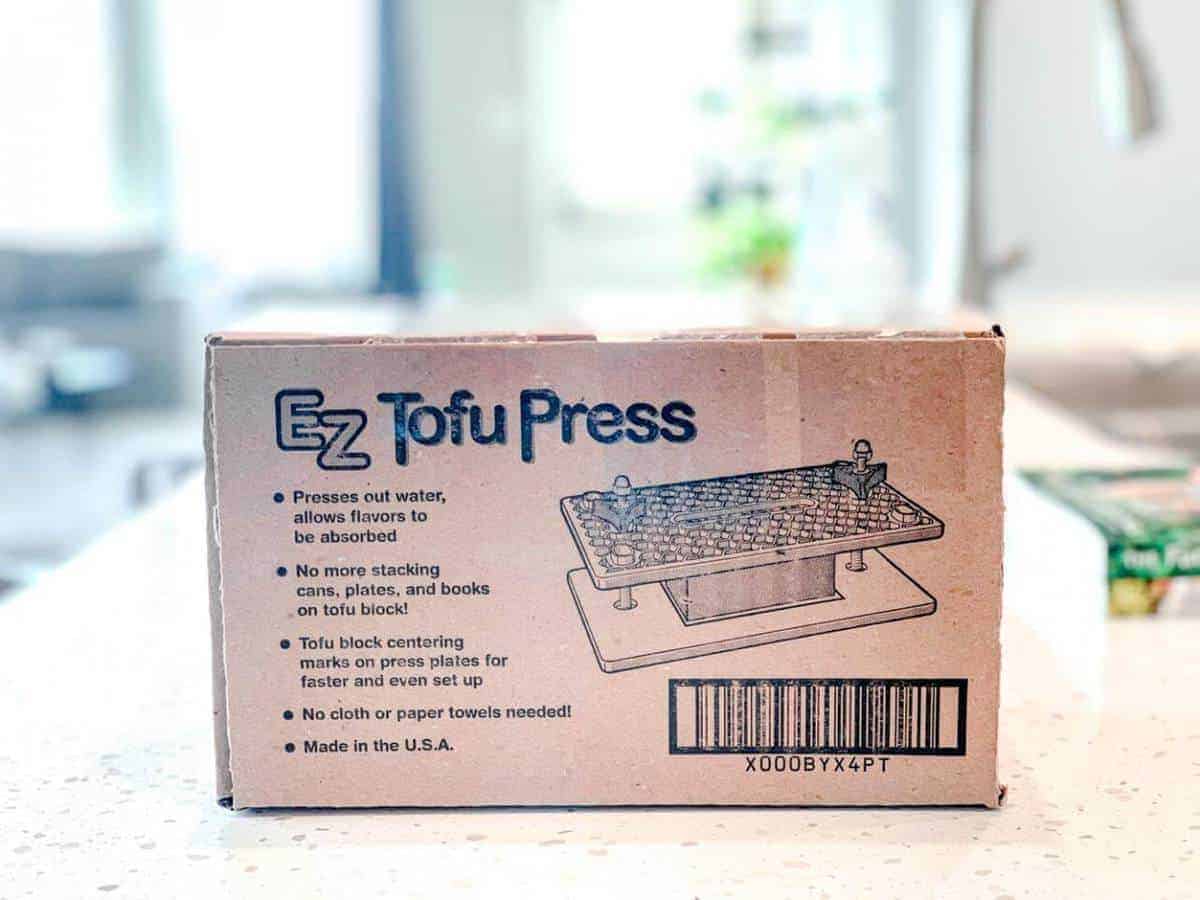 Pros:
Very similar design to the Tofu Press – By Healthy Express in that it is preassembled, quick to do its job (packaging says 5-15 minutes), and is dishwasher safe!
It has over 4,500 ratings on Amazon that speak very highly of it's easability and quality.
Cons:
The plates end up slightly curved so that the middle of the tofu block is not as pressed as the outer edges of the tofu.
The knobs are not as seamless to turn and there are no springs in between each plate so it's just the slightest inconvenience to hold the plates apart while you insert the tofu block as compared to the Tofu Press – By Healthy Express.
This press needs to be continuously tightened so you can't just set and forget this one.
It's unique hexagon design is aesthetically pleasing, however, when hand washing, the running water can collect and shoot back at you so be careful!
Cost: This device is $22.49 on Amazon.
Time: I checked on the tofu block every 2-3 minutes and at the 7 minute mark, the block seemed fairly firm and ready to be utilized for a marinade, however, I continuously tightened and pressed it for 15 minutes.
Does it work? Yes! It definitely did the job as I was left with a firm block of tofu ready to be used! There were minor cracks at the edges and by squeezing the entire block, you could tell that the outer edges were more pressed, however, it was definitely effective enough to be cut nicely into squares for these sweet & salty tofu bites which came out absolutely delicious!!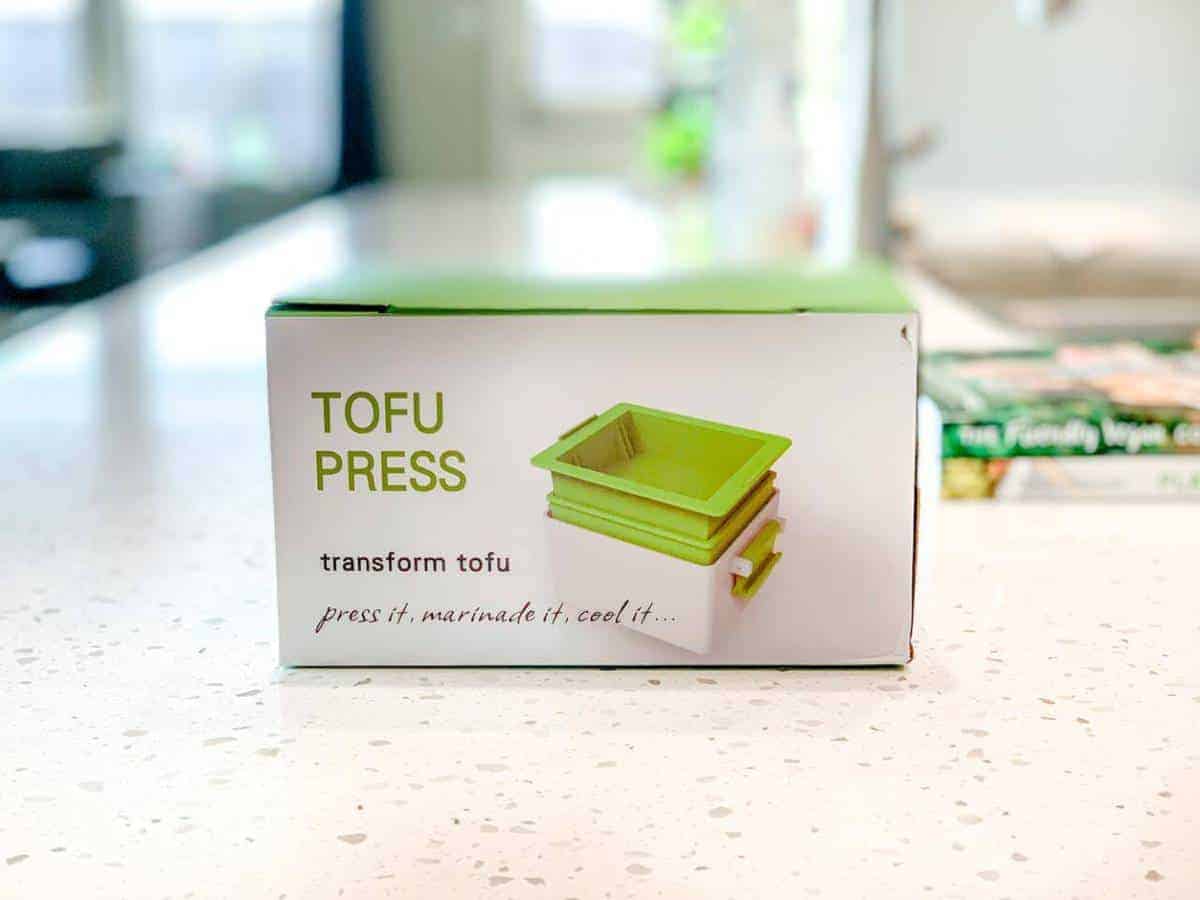 Pros:
Compact – This device is small in design and just slightly bigger than the tofu block itself so it won't take up too much space when you're not using it.
Set and forget – You can easily place your tofu in the container, put the lid on it, and leave it in the fridge overnight or throughout the day and come home to a well-drained and ready to use tofu block.
No mess – The device is separated into two two parts that allows the drained liquid to be collected into the outer container so there is no chance of a mess at all throughout the pressing process.
The material is transparent so you can visibly see the amount of moisture that has been drained.
Dishwasher safe!
It came with a mini recipe book that has 17 recipes which was a pleasant surprise. The more fun tofu recipes, the better!
Cons:
Not for immediate use – It will take a few hours for the moisture to be pressed out of the tofu block. I checked how it felt at the 15 minute mark and it was nowhere close to being ready. This device will require some time for the pressing to take full action, so plan on letting it sit in the fridge overnight or throughout the day.
Requires a bit of brute strength to snap the two latches on, however, once you get the hang of it after a few tries, it's fairly easy to latch.
Cost: $22.49 on Amazon
Time: This device requires an overnight or full day period in it's container to get the job done! I let it press overnight for about seven hours and that seemed to do the trick.
Does it work? It does! If you're looking to set it and forget it, this pressing device is for you! You could physically see the drained water collected in the outer basin and the tofu block was firm and more than ready to be cut up and seasoned for the perfect tofu in this Buttery Lemon Tofu dish.
Tips: Because this device is made of plastic, place it on the top rack of the dishwasher when washing to promote longevity of it! (the bottom rack gets the most hot due to its proximity to the heating element)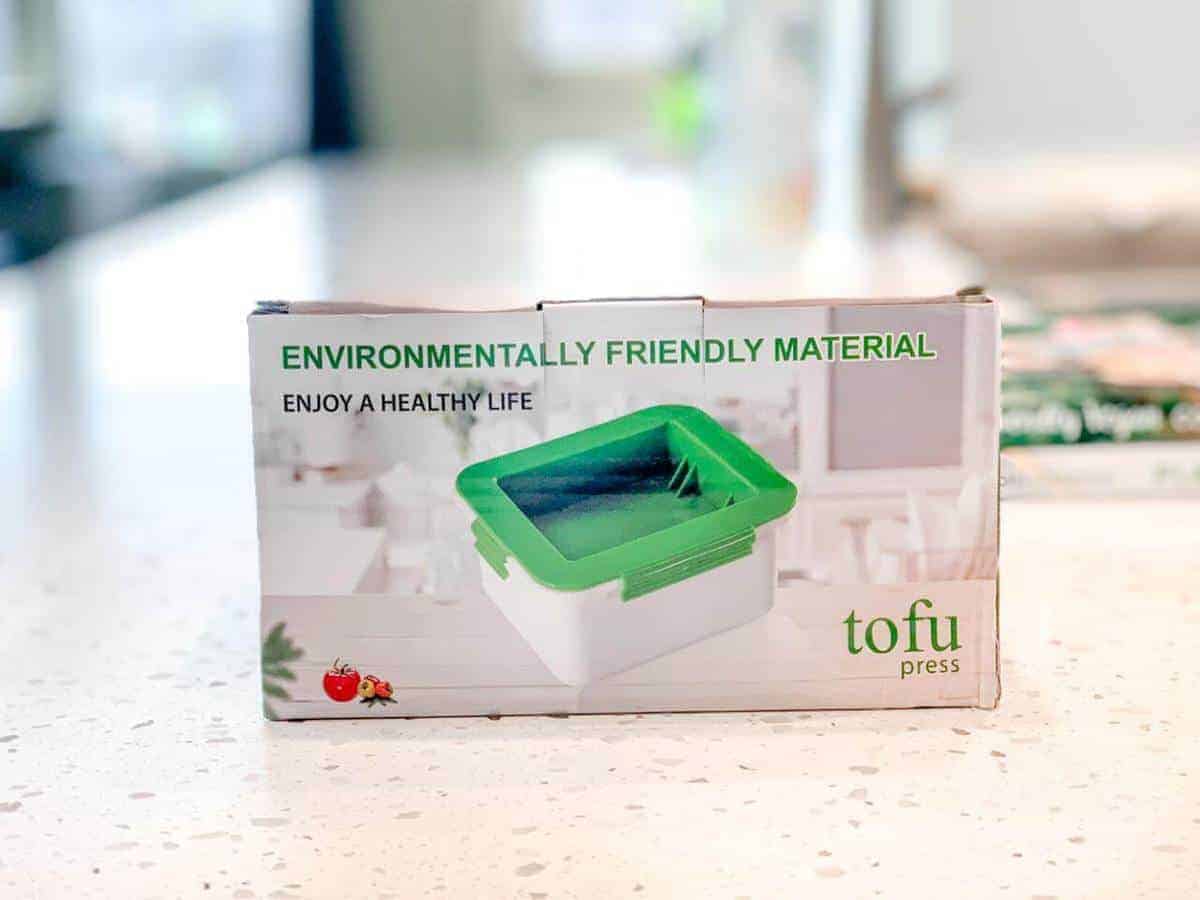 Pros:
Similar in design to the Yarkor Tofu Press in that it is compact, you can set and forget it, and there's minimal to no mess involved.
It has four latches on all sides of the container that make it easy to secure shut.
Cons:
The description of the device on Amazon says to let it be pressed for 15-30 minutes, however in my case, it was not ready at the 30 minute mark, so I advise a longer pressing time of more than seven hours for this device.
Similar to the Yarkor Tofu Press, this also takes a bit of effort to snap on the four latches and it is not as smooth to do so. However, like anything, once you get used to it, it's not very difficult at all.
Cost: $14.99 – the cheapest out of the four devices!
Time: I let the tofu press throughout the day for about eight hours and it came out great. Despite their suggested pressing time of 15-30 minutes, I believe that this type of device style delivers a better press with a longer sustained time.
Does it work? Yes, this device is effective if you have the time to let it do its thing! The tofu came out slightly crumbled, but still intact enough to be made into a delicious Coconut Thai Tofu dish!
Our Winner(s):
Overall, all four devices did a great job in pressing! If you're looking for something that will deliver quick and ready-to-be-marinated tofu, I recommend the Tofu Press – By Healthy Express! It's unique, novel design and ability to produce well-drained firm tofu with minimal to no cracking in 15 minutes is a winner in my eyes! If you'd like something that you don't have to pay attention to, I recommend the Yarkor Tofu Press. It's easy to set and forget with no mess or waste from excessive paper towel usage involved!
I hope that this guide decreases any stress that you may have towards pressing your tofu and that you're inspired to make the most amazing dishes now! Remember that anything new can be intimidating at first until you get a few repetitions under your belt, so I'd love to hear that you're giving the pressing action a go! When you're ready to take the plunge into the world of all things tofu, here are some super delicious recipes that I know you'll enjoy and will come out extra spectacular with your new tofu pressing device, tips and tricks!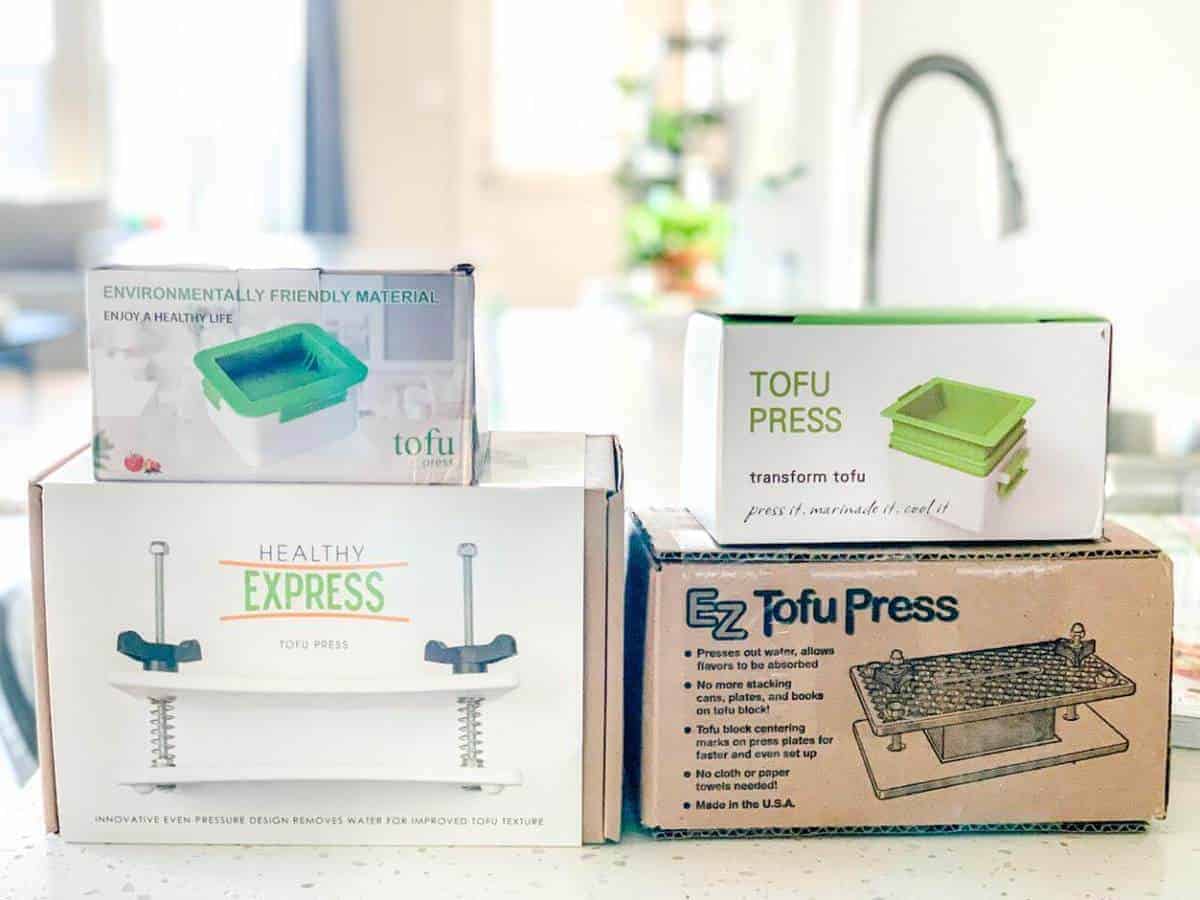 Tofu Tips:
Remember that there are different kinds of tofu that are on the market and I recommend firm or extra firm tofu to be utilized in a presser. Here's a great guide on the different types of tofu out there!
Freezing the tofu and allowing it to defrost fully before you press it can help with decreasing any cracks from forming during the press. I use this technique a lot and the texture that stems from it is pretty incredible and works great no matter if you're going for a goey tofu scramble or a crispy tofu filet.
If you've heard any negative things about tofu and it's makeup, here's a great synopsis of the evidence-based research out there. Dr. Matthew Nagra helps to debunk the negative myths associated with tofu so press away my friends and create all the tofu dishes that your heart desires!