Soft Pumpkin Molasses Cookies
2013-10-18
Yield :

30 cookies

Servings :

30

Prep Time :

10m

Cook Time :

14m

Ready In :

30m
Disclaimer: This page may include affiliate links, and I could earn a commission if you purchase through these links. Please note that I've linked to these products purely because I personally use and recommend them and they are from companies I trust. There is no additional cost to you.
If you're one of those people who go pumpkin crazy in the fall, then you will be pretty stoked about this recipe. These Soft Pumpkin Molasses Cookies are great all around! Soft, sweet, filled with warm spices, sticky deep molasses, and our beloved seasonal squash. We have to warn you though, they are quite irresistible … so bake them at your own risk.
A Very Special Cookie
These Soft Pumpkin Molasses Cookies are not your typical chocolate chip or vanilla cookie, they have special qualities which is why we love them so much. They have a soft and chewy texture and a spicy and intense flavor.
Because of these strong flavors, they are perfect to be enjoyed with a warm glass of almond milk or black tea. Fall afternoons just got a lot cozier with these pumpkin-filled treats!
Tips for The Perfect Soft Pumpkin Molasses Cookies
Baking can be very intimidating for some since it requires a bit more precision when it comes to the amounts of ingredients used and the methods applied. We get it, so in order to avoid the baking jitters, we will give you a few precious tips. Let's make your baking experience as smooth as possible:
It's ok for the dough to be extra sticky: It might be a cause of concern to you but don't fret, the molasses gives that extra sticky texture and that's what we want.
Because of the statement above, you might find it hard to roll the heaping tablespoons of dough into balls, so we advise you to wet your hands beforehand. The water will prevent the dough from sticking to your hands.
Don't press the cookie dough balls down, even if you're tempted to. It probably looks like the cookies won't take that round shape you're after but trust us, they will.
Enjoy these delicious heavenly cookies!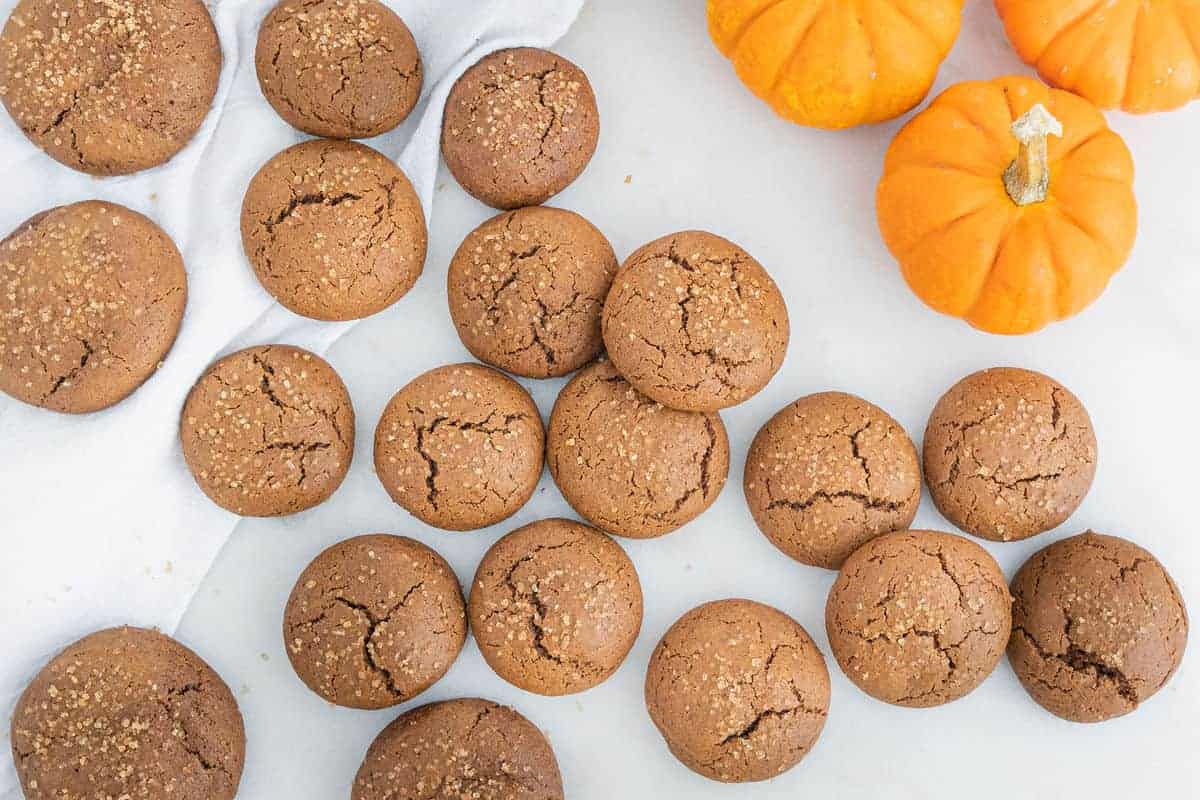 Recommended Equipment:
Photos by Alfonso Revilla
Ingredients
2 ⅓ cup of all-purpose flour
2 teaspoon of baking soda
1 teaspoon of cinnamon
1 teaspoon of ground ginger
1 teaspoon of sea salt
¼ teaspoon of ground cloves
1 cup of sugar
½ cup of pumpkin
½ cup of canola oil
¼ cup of molasses
1 tablespoon of flax meal
2 teaspoon of vanilla extract
2 tablespoon of turbinado sugar (or other coarse sugar) (optional)
Method
Step 1
Preheat the oven to 350 degrees F (176 degrees C). Lightly oil a large baking sheet.
Step 2
In a medium bowl, combine flour, baking soda, cinnamon, ginger, salt, and cloves. Mix well. Set aside.
Step 3
In a second medium bowl, whisk together sugar, pumpkin, oil, molasses, flax meal, and vanilla until smooth and uniform.
Step 4
Add dry ingredients to wet and stir until just combined.
Step 5
The dough will probably be a bit sticky. If so, wet your hands with water to prevent sticking and roll heaping tablespoons of dough into balls. Place on a baking sheet, leaving a couple of inches of space between each. Sprinkle with turbinado sugar.
Step 6
Bake for 12-14 minutes or until cookies are set but not hard.
Step 7
Remove from the oven. Allow to cool on the baking sheet for 5 or 6 minutes before transferring to a cooling rack.
Average Member Rating
(4.8 / 5)
6 people rated this recipe
Recipe Comments