As an Amazon Associate I earn from qualifying purchases.
This easy vegan chocolate mousse requires just 3 ingredients and a few minutes to prepare, with several flavor variation options! The results are silky, rich, and creamy – perfect for a mid-week dessert and to impress at dinner parties!
Creamy Dairy-Free Chocolate Mousse Recipe
If you're looking for a dessert that's flavorful enough to satisfy your chocolate cravings yet light enough to be enjoyed in summer or winter, you've found one with this vegan chocolate mousse. Along with chocolate-dipped strawberries, and melting chocolate for dipping fun, this mousse is officially on our summer chocolate treat rotation! Plus, this dairy-free chocolate mousse is light, rich, creamy, and melt-in-the-mouth – with no dairy or eggs involved!
Whereas traditional chocolate mousse relies on egg whites, cream, and dairy chocolate – this recipe relies on a secret ingredient that makes all the difference, silken tofu! While tofu has a slight reputation for being tasteless, silken tofu is wonderfully creamy with a subtle flavor. This means, when combined with the right ingredients, it helps to make for a wonderfully creamy, chocolatey vegan chocolate mousse.
Plus, since it's a tofu dessert, it's also high in protein! Though if you're on a soy-free diet, don't worry – you can also use avocado (like this chocolate avocado pudding) for an equally rich and creamy yet healthy chocolate mousse.
All you need for this vegan chocolate mousse recipe is just 3 simple ingredients, including real chocolate and no refined sugars (so it's sweet but not too sweet)! In fact, this recipe is gluten-free, dairy-free, egg-free, and 100% vegan!
Did I mention that it also takes practically minutes to prepare?! All you need is a food processor/blender and enough patience to wait for it to set, and you'll be enjoying creamy silken tofu chocolate mousse in no time! If anything, I recommend you make it in advance to satisfy your sweet tooth at any moment!
For more vegan chocolate treats, why not try these salted caramel brownies, chocolate 'crazy' cake, or even some Keebler-style chocolate chip cookies!
The Ingredients and Substitutes
All you need for this healthy chocolate mousse is just three simple ingredients, including:
Chocolate: I used a bag of semi-sweet chocolate chips. However, you could use the same weight in dairy-free chocolate bars. Feel free to adjust the type of chocolate used to personal preference (sweet/milk vs. bitter/dark)
Silken tofu: There are two types of silken tofu – soft and firm. I recommend firmsilken tofu for a mousse-like consistency. Soft silken tofu is more like a soft pudding.
Vanilla: Use vanilla extract – natural is best for the best flavor.
Salt (optional): A small pinch of salt can help enhance the chocolate flavor.
Optional Add-ins and Variations:
Sweetener: Depending on how sweet the chocolate you use is, you may want to add a little sweetener to the mousse. I recommend tasting it after blending and adding any sweetener at that point; liquid or powdered (maple, agave, powdered sugar)
Dutch Cocoa: Add 1-2 tbsp Dutch-processed cocoa powder for a richer, more decadent vegan chocolate mousse.
Avocado chocolate mousse: If you want to make healthy chocolate mousse that's dairy-free AND soy-free, you could use the same amount of avocado flesh instead of silken tofu.
Nut butter: For a richer, creamier silken tofu chocolate mousse, add a tablespoon of your favorite nut/seed butter to the mixture.
Instant coffee: Whether you just want to enhance the chocolate flavor of the mousse or make a mocha version, some coffee powder is a great option. To enhance the flavor, I recommend ¼-1/2 tsp. If you want to taste the coffee more, then increase to personal taste.
Natural extracts/flavors: You can easily boost the flavor of this dairy-free chocolate mousse with natural extracts. My favorite combinations with chocolate are mint or orange. You can boost them further with some of the actual ingredient (i.e., mint leaves or orange zest in the chocolate mousse).
How to Make Vegan Chocolate Mousse?
Keep scrolling to the recipe card for the complete list of ingredients and recipe instructions!
First, melt the chocolate in a small, microwavable bowl. Microwave for 45 seconds, and then mix until smooth. Here's a guide to help you melt chocolate.
(If the chocolate hasn't fully melted, heat it up for further 20-second intervals, mixing in-between. You can also do this step using a double-boiler method.)
Transfer the silken tofu, melted chocolate, and vanilla to a blender or food processor and process until smooth and creamy.
Pour the vegan chocolate pudding into a large serving bowl/dish (or individual ramekins/cups). Transfer to the freezer for 30 minutes or until thickened and set.
How to Make Ahead and Store?
Store the vegan chocolate mousse covered in the refrigerator for up to five days. You may also be able to freeze the mousse into 'pudding pops.' However, I don't recommend freezing the mousse to thaw at a later point since the texture of the tofu will likely alter.
How to Serve Vegan Chocolate Mousse?
Enjoy the silken tofu chocolate mousse alone as a quick snack/treat or top with a little dairy-free whipped cream and/or your toppings of choice: berries/fruits, extra shaved chocolate, cacao nibs, crushed biscuits, crushed nuts, etc.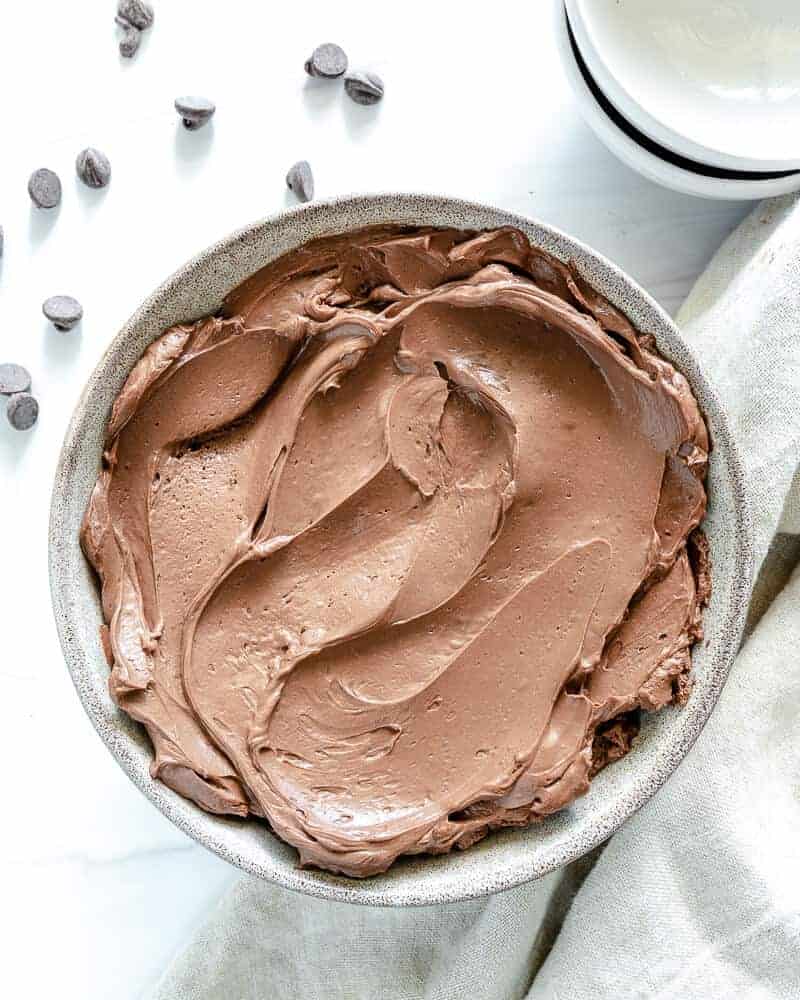 You can also use this dairy-free chocolate mousse to create several other simple desserts, including:
Simple chocolate and strawberry trifle: Layer up the mousse, freshly chopped strawberries, whipped cream (coconut cream works well), and vegan strawberry 'jelly'/jello. Alternatively, you can make individual mousse jello cups with the vegan jello of your choice poured in a layer over the vegan chocolate mousse. I recommend berry or orange-flavored jello.
Mousse 'cheesecake' cups: You can create a cheesecake/tart-like dessert with the addition of a biscuit base. I recommend crushing Oreos for the base, then spooning the mousse over the top.
Chocolate mousse pie/tart: You can also pour the tofu chocolate mousse mixture over a tart crust) and chill until set. Like I have for this 4-ingredient chocolate pie or using a no-bake crust.
Mousse tiramisu: You can create a quick 'cheat' vegan tiramisu by layering fingers with this chocolate mousse and a coffee-flavored mousse.
Top Recipe Tips and FAQs
For a layered chocolate mousse: If you want to serve this vegan chocolate mousse in cups/jars, then making a layered mousse will look (and taste) delicious. Simply split the ingredients in half and use a dairy-free 'milk' chocolate for one layer and 'dark' chocolate for the other. You could even make a third layer using vegan white chocolate. Process each layer separately and spoon into your cups/jars in clean layers.
Use high-quality chocolate: Since chocolate is the prominent flavor in this recipe, make sure to use a brand that you enjoy the taste of.
Can I make vegan chocolate mousse without soy? Yes, you can substitute the silken tofu for avocado instead (use the same weight).
Can I use firm tofu for the tofu chocolate mousse recipe? I wouldn't recommend it. Silken tofu is almost pudding-like and creates the best texture and flavor (as it's milder).
More Vegan Chocolate Recipes You'll Love
Photos by Alfonso Revilla
From the author, Honor: It's simple. I mean it. There are only two ingredients in this super simple chocolate mousse! Feel free to add a flavoring, such as your favorite extract or liqueur. I scooped the mousse into small dishes and served as is, dense and creamy, but you could also whip it for a minute until fluffy. I imagine this mousse would be lovely as a filling in some decadent frozen dessert.
Super Simple Chocolate Mousse
Chocolate fans, you're going to love this really easy-to-make and delicious chocolate mousse! The silken tofu used makes the texture perfectly smooth and delightful to eat. Enjoy!
Ingredients
12

ounces

of vegan semi sweet chocolate chips

14

ounces

of silken (also called "soft") tofu, drained 

1

teaspoon

of vanilla extract
Instructions
In a small, microwave-safe bowl, microwave the chocolate chips for 45 seconds. Mix with a fork until smooth. (If the chocolate is still lumpy, microwave for 20-second intervals, mixing in between, until the chocolate is completely smooth.)

In a blender or food processor, blend the melted chocolate, tofu, and vanilla until creamy.

Pour the tofu-chocolate mixture into a bowl and place in the freezer for 30 minutes or until the filling solidifies.
Notes
This can be stored in the refrigerator for up to 5 days.
Nutrition
Calories:
323
kcal
Carbohydrates:
36
g
Protein:
7
g
Fat:
21
g
Saturated Fat:
12
g
Polyunsaturated Fat:
1
g
Monounsaturated Fat:
1
g
Sodium:
3
mg
Potassium:
120
mg
Fiber:
4
g
Sugar:
28
g
Calcium:
94
mg
Iron:
5
mg
Disclaimer: Although plantbasedonabudget.com attempts to provide accurate nutritional information, kindly note that these are only estimates. Nutritional information may be affected based on the product type, the brand that was purchased, and in other unforeseeable ways. Plantbasedonabudget.com will not be held liable for any loss or damage resulting for your reliance on nutritional information. If you need to follow a specific caloric regimen, please consult your doctor first.
Additional Info