As an Amazon Associate I earn from qualifying purchases.
Give your usual popcorn a sweet and salty twist using this super easy and budget-friendly recipe! You will only need a couple of minutes and 3 ingredients to make the popcorn flavoring. And it will be worth the minimal effort to enjoy these tasty sweetened and salted popped corn kernels! They are the perfect gluten-free snacks to make on your next movie night and game day!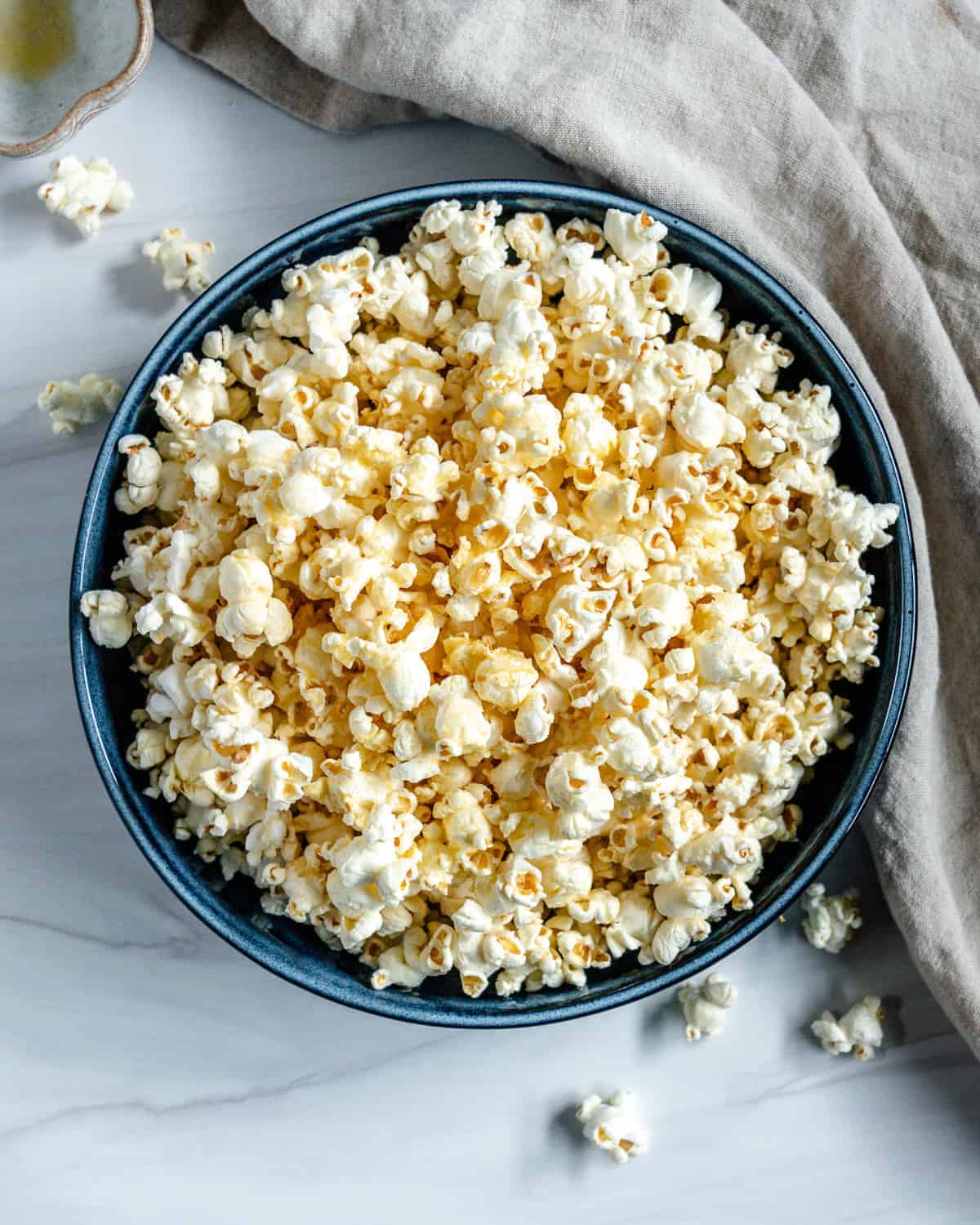 Everyone has their preferred popcorn flavor. Plain, 'cheesy', salted, loaded with vegan butter, vegan chocolate, caramel, and so on. But on days when you are feeling more adventurous and would like to give your corn crunchies a flavor boost, try this Sweet and Salty Popcorn recipe! Or you can also make a popcorn party while you are at it and try my Chai Popcorn recipe too! You will never go back to one-dimensional flavor once you've tried these!
The Best Homemade Sweet and Salty Popcorn
Ditch those flavor packets that come with your box of popcorn! And next time you are buying them, save yourself some bucks and go for plain popcorn, then make this pantry-friendly flavoring instead. This homemade recipe will allow you to enjoy popcorn that is better than any that you've ever bought. It has a syrupy sweetness from the agave-vegan butter mixture, but is mixed with salt to give it that amazing salted caramel flavor. Every crunchy bite will leave you wanting more.
Ingredients Needed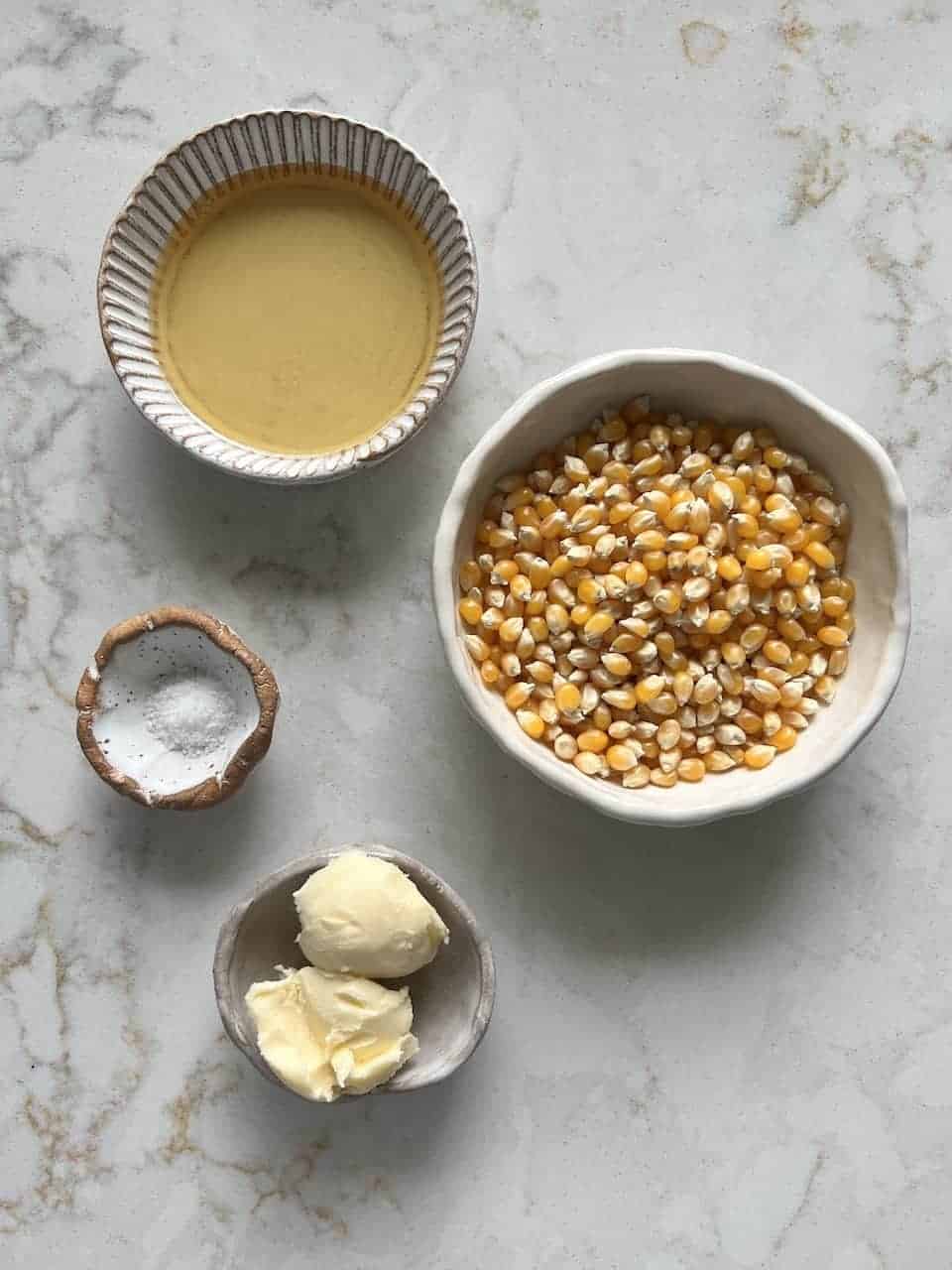 Popcorn kernels – Make sure you are using plain, unflavored popcorn kernels. If it comes with a flavor packet, see if you can use it another way.
 Vegan butter – If you can't find unsalted vegan butter, salted will suffice. Simply reduce or omit the salt in the ingredients if you don't want your snack to be very salty.
 Agave syrup – gives the popcorn that sticky sweetness! You can also use maple syrup or date syrup as alternatives.
 Salt – Balances the sweetness and gives the popcorn just the right amount of saltiness.
How to make the Sweet and Salty Popcorn
1)  Pop the corn kernels.  You may use an air popper or a microwave.  Follow machine instructions if using an air popper.  If using a microwave, pop ¼ cup of kernels in a paper bag over high heat with the ends closed. Cook the remaining kernels in the same manner.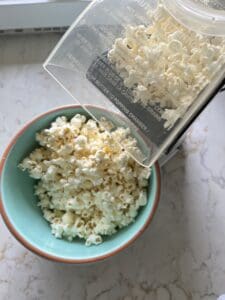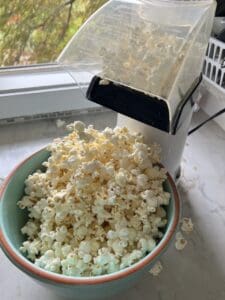 2)  Make the flavoring mixture.  First, place vegan butter in a saucepan over medium heat.  Once melted, remove from heat and add agave syrup and salt.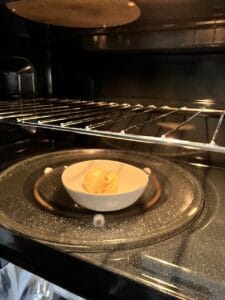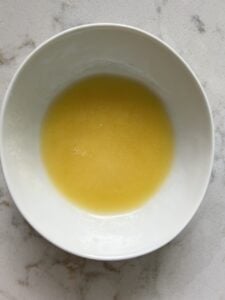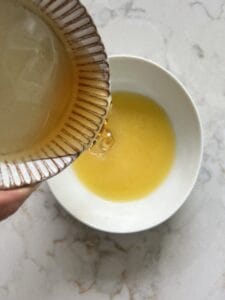 3)  Coat your popcorn.  Get your large mixing bowl and combine all of the ingredients. Make sure the popcorn is properly coated with the mixture.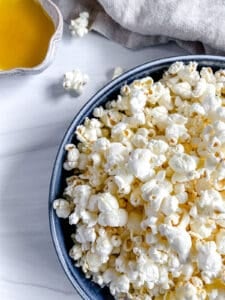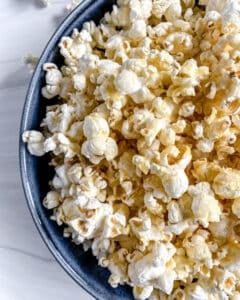 4)  Serve while still warm and enjoy!
Tips and Tricks
If you are cooking a popcorn bag in the microwave, make a small opening first to let the hot steam escape before totally opening it to be safe from burns.
Know your microwave.  It's important to be familiar with your microwave's settings, as they may differ from those given in the recipe. To know when the popcorns are done, I recommend listening to the pop. They should gradually die down.
Place a cup of water in your microwave before popping in the bag for a fluffier popcorn result. Try it!
If your sweetener is too thick, add more melted vegan butter to thin it out.
Taste your flavoring mixture with a piece of popcorn before tossing all of them together. Sometimes we think that it may be too sweet or salty, but remember that the type of popcorn chosen will affect the intensity of flavors.
Add-ins and Variations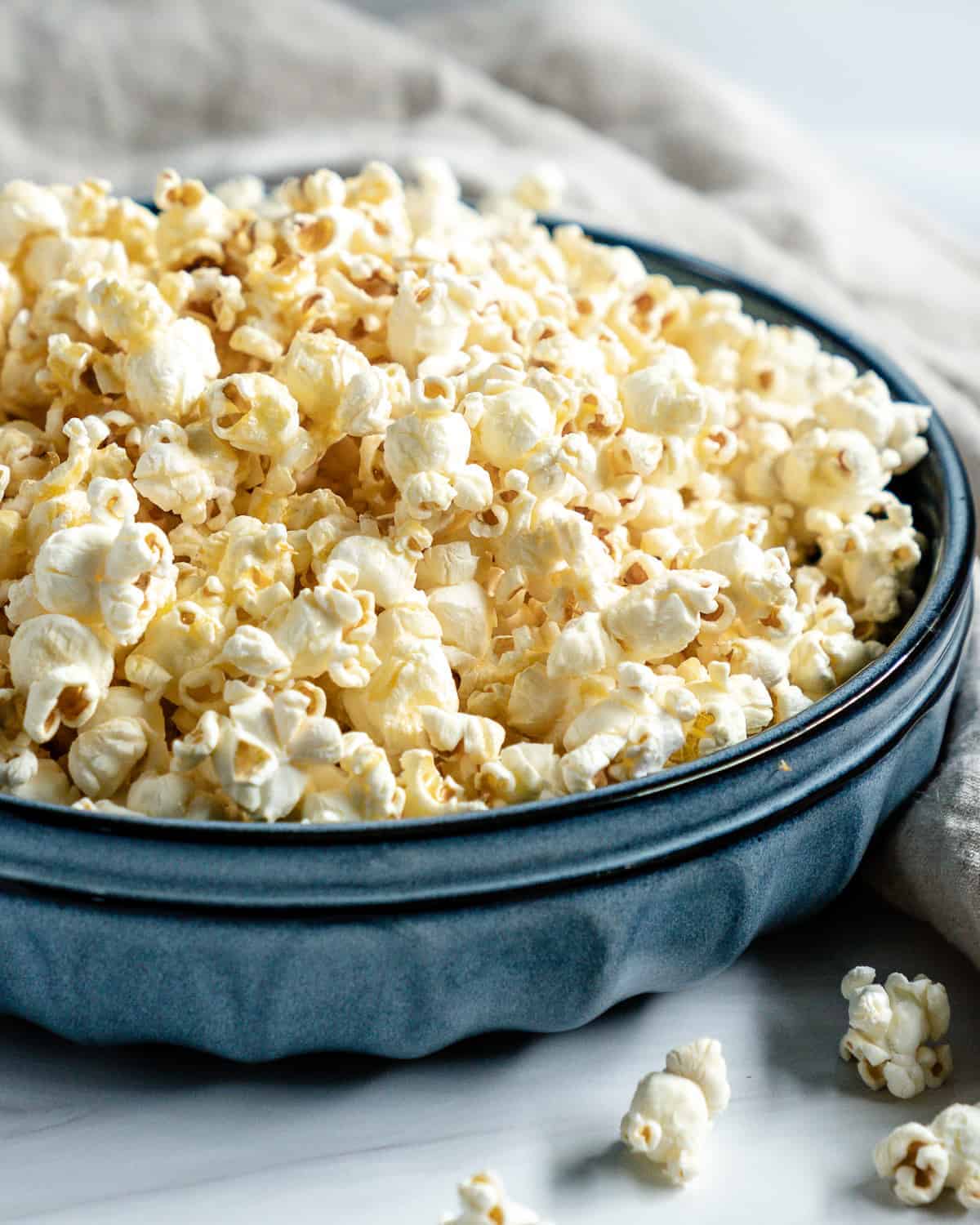 Feel free to be creative and experiment with your favorite additions or substitutions.
Vegan Dark Chocolate syrup – instead of agave, try swapping it with this to make a (vegan) chocolatey popcorn!
Nuts – mix in chopped roasted peanuts, pecans, almonds, or cashews for more flavor and texture.
If you are not yet satisfied with just sweet and salty, sprinkle a pinch of cayenne powder to give the popcorn a nice kick!
Storing Notes
This homemade popcorn is best served off the popper or microwave while still warm and crunchy! It is better to make enough flavoring mixture in one sitting, as it is easy to make anyways. In case you have leftovers, you can store them in an airtight jar or sealable plastic/stasher bag for up to 3-5 days.
 Frequently Asked Questions for Sweet and Salty Popcorn
Why does the popcorn get soggy and not crunchy? Because we are cooking the kernels at a high temperature, moisture is created inside the kernels, which eventually transforms into steam. If the bag or popper isn't sufficiently ventilated, the moisture will build up inside, making the popcorn soggy.
Can you re-pop un-popped kernels? Have a bowl full of un-popped kernels? Don't throw them out. Re-microwave them by tossing them in a paper bag. Cook them for a shorter period of time.
Can you make popcorn on a stovetop?  Yes, you certainly can. Use a large pot with a lid and a small amount of oil and kernels to cook over high heat. This will absolutely work.
How can I make leftover popcorns crunchy again? The best way to do it is by warming them in the oven so the moisture dries out. Spread them evenly in a single layer on a baking sheet and heat at 250°F for 3-5 minutes or until you are satisfied with the crunchiness.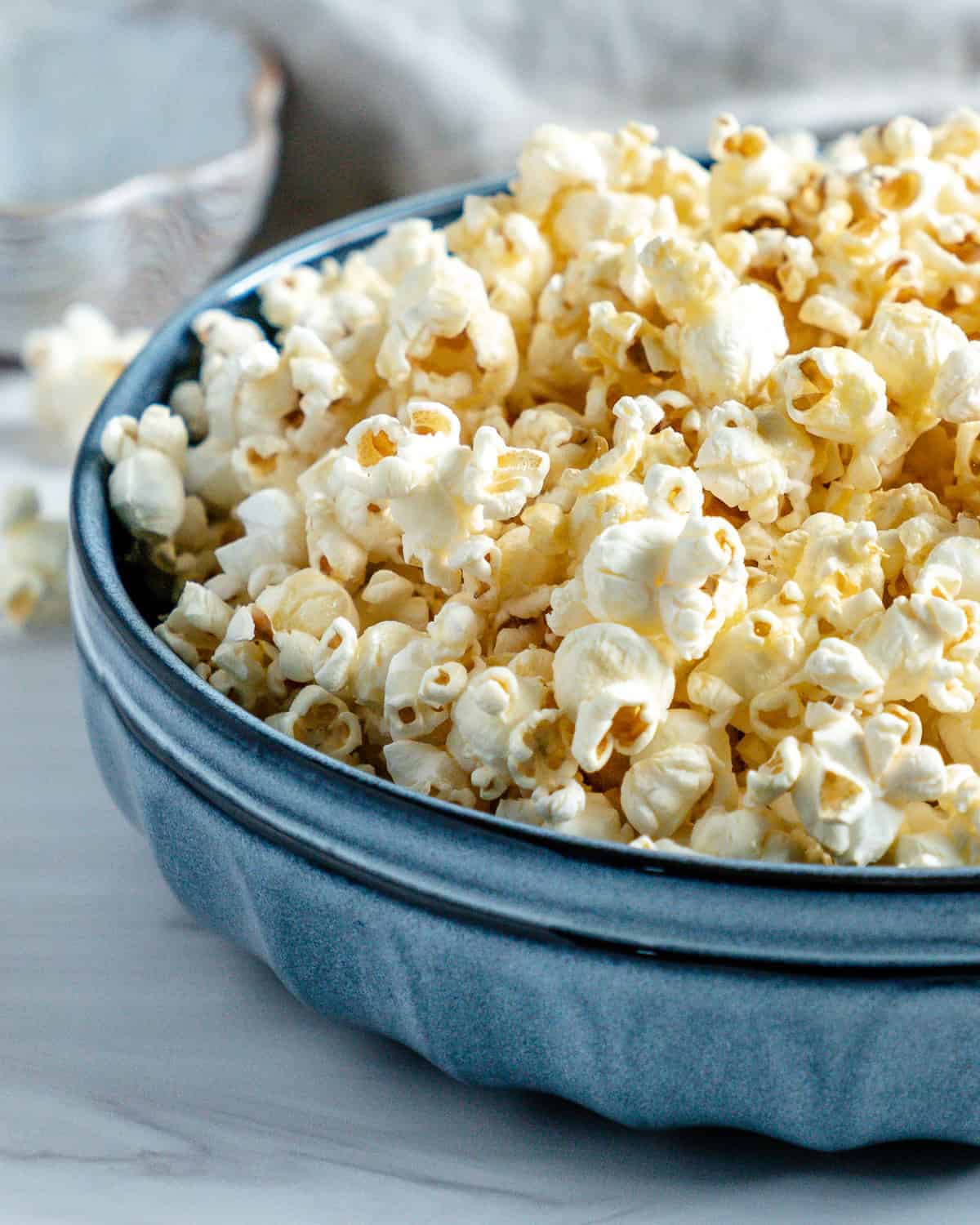 Love snacking? Try these other vegan snack recipes!
Candied Rosemary Walnuts – Are you stumped as to what to serve on your charcuterie board, grazing board for snacks, or dessert board? These rosemary spiced nuts are a great addition to any holiday celebration or casual get-together at home.
Vegan Cheesy Zucchini Chips – Are lighter and healthier snack options for your family! Every crunchy chip is made of naturally gluten-free and low-carb ingredients without the need for preservatives or additives. It's a great way to incorporate healthy veggies into your kids' diet without them even noticing!
Crispy Baked Kale Chips – Can't get enough of healthy snacks? For the victory, kale chips are a great option! The most nutrient-dense vegetable transformed into healthy chips ensures a delectable and nutritious snack alternative for lunch, picnics, or simply to fulfill those salty cravings.
Photos by Alfonso Revilla
Sweet and Salty Popcorn
Give your usual popcorn a sweet and salty twist using this super easy and budget-friendly recipe! You will only need a couple of minutes and 3 ingredients to make the popcorn flavoring.
Ingredients
½

cup

of popcorn kernels

2

Tablespoons

of vegan butter

2

Tablespoons

of agave syrup

¼

teaspoon

of salt
Instructions
Pop kernels using an air popper or microwave.

While popcorn is popping, melt vegan butter in a small saucepan over medium heat. Once melted, remove from heat and stir in agave syrup and salt.

Toss popped corn with the agave-butter mixture to coat.

Enjoy immediately.
Notes
Note: If using an air popper, follow the instructions that came with the machine. If using a microwave, scoop ¼ cup. of popcorn kernels into a paper bag, roll top to close, and microwave on high until popping stops. Repeat with remaining ¼ cup.
Nutrition
Calories:
300
kcal
Carbohydrates:
46
g
Protein:
4
g
Fat:
11
g
Saturated Fat:
3
g
Polyunsaturated Fat:
4
g
Monounsaturated Fat:
4
g
Trans Fat:
1
g
Sodium:
385
mg
Potassium:
117
mg
Fiber:
5
g
Sugar:
15
g
Vitamin A:
535
IU
Calcium:
2
mg
Iron:
1
mg
Disclaimer: Although plantbasedonabudget.com attempts to provide accurate nutritional information, kindly note that these are only estimates. Nutritional information may be affected based on the product type, the brand that was purchased, and in other unforeseeable ways. Plantbasedonabudget.com will not be held liable for any loss or damage resulting for your reliance on nutritional information. If you need to follow a specific caloric regimen, please consult your doctor first.
Additional Info