As an Amazon Associate I earn from qualifying purchases.
How to make chai popcorn – a quick and simple vegan snack combining homemade chai spice with just enough sugar and freshly popped popcorn for a sweet and warming snack perfect for your next movie night! (or any time of the day!)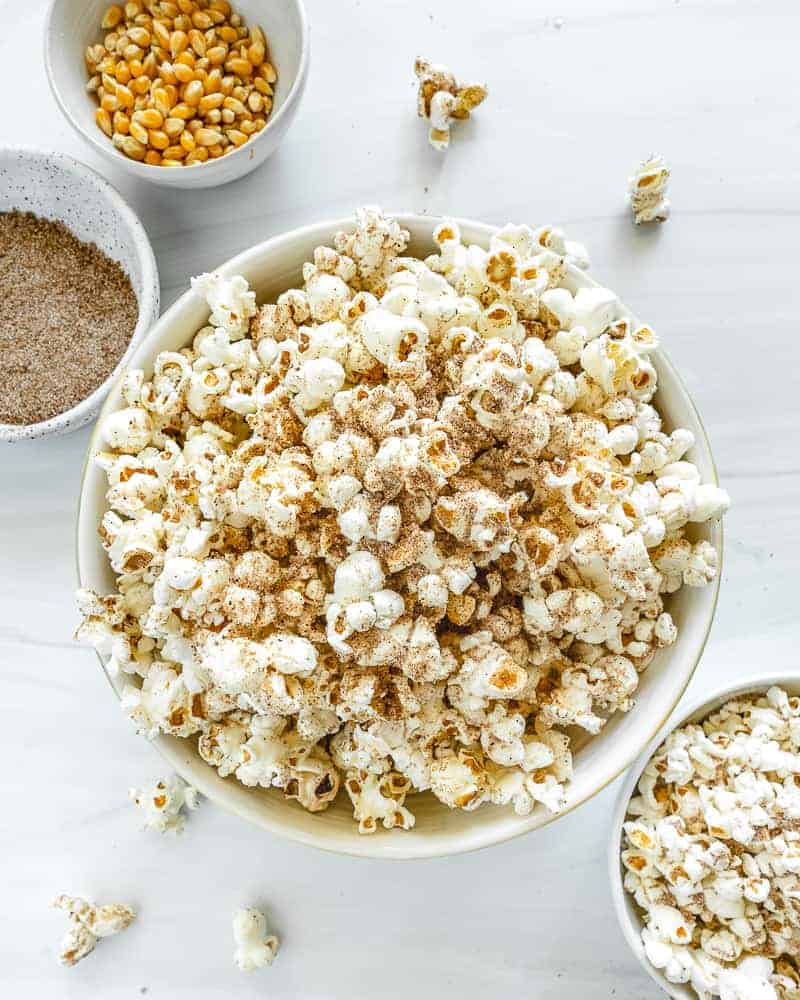 Sweet and Warming Chai Spice Popcorn
Popcorn is budget-friendly, easy to prepare, and can even be healthy when made at home. Even better, with the addition of homemade chai spice, this vegan chai popcorn is packed with warming spices and just enough sweetness for a healthy but more-ish snack!
When it comes to popcorn toppings, the options are practically endless. Of course, you have your usual salted, sweet and salty, and caramel – of course – but that's just the tip of the iceberg. We've already shared agave butter popcorn, but this time we're making things warm and cozy with this simple vegan chai spice blend. These spices on popcorn are sure to become a new favorite for any lover of chai lattes, gingerbread, pumpkin spice, and other warming spice blends!
The results are a perfect fall-based snack with enough warming spices to keep you satisfied, whether fireside or in the comfort of your home, snuggled under a blanket and binging on the latest TV show. So enjoy this simple vegan popcorn as a healthy snack any time of the day – and even for lunchboxes! And, if you love chai spices as much as us, you might also enjoy this persimmon pumpkin chai smoothie or homemade chai concentrate.
Best of all, this popcorn can be made on the stovetop or in the microwave with minimal fuss and clean-up required. You can even meal-prep it in advance! Plus, you can even whip up a large batch of the chai spice and use leftovers to make delicious treats like chai hot chocolate, oatmeal, overnight oats, a chai latte, added to apple pie/apple crisp, in quick bread/cake, cookies (like these coconut oatmeal cookies), pancakes, waffles, and more! You can even gift it as a fun (and low-budget) gift!
Let us know in the comments if you'd like us to share more simple, vegan-flavored popcorn recipes and popcorn toppings!
The Ingredients and Substitutes
Popcorn kernels: You can use popcorn kernels to pop yourself OR buy some plain popcorn (the former is more cost-effective)
Oil: We used coconut oil for its' fairly neutral but aromatic flavor. You could use an alternative neutral oil if preferred. You may also need oil for popping the kernels; this can also be coconut oil or olive oil/vegetable oil.
Sugar: You can use regular white granulated sugar or swap that out with coconut sugar or light brown sugar, though the flavor will obviously differ – the latter are more caramel-like.
Spices: The chai spice combines cinnamon, cardamom, nutmeg, cloves, and salt.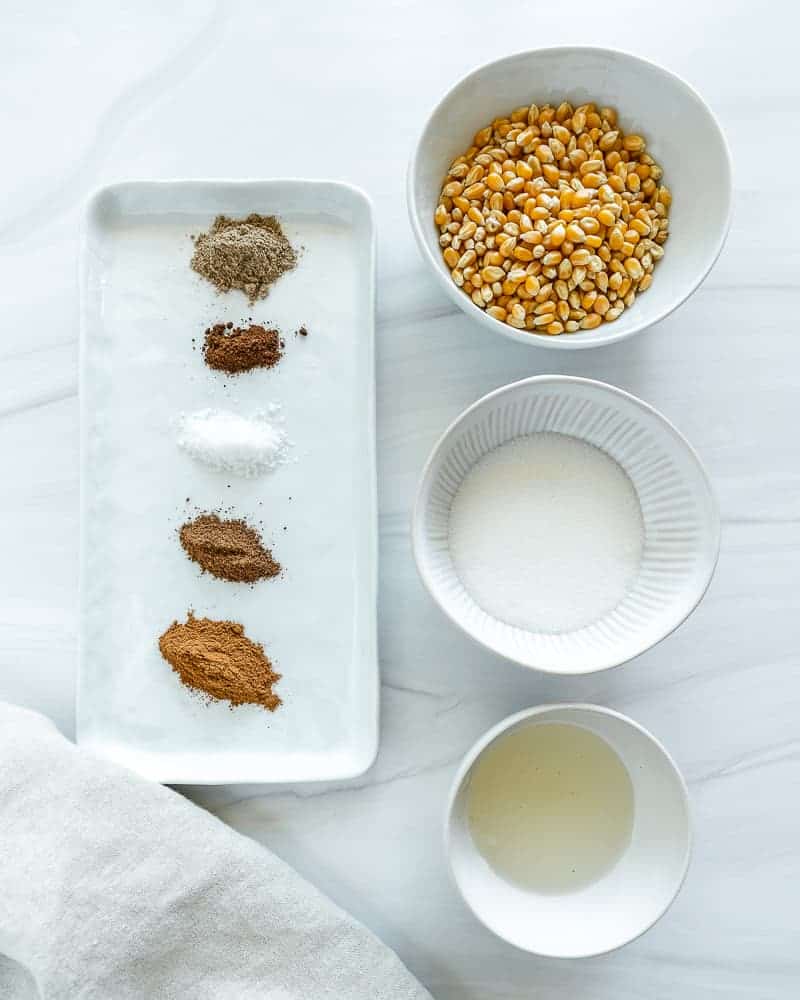 The Flavored Popcorn Recipe Add-ins and Variations:
Black pepper: If you want a 'spicier' chai spice blend, you can add freshly ground black pepper (to taste).
Chocolate: There are a couple of ways to add chocolate to this vegan popcorn snack. The first is to include cocoa powder into the spice blend. The second is by drizzling melted vegan chocolate over the spiced popcorn. Dark or white chocolate work well with the chai spice blend.
Ginger: add a pinch of ginger powder to the chai spice blend if preferred.
Vanilla: You can add a few drops of vanilla extract (natural for the best flavor) to the coconut oil before tossing it with the popcorn. Alternatively, add some vanilla powder to the chai blend.
Nuts: Toasted chopped pecans or walnuts add extra crunch and healthy fats. Candied nuts would also work very well as a popcorn topping if you have any.
How to Make Chai Popcorn
Keep scrolling to the recipe card for the complete list of ingredients and recipe instructions.
First, use your preferred method to pop the popcorn kernels.
Stovetop popcorn: Heat a large, heavy-bottomed saucepan over medium with 1-2 kernels inside and a lid on (optionally add 1 tbsp oil). When they pop, add the remaining kernels in a single layer on the bottom of the pan and remove it from the heat for 40 seconds. Then, return the pan to the hob over medium-low heat and wait for the kernels to start popping, shaking gently to avoid burning. When the popping slows to once every few seconds, remove the pan from the heat. As the popcorn pops, keep the lid slightly ajar to stop steam building up and making soggier popcorn.
Microwave popcorn: Combine the popcorn with one teaspoon of oil (optional), then place it in a brown paper bag (or a heatproof bowl covered with a plate). Fold over the top of the bag 2-3 times to seal the contents. Then place in the microwave, upright, and microwave at full power for between 2-4 minutes, or until the popping slows to every few seconds.
There will be some unpopped kernels. However, if you cook them for longer, you'll end up burning some – so it's better to end up with a few unpopped. You could also use a popcorn maker if you have one.
Then, transfer the popped popcorn to a large bowl and drizzle with the melted coconut oil, tossing gently to coat.
Meanwhile, in a small bowl, combine the sugar and all the chai spices and mix.
Sprinkle the chai spices on the popcorn, tossing to distribute – then enjoy your chai popcorn!
How to Make-Ahead and Store?
You can prepare a large batch of chai spice and store it in an airtight container for several months.
When it comes to storing popped popcorn, there are several ways to do so. You can keep this flavored popcorn recipe in an airtight container at room temperature for 2-3 days, in the refrigerator for around 2 weeks, or even in the freezer for 2-3 months. Ensure that you remove as much air from the container as possible and that it's airtight to keep out moisture.
Top Recipe Tips and FAQs
To lower calories: You could use some oil spray over this vegan popcorn instead of regular oil to lightly and evenly distribute oil, so less is needed.
To save on washing: You could serve the popcorn directly from the pan/paper bag. Add the oil and chai spice directly to it, add the lid/seal the bag, and then shake to distribute.
Adjust (or omit) the sugar: You can adjust the amount of sugar to taste based on how much of a sweet tooth you have. For a sugar-free version, you can use a powdered sweetener like stevia or monk fruit sugar.
Adjust the chai spice: We love our chai popcorn super flavorful. However, if you want more of a subtle flavor, then add less of the spices. We recommend adding only half, to begin with, and increasing to taste.
Use teabags: If you don't have all the spices, you could also use chai spice tea bags (2-3 bags)! If they aren't finely ground, first grind the contents with a mortar and pestle or small food processor. Then combine with the sugar for 'cheat' chai popcorn.
The best pan to use: We recommend a large, heavy-bottomed pan with a glass lid (to see the popcorn kernels within) when making stovetop popcorn.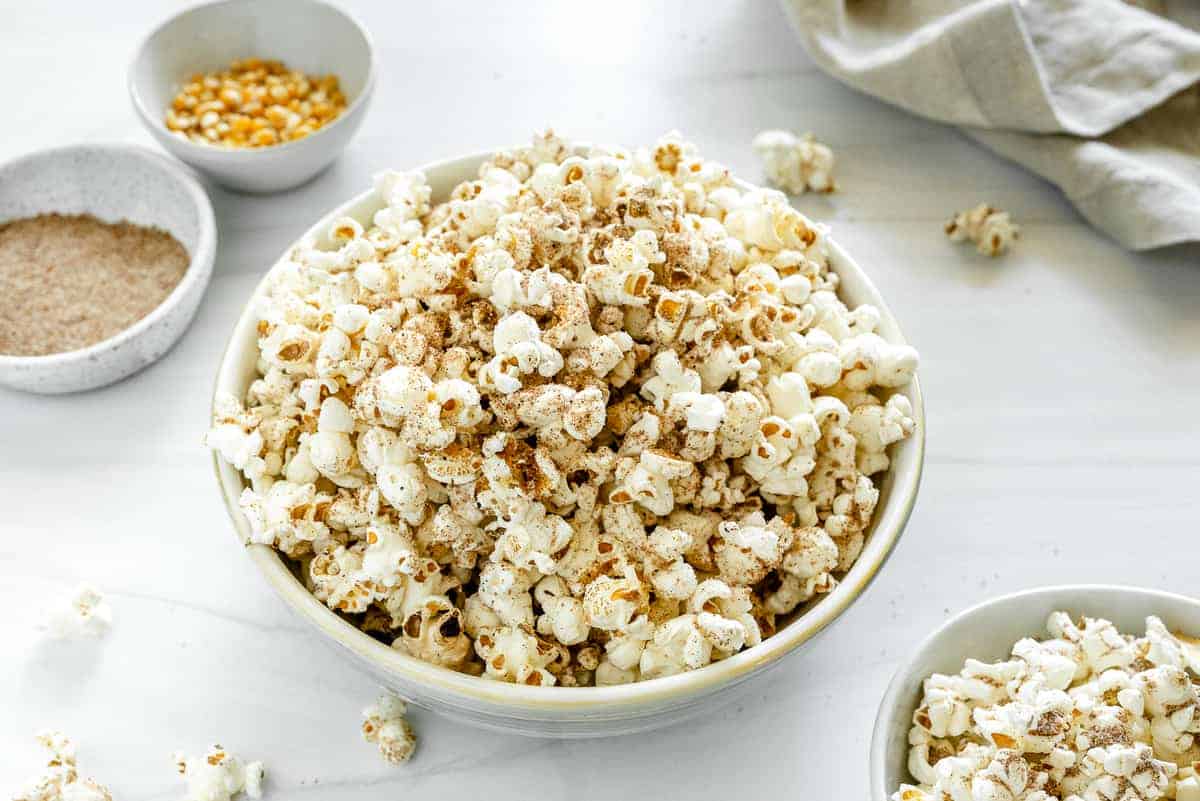 More Simple Vegan Snack Recipes
Butternut squash chips
Coconut bites
Alternatively, you can browse through our complete collection of snack recipes for more inspiration!
Photos by Alfonso Revilla
Chai Popcorn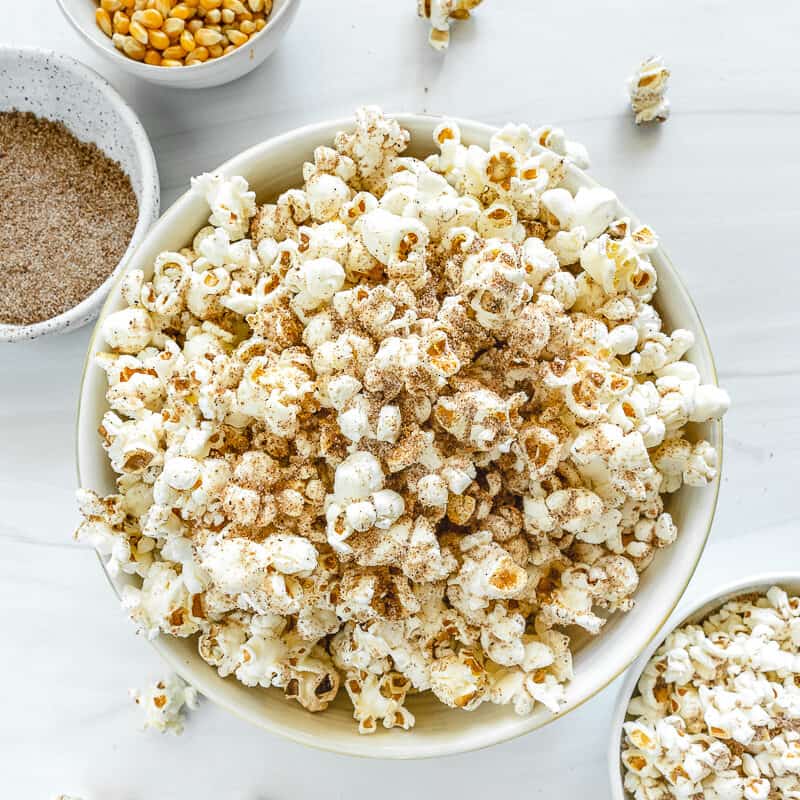 This Chai Popcorn is delicious and is the ultimate snack! Get ready to indulge in this super flavorful and spiced popcorn!
Ingredients
½

cup

of popcorn kernels

2

Tablespoons

of coconut oil, melted

3

Tablespoons

of granulated sugar

1

teaspoon

of ground cinnamon

1

teaspoon

of ground cardamom

1/2

teaspoon

of ground nutmeg

1/2

teaspoon

of sea salt

1/4

teaspoon

of ground cloves
Instructions
Air-pop the popcorn by your preferred method. Place in a large bowl.

Drizzle melted coconut oil over the top and mix to coat.

In a small bowl, combine sugar, cinnamon, cardamom, nutmeg, salt and cloves. Sprinkle over the top of the popcorn and mix well.
Notes
These spices on popcorn are sure to become a new favorite for any lover of chai lattes, gingerbread, pumpkin spice, and other warming spice blends!
Nutrition
Calories:
176
kcal
Carbohydrates:
25
g
Protein:
2
g
Fat:
8
g
Saturated Fat:
6
g
Polyunsaturated Fat:
1
g
Monounsaturated Fat:
1
g
Sodium:
293
mg
Potassium:
66
mg
Fiber:
3
g
Sugar:
9
g
Vitamin A:
2
IU
Vitamin C:
1
mg
Calcium:
9
mg
Iron:
1
mg
Disclaimer: Although plantbasedonabudget.com attempts to provide accurate nutritional information, kindly note that these are only estimates. Nutritional information may be affected based on the product type, the brand that was purchased, and in other unforeseeable ways. Plantbasedonabudget.com will not be held liable for any loss or damage resulting for your reliance on nutritional information. If you need to follow a specific caloric regimen, please consult your doctor first.
Additional Info