As an Amazon Associate I earn from qualifying purchases.
If you're looking for fun ideas to celebrate Valentine's Day at home, then this gorgeous charcuterie board should be at the top of your list. You can prepare it in no time and it is sure to satisfy the sweetest tooth out there. Time to get cozy and romantic with your significant other or just celebrate love with your loved ones. Let's get boarding!
The Dessert Love Board
One of the most important things when it comes to making a charcuterie board is the board where it will be placed. It is always good to have that one pretty wooden board to use on special occasions, you'd be surprised at the variety of charcuterie-friendly boards out there. You'll be happy you invested in one when that special time of the year comes around.
When we think of charcuterie boards, we associate them with cheese and cold cut meats (make sure to check out our "How to Make a Vegan Charcuterie Board" guide!), but we wanted to focus on a dessert type of charcuterie board. One of the things we love the most about this idea is all the fun you get to have while choosing the ingredients and arranging them. Time to get creative with layouts and arrangements! If you are a planner, you can even draw how you want it to look and work accordingly.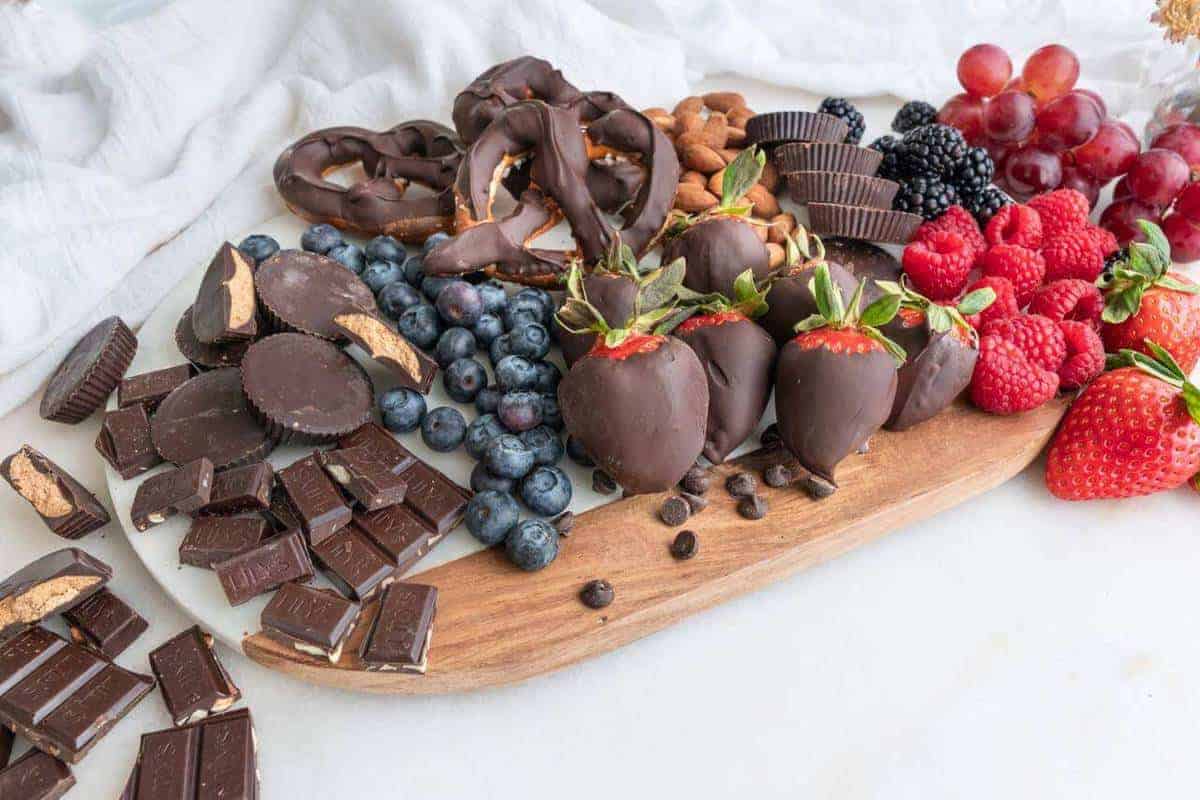 Swap Away
We already mentioned how you can let your imagination run free and get as creative as you can with your charcuterie board, now it is time to explore what ingredients to use. For this one, we focused on chocolate-based items(helped by our friends at Lily's Sweet's), like peanut butter chocolate cups, chocolate-covered strawberries (check out our recipe here!), chocolate covered pretzels, and a variety of reddish fruits like raspberries, blackberries, and grapes.
You can use any finger-friendly sweet concoction you have or adore. Please let us know if you make this gorgeous love-inspired board, we'd love to hear from you!
Recommended Equipment:
My favorite knives
Medium Saucepan
Small Whisk
Small Bowls
Double Boiler
Spatula
Photos by Alfonso Revilla