As an Amazon Associate I earn from qualifying purchases.
Vegan Focaccia Bread is soft and pillowy on the inside and has a crisp, crunchy outer crust that you'll adore. It is made flavorful with fresh herbs and studded with black and green olives from our friends at California Ripe Olives who are sponsoring this recipe. This bread is so versatile – great for dipping into soups and stews, making awesome sandwiches, or simply eating warm straight from the oven.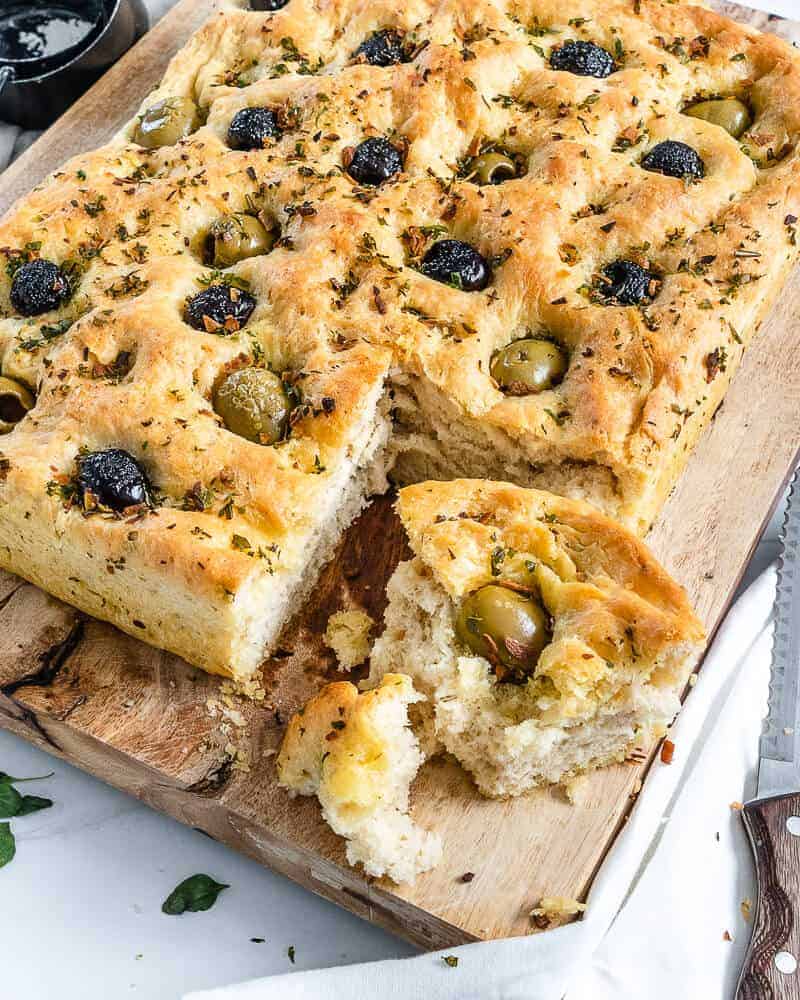 Freshly baked homemade bread that is really simple to put together! It's egg-free, dairy-free, and 100% easy and delicious! Now that is enough to bring joy to every home baker. And let me tell you – nothing compares to this aromatic and flavorful freshly baked best Focaccia ever! And when you catch a glimpse of that golden-crusted bread embellished with olives and herbs, your mouths will surely water!
What is Focaccia?
Focaccia is an Italian flatbread that originated in Italy. The word focaccia comes from the Latin panis focacius, which simply translates to bread-hearth or bread baked on a hearth. This popular Italian bread is likened to making pizza. The difference is that it is left to rest and rise after kneading while pizza dough is baked immediately. They are both made with various toppings depending on the region of origin.
Ingredients to make Vegan Focaccia Bread
This vegan focaccia bread recipe is really easy to make and requires no special equipment. The following are the ingredients you'll need:
Olive oil – High-quality virgin olive oil works best.

Fresh Herbs – This recipe will give you the freedom to use different herbs, anything you have available. Rosemary, Thyme, Sage are just a few to choose from.
Garlic – This tasty crusty bread is made with a blend of garlic and herbs. We are using minced fresh garlic for this recipe. While I usually recommend jarred garlic to cut down time, I stick to fresh garlic when making this recipe.
Lukewarm Water – this is to activate the yeast. Cold water will not get the yeast going, while hot water, on the other hand, will kill it. If you have a food thermometer, I usually have it at around 110 degrees F.
Yeast – We used a rapid rise yeast to lessen the preparation and rising time. However, feel free to use other types of yeasts.
Sugar – This recipe contains 1 1/2 teaspoons of granulated sugar just to provide food for the yeast.
All-purpose flour – I find all-purpose to be the best flour for making focaccia bread. Although bread flour can also be used, the bread will be a bit more on the chewy side. I haven't tried it with gluten-free flour, so I can't yet speak to how the conversion would go.
Salt – Essential in enhancing the flavor of the bread.
Olives – I used both California Ripe green and black olives to make mine. They add a briny flavor and great texture to the bread.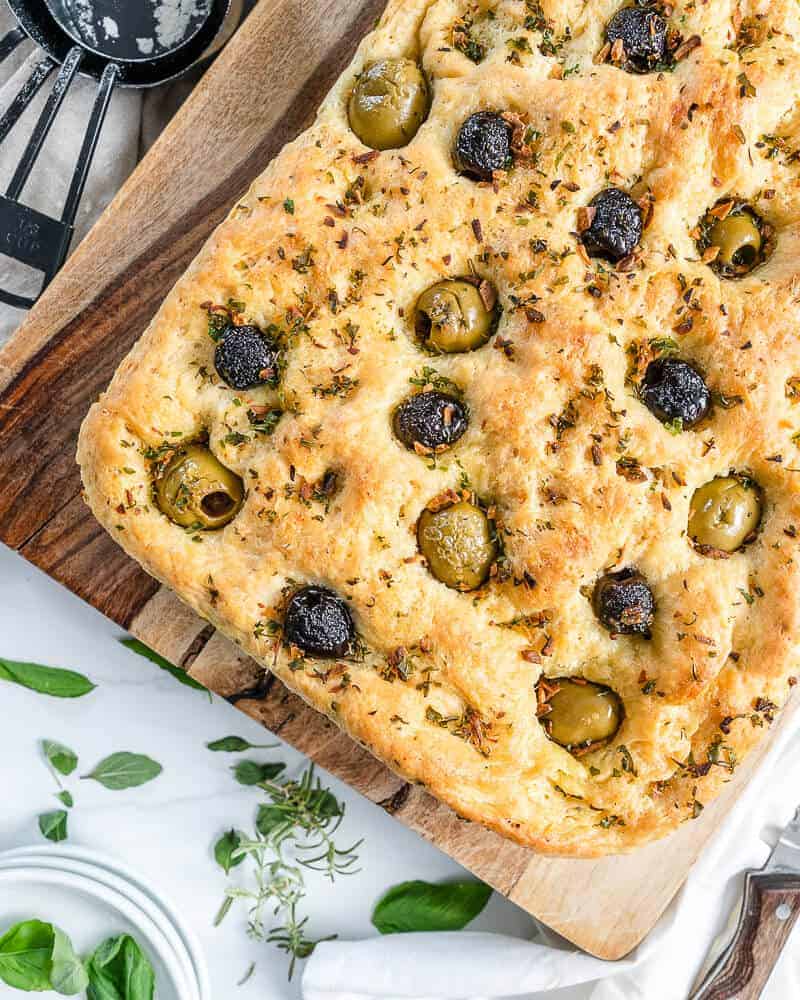 How to make Focaccia Bread
Preparations:
Garlic and Herb Oil

. To create our garlic and herb oil mixture, heat the oil in a pan on medium heat then add fresh herbs and garlic. Reduce the heat to low if the garlic begins to brown too quickly. Lastly, remove from the fire when the herbs and garlic are aromatic and lightly cooked.

Activate the Yeast. Lightly whisk together the warm water, rapid rise yeast, and sugar in a small mixing bowl and set aside for 5 to 10 minutes, or until bubbles appear on the surface.
Making the bread:
Make the dough. Whisk together the flour, oil and herb mixture, and yeast mixture in a large bowl. Let it sit for 3 minutes.
Time to knead! Mix in the remaining flour and salt with your hands completely. Make a smooth dough by breaking up all of the flour particles. Knead the dough for another 5 minutes. Allow for a 45-minute rise by covering with a plastic bag or a warm damp cloth.
Prepare your baking pan. On a 9×13 inch baking pan and pour 1/3 of the remaining oil and herb mixture and spread it around using a basting brush or a paper towel. Preheat oven to 410 degrees F.
Assemble. Transfer the dough to the baking pan and spread it out once it has reached the appropriate size. Make sure that it is evenly spread on all corners. Poke and create dimples with your fingers all over the dough. Brush the remaining oil and herb mixture on top of the dough and lightly press the olives into it. This is how it looked like pre-baking.
Time to bake. Place it in the preheated oven and bake for 25 minutes until it is lightly browned. An additional 5-10 minutes for a crispier texture. Alternatively, you can also use your slow cooker to make this instead of baking. Just follow my Focaccia Slow Cooker Style recipe.
Stand Mixer vs. Kneading by Hand
In terms of the result, there isn't much of a difference if you use either. Using a stand mixer with a dough hook or by hand on a floured countertop both yields pleasant and soft dough. Using a stand mixer though will take less time and effort on your end. However, kneading by hand usually takes just about a minimum of 5 minutes, so if you find kneading a therapeutic process, don't worry about over-working those muscles.
Topping Ideas when making V
egan Focaccia Bread
Now, this is the fun part! You get a free hand with your toppings. You can create a beautiful bread art from vegetables like red onions, chives, bell peppers, black olives, cherry tomatoes, capers, and a lot more. For the herbs, you may use parsley, dill, basil, oregano, and whatever you have or like! You can also make focaccia dolce or 'sweet focaccia' by topping the bread with raisins, dried berries, maple syrup, and powdered or granulated sugar. These will pair great with tea or coffee.
Storing Tips
Focaccia is best eaten still warm after resting for a few minutes once fully baked. If you have a lot of leftovers, you may keep them for a couple of days in a plastic food bag or an airtight container at room temperature. When you're ready to eat it, reheat it in the oven at 360 degrees Fahrenheit, 180 degrees Celsius, until it's warm, soft, and crisp.
To freeze, let it cool fully first before wrapping the bread with aluminum foil or a freezer bag. It can stay frozen for a month. To thaw it, use the defrost feature in the microwave, or take it out of the freezer for 2 hours and then warm it thoroughly in the oven at 360°F, 180°C for 10 minutes.
Other Vegan Bread Recipes
Photos by Alfonso Revilla
Vegan Focaccia Bread
Vegan Focaccia Bread features a soft, pillowy texture on the inside and a crisp, crunchy crust on the outside that you'll adore.
Equipment
saute pan

standard bowl

9×13 baking pan
Ingredients
1

cup of olive oil

2

tablespoons of minced fresh herbs

4

cloves of garlic minced

2

cups of lukewarm water 

2 ¼

teaspoons

rapid rise yeast

(1 packet)

1 ½

teaspoon of sugar

5

cups of all-purpose flour, divided

¾

teaspoon of salt, plus more for garnish

⅓

cup of black or green olives
Instructions
In a saute pan over medium heat, heat the oil. Stir in the fresh herbs and garlic and heat for about a minute. If it looks like the garlic is browning too quickly, lower the heat. Lastly, remove from heat when it is fragrant and the herbs and garlic are lightly cooked.

In a standard bowl, whisk together the warm water, rapid rise yeast, and sugar, and allow it to sit for 5 to 10 minutes until bubbles are formed on the top.

In a large bowl, whisk together 2 cups of flour with ⅓ cup of the oil and herb mixture and the yeast mixture. Then, let it sit for 3 minutes.

Pour in the remaining flour and salt and mix thoroughly using your hands. Break up all the flour particles until you create a smooth dough. Continue to knead it for about 5 minutes. Cover with a plastic bag or warm damp towel and let it rise for about 45 minutes.

Meanwhile, prepare a 9×13-inch pan by pouring ⅓ of the remaining oil and herb mixture into the baking pan and spreading it around with a basting brush or a paper towel.

Preheat oven to 410 degrees F. After the dough has risen, transfer it to the prepared baking sheet and spread it out to fill each corner. Then, use your fingers to poke dimples throughout the dough, spread the remaining herb and oil mixture on top, and lightly press olives into the dough. 

Place into the preheated oven and bake for 25 minutes, until it is lightly browned. If you want a crispier loaf, you can bake for another 5 to 10 minutes until you reach your preferred texture. 
Notes
Water should be warm to the touch for the yeast to be activated. If you have a food thermometer, it should read ~110  to 115 degrees F. 
Make sure you check the expiration date on your rapid rise/ instant yeast. It won't work properly if it's expired.
While I usually recommend jarred garlic to cut down time, I stick to fresh garlic when making this recipe.
Nutrition
Calories:
478
kcal
Carbohydrates:
54
g
Protein:
7
g
Fat:
25
g
Saturated Fat:
4
g
Polyunsaturated Fat:
3
g
Monounsaturated Fat:
18
g
Sodium:
274
mg
Potassium:
89
mg
Fiber:
2
g
Sugar:
1
g
Vitamin A:
95
IU
Vitamin C:
2
mg
Calcium:
17
mg
Iron:
3
mg
Disclaimer: Although plantbasedonabudget.com attempts to provide accurate nutritional information, kindly note that these are only estimates. Nutritional information may be affected based on the product type, the brand that was purchased, and in other unforeseeable ways. Plantbasedonabudget.com will not be held liable for any loss or damage resulting for your reliance on nutritional information. If you need to follow a specific caloric regimen, please consult your doctor first.
Additional Info