As an Amazon Associate I earn from qualifying purchases.
Make light and fluffy vegan lemon buttercream frosting with just 3 base ingredients (regular or keto) and either a stand mixer or handheld mixer. This dairy-free lemon frosting is perfect for spreading and piping work, with an adjustable consistency!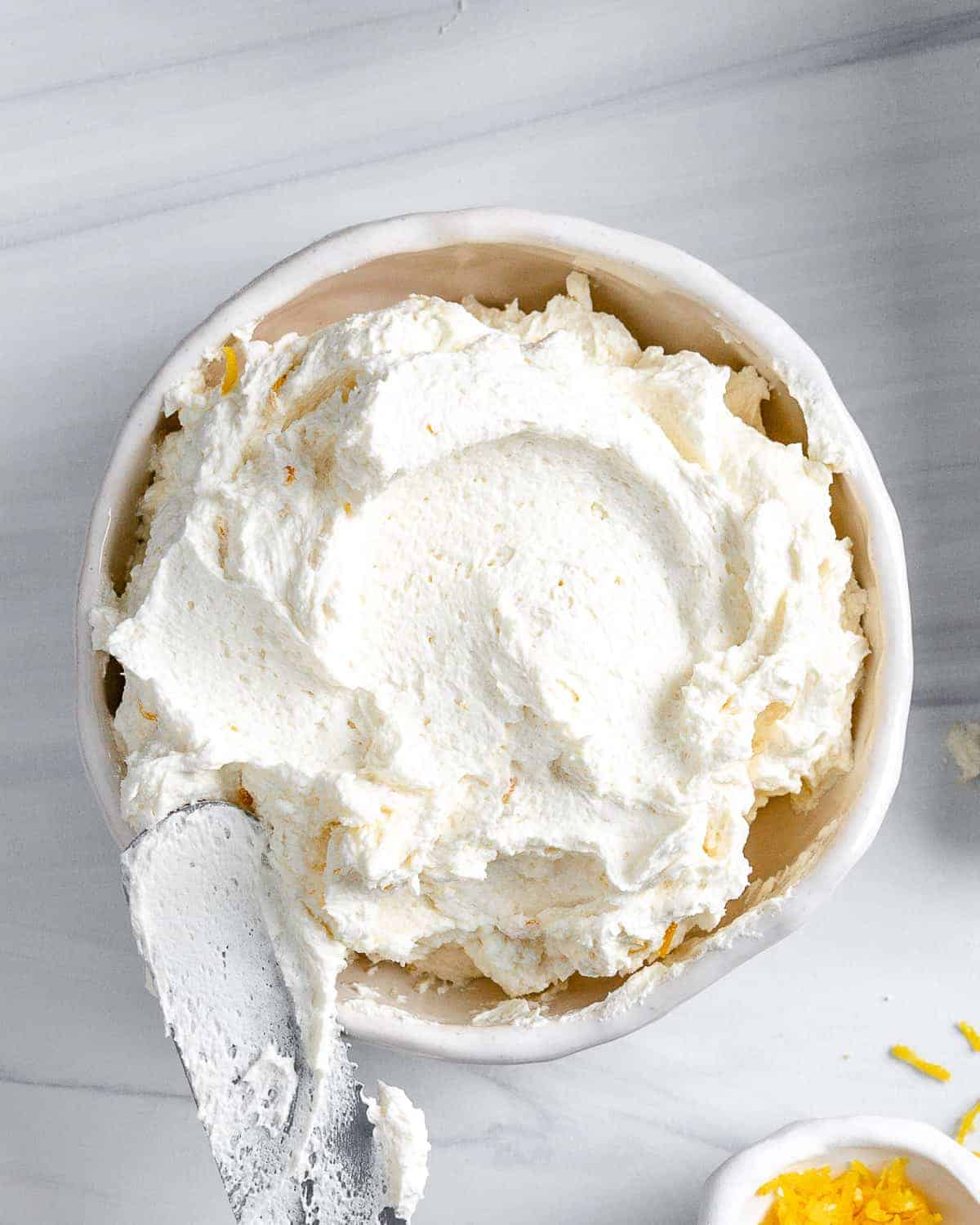 Light and Fluffy Vegan Lemon Frosting
Baking as a vegan needn't be tricky these days, and with many baking basics, they require simple ingredient swaps and are no more complicated than the non-vegan version. Luckily, that definitely seems to be the case with vegan frosting! Having already recently shared methods for making plain vanilla buttercream and a lemon glaze icing, now it's the turn of this vegan lemon buttercream frosting.
This easy dairy-free lemon buttercream is bursting with tangy citrus flavor and a creamy, rich sweetness—and you can't even tell it's vegan! Once prepared, it's thick and fluffy enough for both spreading and piping (with a piping bag) over cookies, cakes, and cupcakes (our favorites are fruity combinations, like vegan lemon cupcakes, as well as blueberry, raspberry, and strawberry cake/cupcakes!).
Best of all, this recipe requires just 3 ingredients and can be prepared with or without a stand mixer, so let's jump right in!
The Ingredients
Lemon: You'll need fresh lemon juice and lemon zest for this all-natural lemon buttercream frosting. Use an unwaxed lemon, or else you'll need to remove the wax first (read FAQs for method).
An average-sized lemon yields between 2-3 tablespoons of lemon juice and around a tablespoon of lemon zest.
Powdered sugar: Use regular powdered sugar (confectioner's sugar) OR for a keto lemon frosting recipe, use a powdered sugar substitute (like erythritol).
Not all powdered sugar is vegan, as they often use bone char during the processing. However, organic sugar is always vegan, and there are brands labeled vegan, too.
Vegan butter: Use room temperature (softened) unsalted vegan butter (not margarine). It's best to use stick plant-based butter, not tubs – like Miyoko's or Earth Balance. Avoid vegan butter that is soft straight from the fridge.
If you only have salted, it will work but will affect the flavor and won't allow you to control the amount of sodium added to the vegan lemon frosting recipe.
Vanilla extract: Use pure, natural vanilla for the best flavor.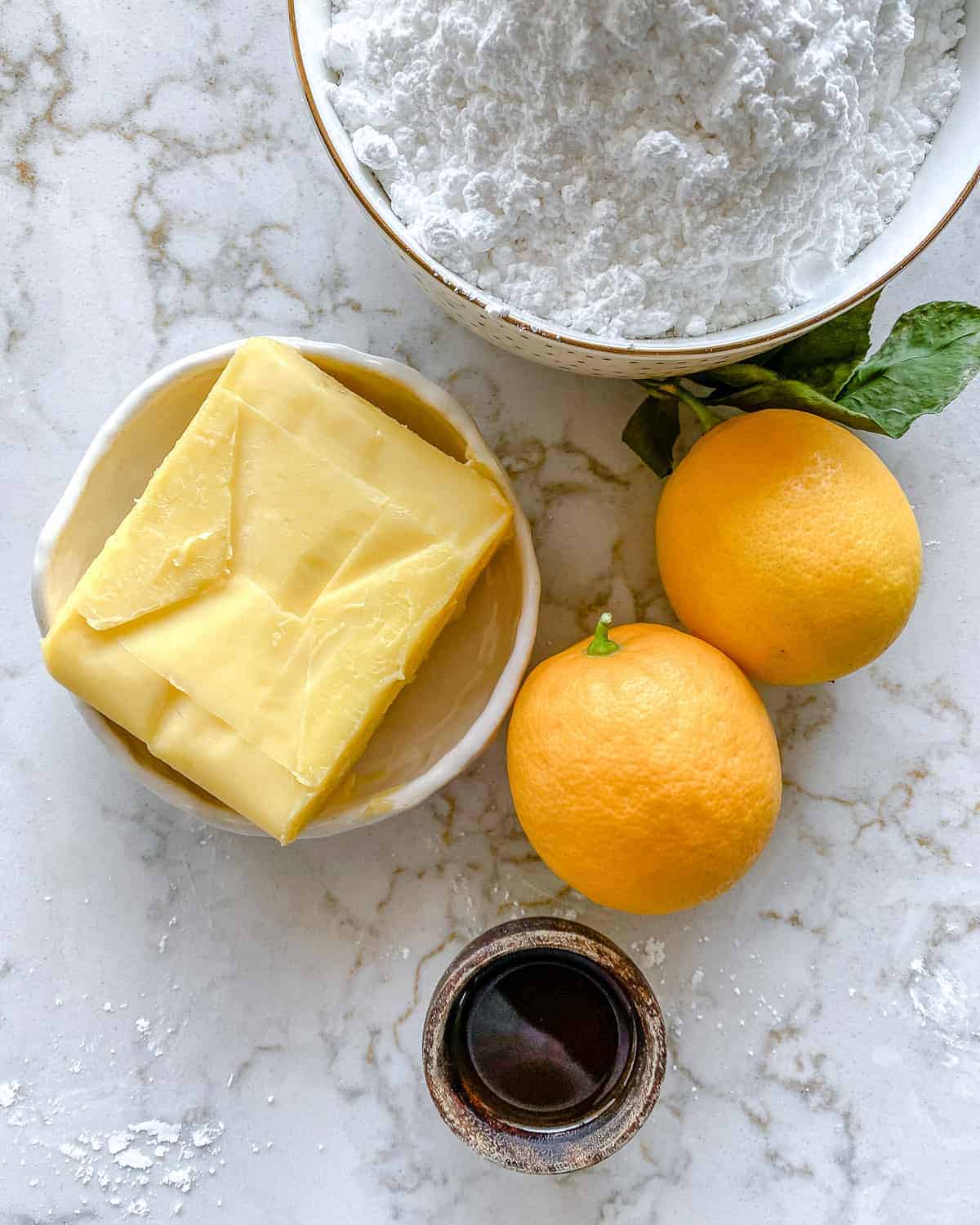 Optional add-ins & Recipe Variations
Salt: A small amount of salt will help balance against the powdered sugar's sweetness. Add a pinch to begin and adjust the amount to taste.
Plant-Based Milk/Cream: You could use your favorite plant milk/cream (like almond milk, soy milk, coconut milk, etc.) to adjust the consistency of this dairy-free lemon frosting. Both will create a lighter texture, and the latter will also add further rich and creamy depth.
Lemon extract: A few drops of lemon extract would work if you want to further boost the zingy flavor in this vegan lemon frosting recipe.
Lemon vegan cream cheese frosting: Use a combination of full-fat vegan cream cheese and vegan shortening (which will work better than vegan butter for a pipeable homemade lemon frosting) or vegan butter.
Another citrus: It's really easy to adapt this vegan buttercream frosting recipe using other types of citrus fruit. Use a combination of lemon and orange juice or swap out the lemon entirely for orange, grapefruit, tangerine, etc.
How to Make Vegan Lemon Buttercream Frosting?
1) First, zest and juice the lemon. Avoid the white pith when zesting, as it's bitter.
To get the most juice from the lemon, roll it several times across the kitchen counter. It can help further to first microwave the lemon for 20-30 seconds, until warm. Then, save any leftover zest and/or juice in an ice cube tray in the freezer for 3 months.
2) Either in the bowl of a stand mixer or in a bowl using a handheld electric mixer, add the room temperature vegan butter and beat for 2 minutes at medium speed.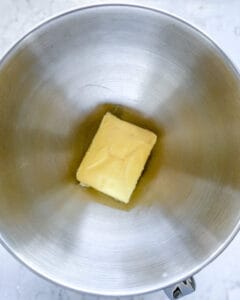 3) Next, slowly add the confectioner's sugar, a little at a time, while continuously beating until it's thoroughly combined and smooth. Then, add the lemon juice and zest and vanilla extract and beat for a further 3 minutes, or until light and fluffy!
Don't add too much powdered sugar at a time, or you'll end up with a cloud of it across yourself and your kitchen.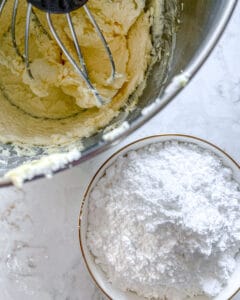 4) Finally, give it a taste and adjust the amount of lemon/vanilla to taste. Adjust the texture if necessary as well. As written, this recipe makes for a thick lemon frosting, perfect for piping. If you prefer something a little smoother, thinner, then add some plant-based milk, one teaspoon at a time, until you reach your desired consistency.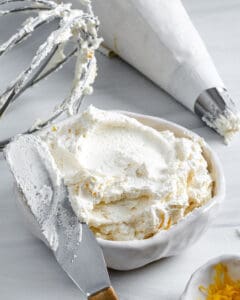 Storing Instructions
You can store the prepared vegan lemon frosting either in the refrigerator (5 days) or freezer (up to 3 months), covered tightly, or in an airtight container.
Before using it, allow it to come back to room temperature and lightly beat once more to return it to the light and fluffy consistency.
How To Use
Once it's ready, this vegan buttercream frosting is perfect for using over round cakes, sheet cake, fruity cupcakes, within macarons and other 'sandwich' cookies like this Peanut Butter version, and more!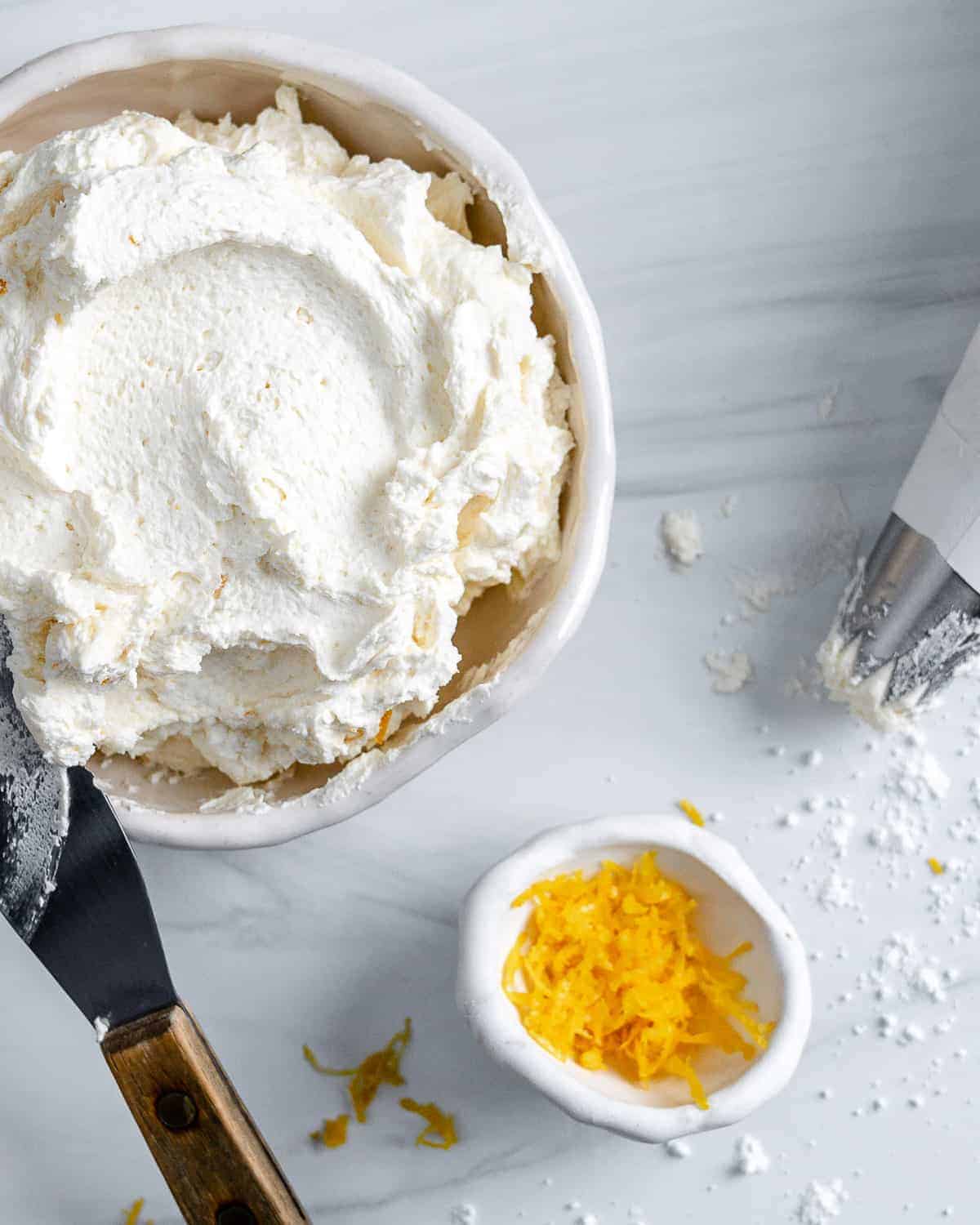 FAQs
Can I use vegan margarine instead of vegan butter?
It's not recommended. Dairy-free margarine usually contains more water, so the consistency will differ, and it won't set in the same way as regular buttercream. However, if it's all you have, you can try it.
How do you thicken buttercream?
Adding extra powdered sugar will help to thicken the frosting but will also make it sweeter, so feel free to add a pinch of salt to balance the sweetness.
Alternatively, if you're preparing the vegan lemon buttercream frosting specifically as stiff piping, replacing half of the plant butter with vegan shortening may be beneficial.
However, if the frosting is only slightly thin, you may find that chilling it in the refrigerator for a short while is all that's needed (but only if you will also store the baked good in the refrigerator until serving).
How much does this recipe make?
This recipe should make enough to cover a two-layer 8-inch cake, 9×13-inch sheet cake, or around 12-16 piped cupcakes (more if spreading with a knife).
Can you make vegan buttercream without a stand/electric mixer?
It is possible; it will just take longer and be more effort. Simply use a large bowl and wooden spoon.
How do you remove wax from a lemon?
Luckily, it's pretty easy to do. First, place the lemon in a bowl and pour in some boiled water and allow it to sit for 10 seconds. Then, use a vegetable brush to gently clean the lemon under warm running water.
Top Recipe Tips and Notes
To avoid lumps: It's best to sift the icing sugar before adding it to the beaten vegan butter.
Use softened vegan butter: Otherwise, it won't beat as smoothly. If you need to soften the butter quickly, pour boiling water into a glass or bowl and leave it to sit for a minute or two. Then remove the liquid and place the cup/bowl over your butter (make sure it's not touching the glass), and it will be soft in no time. Alternatively, grate the plant butter into your bowl/stand mixer bowl, and it'll be soft in no time!
Adjust the amount of powdered sugar: Non-vegan American buttercream uses a 2:1 ratio of powdered sugar to butter; however, we found we needed more for the best texture. The exact amount will differ based on the vegan butter used, so feel free not to use the full amount listed if it's not necessary to reach your desired consistency.
To make homemade powdered sugar: If you've run out of confectioners sugar, here's how you can make your own. Add the granulated sugar (or a granulated sweetener) to either a high-speed blender or coffee/spice grinder and process into a powered consistency. Make sure to sift it through a fine-mesh sieve afterward.
To color the frosting: Add a few drops of natural yellow food coloring based on how vibrant you want the vegan lemon frosting to be. A small pinch of ground turmeric would also work, but be careful not to add too much; otherwise, you'll be able to taste it.
Frost-cooled bakes: Wait until the baked good has cooled before using the vegan lemon frosting, so it doesn't melt.
Chill before piping: It can help to chill the frosting for just 10-15 minutes before using it for piping.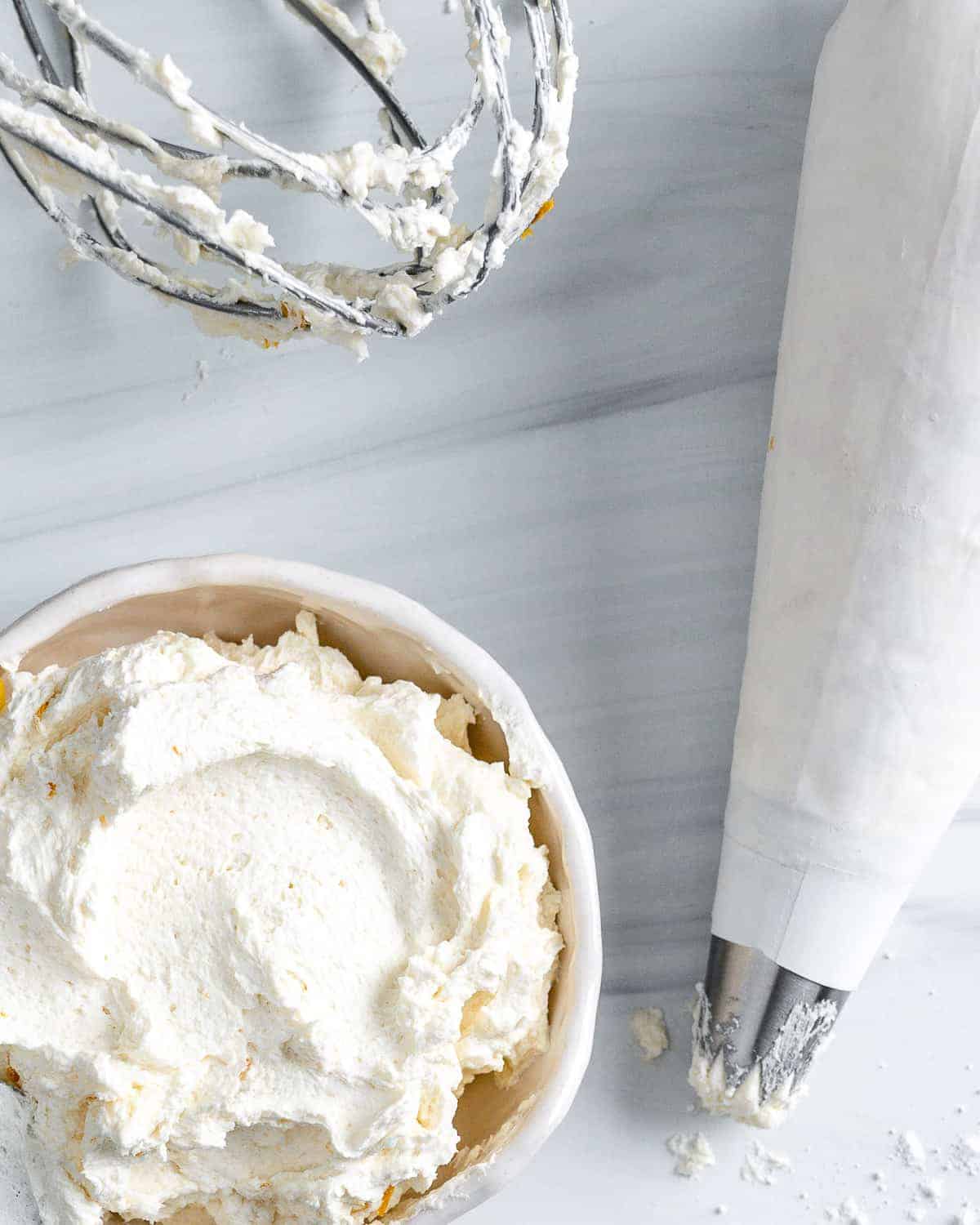 More Healthy Vegan Dessert Recipes
Photos by Alfonso Revilla
Vegan Lemon Buttercream Frosting
Make light and fluffy vegan lemon buttercream frosting with just 3 base ingredients (regular or keto) and either a stand mixer or handheld mixer. This dairy-free lemon frosting is perfect for spreading and piping work, with an adjustable consistency!
Ingredients
1

cup

of softened unsalted vegan butter at room temperature

(salted is fine, if that's what you have)

1

package

confectioner's sugar (3 ½ cups) 

(1-pound) package

2

tablespoons

of lemon juice

2

teaspoons

of lemon zest

2

teaspoons

of vanilla extract
Instructions
In the bowl of a stand mixer (or a large bowl if you're using a handheld electric mixer), add the room temperature vegan butter. Whisk the butter on medium speed for 2 minutes.

Slowly add the confectioner's sugar while continuously beating the vegan butter. Add in the lemon juice and vanilla extract and beat for an additional three minutes until light and fluffy.
Notes
This frosting is thicker and best used for piping. If you'd like it to be a little smoother, add in more plant-based milk by the teaspoon until you reach your desired consistency.
Nutrition
Calories:
130
kcal
Carbohydrates:
1
g
Protein:
1
g
Fat:
14
g
Saturated Fat:
3
g
Polyunsaturated Fat:
4
g
Monounsaturated Fat:
7
g
Trans Fat:
3
g
Sodium:
116
mg
Potassium:
8
mg
Fiber:
1
g
Sugar:
1
g
Vitamin A:
1
IU
Vitamin C:
2
mg
Calcium:
2
mg
Iron:
1
mg
Disclaimer: Although plantbasedonabudget.com attempts to provide accurate nutritional information, kindly note that these are only estimates. Nutritional information may be affected based on the product type, the brand that was purchased, and in other unforeseeable ways. Plantbasedonabudget.com will not be held liable for any loss or damage resulting for your reliance on nutritional information. If you need to follow a specific caloric regimen, please consult your doctor first.
Additional Info