As an Amazon Associate I earn from qualifying purchases.
This Vegan Plum Crisp is a sweet and tarty treat topped with a cinnamon oat streusel baked to a golden crisp! It is a healthy and lightly spiced recipe that is high in fiber and protein making it a great breakfast snack or any-time-of-the-day dessert option. The sweet, juicy plums are nestled beneath a delicious oat streusel, resulting in a dish that is has a perfect symmetry of flavors and texture in each bite!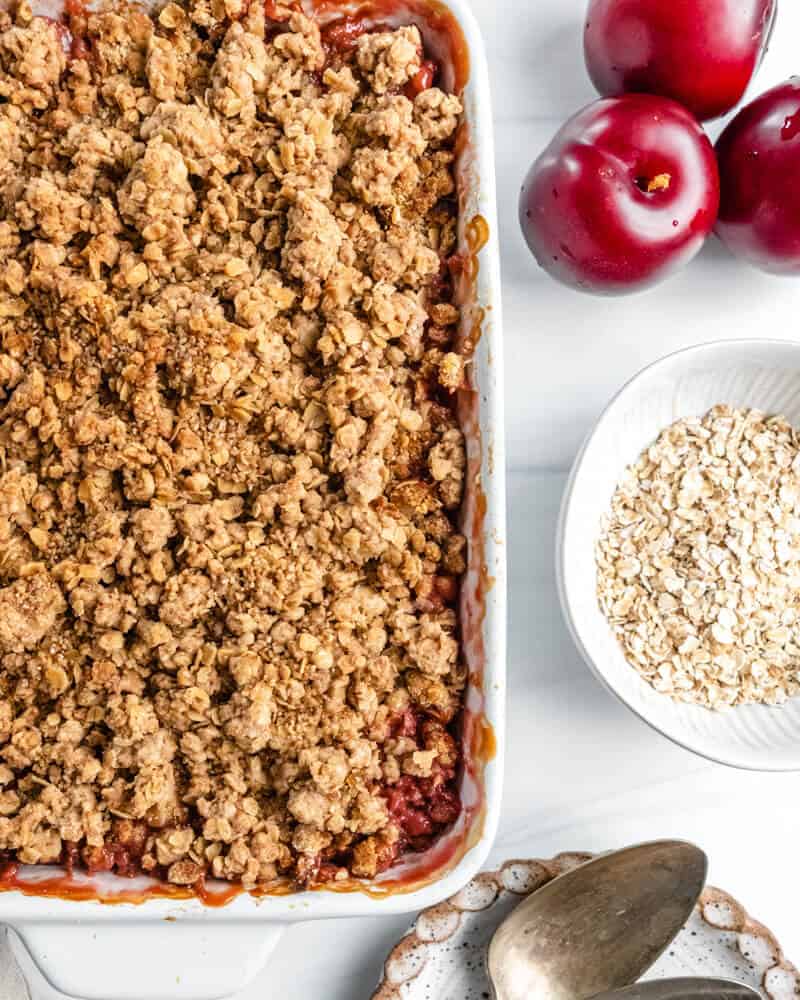 Why plums?
Stone fruits, which range from cherries to peaches to plums, are among the sweetest, juiciest, and finest tree-grown fruits on the planet. I find plums to be underrated and are most likely reserved for jam-making only. But I think it deserves greater appreciation and love, don't you? They are inexpensive, nutritious, and bring vibrant taste and color to any dish. This super easy recipe will showcase all of its sweet-tangy glory in a different dessert or snack form.
Health benefits we get from plums
Plums boast a wide range of health benefits. They are high in vitamins and minerals, as well as fiber and antioxidants. These may help lower your risk of developing a variety of chronic conditions. Plums can be eaten fresh or dried. Moreso, dried plums, often known as prunes, are believed to help with several health conditions, including constipation and osteoporosis.
What's the difference between a crumble and a crisp?
If you are still in the dark about the difference between a crisp and a crumble, here's a quick rundown. A crumble has a streusel crumb topping typically made with a combination of butter, flour, and sugar, with the addition of nuts if desired. A crisp, on the other hand, is similar to a crumble, except the streusel topping usually contains oats and is lighter. During baking, the oats will crisp up, which contrasts nicely with the juicy fruit underneath.
What makes the Vegan Plum Crisp?
This plum crisp recipe is so easy to make requiring only need a few ingredients. It is a one-pan dish, where you dump the fruits in and layer it with the topping mixture and let the heat do the rest.
Plums – This recipe calls for 15 pieces of pitted and chopped plums. Usually, prune plums are the ones used for baking. The pit comes off the flesh easily, and size is smaller which holds up well when cooked. However, if you do not have any on hand, feel free to substitute with other sorts of plums.

Brown sugar – We're going to use 3/4 cup for the mixture, but this can be altered based on the sweetness of the plum you're using. If the plums are very sweet, make it to 1/2 cup; if the plums are sour, go up to 1 cup.

All-purpose flour – A must-have in your kitchen. Milled from a mixture of soft and hard wheat varieties. Great in creating flaky pie crusts, chewy cookies, and fluffy pancakes.

Quick Oats – Rolling oats (also known as "old-fashioned oats") provide the ideal texture for crisp toppings, in my opinion.

Allspice – It's a one-of-a-kind ingredient that adds a distinct flavor to both sweet and savory meals.

Cinnamon – has a sweet and woody flavor with a subtle citrus tone. It is also one of the most aromatic spices out there.

Vanilla extract – Often used in desserts as it gives a mellow flavor that works nicely with the spices.

Vegan butter – Melted vegan butter will aid in the binding of the topping ingredients.

Salt – enhances the flavor of oats.
What to prepare for this recipe?
Preparation is pretty simple and easy. No fancy ingredients and equipment to use.
We will be needing an oven, 8×8 dishpan, and sharp knife.

Plums should be pitted and chopped. First, you have to choose the freshest plums. Always go for the middle, not too soft but not too hard. When plums are too ripe, it may give you a mushy texture however, when too hard it's going to be sour. Using a sharp knife, cut the plums and remove the pit, and chop. You may also use a plum pitter tool to remove the pit quickly. Then, set aside as we need to put together the other ingredients.
How to make a Plum Crisp
Because plums are in season, I always bring some home, and they usually are gone even before I can make them into a delectable pie or pastry. This time, though, it is not the case. This recipe for homemade plum crisp will be a hit with the whole family. The flavor is just out of this world. So, as soon as that sweetness meets your tongue, you will definitely line up for another round.
Here are the steps:
Preheat the oven to 350F. Also, grease the 8×8 dishpan to be used as soon as the fruit and mixture are ready.

On the baking dish, put the chopped plums and mix ¼ cup of brown sugar.

Time to combine flour, oats, salt, allspice, cinnamon, vanilla, and melted butter in a bowl. Mix them all together until well combined.

Scoop the oat mixture on top of the plums and spread evenly.

I like to sprinkle a little brown sugar on top to have that caramelized flavor. Just be careful not to burn it as it can leave a bitter taste. This is optional.

Lastly, place in the oven for about 40 minutes.
Variations and Add-ons:
One thing that I like about this recipe is its flexibility. The plums can actually be substituted with other rustic fruits like blackberries, peaches, apricots, or raspberries. You can be creative and have fun with it. Feel free to do a combo too! It is so versatile that it can adapt to whatever fruits are in season.

As an alternative to all-purpose flour, coconut flour can be used. However, the juicier the plums, the more coconut flour is needed.

Add your favorite nuts in there. Almonds, cashews, or pistachios will work.
How to store leftovers?
Crisps and crumbles desserts are best eaten right away. As it cools down the moisture and liquids from the fruit can cause the dessert to become soggy especially if left out too long. A great way to preserve its crunch is to allow it to cool to room temperature. Wrap it with a paper towel, and then place it in an airtight container. The paper towel absorbs any extra condensation that could otherwise make the crisp soggy.

Place it in the refrigerator and can last up to 3 days.

To reheat, bake the plum crisp at 350 degrees for about 15 minutes. You may also reheat the plum crisp in the microwave for around 40 seconds for each serving.
How to serve Plum Crisp?
Enjoy it "a la mode" by placing a dollop of vegan vanilla ice cream on top to make it into a summer delectable treat! I love how the cool ice cream and warm plum filling feel like a party in my mouth. It's an explosion of flavors and texture that you won't be able to resist! You can also top it with vegan yogurt if you prefer to add a touch of refreshing tanginess.
More favorite fruit crisp recipes!
Vegan Apricot Crisp

– Apricot flavor is sweet and tangy, with a hint of fragrant lavender makes this recipe unique.

Apple Cranberry Crisp

– Don't know what to do with those apples by the handful? This recipe is the solution. With pantry-friendly ingredients and simple processes, even a beginner will feel like a pro.
Vegan Plum Crisp
Vegan Plum Crisp has a sweet, delicious flavor with a cinnamon oat topping, making it the perfect breakfast or dessert option. 
Ingredients
15

ripe plums, pitted and chopped

¾

cup

of brown sugar, plus more for sprinkling on top

½

cup

of all-purpose flour

½

cup

of quick oats

½

teaspoon

of salt

½

teaspoon

of allspice

¼

teaspoon

of cinnamon

1

teaspoon

of vanilla extract

½

cup

melted vegan butter
Instructions
Preheat the oven to 350 degrees F and grease a baking 8×8 dish.

Place the chopped plums in the prepared baking dish and mix in ¼ of the brown sugar.

In a separate bowl, combine the flour, oats, salt, allspice, cinnamon, vanilla, and melted butter. Mix until well-combined.

Spoon the oat mixture onto the plums and spread evenly. Sprinkle with more brown sugar (optional).

Place in the oven and bake for 40 minutes.
Notes
If you have tart plums, feel free to use 1 cup of sugar instead of ¾ cup. If you have really sweet plums, feel free to go down to ½ a cup.
Tastes great with vegan vanilla ice cream.
This dish is best served fresh but can be stored in an airtight container in the refrigerator for 3 days.
Nutrition
Calories:
283
kcal
Carbohydrates:
44
g
Protein:
2
g
Fat:
11
g
Saturated Fat:
2
g
Polyunsaturated Fat:
3
g
Monounsaturated Fat:
5
g
Trans Fat:
2
g
Sodium:
529
mg
Potassium:
256
mg
Fiber:
3
g
Sugar:
33
g
Vitamin A:
429
IU
Vitamin C:
12
mg
Calcium:
33
mg
Iron:
1
mg
Disclaimer: Although plantbasedonabudget.com attempts to provide accurate nutritional information, kindly note that these are only estimates. Nutritional information may be affected based on the product type, the brand that was purchased, and in other unforeseeable ways. Plantbasedonabudget.com will not be held liable for any loss or damage resulting for your reliance on nutritional information. If you need to follow a specific caloric regimen, please consult your doctor first.
Additional Info