As an Amazon Associate I earn from qualifying purchases.
This refreshing Watermelon Slushie is a great way to cool down and hydrate on a hot, sunny day! Every gulp of this invigorating, icy watermelon and mint combo will quench your thirst while providing your body with nutrients in a tasty way. You can make this delightful drink that is simple, budget-friendly, and super satisfying in just 15 minutes using 3 ingredients only.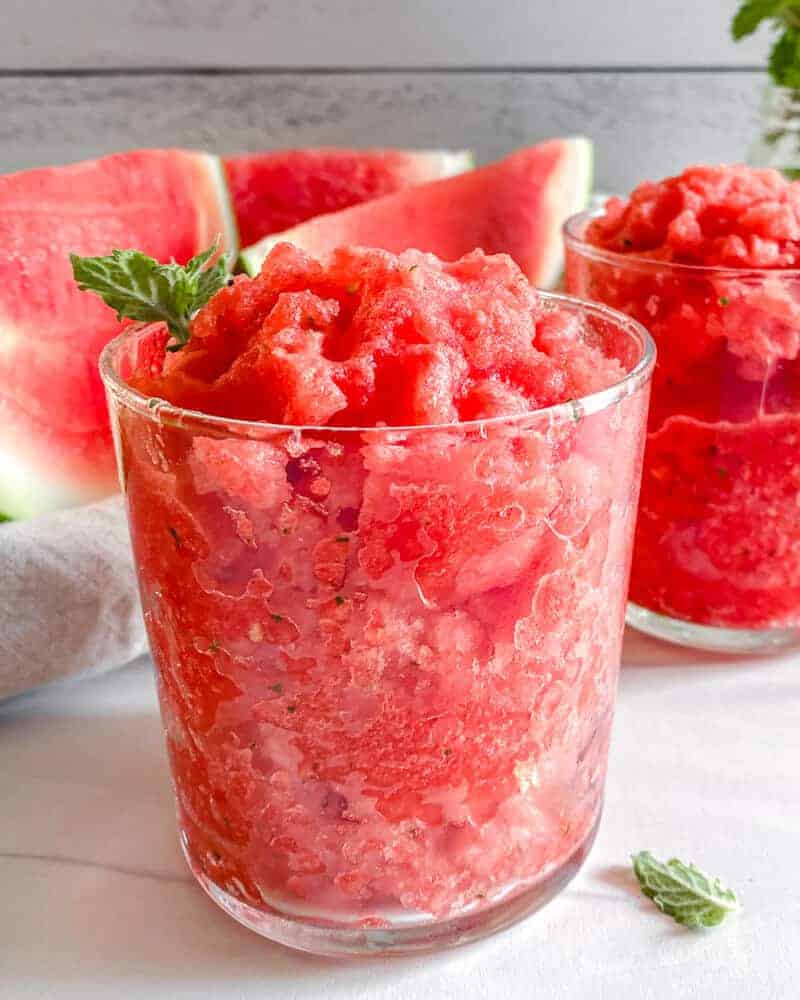 It's a tropical getaway in a glass! Watermelon is one of the few fruits that are available all year round. But nothing beats sun-ripened watermelons during their peak season. Because we have an abundance of this summer produce, I wanted to make something light and refreshing with it. Not only will it provide you with your daily dose of sweetness and fiber, but it will also keep you cool amidst the summer heat. There's nothing like a nice drink when spending time outside to make you feel refreshed! Homemade slushies are simple to make because they only require three ingredients. Children and adults will enjoy the burst of wonderful fruity and minty flavor and its brilliant red hue.
What's the difference between slushie and smoothie?
The main difference between a smoothie and a slushy drink is that a smoothie is thicker and has the consistency of a milkshake. A smoothie is a blended beverage made with yogurt or milk, fruits, and juices. A slushy like the kind from 7-11 on the other hand is ice-based made with frozen fruit or fruit and ice. Sometimes a bit of fruit juice is also added to thin it out. Both are equally delicious! Some of our fave smoothies to make during summer are Citrus Mango and Kale Pineapple. They are divine!
How to make a Watermelon Slushie
This refreshing frozen fruit drink is surprisingly simple to make. You will only be needing a few simple ingredients and a blender.
Tools needed:
High-speed blender – this is best for mixing frozen fruits or ice.
Baking sheet – it is used to lay out the sliced watermelon for freezing.
Resealable freezer bags – for storing leftover frozen watermelons
Watermelon – It contains over 90% water and is high in vitamin C, vitamin A, and antioxidants. This is therefore the ideal fruit for this slushie recipe. We prefer using personal-sized seedless watermelon to make this cool drink. but you can use other watermelon varieties that you like.

Mint – I find this herb to be very versatile as it can be used in a variety of dishes. From savory entrees, desserts to cocktails. It adds a unique freshness to every dish or drink. It has antibacterial and anti-inflammatory properties as well. We will use 2 sprigs of mint for this recipe.
Water – This is an optional ingredient because watermelon already contains enough liquid for this recipe. However, if the fruit is too frozen then we may add 2 tablespoons to loosen the mixture a bit. If you want to use some fruit juice instead, you may do so. Pick any flavor you like to make your slushie even more flavorful.
How to make this refreshing slushie drink?
Although the prep time in making watermelon slushie will only take 15 minutes, freezing the fruit should be made ahead of time. Here are the steps:
1)

We begin by removing the rind and cutting them into cubes. The best watermelon to use for this recipe is one that is seedless; otherwise, we can simply discard the seeds for a smoother texture.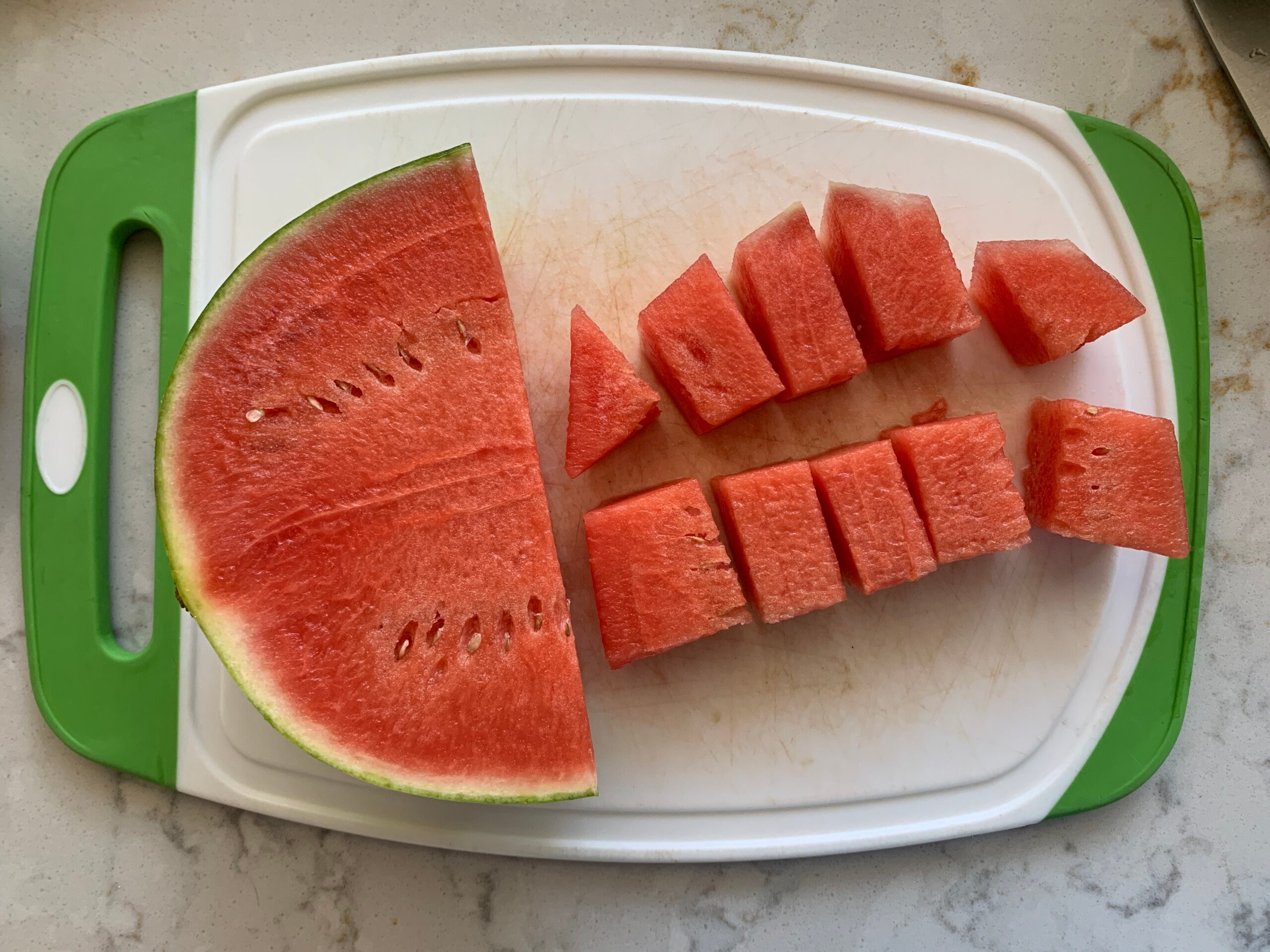 2)

Freeze the cubed watermelon for at least 2 hours on a baking sheet. You may lay them out separately before freezing to make them easier to blend.
3)

In a high-powered blender, combine the frozen fruit and mint and blend on high until it forms a slushie. If the blender locks up, the watermelon is still too frozen to blend. To help the blender crush the frozen fruit quickly, try thawing it for a minute or two. You can also add 2 tablespoons of water if the mixture is too thick.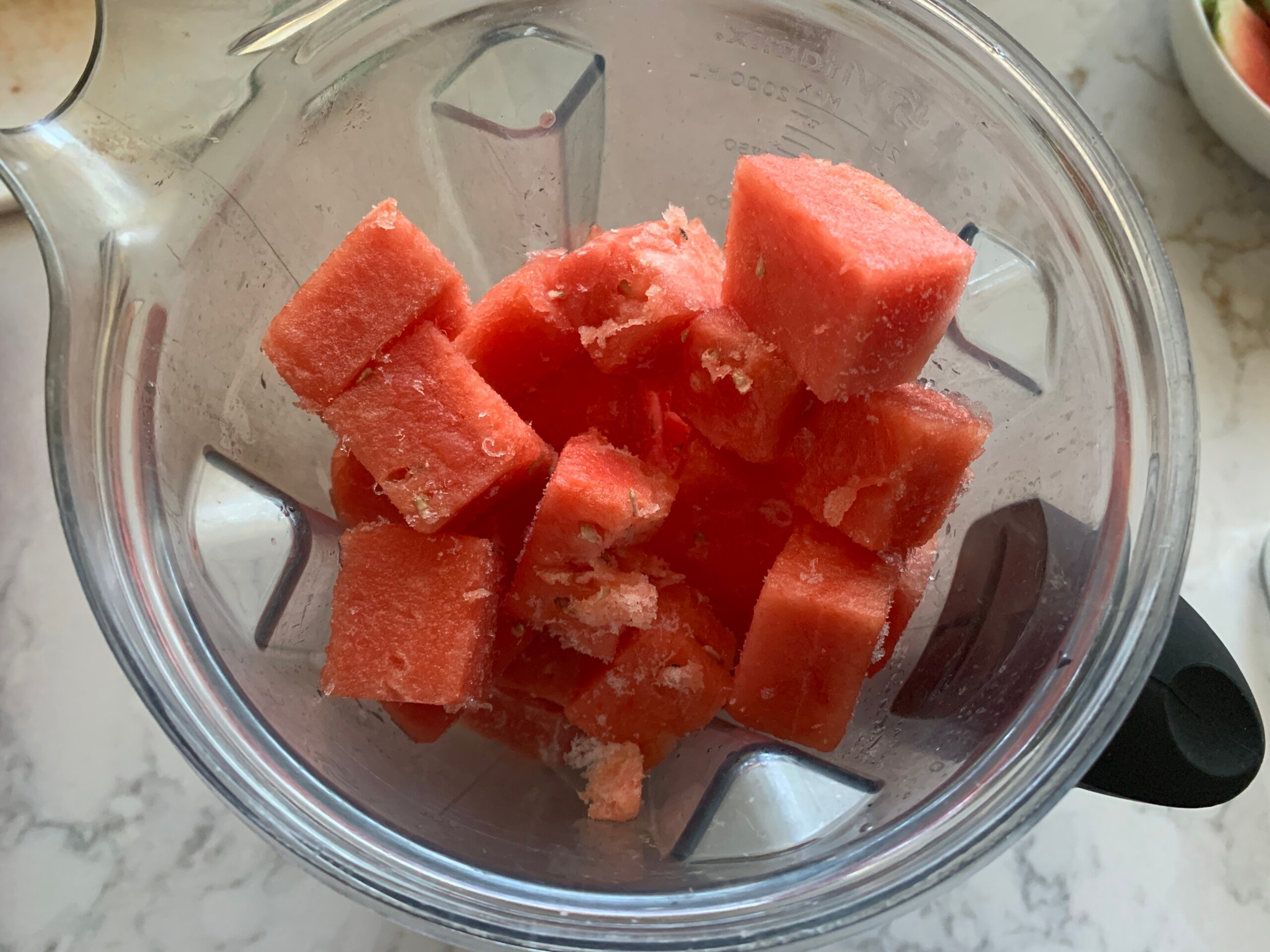 4)

Enjoy this refreshing drink right away before it melts.
Can I make Watermelon Slushie ahead of time?
The water and fruit will separate if left to rest for too long, so I recommend enjoying your watermelon slush right away after blending.it
Tip: A quick swirl in the blender with a handful of ice cubes can always revitalize it.
How long can we keep frozen watermelon?
Frozen watermelon cubes will last in the freezer for around 6 months if stored in freezer-safe bags or containers.
Tip: Individual servings of frozen watermelon can be kept in the freezer. This way, you won't have to thaw the entire batch, which could compromise the quality of the remaining fruits.
What Fruit Goes Well with Watermelon?
Watermelon goes well with a variety of fruits, like strawberries, bananas, and other tropical fruits such as mango and pineapple. Strawberry is the most complementary of these fruits, as it is subtle and not overpowering. It lets the watermelon stand out more than any other fruit. We kept this recipe simple so you may be creative and imaginative with whatever fruit you have on hand.
Tip: Adding more frozen fruit can thicken your slushie. You have the option to add water or fruit juice to thin it out.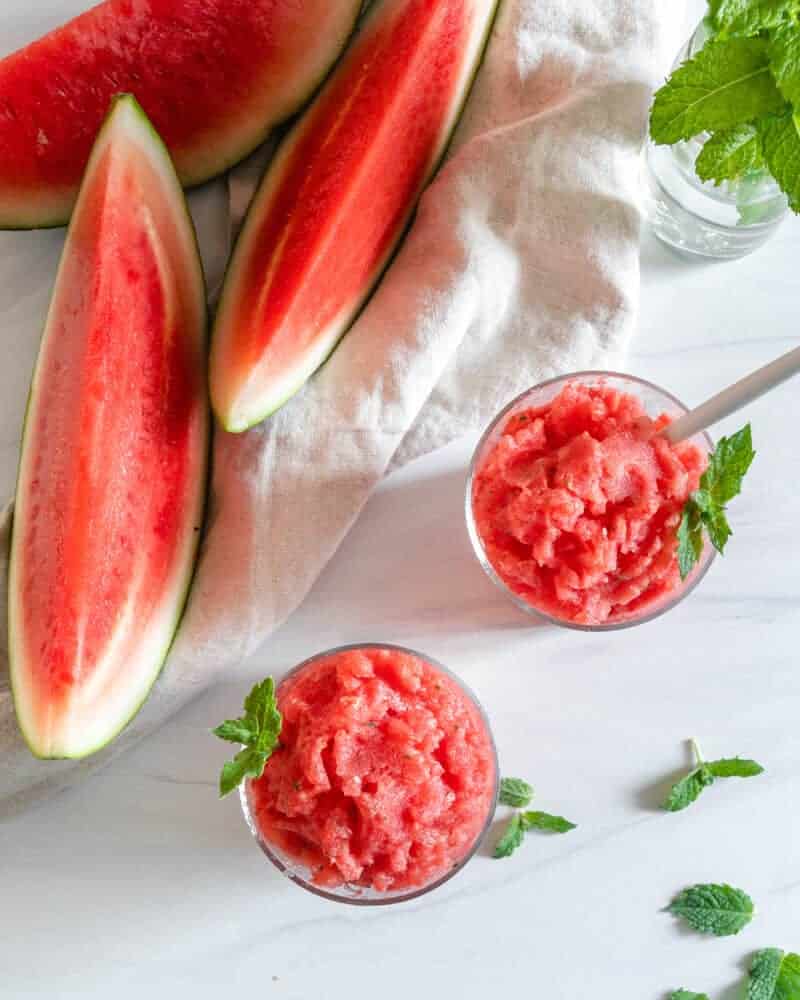 Add-on when making Watermelon Slushie at home
Sweeteners – Watermelon slushie can be enjoyed without the addition of a sweetener because of its naturally sugary flavor. However, to satisfy your craving for some extra sweetness, you can add maple syrup or agave.

Basil – If you do not like mint for some reason, you can replace it with basil. It has a sweet-savory taste and mellower mint flavor.

Lime – Adds a zesty flavor that'll brighten your slushie right up! Squeeze a small bit of lime juice and add it to your watermelon slushies for an added boost of vitamin C.
More refreshing drinks:
Banana Breakfast Shake

– A frozen banana, coconut water, peanut butter, and cocoa powder breakfast in a glass. It is a complete meal that will provide you with the needed energy throughout the day.

Citrus Mango Smoothie

– This delicious drink is like getting an endless supply of Vitamin C. It includes frozen mango, banana, and tangerine, among other fruits. It will drive you to want more.

Cinnamon & Hemp Seed Coffee Shake

– Coffee, almond milk, banana, hemp seeds, and cinnamon are blended into a caffeinated frozen drink. This mix of ingredients is insanely delicious.
Watermelon Slushie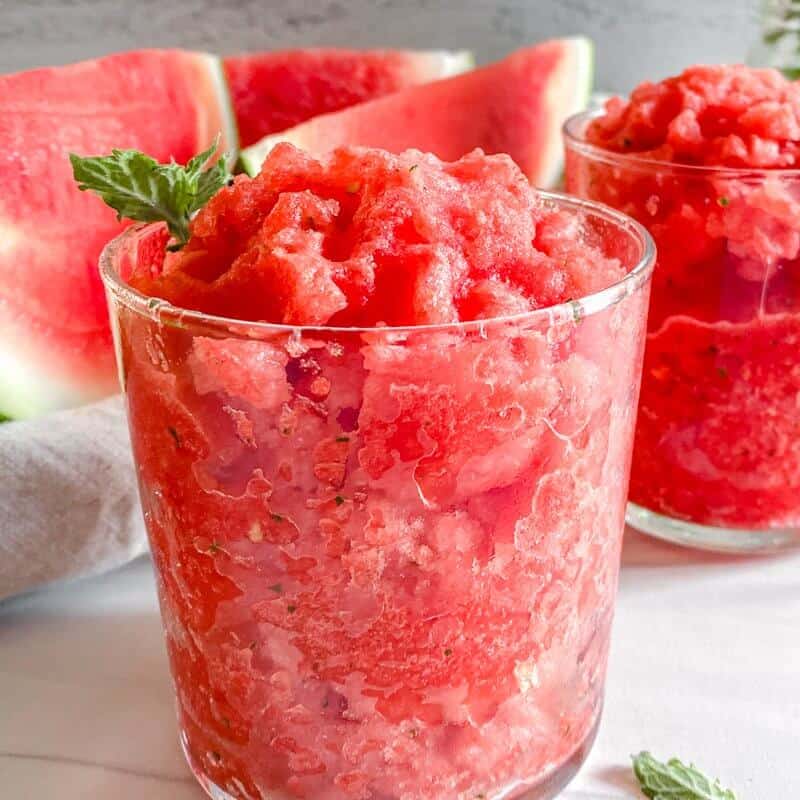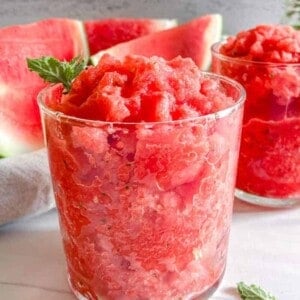 The refreshing Watermelon Slushie is a cool drink in that scorching hot weather! It is so satisfying that you can make this in 15 minutes.
Ingredients
1

personal-sized seedless watermelon, chopped with rind removed 

2

sprigs of mint (optional)

2

tablespoons

of water (optional)
Instructions
Lay the chopped watermelon onto a baking sheet or dish, place in the freezer for 2 hours.

Once the watermelon is completely frozen, place it into a high-powered blender with the mint (if using) and blend on high until it turns into a slushie. If you're having trouble because it's too frozen, you can let it thaw for a minute or two, or you can add 2 tablespoons of water to get it going.
Notes
The water and fruit will separate if left to rest for too long, so I recommend enjoying your watermelon slush right away after blending.it 
Frozen watermelon cubes will last in the freezer for around 6 months if stored in freezer-safe bags or containers.
Adding more frozen fruit can thicken your slushie. You have the option to add water or fruit juice to thin it out.
Nutrition
Calories:
91
kcal
Carbohydrates:
23
g
Protein:
2
g
Fat:
1
g
Saturated Fat:
1
g
Polyunsaturated Fat:
1
g
Monounsaturated Fat:
1
g
Sodium:
3
mg
Potassium:
340
mg
Fiber:
1
g
Sugar:
19
g
Vitamin A:
1730
IU
Vitamin C:
25
mg
Calcium:
21
mg
Iron:
1
mg
Disclaimer: Although plantbasedonabudget.com attempts to provide accurate nutritional information, kindly note that these are only estimates. Nutritional information may be affected based on the product type, the brand that was purchased, and in other unforeseeable ways. Plantbasedonabudget.com will not be held liable for any loss or damage resulting for your reliance on nutritional information. If you need to follow a specific caloric regimen, please consult your doctor first.
Additional Info