As an Amazon Associate I earn from qualifying purchases.
These White Bean Burgers are perfect if you are looking for a healthier and better version of your favorite fast-food burger. These plant-based patties are made of creamy white beans and various herbs and spices, making them super flavorful! Watch as these delectable vegan burgers provide the ultimate surprise for your meat-lover guests. They're perfect for a quick dinner or snack with fresh salad or sliced tomatoes ready in just 15 minutes.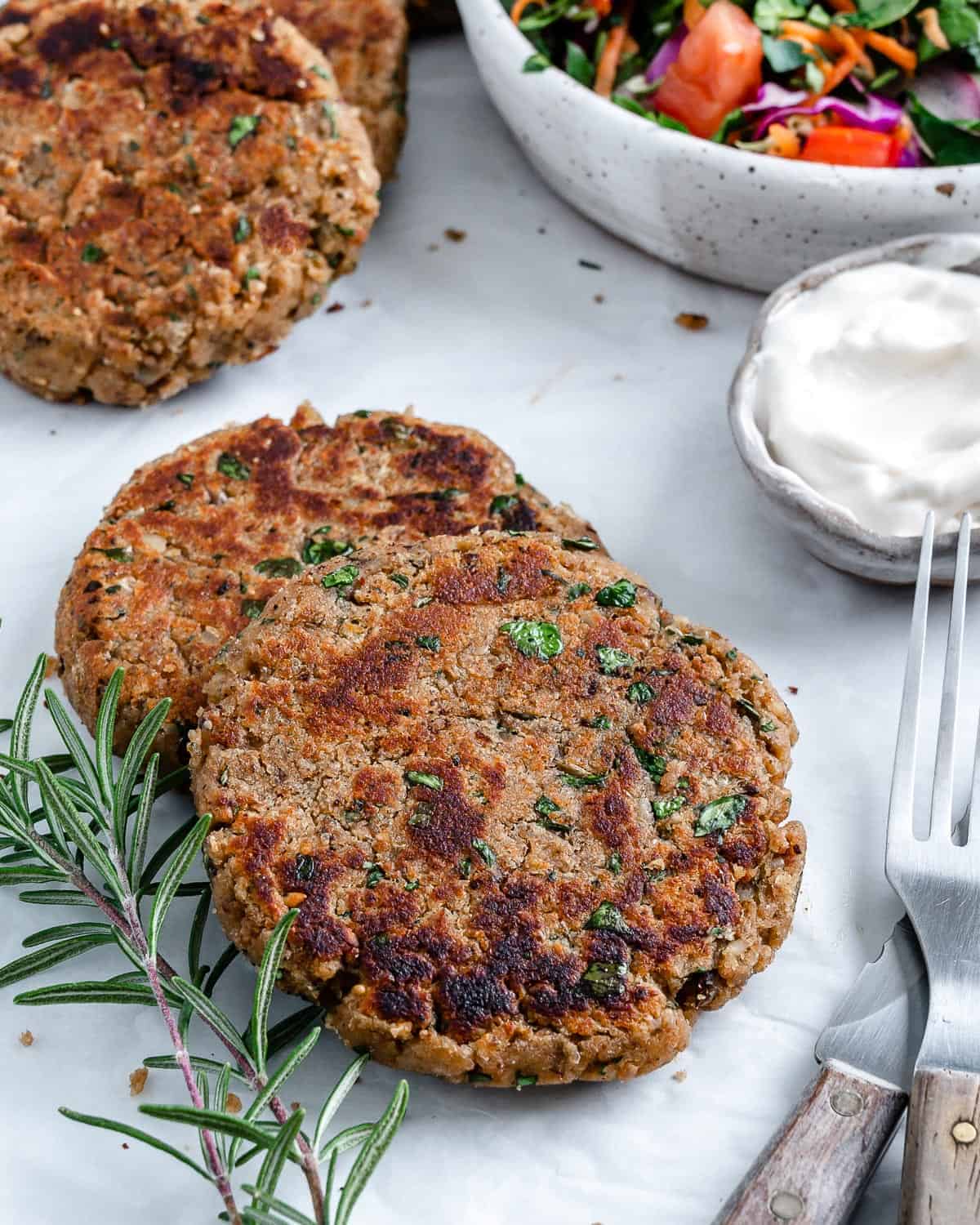 Best Homemade Vegan Burger
Going vegan does not mean forgoing your love of burgers! There are several vegan options to choose from, like our Chickpea Quinoa Burgers and Lentil Burgers. This white bean version is another meatless burger patty to add to your must-try list! Here are some of the reasons why:
Aside from being divinely delicious, it is a low-calorie dish filled with fiber and protein, as well as antioxidants!
Your patties are ready to cook in only a few pulses in the food processor. This White Bean Burgers recipe is simple and doesn't take too long to prepare, so you'll be able to enjoy it in no time.
You can customize your burger to your liking. Feel free to add your favorite herbs and spices to our white bean patties if you like. Top it with greens like lettuce, spinach, kale, or arugula. Fresh tomatoes or cucumbers can be added to make it a little more interesting. The list goes on and on.
These are far better than store-bought patties since you have more control over the ingredients. They're better for you and don't contain any preservatives.
Ingredients of White Bean Burgers
Olive oil – A dash of oil adds a richness to your patties that makes them moister. Feel free to omit or replace it with nut butter or almond butter instead.
White beans – Drained and rinsed. We prefer using canned white beans, instead of fresh ones. They have a more consistent texture and the right amount of softness to produce those beautifully compact patties. Not to mention that they are more time-saving and convenient! If white beans are not available, other beans should work well.
Slices of bread – It acts as a binder that helps hold all the ingredients together.
Garlic salt – This seasoned salt combines dried, ground garlic, and table salt, which gives that savory and salty flavor combination.
Spices – We used onion powder, chili powder, and cumin. These spices give the patties a warm and robust flavor with a punch of heat. Other herbs like paprika, black pepper, fennel seed, cardamom, or coriander can also be used, depending on your preference.
Herbs – A combination of parsley and rosemary gives aromatic, woodsy, and peppery tones. Use other herbs like dill and thyme.
Nutritional yeast – Adding this to the mix gives the white bean burgers a richer, 'cheese-like' flavor for a savory flavor boost! You can use vegan parmesan as an excellent substitute for this.
Salt and pepper – to taste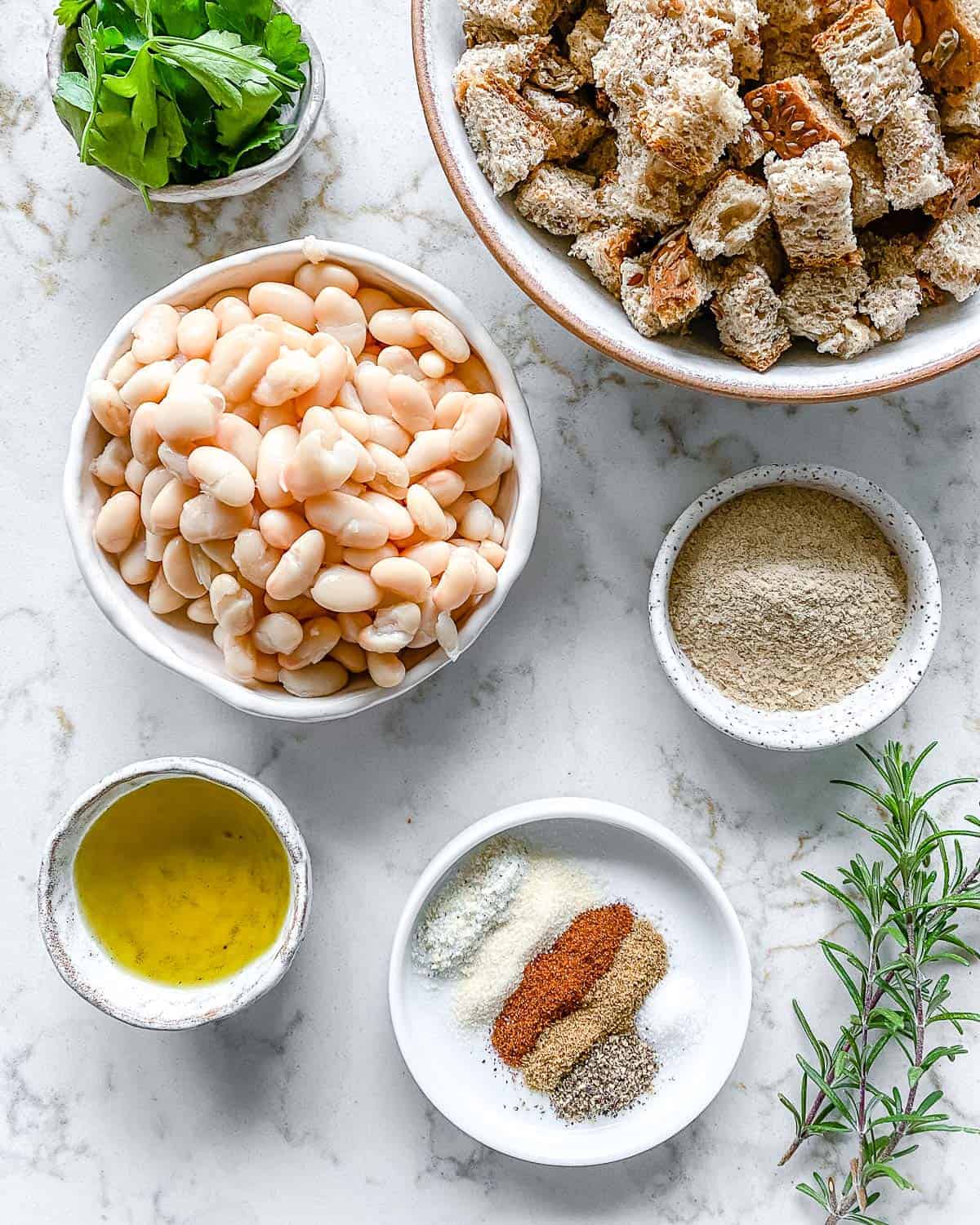 How to make the White Bean Burgers
Preparation:
Drain and rinse the beans until the stickiness is gone.
Steps:
1) Place all ingredients, except the parsley and rosemary, in a food processor and blitz them until well blended.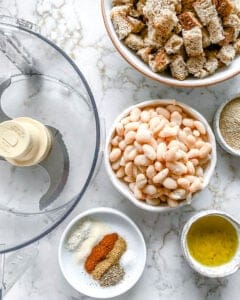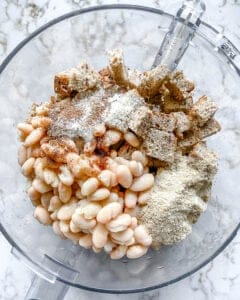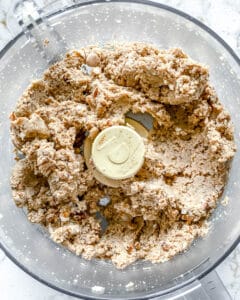 2) Pour the bean mixture into a bowl and fold in the fresh herbs.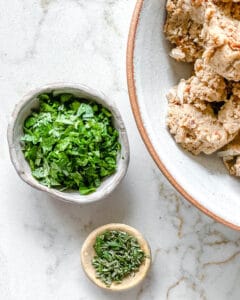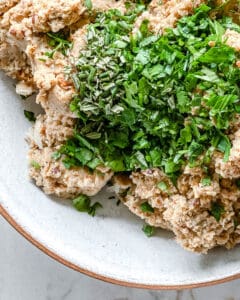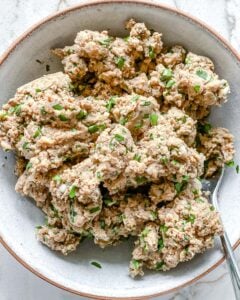 3) Add oil in a skillet on medium heat.
4) To make the patties, portion the bean mixture into ⅓ cups. Using your hands, form patties a fourth to a half-inch thick.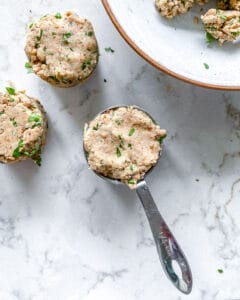 5) Place the patties into the pan and cook until lightly brown on each side.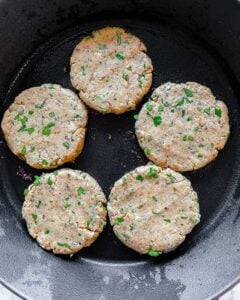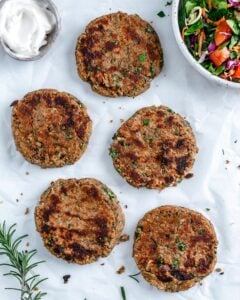 Tips and Substitution Ideas for White Bean Burgers
Before putting the beans in the food processor, drain them thoroughly. Too much liquid in your mixture will turn it mushy and will prevent it from holding its shape. If this happens, add more dry bread to absorb the water.
Do not over-process the white bean mixture, just enough to get everything well incorporated so they stick together when formed. It is still nice to have a little texture when you bite on those burgers.
You can omit the chili powder if you want to make these burgers kid-friendly.
Leave the patties in the pan undisturbed for a few minutes until you see the sides browning and turning crisp. Flipping them too early can make them fall apart and crumble.
If you want your patties to be completely set and compact, place them in the freezer for an hour before cooking.
Serve it with fresh salad and sliced tomatoes. You also make a sandwich and stack it up with your fave burger toppings. Use them as tortilla fillings and serve with sides like guacamole or pico de Gallo.
Storage Notes
This recipe is suitable for make-ahead patties. Simply chill the white bean burger mixture overnight in the fridge before assembling and cooking as suggested.
Whether cooked or uncooked, leftovers can be stored in an airtight container in the fridge for up to 5-6 days. It can also be frozen for a period of up to two months. To prevent the patty from sticking together when frozen, I recommend placing parchment paper between each one. Before cooking, let it thaw.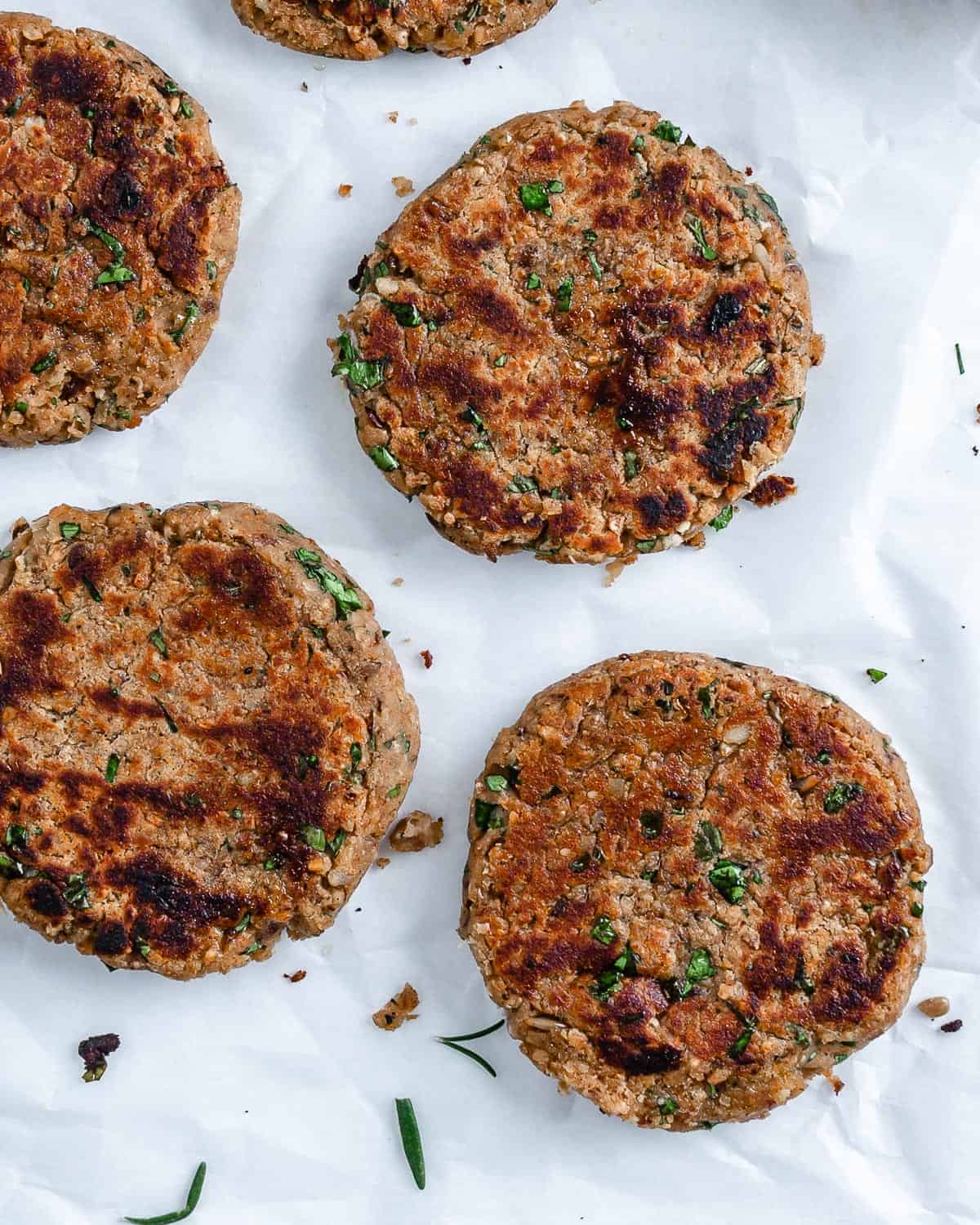 Frequently Asked Questions
My bean burgers are falling apart; what's wrong? It's possible that you'll need more of your binder. Add a few slices of bread to prevent the burger from crumbling and falling apart as soon as it is removed from the pan or when you bite into it.
Is it better to use dried or canned white beans? Although dried beans have a great flavor, they need a lot of time and effort to prepare. As a result, I prefer to use canned white beans because they are more convenient. However, if you have the time, you can use dried white beans instead.
Can I grill them instead? There are so many ways to cook your white bean burgers. You can cook them on the stovetop, bake them, or cook them over the grill.
If you have leftover white beans after trying this recipe, you can use them to make these too:
Pasta, Bean & Tomato Soup – This mixed bean and tomato pasta soup are perfect for a last-minute warming soup on cool days. It combines pantry staples such as tinned tomatoes, beans, and pasta, with a few seasonings for a simple, wholesome vegan soup.
Chipotle White Bean Dip – Try this spicy dip made using a can of white beans and chipotle peppers in Adobo sauce. It is incredibly delicious and fiery; they are perfect for dipping chips, veggies, and crackers!
Creamy White Bean and Chive Spread – This is the perfect spread for a bagel, toast, or crackers for those of us avoiding soy and processed foods! The white beans provide a nice creamy texture, while cashews add richness, eliminating the need for any added oil. Spread this on plain or top with lettuce and tomato for a quick and yummy lunch.
*This recipe was generously donated by Local Love Catering.
Photos by Alfonso Revilla
White Bean Burgers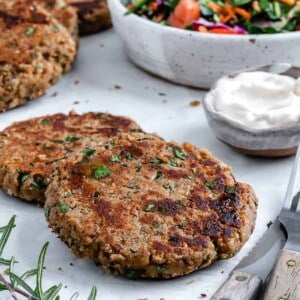 These White Bean Burgers are perfect if you are looking for a healthier and better version of your favorite fast-food burger. These plant-based patties are made of creamy white beans and various herbs and spices, making them super flavorful!
Ingredients
2

Tablespoons

of olive oil

1

can

of white beans, drained and rinsed

15 ounce

4

slices

of bread, small diced

½

teaspoon

of garlic salt

½

teaspoon

of onion powder

½

teaspoon

of chili powder

½

teaspoon

of cumin

2

Tablespoons

of nutritional yeast

Salt and Pepper

to taste

1

Tablespoon

of minced fresh parsley

1

teaspoon

minced rosemary
Instructions
In a food processor place all ingredients except for the fresh herbs and process until well incorporated.

Place Bean mixture into a bowl and fold in the fresh herbs.

In a skillet, add olive oil and heat on medium heat.

Portion the bean mixture into 1/3 cups and form into patties that are ¼ to ½" thick and place into the hot pan.

Cook until lightly brown each side.
Notes
This serves well hot with a fresh salad and sliced tomatoes.
Nutrition
Calories:
197
kcal
Carbohydrates:
26
g
Protein:
9
g
Fat:
7
g
Saturated Fat:
1
g
Polyunsaturated Fat:
1
g
Monounsaturated Fat:
4
g
Trans Fat:
1
g
Sodium:
585
mg
Potassium:
350
mg
Fiber:
7
g
Sugar:
3
g
Vitamin A:
130
IU
Vitamin C:
2
mg
Calcium:
62
mg
Iron:
2
mg
Disclaimer: Although plantbasedonabudget.com attempts to provide accurate nutritional information, kindly note that these are only estimates. Nutritional information may be affected based on the product type, the brand that was purchased, and in other unforeseeable ways. Plantbasedonabudget.com will not be held liable for any loss or damage resulting for your reliance on nutritional information. If you need to follow a specific caloric regimen, please consult your doctor first.
Additional Info