As an Amazon Associate I earn from qualifying purchases.
If you've just started navigating the plant-based lifestyle you've probably already heard about nutritional yeast. These mysterious yellowish flakes are highly acclaimed by vegans and health enthusiasts alike and for a good reason! Let's find out.
What is Nutritional Yeast?
Nutritional yeast, a.k.a. "nooch", is your go-to ingredient if you want to give your food a "cheesy," nutty twist. Since it's usually fortified with nutrients, it's also an easy choice to ensure your required intake of Vitamin B12 and other B-vitamins, folic acid, selenium, zinc, and protein.
So what is it exactly? As the name suggests, "nooch" is made from yeast, Saccharomyces Cerevisiae, a single-celled eukaryote, to be precise. It is the same species from which the common baker's or brewer's yeast is won, but in contrast to the two, nutritional yeast is inactivated by drying it with heat.
What Are Its Benefits?
Let us start by stating that there are two types of nutritional yeast. The fortified and the unfortified. The first one is a great source of protein, vitamin B's, and trace minerals. The latter, which is the most commonly found in health food stores and grocery shops, is usually enriched with additional vitamins and minerals. All of these great nutrients are a welcome addition to the amazing factor of allowing us to add cheesy flavors to pretty much anything we eat while being absolutely dairy-free.
Two tablespoons of enriched nutritional yeast have about 2 grams of protein which is a great plus for any vegan dish. These nutty flakes are also a fantastic source of thiamine, riboflavin, niacin, vitamin B6, and, as we mentioned, vitamin B12. However, as not all nutritional yeast is fortified with B12 or the same nutrients, we recommend to use supplements such as B12 rather than relying solely on nutritional yeast. Visit nutritionfacts.org for more info or read about the most recommended plant-based supplements here. Aside from the nutritional aspect, we really love to use it for pretty much everything as a delicious topping.
Where to Buy it and how to Store it?
You can find nutritional yeast pretty much anywhere these days but you can be sure to find it in places like Whole Foods, Sprouts, Costco, or any health food store in your area. If you want to stay on budget as much as possible, you can get it in bulk. Don't forget to take a reusable jar with you!
As long as you store it in an air-tight container (such as a mason style jar or a resealable bag) you can place it either in your dark pantry, your refrigerator or cupboard. It should last for months if not a year (or 2!).
How and Where do I use It?
If you've recently adopted a plant-based lifestyle, adding some nutritional yeast to your dishes might help with those dairy withdrawals.
Given its resemblance to parmesan, the most obvious choice to use 'nooch' is as a parmesan substitute, which is probably how most people try it for the first time. Just sprinkle a tablespoon (or more if you like) on top of your pasta dish and give it a try. I love to add it to a simple pasta with tomato sauce but there are so many recipes that would welcome this cheesy topping!
While the taste may seem like a different sort of cheesy for a "nooch" first-timer, it helps to think of it as nutty cheesy flakes and acknowledge the fact that "nooch" and cheese are an entirely different thing, Most vegans and "nooch" lovers would probably agree that there is barely any dish where nutritional yeast doesn't allow for that final, cheesy, malty, nutty finish. You can also add it as "topping" in curries, soups, salads. But it is used as a key ingredient to prepare delicious plant-based nacho cheese sauces or cook a dairy-free version of our beloved mac and cheese. Nutritional yeast is also the magical ingredient to our cauliflower-based alfredo sauce, which would go perfect as a layer in a vegan lasagna!
For some inspiration to cook with "nooch", have a look at the recipes below.
1.- Broccoli Soup: A super easy and creamy broccoli soup for dinner! This soup is so comforting and creamy, you won't be missing cheese at all!
2.- Vegan Nacho Cheese Sauce: The quickest and "most cheezy" dipping sauce to dip your chips in! Find the recipe here.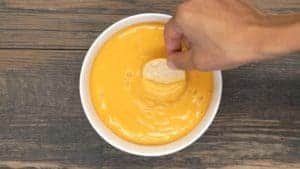 3.- Pinto Bean Dip: A super easy bean dip with a subtle cheesy taste. Get the recipe here!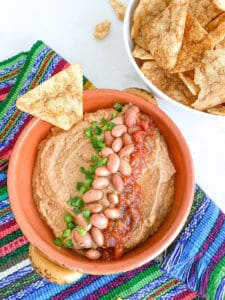 4.- Sweet Potato Lasagna: A super indulgent dinner recipe. Add some nooch top to take it to the next level!