As an Amazon Associate I earn from qualifying purchases.
This one-pot tofu yellow curry recipe is creamy, comforting, and satisfying with tofu, potato, carrot, broccoli, bell pepper, and onion. A delicious, nutritious, 45-minute weeknight dinner!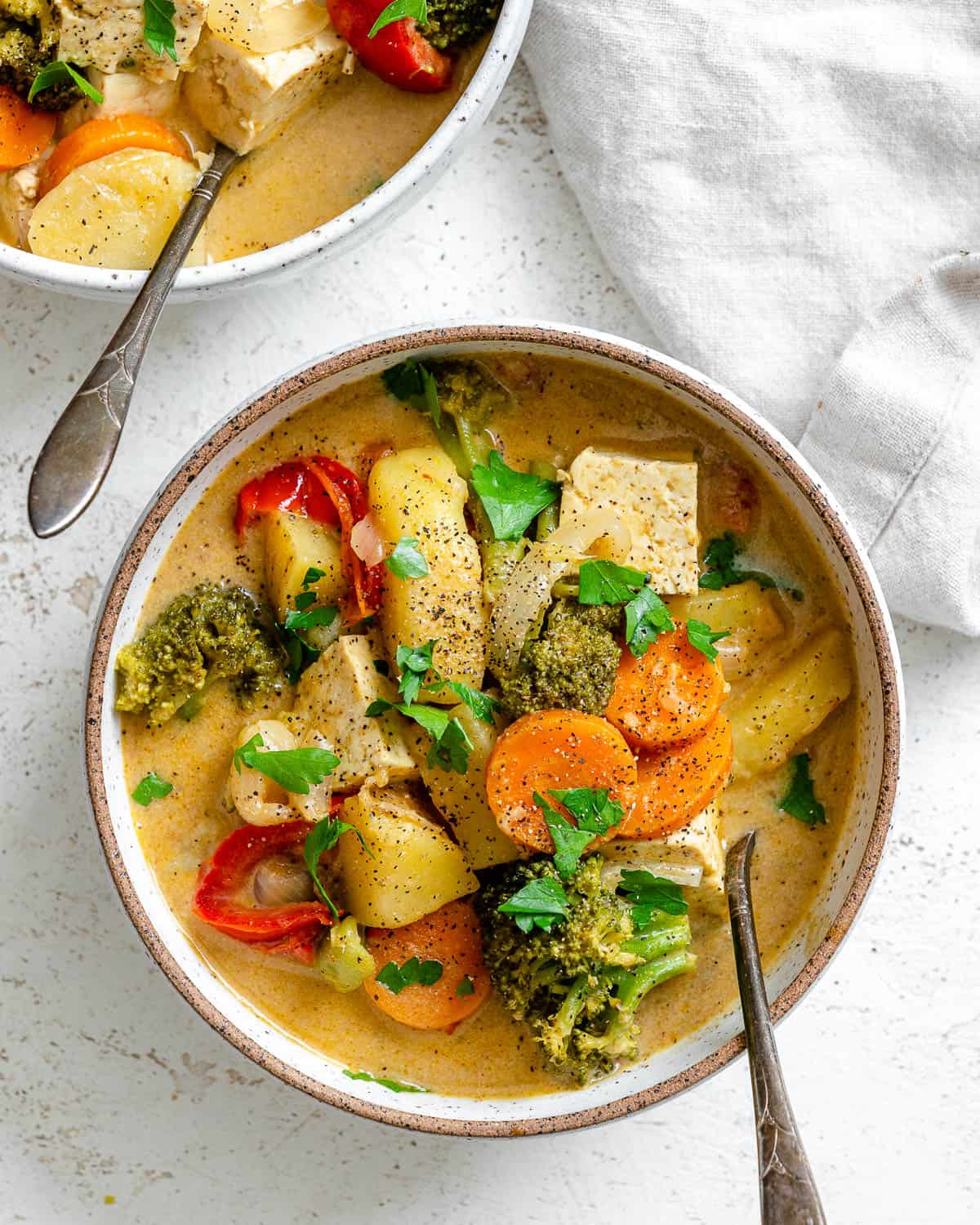 Low-Budget, High-Flavor Satisfying Tofu Yellow Curry
As much as we love our recipe for crockpot red curry, this simple vegan yellow curry recipe (from our cookbook, The Friendly Vegan Cookbook) is perfect for serving a crowd – especially with spice-wary guests and children. When combined with canned coconut milk, it's mild, creamy, a little bit sweet, a little spicy, and low-budget.
This yellow Thai tofu curry is full of satisfying, warm flavors and fragrant aromas. Even better, along with tasting great, it's really easy to pull together in one pan in just 45 minutes (mostly hands-off) – perfect for busy weeknights. It's also jam-packed with good-for-you ingredients, nutrients, and a hefty dose of plant-based protein to keep you feeling full for longer.
Best of all, you can easily tweak the flavors, experiment with different veggies, and even alternative protein sources. Once ready, serve this yellow tofu vegetable curry with a heaped portion of rice or noodles/ flatbread, and enjoy!
The Ingredients and Substitutes
Tofu: It's best to use extra-firm or super-firm tofu, which don't even require pressing. Firm tofu will also work, though we prefer to press it first. Puffed tofu or even tempeh would work, too.
For a soy-free option, replace the tofu with your favorite vegan protein, like a vegan mock meat or chickpeas.
Oil: Use your favorite cooking oil, like vegetable oil or coconut oil.
Vegetables: Increase the color, texture, and flavor with

Bell pepper (we used red, but any color will work)

Potatoes (Yukon gold or red potatoes. Sweet potato would also work)

Broccoli (in bite-sized florets and/or cauliflower)

Curry paste: Use your favorite Thai yellow curry paste- we often use Mae Plot yellow curry paste. Double-check the ingredients, as some brands contain shrimp paste/ fish sauce.
Coconut milk: Use full-fat canned coconut milk for the creamiest tofu Thai curry, though lite coconut milk will work if preferred.
Seasonings: Most of the flavor in this easy yellow curry recipe comes from the curry paste. However, we like to boost it a little with:

Salt (sea salt/kosher salt or use soy sauce for umami-rich saltiness)

Red pepper flakes (added to taste – or fresh red chilies)

Brown sugar (or palm sugar – just a little to balance the flavors)

To garnish: (Optional) chopped cilantro and lime wedges help finish off the vegan Thai yellow curry perfectly.
If you plan to serve this tofu veg yellow curry with rice, we recommend using 4-6 cups of cooked rice, depending on your preferred portion size.
What Could I Add to this Yellow Tofu Curry Recipe?
Other vegetables: It's easy (and fun) to play with different veggies in this vegetarian yellow curry. Here are other options for this easy tofu curry.

Snow peas/ sugar snap peas

Leafy greens: Like spinach or kale, stir it in at the end to wilt.
Nuts: i.e., cashews, almonds, or peanuts to add crunch.
Chickpeas: Or white beans to add extra hearty, plant-based protein to the vegan yellow curry.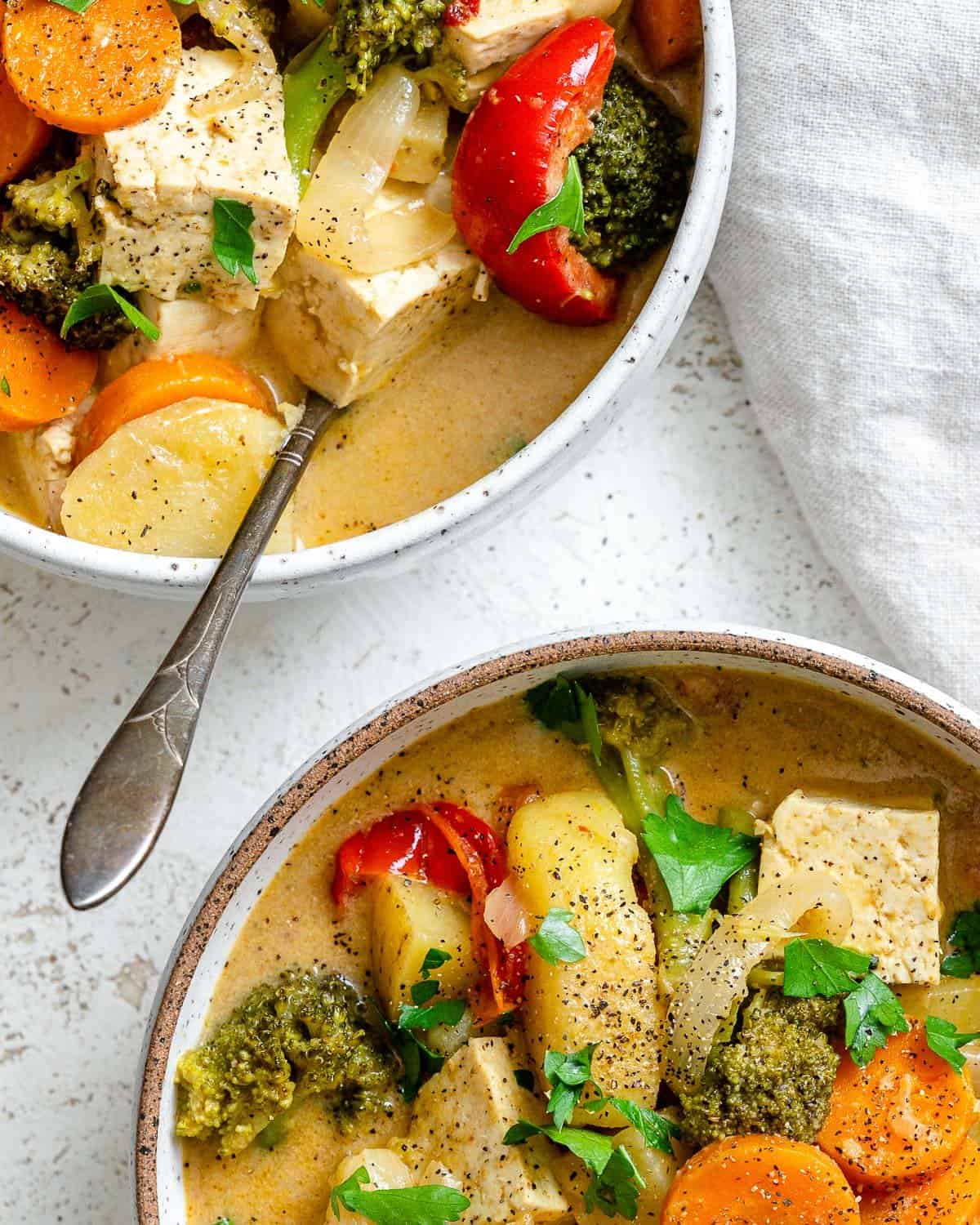 How to Make Tofu Yellow Curry
Keep scrolling to the recipe card for the complete list of ingredients and recipe instructions.
First, rinse, peel, and slice the carrot, bell pepper, and onion, chop the broccoli into bite-sized florets, and dice the potato into 1-inch pieces.
Then, heat the oil in a large, heavy-based pot. Once hot, add the onion, carrots, and bell pepper, and sauté for 2-3 minutes, until the pepper is tender.
Then add the potatoes and curry paste and sauté for 3-4 minutes.
Stir in the coconut milk, brown sugar, and red pepper flakes and bring to a boil, then reduce to a simmer, cover with a lid, and cook for 15 minutes.
Add the broccoli and tofu, stir, and cook, covered, for 15 minutes or until the vegetables are tender.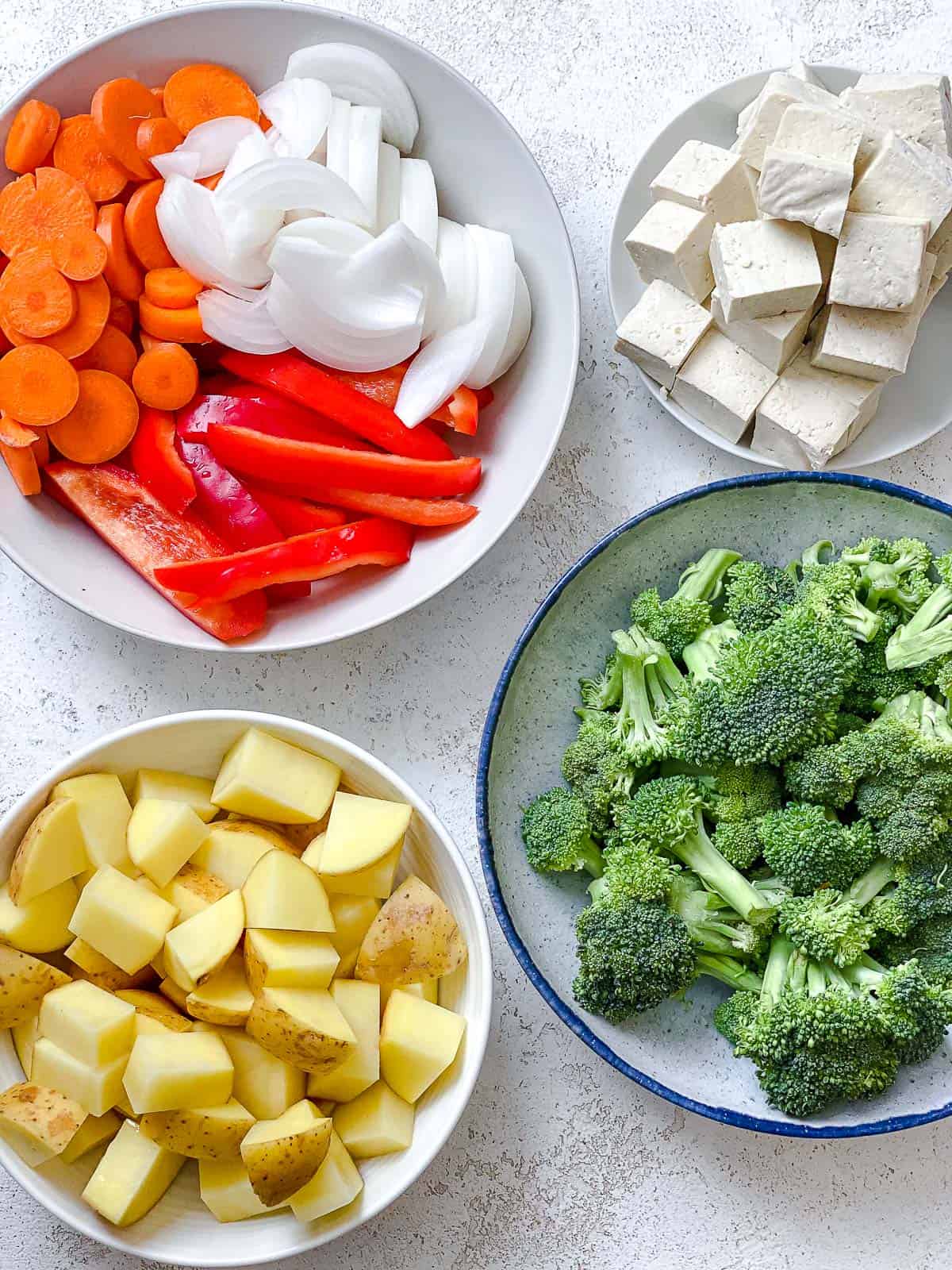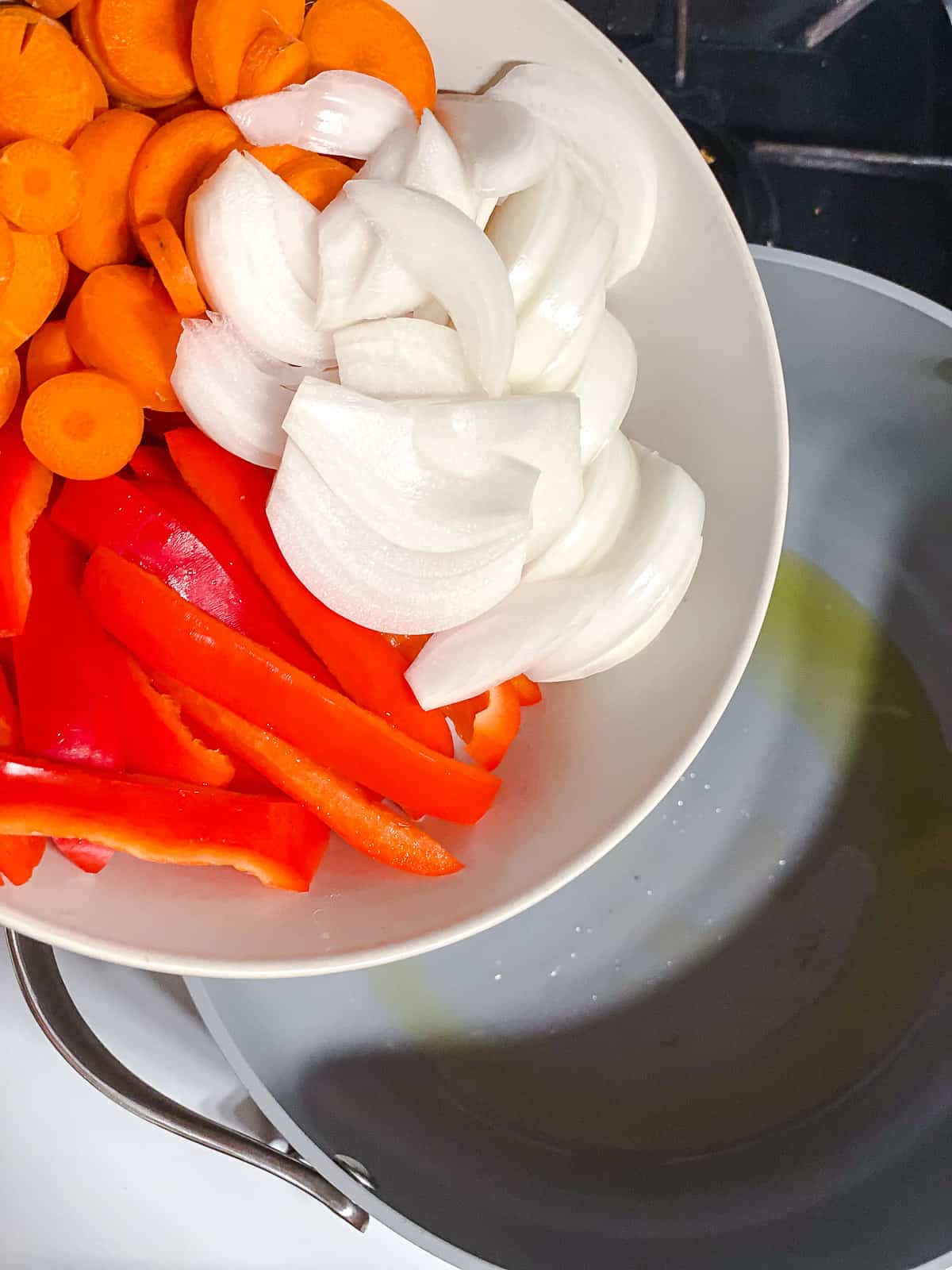 Taste and adjust any seasonings (salt, sugar, chili flakes, curry paste). For crispier tofu, pan-fry the tofu before adding it to the curry.
Optionally, garnish the tofu potato curry with cilantro and lime wedges, then enjoy it with a side of cooked jasmine rice/ brown rice or quinoa and flatbread/bread.
Storage Instructions
Leave the vegan yellow curry to cool, and store any leftovers in an airtight container in the refrigerator for 3-4 days.
You can also freeze the leftovers for up to 3 months in an airtight container or Ziplock bag/s (spread flat and excess air squeezed out). Leave it to thaw in the refrigerator overnight.
Note that the texture of tofu changes when frozen and thawed, becoming spongier/meatier- some people even prefer it that way.
When you want to reheat the vegan tofu curry, do so in the microwave (2-3 minutes, stirring halfway) or gently on the stove. Add water/coconut milk if it's too thick.
FAQs
What is red curry vs yellow curry vs green curry paste?
All three are types of Thai curry paste made with common ingredients like lemongrass, garlic, and galangal. They are then differentiated with extra ingredients that affect their color and overall flavor/heat levels.

For example, red curry is a vibrant red color made using red chilies. Meanwhile, green curry (which is hotter) is made with a combination of green chilies, kaffir lime, and several types of green herbs (like Thai basil and cilantro). Yellow curry is the mildest of all three, relying on turmeric to provide a golden color.
What does yellow curry taste like?
Thai yellow curry is a creamy, fairly mild curry dish made with flavors like cumin, turmeric, cilantro, lemongrass, ginger, garlic, and chili. Combined with coconut milk, it's a rich, creamy curry with a somewhat sweet, mild flavor (but plenty of aromatics). It's perfect for serving the entire family!
What is the best yellow curry paste?
Honestly, it comes down to personal taste. However, Mae Ploy and Aroy-D are both very popular vegan options. If you have the chance, making your own yellow curry paste is even better, as you can tweak it to your exact flavor preferences.
Pro Recipe Tips
Sauté the paste until fragrant: That is an important step to bloom the herbs and spices, releasing their flavor while cooking out any raw taste.
Change the flavor profile: Simply substitute the yellow curry paste with green or red curry paste to easily change the flavor and heat level.
Adjust the intensity: By adjusting how much curry paste you use.
Experiment with add–ins: Just note the vegetables must be added in order of their cooking time, so nothing ends up raw or overly mushy.
Don't boil coconut milk: Otherwise, you risk it splitting in the curry.
Adjust the consistency: For a thinner tofu yellow curry, add some water/plant-based milk. To thicken it, simmer it for longer (lid off) to reduce OR add 1 tbsp of cornstarch slurry.
For crockpot yellow curry: Follow our recipe for this crockpot red curry, using yellow curry paste instead.
More Vegan Curry Recipes
Recommended equipment:
One-Pot Tofu Yellow Curry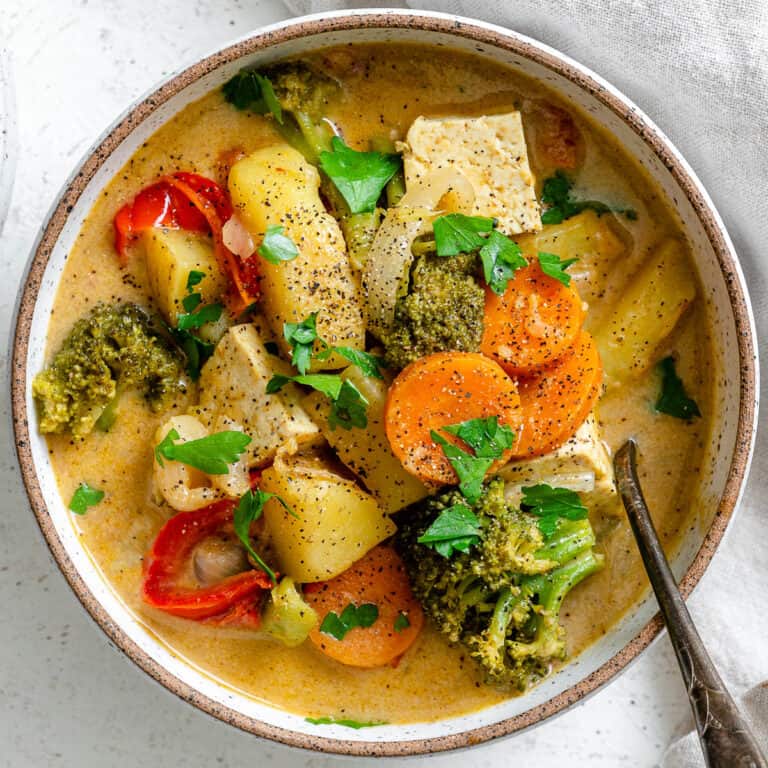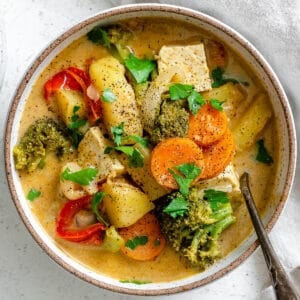 This one-pot tofu yellow curry recipe is creamy, comforting, and satisfying with tofu, potato, carrot, broccoli, bell pepper, and onion. A delicious, nutritious, 45-minute weeknight dinner!
Ingredients
1

tablespoon

of vegetable oil

1

small

yellow onion

sliced

1

large

red bell pepper

sliced

2

carrots

sliced

2

large

yukon or russet potatoes

about 1 pound, cut into 1-inch bite-sized pieces

⅓

cup

of yellow curry paste

2

13.5-ounce cans of full-fat coconut milk

1

tablespoon

of packed brown sugar

1

teaspoon

of salt

1

teaspoon

of red chili pepper flakes

adjust according to your spice preference

2

cups

of bite-sized broccoli pieces

1

16-ounce block of extra-firm tofu, drained and cut into bite-sized cubes

4-6

cups

of cooked white or brown rice
Instructions
Heat the vegetable oil in a large pot over medium­high heat. Add the onion, bell pepper, and carrots, and sauté for 2 to 3 minutes, until the bell pepper is tender.

Add the potatoes and curry paste and sauté for another 3 to 4 minutes.

Pour in the coconut milk, and stir in the brown sugar, salt, and red chili pepper flakes.

Bring to a boil and cover. Lower the heat and simmer for 15 minutes. Add the broccoli and tofu and continue simmering, covered, for 15 more minutes.

Serve with the rice.
Notes
If you'd like to have firmer tofu, you can sauté it in 1 tablespoon of canola oil for 3 to 4 minutes before adding it in step 4. We hope you enjoy this delicious restaurant-worthy meal at home!
Nutrition
Calories:
824
kcal
Carbohydrates:
82
g
Protein:
21
g
Fat:
49
g
Saturated Fat:
40
g
Polyunsaturated Fat:
2
g
Monounsaturated Fat:
3
g
Sodium:
732
mg
Potassium:
1376
mg
Fiber:
7
g
Sugar:
11
g
Vitamin A:
9918
IU
Vitamin C:
116
mg
Calcium:
166
mg
Iron:
10
mg
Disclaimer: Although plantbasedonabudget.com attempts to provide accurate nutritional information, kindly note that these are only estimates. Nutritional information may be affected based on the product type, the brand that was purchased, and in other unforeseeable ways. Plantbasedonabudget.com will not be held liable for any loss or damage resulting for your reliance on nutritional information. If you need to follow a specific caloric regimen, please consult your doctor first.
Additional Info