Enjoy (stovetop or) slow cooker red curry with tofu and adaptable veggies anytime you want a simple, delicious, comforting, low-budget meal with minimal prep and that's far healthier than takeout!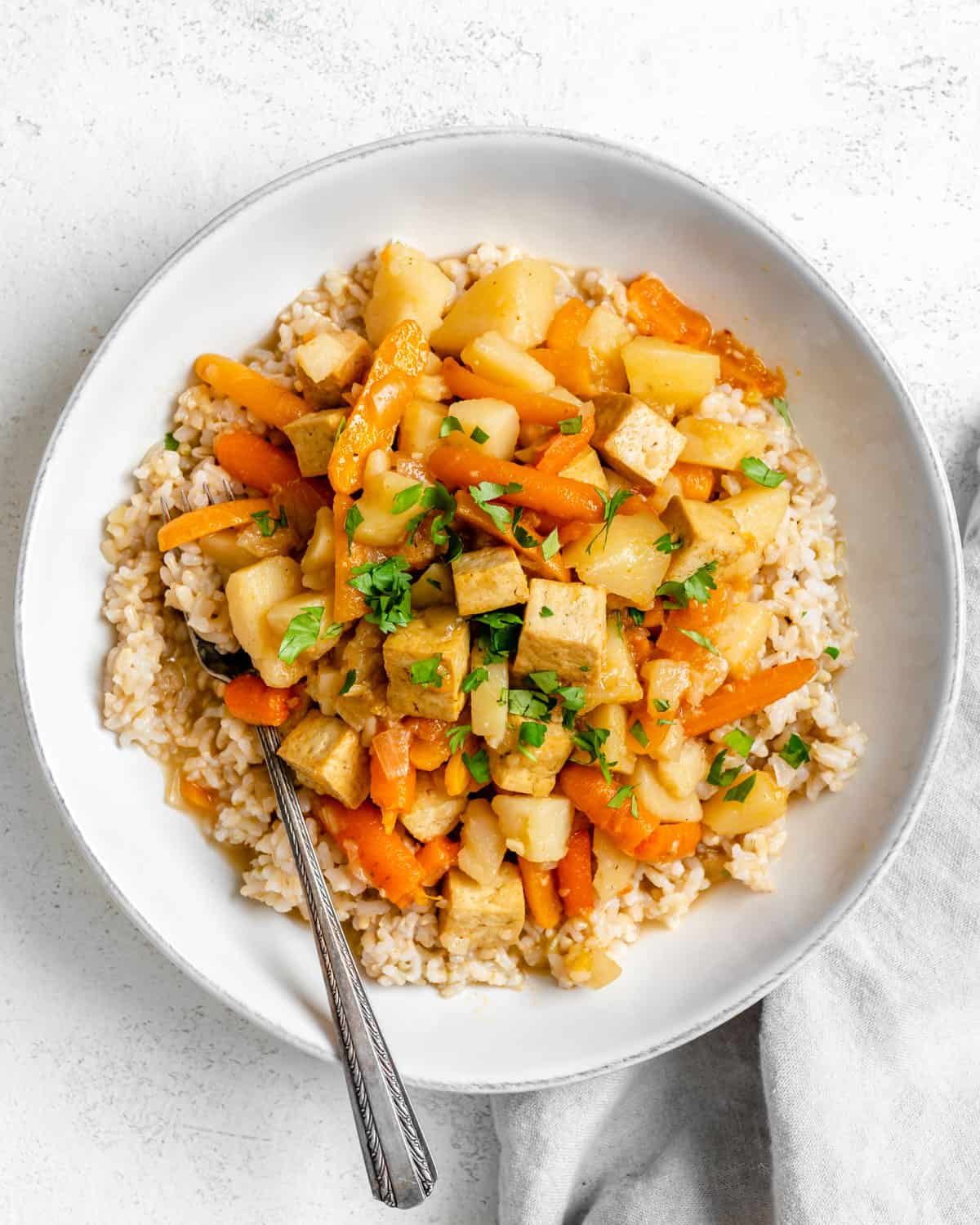 Cozy and Aromatic Tofu Red Curry with Veggies
Along with warming soups and stews, vegan curry recipes are another fall/winter favorite of ours. They're creamy, flavorful, and warming, thanks to the spices. Plus, this vegan slow cooker red curry recipe (from my book The Super Easy Vegan Slow Cooker Cookbook) is almost entirely hands-off and will cook during the day, making your house smell gorgeous, ready in time for dinner, or in under 30 minutes on the stove!
Thai red curry is a wonderfully aromatic, medium-spiced curry (milder than Thai green curry) made from a paste including ingredients like lemongrass, red chilies, shallots, galangal, garlic, etc., then made creamy with the addition of coconut milk. The result is a truly delicious flavor experience, perfect for enjoying alongside rice/quinoa for a simple, low-fuss, high-flavor, lazy dinner.
Plus, it's a great way to get the taste of takeout at home in a simple, healthier, and far more budget-friendly option. Made even more impressive with its versatility/adaptability—both in terms of the veggies added, the protein, and whether you want a creamier or lighter tofu curry.
If you're anything like us, this slow cooker vegan curry will become a staple among other crockpot dinners like crockpot four bean chili, curried butternut squash lentil soup, and jackfruit carnitas!
Tofu Red Curry Ingredients and Substitutes
Vegan red curry with tofu and veggies requires surprisingly few ingredients, all of which are simple to find and inexpensive.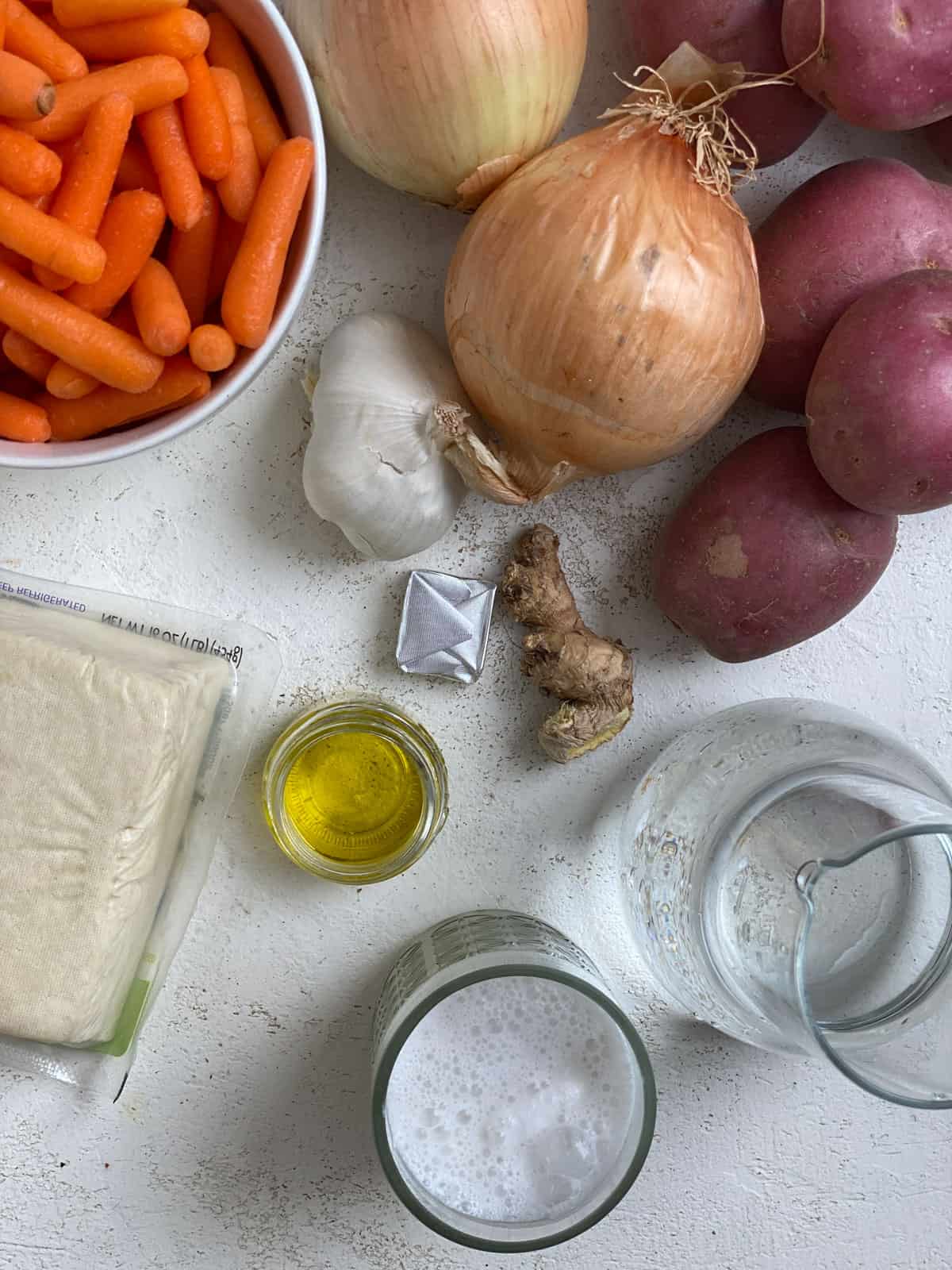 Tofu: Use pressed extra-firm tofu for this red tofu curry, so it maintains its shape when cooked.
Vegetables: The veggies in this tofu vegetable curry recipe are pretty versatile. However, when making a simple, low-budget version, we'll usually use:

Baby carrots (or regular carrots, cut down)
Potatoes (Yukon Gold or red potatoes, as they'll hold their shape)
Depending on the season/availability, you could swap the potatoes for sweet potatoes, butternut squash, or pumpkin in this crock pot vegetable curry.
Aromatics: Garlic, ginger, and onion (yellow) combine forces for this aromatic tofu curry recipe.
Oil: Use your favorite neutral cooking oil, i.e., canola oil, olive oil, avocado oil, coconut oil, etc.
Vegetable bouillon: We use a combination of vegetable bouillon and water in this veg curry. However, you could use any vegetable stock (including low sodium).
Coconut milk: For the creamiest, best results, we recommend full-fat canned coconut milk. You can use lite coconut milk for a lighter version. Other dairy-free creams should also work (like soy cream or cashew cream).
Curry paste: Look out for a vegan red curry paste (like the one from Thai Kitchen). Some contain shrimp paste, so read the ingredients label.
Salt: Add to taste.
The Add-ins and Variations:
Along with the versatile substitutes already listed above, here are several optional add-ins you could enjoy in this vegan tofu red curry.
Soy sauce: For added depth and umami, use soy sauce instead of salt in the recipe. Use tamari for a gluten-free option.
Coconut sugar: A teaspoon or two of sugar adds subtle yet noticeable depth.
Thai basil: Stir a small handful of Thai basil (or cilantro) into the tofu curry before serving.
Red pepper flakes: For more flavor, if desired.
Kaffir lime leaves: Just 4-5 leaves add an interesting depth to the tofu red curry flavor that's more citrussy than a bay leaf or curry leaf.
Other vegetables: There are plenty of vegetables you can add to the red veg curry for more color, nutrients, and texture. We swap out what we use based on what's in season (and on special offer).

Baby corn
Mushrooms
Sugar snap peas
Green beans
Bell peppers
Bok choy
Cauliflower
Broccoli
Bamboo shoots
Eggplant
How to Make Slow Cooker Red Curry with Tofu
Follow just three simple steps to prepare this low-fuss, easy vegan crockpot red curry.
Keep scrolling to the recipe card for the complete list of ingredients and recipe instructions.
1) First, if you haven't already, press the tofu for 30 minutes. Then, heat the oil in a large skillet over medium-high heat. Once hot, add the tofu and cook it for about 5 minutes until it's browned and the edges are crisp.
If you want to keep the tofu crisp, only add it to the tofu curry just before serving. Alternatively, make crispy baked/air-fried tofu and add them when serving.
2) Meanwhile, wash and then prepare the vegetables by chopping the baby carrots in half lengthwise, peeling and chopping the potatoes into ½-inch pieces, dicing the onion, and mincing the garlic and ginger.
If you're using regular carrots, cut them into similar-sized pieces or ¼-inch half-moon slices.
3) Combine all the ingredients in a slow cooker and mix well, then cook over LOW for 6-8 hours or HIGH for 3-4 hours until the vegetables are tender. Then enjoy the tofu red curry with jasmine rice (or quinoa/noodles), topped with cilantro and a lime wedge.
Check the tofu red curry occasionally while cooking and add more vegetable broth if needed.
Stovetop Tofu Red Thai Curry
Follow steps 1 and 2 above. Then transfer everything (adding only enough water on top of the coconut milk to cook all the veggies) to a large heavy-based pan, like a Dutch oven, and cook for 15-20 minutes, or until the vegetables are tender.
If needed, thicken the vegan red curry sauce with a tablespoon or two of cornstarch (in a slurry) towards the end. Alternatively, add more sauce with extra water/veg broth.
FAQs
Can I make soy-free vegan red veg curry?
You can substitute the tofu for another vegan protein, like a meat alternative or chickpeas.
Can I use frozen vegetables?
You can use fresh or frozen vegetables for this slow cooker red curry with tofu recipe. If using frozen veggies, the cooking time might vary slightly.
Can I use a different color curry paste?
You can use this method to make a red, green, or yellow curry.
Is red curry vegan?
Traditionally, no, as red curry paste often contains shrimp paste and is often cooked with fish sauce and meat or seafood as the primary protein source. However, there are several vegan red curry pastes available, and this recipe uses a combination of tofu and mixed vegetables to make a delicious, high-protein vegan tofu red curry.
Do I have to pan-fry the tofu?
No, you can cook it with the other ingredients if preferred or even bake it or air fry it for crispier results.
Recipe Notes and Tips
Cut the veggies evenly: So they cook evenly within the tofu red curry.
To thicken the sauce: Add a tablespoon of cornstarch (in a slurry) and cook over HIGH until thickened, stirring regularly. Repeat if necessary.
For richer flavor/more heat: Increase the amount of red curry paste you use in the tofu curry. You could also add red pepper flakes for more heat.
Creamier vs. lighter: Tweak the ratio of coconut milk to the broth to determine how light or rich and creamy the coconut milk tofu curry is.
Experiment with veggies: It's easy to swap them based on season, availability, etc.
Try different curry pastes: Unless you make your own, it's worth testing several brands to find the one you prefer. They'll all vary and can require seasoning differently (i.e., more soy sauce/salt, some sugar, etc.)
To cut down prep time: Buy pre-prepared vegetables or frozen vegetables.
Storage Instructions
Allow the tofu red curry to cool, and then store any leftovers in an airtight container in the refrigerator for 3 days. It tastes even better on day two after the flavors have had more chance to meld.
You can also freeze the leftovers for up to 3 months. However, note that the texture of tofu changes slightly after freezing.
You can reheat the tofu red curry on the stovetop over low heat or in a microwave for 2-3 minutes.
More Easy Vegan Curry Recipes
Photos by Alfonso Revilla
Slow Cooker Red Thai Curry with Tofu [+Stove]
Enjoy (stovetop or) slow cooker red Thai curry with tofu and adaptable veggies anytime you want a simple, delicious, comforting, low-budget meal with minimal prep and far healthier than takeout!
1

tablespoon

of canola oil

12

ounces

of extra-firm tofu, cut into 1⁄2-inch cubes and pressed to reduce excess water

3

cups

of baby carrots, halved lengthwise

2

cups

of peeled and chopped red or Yukon potatoes

2

medium

diced yellow onions

3

teaspoons

of minced garlic (6 cloves)

1

inch

of fresh ginger, peeled and minced

1 ¾

cups

of water

1

cup

of canned unsweetened coconut milk

1 ½

tablespoons

of red curry paste

1

cube

of vegetable bouillon

½

teaspoon

of salt

Cooked rice, for serving

Fresh cilantro, for garnish
Cut the veggies evenly: So they cook evenly within the tofu red curry.
To thicken the sauce: Add a tablespoon of cornstarch (in a slurry) and cook over HIGH until thickened, stirring regularly. Repeat if necessary.
For richer flavor/more heat: Increase the amount of red curry paste you use in the tofu curry. You could also add red pepper flakes for more heat.
Calories:
450
kcal
Carbohydrates:
76
g
Protein:
14
g
Fat:
10
g
Saturated Fat:
4
g
Polyunsaturated Fat:
2
g
Monounsaturated Fat:
3
g
Trans Fat:
0.01
g
Sodium:
649
mg
Potassium:
1017
mg
Fiber:
7
g
Sugar:
9
g
Vitamin A:
14263
IU
Vitamin C:
32
mg
Calcium:
114
mg
Iron:
4
mg
Disclaimer: Although plantbasedonabudget.com attempts to provide accurate nutritional information, kindly note that these are only estimates. Nutritional information may be affected based on the product type, the brand that was purchased, and in other unforeseeable ways. Plantbasedonabudget.com will not be held liable for any loss or damage resulting for your reliance on nutritional information. If you need to follow a specific caloric regimen, please consult your doctor first.