As an Amazon Associate I earn from qualifying purchases.
Dead Prez has been the most inspirational Hip Hop group in my life. I first heard their album "Lets get Free" when I was in middle school, and it introduced me to ideas of healthy living, questioning authority, the importance of happiness, being proud of my brown skin, among many other powerful ideas that I wasn't familiar with at the time. 13 year later, it has remained a strong motivator in my life.
It brings me great pleasure that Stic has written this article for Plant Based on a Budget. It perfectly touches on everything we stand for and I couldn't be more grateful. Please help me show appreciation by spreading this far and wide, adding him on Facebook and leaving a thankful comment.
Thanks, Stic!
<3 Toni
Check this, "Healthy is the New Gangsta" shirt. 😉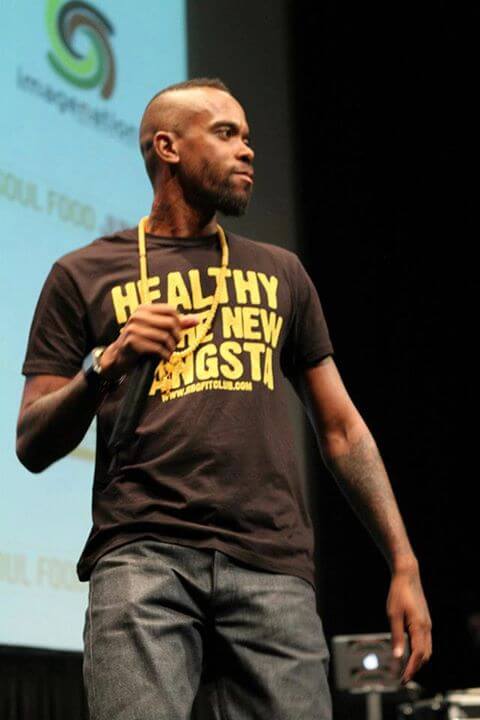 Photo credit: B FRESH Photography and Media
"7 Ways to Eat Good While on a Hood Budget" by Stic of Dead Prez founder of www.rbgfitclub.com
In the work I do in promoting holistic health and fitness through the RBG FIT CLUB, I have run into the following sentiment more than a few times: "I want to eat healthier but it's too expensive!". Many people are interested in ways to upgrade their diet without breaking their bank. Well, I can dig it. And since I been striving to sustain the healthy grind in my life personally since way back in the food stamp days, I think I may have a few tips to share.
The following are 7 Ways to Eat Good While on a Hood Budget. But bottom line always remember, we can pay now or pay later (in suffering and doctor bills etc) when it comes to our dietary discipline and choices.
1. Choose Produce not Packages: People think eating healthy is about buying a lot of expensive boxes and packages of processed foods, but that isn't the case at all.
The cheapest most nutrient dense food in a grocery store in the produce isle. Fresh vegetables and fresh fruits. Trying to buy costly packaged goods, potato chips and sugary juices and all kinds of over processed items, even at a health food store is when the budget starts to soar. When we feel we don't have time to cook we often go for a lot of "quick fix" items like pizzas and pre-cut bags of French fries and stuff like that. That's where the money adds up. But if you fill your basket with fresh greens and fruits and some basic staples like rice, noodles, beans you will not only have an optimal basket of nutritious foods … you will have saved a great deal of money of the food bill and subsequent doctor bills. Eat real foods and save real money. If you worried the fruits and veggies will spoil before you eat them, read on to number 2!
2. Cook Big and Save Some for Later: Cooking meals in large batches and freezing the leftovers for later in the week or month can save you a lot of time and money.
Instead of buying fast food or eating out at restaurants, or even cooking a full meal every time you get hungry, it's way more cost effective and time saving and healthy for you to pull something out of the freezer and warm it up than it is to wash/chop/slice/boil/bake/wait in line/wait to be served etc.
Pre-preparing and freezing weekly sized portions of rice or salad choppings or beans etc will simplify your meal duties. Even if you have to do a little cooking you will still save money and time seven days a week. Spend an hour or so over the weekend like on a Sunday evening preparing food for the week. Then, during the week, all you have to do is pull something out of the freezer and heat it up. Them big Ziploc bags ain't just for the D-boys! Lol
3. Soup Up your Options: Large vegetable soups over brown rice or whole grain noodles pack in vitamins and nutrients, fill you up and are easy to make and delicious. Also Bean burritos, chili, and bean soup can be easy to prepare, cheap and good for you. Going totally meatless a couple of times a week (or for good) also helps your budget and gives your palate a variety to enjoy. Frozen veggies, which are inexpensive, work great in Soups. Nothing compares to that good and filling, good feeling of a hot and hearty bowl of Soup. Cheap, packed with nutrients, easy to prepare. Its the new "Soup-er" food! Lol!
4. Make A Plan and See Where Ya Values Are:. In the hood, in all honesty, We spend a gang of money on cable, hair dos, sneakers, weed, parties expensive bottles of alcohol,video games, big screen tvs, rims, jewelry, strip club tricking, trendy name brand clothes, car accessories, headphones, cigarettes all kinds of overpriced things. But when it comes to our health, we often skimp and look for the cheapest food we can find.
But in our best interest, We have to value our health above all these other things, and make eating healthy a priority in terms of how we spend the resources we have. Makes no sense to be fronting like a rich person on the outside ,but in reality, in poor health on the inside, right? But it's easy for any of us to make excuses without looking at at a budget, so that's where budgeting comes in handy.
Budgets help us see where our money is really going not where we feel like its going. Budgeting is also a master ingredient to financial stability in general, so not only will it help identify funds that can be used toward more healthful food choices; its an essential tool to manage our financial responsibilities better in general. Usually when we make a budget we can see plenty of stuff we can do without to make room for healthier eating choices. You may say "shoot, I dont make enough money to budget it!" lol, but you don't have to make a lot of money to benefit from budgeting. Budgeting helps what ever we make stretch farther and get more of what we truly value out of what we have. When we values ourselves more than our things we make healthier choices. Budget, prioritize and prosper.
5. Season your Food: Eat fruits and vegetables that are in season, that is! Otherwise you'll be paying a much higher price. For example, if you live in the north east United States and you want some watermelon in the middle of the Winter of December, it's gonna have to be shipped from where ever it is in season to your local market and you pay that extra cost. Also, eating foods that are current in their natural growing season helps strengthen your immune system for that season. Seasonal Fruits can be frozen and blended to smoothies. Frozen vegetables also can be used to make a stir fry. They're convenient and they don't spoil quickly like fresh fruits and veggies.
6. Join a Co-op or Local Community Garden: You get discounts on your groceries by being a member of grocery store co-ops. In exchange for your minimal volunteer work hours per month, you get your groceries at Co-op member's only price. Same thing goes for community gardens. And not only that you get to learn a WHOLE lot about nutrition and health being in that kind of environment.
There are many urban farm movements popping up all over the place where folks are going back to the land, utilizing whatever small plots there are right in the hood, to grow food. Participating with these farms are awesome ways to educate ourselves on growing food. Also, there are usually harvest markets where the food is sold for really affordable prices and you can get first dibs by being a community member. Places like DTown Farms and Freedom Freedom in Detroit and Truly Living Well Farms and Habesha Gardens in Atlanta are great examples of gardens in the hood that you can google and "dig" into! If you have even the smallest plot of land in your yard growing your own food from heirloom seeds (non-gmo varieties) is also another way to save on the grocery bills while mastering a very useful and fun survival skill.
My wife Afya, has been a great source of inspiration in this area in our household. You can Follow her instagram (@AfyaIbomu) blog to see our latest harvests. And last but certainly not least….
7. Drink more water. Many times we think we are hungry, it may be actually a sign of thirst.
The fact that it is recommended by holistic healers and medical experts alike that we drink half our body weight in ounces of water each day, it's safe to say many of us are chronically dehydrated and as Rocko's song lyric says "we don't even know it". When we are drinking enough water it curbs our appetite so we don't over eat. Drinking water also says us money on all the sugary drinks on the market that are often what we choose to wet our whistles due to the drug effect of the high sugar, high fructose corn syrup content of most beverages sold in the hood. We can save our money and our internal organs by saying no to the liquid sugar caffiene crack juice aka sodas and artificial energy drinks and just sip on nature's good old original elixir -H20!
oh…Bottle water getting too expensive? Get a basic filter for your tap, some for as low as $20 bucks and like Kendrick Lamar's song says "pour up, drank!"
In summary, the main thing to remember for eating good on a hood budget is that it is doable! People often say things are not possible that they haven't truly dedicated themselves to figuring out. Many of us say it's too expensive to eat healthy but we spend and waste a lot of money that could have been spent in a wiser manner. The reason that many of us think health food is expensive is because we are not clear on what health food is. Health food is not going to Whole Foods and stocking your pantry with fancy processed boxes and packages of this and that. Health food is simple and is the least expensive most nutrient dense food in the grocery store, basically fruits and vegetables, beans and simple whole grains. Those are affordable staple foods and even on a food stamp budget (I know from experience) have been scientifically applauded for their health benefits.
It's important that we not be intimidated by all the health information nor swayed by all the different opposing views on what health is. A lot of it is simple common sense, if you will. We know a bag of chips isn't a health food. We know that McDonald's isn't exactly a health food restaurant either. We can begin to take ownership and be ever vigilant in studying and learning all we can to educate ourselves on how to make healthier choices. Do your own research and take ownership for your health. To live a healthy life its not about always depending on the doctors and medications. One has to in essence become a lifelong student of your own holistic health so you can make wise choices for yourself and your families. Most graduating Doctors spend very little class time studying nutrition when getting their degrees. So they may have a lot of knowledge on surgery and medicine but few mainstream minded doctors are trained in Nutrition. They are trained to diagnose symptoms and prescribe medication, for the most part. However, a holistic nutritionist (as opposed to even a conventional nutritionist) is trained to help us understand the ways in which our food choices can help us heal and keep us healthy without the use of medicines and surgeries.
As mentioned, its important to plan ahead and have a weekly goal and vision on the meals and needs your family has so that we are making less impulsive decision when hunger strikes and more pre-planned long term health affirming choices based on wise consideration and preparation before hand. When we cook in bulk for the week it's one of the biggest helpers in saving money and eating less fast food and junk food. With realistic budgeting we can see what we really have to work with and choose consciously to value our health over things. Each season nature gives us plenty of fresh foods to nourish us in harmony with our environment and these foods are plentiful in there natural seasons so they are less expensive.
And lastly, but not leastly, we need to realize that our taste buds are conditioned and can be re-conditioned. When we only eat for taste we become slaves to taste alone. And as we learn from seeing far to many of our relatives sick and miserable and overweight and diseased, eating for taste without regard to health leads to self destruction. We can eat healthy on a hood budget. We deserve the best and we can start living like we understand our value by choosing to adopt healthier habits. When the hood is strong, we are truly unstoppable. Salute!