22 vegan Passover recipes, perfect for celebrating this Jewish holiday with friends and family without sacrificing your vegan diet! Including vegan matzo ball soup, kugel, charoset, and more!
With Passover just around the corner, we've pulled together a list of 22 delicious vegan Passover recipes to enjoy during this special Jewish holiday. As a vegan, Passover food can be a source of anxiety. We want to make things easier for you!
Luckily, we've pulled together a collection of vegan-friendly Passover dishes that will be a welcome part of your Passover meal menu and celebrations. These include classics-turned-plant-based, such as a vegan matzo ball soup, latkes, and kugel, along with many other delights. So, jump right in and enjoy a delicious vegan Passover without sacrificing your traditions!
Jump to:
Vegan Seder Plate Alternatives
The first evening of this holiday includes the Seder plate ritual. Usually, this plate is filled with several symbolic dishes, some of which aren't vegan. However, here are a few ways to replace animal products for a vegan Seder plate.
Charoset: We have several vegan charoset recipes below that are honey-free.
Beitzah: Replace the egg with either avocado, white eggplant, or flower. We use a bottle of JUST egg for ours.
Zeroa: You can replace the lamb shank with roasted red beetroot (whole or chopped). We use a Whimzee dog bone for ours.
Here is an example of our Seder plate: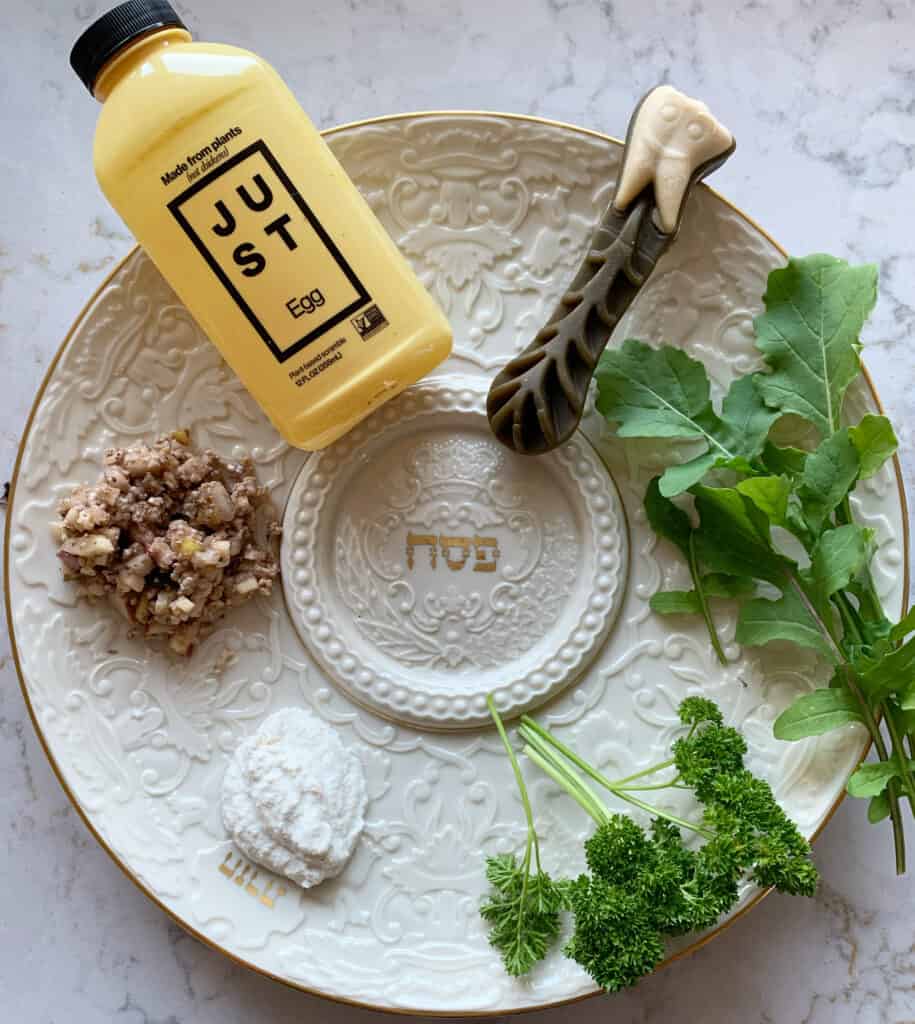 Savory Vegan Passover Recipes
This is (arguably) one of the most popular Passover dishes, and now vegans don't have to miss out. Instead of using chicken and egg products, this recipe is 100% plant-based and vegan and still wonderfully hearty and delicious. It's a wonderful vegan Passover recipe.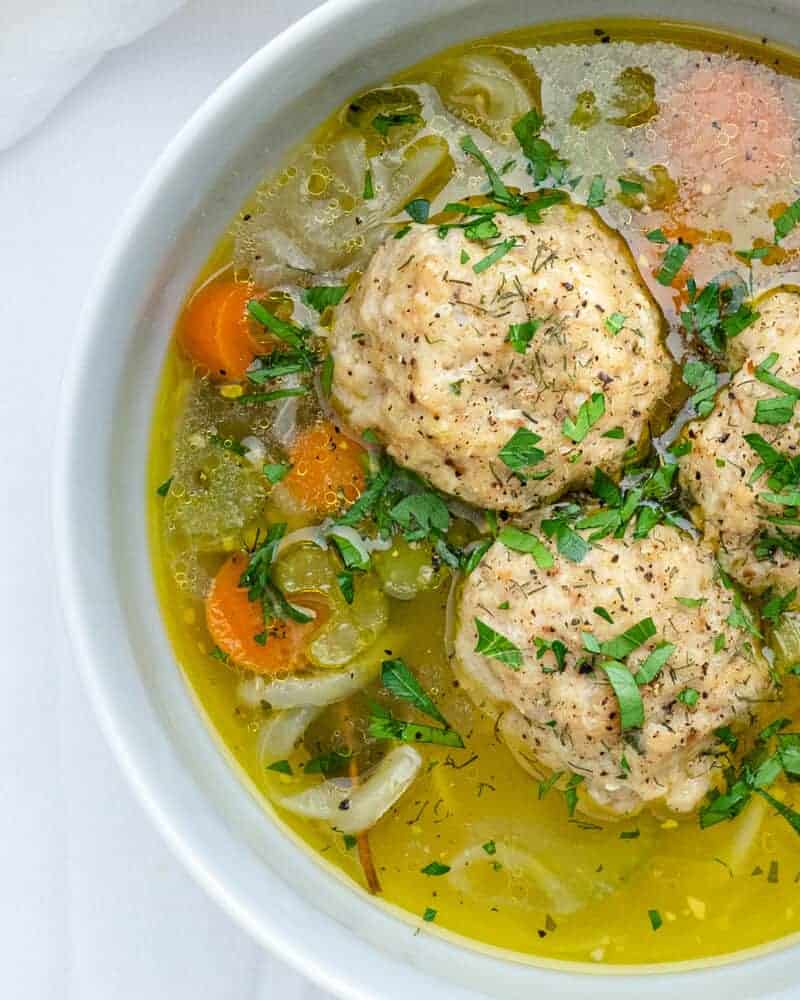 Matzo Ball Soup
You'll love this plant-based version of the traditional Jewish Matzo Ball Soup! Once you get the hang of the dough, you'll be a matzo ball pro!
View Recipe
While these delicious Sweet Potato Latkes will give you a taste of Hannukah, these potato cakes are perfect for enjoying as a vegan Passover meal idea, too. Plus, unlike traditional latkes, this recipe is egg-free and 100% vegan. Enjoy them with some vegan sour cream or applesauce.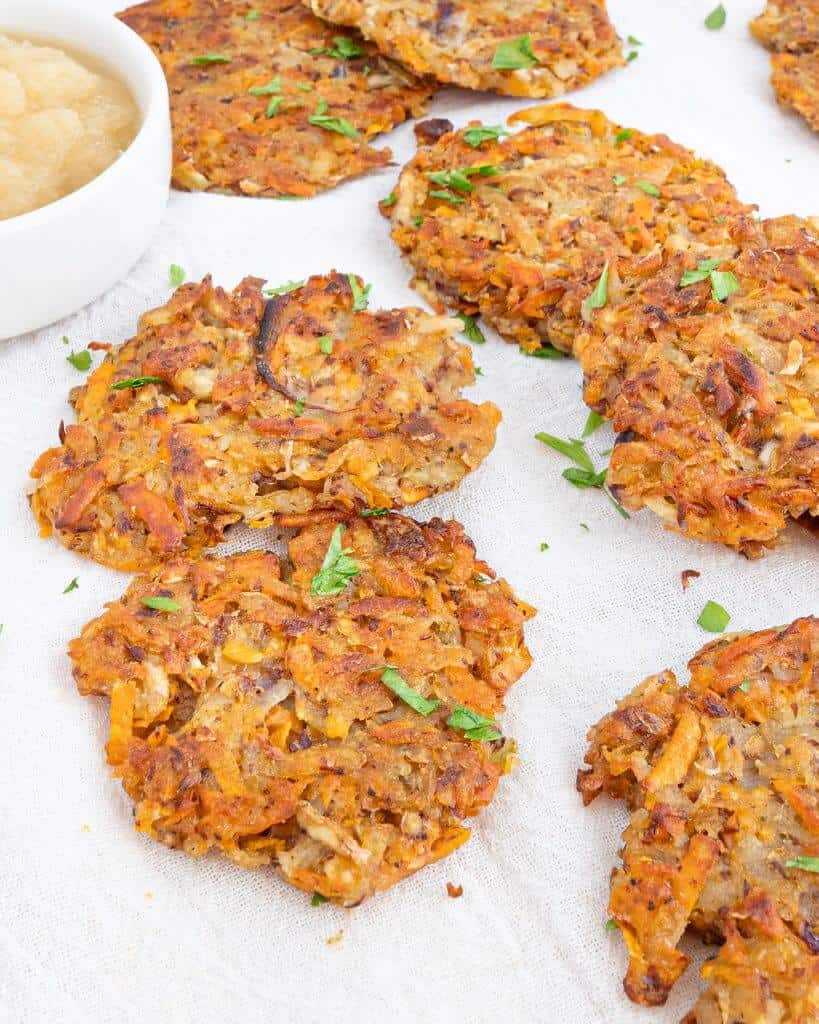 Crispy and delicious, this Vegan Potato Kugel from Zardy Plants is the perfect vegan Passover side dish. Make it in one dish with just a few simple ingredients, serve it, and watch it disappear in minutes!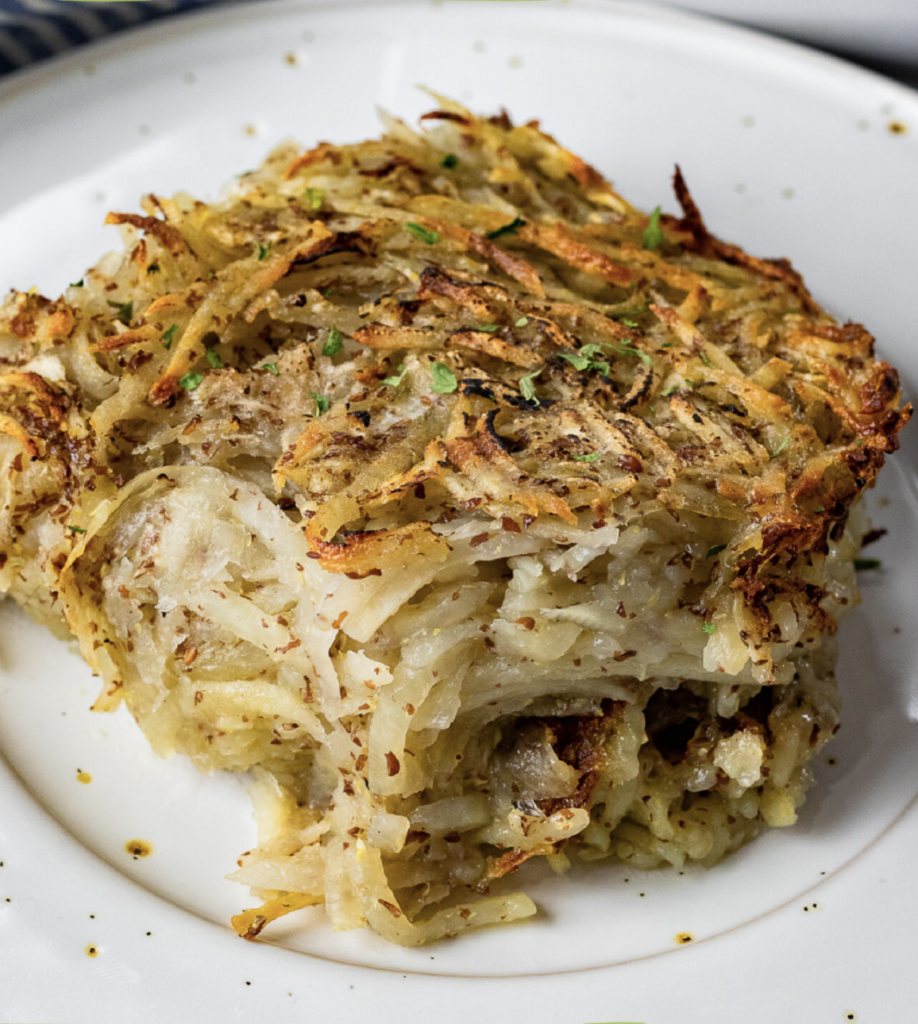 Vegan glazed carrots are simple to make with a handful of inexpensive pantry staples. You can whip them up ready to serve in under 15 minutes. Plus, they are a delicious addition to your Passover meal menu.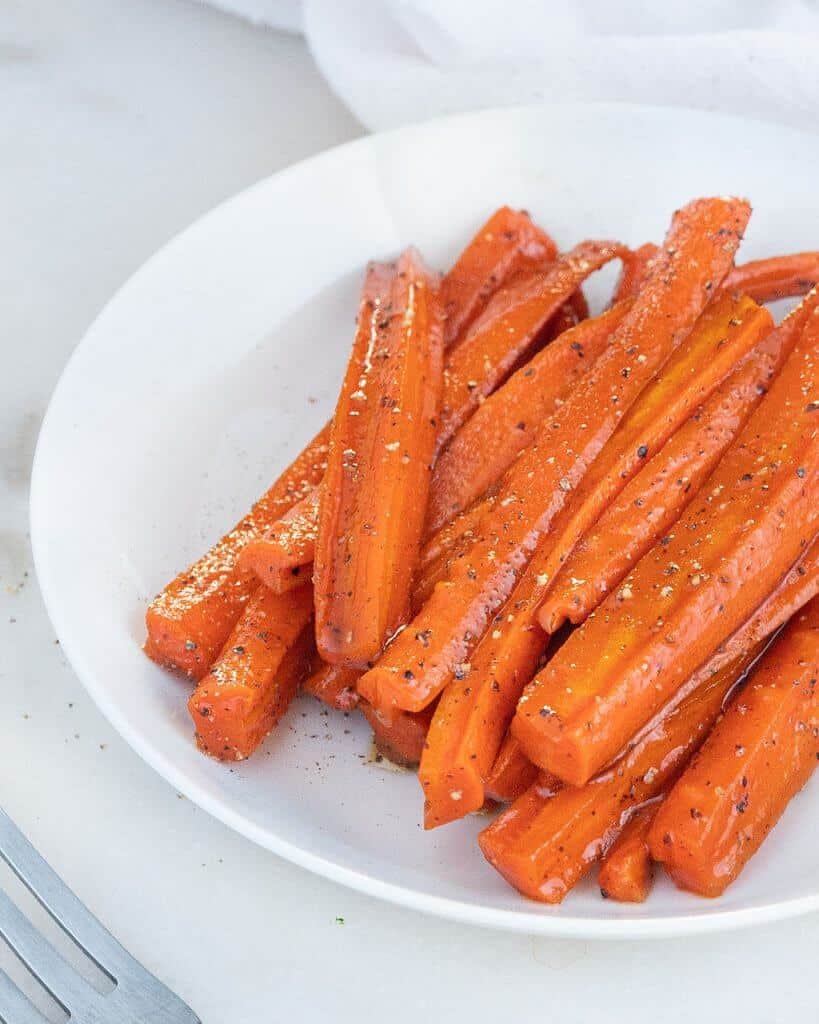 Rosemary roasted potatoes are combined with caramelized garlic and shallots in this simple yet delicious holiday side. All you need are seven ingredients for potatoes that are chock full of flavor, lightly crisp on the outside, and tender and creamy in the middle.
This Instant Pot eggplant caponata from Corrie Cooks is an easy vegan Passover meal menu side dish you can make in only 8 minutes. Just throw all the ingredients, stir a bit, and wait. It's also super versatile, so feel free to chuck in extra veggies as desired and serve it with matzo.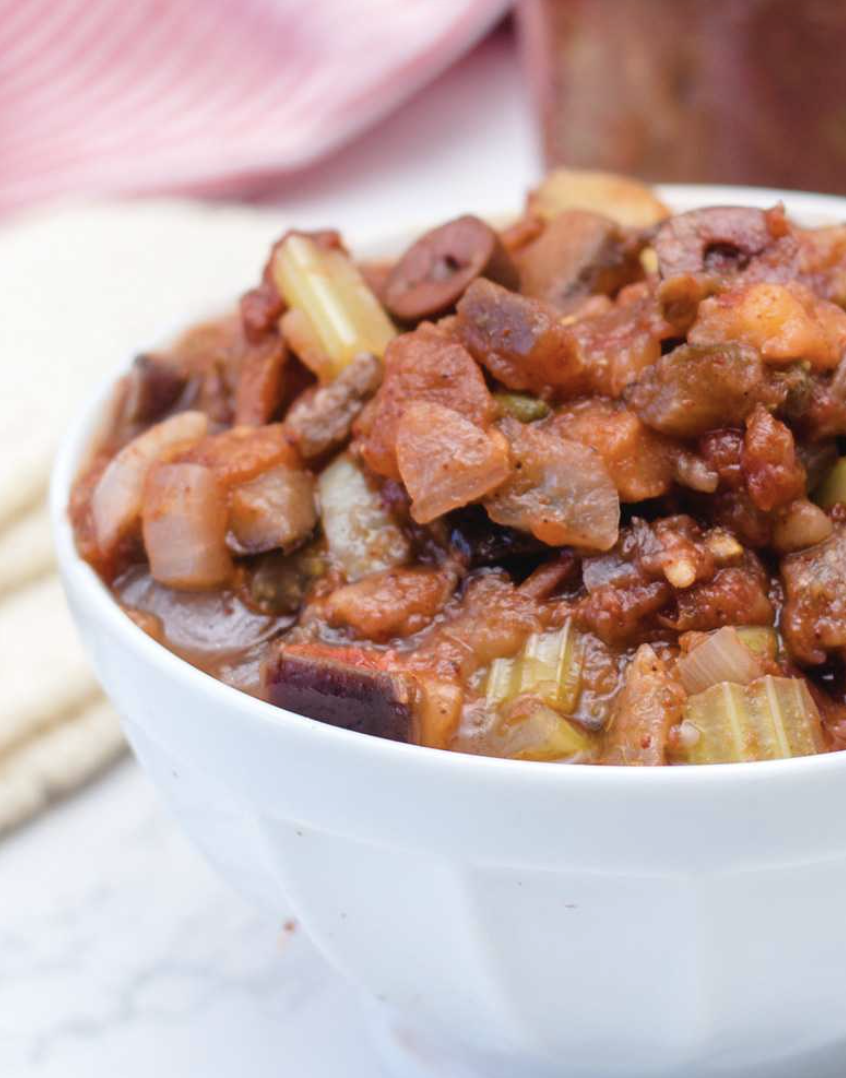 Moroccan-inspired Orange Spiced Quinoa from Veggies Save The Day is a delicious addition to your Passover table. It's loaded with flavor from cinnamon, raisins, walnuts, carrots, and fresh herbs.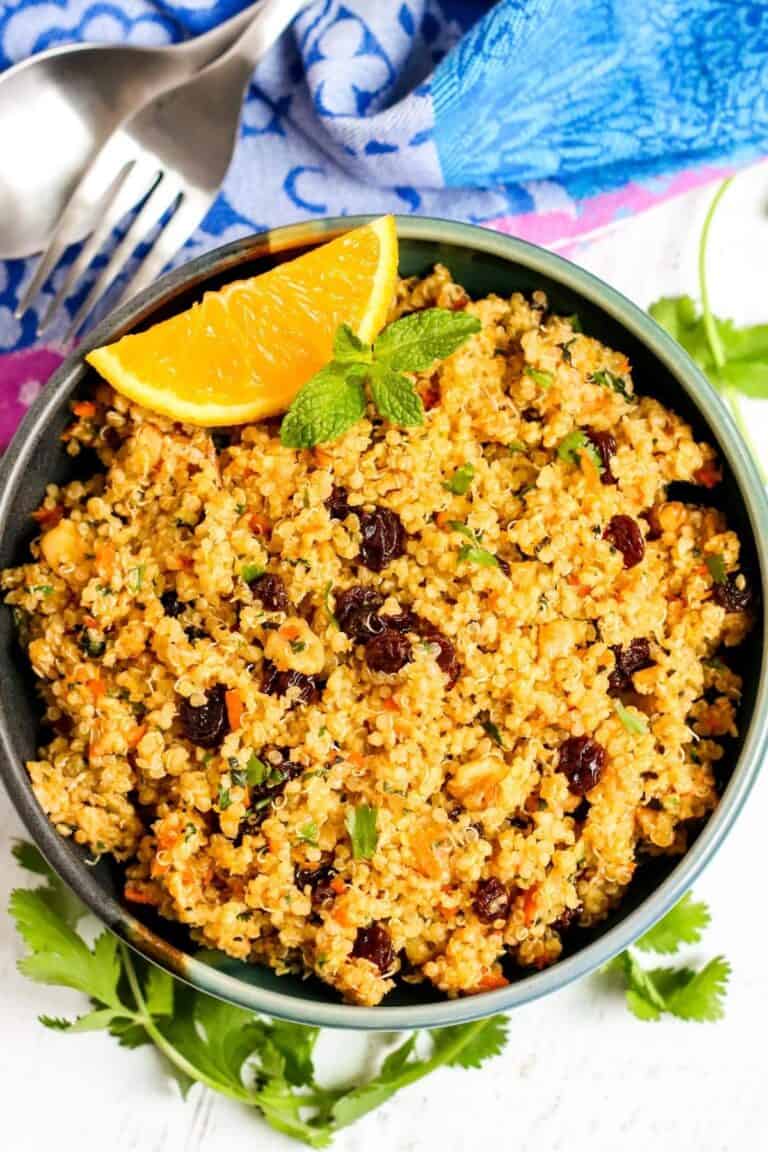 These hummus-stuffed (radicchio or) lettuce wraps from Beautiful Ingredient are quick and easy to make while being a beautiful, satisfying snack. Perfect as an appetizer for your next gathering and as a vegan Passover recipe.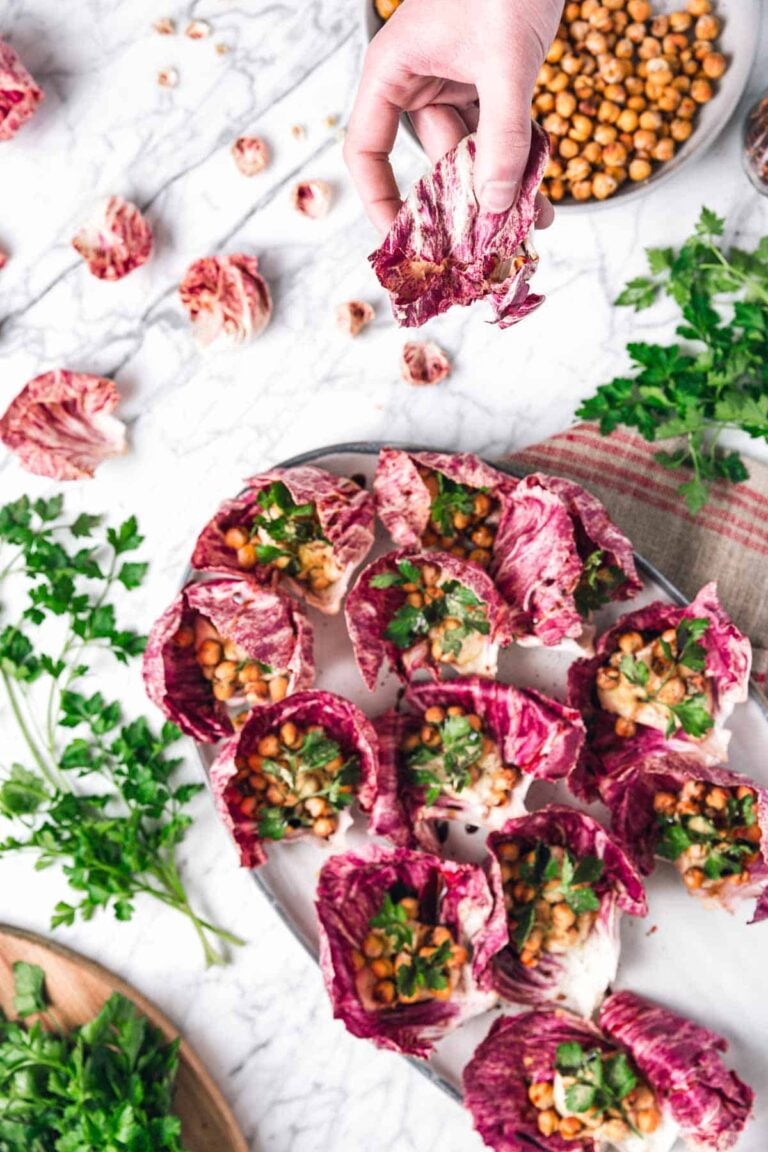 This creamy vegan roasted beetroot dip by Nutritiously is made with white beans, zesty lemon, creamy tahini, and delicious herbs, like a chickpea-free hummus. It's full of nutrients and vibrantly pink-perfect for celebrating the season, with matzo!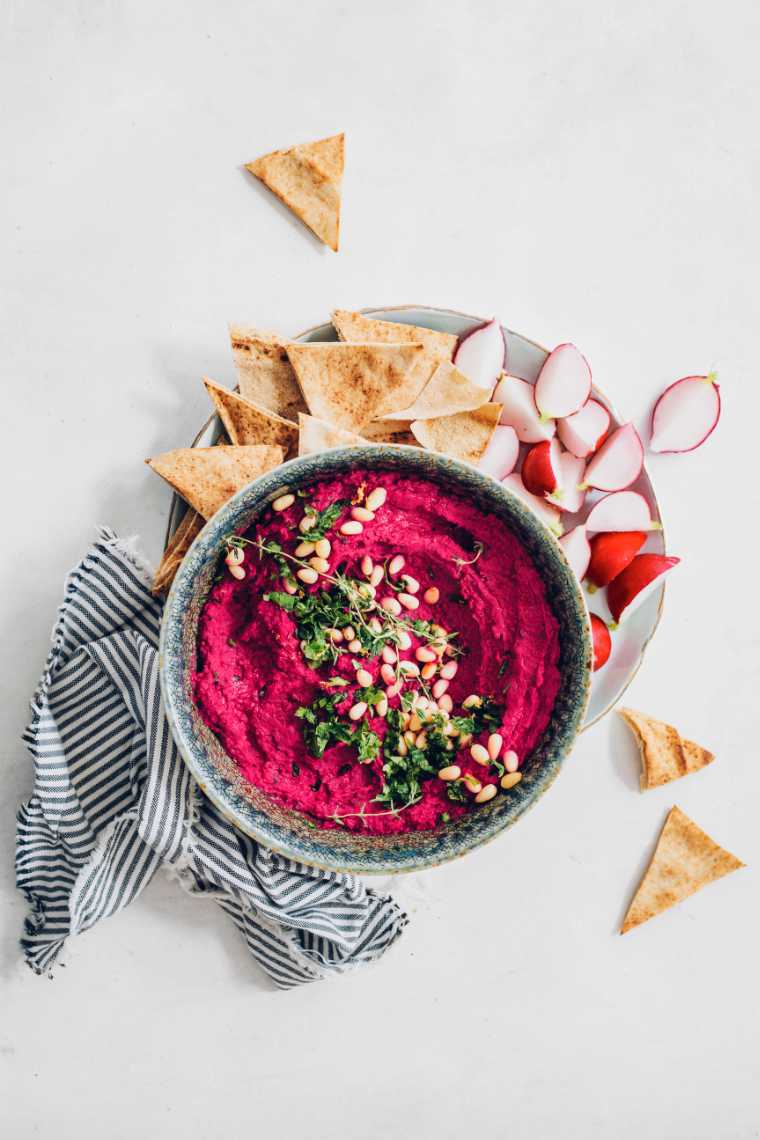 Ditch the copious amounts of oil used for traditional fried falafel for this healthier baked falafel. They make for a great lunch, dinner, or snack year-round! Plus, they keep for several days and can be reheated in a toaster oven (or microwave). These baked falafel balls are also, luckily, Passover Kosher!
These Vegan Smashed Potatoes with Dill Sauce from Lavender & Macarons are a comforting side dish that never disappoints. It requires just four simple ingredients and is a great vegan Passover recipe for any occasion.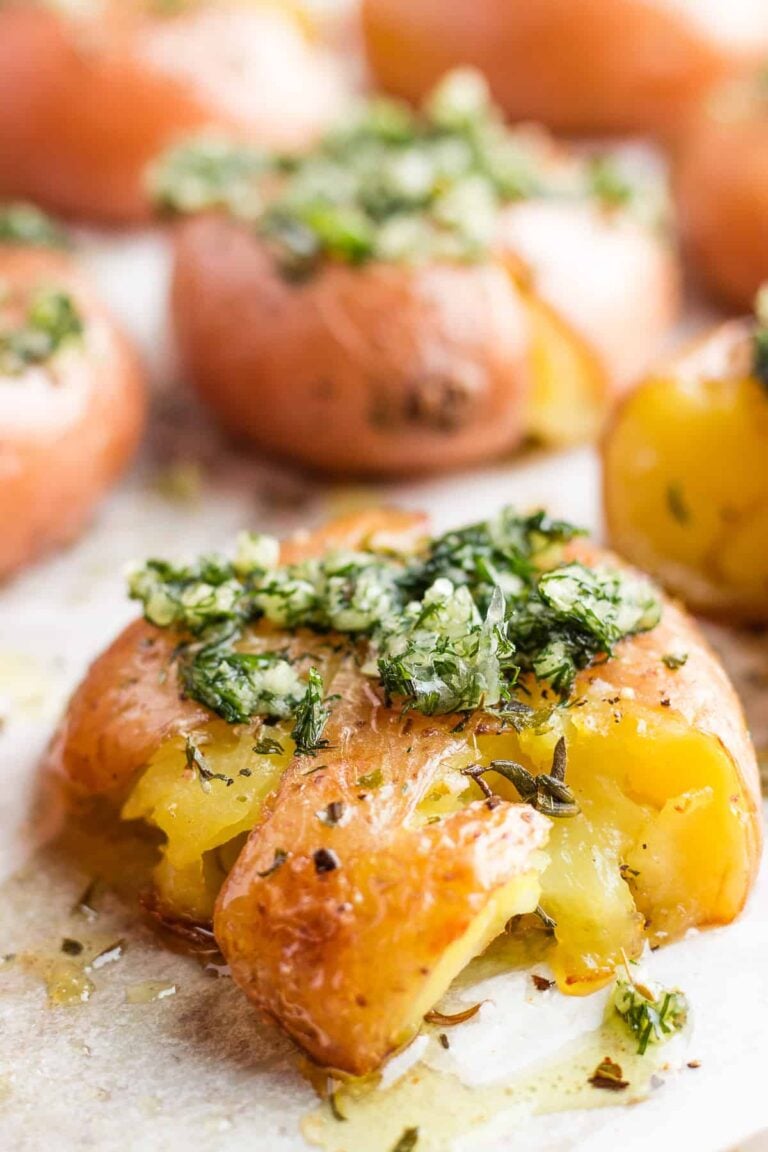 This easy and creamy potato salad by Nutriciously is perfect for making ahead of time and truly crowd-pleasing! Plus, all you need are a few simple ingredients for this vegan Passover meal menu side dish.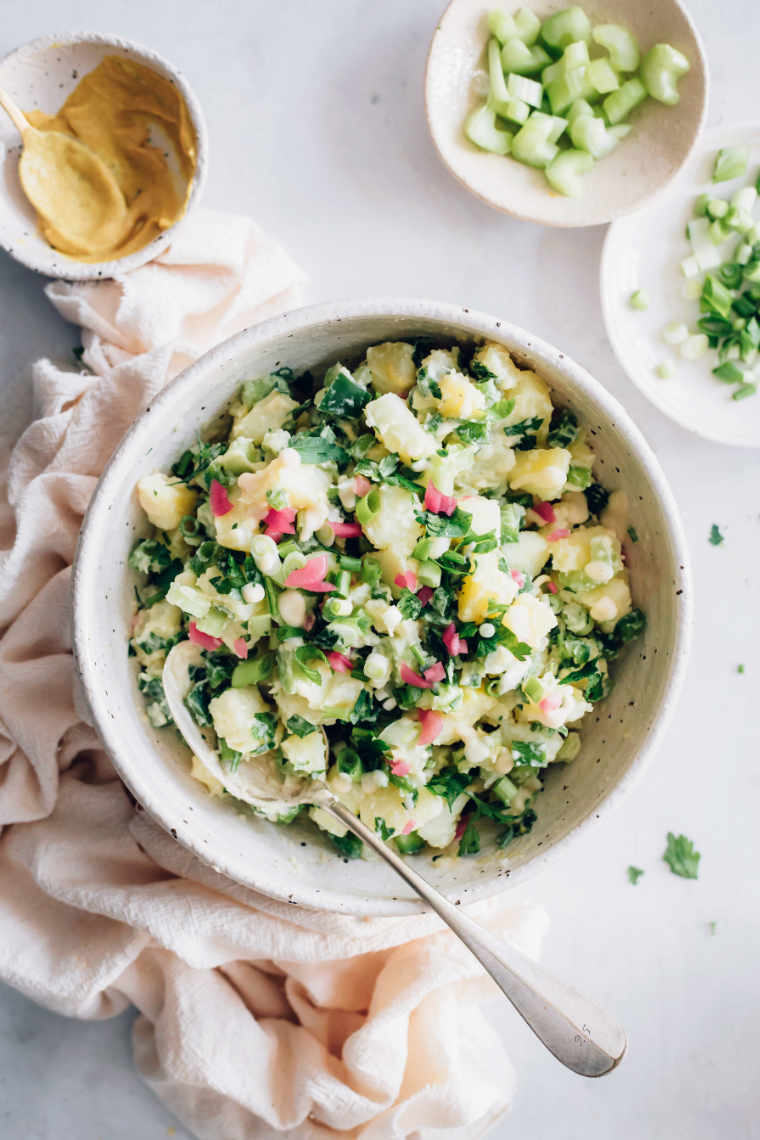 This simple roasted eggplant recipe from The Forked Spoon is flavorful, easy to make, and makes one of the very best low-carb side dishes for Passover. Enjoy it dipped in creamy tahini sauce or tossed in your favorite pasta and salads for Passover.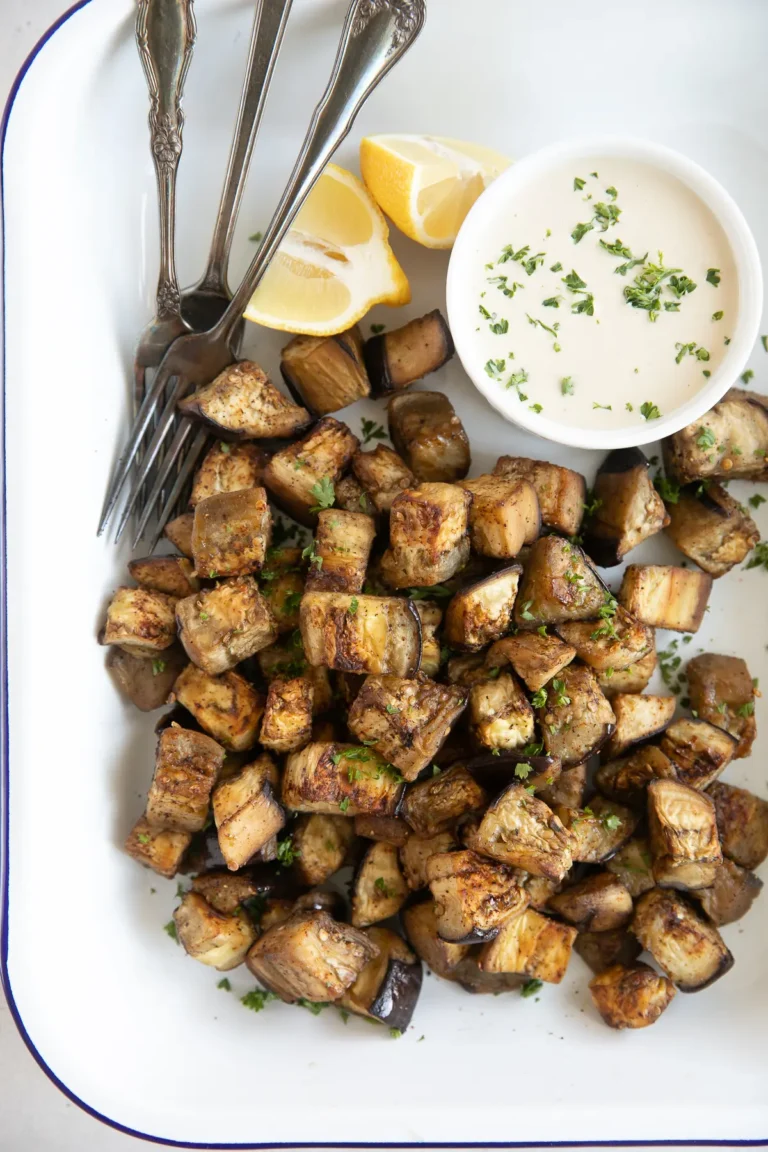 This Moroccan Carrot and Orange Salad from Veggies Save The Day is full of flavor thanks to fresh herbs, cumin, and cinnamon. This fresh salad is easy to make in 15 minutes and is a delicious vegan Passover recipe.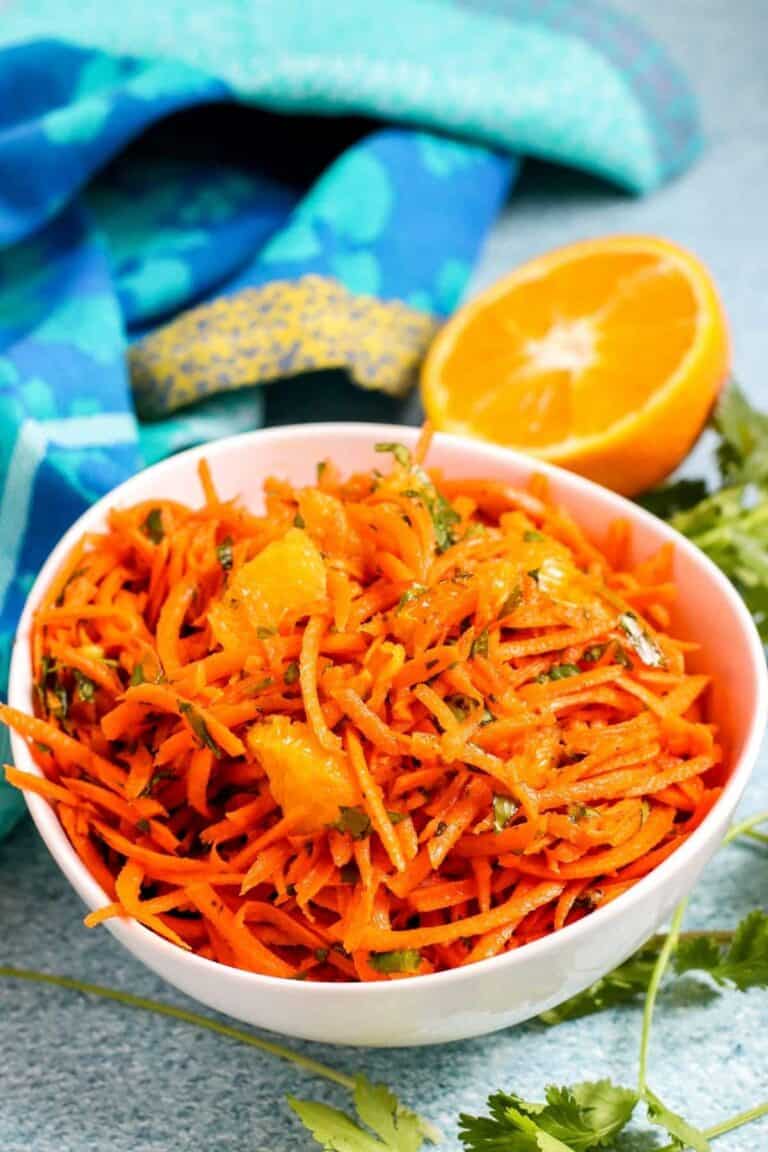 Sweet Recipes
This easy charoset recipe is a must-have for your Passover table! It's a quick 10-minute sweet and delicious recipe and so simple to make. You can even make it ahead, ready for your Seder celebrations!
Macaroons are a classic Passover dessert! This chocolate macaroon recipe from Choosing Chia is easy to make, no-bake, and perfect to serve at your next Seder or any time of the year!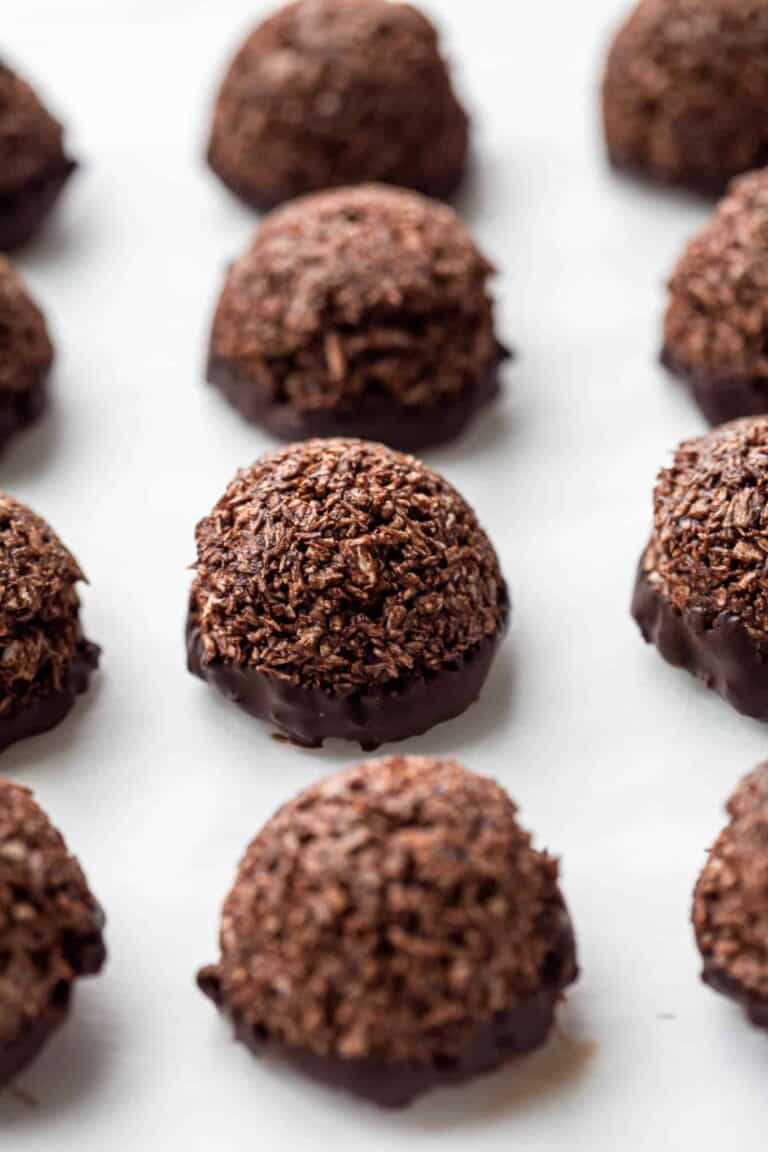 Enjoy your charoset in one of three ways with these ideas from Little Ferraro Kitchen: with mango, pineapple, and macadamia nuts, Persian Dried Fruit Charoset, and/or/or Tex-Mex Salsa inspired Charoset. Either way, it will disappear in minutes!
These Pressure Cooker Tzimmes is a colorful side dish comprising tender glazed veggies and dried fruits bursting with sweet and citrusy flavors. It'll be ready in just 15 minutes.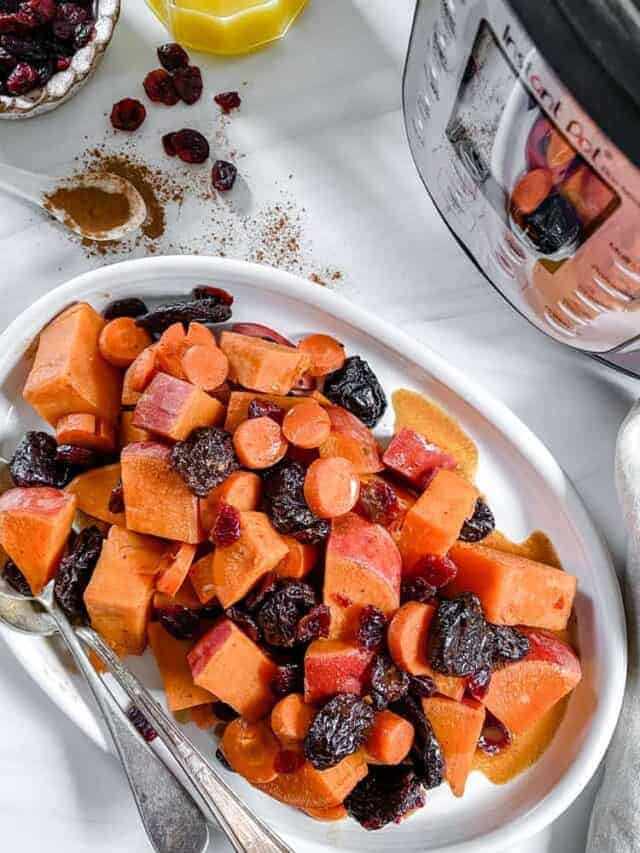 These Chocolate-Dipped Coconut Macaroons from Strength & Sunshine are a delicious, easy, gluten-free, vegan, paleo, and allergy-free dessert recipe. Perfect for a sweet treat to add to your next Sedar.
Just because you've ditched bread for Passover, doesn't mean you have to give up on toast. In this case, replace the bread with slices of sweet potato for a delicious, creamy, sweet vegan Passover snack.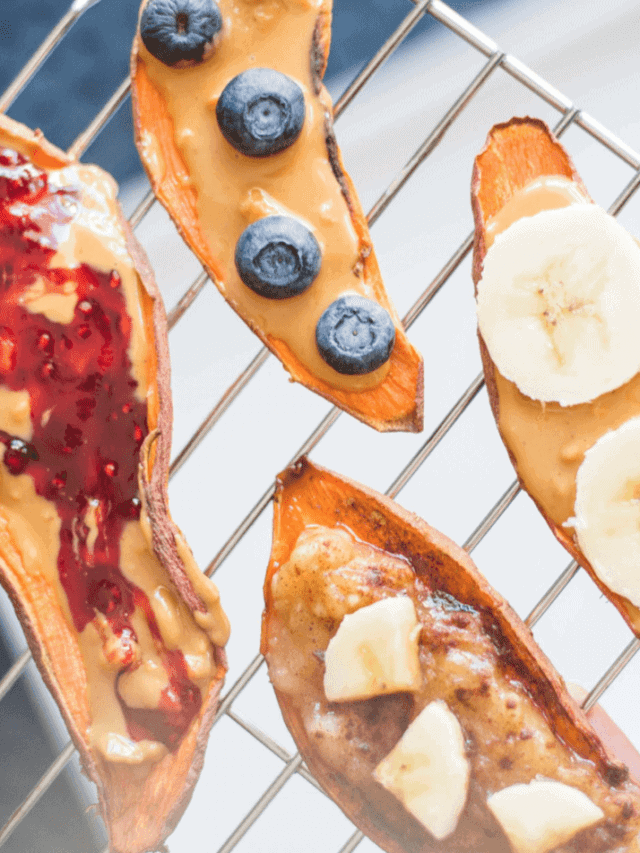 This easy Matzah Toffee vegan Passover recipe from Go Dairy Free is a special treat and a delicious vegan Passover dessert or snack. Layer it with matzah sheets, easy vegan toffee, and salt vegan chocolate – the nuts on top are optional!
These coffee aquafaba meringues from Keep Calm and Eat Ice Cream are sweet, crunchy, and full of coffee flavor. Give them a taste, and you won't believe they're vegan!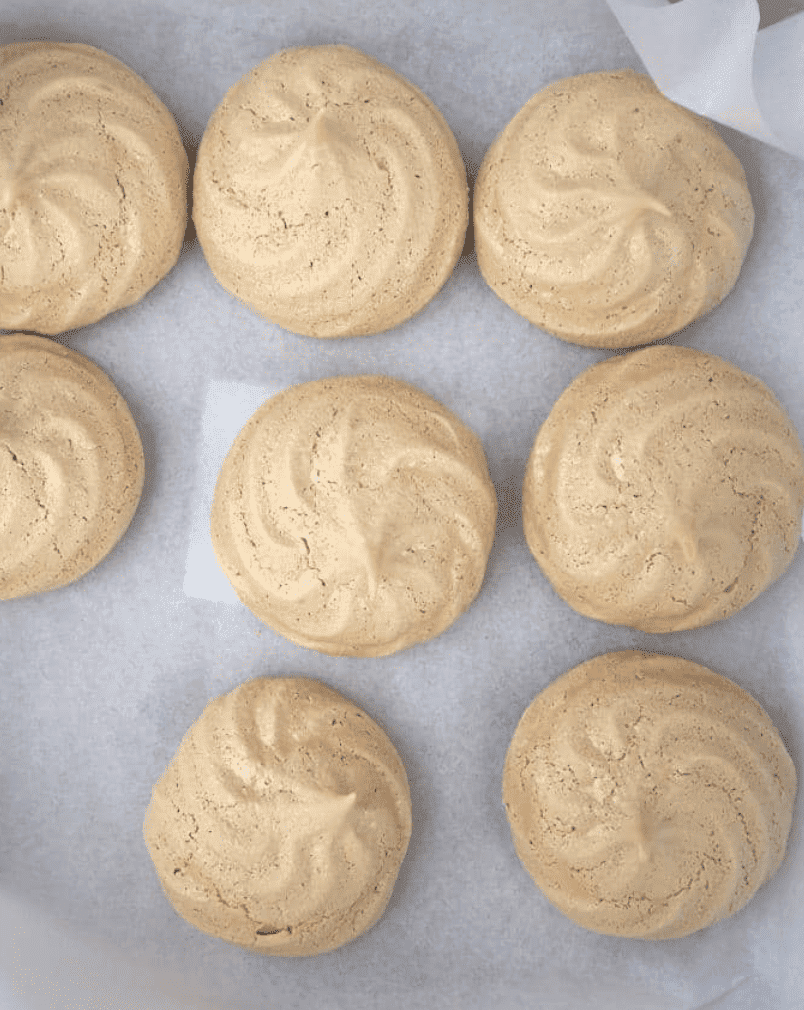 More Vegan Recipe Round-ups