50+ low-budget, gluten-free vegan recipes. With breakfast, appetizers, sides, snacks, mains, and desserts, you'll find a vegan and gluten-free recipe for any occasion!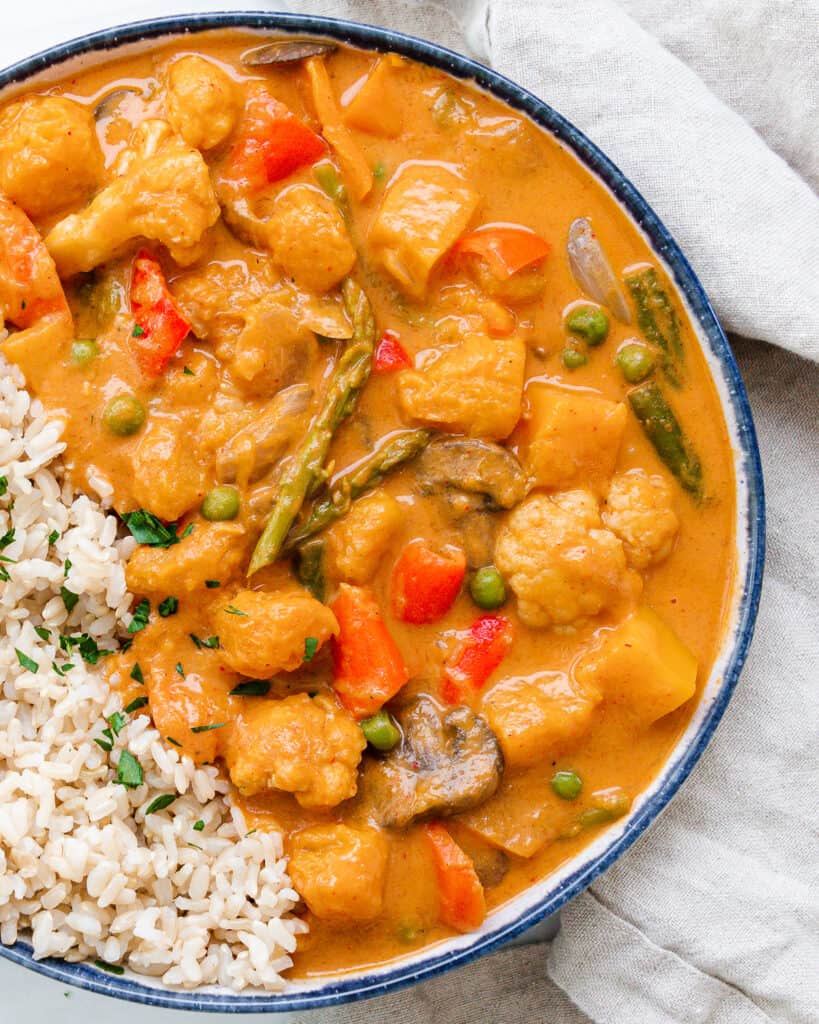 For many, starting a plant-based diet is daunting enough. Add to the mix the need to cut out gluten, and it can feel impossible or, at the very least, a daunting task. Luckily, there are endless examples of gluten-free, vegan recipes that focus on naturally gluten-free ingredients and simple alternatives to make the process fuss-free. Better yet, these vegan and gluten-free recipes are easy on your bank balance, too.
With options including quinoa porridge for breakfast, crispy chickpeas to snack on, roasted veggie tacos for a delicious vegan gluten-free dinner, and baked pears for dessert, we've included gluten-free recipes for all the days' meals below in our list of 50+ budget-friendly gluten-free vegan recipes!
Jump to:
5 Top Tips for A Low Budget Gluten-Free Diet
Read the food labels: As vegans, many of us do this anyway. But it's doubly important with gluten intolerance. Look out for wheat, rye, barley, and triticale. This will save you from wasting money on products you can't eat (or drink).
Accidentally vegan is cheaper: While there are plenty of gluten-free alternatives available these days (yay), they often come with a hefty price tag. Instead, turning to accidentally gluten-free products (like chickpea pasta) are most cost-efficient.
Stock up on cheap pantry staples: It's incredibly simple to pull together tons of vegan, gluten-free meals when you have the basics to hand. I.e., Rice, quinoa, other grains, gluten-free pasta, etc., as well as beans and other pantry staples.
Turn to naturally gluten-free foods: If you want to keep your grocery bills low, stick to naturally gluten-free fruits, veggies, and grains (quinoa, polenta, buckwheat, corn, amaranth, millet, etc.).
DIY it: Sometimes, making your own versions of ingredients is more cost-efficient than buying them. For example, gluten-free flours made from pantry ingredients (oats, lentils, chickpeas, etc.).
Is vegan gluten-free?
Not necessarily, as the two aren't technically related. Veganism eliminates all animal products from the diet. In comparison, those with celiac and on a gluten-free diet are eliminating any ingredient with gluten (including any form of wheat, rye, barley, and triticale). So to create gluten-free, vegan recipes, you'd need to eliminate both.
Vegan Gluten-Free Breakfasts
With options including wheat cereals, toast, and pancakes/waffles, breakfast is a meal that is easily and often loaded with plenty of gluten. However, there are many ways to enjoy a filling and nutritious vegan gluten-free breakfast packed with flavor and nutrients to start the day off with a bang.
A guide on making vegan overnight oats with just a handful of ingredients and several flavor variations. This simple breakfast is quick to prepare and packed with nutrients to start your day right.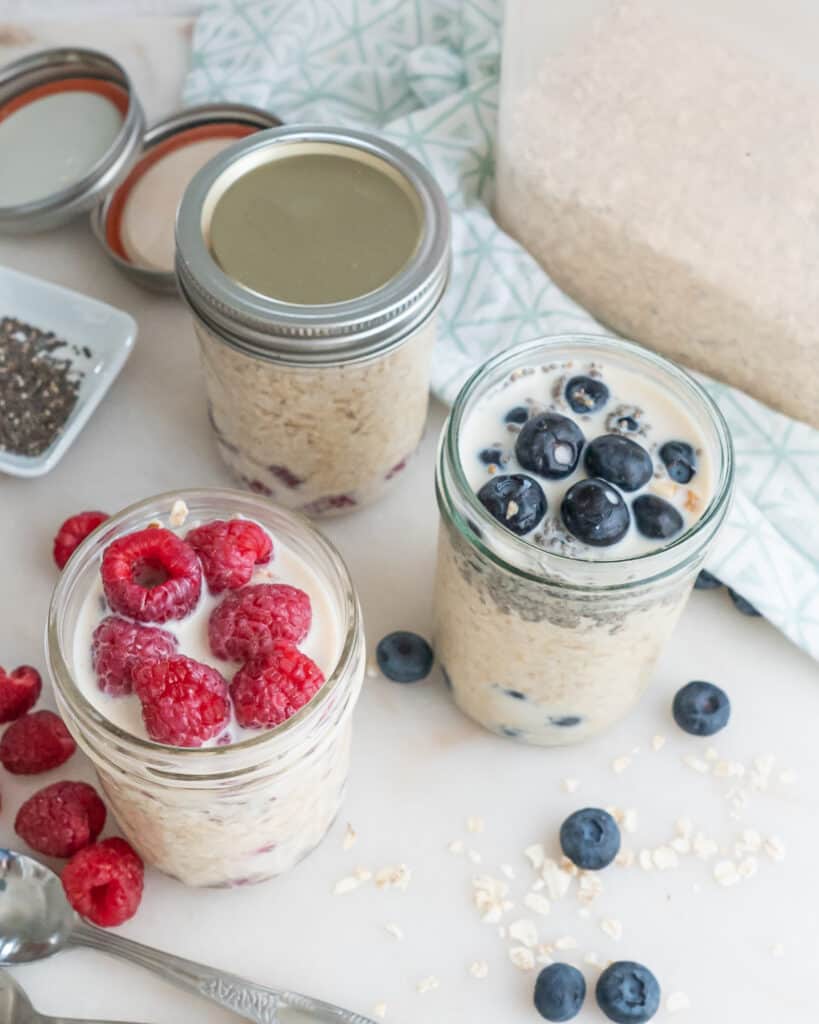 With coconut milk and shredded coconut, these simple coconut overnight oats are flavorful, have texture, and are a perfect way to start the day. Top them up with your fruit of choice for a delicious and nutritious vegan gluten-free breakfast.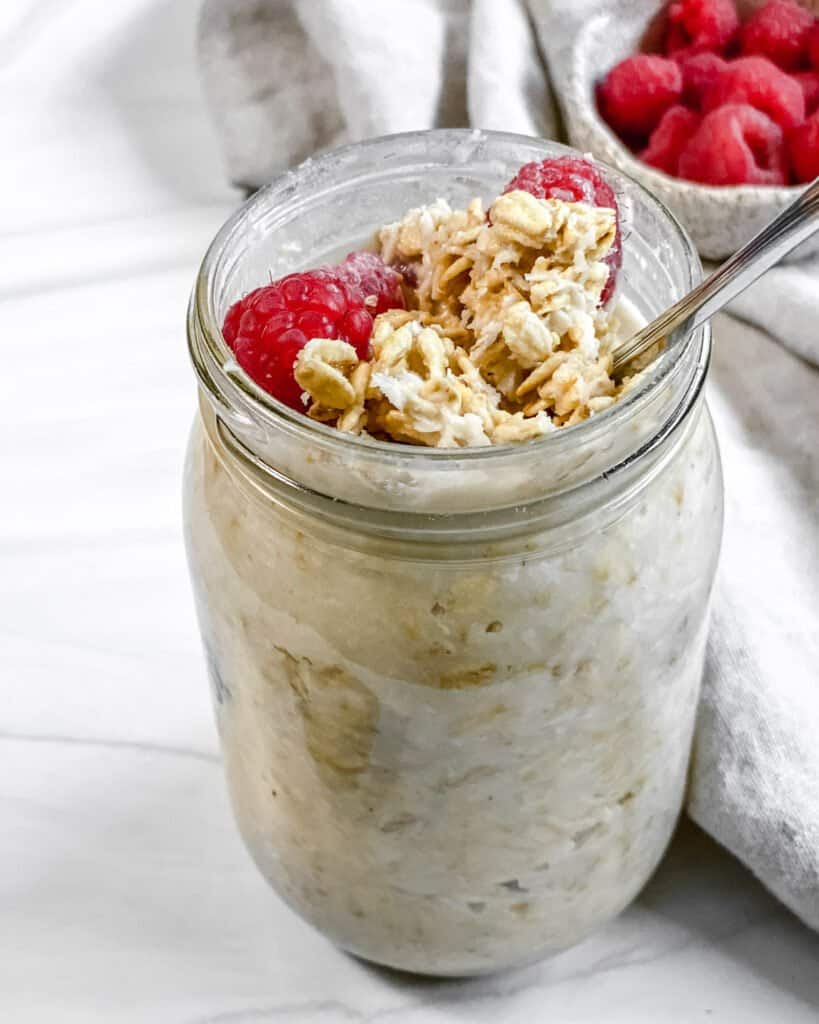 Set aside your regular oat porridge for a protein-dense, gluten-free quinoa bowl. Topped with crisp apple, creamy banana, and sweet and chewy raisins with a healthy dose of cinnamon and brown sugar, this vegan gluten-free breakfast bowl is sure to impress.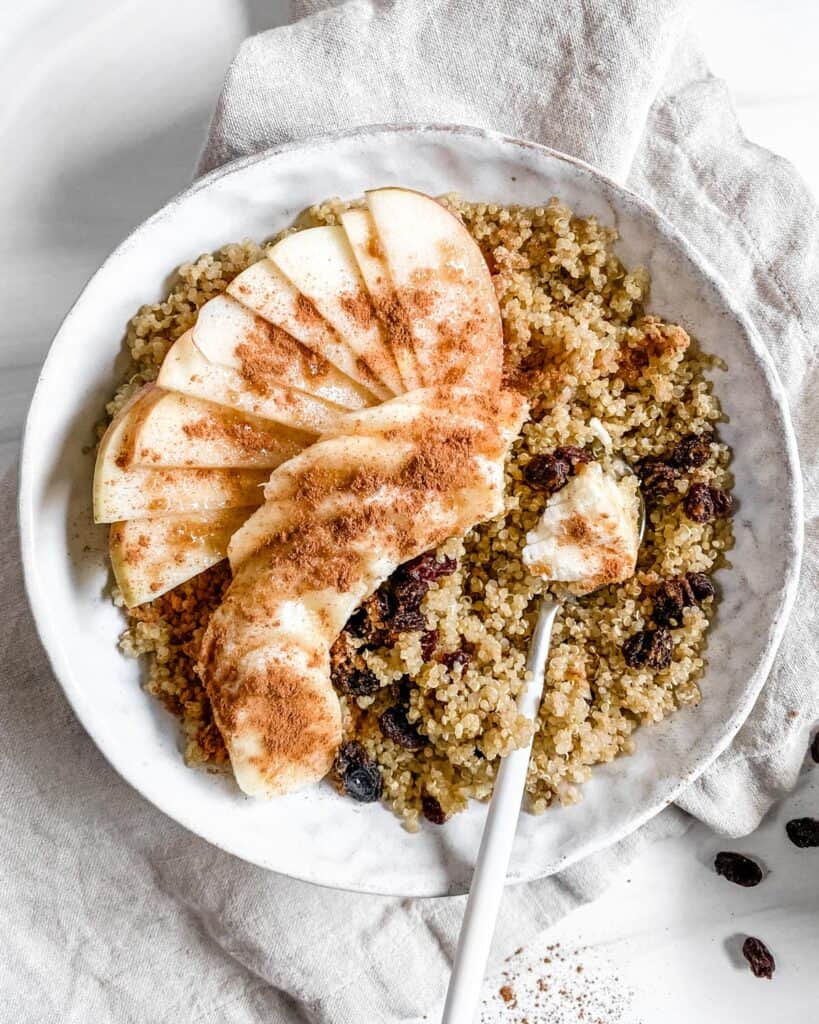 This cinnamon orange porridge bowl is a wonderful option for those wanting a low-fuss, high nutrient breakfast that is naturally gluten-free, vegan, and packed with flavor. This version includes orange, cinnamon, and nutmeg, with dried berries.
With a combination of chia pudding, jam, and plenty of peanut butter, this PB&J chia parfait is as delicious a treat as it is nutritious. It's packed with protein, omega-3s, and fiber. Best of all, this vegan gluten-free breakfast is easy to prep and travels well.
Appetizers and Snacks
Whether you're in the mood for something sweet or savory, this small list of gluten-free vegan appetizers and snacks hopefully has something that catches your eye.
Spanish patatas bravas combines crispy potatoes (baked, pan-fried, or air fried) with a simple tomato-based spicy sauce, all with just a handful of ingredients. Once assembled, enjoy it as a tapas, appetizer, or side dish.
This 5-minute Vegan Green Olive Tapenade recipe is a powerhouse of flavors. With a combination of capers, raw garlic, and olives, it's rich and salty with a touch of spice and zestiness. Enjoy the tapenade as a spread for crusty bread and crisp crostini, and give pasta, salads, soups, and entrees an instant unique flavor boost.
These crispy dehydrator vegan cheesy zucchini chips are a lighter, healthier snack than regular potato chips. They're also gluten-free, dairy-free, and lower-carb, fat, and calories. Perfect for enjoying alone or with one of several dips.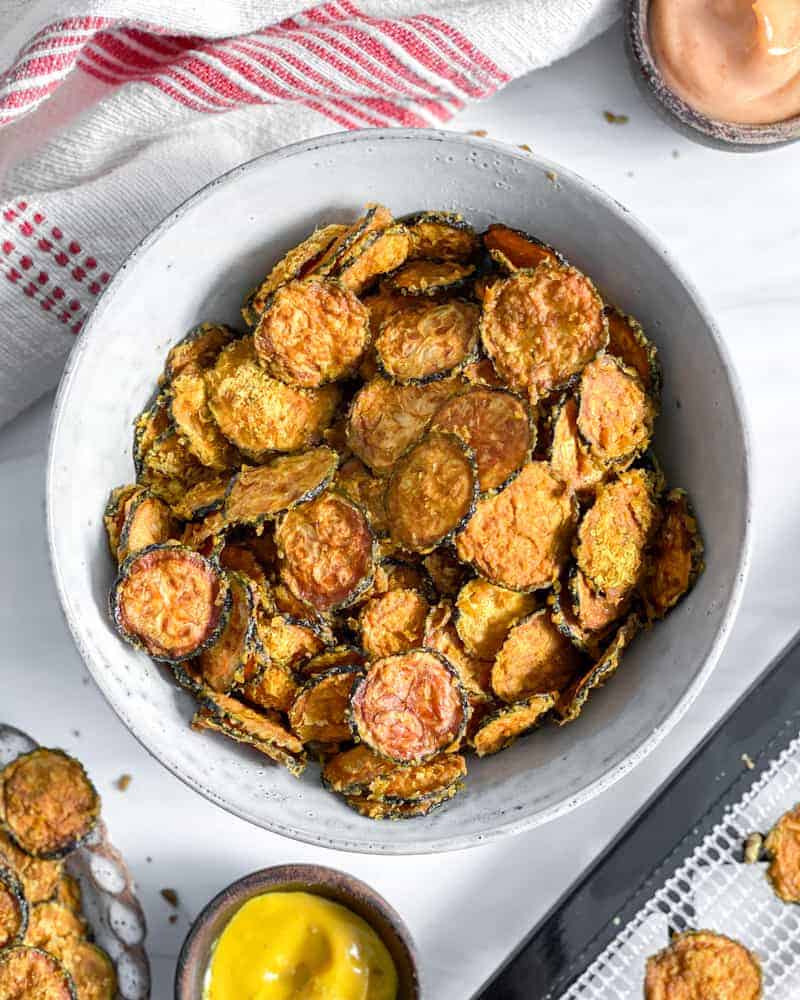 If you have a sweet tooth, maple and cinnamon spice roasted almonds make for a delicious gluten-free snack. Alternatively, add them to oatmeal, granola, smoothie bowls, salads, and more.
3 ingredients and 10 minutes are all you need to prepare this simple snack of dates stuffed with peanut butter then drizzled with vegan chocolate and sea salt. The combination of sweet and salty is delicious. Meanwhile, the snack itself packs in healthy fats, protein, and antioxidants. Perfect for a post-workout snack or post-dinner treat.
Enjoy crispy chickpeas in under 15 minutes, thanks to an air fryer. This gluten-free snack is simple to prepare and can be seasoned in an almost unlimited number of ways. They are a delicious, high protein snack for those who like their treats salty and crunchy.
Blistered shishito peppers are a smoky, spicy, slightly sweet gluten-free, vegan appetizer, snack, or side dish ready in under 5 minutes! Enjoy them alone or with your favorite dips and sauces.
Salads
If you want to pull together a hearty salad packed with nutrients but no dairy or gluten, look no further. Luckily, there is no shortage of ideas for vegan and gluten-free salads. Here are just a few low-budget, vegan, and gluten-free options.
This Southwest Quinoa Salad is hearty, wholesome, and packed with familiar Southwestern flavors. These include black beans, tomato, bell pepper, and an oil-free cilantro-lime dressing. It's a grain-free, gluten-free, vegan, and versatile meal-prep main in just 10 minutes (once the quinoa is cooked).
This pantry-friendly Greek/ Mediterranean quinoa salad is perfect warm or chilled. It's full of nutrition as it's packed with protein, fiber, and vegetables in a lemon-garlic dressing.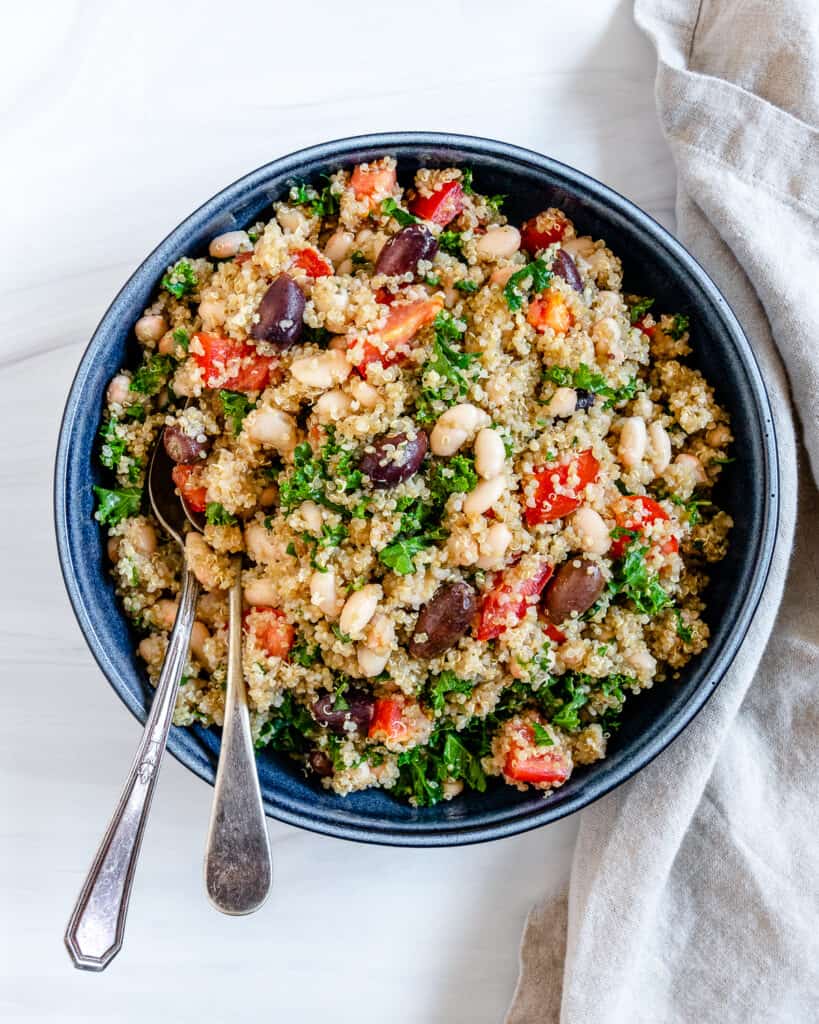 This veggie-based edamame salad is packed with crunchy, creamy, and juicy veggies, all tossed in a bright and zingy cilantro-lime dressing. The result is a vegan and gluten-free meal packed with protein, fiber, folate, potassium, vitamin K, and essential fatty acids.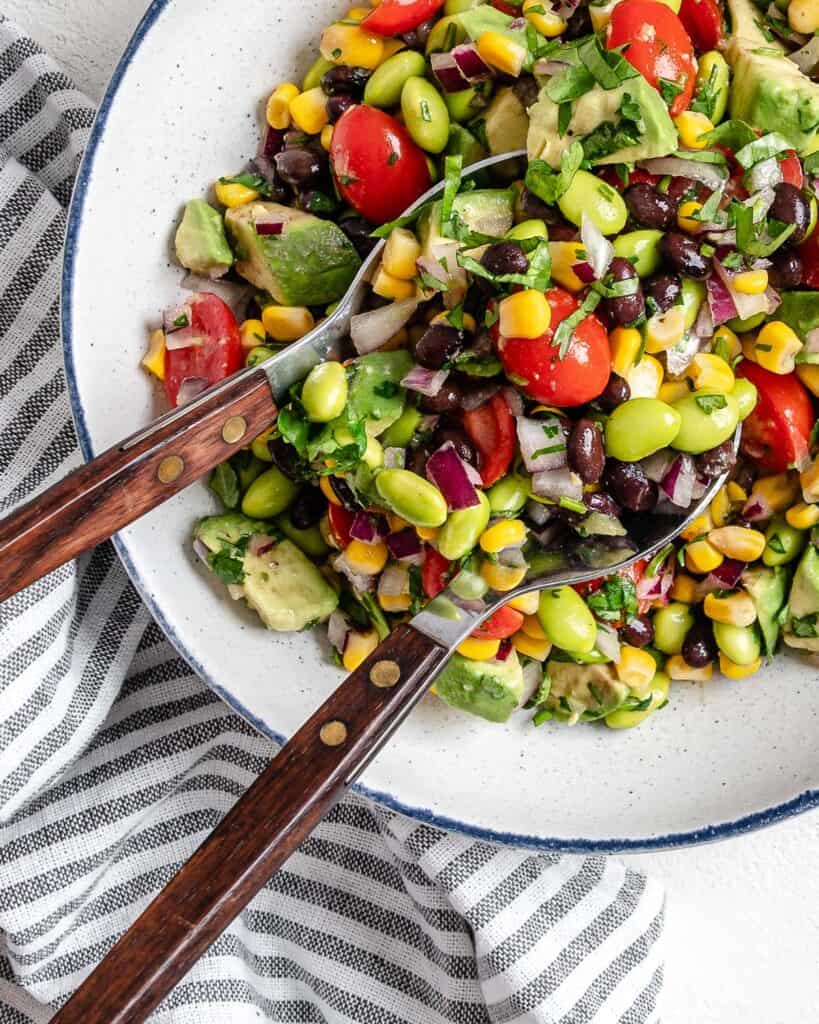 Combine mixed beans with bell peppers, red onion, cilantro, and a lime dressing for this simple, flavorful side salad. Perfect for enjoying at potlucks, picnics, and BBQs and ready in just 15 minutes (and 10 of that is marinating time!)
​​This super easy salad will be on your plate in just 15 minutes or less, made of protein-rich garbanzos and vitamin-loaded kale leaves. Enjoy it as a light meal or side dish.
This Vegan Broccoli Salad is full of bright and various colors and textures including fresh green florets, dried berries, and crunchies all while tossed in a light vinaigrette dressing.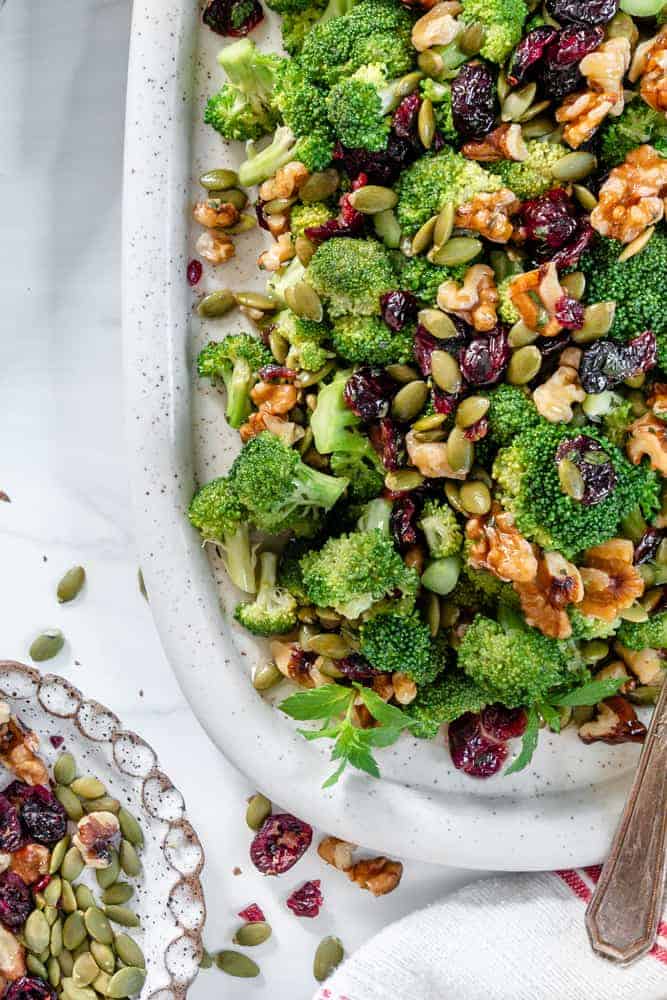 This Wild Rice Fall Salad is chockful of fresh autumn ingredients. This includes the sweetness of apples and dried berries, nuttiness from the pecans, and wild rice with a hint of smokiness. Toss with a light vinaigrette for a super bright and refreshing dish.
This vegan chickpea 'tuna' salad requires just a handful of ingredients and pantry staple seasonings for a flavorful, 5-minute, oil-free, gluten-free salad. At less than $1 per serving, this salad is budget-friendly, all-natural, and highly nutritious!
Vegan Calabacitas combines vibrant summer veggies like zucchinis, tomatoes, and corn kernels with a trio of aromatic Mexican spices. The result is a savory, subtly spicy vegan gluten-free appetizer in 20 minutes!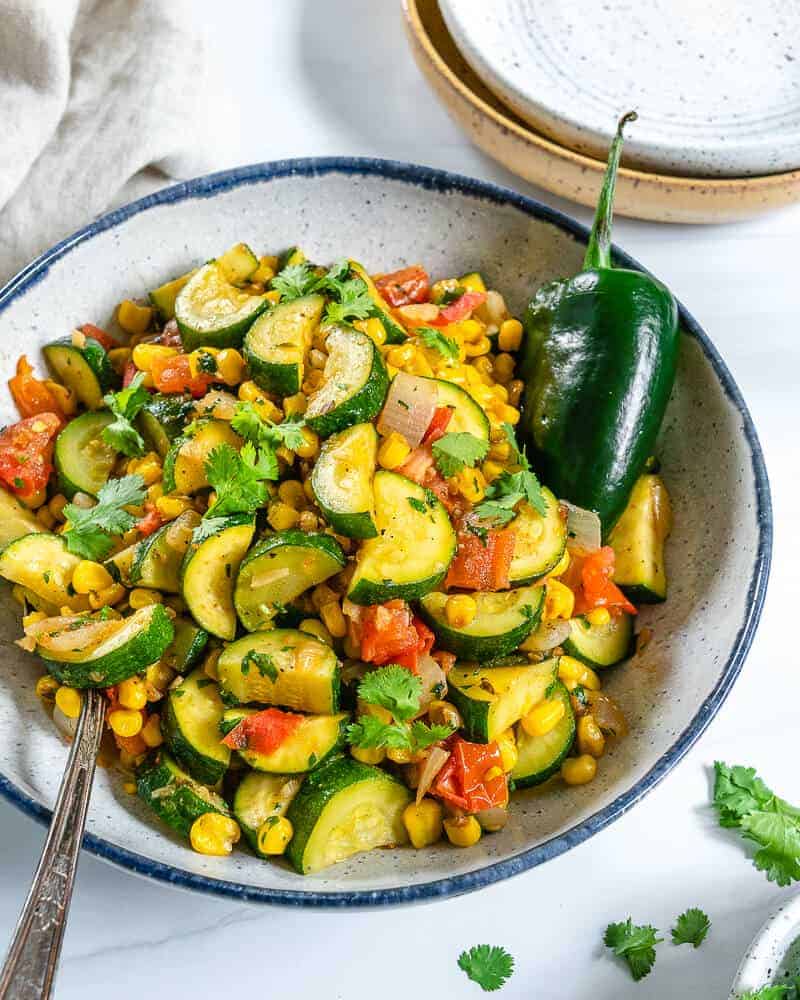 Like the above salad, but utilizing hominy (Mexican dried corn kernels), this simple and delicious gluten-free salad packs in with summery veggies and herbs for a simple, aromatic dish. It's perfect for BBQs, picnics, potlucks, and taco Tuesdays.
This vegan taco salad from Bree's Vegan Life is made with crumbled taco-flavored tofu, beans, avocado, and veggies, all covered in a deliciously creamy cashew-salsa dressing. The result is super hearty, flavorful, and 100% dairy-free, gluten-free, and vegan.
Soups and Stews
Whether you want to serve a soup as an appetizer or are looking for a hearty soup or stew to serve when you need something warming to fill your belly, look no further. The below recipes are all packed with plant-based ingredients and plenty of flavor to impress.
This Root Vegetable Lentil Stew is a rustic and hearty vegan, gluten-free meal to perk you up on cold days. This gluten-free recipe combines root vegetables, lentils, and peas in a deliciously flavored, soul-warming tomato broth. It is so rich and in just 45 minutes.
This creamy, hearty coconut curry soup is absolutely loaded with nutrient-rich veggies and a creamy, warming broth. Better yet, it's naturally gluten-free and dairy-free, and can easily be adapted to be oil-free and paleo-friendly.
With corn, potatoes, celery, and red pepper, this hearty corn chowder is savory, subtly sweet, and wonderfully creamy. The chunky texture helps to make for a heartier meal, too. Plus, it makes for great leftovers!
This wild rice soup from Veggies Don't Bite is so creamy, rich, and filling that you'd never guess it's both a vegan and gluten-free recipe. Better yet, it's filled with tons of veggies for a balanced meal.
Lentil soups always make us think of warm, stick-to-your-bones meals and fragrant flavor, and this lentil soup from My Cooking Journey is not different. So whip up a large batch on chilly nights and enjoy this hearty lentil soup over several days.
If you're a fan of mushrooms, this creamy vegan mushroom stew from My Quiet Kitchen is here to impress. With potatoes, onion, carrots, and miso, it's a perfectly comforting vegan, gluten-free meal that's light yet luxurious and full of flavor.
Other Mains
Vegan gluten-free dinner recipes the entire family will love. Take your pick from delicious tacos, curry, and risotto recipes below.
In this warming meal, curried brussels sprouts, potatoes, and carrots are coated with a warm-spiced coconut curry sauce with tahini and sesame seeds! It is a creamy, aromatic, slightly spicy, and super comforting vegan gluten-free dinner recipe.
Season and simmer jackfruit for hours for a truly infused flavor and melt-in-the-mouth texture, perfect for enjoying with corn tortillas (and toppings like tomatoes, onions, cilantro, guacamole, or salsa). Best of all, the prep is minimal, as the slow cooker does most of the work!
Enjoy a smoky, spicy, savory tempeh filling nestled into a soft corn tortilla with fresh veggies and/or salsa. The combination makes for truly flavorful vegan street-style tacos.
For an even more budget-friendly taco recipe (than the above), turn to mixed roasted veggies and a handful of pantry spices for a simple but flavorful taco filling. Best of all, these meatless roasted vegetable tacos are so tasty that no one will miss the meat.
Not only is the quiche from A Virtual Vegan 100% egg-free, but it's made with a flaky, delicious crust that is 100% gluten-free too. With a rich, creamy, 'cheesy' filling, and plenty of veggie versatility, this vegan quiche is a family favorite for mid-week meals and special events!
This Gluten-Free Korean Inspired Curry Rice from The Fresh Fig is full of bold and delicious flavor. Hearty and warming, this curry rice is perfect for chilly days and those that like a bit of spice.
This vegan butternut squash risotto from A Sweet Alternative is full of warm, cozy flavors and has a super creamy consistency. Plus, it's easy to make, filling, and delicious. Enjoy it alone or with a simple side salad for a nourishing vegan, gluten-free dinner recipe.
How to make a hearty, wholesome vegan black bean chili in one pot and under 30 minutes, primarily using pantry staples. The result is a budget-friendly, flavor-packed, protein-dense, gluten-free, nourishing black bean chili perfect for the budget-friendly vegan!
This low-carb Spanish cauliflower rice takes just a few minutes of prep and 20 minutes from start to finish while only needing one pan! It's packed with flavor and is incredibly wholesome.
This easy vegan roasted red bell pepper chili is creamy, comforting, oil-free, and packed with plant-based protein, fiber, and nutrients! With a handful of inexpensive pantry staples, just one pot, and stovetop, Instant Pot, and Crockpot vegan chili methods, you can enjoy this meatless chili in as little as 30 minutes!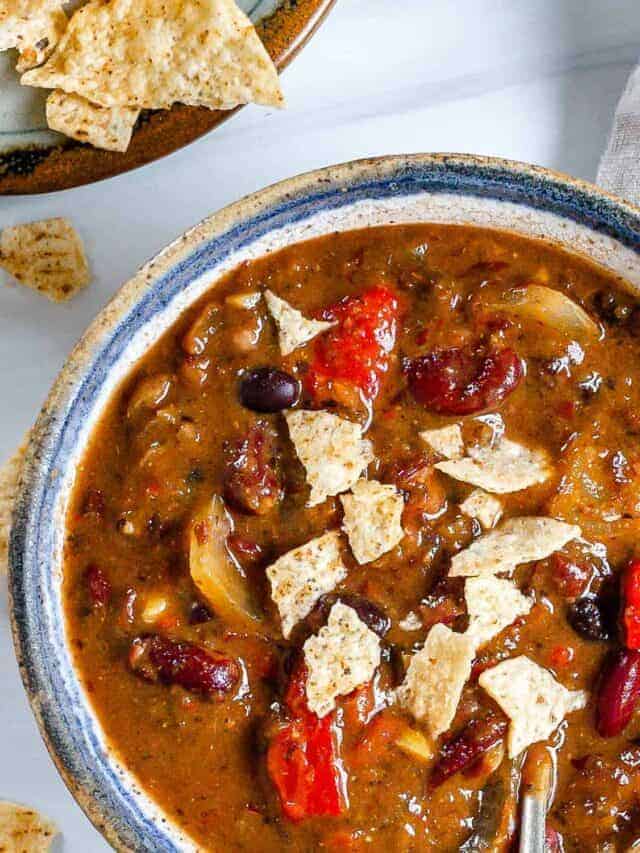 This Butternut Squash Curry recipe is the ultimate comfort food loaded with vibrant and nutritious ingredients that will warm your bellies without weighing you down. A great make-ahead dish that you can make a big batch of and heat anytime you need a warm and comforting vegan gluten-free dinner.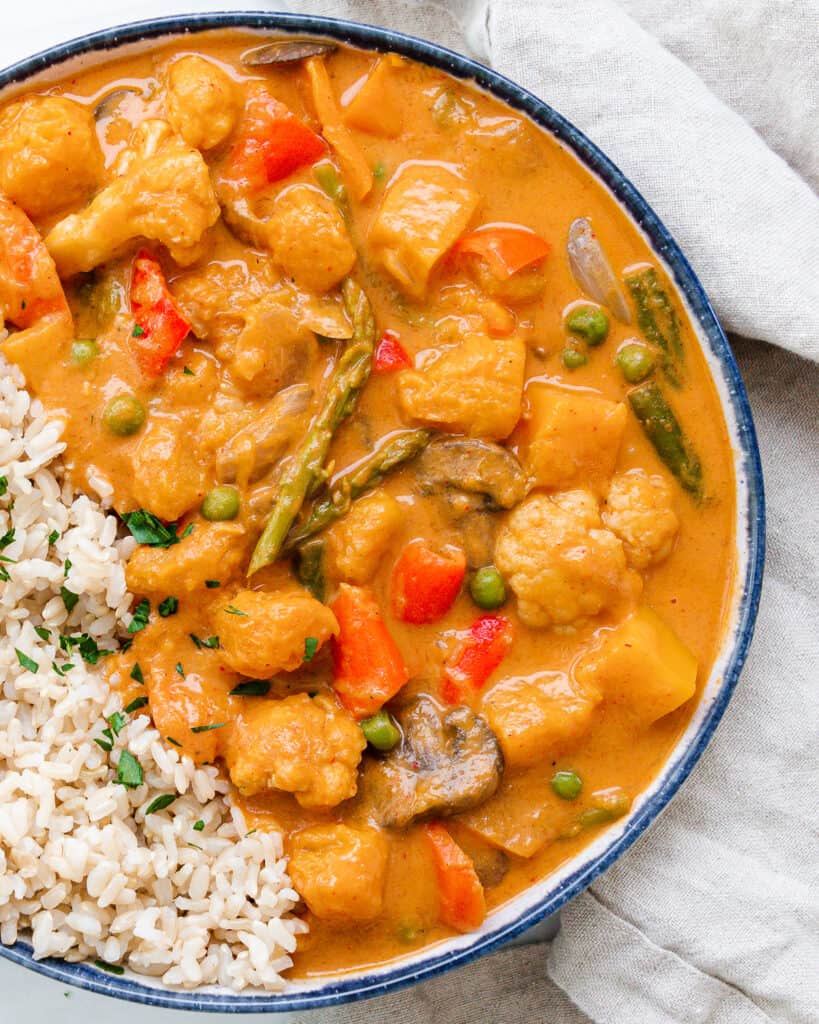 Side Dishes
No dinner table is complete without a side dish that steals the show. So here are a few of our favorite vegan gluten-free sides, including hearty potatoes or summery grilled pineapples.
This Rosemary Roasted Potatoes recipe is one of the easiest, most versatile side dishes made with 7 simple ingredients! Rosemary-coated small potatoes are oven-roasted until tender and creamy on the inside, then mixed with caramelized garlic and shallots.
Creamy, fluffy vegan mashed cauliflower is a low-carb, keto, dairy-free light alternative to mashed potatoes and an excellent vegan and gluten-free side dish! All you need are 4 base ingredients (with plenty of opportunity for add-ins and variations!).
Grilled Pineapples are the ultimate summer side dish to complement any of your grilled or fried dishes! It's an affordable, easy to make, and healthy treat to brighten your backyard cookouts, parties, or family picnics.
Swap out regular potato sides for this aromatic, flavorful curried roasted butternut squash. It's simple to prepare and loaded with sweet, savory, and spicy flavors. Perfect for pairing with all sorts of meals.
These pan-fried Quinoa Tater Tots are crunchy on the outside, with tender bits of quinoa, mushrooms, and chives on the inside. Packed with fiber, proteins, antioxidants, and essential amino acids, these golden nuggets can be enjoyed guilt-free.
Using an Instant Pot, you can cook dried beans in just a fraction of the time it takes on the stovetop, yet with just as much flavor. They're perfect for adding to tons of meals throughout the week (like burritos, veggie bowls, salads, etc.). You can even make a flavored broth for a more aromatic side.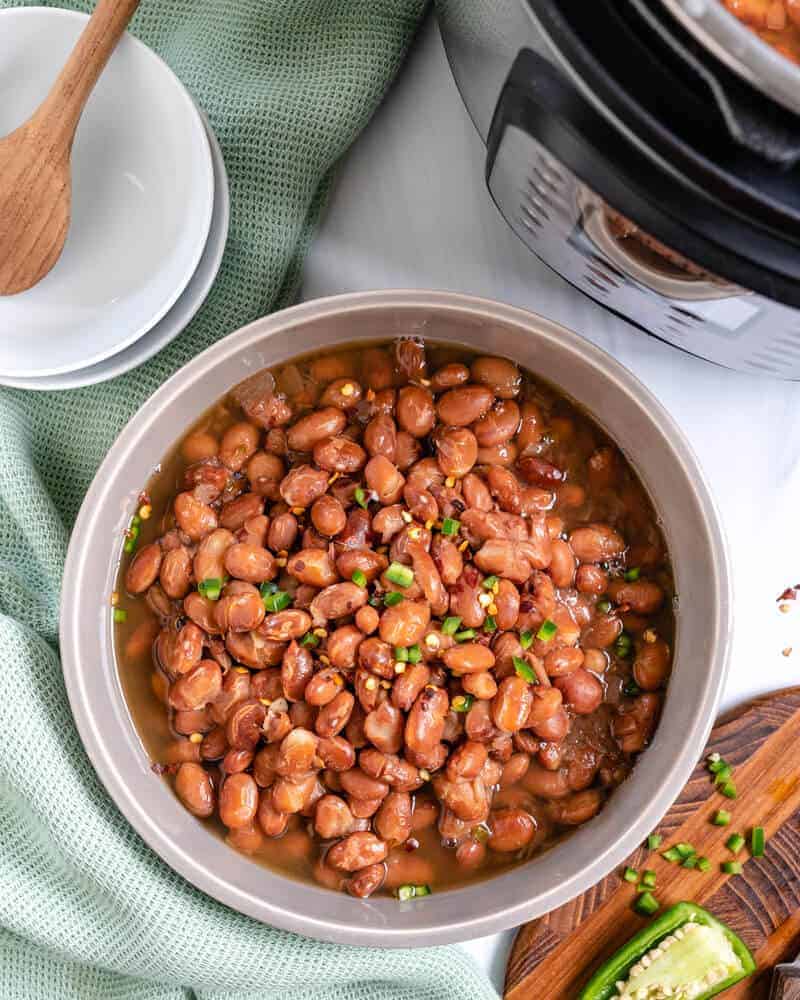 Roasting tomatoes are a must-try. The roasting process caramelizes the tomatoes and turns them into sweet little flavor bombs, perfect for enhancing all sorts of meals like toast, pasta, vegan pizza, and more!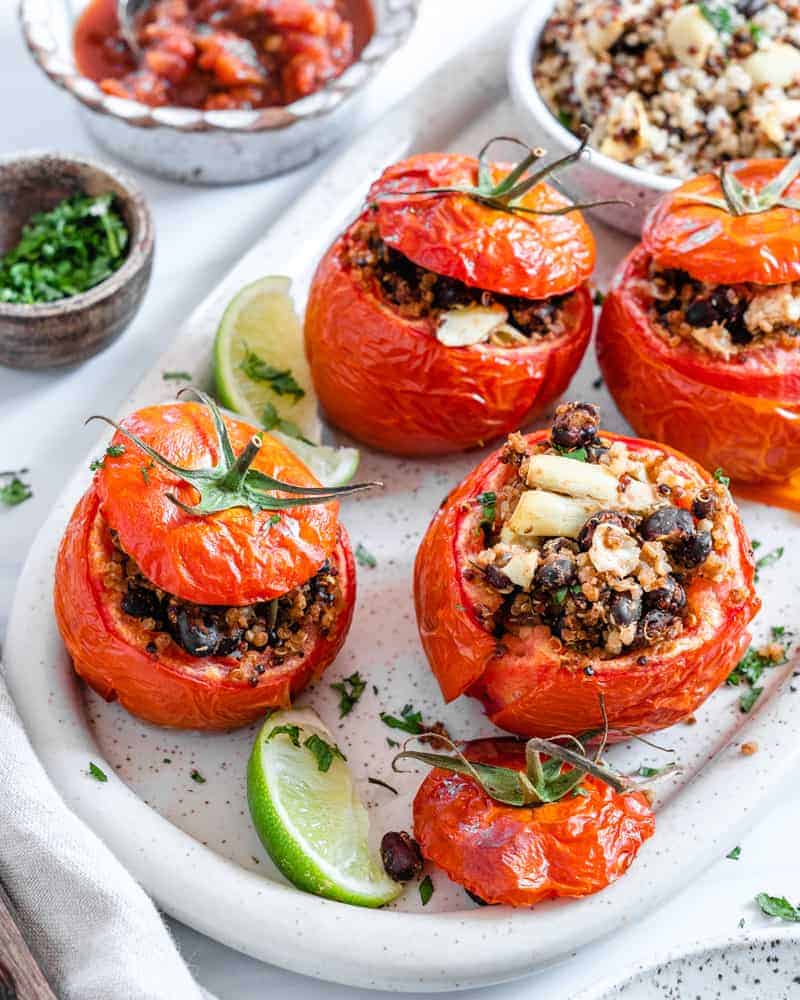 Tzimmes is a Jewish sweet yam dish combined with carrots, orange juice, and dried fruits with cinnamon and brown sugar. Plus, with the aid of an Instant Pot, this gluten-free holiday dish takes just 15 minutes!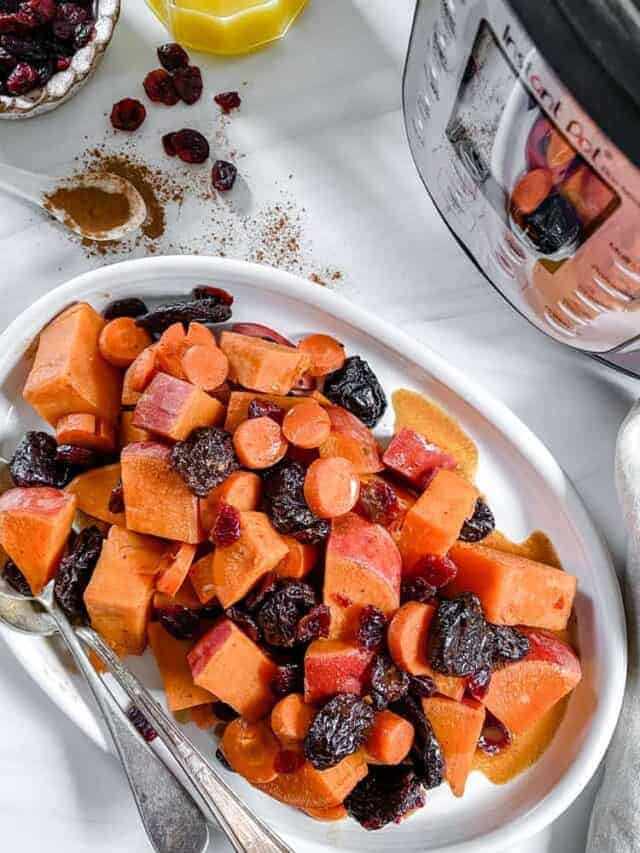 Swap out seafood for hearts of palm in this fresh and tasty vegan ceviche from Conflicted Vegan. It's nutritious, refreshing, colorful, and comes together in under 30 minutes. Perfect for summer outdoor picnics or barbecue appetizers.
This Lima Bean Vegan Sausage is an excellent addition to your gluten-free vegan recipes rotation. These juicy, firm, and flavorful vegan sausage patties are packed with wholesome ingredients and are ready in 25 minutes.
Desserts
Finally, a select few delicious gluten-free vegan desserts to end your day the right way. You might also enjoy some of the breakfast options (like chia pudding).
Baked pears make for a delicious, crowd-pleasing gluten-free vegan dessert for midweek meals and special occasions. This version combines the pears with pumpkin spice, crunchy nuts, and chewy dried berries for a delicious combination of textures and flavors.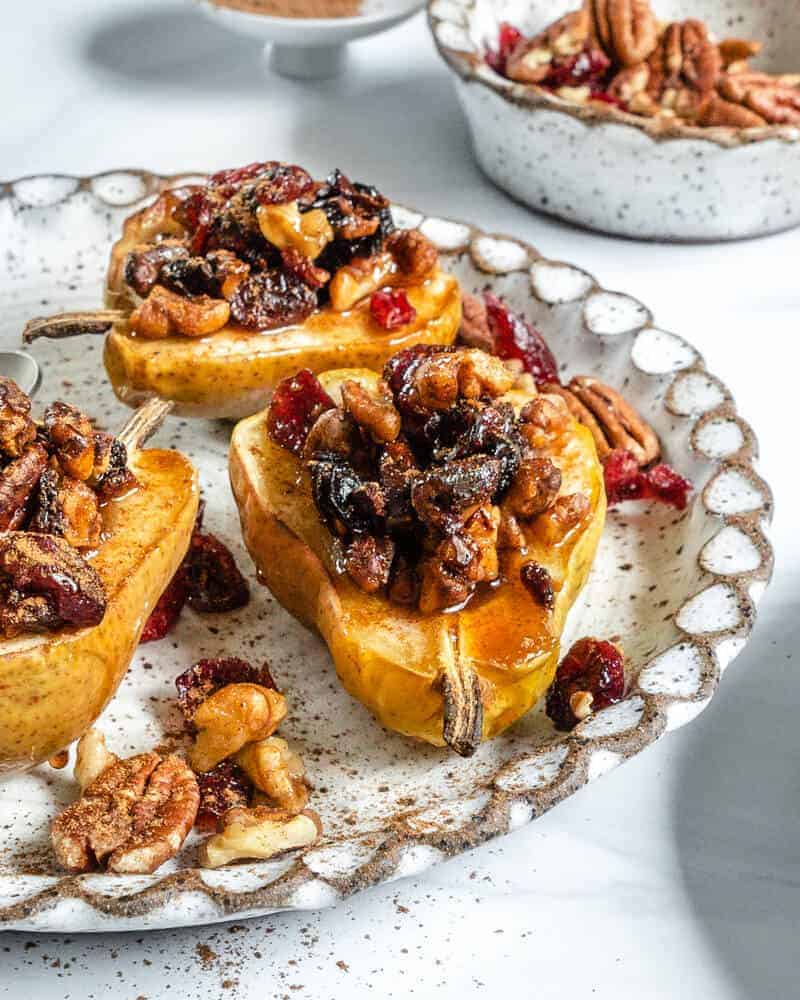 You'll be shocked at how amazing these vegan and gluten-free cinnamon rolls from Make It Dairy-Free are! They're soft, fluffy, and utterly delicious! A must-try recipe everyone will love!
These hearty oat flour pancakes from The Throbbing Eggplant are lightly sweetened, spiced with cinnamon and cardamom, and oven-baked for a super easy gluten-free vegan breakfast or dessert.
These gluten-free vegan brownies from Delightful Adventures are the chewy, fudgy brownies of your dreams. They're rich, delicious, and packed with vegan chocolate. You'll love how easy they are to make.
More Vegan Recipe Round-ups