As an Amazon Associate I earn from qualifying purchases.
How to make easy classic vegan overnight oats with just a handful of ingredients (with or without vegan yogurt and chia seeds) for a quick and easy make-ahead breakfast packed with nutrients, flavor, and endless customizations!
Quick, Easy Vegan Overnight Oats (Multiple Ways)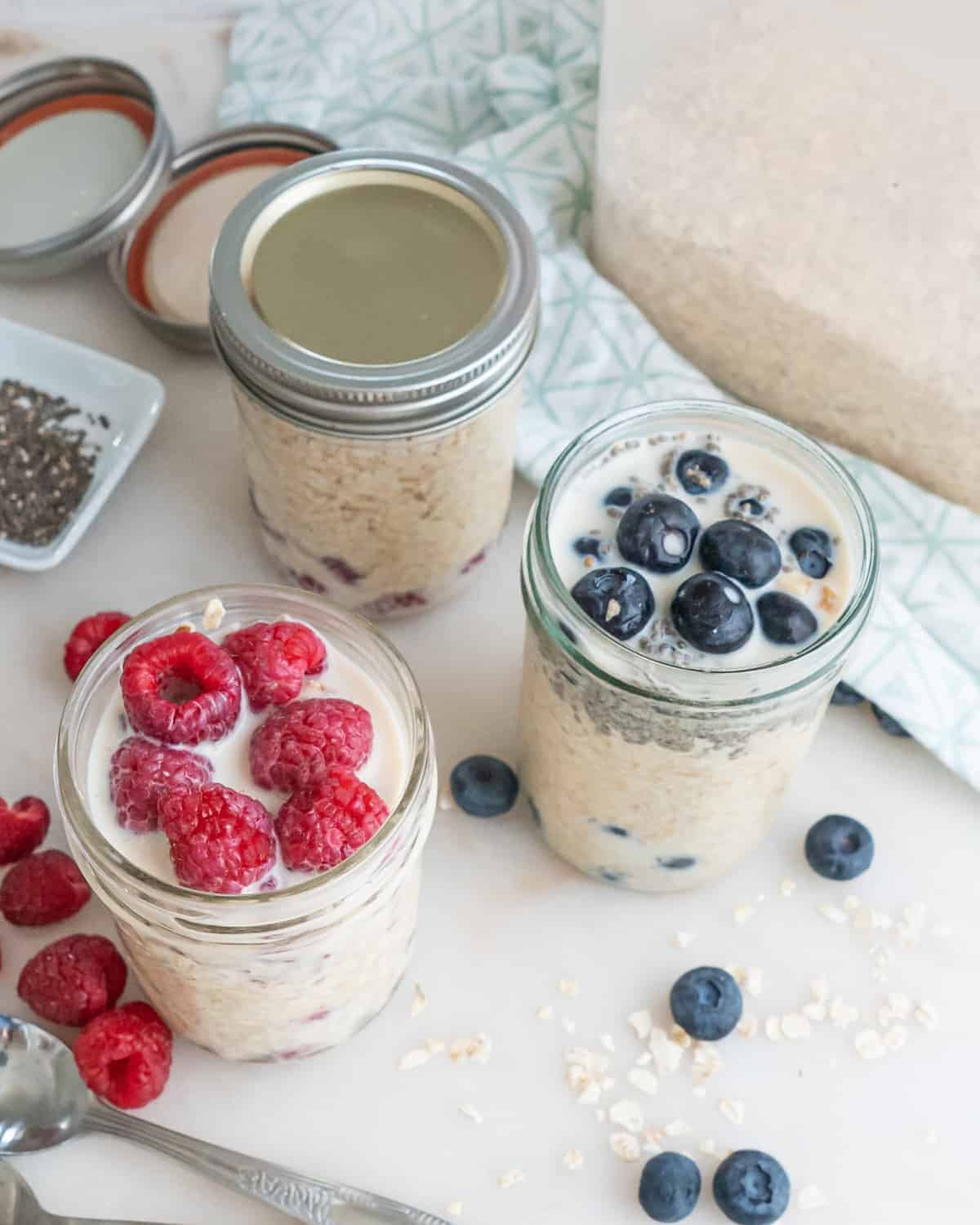 If you're looking for a frugal, low-effort, high-nutrient, and ultimately delicious make-ahead breakfast – we'd love to introduce you to vegan overnight oats (a perfect addition to your frugal, plant-based meal plans)! This simple breakfast combines a handful of ingredients left to soak overnight in the fridge and become tender (with no need to cook them). Then, come the morning, give them a big stir, add any extra toppings, and tuck into your delicious, creamy vegan overnight oats jar!
Not only does the prep take just minutes, but you can carry out your overnight oats' meal prep on a Sunday evening for a whole week of nutritious vegan breakfasts ready to grab-and-go! At most, you might need to chop up some fresh fruit in the morning; otherwise, it's a fuss-free way to start the day for anyone with busy mornings (or as a lunchbox snack!).
What are Overnight Oats?
Overnight oats combine oats with a liquid and other optional ingredients (like yogurt and chia seeds), plus the 'toppings' of your choice, then leave them to soak overnight (or for several days!). During that time, the oats will soak up the liquid and become tender, chewy, and slightly creamy, and ready to eat straight from the fridge – no cooking required! Meaning it's even less effort than this simple stovetop oatmeal (and carrot cake oatmeal)!
Even better, this vegan overnight oats recipe contains the simplest base that you can find with a combination of just oats and your liquid of choice (water, juice, or vegan milk can be used for these easy dairy-free overnight oats). Then, if you have them available, we've also added options for overnight oats with yogurt, chia seeds, sweeteners, and other 'base' add-ins. Just note that you don't NEED those extras for a super delicious breakfast – especially with your choice of add-ins.
Best of all, making homemade easy overnight oats will save you a TON on buying them from cafes, AND there are practically endless options to customize this make-ahead breakfast – meaning you can easily mix and match flavors so you'll never get bored! Just to get the ball rolling, we've included a ton of topping and flavor combo options below!
The Easy Overnight Oats Ingredients
The Base Vegan Overnight Oats:
Oats: The best oats for overnight oats are rolled oats/ old-fashioned oats (not steel cut oats or instant oats). For gluten-free overnight oats, make sure the oats are certified GF.
Dairy-free milk: Use your favorite dairy-free milk as they should all work fine (almond milk, oat milk, soy milk, cashew milk, etc). You can even omit the milk and use plain water or fruit juice (apple or orange work best).
And optionally:
Yogurt: Overnight oats with yogurt are creamier and richer. Plus, you can add the dairy-free yogurt of your choice; oat yogurt, coconut yogurt, almond, soy, etc.
Sweetener: We prefer to use liquid sweeteners like maple syrup, agave syrup, etc. You could also use a sugar-free sweetener like stevia drops, etc. OR omit all added sugars and rely on natural sweetness in the fruits.
Salt: A pinch of salt can help to enhance the flavors and add depth to the soaked oats.
The Toppings/Add-ins:
Fruit: Use ½ cup of your favorite in-season fruit- fresh or frozen; peaches, kiwi, berries (raspberries, strawberries, blueberries, blackberries), mango, cherries, apple, plum, etc.
Nuts/Seeds: Use 2-3 tablespoons of nuts or seeds, including pecans, walnuts, almonds, pepitas, sunflower seeds, hemp seeds, etc. You could also add chia seeds to make up part of the 'base' soaked oats mixture.
Other simple add-ins:
Vanilla extract: To help make your breakfast taste like dessert. ¼-½ teaspoon should be enough.
Chocolate: A tablespoon or two of your favorite dairy-free chocolate chips/chunks will pair well with lots of fruits AND satisfy your sweet tooth. Cacao nibs would also work (and pack in an antioxidant punch).
Nut butter: To add healthy fats to the vegan overnight oats jar, you can add 1-2 tbsp of your favorite nut or seed butter.
Coconut: Use unsweetened shredded coconut or coconut flakes as an add-in or topping to add texture and flavor to the vegan overnight oats. For more texture and flavor, lightly toast the coconut first. We recommend 1-2 tablespoons.
Dried fruit: Raisins, dates, craisins, dried blueberries, etc. These are naturally sweet, so 1-2 tablespoons should be more than enough.
Spices: We recommend cinnamon, nutmeg, pumpkin pie spice, apple pie spice, etc. Add enough to taste (start with a dash and build from there).
Protein overnight oats: Add ½ a scoop of your favorite unflavored (or vanilla) protein powder into the soaked oats before serving.
Veggies: Yes, you can even add veggies to the meal-prep oats, like shredded carrot/ zucchini. 
Flavor variations:
Tropical: Combine either mango or pineapple (or both) with coconut and vanilla.
Cinnamon apple OR peach apple: Add chopped apple/applesauce with cinnamon (to taste), ½ tsp vanilla, and some maple syrup. Mix half into the oats and half for the topping. For a hot version, you might like our apple cinnamon oatmeal.
Lemon blueberry: add the zest of ½ a lemon plus ½ tsp vanilla and ½ cup blueberries (fresh or frozen).
Mixed berry overnight oats: Use fresh or frozen mixed berries with ½ tsp vanilla, and optionally one tablespoon of nut/seed butter drizzled over the top.
Banana nut butter: Add ½ a small banana, mashed, to the oats along with 1 tablespoon peanut butter (or your nut/seed butter of choice). Optionally top with some chopped nuts.
PBJ: Add 2 tablespoons of your favorite nut or seed butter and 1 tablespoon of jam/jelly.
Chocolate: Add 1 tablespoon of cacao powder, a pinch of salt, and optionally a tablespoon of vegan chocolate chips and/or nut butter.
Mocha: Add a teaspoon of instant coffee (or more) to the above chocolate overnight oats recipe. A bit of vanilla would also taste great.
Pumpkin spice: I recommend adding around ¼ cup pumpkin puree with 1-2tsp pumpkin pie spice (add a little to begin and adjust to taste).
We also already have recipes for pumpkin overnight oats, salted caramel overnight oats, and coconut, blueberry, and strawberry overnight oats!
Vegan Overnight Oats Ratio
The base vegan overnight oats (without yogurt) ratio:
1 cup rolled oats + 1 cup plant-based milk + OPTIONAL 1-2 tablespoon sugar/ maple syrup
Top tip: Though most of the other options below contain a ½ cup portion of oats, we've found a full cup to be the most filling when no yogurt or chia seeds are added. However, if you'd prefer a smaller portion, feel free to use ½ cup each of oats and milk!
Overnight oats with yogurt:  Use ½ cup oats + ½ cup milk + ¼ cup yogurt for a smaller portion or double it for a larger one.
Overnight oats with chia seeds: Use ½ cup oats + ½ cup dairy-free milk + 2 tablespoons chia seeds. You can optionally still add ¼ cup yogurt, but the chia seeds will naturally thicken the mixture.
Overnight oats without milk: Swap the milk for water instead and make sure to include a pinch of salt and some sweetener for extra flavor in these low-calorie overnight oats. For creamier vegan overnight oatmeal with water, you could still use the ¼ cup vegan yogurt in the mixture.
How to Make Overnight Oats?
First, choose what you'd like to prepare the vegan overnight oats in. We recommend either a glass, mason jar or small airtight container. Anything you can spoon the soaked oats from will work! We love using pint-sized mason jars that are inexpensive and travel-friendly!
Add the milk and oats to the container (plus yogurt, sweetener, and salt if using) and mix. Then, add your add-ins (fruit and nuts) and mix once more to combine. Next, cover with a lid or plastic wrap and transfer to the fridge.
Leave the vegan overnight oats to chill overnight (or for at least 3 hours – the less you soak them, the chewier they'll be) to soak up the liquid, thicken, and become tender.
Before enjoying the oats, give them one last mix, top with any extra toppings of your choice, and enjoy!
You can optionally prepare a large batch of the 'base' overnight oatmeal and simply add the fruit and toppings to the overnight oats just before eating them – the choice is up to you!
How Long do Overnight Oats Last?
Once prepared, the base overnight oatmeal mixture will easily last 5-6 days in an airtight container in the fridge. Unfortunately, when adding fresh fruit, the shelf life is usually reduced to 3-4 days. However, you can combat this by keeping some jars plain and chopping the fruit the night before/morning of!
FAQs
Do you eat overnight oats hot or cold? Much like Bircher muesli, overnight oats are traditionally eaten chilled directly from the fridge.
Can you eat overnight oats hot? Typically you wouldn't, as they are specifically designed to become tender overnight without the need for cooking. However, if you'd like to enjoy them warm, you can microwave the overnight oats for between 1-2 minutes (with an extra-large splash of milk or water). The oats will be chewy and drier than regular cooked oatmeal. 
Can I use instant oats? While it will technically work, be aware that most instant oats have extra sweeteners, preservatives, sodium, etc. Which can impact the nutritional value of the meal. It will also make for mushier oats too.
Are overnight oats healthy? They sure are. Not only are oats a great source of gut-heathy fiber, antioxidants, and several vitamins and minerals. But they have several health benefits, including improving blood sugar levels, lowering cholesterol, and keeping you satisfied until the next meal. More so, when soaked, they become even easier to digest. When combined with the heart-healthy fats within nuts/seeds and the abundance of vitamins and minerals in fruit, this is a nutritious and delicious way to start the day. Like any meal, go easy on the serving size, don't add too much sugar – and it's one of the healthier frugal vegan make-ahead breakfast options that we can think of!
Top Recipe Tips and Notes
If the soaked oats are too thick: Add an extra splash or two of dairy-free milk into the mixture before serving.
For 'crunchier' overnight oats: These vegan overnight oats are pretty creamy (made more so if you add mashed banana or yogurt to the mixture). If you want oats with a bit more 'bite' to them, you can slightly reduce the amount of liquid in the recipe and soak them for a shorter time (4 hours minimum, though).
Using fresh vs. frozen fruit: Either will work for these easy overnight oats with a couple of changes. Frozen fruit (particularly berries) tend to lose their shape upon thawing and release juices and extra liquid into the oats (more flavor but also mushier!). You might want to reduce the other liquid by 2-3 tbsp. Whereas adding regular berries/chopped fruit into the oats will maintain their shape and add a burst of flavor without it being spread throughout the oats. Choose which to use based on your preference.
Frugal tip: If you want creamy overnight oatmeal but to save some money, use half milk and half water to soak the oats!
For high protein overnight oats: If you don't want to add protein powder, you can still increase the protein in these vegan overnight oats by adding high protein nuts/seeds and nut/seed butter. You can also use dairy-free milk/yogurt with the highest protein amounts.
More Vegan Oat Recipes
And thank you Lively Days for doing this awesome video!
Photos by Alfonso Revilla
Overnight Oats
Vegan Overnight Oats are one of my favorite go-to meal-prep breakfasts. All you need is two ingredients (oats and plant-based milk) at the base with almost endless topping and add-in possibilities!
Ingredients
The base overnight oatmeal
1

cup

of old-fashioned oats

1

cup

of plant-based milk

or water or juice (apple/orange)

1-2

tbsp

Sweetener (maple, agave, coconut sugar)

OPTIONAL

½

cup

Dairy-free yogurt

OPTIONAL
The add-ins
½

cup

of chopped fruit (your choice)

peaches, mango, pineapple, berries, plum, etc.

2-3

Tablespoons

of nuts or seeds (your choice)

pecan, walnut, almond, sesame seed, pepita, hemp seeds, chia seeds, etc.
Instructions
In a container, glass, or mason jar, add oats, fruit, seeds, and milk.

Cover with lid, saran wrap, or aluminum foil, and refrigerate overnight (or for at least 3+ hours).

When you wake up, mix and enjoy chilled! No cooking or heating necessary—the oats "cook" themselves overnight.
Nutrition
Calories:
528
kcal
Carbohydrates:
78
g
Protein:
16
g
Fat:
19
g
Saturated Fat:
2
g
Polyunsaturated Fat:
6
g
Monounsaturated Fat:
9
g
Sodium:
338
mg
Potassium:
518
mg
Fiber:
13
g
Sugar:
14
g
Vitamin A:
361
IU
Vitamin C:
3
mg
Calcium:
362
mg
Iron:
5
mg
Disclaimer: Although plantbasedonabudget.com attempts to provide accurate nutritional information, kindly note that these are only estimates. Nutritional information may be affected based on the product type, the brand that was purchased, and in other unforeseeable ways. Plantbasedonabudget.com will not be held liable for any loss or damage resulting for your reliance on nutritional information. If you need to follow a specific caloric regimen, please consult your doctor first.
Additional Info