As an Amazon Associate I earn from qualifying purchases.
Welcome to week 3 of the Plant Based on a Budget food challenge for 2 people!
One of the things that I would like to address from the comments is the varying prices of food. I am fully aware that unless you are shopping at the same grocery store that I am, it is unlikely that our prices are going to be the exact or possibly even in the same ball park.
Here is some advice I have:

1. Scout out all of the grocery stores in your area for the best prices: Obvious, right? But really. The chart below shows the main ingredients for my recipe for Barley Mushroom Kale Pilaf from just 3 of the many groceries that are in my area.
| | | | |
| --- | --- | --- | --- |
| Item | WinCo Foods | Trader Joes | Raley's |
| Kale | .98 per bunch | 1.99 for bag chopped | 1.99 per bunch |
| 8 oz white mushroom | 1.98 per package | 1.69 per package | 2.69 per package |
| Barley | .66 per pound | 1.79 for 8.8 oz | 3.19 per pound |
| Total: | $3.62 | $5.47 | $7.87 |
There are some stores that I still have not even stepped foot into: Lucky, Food Maxx, Grocery Outlet, etc. Who knows if how much more money I could save, if I took the time to do a little more scouting. In addition, don't limit yourself to shopping at just one store. As you can see from the chart, I would have saved 30 cents if I had bought my mushrooms at Trader Joes versus WinCo. Maybe that doesn't sound like much, but when you need to stay within a budget it adds up fast!
2. Identify ingredients that can make repeat appearances: Figure out what ingredients are inexpensive that you can use for multiple meals. I tried to be better about this week: Lentils, peas, barley, rice, beans. Buying in bulk is always best.
3.Bring a calculator: Who cares if you are the crazy person with a list and a calculator hogging an isle? Making yourself aware of how much the items you think you need are adding to your bill, is really important.
4.Don't rush yourself: If you're serious about saving, you need to allot yourself time to make changes while at the store if your bill is becoming too much. You should always shop alone, so there are less distractions and try to go to the grocery store at a slower time. At least for me, when the grocery store is crazy busy I have a "just get me out of here" mindset.
___________________________________
Shopping List:
(2) bunch kale: 1.96
10 ct. flour tortillas: 2.42
1 jar of marinara: 1.28
1 lime: .40
1 bunch scallions: .48
1 lb macaroni: .77
5 lb bag russet potatoes: 1.48
(2) 8 oz cans tomato sauce: .36
(2) tomatoes: 1.13
1 bag frozen peas: .78
1 lg head cauliflower: 3.98
1 lb broccoli crowns: 1.92
(2) pears (optional just for snacking): 1.19
(2) pkgs xtra-firm tofu: 2.96
(1) 15 oz can refried beans: .89
1 bag sliced sourdough: 2.99
1 bag baby spinach: 1.78
1 head garlic: .48
(1 ) 15oz can black beans: .89
(2) pkgs bouillon cubes: 2.00
(1) 5lb bag onions: 1.48
(1) 8oz can tomato paste: .42
(1) 15oz can chick peas: .89
1 cup green/brown lentils: .42
1 bag celery: 1.48
1 bag carrots: .98
1 cup red lentils: .51
4 cups brown rice: 1.64
almond (or soy) milk: 1.99
1 sweet potato: 1.15
1 bunch bananas: 2.06
2 lb oats: 2.42
1 lb granola: 2.25
Fleischmanns Yeast, Active Dry 0.75 oz: 1.60
Total: 47. 90

___________________________________
Friday, November 15, 2013
Breakfast: Oatmeal with brown sugar and 1 banana divided
Lunch: Chana Masala over brown rice
This recipe uses very simple ingredients, and takes almost no time! I cooked 4 cups of rice to use for other meals.
2.5 tbsp oil
1 medium onion, chopped
2 cloves of garlic, minced
1 tbsp curry powder
1 tbsp tomato paste
15 oz can chickpeas, drained, reserving 3 tbsp liquid
1 tbs lemon juice (optional)
salt to taste
black pepper to taste
crushed red pepper (optional, to taste)
About 2 cups baby spinach
Preparation:
In a medium flying pan, heat oil on medium-high heat. Satue onions until slightly browned. Reduce heat to medium.
Add garlic, curry, and tomato paste. Stir and simmer about 2 minutes.
Add chickpeas, liquid, lemon juice, salt, and black pepper. Stir and simmer until chickpeas are softened, about 5 minutes.
Stir in spinach, if using, and add crushed red pepper, to taste.
Dinner: Creamy Cauliflower Soup with side of broccoli
As you can probably tell from the previous meal plans, we eat a lot of soup. Soup is awesome. For this week though, this is the sole soup on the menu. It's very easy to make, and comes out surprisingly creamy (and with the benefit of not supporting the disgusting dairy industry)!
Cauliflower is a great antioxidant, extremely high in vitamin C (your new "eat when i'm sick" soup!), helps to reduce inflammation and prevent cardiovascular diseases, and provides you with vitamins B1-9.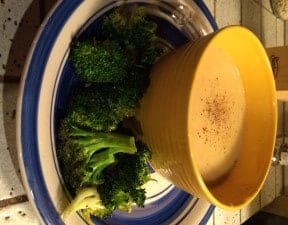 1 large head of cauliflower
1 tblsp oil
1 medium onion, diced
2-3 large carrots, diced
3 cloves garlic, smashed
4 cups water
2 bouillon cubes
1/2 cup almond milk
salt and pepper to taste
Preparation:
Wash and core the cauliflower, then coarsely chop. Set aside.
Heat oil in large pot over medium-high heat. Add onions, carrots, and garlic. Stir and cook until they're soft and golden, about 5 minutes.
Add the chopped cauliflower and cook until beginning to brown, about 5 minutes.
Add water then bring to a boil. Reduce heat to simmer and cook, covered, until the vegetables are very tender, about 30 minutes.
Add in almond milk, sea salt, and pepper.
Puree soup in a high speed blender, or with an immersion blender.
Roasted broccoli:
Preheat oven to 350
Toss broccoli with olive oil and lightly season with salt and pepper
Place on a baking sheet and bake for about 20 minutes
___________________________________
Saturday, November 16, 2013
Breakfast: David ate Oatmeal and a pear, I ate a slice of toasted sourdough with margarine and a handful of granola
Lunch: Leftover soup with a sliced of toasted bread. I also had a sliced pear, and David had a banana
Dinner: Red Lentil Curry over brown rice
Because it was so delicious and full of flavor, I made the red lentil curry with brown rice again from last week!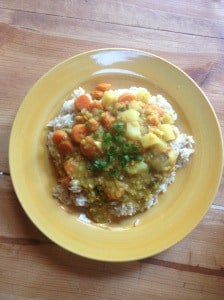 ___________________________________
Sunday, November 17, 2013
Breakfast: I made these banana pancakes
Lunch: Leftover curry and brown rice
Dinner: Enchiladas with side of refried beans
I have really been craving Mexican food, and so I scoured the internets for easy, cheapish, dishes. This is an adaptation from the blog Trans-Planted. In addition to the Enchiladas, I heated up a can of the refried beans for a side item (not pictured).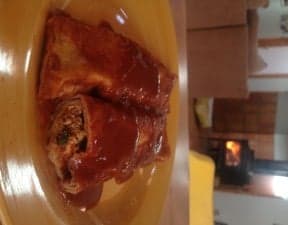 For the Enchiladas
8 flour tortillas (I bought a 10 ct and ate breakfast burritos from these leftovers)
3 cups fresh baby spinach
3 garlic cloves, minched
juice from half a lime
12oz of extra-firm tofu, drained and crumbled *(You will not need all of the 12 oz. I used the leftover mixture for breakfast burritos on Tuesday morning)
1 15oz can black beans, drained and rinsed
2 tablespoons chili powder
1 teaspoon salt
For the Sauce
(adapted from The Happy Herbivore Cookbook)
2 tablespoons all-purpose flour
1 teaspoon unsweetened cocoa
2 tablespoons chili powder
dash of cayenne or more if you like it spicy!
1 teaspoon dried oregano
1.5teaspoons ground cumin
2 teaspoons garlic powder
3 cups water
1 bouillon cube
2 8oz cans of tomato sauce (or (1) 16oz can)
salt to taste
Preparation:
Preheat oven to 350°F.
For the filing: Heat pan over medium-low heat. Sauté garlic and spinach in the lime juice until just wilted. Once cooked, add to a bowl with the crumbled tofu and black beans. Add the chili powder and salt and mix until everything is evenly incorporated. Set bowl aside as you prepare the sauce.
For the sauce: Whisk together the flour, cocoa, and spices in a saucepan without turning on the heat. Add 1/4 cup of the water with crumbled bouillon and stir into a paste. Turn on heat to medium and slowly whisk in the remaining water/bouillon mixture. Bring to a boil and whisk in tomato sauce. Allow to cook for a few minutes until it thickens slightly. Remove from heat and set aside.
Assembling the enchiladas:
Spread a little of the enchilada sauce in your casserole dish. Scoop a few spoonfuls of filling onto the left side of the tortilla and roll it up. Continue with the rest of the tortillas, packing them tightly next to each other in the casserole dish. Pour about a cup of sauce over the top of the enchiladas, save the rest of the sauce for serving later. Bake in oven uncovered for about 20 minutes until the tortilla edges become crisp.
For side of beans:
Put can of refried beans in a medium saucepan and heat on low, stirring frequently until heated through.
___________________________________
Monday, November 18, 2013
Breakfast: I had oatmeal with brown sugar, David had granola with 1/2 cup of almond milk
Lunch: Leftover enchiladas and refried breans
Dinner: Sweet Potato Mac
This super easy, super creamy dish is my new favorite! I think it would be a big hit with even your cheese-loving friends (if you have any of those). Plus, with it being November and all- I think this would be a great dish to bring to a potluck for the holidays.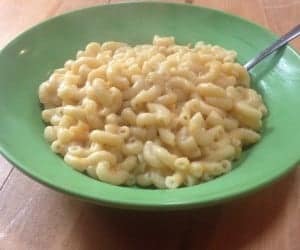 1 pound elbow macaroni (or bowties, penne, whatever you fancy)
3 tablespoons olive oil
1/3 cup flour
1 cup mashed cooked peeled sweet potato
3 ½ cups almond or soy milk
2 teaspoons sea salt
1 clove garlic, minced
.5 teaspoon dijon mustard
1 teaspoon soy sauce
juice from the other half of the lime that you should have
1 pinch of rosemary (add more after you taste)
Preparation:
I didn't have a whole bunch of time, so the way I cooked my sweet potato was in….the microwave. I poked it full of holes with a fork, and microwaved for 10 minutes. The other option is to poke full of holes and bake.
Bring a large pot of water to a boil. Add macaroni and cook according to package directions. Drain and return to pot.
Meanwhile, in a medium saucepan, make a roux or paste by whisking the olive oil and flour over medium heat until incorporated. Add mashed sweet potato, almond milk, salt, garlic, mustard, soy sauce, and lime juice to the saucepan and bring to a boil, whisking frequently. Reduce heat to low and let simmer until the sauce thickens. Whisk until smooth, but don't worry if some sweet potato chunks remain. Add sauce and rosemary to pasta, and toss to coat.
___________________________________
November 19, 2013
Breakfast: I ate dry granola, and David ate oatmeal with a banana.
Lunch: Leftover mac and we actually still had leftover enchiladas as well!
Dinner: Sheppard's Pie
This is a healthier take on the meat-heavy sheppard's pie dish without even using TVP. This was a test run for Thanksgiving, and it turned out wonderfully!
About 5 large russet potatoes (or I used about seven on the smaller-side potatoes), cubed-boiled-and mashed
1 cup brown/green lentils
1 small onion, chopped
3 cloves of garlic, minced
3 stalks celery, chopped
1 tsp rosemary
1 tsp dry basil
1 tblsp red wine vinegar
1 cup frozen peas
2 carrots, chopped
1 bouillon cube, crumbled
1 cup water
salt and pepper
Preparation:
Boil and mash your potatoes as you normally would: margarine, plant-base milk, salt, pepper, possibly garlic powder
Cook the lentils. I used two cups of water to the one cup of lentils. Bring water and lentils to a boil, reduce heat to low and simmer for about 30 minutes.
Preheat oven to 350 degrees.
In a skillet or frying pan, saute onion and garlic until onion is tender. Add celery, carrot, rosemary, basil, and wine vinegar.
Dump in the lentils and whatever cooking liquid is left in their pot.
Add peas and let mixture simmer for a minute.
Crumble bouillon cube into water and mix as well as you can. Pour water mixture into pan and let simmer until most of the water is absorbed and carrots/celery have softened.
Spread mashed potatoes over top of lentil mixture and sprinkle paprika and ground pepper over top (optional)
Bake in the oven for about 20 minutes.
Gravy: (optional, but who doesn't like gravy?!)
I use Toni's recipe for simple gravy! If you're making it for the Sheppard's Pie, you can omit the onion.
___________________________________
November 20, 2013
Breakfast: Mexi-Breakfast Burritos
We had the tofu-blackbean mixture from the enchiladas leftover as well as two tortillas, so we sauted a bit of onion, added the tofu mixture to the pan, added a little salsa that we had in the fridge, and made them into burritos and ate them for breakfast!
Lunch: Leftover Sheppard's Pie
Dinner: Pizza with roasted vegetables
2 tbl spoons oil, divided
2 tomatoes, sliced
1 medium onion, sliced
1 bunch kale, chopped
3 cloves garlic, minced
1 jar marinara sauce
ingredients for dough, here
Preparation:
Preheat oven to 400 degrees
Prepare dough according to instructions.
Meanwhile, toss sliced onions in about 1.5 tsp of oil and place on a cookie sheet. Toss sliced tomatoes in about 1.5 tsp of oil and place on a cookie sheet. Put both trays in oven and set timer for 20 minutes. Check on both veggies periodically, making sure not to burn them but they should be browned slightly.
While they are in the oven, heat oil over medium heat, add garlic and saute for about 2 minutes. Add kale, reduce heat, stirring frequently. Add salt to taste.
Once dough has risen and is ready to be handled, take a cookie sheet, flip it over to the back side and lightly flour surface. Take dough, working and stretching until you can cover the sheet. Put dough in the oven and back for 5 minutes.
Remove dough from oven, add marinara, roasted vegetables, kale and garlic, and place back in oven for about another 5 minutes or until dough is cooked through.
___________________________________
November 21, 2013:
Breakfast: Oatmeal and we each ate a banana
Lunch: Leftover pizza
Dinner: Opened-face tofu and kale sandwich on toasted sourdough, with side of roasted carrots + leftover
Sheppard's Pie
My friend Hayley suggested this to me, as a meal that she frequently makes. I was worried it wasn't going to be filling enough, but it turned out to be enough food for David and I. Though, David never stops eating and he also ate leftovers as well.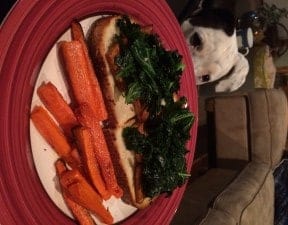 1 tsp oil, + .5 tbl sp oil
1 pkg tofu, sliced
about 2 tsp soy sauce
1 large pinch paprika
1 large pinch garlic powder
3 garlic cloves, minced
1 bunch kale, chopped
3 large carrots
2 large slices sourdoug
Preheat oven to 375
Preparation for Tofu:
Slice tofu 1/4 inch thick pieces. Place on baking sheet.
Sprinkle 1 tsp oil over tofu pieces and rub over each piece.
Sprinkle about 2 tsp soy sauce (or enough to lightly cover) over tofu, and rub over each piece.
Take a large pinch of paprika and a large pinch of garlic powder and distribute over tofu slices.
Place tray in oven for 15 minutes, flip pieces and bake for an additional 15 minutes.
Kale and garlic:
Heat .5 tbs oil over medium heat, add garlic and saute for about 2 minutes. Add kale, reduce heat, stirring frequently. Add salt to taste.
Carrots:
Cut carrots as you prefer. Toss very lightly with oil, place on baking sheet and bake for about 15 minutes, checking on periodically.
Assembly:
Toast sourdough, add baked tofu, top with kale. Carrots are for a side!