Brussels Sprouts Slaw with Lemon-Poppy Seed Dressing
2013-09-27
Yield :

1 large bowl

Servings :

4 to 6

Prep Time :

15m

Ready In :

15m
Disclaimer: This page may include affiliate links, and I could earn a commission if you purchase through these links. Please note that I've linked to these products purely because I personally use and recommend them and they are from companies I trust. There is no additional cost to you.
From the author, Honor Fabun: Make this tasty Brussels Sprouts Slaw featuring autumn produce for a nice, change-of-seasons side dish. It's ready-to-eat in a few minutes, but if you're able, prepare an hour or two in advance to allow the acid time to tenderize the brussels.
From Plant-Based on a Budget: Here at Plant-Based on a Budget, we love challenges, and for some, finding a recipe that makes brussels sprouts appealing is a real tricky challenge. This Brussels Sprouts Slaw with Lemon Poppy Dressing will make you rethink your relationship with these mini green cabbage-like wonders.
Baby Cabbages
These mighty little brussels sprouts look like they could be baby cabbages — and they are incredible. They're delicious, versatile, and full of "good for you" factors. Apart from their amazing fiber content, they pack a punch of vitamin K and vitamin C which are key nutrients for bone health, iron absorption, and good immunity.
As if that wasn't enough, brussels sprouts are also rich in antioxidants and they help regulate blood sugar levels. Amazing, right?
Holiday Side
This Brussels Sprouts Slaw with Lemon Poppy Seed Dressing is such a great option for a Thanksgiving or Christmas side dish! It's easy and quick to prepare, healthy, and adds a fresh element to a feast full of baked and cooked dishes.
It would go really well with a cauliflower mash, some plant-based gravy, and a delicious lentil roast. Have you tried raw brussels sprouts before? If you haven't, we think they will be a very nice surprise!
Lemon Poppy Seed Dressing
This slaw goes well so well with this Lemon Poppy Seed Dressing! In fact, it is so simple and good it would suit any green salad you fancy. Let us know what you think about it in the comments!
Recommended Equipment:
Photos by Alfonso Revilla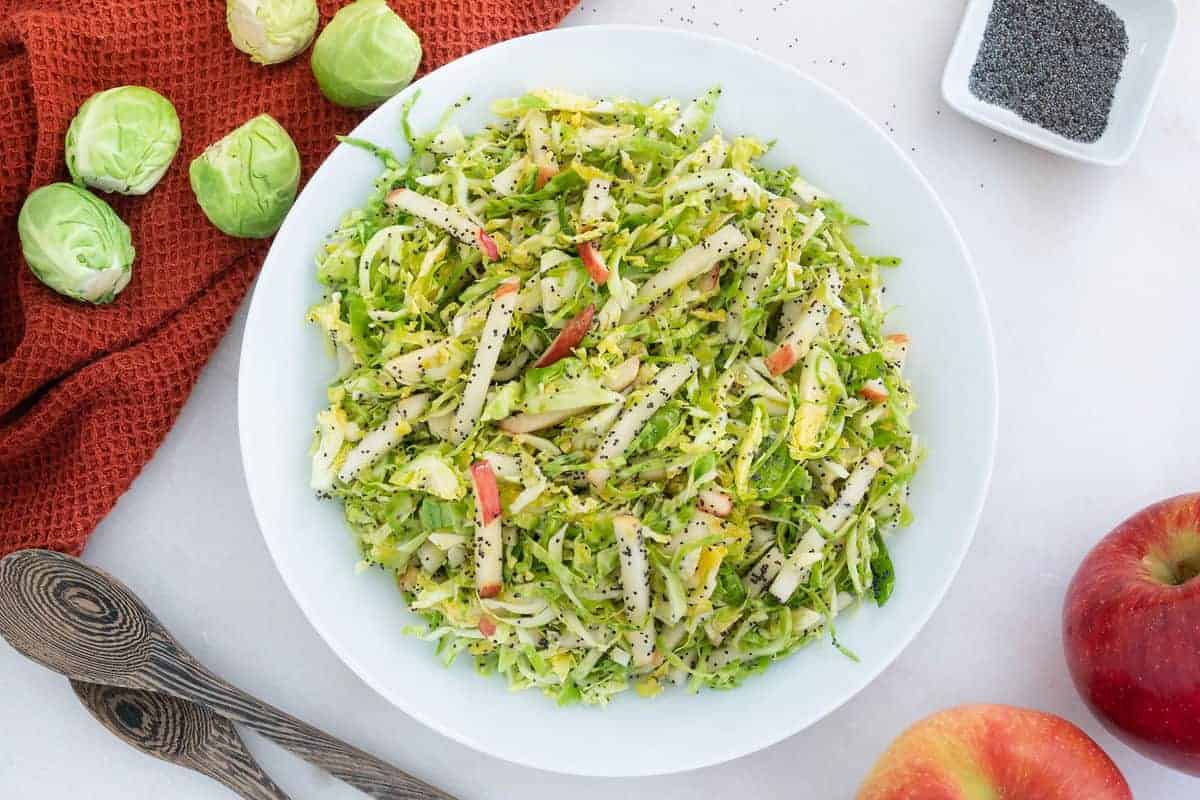 Ingredients
3 tablespoon of light-flavored oil
2 tablespoon of lemon juice
1-2 tablespoon of sugar
1 tablespoon of poppy seeds
½ teaspoon of salt
1-pound of brussels sprouts, washed and trimmed
1 apple
Method
Step 1
In a medium bowl, whisk together the oil, lemon juice, sugar, poppy seeds, and salt. Set aside.
Step 2
Half brussels sprouts lengthwise, then slice thinly. Add to dressing.
Step 3
Slice the apple into short matchsticks. Add to the dressing. Mix well.
Step 4
Serve immediately or refrigerate for a few hours before enjoying.
Average Member Rating
(5 / 5)
6 people rated this recipe
Recipe Comments