45 Vegan Thanksgiving recipes perfect for pulling together the ultimate meat-free, vegan thanksgiving table. From appetizers to mains and simple vegetarian/vegan thanksgiving desserts – this list contains everything you need for a vegan Thanksgiving dinner to impress meat-eaters and non-meat eaters alike!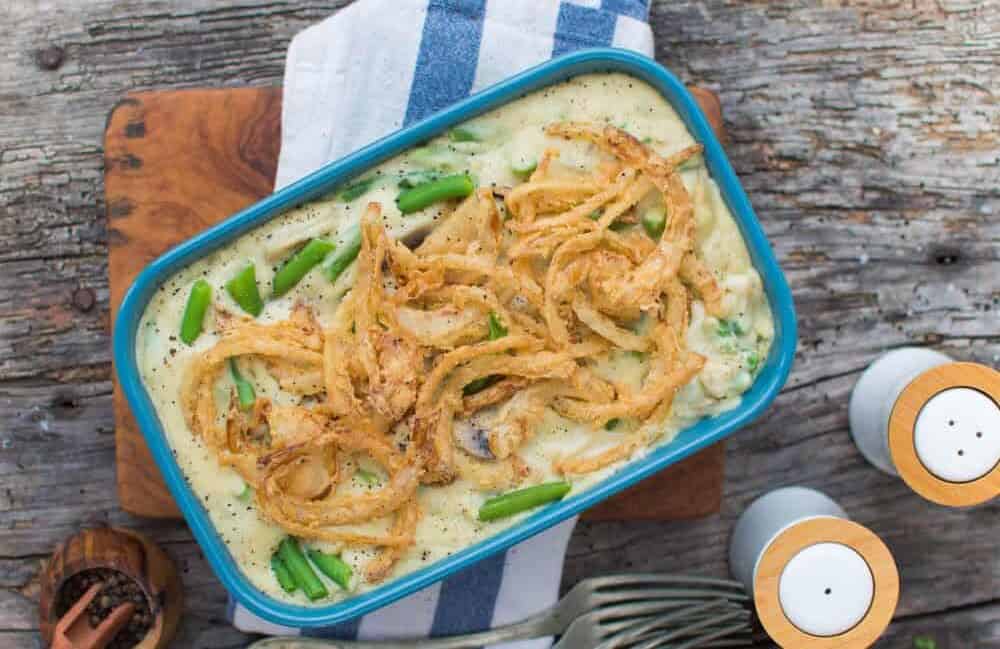 We've spoken on this subject several times when it comes to pulling together the perfect vegan Thanksgiving dinner. Along with this list of resources (podcasts and recipes included) on how to have an easy vegan thanksgiving – which includes our top 5 tips for surviving the holidays. We've also shared how to pull together a delicious veggie turkey platter appetizer (loaded with crudités and guac!) and a vegan charcuterie board. Now, it's the time to wrap everything up nice and neatly with this list of vegetarian/ vegan thanksgiving recipes!
If you're vegan, the holidays can become a bit of a stressful time. When enjoying the holidays with family, there's the worry of not having enough vegan options. If you're hosting yourself, there's the need to pull together an entire menu that supports your lifestyle while simultaneously impressing your guests… So much that they don't even miss the meat! Luckily, this list of vegan thanksgiving ideas is a helping hand to reduce some of the stress.
This list of the best Thanksgiving recipes includes everything you need for a successful vegan thanksgiving dinner. Whether you're looking for a quick appetizer, vegan sides for Thanksgiving, hearty mains, or even desserts (with even more ideas on this list of 20 vegan fall desserts) for the ultimate vegan thanksgiving feast – there's something for all!
The Best Vegan Thanksgiving Recipes
Jump to:
Vegan Thanksgiving Appetizers and Soups
Not only are these well-spiced stuffed mushrooms an excellent appetizer for your vegan Thanksgiving dinner, but you can even prepare them the day before. That way, they're ready to bake when needed! Meal prep is a savior during the holiday. But, of course, it helps that these tasty morsels are so worth the effort, too!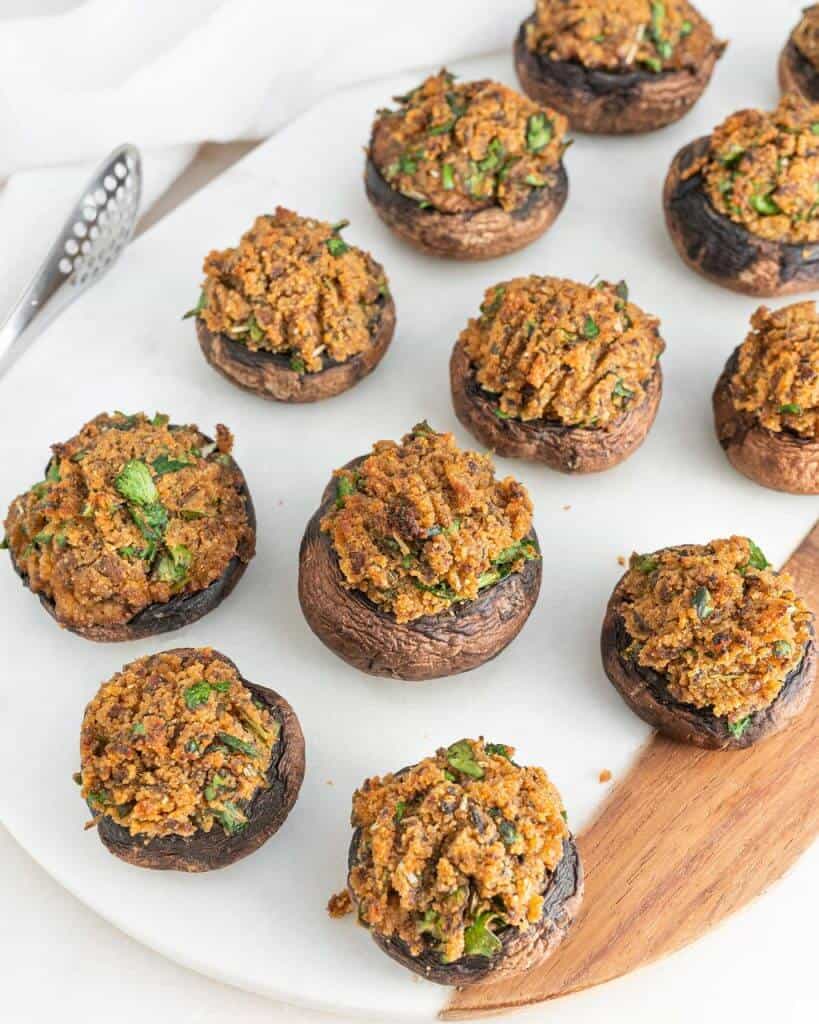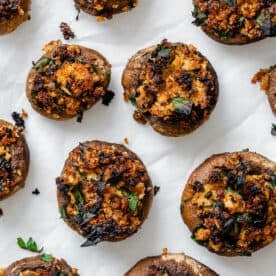 Easy Vegan Stuffed Mushrooms
These 8-ingredient vegan stuffed mushrooms are so easy to pull together and adapt in dozens of ways, then bake or air fry to perfection as a simple dairy-free, meat-free, optionally gluten-free appetizer or side for dinner parties, holidays, and more!
View Recipe
This classic sweet, sour, creamy dip is a must-have at game-day celebrations and other parties, Thanksgiving included! Load up a dish with the dip and various crudites/crackers and place it on the table with the other appetizers.
A bit like regular pate, this mushroom pate is a bit of a 'you either love it or hate it'. But, as far as we can tell, it continues to impress at any special event – vegan Thanksgiving dinner included! Serve it up with some crackers as part of an appetizer spread and watch it disappear!
You can prepare this simple pumpkin soup with as little as two ingredients, plus salt and pepper. Or jazz it up with extra herbs and spices – either way, this frugal soup is a delicious Thanksgiving starter and perfect for enjoying with buttered dinner rolls!
This cozy squash and sweet potato soup takes advantage of the bounty of Fall squashes available. The result is a hearty, flavorful soup – no dairy required! Also, swap out the squash based on what's available to you for a versatile, easy vegan thanksgiving recipe.
There's never a bad time for a warming bowl of broccoli soup. We love it so much that we've shared further recipes for cream of broccoli soup and broccoli and potato soup. However, this simple broccoli soup relies on simple aromatics and potatoes and chickpeas for a hearty, warming vegan Thanksgiving appetizer!
Start your vegan Thanksgiving menu with a bang with this spiced butternut squash lentil soup. The combination of ingredients makes for an easy appetizer packed with fiber, protein, and nutrients. Plus, you can adjust the amount of spice to personal preference!
Carrots are one of our favorite ingredients here at plant-based on a budget (so much so, we wrote an entire guide to carrots!). They're wonderfully frugal, with a sweet/savory flavor that makes for a delicate soup that will fill you up without weighing you down. That's exactly what's needed at your vegan Thanksgiving dinner!
Thanksgiving Veggie Side Dishes
Do you remember that Friends episode where Monica has to prepare three types of potatoes to please everyone at Thanksgiving? Well, whether you want your potatoes with lumps, studded with peas and onions, or more – it's always good to have the base recipe sorted. And this simple vegan mashed potato recipe is perfect for that – it's creamy, fluffy, and just buttery enough to feel decadent while remaining healthy. Plus, topped with your herb of choice like scallions or rosemary. Feel free to add more- we won't judge!
For a lower-carb version of this classic thanksgiving side, why not try creamy mashed cauliflower?! It's super creamy and flavorful (especially with rosemary and optionally garlic) but much healthier (and lower-calorie) than the original!
As much as we love mashed potatoes (and don't you worry, they're on this list too), there's something so amazing, comforting, cozy, and wonderfully creamy about these vegan scalloped potatoes. Plus, you can never have too many spud dishes at Thanksgiving. Luckily, this lightened-up version satisfies without weighing you down.
Is it even Thanksgiving if there isn't a massive casserole dish of green bean casserole in the middle of the table? Luckily, this vegan dish captures all the deliciousness of the original, but minus all the dairy! Here at PBOAB, we love this Thanksgiving casserole recipe so much, we've even shared a second recipe (nut-free), too!
Glazed carrots are another must-have for any holiday table. They're simple, inexpensive, and packed with a sweet and savory flavor that takes the humble carrot to new levels of deliciousness.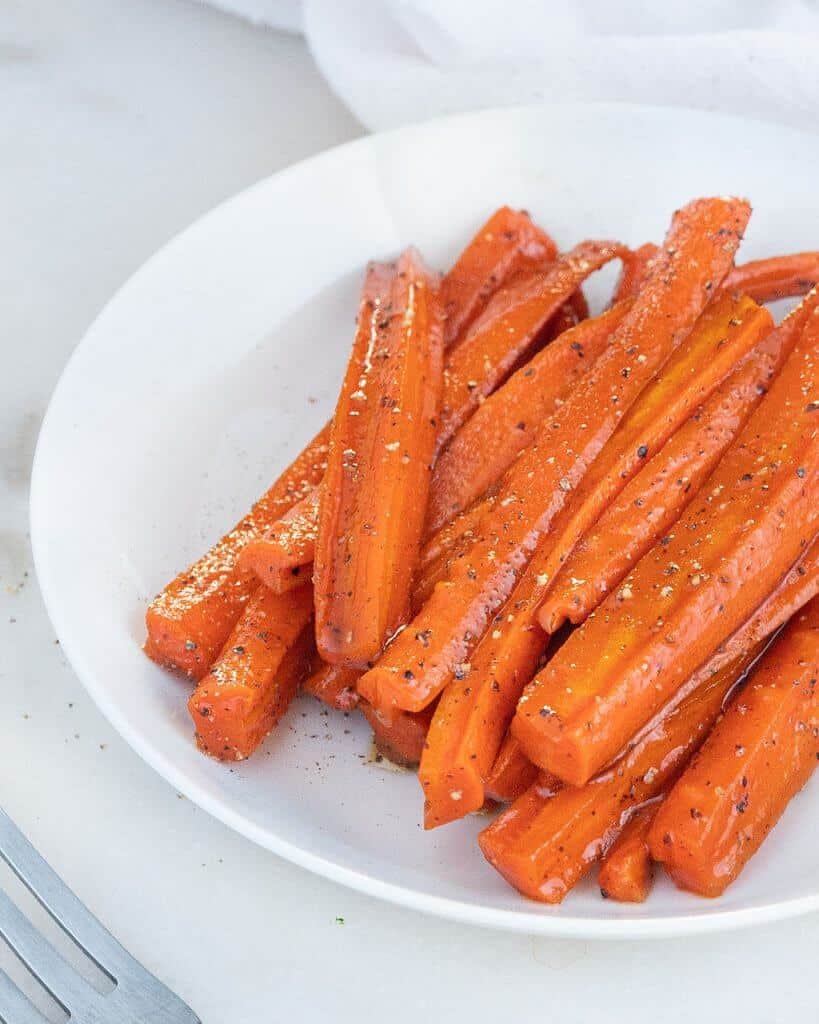 Who knew that by avoiding stinky 'boiling' methods and a delicious pairing with lemon poppyseed dressing, you could turn this divisive ingredient into a delicious, fresh, raw side dish that even the most avid sprout hater could enjoy? Well, now you know – we recommend keeping the main ingredient a secret until after it's entirely devoured!
Yes, two Brussels sprouts recipes in a row! If you've never tried roasted sprouts, you're truly missing out. Rather than soggy and limp, roasted sprouts are tender yet lightly caramelized. Combine that with cranberries (or pomegranate seeds), and this simple thanksgiving side recipe is the perfect addition to your vegan thanksgiving meal!
This simple baked cauliflower dish is a great way to enjoy this veggie as part of your vegan Thanksgiving dinner! The seasonings are simple yet pack in flavor. There's just enough not to detract from the rest of the meal while remaining markedly NOT boring (yay!) We doubt you'll have any leftovers!
When you have a vegan Thanksgiving menu loaded with carbs, and heavy, savory dishes, lighter sweet and sour, slightly acidic pairings like this red cabbage with apples can be perfect for cutting through the heaviness.
This simple savory sweet potato and cauliflower casserole is a great savory way to enjoy sweet potatoes on your Thanksgiving table. It's creamy, rich, and flavorful and tastes wonderful when drenched in vegan gravy!
Other Vegan Sides for Thanksgiving
Any time there is gravy involved, we have to have some cornbread to help mop it up. Even better, you can cook this version on the stovetop to help save precious oven space! Though, we have a baked buttery cornbread version, too, if preferred! Best of all, no one would guess that it's vegan making it a perfect addition to ANY thanksgiving table, vegan or not!
With a combination of sweet potato (easily swappable with butternut squash or pumpkin), quinoa, and raisins, this simple side dish is packed with fall flavors and perfect for a veggie thanksgiving offering!
Any excuse to eat more creamy mac and cheese works for us! In fact, along with this fall-flavored butternut squash mac and cheese, we also love serving baked potato mac and cheese as a vegan side for Thanksgiving, too! It's frugal but filling – perfect!
No Thanksgiving table would be complete without an 'almost overflowing' gravy boat (or three) of gravy, and this vegan brown gravy is the perfect all-purpose option for your vegan Thanksgiving meal. Plus, it contains just 5 ingredients and is ready in under 10 minutes!
If there is a 'perfect vegan thanksgiving stuffing,' then we've found it! After all, this stuffing is made with flavorful sourdough bread, packed with herbs, and perfectly blends sweet and savory flavors with added cranberries and even a hidden apple! Everyone will be asking for the recipe of this easy vegan side for Thanksgiving!
Depending on where you live, cranberry sauce is either a jar of condiment that makes it to all the holiday tables but is rarely touched or a much-loved homemade with love sauce that is the perfect accompaniment to all. We're definitely on the side of the latter – especially when it's so easy to prepare in under 20 minutes and tastes SO much better than the jarred stuff!
We love to have some bread as part of our vegan Thanksgiving dinner, and these soft, fluffy dinner rolls will impress all (especially when warm from the oven!). Serve alongside a dish of your favorite vegan butter, and watch the rolls disappear!
These sweet potato biscuits are light, fluffy, naturally sweet, and savory, making for a wonderful vegan side for thanksgiving. In fact, they're so versatile you'll often find us nibbling on them for breakfast, lunch, and dinner. Enjoy with lashings of vegan brown sugar cinnamon butter or alongside gravy – delicious!
We've already added a regular brown gravy to this list. Still, if you have families that are anything like ours, it's always good to have a second option on your table, and umami-rich mushroom gravy is perfect for any veggie thanksgiving! It's comforting, warming, and is made almost entirely of pantry staples!
Vegan Thanksgiving Main Dishes
With a filling that combines mushrooms, wild rice, cranberries, and pumpkin seeds, these vegan loaded sweet potatoes are a delicious fall/Thanksgiving main. Plus, drizzle with a homemade creamy tahini sauce for the 'cherry on top'!
This butternut squash casserole mixes sweet and savory with a combination of cranberries, raisins, wild rice, several spices, and butternut squash and sweet potato. Once baked, this healthy casserole is a great vegan/vegetarian Thanksgiving dish.
This hearty cauliflower lentil loaf is hearty and satisfying enough for vegans and meat-eaters alike. With a combination of cauliflower, lentils, bell pepper, onion, and several spices, this loaf mimics traditional meatloaf. However, it is 100% meat-free, nut-free, gluten-free, and soy-free!
A meat-free wellington is a wonderful 'centerpiece' for any vegetarian or vegan Thanksgiving table. This version wraps up a veggie (mushroom, carrot, celery, spinach) and walnut filling in a puff pastry shell. It's perfect for enjoying with plenty of vegan gravy!
For another take on a vegan loaf, you might like this hearty, nutritious lentil loaf. It combines lentils, walnuts, and carrots with several spices. Then it's topped with a homemade tomato glaze for a flavourful vegan Thanksgiving main dish. Plus, this recipe requires just 10 minutes of hands-on prep!
For the longest time, this hearty pumpkin curry was always my budget-friendly 'offering' to any Thanksgiving dinner I was invited to – and now it's become a tradition at our table. It is warming, comforting, and packed with fall goodness!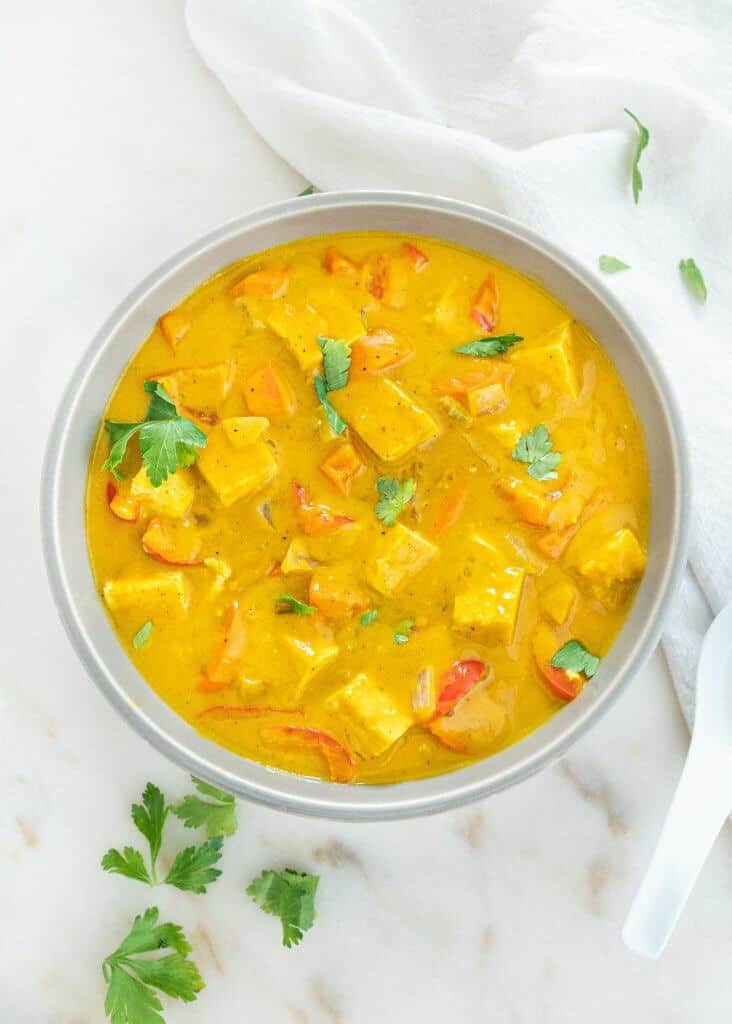 Technically this Fall-flavored pumpkin pasta dish can double up as a side or main; combining pasta shells with a pumpkin and tofu ricotta filling topped off with a creamy cashew sage sauce. Plus, since this pasta dish tastes even better on day two, it's perfect for prepping in advance and just warming up on Thanksgiving!
If you're one of those people that likes to try a new vegan thanksgiving main every year, just to discover it to be too 'heavy' and struggling not to waste it (especially if you're the only one eating it!), then a lighter main like these cauliflower steaks would work perfectly. Plus, they taste amazing topped with vegan mushroom or brown gravy!
Vegan Thanksgiving Desserts
Once we've eaten our fill of our vegan thanksgiving feast, unbuttoned our pants, and taken a few deep breaths, it's time for something sweet. Nothing says vegan thanksgiving dessert quite like this vegan pumpkin pie with a chocolate twist. Fall flavors? Check! Chocolate? Check! A pumpkin pie? Check! What's not to love?! Plus, serve it up alone or with a big scoop of ice cream for the perfect way to end the meal for vegans and non-vegans alike!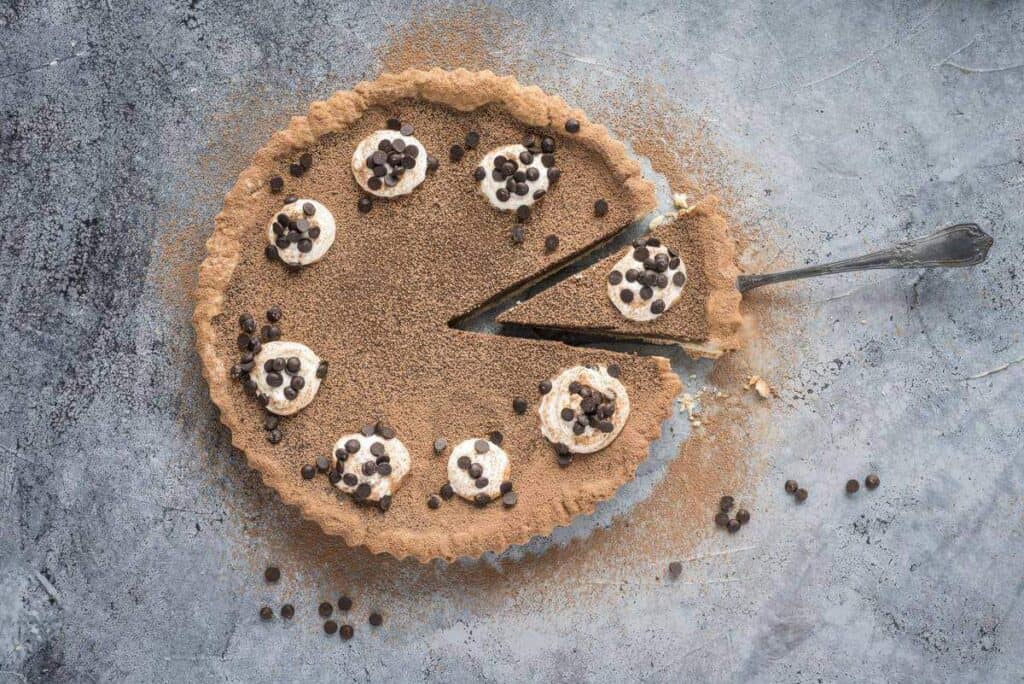 Another way to enjoy a pumpkin dessert as a vegan dessert for Thanksgiving is with this sweet vegan pumpkin bread. Since it requires several hours 'chilling' time, this is also a great prep-ahead vegan thanksgiving dessert!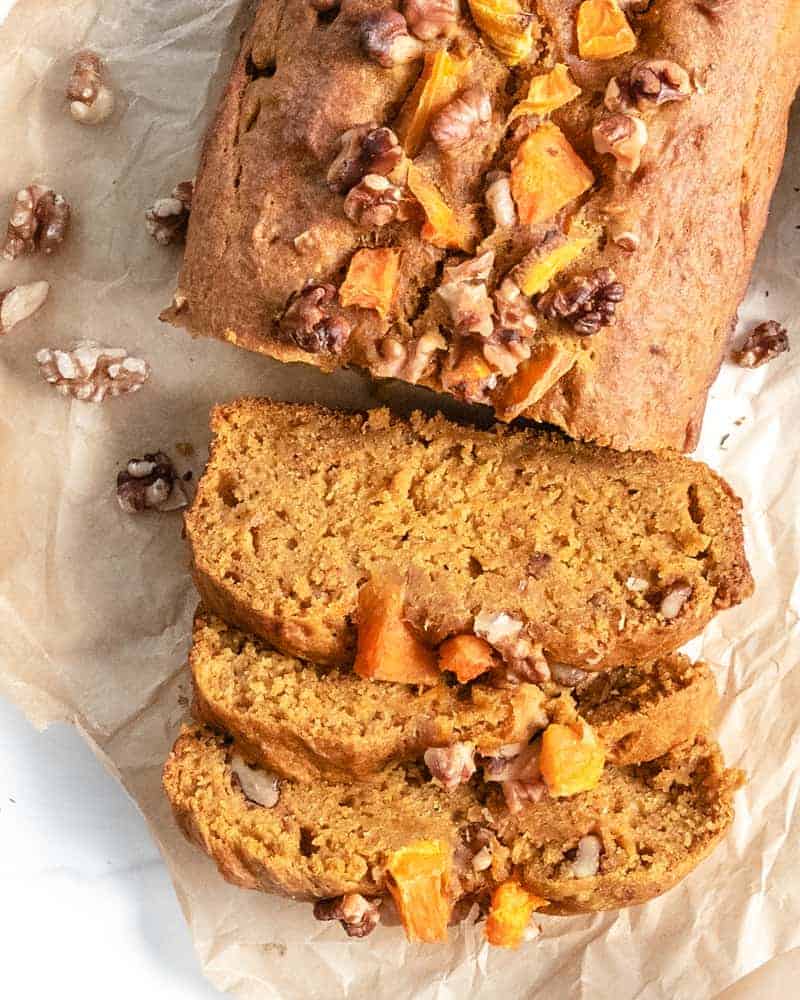 These pumpkin waffles are equally at home served as a Fall breakfast or vegan Thanksgiving dessert. Especially when topped with syrup and a big scoop of ice cream! Best of all, they're oil-free, dairy-free, and eggless. Yet, they are still wonderfully tender and fluffy in the middle with a crisp outer shell.
For those who enjoy a fruity dessert after indulging, this vegan apple cake is the best of both worlds. Enjoy a slice alone for a healthier pick or load up with ice cream or vegan custard for a more decadent option! It also makes for an excellent choice for serving, along with a warm mug of coffee, tea, or even hot cocoa!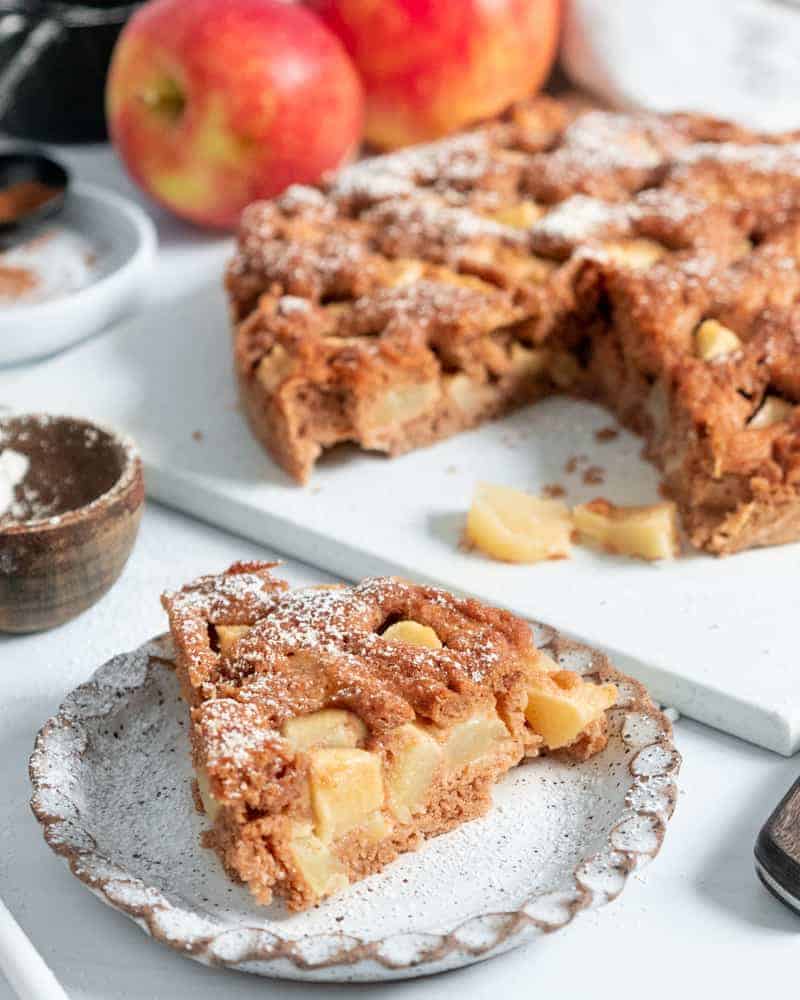 Alternatively, swap out the cake above for a crisp apple pie (or apple pear pie – which is quite the showstopper). Then, serve it warm from the oven with some custard, cream, or ice cream for a frugal yet flavorful dessert!
You may have sensed a theme here – but apples really do make for frugal yet tasty vegan desserts for your Thanksgiving dinner table. Therefore, here's another apple vegan thanksgiving dessert – this time, in the form of this apple cinnamon bread. It's loaded with raisins, walnuts, and chocolate chips for a great end to your vegan thanksgiving meal. You can't even tell it's vegan!
Combine the sweet and tart flavors of apple and cranberry in this quick and simple apple cranberry crisp. Best of all, you can prep this dessert in advance and just warm it up before serving. Then, enjoy a portion alone with vegan cream, custard, or a scoop of ice cream!
For a lighter dessert, ditch the pastry and cake for a simple baked fruit. These baked pears (or stuffed baked apples) are stuffed with a warming filling of walnuts, pecans, dried fruit, and a maple drizzle and baked! Then serve alone or with a scoop of ice-cream for a hearty yet healthy vegan Thanksgiving dessert.
There's never a wrong time for brownies – and at Thanksgiving, you have a choice of salted caramel brownies, sweet potato brownies, and these pumpkin chocolate brownies. Therefore, vegans and non-vegans alike will be clambering for seconds of this decadent vegan Thanksgiving dessert!
Last but not least, this chocolate 'crazy' cake requires minimal ingredients, fuss, cleaning, and time. Plus, it's never a bad idea to include a choccie-based vegan thanksgiving dessert as part of any thanksgiving table (vegan or not!) – no one can turn down chocolate!
You might also enjoy browsing through this list of 20 Fall Desserts, for more inspiration!
More Recipe Round-Ups