Roasted Red Pepper Hummus | Easy Spread Recipe
2012-10-24
Servings :

6+

Prep Time :

20m

Cook Time :

5m

Ready In :

25m
Who doesn't love hummus? Let's face it there's no other spread or dip that come close to how delicious and versatile hummus is, no to mention budget-friendly! You can get a can chickpeas for a few cents if you buy them at a discount and make hummus (basically) forever. Make a fresh batch every week and you will never run out of it! Now let's learn how to make this incredible roasted red pepper hummus!
You can use this delicious roasted red pepper hummus as a spread on a wrap or a sandwich, as a dip with some pita chips or some fresh seasonal veggies. What about adding a few spoonfuls at the center of your colorful buddha bowl? Let's be honest here, you'll probably end up eating it with a spoon standing next to your kitchen counter! Yes, it's that good!
How To Roast Your Peppers?
This one is a tricky one! How do you exactly roast your red peppers to make your red pepper hummus? You basically have two options. One is to place the peppers on your oven tray and drizzle them with olive oil. Place them in a 400-degree oven for about 20 mins. You should check every few minutes to see if the skin is turning darker.
If you wanna ditch the oven and go old school, then roast them on your stovetop. Sounds weird, right? But trust me, it works and I think the flavor is more intense. Warning: it can get messy but if you're willing to spend a few minutes cleaning up after then go for it!
How long does your homemade red pepper hummus keep for?
Since you're making it from scratch it won't have any added ingredients to make it last longer so you should aim for 5 days max. Make sure you keep it in an air-tight container and put it back in the fridge every time you use it (aka spoon it).
Enjoy!
Ingredients
2 cans chickpeas (water reserved)
1 jalapeno chopped (or more)
1/4 cup tahini
3 tbs minced garlic
juice of 1 lemon
1/2 cup chopped roasted red pepper
2 tbs olive oil
1 tsp papirka
2 tsp cumin
1 tsp granulated onion
1/4-1/2 reserved chickpea water
Kosher salt and white pepper to taste
Method
Step 1
Add all of the ingredients to the bowl of a food processor- wiz on high for 30 seconds. Scrape down the sides and continue to pulse slowly adding the reserved chickpea water. Once you have a texture you like, taste. Add salt and pepper to taste.
Step 2
Allow to sit overnight for best result.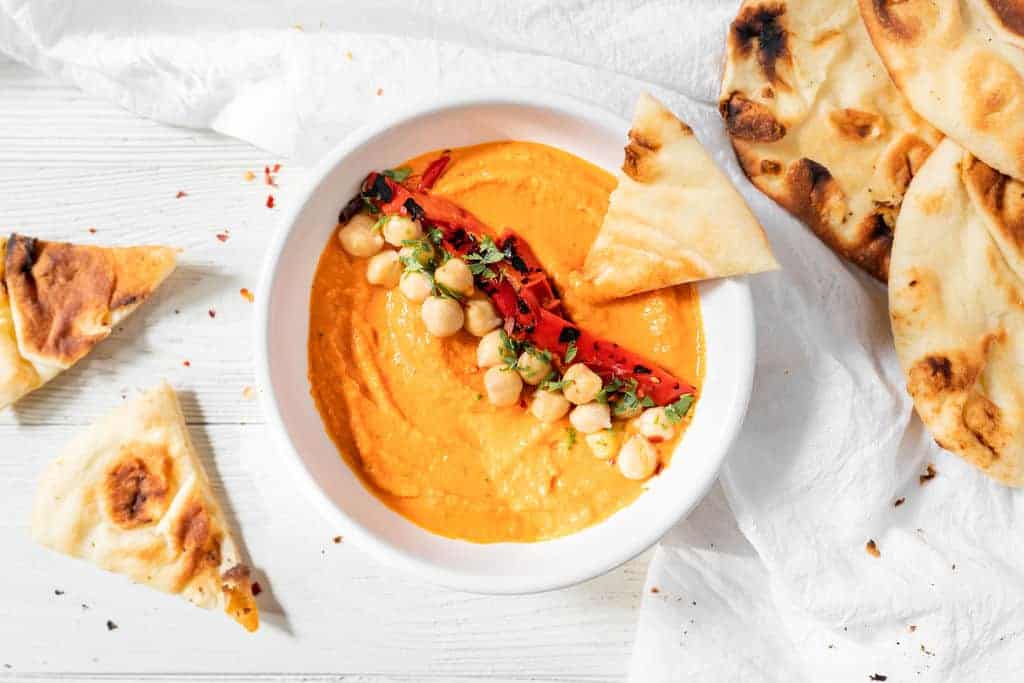 Average Member Rating
(5 / 5)
2 people rated this recipe
Recipe Comments