As an Amazon Associate I earn from qualifying purchases.
How to roast garlic in a pan in under 20 minutes (or more for stovetop garlic confit). This quick roasted garlic is a must-have condiment for any garlic lover. It's mellow and smooth, perfect for spreading over bread, adding to veggies, pasta, sauces, and tons of other dishes! Plus, bonus methods for oven and microwave roasted garlic!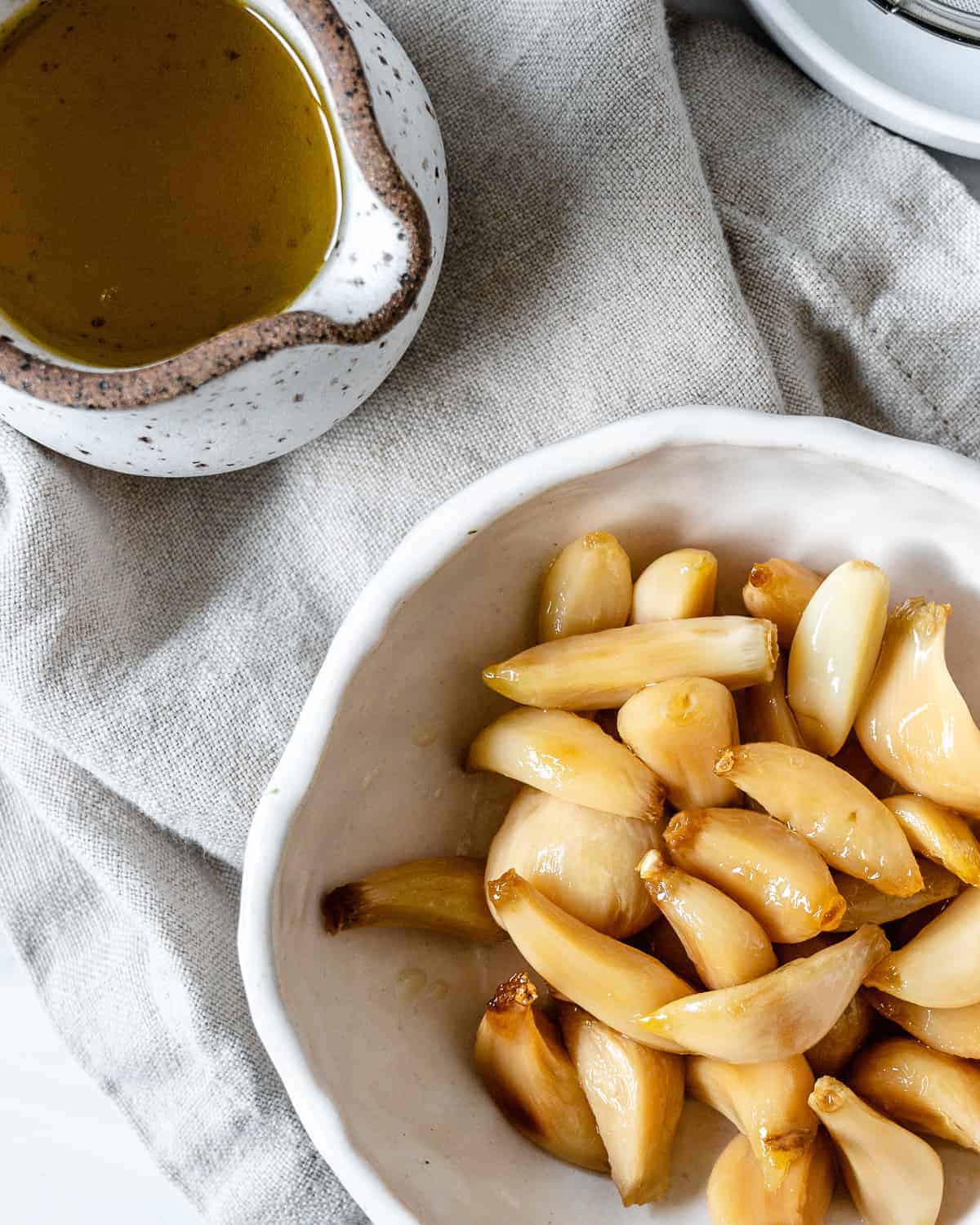 Smooth and Lightly Caramelized Pan-Roasted Garlic
If you're a fan of garlic, then you've likely tried lightly caramelized, roasted garlic before. But did you know that you can roast garlic in a pan on the stovetop? Not only does it take less time (which instantly had our ears perked up), but unlike regular roasted garlic in the oven, this method even provides a bonus 'product': garlic-infused olive oil!
While we love adding garlic to everything (and we mean everything), raw garlic can certainly be pungent and sometimes even 'harsh'. In comparison, this pan-roasted garlic is wonderfully buttery with plant-based oil, mellow, lightly caramelized, and smooooth (not to mention easier to digest). So smooth that after we slowly simmer it to perfection, we mash it straight up with a fork, add a pinch of flaky salt, and then struggle not to eat it all in one sitting spread over crusty bread. It's our favorite way to prepare garlic!
Luckily, there are so many delicious ways to take advantage of the roasted garlic cloves/garlic confit. So, in no time at all, this pan-roasted garlic is elevating cooked veggies, pasta, pizza, sandwiches, wraps, and more! Though, if needed, the leftovers will store wonderfully in the freezer for several months and can be added straight to dishes from frozen!
Best of all, check out the FAQs below for an oil-free method and how to make microwave-roasted garlic and oven-roasted garlic cloves!
The Ingredients
All you need for stovetop roasted garlic cloves are two simple ingredients!
Garlic: We used 25 individual cloves of garlic, which is somewhere between two to three whole garlic heads. When choosing the garlic, go for a firm head that feels heavy for its size. Avoid garlic that seems moldy, soft, or dry.
To cut down on prep, you could use pre-peeled garlic cloves from the grocery store.
Oil: Use any neutral cooking oil. We used olive oil, but avocado oil would also work very well. You can also use other oils like canola/vegetable oil, but the flavor won't be as nice. For a budget-friendly option, you could use half olive oil and half canola oil or other cheaper oil.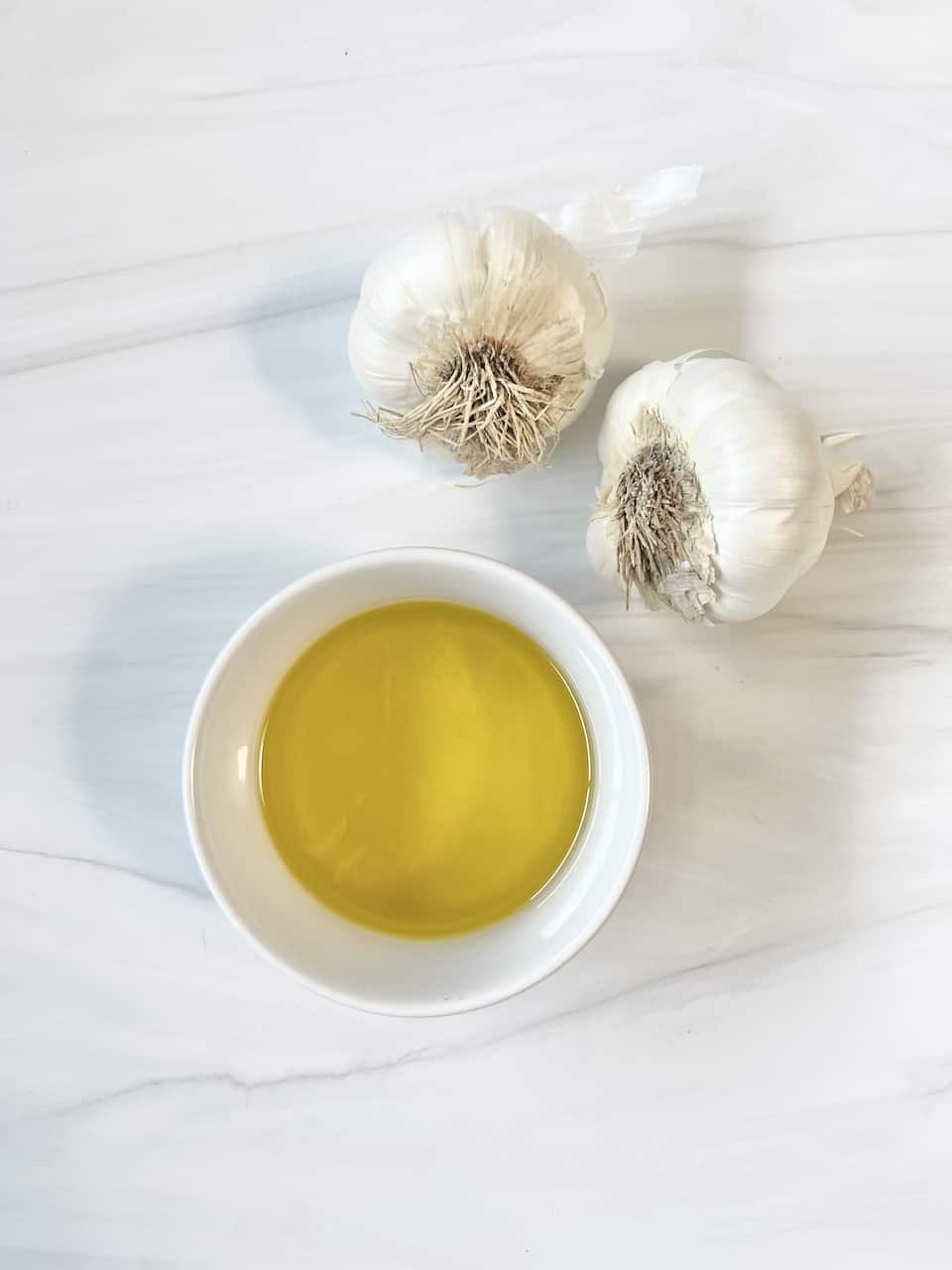 How to Roast Garlic in a Pan?
Pan roasting garlic is super simple and requires just 4 steps. Keep scrolling to the recipe card for the complete list of ingredients and recipe instructions.
First, prepare the garlic by peeling the garlic cloves.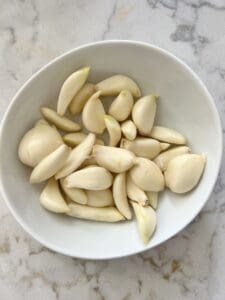 An easy way to do this is to add the unpeeled garlic cloves to a lidded container/mason jar. Then shake vigorously for 20-30 seconds. Some will fully peel, and the rest should be fairly easy to peel.
Then, combine the garlic and oil in a small saucepan and bring to a low simmer over medium heat.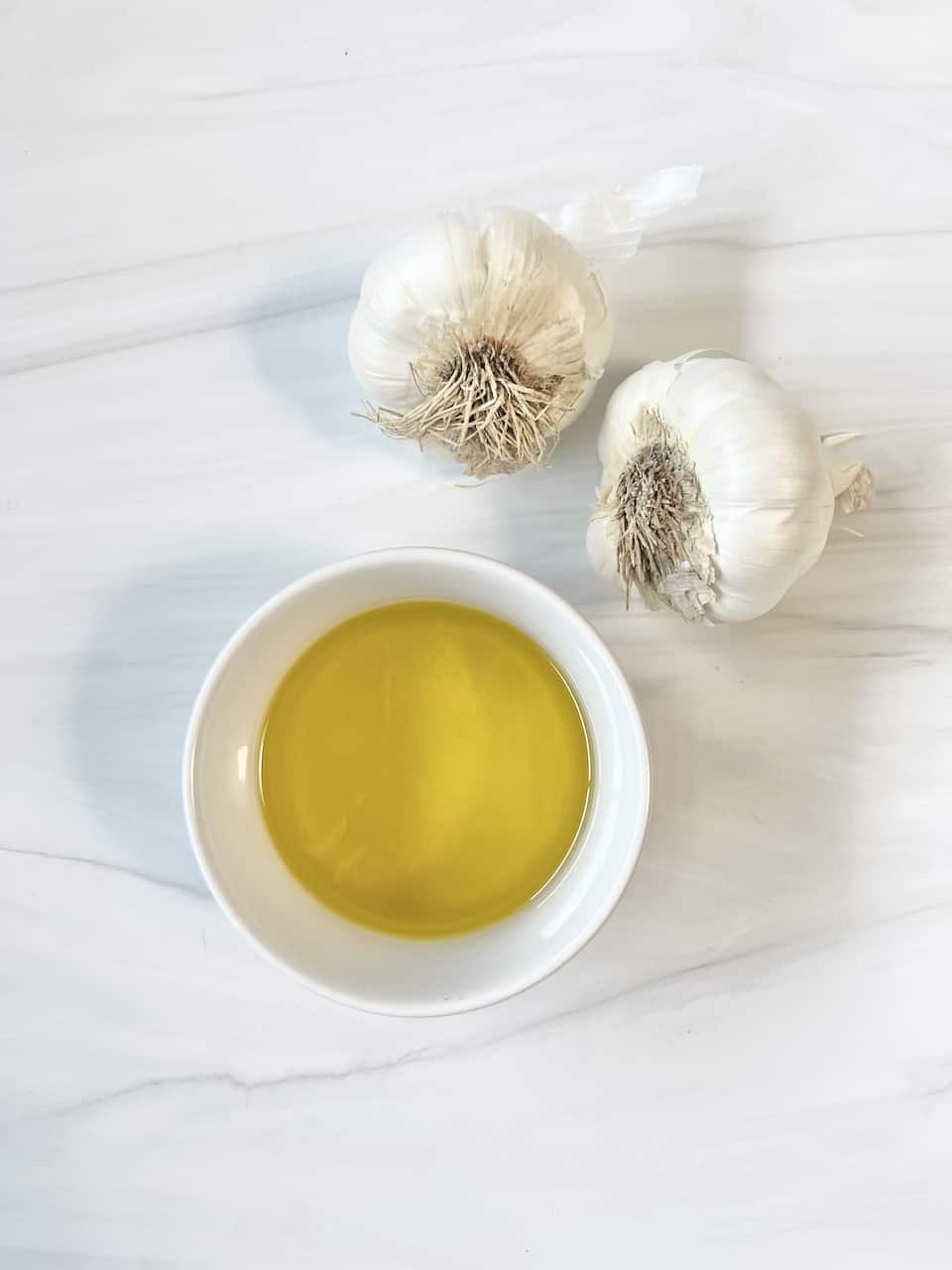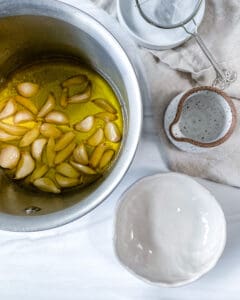 Cook for around 15 minutes, or until the garlic has softened and is a golden color.
Remove the garlic from the heat, allow to cool slightly, and remove it from the oil to gently smash with a fork. Your quick roasted garlic is ready to enjoy!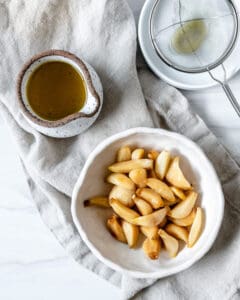 Save the garlic-infused oil to use later on. It will provide a wonderfully fragrant flavor to savory dishes!
To Make Stovetop Garlic Confit
To adjust this recipe from pan roasting garlic to stovetop garlic confit is simple:
Use a medium saucepan and add enough oil to fully submerge the garlic cloves. Heat over medium-low until hot, then add the garlic.
Reduce the heat to low and cook for between 35-45 minutes until tender/creamy.
This low and slow cooking method will make for super creamy, plant-based buttery, mildly sweet garlic but take less time than oven confits (which often take 2+ hours).
How to Store?
Allow the roasted garlic cloves to cool and then store in an airtight container in the fridge for between 3-5 days. Store the infused garlic oil separately in an airtight container for up to 2 weeks.
You can also store the garlic submerged in the oil but keep it stored in the refrigerator at all times and only use up to 14 days. It may last longer, but because of the risk of botulism, we don't risk it.
You could also freeze the roasted garlic cloves, either whole or mashed. We like to add the mashed roasted garlic to a small Ziplock or Stasher bag, flatten it, and freeze for 3 months. Then, you can just break off pieces as needed. Alternatively, portion it into a small ice-cube tray.
They don't need long to thaw at all and can even be added to recipes from frozen (be careful when adding it to hot oil, though, as it will spit).
How to Use Roasted Garlic?
If you're a massive fan of garlic, like us, then you'll never run out of ways to enjoy this tender, lightly caramelized roasted peeled garlic or garlic confit.
Use the mashed pan-roasted garlic over bread (crusty bread, focaccia, garlic bread, crostini, or garlic naan)
Add to pizzas and flatbreads
Mash into sandwiches, paninis, vegan grilled cheese, and wraps
Spread over burgers
Combine with vegan butter for a simple garlic butter
Use in place of raw garlic in hummus (and other dips) for a mellow, caramelized flavor
Add to sharing boards, veegan cheese boards, charcuterie boards, etc.
Use to flavor creamy mashed potatoes
Use in this 5-minute garlic sauce
Add to dressings (like this lemon dressing) and uncooked sauces in place of raw garlic for a more mellow flavor.
Add to pasta salads
Mash and use within hot pasta dishes too – perhaps one of these 20 vegan pasta dishes
Mix into sauteed or roasted vegetable dishes (especially roasted tomatoes)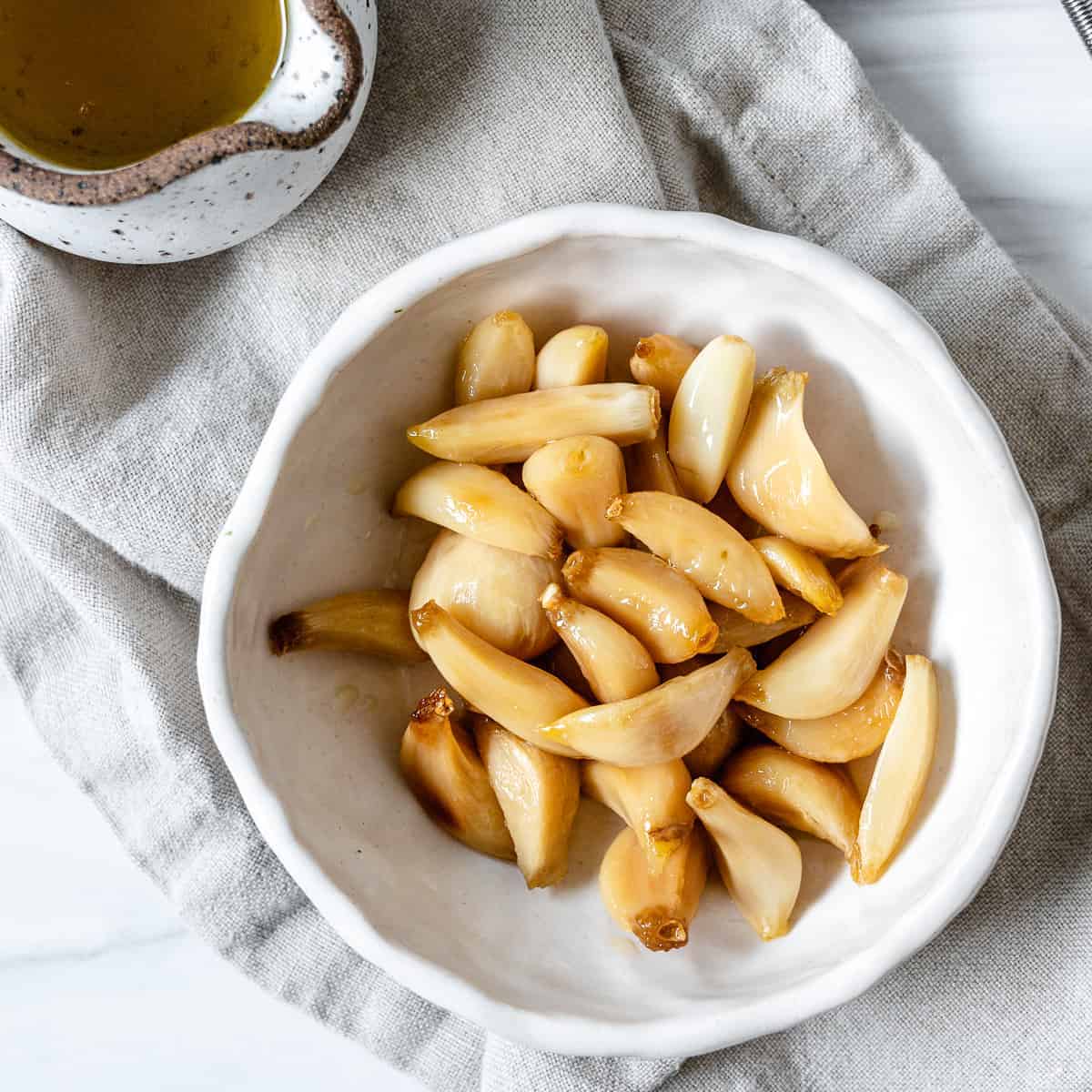 FAQs
What is the difference between sauteed and pan-roasted garlic? Sauteed garlic usually requires 30-60 seconds to take away the edge of raw garlic and mellow the flavor slightly (sauté too long, and it will become bitter due to the high heat). In comparison, pan-roasted garlic is cooked low and slow for super tender, creamy, vegan buttery garlic.
How to use the leftover garlic-infused oil? You can use it as cooking oil, a fragrant dip for bread, add to dressings and sauces, mix into dips (like hummus), etc.
Can I make pan-roasted garlic without oil? There is an oil-free method, but we admit that we haven't tried it. Use a small pan with a lid, and DON'T peel your garlic cloves. Heat the pan over medium heat, drop in the garlic cloves, cover with the lid, and cook for about 10-15 minutes, shaking the pan occasionally to make sure the garlic cooks evenly. When ready, the garlic peel will be blackened and 'burnt' looking, but the garlic within should be tender and mellow. It won't be as tender (or caramelized) as the method with oil, though.
How to roast minced garlic? You can reduce the oil (just enough to cover the minced garlic) and cook until golden brown (5-10 minutes).
How do I make oven-roasted garlic, though? This method is easiest with whole heads of garlic. First, slice off the top inch from a whole head of garlic, drizzle with oil, and place the bulb in a foil (or parchment) parcel on a baking sheet. Roast in the oven for 40-50 minutes at 350F/176C. Remove the foil in the last 10 minutes for extra caramelization. When ready, easily squeeze the cloves from the skin.
What is the quickest way to roast garlic? That's probably microwave-roasted garlic. Slice off the top of the garlic head, add to a small dish with a few tablespoons of water and a generous glug of oil, then cover with plastic wrap or a lid and heat at 50% in 2 ½ minute increments until tender. This method won't be as caramelized or brown but will be tender and mellow.
Can you roast individual cloves of garlic? This method is specifically for peeled cloves! However, you can also roast cloves in a foil/parchment paper parcel in the oven.
Top Recipe Tips and Notes
Don't boil the garlic: Or it may burn and/or become tough.
Store the roasted garlic cloves correctly: Make sure to ALWAYS keep the garlic and oil stored in the refrigerator, and be careful when storing the garlic and oil together. It increases the shelf life, but there is also a risk of botulism. So we prefer to store them separately, just in case.
To avoid bitter garlic: It's best to trim off the tough root end from the garlic cloves.
For a super smooth roasted garlic puree: Transfer the quick roasted garlic cloves/ garlic confit (minus the oil) to a food processor or blender and blend into a smooth puree.
Add fresh herbs: Since the garlic-infused oil can be re-used, you can infuse it with extra flavors. We like to add fresh herbs like rosemary, thyme, oregano, or even chili flakes.
More Ways to Enjoy Garlic
Photos by Alfonso Revilla
How to Roast Garlic In A Pan (+ Stove top Garlic Confit)
Ever made your own Stovetop Roasted Garlic before? It's just another method of getting that sweet, mellow, roasted garlic flavor without heating up your whole house. As a bonus, you have flavorful garlic-infused oil left over.
Ingredients
25

whole cloves garlic, peeled

½

cup

olive oil
Instructions
Combine garlic and oil in a small saucepan. Over medium heat, bring oil to very low simmer.

Continue cooking 15 minutes, or until garlic has softened and is golden in color.

Allow garlic to cool and remove from oil or smash garlic into the oil with a fork for a scrumptious spread.
Notes
Save the oil for later use! It gives a fabulously fragrant taste to all savory dishes.
Nutrition
Calories:
43
kcal
Carbohydrates:
1
g
Protein:
1
g
Fat:
4
g
Saturated Fat:
1
g
Polyunsaturated Fat:
1
g
Monounsaturated Fat:
3
g
Sodium:
1
mg
Potassium:
12
mg
Fiber:
1
g
Sugar:
1
g
Vitamin A:
1
IU
Vitamin C:
1
mg
Calcium:
5
mg
Iron:
1
mg
Disclaimer: Although plantbasedonabudget.com attempts to provide accurate nutritional information, kindly note that these are only estimates. Nutritional information may be affected based on the product type, the brand that was purchased, and in other unforeseeable ways. Plantbasedonabudget.com will not be held liable for any loss or damage resulting for your reliance on nutritional information. If you need to follow a specific caloric regimen, please consult your doctor first.
Additional Info