No matter what you're in the mood for, this list of delicious vegan chickpea recipes contains healthy, hearty, wholesome, and even sweet, easy chickpea recipes. That way, you can truly take advantage of this budget-friendly nutrient and protein-dense ingredient! Best of all, you can make all of the below chickpea recipes with canned or dried chickpeas!
As a blog dedicated to budget-friendly recipes, our pantry is always stocked with hearty, nutritional, and budget-friendly legumes. That includes lentils, beans, and chickpeas! So whether you're stocked up on tins or cooking these garbanzo beans from dry (which works out even more cost-efficient!), this ingredient is a fantastic, low-budget source of plant-based protein to turn into all sorts of easy chickpea recipes!
Jump to:
Are Chickpeas healthy?
Not only are chickpeas (aka garbanzo beans) wonderfully budget-friendly, but this humble ingredient is also nutrient-dense. Chickpeas are packed with protein, fiber, and several vitamins and minerals. More so, this bean is also naturally low-fat, with a moderate amount of calories. While canned chickpeas can contain high sodium levels, you can also purchase reduced-sodium versions. Alternatively, turn to dried chickpeas for an even cheaper, healthier option.
Once cooked/ready to use, this legume is wonderfully versatile. Whether you want to whip up a large batch of creamy smooth hummus, flavorful falafels, transform them into vegan 'tuna' salad, or hide them in pancakes and other baked goods (like brownies). There's no end of nutritious, delicious, and most importantly – easy chickpea recipes waiting to be discovered. Plus, you can make all the options below with canned or dried chickpeas.
So, keep scrolling for more inspiration! Plus, if you love legumes as much as we do, you should also check out this list of 59 Ways to Use a Can of Beans!
Top Tips and FAQs for Cooking with Chickpeas
Don't discard the canned chickpea liquid: This liquid (aquafaba) makes for a great vegan egg substitute and shouldn't be wasted. If you have no immediate use for the liquid, pour it into a large ice cube tray. That way, you can save for later! The same goes for the cooking (not soaking) water if using dried chickpeas.
If you use dried chickpeas: We HIGHLY recommend cooking large batches in one go and storing the chickpeas in the freezer.
Dried to canned chickpea conversion: A single 15oz (400g) can of chickpeas yields about 9oz (250g – around 1.5 cups) chickpeas once drained. So, if you're preparing the chickpeas from dried, you'll need around 4.4oz (125g) – which is 3/4 cups of dried chickpeas.
How to cook dried chickpeas? This stovetop process takes time but is very simple. First, soak the chickpeas overnight in plenty of water (remember they double in size). Then, drain and rinse them. Next, transfer the chickpeas to a large pot covered with water and cook for between 40-60 minutes, or until tender. Feel free to add garlic, bay leaves, or other aromatics to the water to infuse the garbanzo beans with flavor.
How to store cooked chickpeas? Allow them to cool then store in the fridge for between 4-5 days or freezer for 3 months. We recommend storing in portions of 1.5 cups/ 250g (the amount of a can of chickpeas).
This recipe makes the ultimate simple baked falafels using canned chickpeas. Plus, as they're baked to perfection, there's no need to deal with hot oil and excess fat! Once baked, enjoy the falafels in wraps, salad bowls, burgers, and more!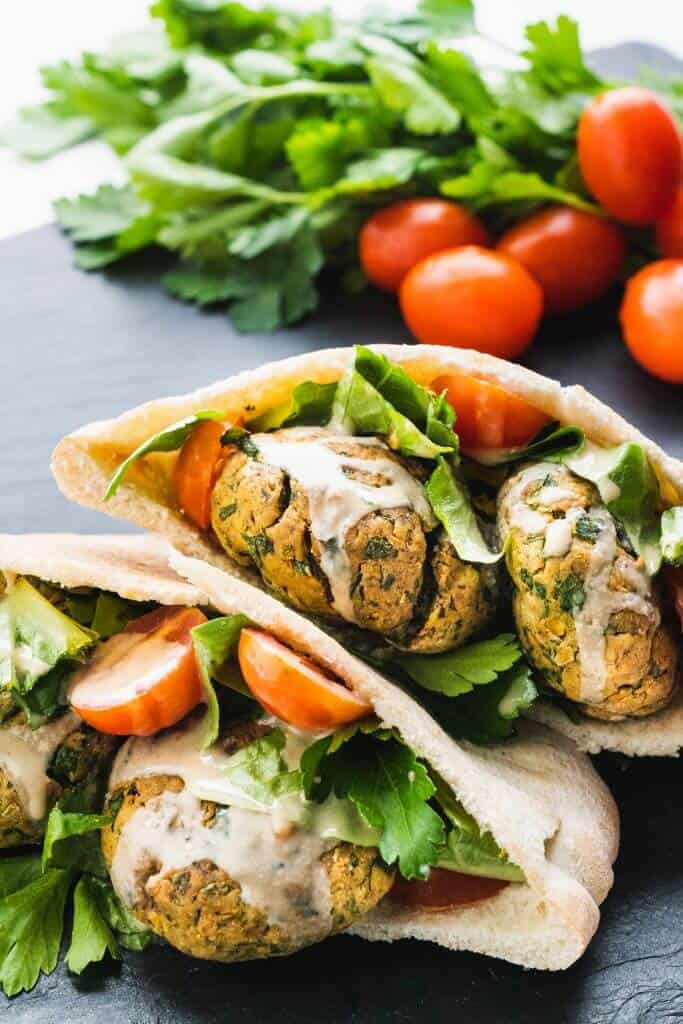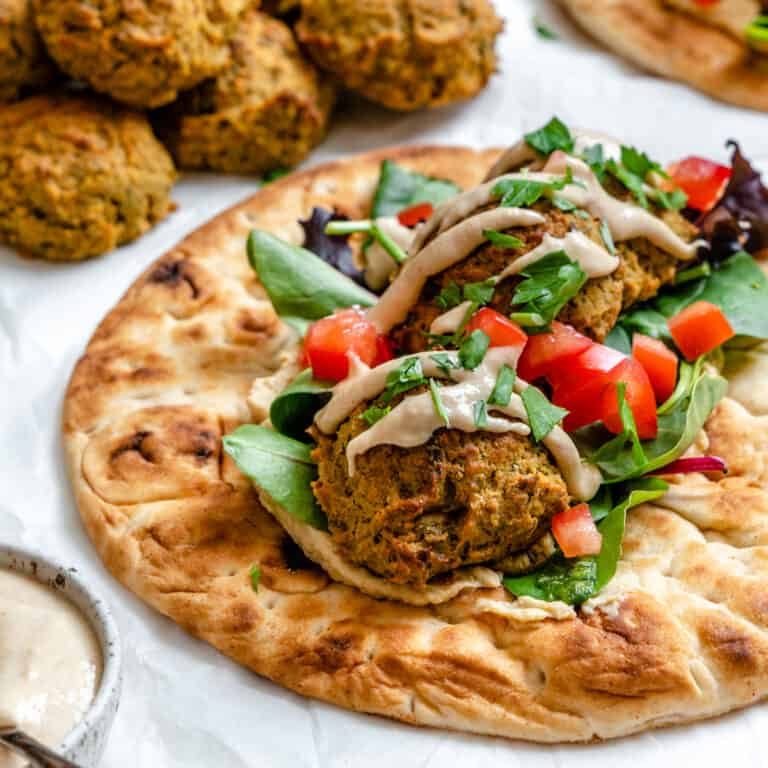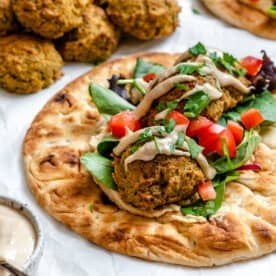 Healthy Baked Falafel [+ Air Fryer]
This super-easy baked falafel recipe will make your chickpea dreams come true! No frying involved but all of the flavorful reward! Eat them inside a wrap with some veggies or inside a pita bread!
View Recipe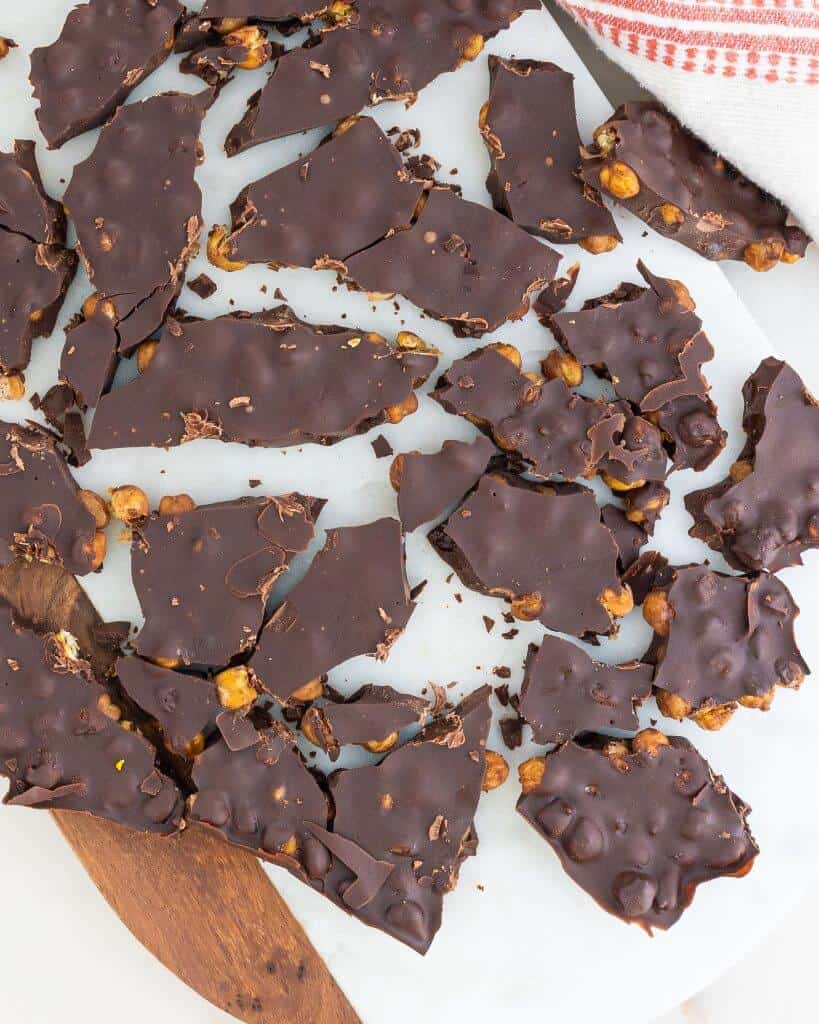 For a sweet treat with a high-protein twist, then give this dark chocolate chickpea bark a try. All you need for this easy chickpea recipe is four ingredients for a sweet and savory, smooth, and crunchy treat. Then, enjoy this chocolate bark in lunchboxes, snacking, and the holidays!
This simple chickpea salad recipe combines chickpeas with lentils and spinach for a hearty, nutrient-dense, protein-packed, fiber-rich simple vegan salad. Then, top that off with a creamy, lightly spiced tahini dressing for a moreish hearty salad. The result is a wonderfully satisfying meal-prep option!
While this simple pasta salad uses a combination of veggies (tinned, fresh, or frozen based on what you have available!), chickpeas help to add fiber and protein for a heartier meal. Combine that with a tangy balsamic dressing as an excellent option for your next potluck, picnic, or last-minute mid-week meal!
Ditch the expensive meat alternatives for a naturally protein-dense and flavor-packed burger alternative. These chickpea quinoa veggie burgers rely on several veggies and spices for a beautiful blend of flavor. Meanwhile, this easy vegan chickpea recipe takes just 20 minutes to prepare from start to finish!
For a plant-based take on a classic, this chickpea tuna salad may not taste exactly like tuna. However, it has just enough of the same mouth-feel and texture to make an excellent protein-packed plant-based alternative. Enjoy this chickpea tuna in sandwiches, wraps, lettuce cups, and more!
Is it even possible to have a round-up of vegan chickpea recipes and not include creamy hummus on it?! We think not! This easy chickpea recipe comprises a base of just five ingredients, using tinned chickpeas for ultimate ease. Plus, once you have the base recipe sorted, you can experiment with other flavor variations. Like Smoky Roasted red pepper hummus or green pistachio hummus.
This vegan chickpea 'tuna' salad requires just a handful of ingredients for a flavorful, 5-minute, oil-free mashed salad. Plus, at less than $1 per serving, this vegan chickpea salad is a budget-friendly, non-processed, highly nutritious addition to your rotation!
This easy vegan chickpea recipe combines creamy, slow-cooked spinach with chickpeas for a dish that tastes surprisingly rich and decadent. However, it's packed to the brim with healthful, nutrient-dense ingredients.
This simple, flavorful orzo chickpea salad is tasty and uses six ingredients (plus salt and pepper). With a combination of chickpeas, tomatoes, red onion, and a tangy red wine vinegar dressing, this versatile Mediterranean orzo salad is a refreshing, summery appetizer or side salad. It's perfect for any potluck, BBQ, picnic, or garden party!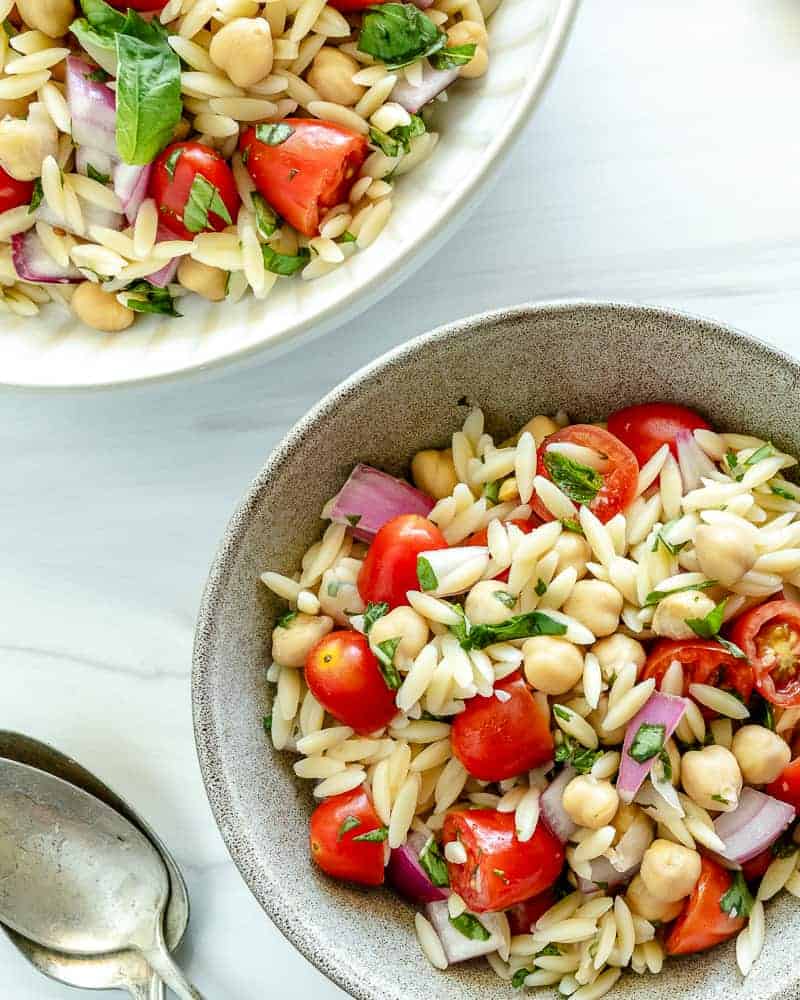 First, this fantastic hands-off recipe will help you avoid last-minute dinner prep worries. More so, this Crockpot Four Bean Chili is the answer to your "Dinner's ready" prayers! It's packed with protein (thanks to the abundance of legumes), veggies, and flavor! But, of course, if you're as chili-obsessed as us, you might also like our other chili recipes like this black bean chili, one-pot pumpkin chili, or quinoa sweet potato chili!
This easy vegan chickpea recipe combines naturally sweet orange sweet potato with a savory spiced chickpea stuffing for a hearty, healthy mid-week lunch or dinner. Best of all, this recipe requires just a few simple ingredients and is low-effort to put together!
If you're looking for the ultimate cozy, comforting chickpea recipe, this chickpea tandoori meal has it all. Combining tinned chickpeas with a tomato soup-based sauce over a creamy coconut milk risotto makes for a hearty, wholesome meal to impress – yet wonderfully budget-friendly!
Serve this hearty Tunisian-style spiced chickpea stew directly out of a bread bowl for a super-filling, simple protein-dense mid-week meal. Therefore, we recommend doubling the stew and storing leftovers (sans bread bowl) for another day!
Savory Chickpea Veggie Pancakes
We've already shown sweet chickpea pancakes above; now it's time to take a more savory route. This simple chickpea flour recipe combines several Indian-inspired spices with a chickpea flour batter for a delicious Indian-style appetizer, breakfast, or snack!
Quick and delicious wraps are the perfect simple and satisfying lunch. They don't require much cooking and can be eaten fairly quickly – which makes them a fantastic option for work or school lunches or any on-the-go meals. Plus, this BBQ Chickpea Wrap is packed with protein and flavor for a meal you'll keep returning to!
This simple sweet and sour chickpea dish from My Plantiful Cooking combines chickpeas and bell peppers in homemade sweet and sour sauce. The result is a healthy, flavorful take on a takeout favorite!
This Instant Pot chana masala (curried chickpeas) from Simple Sumptuous Cooking contains all the classic flavors. In fact, the main difference is that it's made quicker, thanks to an Instant Pot!
In under 30 minutes, you can enjoy this flavor-packed, hearty, nutrient-dense potato and curry chickpea from Little Sunny Kitchen! Then, once prepared, serve it alongside rice or naan for a delicious Indian-inspired meal!
You can enjoy this Mediterranean chickpea soup from Skinny Spatula year-round. Combining chickpeas, lemon, and several Mediterranean flavors, you can enjoy this vegan chickpea recipe alone or with crusty bread. Therefore, this soup works as a hearty summery treat or to warm you during the colder months!
Combining canned chickpeas and artichoke hearts, Wallflower Kitchen shares a delicious vegan take on a popular restaurant appetizer! Plus, the combination of ingredients wonderfully mimics the texture and consistency of traditional crab/fish cakes while remaining 100% vegan!
What Else Can You Do With a Tin of Chickpeas?
There are tons of ways to quickly and easily add cooked chickpeas to meals for a boost in protein/nutrients. These include:
Stir into soups, stews and casseroles
Use as a topping for pizza (or even turning into a pizza like this hummus pizza)
Add to salad dishes – warm or cold pasta salads
Enjoy as a filling in tacos and wraps
Add to all sorts of salads, salad bowls, and grain bowls
Roast with spices for a simple, crunchy snack
More Recipe Round-Ups