Soups are the beginning and the end of cozy and easy meals, so it makes perfect sense to do a roundup of our ultimate favorite vegan soup recipes. There are endless reasons why adding more soups to your meal repertoire is a good idea; among them, they are very affordable and easy to make, you can add endless amounts of veggies, and you cook them in one pot. Let's dive into these amazing vegan soup recipes!
When Life Gives You Veggies, Make Soup!
It is no surprise that eating an abundance of colorful veggies is one of the greatest things you can do for your health, so any recipes or preparations where you can include them are more than welcome. Soups is one of them, and we are so here for it. What do we love the most about them? Here are a few reasons why:
They can comfort you like no other dish: There's something about eating a steaming bowl of soup at the end of a long day that really hits the right spot. It is a perfect way to unwind and relax when we need it the most.
You'll only need one pot: Forget the dreaded pile of dishes; with soups, you will (almost) always have only one pot to deal with after a delicious meal.
Drink up: Drinking enough water is an essential part of staying healthy, but this doesn't translate to gulping huge glasses of water mindlessly; eating water-rich foods like fruits and veggies (and sipping on soups) counts too!
Whether you like them silky smooth or chunky, there are vegan soup recipes for us all. So, which soups are some of our favorites? Let's take a look at s few of those.

This Veggie-packed Potato Leek Soup is another one of those soups that are lovely helpers when it comes to cleaning up your fridge! Full of flavor and texture. Make sure you add this leek-loving soup to your vegan soup recipes "must-try" list.
Veggie-Packed Potato Leek Soup
This Veggie-Packed Potato Leek Soup is perfect for a cold winter day and especially when leeks are on sale! It's full of veggies and is so warm and delicious!
View Recipe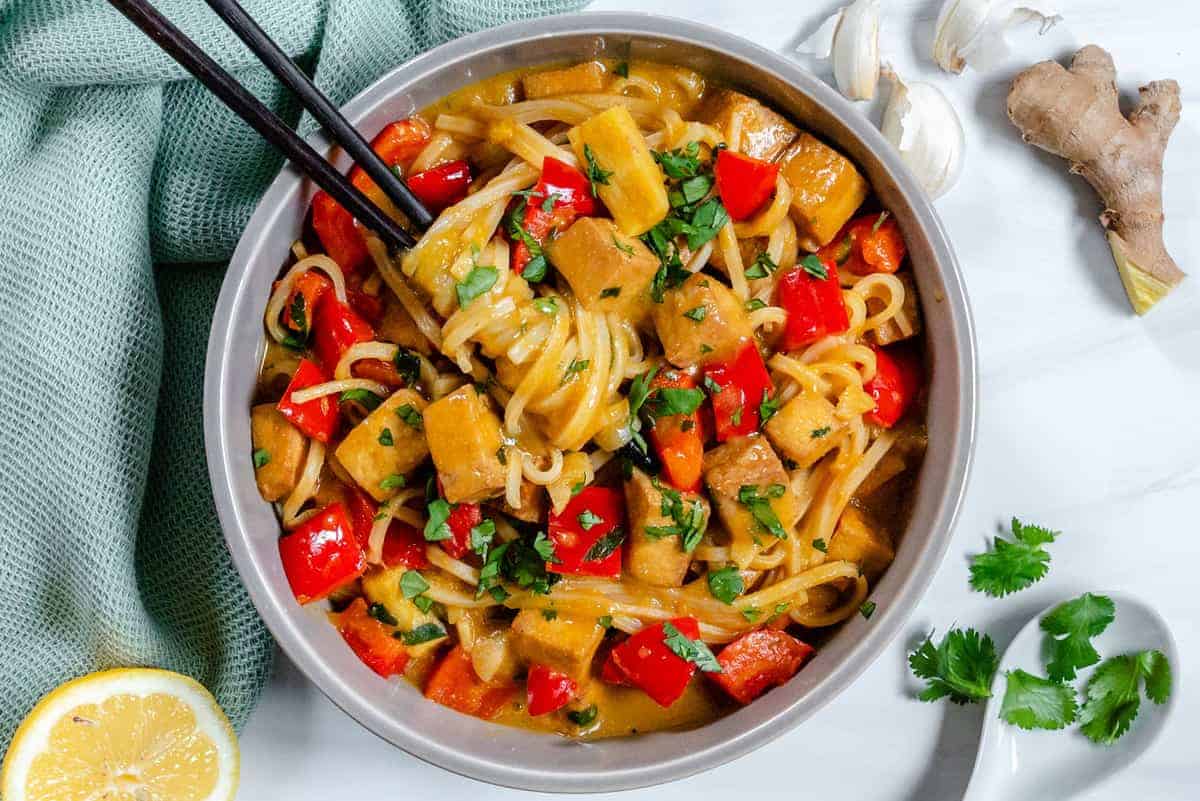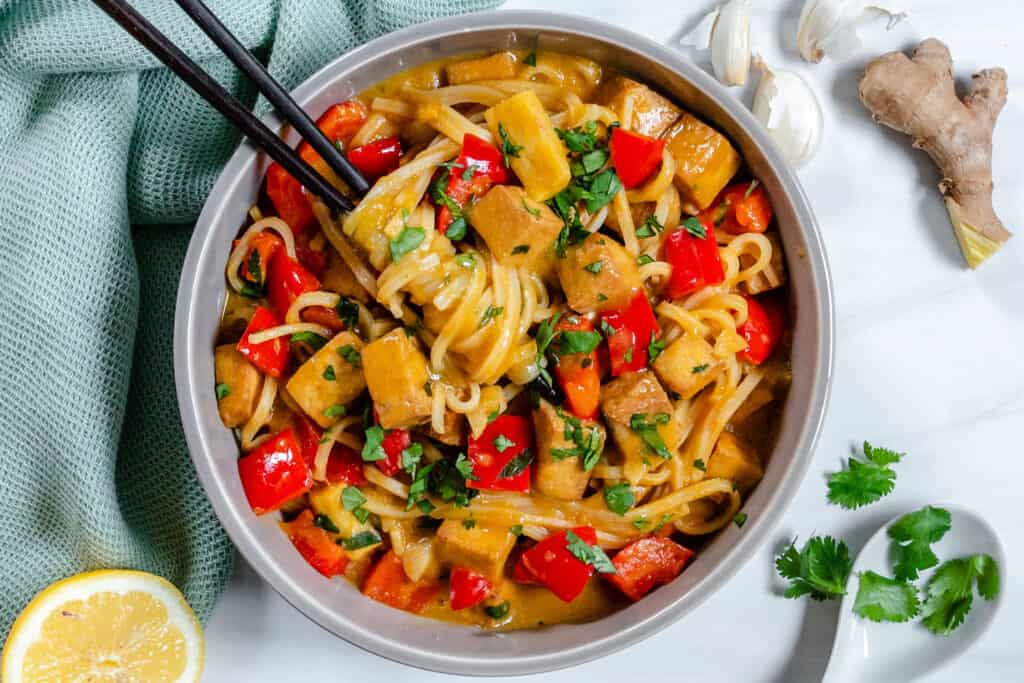 Feeling under the weather? Give this immune-boosting Garlic Ginger Soup a chance to help you recover.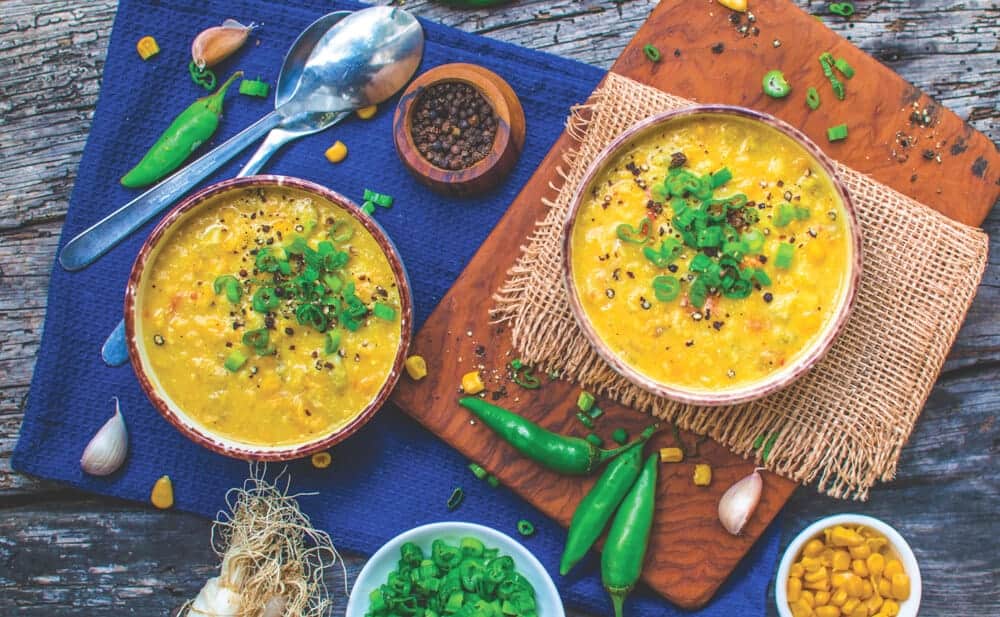 This chunky soup is like a Tex-Mex inspired dream all in one pot. This recipe calls for two different kinds of beans, some diced tomatoes, sweet corn, bell peppers, and avocado ( with the optional vegan cheddar cheese).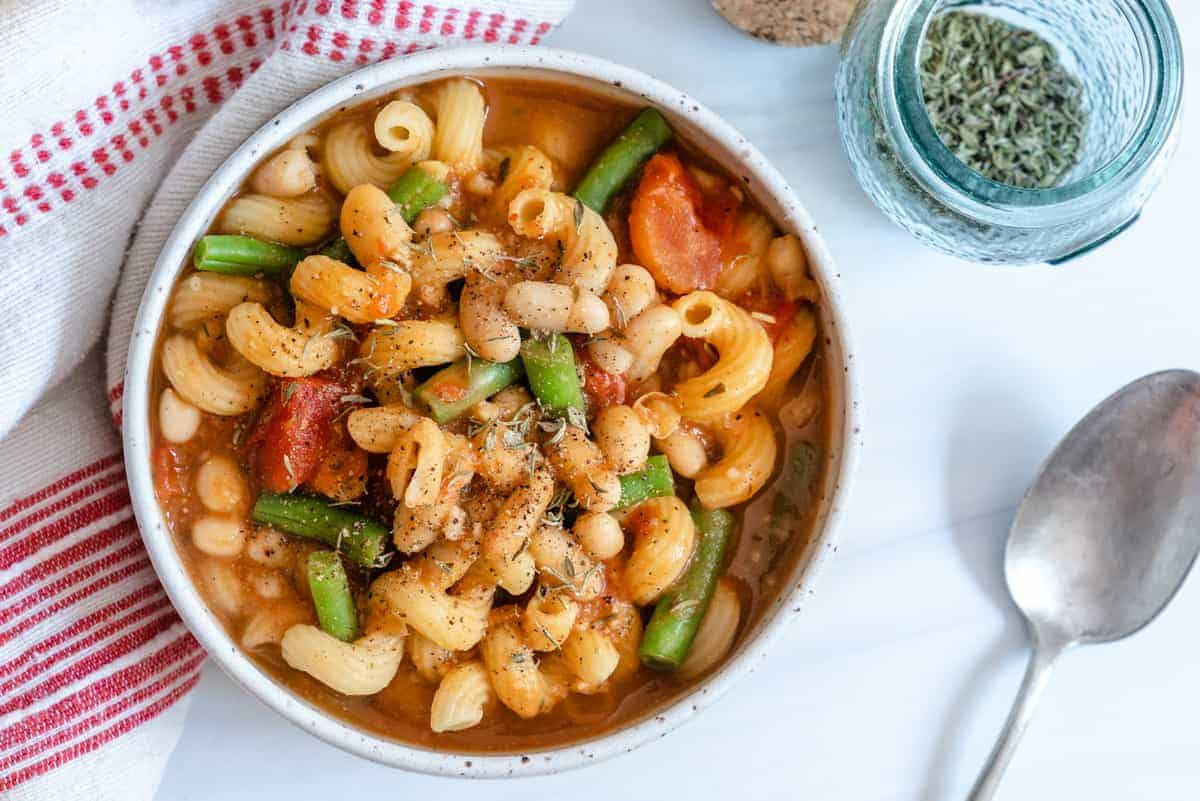 This delicious and comforting soup is the perfect recipe to use those stubborn leftovers inside your refrigerator. Brothy and very winter-friendly, this Chickpea and Rice Soup by Veggiekins, is our top rice soup.
This fall-inspired soup can be enjoyed year-round! It's smooth, comforting, but with a kick. It's also one of the most affordable soups out there because carrots can have super accessible prizes (especially during sales!).

This take on the classic split pea soup by Sweet Simple Vegan, is fantastic! Going for the chunky style version, it has carrots, celery, and all the perfect spices you dream of. You have to try it with the entire family!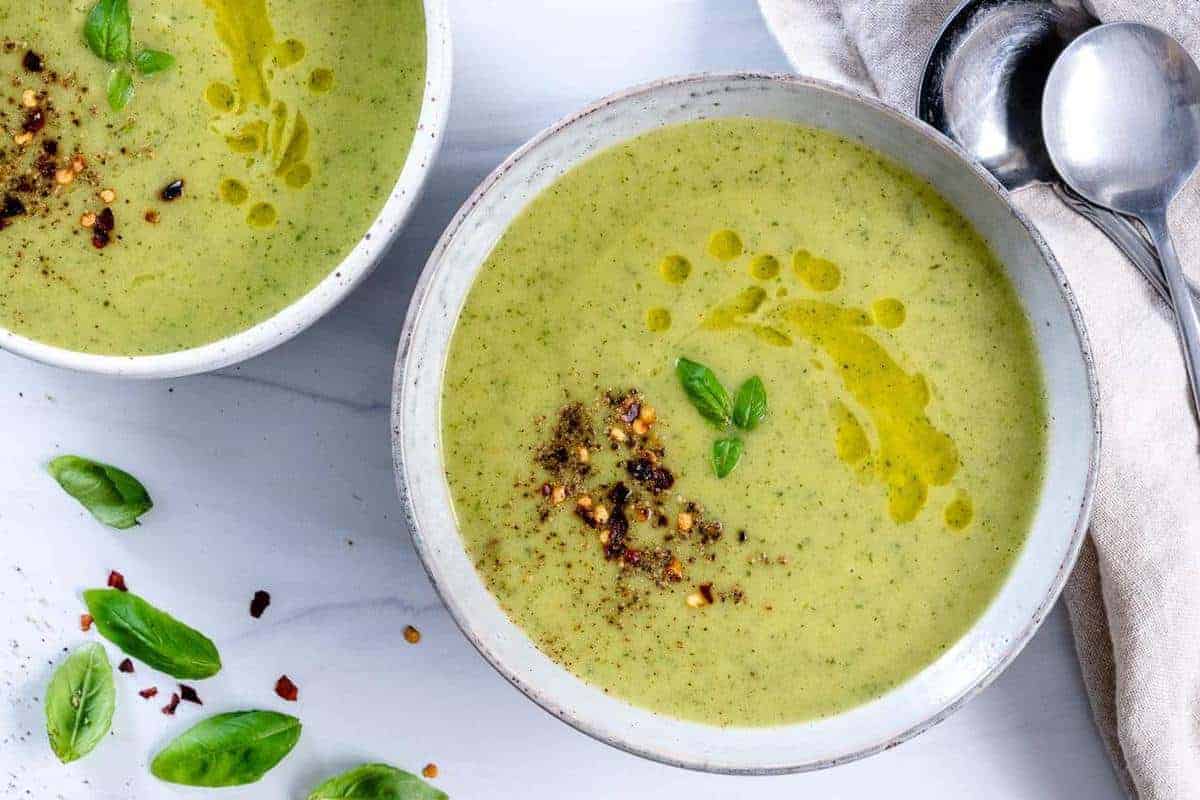 This plant-based take on the traditional Caldo de Pollo, is perfect for those of us missing home and our abuelita's cooking. Immersed in a flavorful broth, the tofu, corn, zucchini, and carrots are become sublime.

We love this delicious, healthier version of the famous French onion soup so beautifully crafted by World of Vegan! It has all the amazing flavors but none of the dairy. We highly recommend you give it a go and transport yourself to the street of Paris.
We adore this unique and delicious potato asparagus soup. It is creamy and fresh at the same time and extremely cozy and soul-pleasing. Take the chance when asparagus is in season and get cooking. This recipe is a great way to add some convert those asparagus skeptics.

This intensely colored orange soup calls for a lot of citruses, which makes it tart and tangy. The flavors of the soup go so well with the small orzo shapes. This lemon chick'n orzo soup by Plantifully Based only uses a few ingredients but can be a fancy addition to your menu!

This recipe is pretty close to the top of our list. Sopa de fideo is a classic Mexican soup that has been passed from generation to generation and embraced by those with roots in Mexico. We think you will also fall in love with this super simple, affordable, and comforting dish!

Who doesn't love a good creamy butternut squash soup? It is good for the soul and, let's face it; it tastes delicious! This fantastic and gorgeous recipe from Rachel Steenland will knock your pumpkin-obsessed socks off!
This bean and barley soup is inundated with good ingredients and qualities. First, it is packed with veggies, which means fiber, some desired plant-based protein, and some healthy grains. But that's not all, it is super easy to prepare, and it will leave you feeling happy and nourished.
This loaded potato soup by Meganunprocessed is incredible, and it tastes just like its name suggests, like a fully loaded scrumptious plant-based loaded potato. It's no surprise that this creamy and cheesy soup will steal the show on your next dinner.

Do not fret. We have not chosen two butternut squash soup recipes in this roundup. This vegan pumpkin soup's main ingredient is the gorgeous kabocha squash, and we can attest that it is absolutely delicious and genuinely comforting. Crafted by Two Spoons, it combines some fantastic flavors, and the result is memorable.

If you've been hesitant to give savory jackfruit recipes a try, then this super cozy jackfruit chicken soup might change give you the push you need! The texture of this exotic fruit emulates that of the chicken so well!

Talking about creamy soups, this broccoli potato soup wins a few prizes. From the Plant-Based on a Budget Cookbook, this classic and very affordable recipe has the potential of becoming a go-to weekly meal in your hungry household.

Tomato soup seems to be one of the best-loved soup recipes out there. Adored for both adults and children alike, this sweet and creamy vegan version by Veggiekins will be an absolute hit in your house. Add a little tabasco if you like a little extra kick.
Please let us know which ones are your absolute favorite vegan soup recipes; we all need some soup inspiration!