If you're plant-based on a budget, then pasta is a complete pantry staple. It's low-cost, filling, versatile, and perfect for making those 'clean out the fridge, freezer, and/or pantry' meals when needed. However, just because your plant-based pasta dish is low-cost doesn't mean it has to be low-taste. Below is a list of 20 easy vegan pasta recipes for any occasion!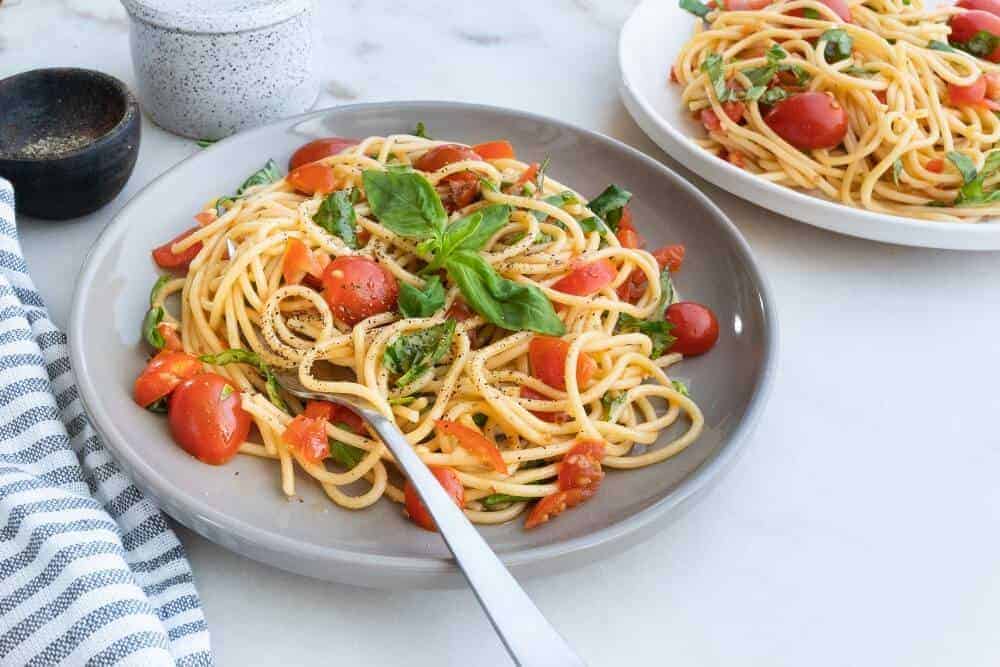 Along with potatoes, plant-based pasta is one of our favorite ultimate comfort foods – no dairy or meat necessary for a delicious and satisfying meal. Plus, the majority of dried pasta is naturally vegan! Whether you're in the mood for something cozy and comforting, light and healthy, or even a dish to impress, keep scrolling for our top list of easy vegan pasta recipes (including vegan pasta sauces).
Better yet, the majority of vegan pasta dishes below are ready in under 30 minutes, perfect for a quick weeknight meal. More so, pasta is wonderfully meal-prep friendly, and you can even make your own!
Boost these easy vegan pasta recipes further with some of our top favorite garnishes like fresh herbs (primarily when homegrown for the ultimate low-budget garnish), 'parmesan' (aka nutritional yeast), and red pepper flakes. Then serve the dish as-is or alongside a leafy salad and/or garlic bread!
Jump to:
8 Top Tips for Cooking Pasta
What's so complicated about cooking pasta? You're probably thinking. And true, it isn't the most challenging ingredient to cook (which is why we all love it!). However, there are definitely some top tips to making the most of this budget-friendly, taste ingredient. That way, you won't have to worry about making pasta that's clumped up, mushy, flavorless, etc., again!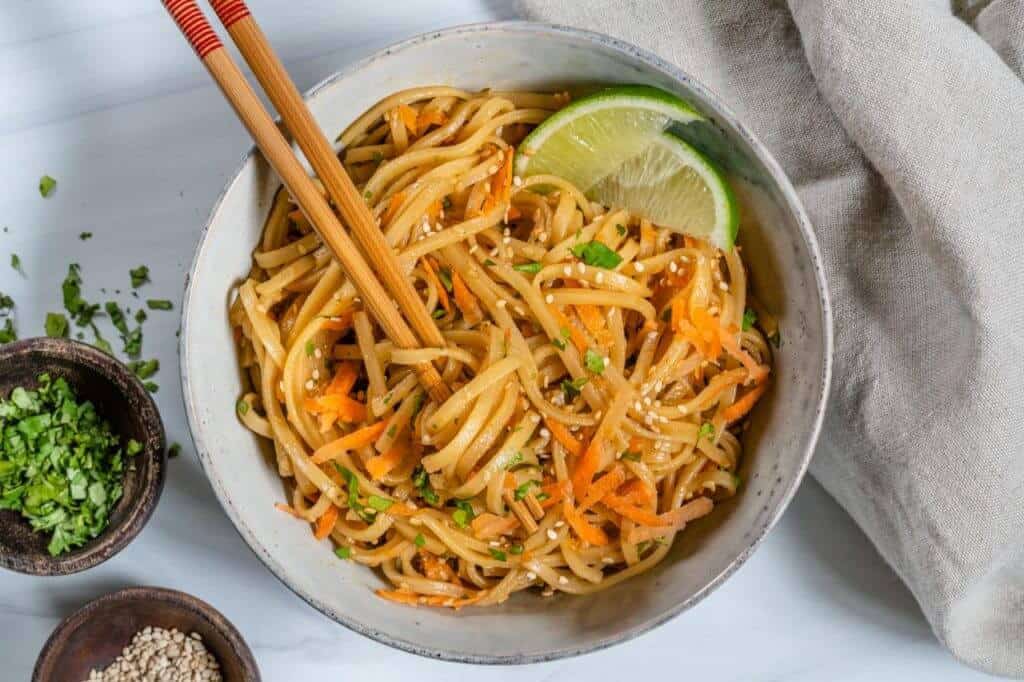 For extra flavor, use broth: Instead of cooking pasta in salted water, for even more flavor, cook it with vegetable broth!
Add the pasta to boiling water: Make sure that the water is boiling BEFORE adding the pasta. Otherwise, the pasta may not cook properly and can become mushy. 
Don't forget to stir: In the first 30 seconds after adding the pasta to the pan, make sure to stir the pasta to stop it from sticking (to each other or the pot). After that, stir occasionally. 
Don't add oil to the pan: A popular tip states that adding a little oil to the pan can help prevent the noodles from sticking. Unfortunately, this is also the case for the pasta sauce! To avoid a greasy and non-cohesive dish, leave out the oil and just stir it instead. 
Make sure to taste while cooking: Check on it 2-3 minutes before their package-recommended time (when using dry pasta) and continuing to test every 30 seconds until ready. For most dried pasta (not fresh or gluten-free and depends on size), 6-7 minutes is al dente, and 8-10 is cooked through. 
Save some of the pasta water: This is our very top tip! The starchy pasta water is perfect for helping the pasta sauce adhere to the noodles and can even add richness and flavor to the dish. We recommend saving ½ cup at least. You can also save this starchy water and add it to homemade vegetable stock (just be aware of how salty it is!). 
Don't rinse the pasta: Unless you're planning to make a quick cold pasta salad, please don't rinse the pasta. All it will do is cool it down QUICKLY and remove all the starch that will help the vegan pasta sauce to cling to the noodles. 
Add the pasta to the sauce immediately: Don't leave it drained for long periods of time, and pasta is known to cool down and dry out quickly – which will, in turn, cause them to stick together. As soon as you've drained the pasta, transfer it to the ready (and heated) sauce, and stir well. 
20 Vegan Pasta Recipes: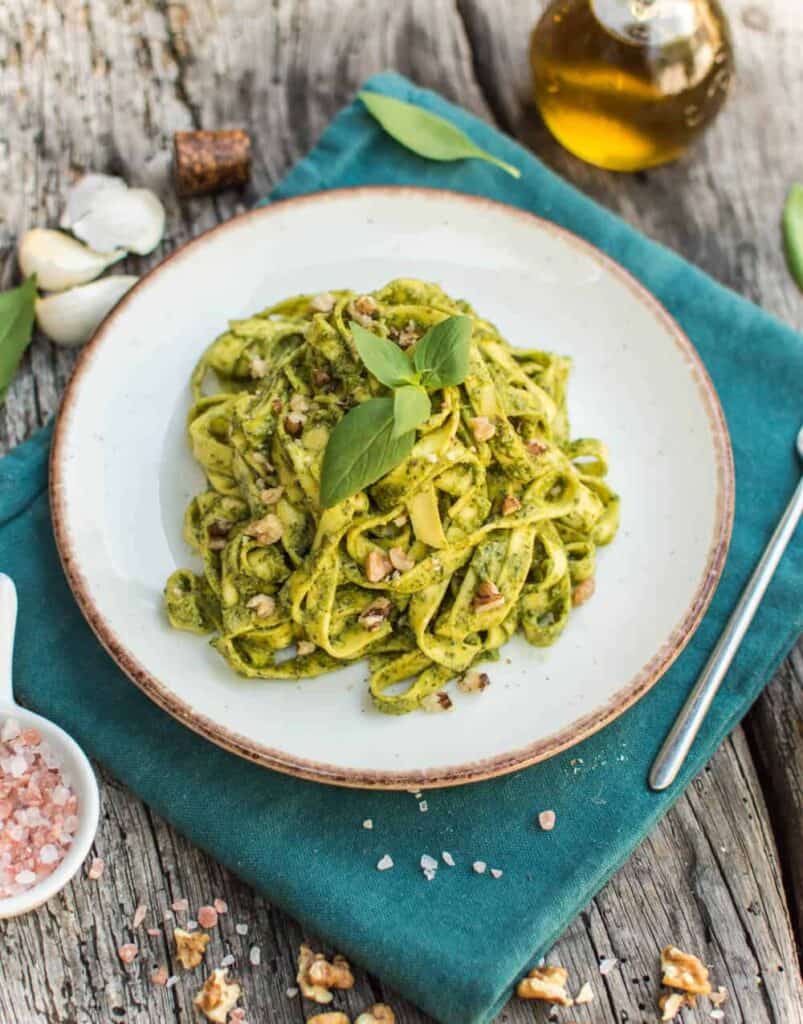 Homemade pesto makes for a delicious vegan sauce for pasta and is ridiculously simple to make with just a handful of ingredients and several minutes. This vegan walnut pesto is packed with fresh and herby flavor and saves a ton of money by relying on walnut instead of regular pine nuts. Combine with the noodles of your choice and optionally extra veg for a quick, simple, and flavor-packed plant-based pasta recipe.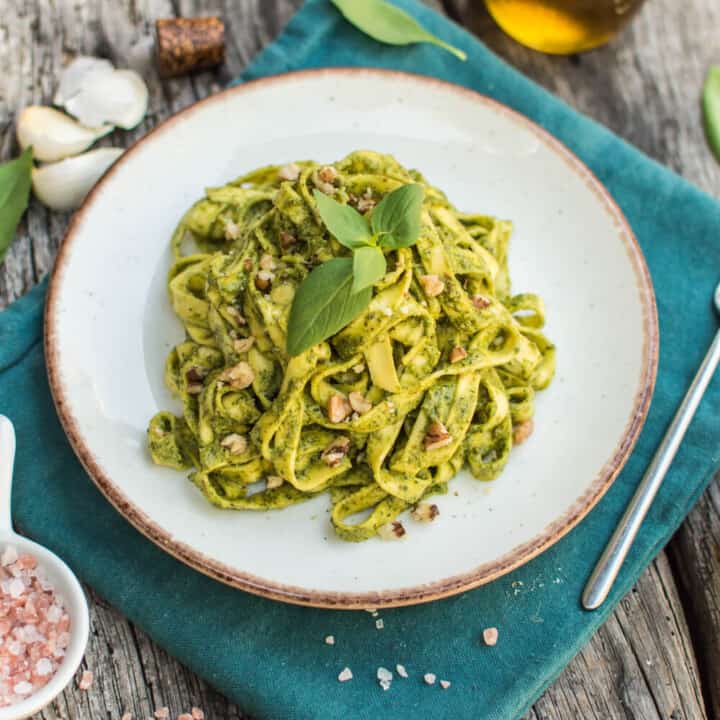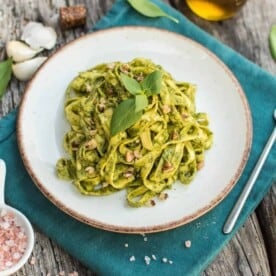 Walnut Pesto
This amazing vegan pesto recipe is made with walnuts, which means is more affordable but as tasty as the original one with pine nuts. You will love it!
View Recipe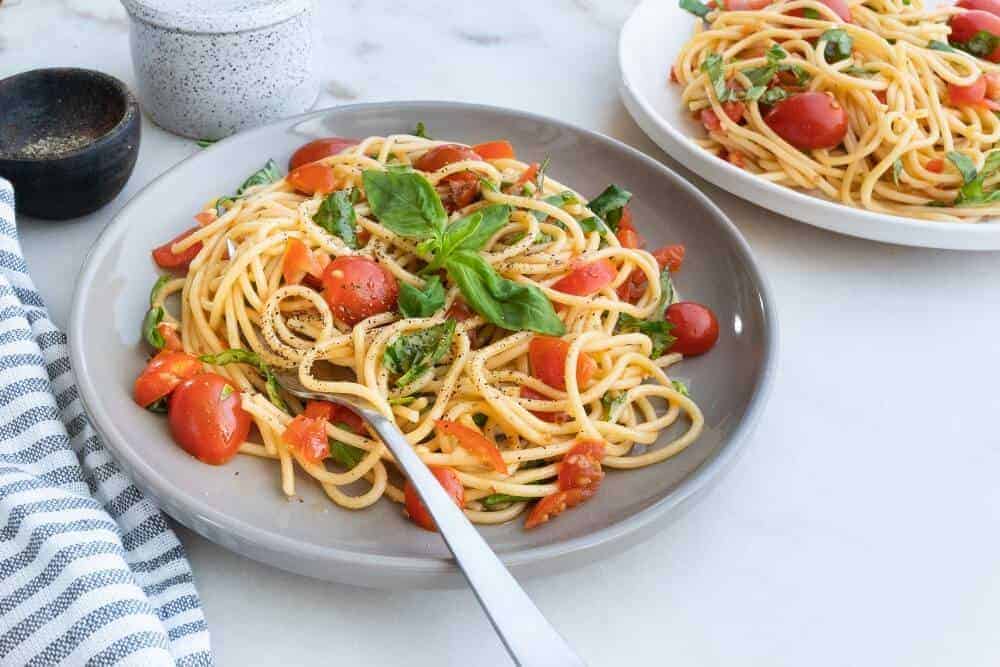 This dish combines simple, classic flavors for a quick midweek meal to impress. You can even boost it further into a vegan Caprese pasta dish with the use of vegan mozzarella – though even without, don't be fooled by the simplicity of this dish – it's still delicious!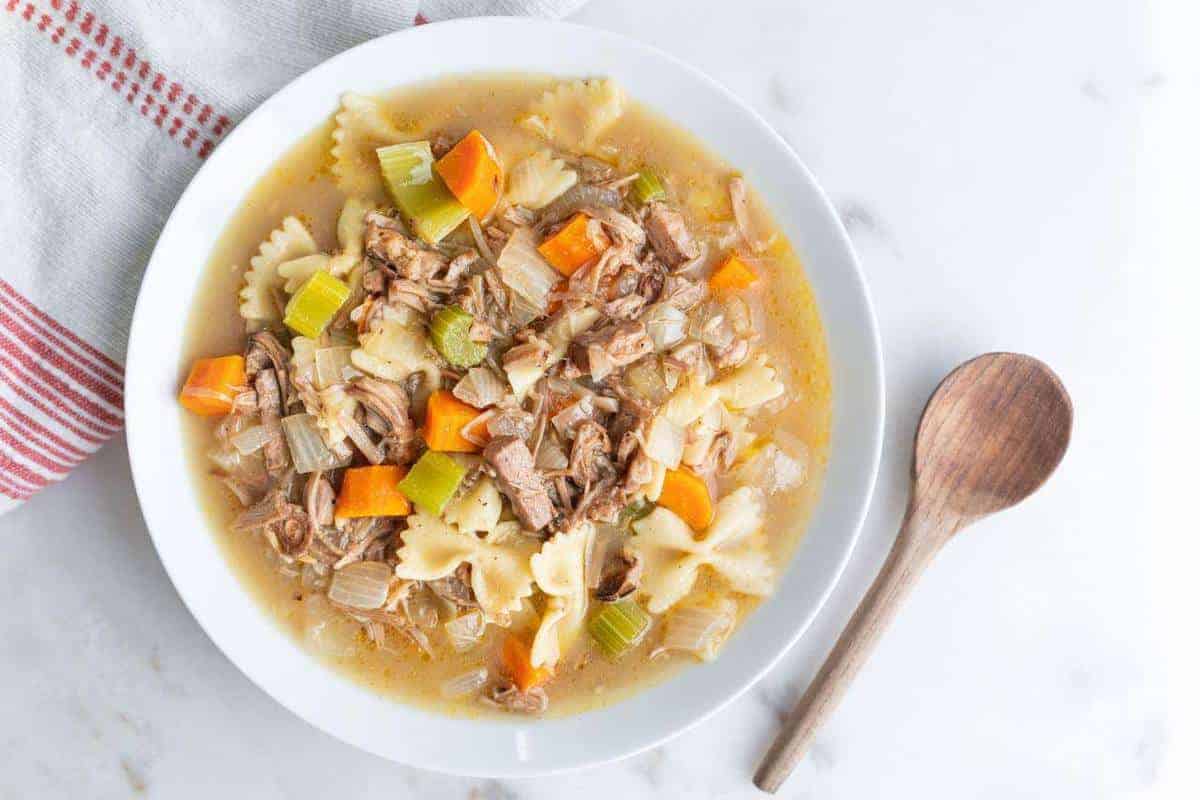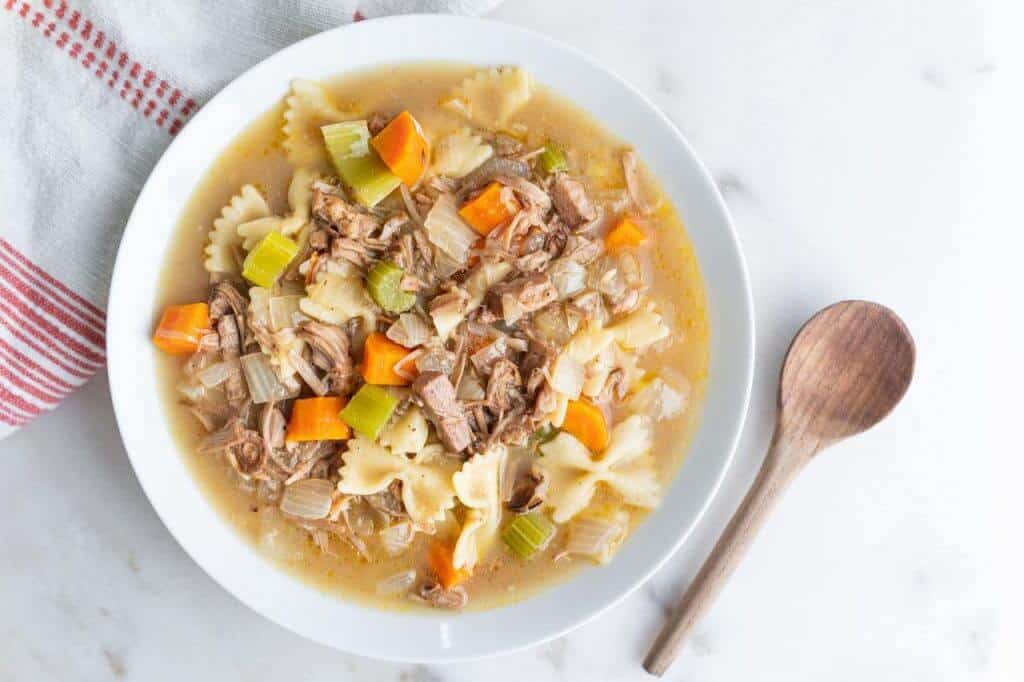 Chicken noodle soup is often labeled the 'ultimate comfort food,' so you know we must get in on the action! By swapping out the chicken with jackfruit, you can enjoy a cozy, comforting, wholesome vegan noodle soup that's 100% vegan!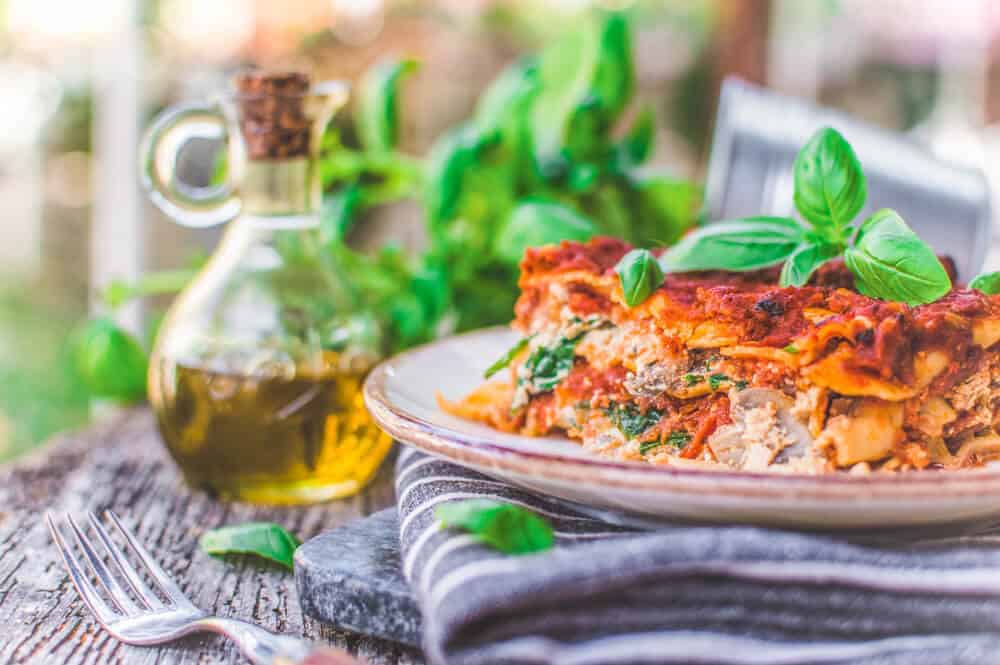 Featured in The Friendly Vegan Cookbook, this vegan lasagna is creamy, comforting, and won't break the bank! While it's a little more time-consuming than others on this list, this veggie-packed vegan lasagne with tofu ricotta is a comfort food classic that the entire family will love!
These vegan stuffed shells are stuffed with a spinach and tofu 'ricotta' mixture then topped with a rich marinara for a hearty vegan pasta recipe that's ready in just an hour. This beautiful vegan pasta dish is perfect for serving to family or to impress at dinner parties! You'll even have meat-eaters asking for seconds!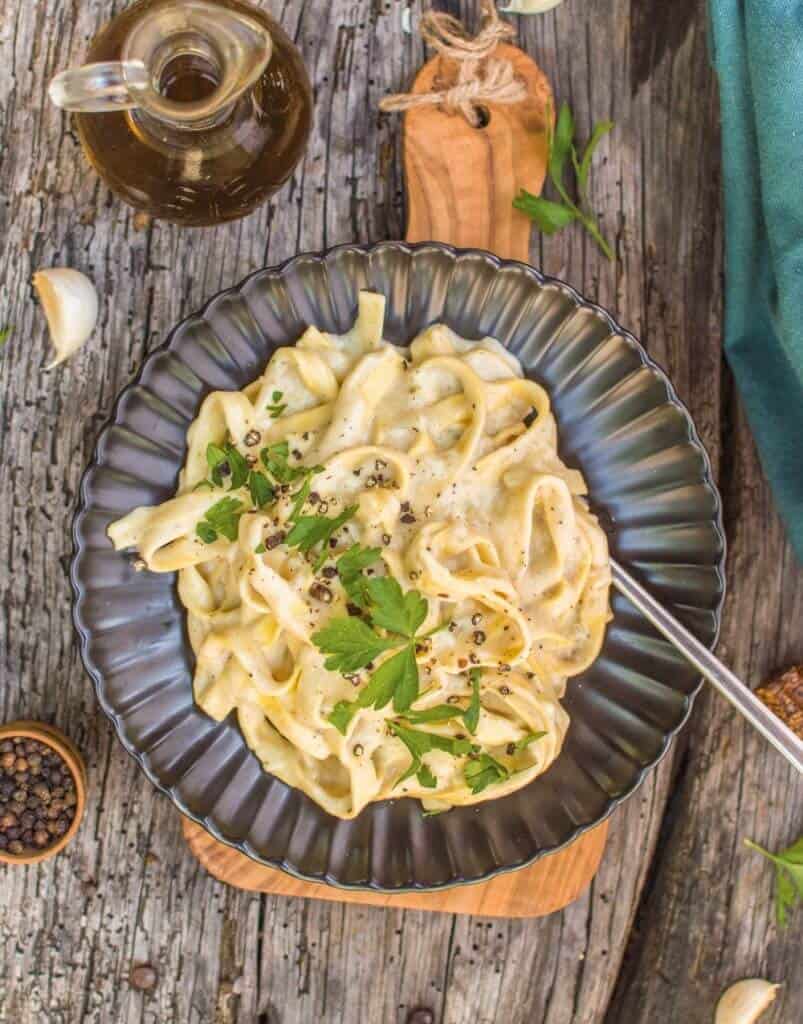 This list of vegan pasta dishes wouldn't be complete without a vegan version of ultra-creamy fettuccine alfredo. Swap out the dairy-heavy sauce of cheese and butter for a dairy-free yet rich and creamy nut-based alfredo sauce! Use sunflower seeds for a nut-free version of this family favorite!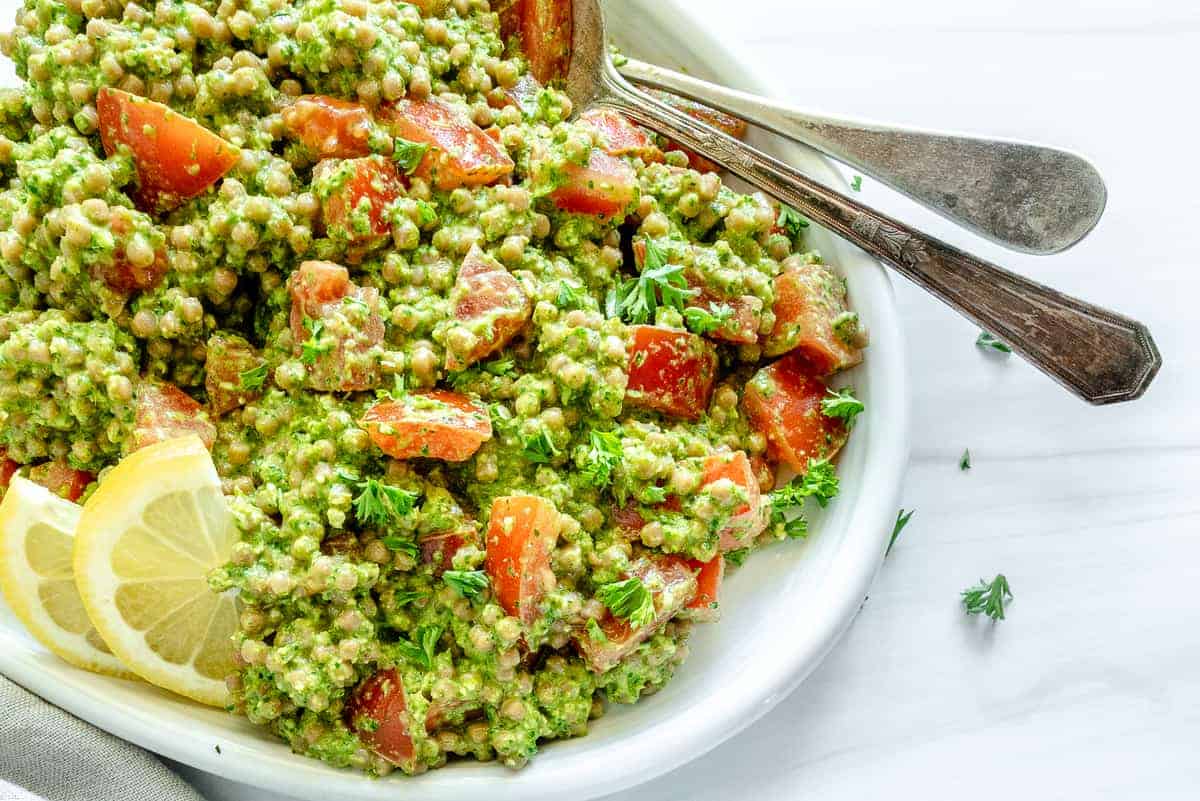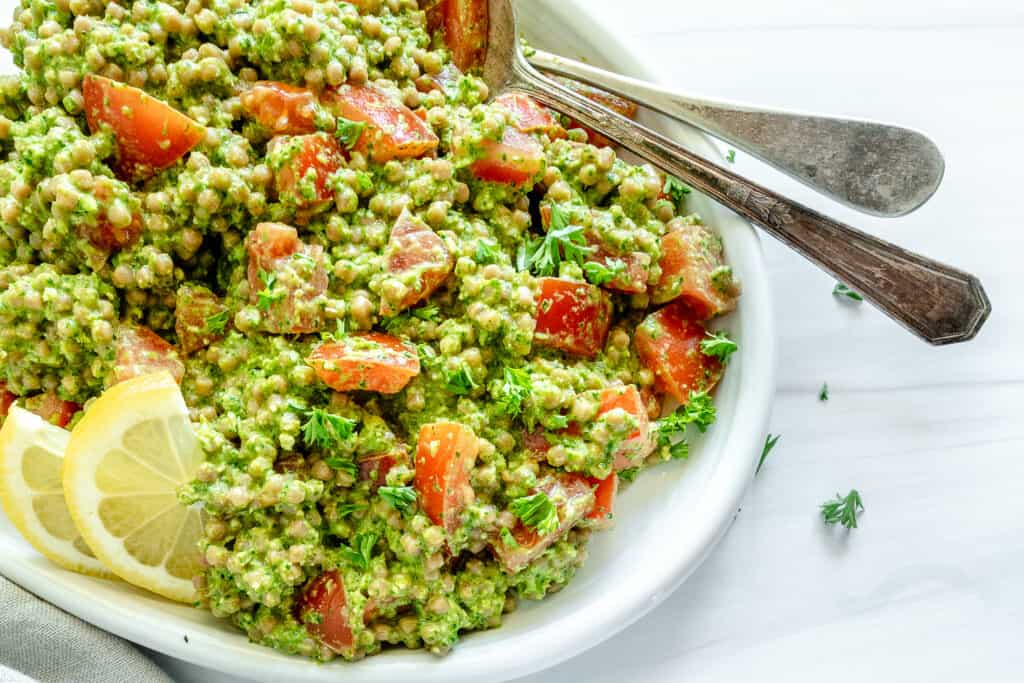 Arugula pesto is bright, peppery, and wonderfully low-budget (especially when made with homegrown herbs!). Combine that with some veggies and couscous (or pasta!) for a simple, nutritious, versatile, and flavor-packed mid-week meal! Even better, the pesto is freezer-friendly for up to four months, perfect for a last-minute plant-based pasta dish.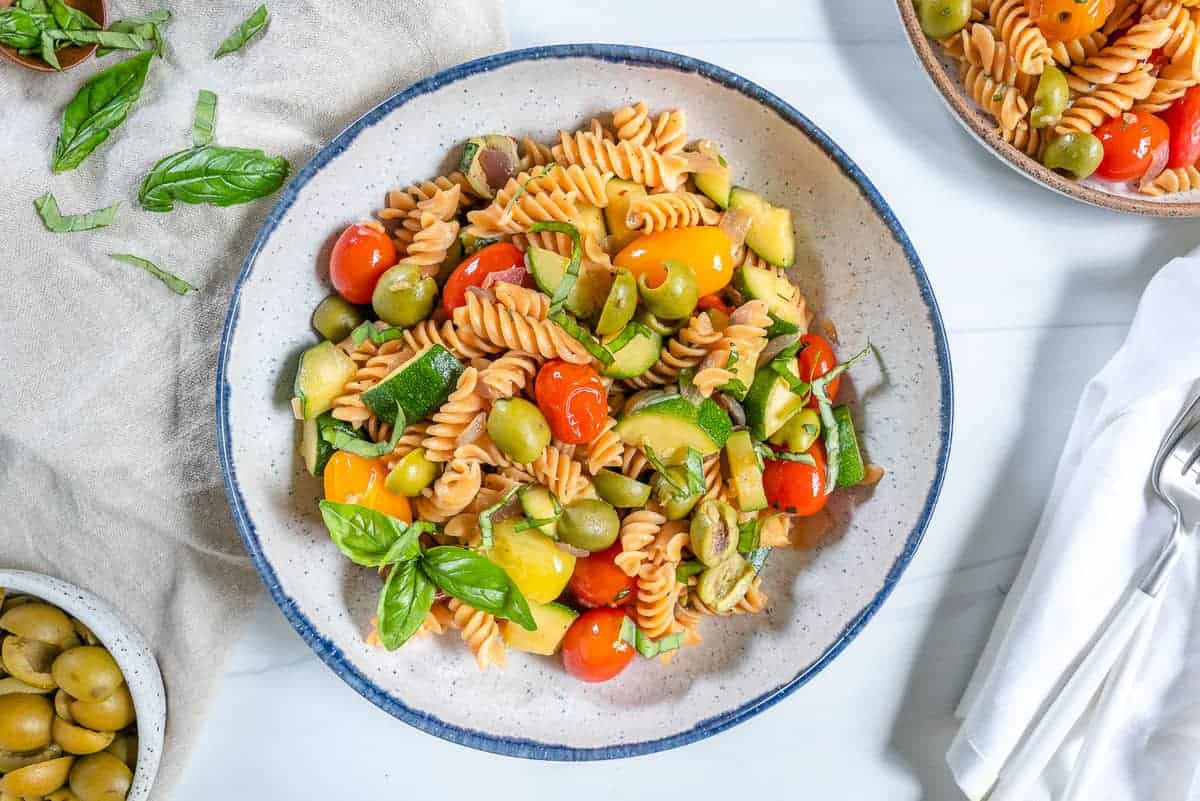 This simple, flavorful vegan pasta recipe takes advantage of the summer bounty by combining ripe, in-season cherry tomatoes with zucchini, fresh basil, and green olives for a light and healthy vegan pasta recipe. Swap out the veggies based on the season for a dish that will never get boring!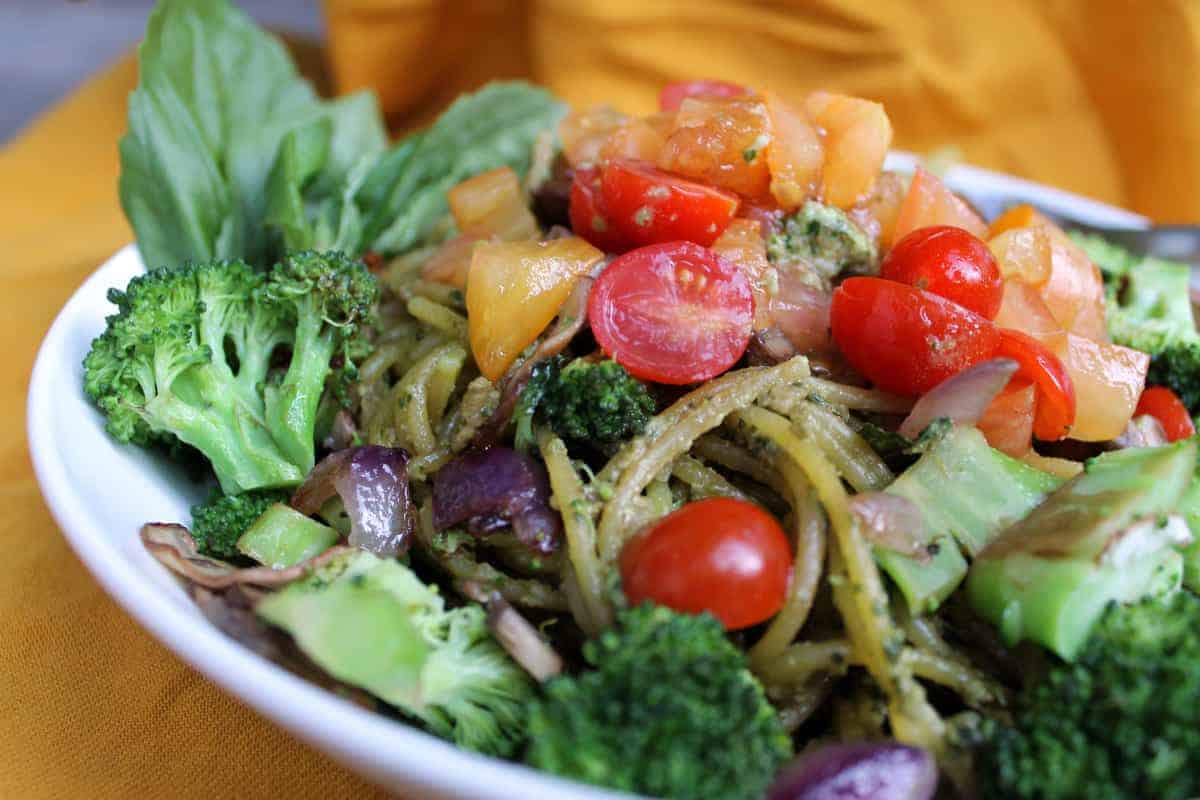 Yes, another vegan pesto pasta option! I mean, we did say we were obsessed, right?! For this vegan basil pesto, we've taken a nut-free approach, using sunflower seeds for a creamy and flavorful pesto perfect for enjoying with warm or cold pasta dishes and combining with the seasonal veggies of your choice for a delicious and nutritious meal in under 15 minutes!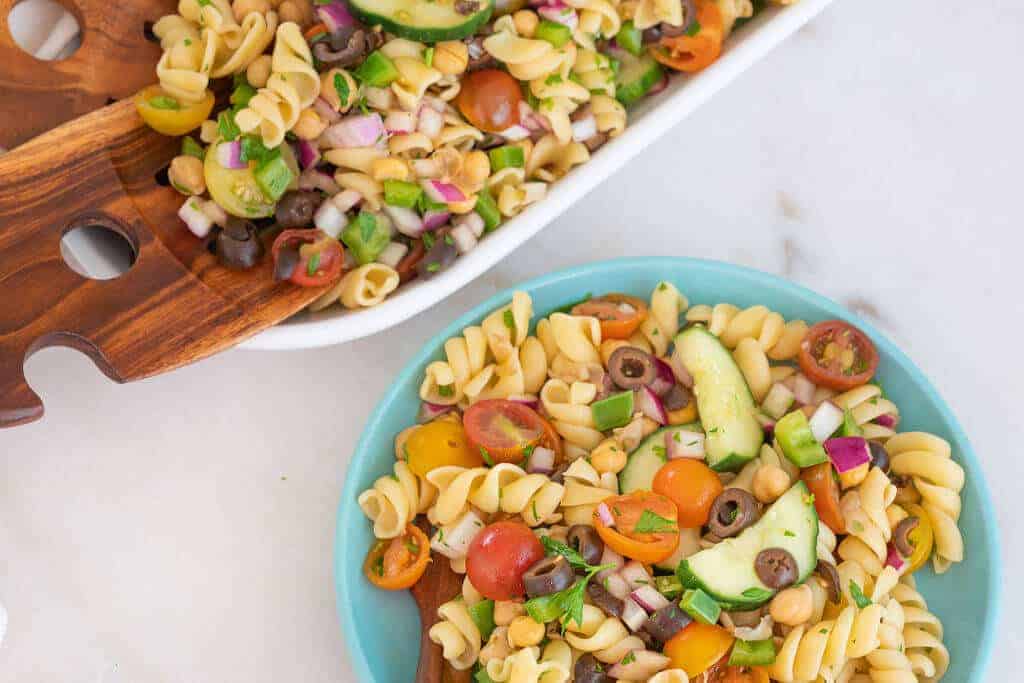 Pasta salads are quick, simple, and truly versatile. Whether you're looking for a dish for family or something to impress at potlucks, BBQs, and garden parties – a good pasta salad will never go out of style. The same goes for this recipe. It's fresh, fun, and packed with low-budget in-season cherry tomatoes and other fresh veggies. Top it off with a simple vinaigrette, and the entire dish will disappear within minutes!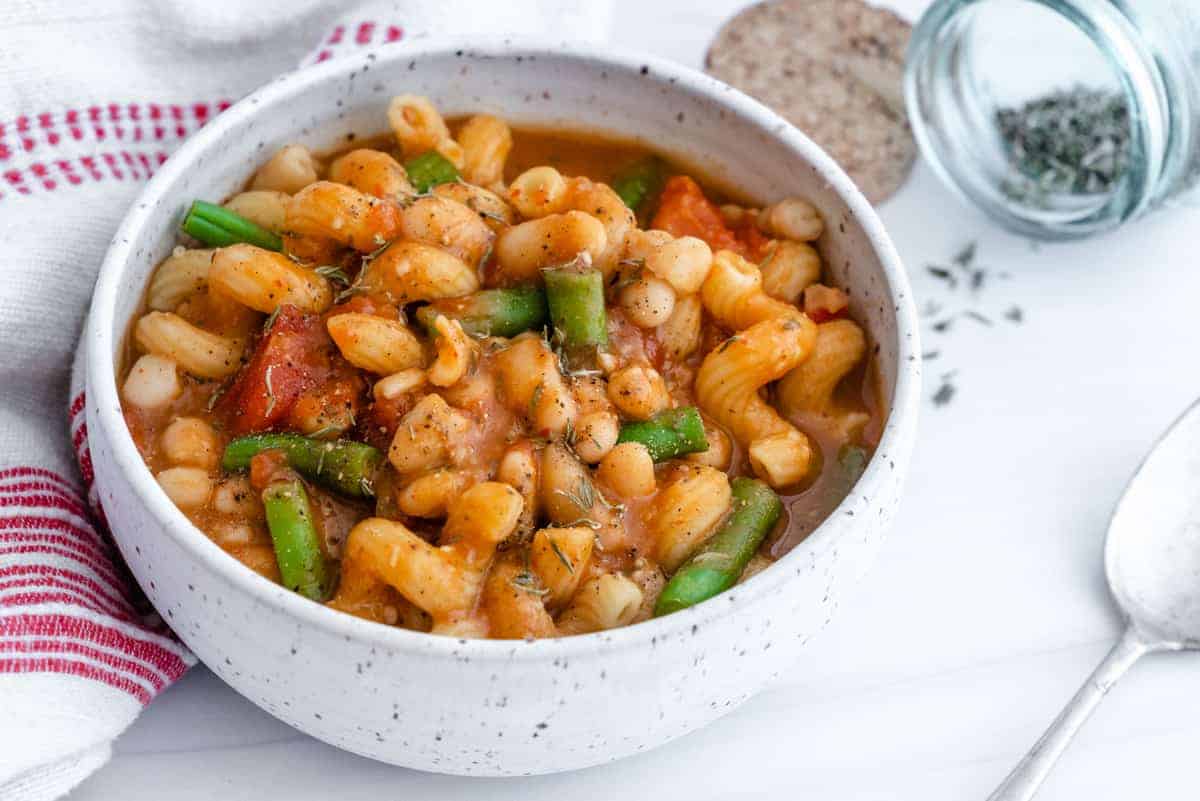 From a light and fresh vegan pasta recipe above to cozy, warm, and comforting, this bean and tomato pasta soup is perfect for the cooler months when you're craving comfort food. However, it's also enjoyable year-round with the use of budget-friendly, pantry-friendly, tinned ingredients – like vegetable broth, tinned beans, chopped tomatoes, and pasta!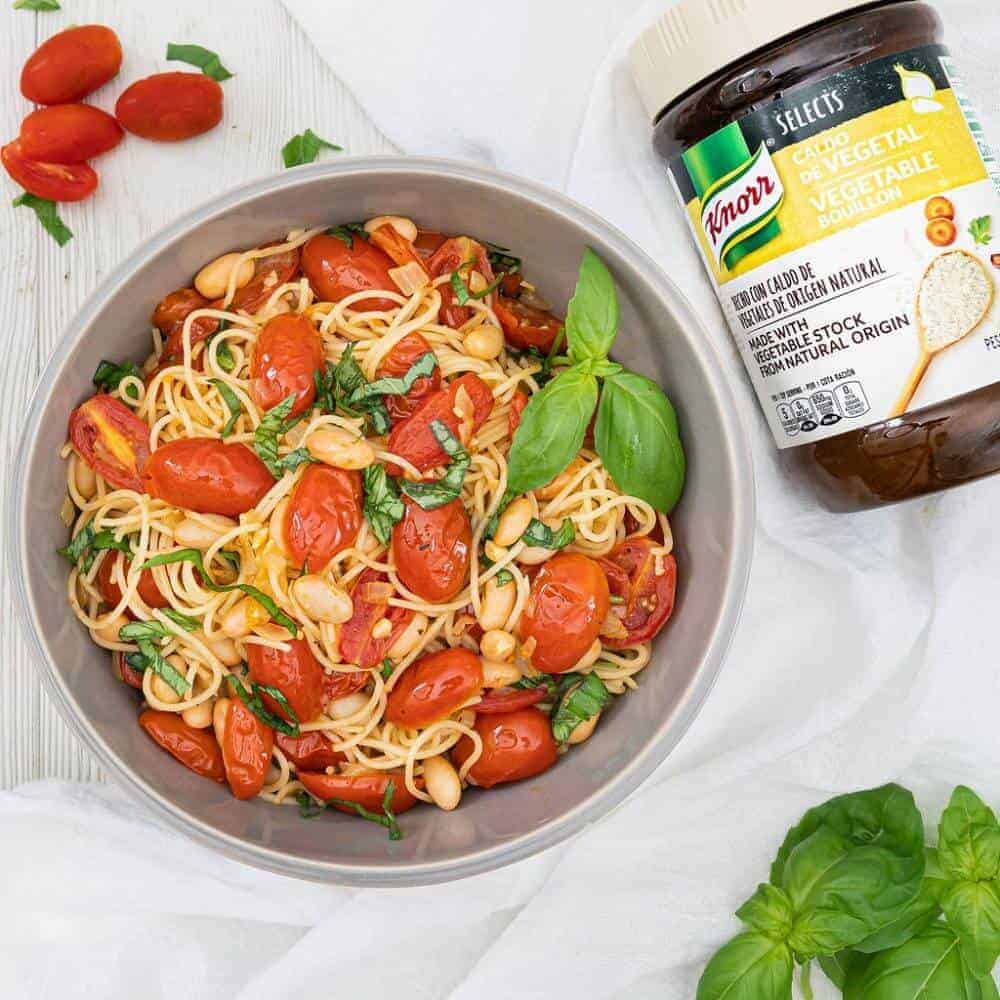 For National Noodle Day, we celebrated in style with this simple and budget-friendly angel hair spaghetti. Combining tomatoes, beans, and basil with several aromatics makes for a simple, flavorful vegan pasta dish!
For a vegan take on Pasta alla Norma (aka eggplant pasta), this dish combines eggplant, red pepper, and spinach with a fragrant tomato sauce served with penne pasta for a hearty vegan pasta recipe that you can enjoy year-round. It's packed with nutrition and flavor and ready in under 30 minutes!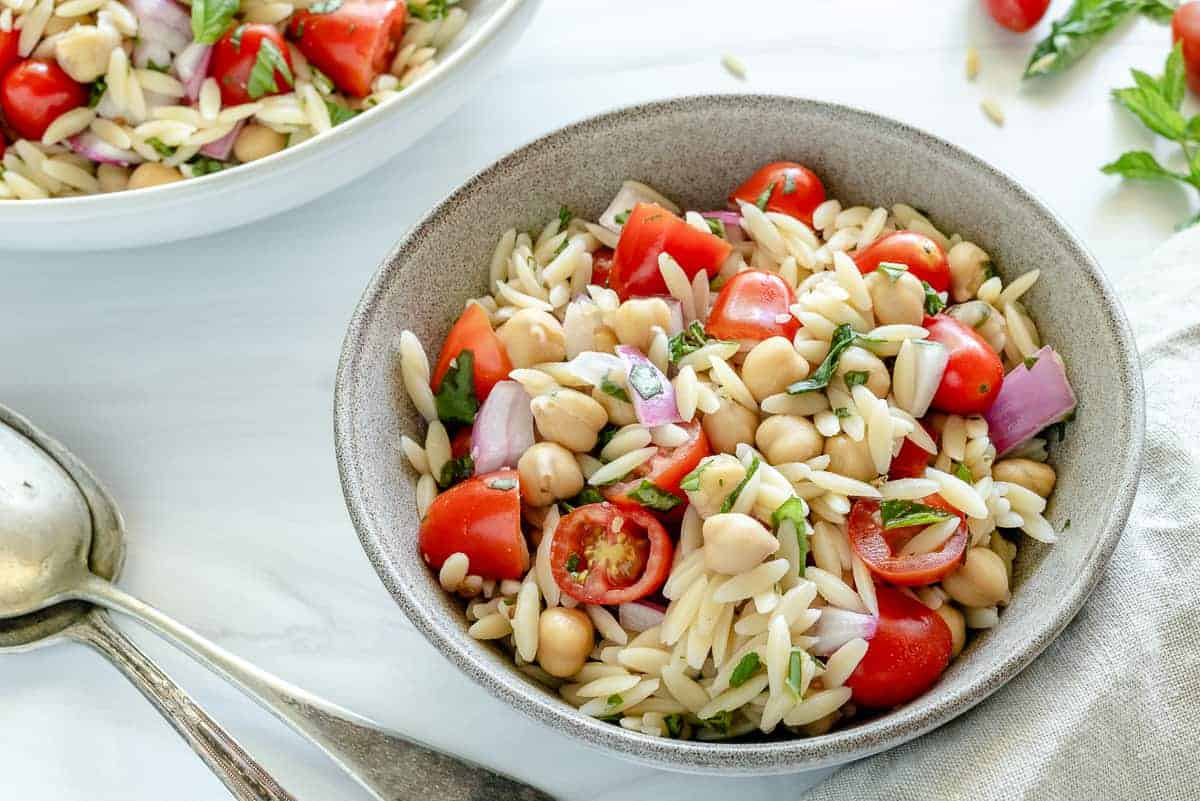 This simple, flavorful orzo chickpea salad is packed with Mediterranean flavors and just 6 ingredients (plus salt and pepper). The combination makes for a refreshing, summery appetizer or side salad – perfect for any potluck, BBQ, picnic, or garden party!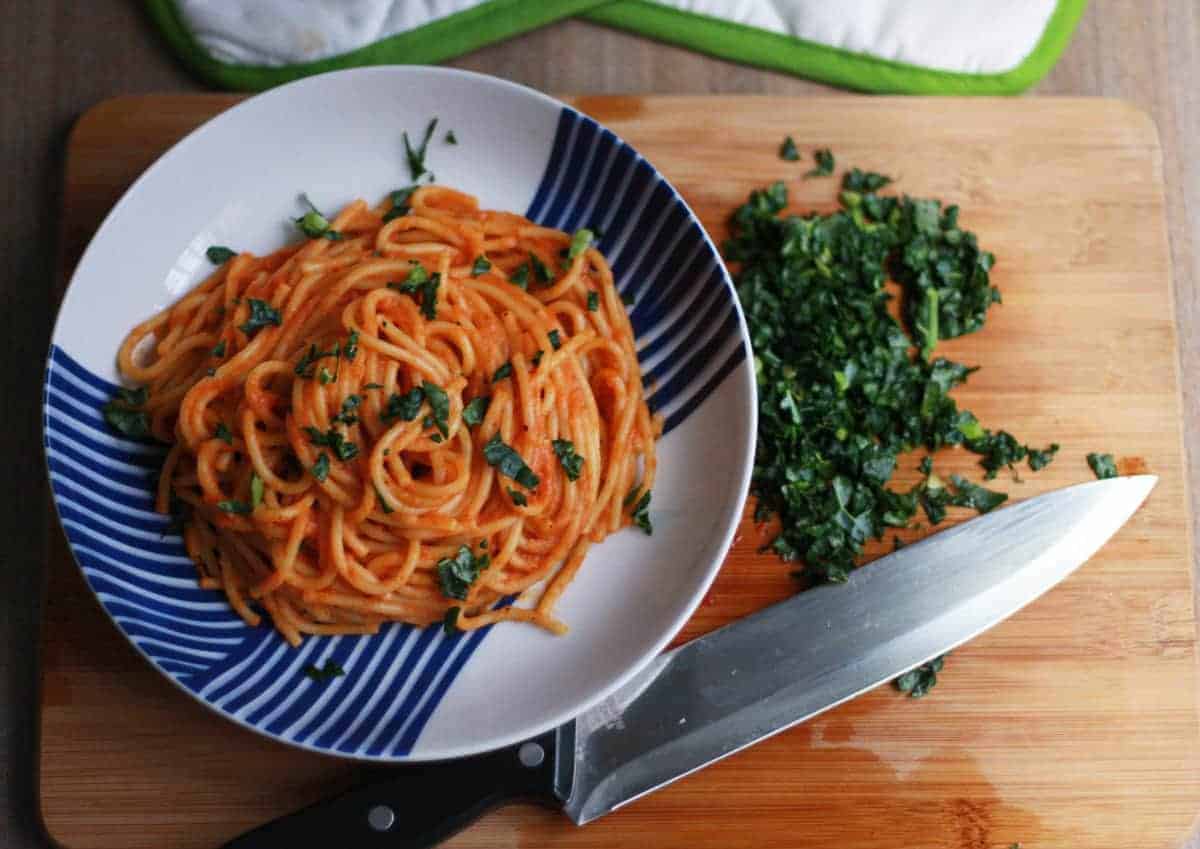 With just a handful of ingredients, you can prepare a wonderfully creamy veggie-packed vegan sauce for pasta and spaghetti. Then, make it even more nutritional with extra veggies for a low-budget, high-nutrient midweek meal!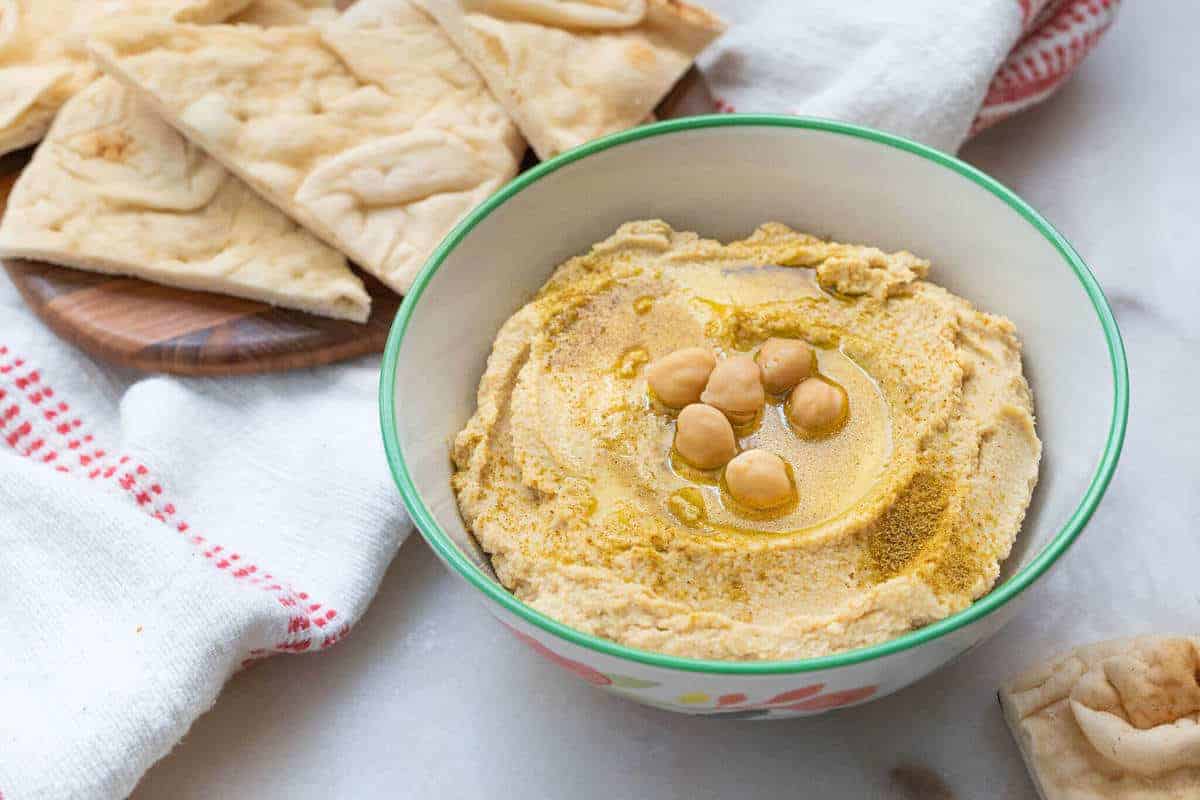 As a bonus, did you know that leftover hummus makes for a quick and simple vegan sauce for pasta? Pair the dish with your favorite veggies (seasonal, tinned, or frozen) of choice for a simple, flavorful meal in 15 minutes! Plus, there are tons of hummus recipes to choose from: classic hummus, roasted red pepper hummus, green pistachio hummus, yellow lentil hummus, etc.
This Pesto Tahini Pasta with Charred Broccoli from Bites with Bri is the perfect vegan/dairy-free creamy pasta dish. It is a great lunch meal prep option or perfect for meatless Monday. It is loaded with herbs and spices; you won't even miss the dairy.
Try this Pumpkin and Lentil Pasta from Get Set Vegan for a comforting weekend dinner. This vegan pasta recipe is versatile, filling, and easy to prepare. It is the ultimate vegan comforting food anyone desires for their dinner.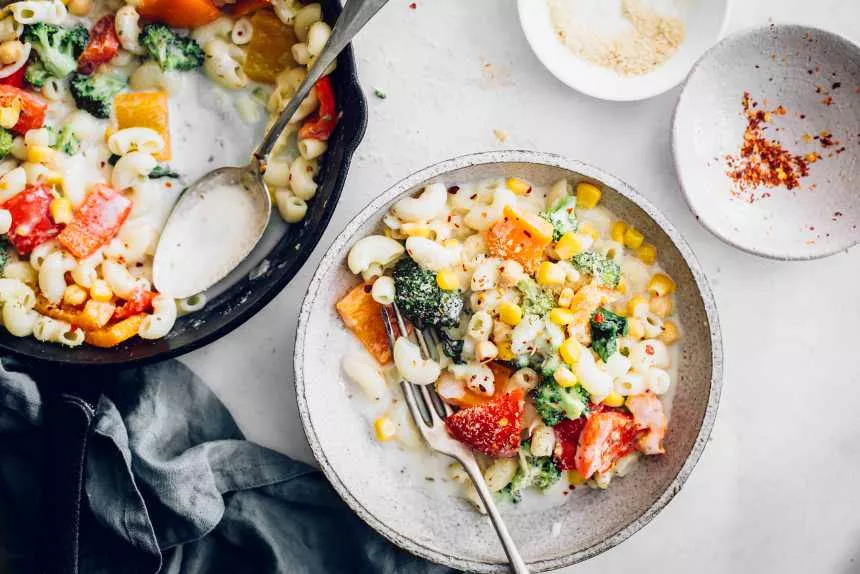 This healthy 30-minute dinner from Nutriciously has serious potential to become your next go-to clean-out-the-fridge recipe! Colorful veggies are sauteed and served with a simple vegan white sauce over pasta of your choice.
This is the most creamy vegan mushroom pasta from The Conscious Plant Kitchen, made with a delicious cashew cream and packed with umami flavor. This vegan comfort dinner is also rich in plant-based proteins.
More Vegan Recipe Roundups
More Helpful Vegan Ingredient Guides
You can also browse through our entire collection of pasta recipes for more vegan pasta sauces and dish inspiration!