As an Amazon Associate I earn from qualifying purchases.
Make vegan calzones (vegan pizza pockets) with store-bought or homemade vegan pizza dough! Load them up with your favorite fillings, fold, and bake for a hearty snack or meal! Plus, these veggie calzones also freeze and reheat beautifully!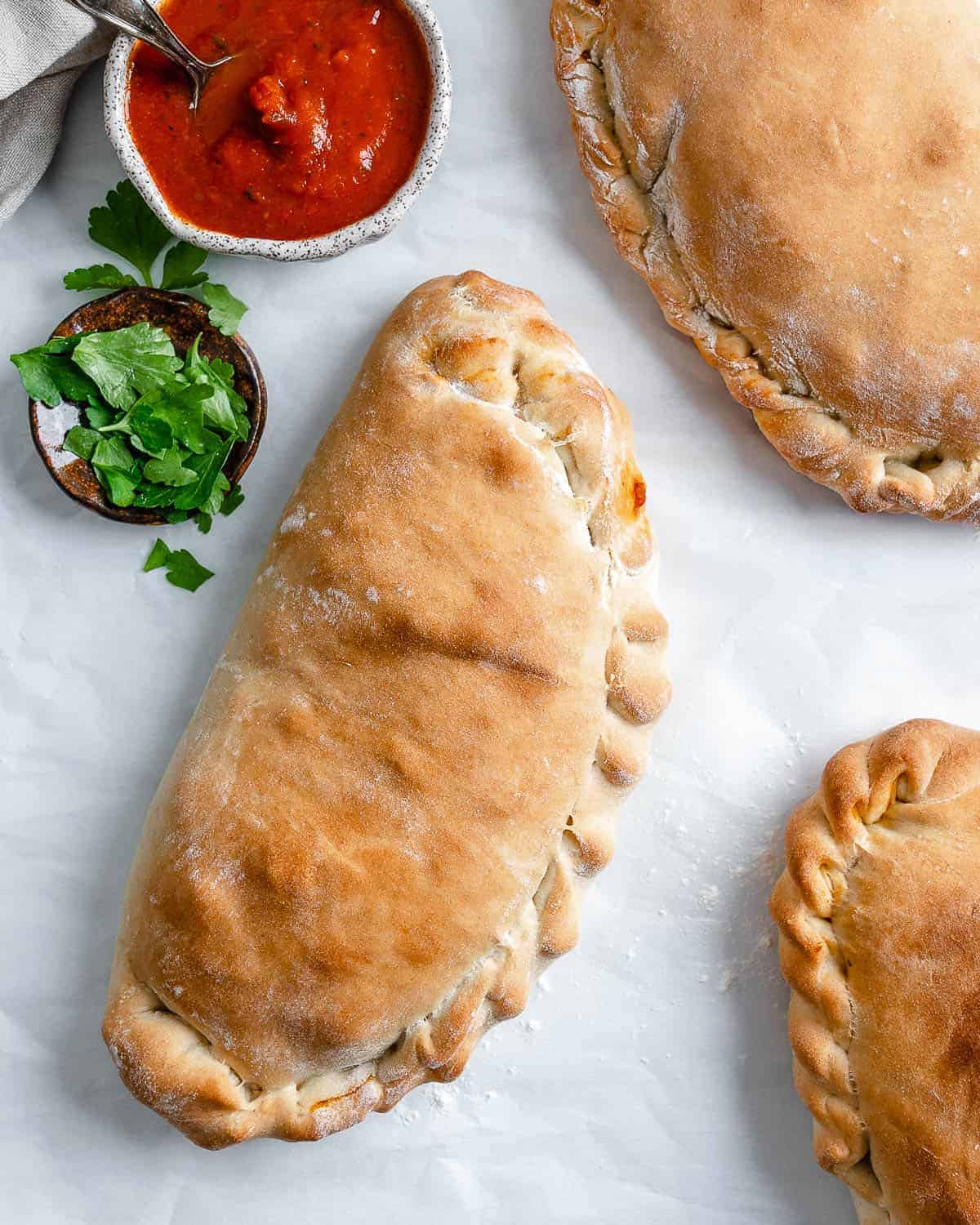 What is a Calzone?
Simply put, a calzone is an inside-out version of a pizza. These delicious 'pizza pockets' have you load up your pizza dough with the tomato sauce, vegan cheese (optional), and fillings of your choice and then fold it into a half-moon shape, then bake to perfection. If you're a pizza fan, you will love this vegan calzone recipe. They have a crisp outer crust with a lightly chewy and filling-packed center.
While calzones don't get the same amount of love as your traditional open-faced pizza, they are the perfect option for those who take the 'more is more' approach when topping pizzas. You can load calzones with tons of fillings and then fold them into a closed pastry, so it's all sealed in.
Even better, just like pizzas, these vegan pizza pockets (vegan calzones) are super versatile. Which means they are great for 'clearing out the fridge.' Plus, their handy shape and size (make large, extra-large, or even mini calzones) make them a great grab-and-go option for a meal on the move!
The Ingredients
This vegan calzone recipe prepares them from scratch, dough included. Of course, if you'd prefer, you could use store-bought vegan pizza dough.
The vegan pizza dough:
Yeast: Use a .25 oz packet of dry yeast. You can also use fresh or dry instant yeast, but you'll need to adjust the amount used. Note that 'instant' yeast doesn't require proofing.
Sugar: To 'feed' the yeast. Don't use a sugar alternative, but liquid sweeteners and unrefined sugars like maple syrup or coconut sugar will work.
Water: To activate the yeast, use lukewarm water (about 110-115°F/43-46ºC). If the water is too cold, it won't activate. If it's too hot, it will kill the yeast.
Flour: You can use all-purpose flour or white/regular whole wheat flour. However, if you have some, use bread flour (for a more traditional pizza dough).
Salt: To enhance the flavor in the homemade calzone dough.
Olive oil: Needed for a supple, stretchy dough and to add flavor. Use another neutral cooking oil if preferred.
Calzone fillings:
When it comes to choosing the calzone fillings, the options are plentiful.
Marinara sauce: Use your favorite marinara sauce. Alternatively, you could use a vegan white sauce, BBQ sauce, pesto, or even omit the sauce entirely.
Bell pepper: Use any bell pepper (green, red, orange, yellow), finely chopped.
Onion: You can use white, yellow, or red onions, finely chopped.
Black olives: Use a can of sliced black olives, drained. If you only have whole olives, chop them first.
Dairy-free cheese: (Optional) You don't necessarily need to add any vegan cheese. But for more of a traditional calzone, you can add vegan mozzarella cheese and/or vegan ricotta cheese to your veggie calzone.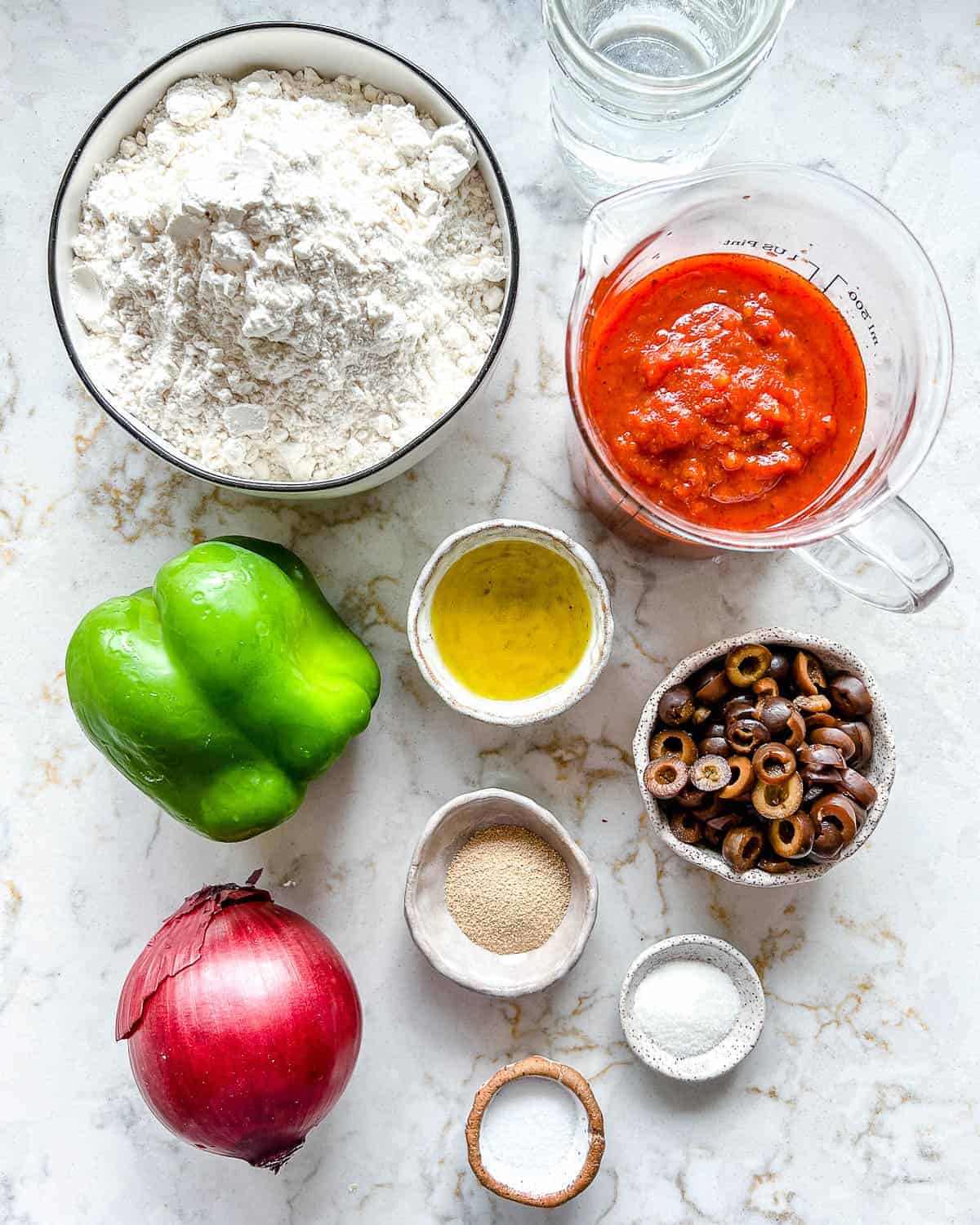 Optional Calzone fillings:
When filling the veggie calzone, you can treat them similarly to regular pizza and load them up with all your favorite veggies and meat alternatives, including:
Vegetables:
Mushrooms (Use around ½ cup of chopped mushrooms, pre-sauteed)
Broccoli (cooked)
Sweet corn (canned or frozen and thawed)
Spinach (and a spinach 'ricotta' combination)
Jalapeno slices
Caramelized onion
Artichoke
Eggplant (cooked)
Potato slices (cooked)
When making mixed vegetable calzone, use as few or many of your favorite veggies as you'd like!
Vegan meat alternatives (pre-cooked)
Chick'n strips
Vegan pepperoni
Sliced vegan sausage
Vegan bacon
Vegan meatballs
Miscellaneous
Basil: A few chopped/shredded fresh basil leaves will add extra flavor at little cost.
Other herbs: You can further enhance the flavor of the vegetable calzone with your choice of dried herbs, like sage, oregano, rosemary, Italian seasoning, etc. You can add these to the calzone filling or even brush the folded calzone with plant-based milk and sprinkle them over the top before baking.
Garlic: You can never have too much garlic. Add minced garlic to taste. Here's a recipe on how to roast your own!
Pesto: Add a drizzle of your favorite pesto to any veggie calzone filling for extra flavor!
Other vegan cheese: Use vegan feta, vegan mozzarella, vegan parmesan, etc.
You can also make dessert calzones with fillings like berries and vegan chocolate (or vegan Nutella), pb&j, or an apple strudel filling!
How to Make Vegan Calzone From Scratch?
To prepare the vegan pizza dough:
1) First, preheat the oven to 425F/220C. Then, combine the yeast, sugar, warm water, and mix in a large bowl. Allow it to sit for 5-10 minutes until it's foamy and 'activated.'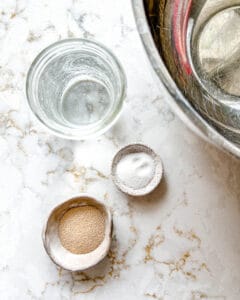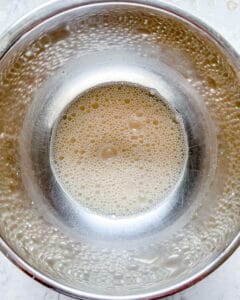 2) Then, add the olive oil, flour, and salt, and mix well until it forms a dough.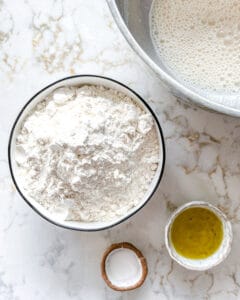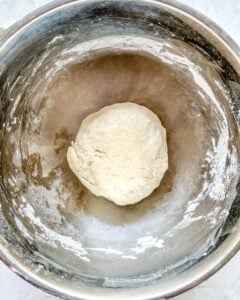 3) Remove the dough from the bowl and knead it on a lightly floured surface for several minutes until it's soft and elastic. Then set it aside for 10 minutes to rest.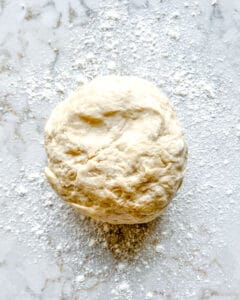 To assemble the vegan calzone:
1) Divide the dough into 3-4 balls, depending on how big you want the calzone to be. You could even divide it into 6 pieces for mini calzones.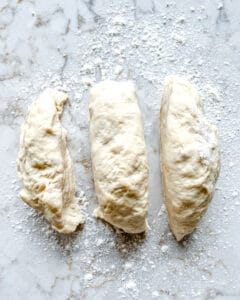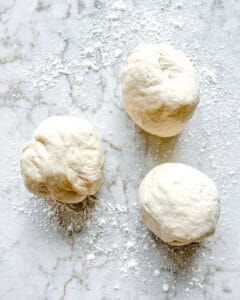 2) Then, stretch or roll (using a rolling pin) each ball out into a circle of dough, around ¼ inch in thickness.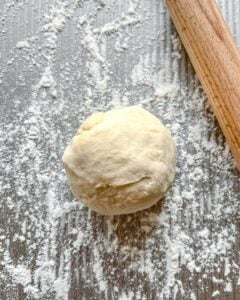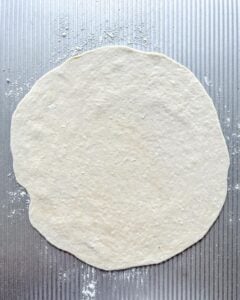 You can do this on a well-floured kitchen counter or directly on a baking sheet. If you're able to do all the following steps on whatever surface you plan to bake them on, it means no worrying about them splitting while transporting to the oven!
3) Spread a generous layer of marinara sauce per calzone, leaving a 1-inch border around all the edges.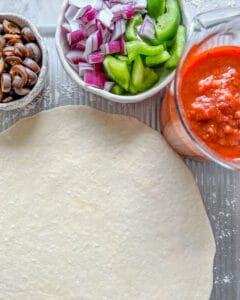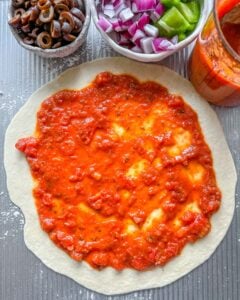 4) Then, place the chopped vegetables over the sauce (and optionally vegan cheese) on one half.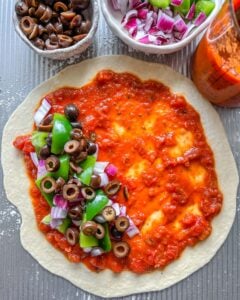 5) Fold one-half of the dough over the fillings and pinch/crimp the edges of the dough together to seal. We like to roll the edges up and over once. Repeat with the remaining veggie calzones.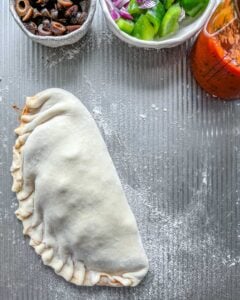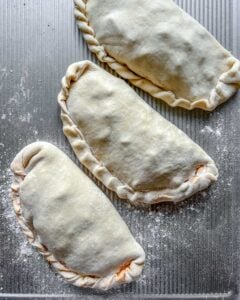 Use a fork or knife to make a few 'vents' in the vegetable calzones for steam to escape.
6) Then transfer the vegan calzone to the center of the oven and bake for 15-20 minutes, or until golden brown. Then remove from the oven, cool for a few minutes, and serve!
You can enjoy the baked calzone alone, with a side of extra marinara sauce for dipping, or as part of a meal with a side salad.
How to Store?
Once baked, store the veggie calzone in an airtight container in the refrigerator for 2-3 days.
You can also freeze the baked or unbaked calzone. Allow them to cool first (if baked) and flash freeze on a baking tray. Then, transfer them to a Ziplock/Stasher bag for 3 months. To thaw, allow the vegan calzone to sit in the refrigerator overnight.
You can reheat the vegan pizza pockets in the microwave in 1-minute increments until heated through. Alternatively, reheat them in the oven at 300C/150C until heated through. We prefer the latter for the best texture!
To cook the unbaked calzone from frozen, you'll need to increase the baking time to 25-30 minutes. You can check the middle is fully cooked using a thermometer (it should reach 160F/71C).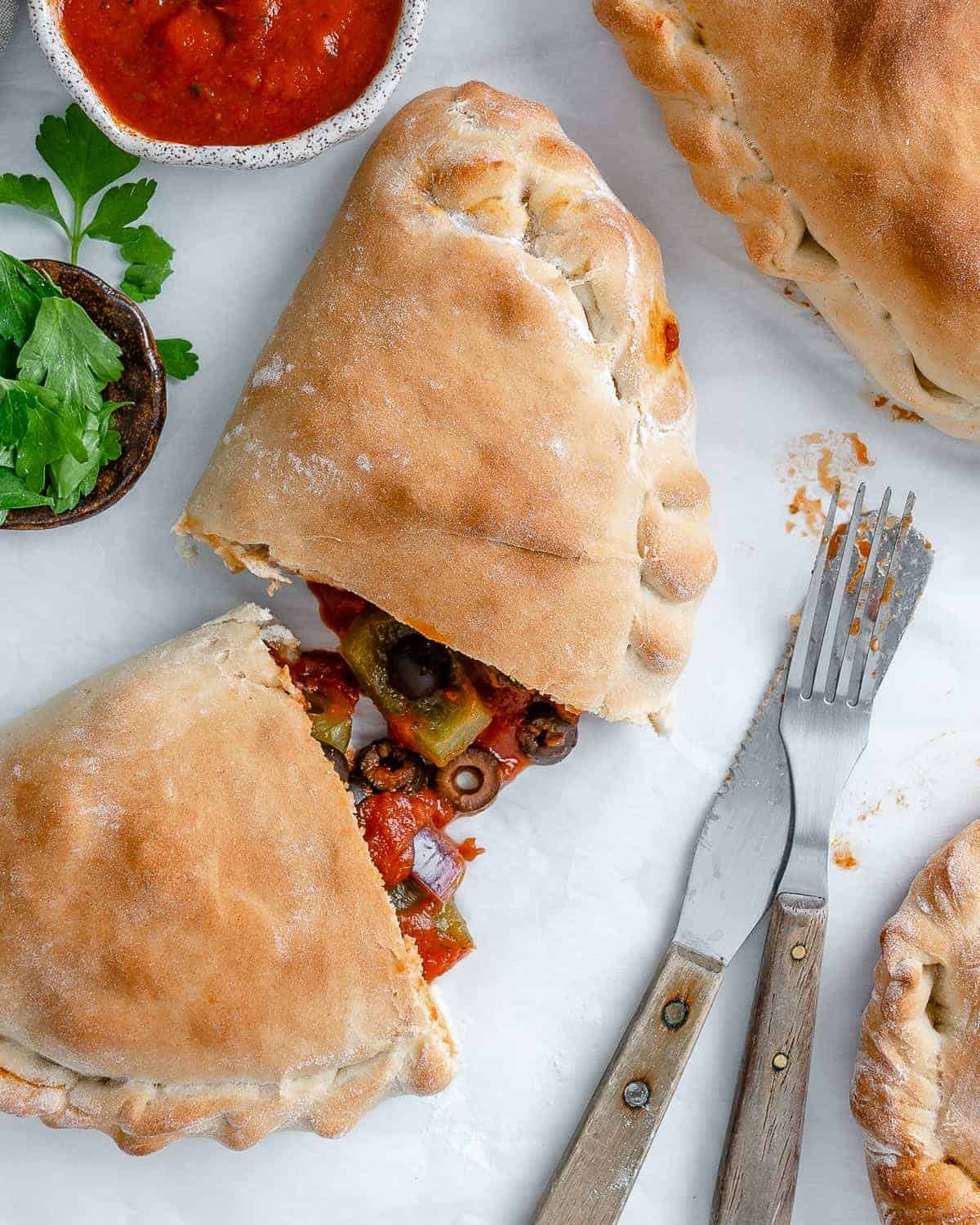 FAQs
Is there a difference between pizza dough and calzone dough?
Not usually. While the two use the same dough, it's the way they're assembled that differs. Unlike regular pizza, these vegan calzones wrap the dough around the fillings as a closed 'pizza pocket.'
What is normally in a calzone?
Traditionally, calzones are made with most of the same ingredients as a pizza. Some versions omit the sauce entirely and, instead, serve them with a marinara dipping sauce. This vegan calzone recipe allows you to do the same with your favorite vegan alternatives!
Can I prepare the vegan pizza dough in advance?
Yes, in fact, making it in advance will allow the dough to ferment and leave a better flavor overall. To prepare it in advance, transfer the dough to a lightly oiled bowl (wrapped with plastic wrap) in the refrigerator for 1-2 days. It will do a slow rise in this time. So when you're ready to use it, remove it from the refrigerator 30 minutes in advance, and punch down the dough before continuing with the recipe. You can also freeze the prepared dough for up to three months!
Can I use a stand mixer to prepare the dough?
Absolutely, the stand mixer can mix and knead the dough over medium speed until soft, smooth, and elastic.
Top Recipe Tips and Notes
To save time: Use a pre-made vegan pizza dough. That'll save time and make for a super easy calzone prep!
Ensure the dough isn't too thick: Calzone dough should be very thin. 1/4-inch is our recommended thickness. That way, it's not too thin that it may burst while cooking, but not too thick and doughy.
Don't be stingy with the fillings: While it's definitely possible to overfill the vegan calzone, you can still get away with quite a lot. We often stuff all our fillings up several inches high before folding the calzone. We recommend using around ¼-1/3 cup fillings per calzone.
Don't fold the calzone too tightly: Or there's a chance it may burst in the oven. Although even with all your best intentions, fillings can still sometimes escape—no need to worry, it'll still taste delicious!
To avoid soggy calzone: Make a few small slices/ fork prods in the top of the veg calzone to allow steam to release. This will help you avoid soggy and bursting dough while they bake.
If you have a pizza stone, use it: Alternatively, you can place an inverted oven pan in the oven while it preheats and carefully transfer the calzones to it before baking. This will help you get a super crispy base.
Adjust the baking time: Based on the size (regular, extra-large, or mini calzones).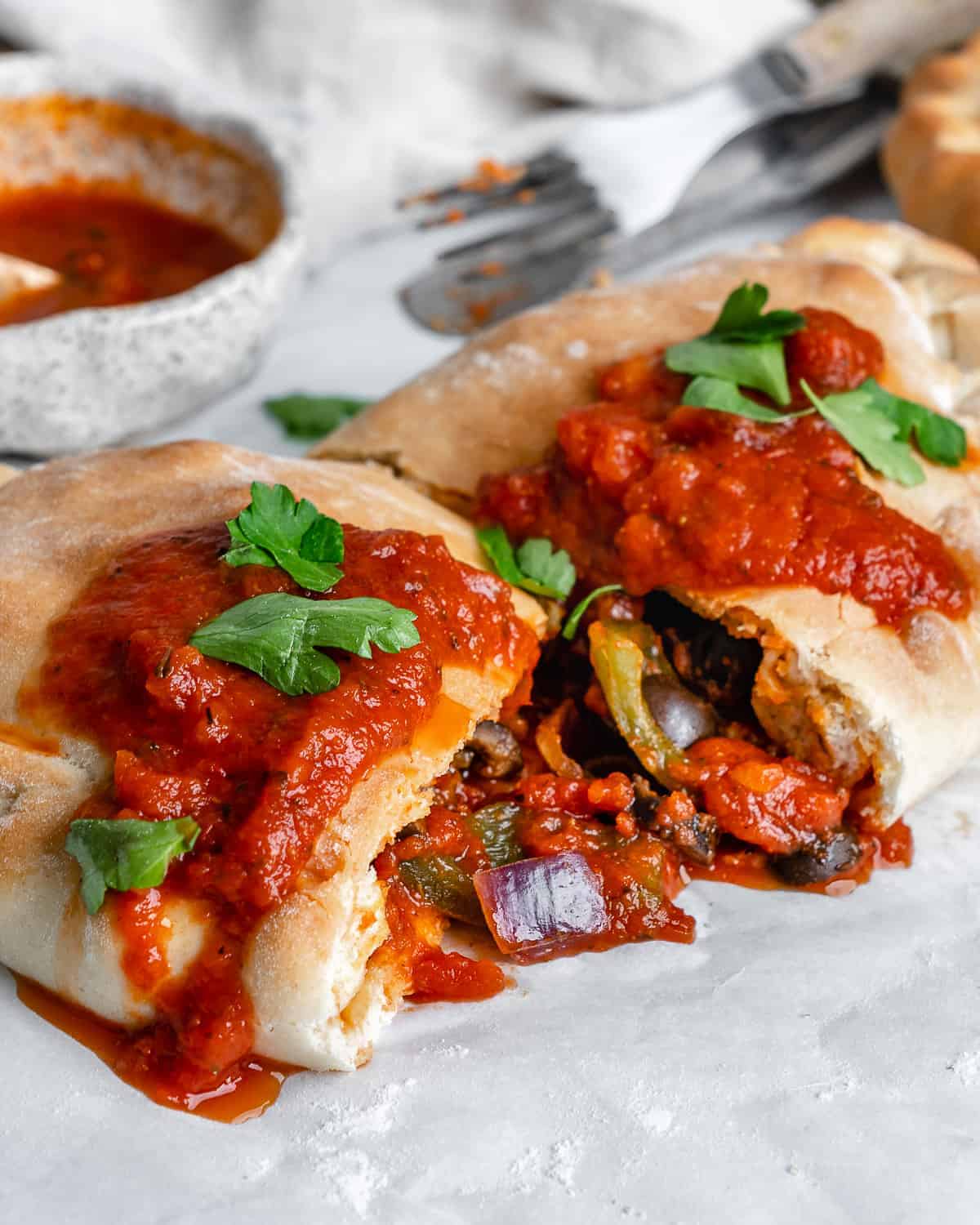 More Vegan Pizza Recipes
Photos by Alfonso Revilla
Vegan Calzones (Homemade Vegan Pizza Dough)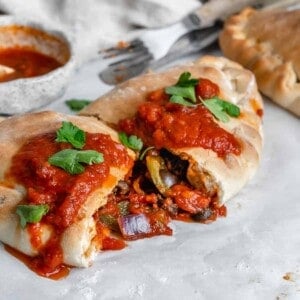 Make vegan calzone (vegan pizza pockets) with store-bought or homemade vegan pizza dough! Then, load them up with your favorite fillings, fold, and bake to perfection for a quick snack or meal! Plus, these veggie calzones also freeze and reheat beautifully!
Ingredients
Pizza Crust:
.25

ounce

packet of yeast

1

teaspoon

of sugar

1

cup

of warm water

2

Tablespoons

of olive oil

2 ½

cups

of all purpose or whole wheat flour, more for rolling

1

teaspoon

of salt
Calzone:
½

jar

of marinara sauce

~13 ounces

½

cup

chopped red or green bell pepper

½

cup

diced red or white or yellow onion

about ½ medium onion

1

can

of sliced black olives, drained

2.25 ounces
Optional Additions:
4

vegan chick'n strips, baked and chopped

1

cup

vegan cheese

½

cup

chopped crimini mushrooms
Instructions
Preheat oven to 425 degrees.

To assemble the pizza dough: In a large bowl, dissolve yeast and sugar in warm water. Let it about 10 minutes or until it turns foamy.

Add olive, flour, and salt and mix well. Remove the dough and knead it more flour to prevent sticking. Let sit for about 10 minutes.

Divide the pizza dough into 3 or 4 balls, depending on the size of the calzones you'd like.

On a well-floured surface (I prefer using two baking sheets rather than my countertop), take each ball and roll it out into a circle.

Place 1/2 cup marinara sauce on the middle of each piece of dough, leaving a 1-inch space from the edge.

Place the bell pepper, onion, and olives over the sauce. Fold each piece of dough in half, fold the edges over, and pinch the edges together.

Bake for 15 to 20 minutes or until the calzones are golden brown. Remove from the oven and cool.
Notes
The warm water should be warm to the touch but not too hot. If it's too hot, it can kill the yeast.
Nutrition
Calories:
637
kcal
Carbohydrates:
81
g
Protein:
14
g
Fat:
30
g
Saturated Fat:
5
g
Polyunsaturated Fat:
3
g
Monounsaturated Fat:
16
g
Cholesterol:
1
mg
Sodium:
2881
mg
Potassium:
554
mg
Fiber:
9
g
Sugar:
7
g
Vitamin A:
822
IU
Vitamin C:
23
mg
Calcium:
116
mg
Iron:
6
mg
Disclaimer: Although plantbasedonabudget.com attempts to provide accurate nutritional information, kindly note that these are only estimates. Nutritional information may be affected based on the product type, the brand that was purchased, and in other unforeseeable ways. Plantbasedonabudget.com will not be held liable for any loss or damage resulting for your reliance on nutritional information. If you need to follow a specific caloric regimen, please consult your doctor first.
Additional Info